We love sharing printable PDF plans for our woodworking projects whenever we can. We share a woodworking plan for almost every build project we create.
These plans include a material list and cut lists as well as step by step instructions with pictures and diagrams in a printable template.
Our goal when creating projects is to make them as relatable and repeatable as possible. That means we design projects to be easy for anyone to make.
Our plans are easy to follow and are designed to be as beginner-friendly as possible, using as few tools as possible to minimize the barrier to entry.
Get individual plans below!
Check out some of these great projects!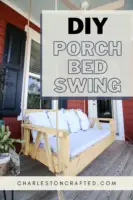 A bed swing on your porch is a perfect way to relax and looks incredible from the street. Our post…
Frequently Asked Questions
Where can I shop all of your plans in one place?
Hop over to our store to shop all of our woodworking plans in one spot!
Here you'll find all of our plans that we have available, some at a minimal cost. Those plans help fund our business and allow us to keep bringing you more plans.
How much are the plans?
Most of these plans are a free download. Free plans are deliverable by email – once you sign up, check your email for a link to the free plan.
In exchange for free woodworking plans, we ask that you sign up for our email newsletter so you can be in the loop with all of our amazing new projects and posts!
You'll get emails targeted to you based on your interests and what you signed up for. This will give you more inspiration for future DIY and woodworking projects!
Want multiple plans? You will have to enter your email address each time, but you will only get our newsletter once!
A few of the more complex and detailed plans we sell for a small fee. These plans have taken Sean an extra long time to make and charging for just a few of our plans makes it possible for us to invest the time in creating more of them.
Your support of our business is truly appreciated.
What can I do with these plans?
These plans are for personal use only – please do not reproduce or sell the plans we have created. However, we would love for you to build these items and sell the resulting products!
Be sure to tag us on social media so we can cheer you on.
How do you make these plans?
Sean designs all of the diagrams for our plans in a program called SketchUp. It is an online platform for making project diagrams. Then, the diagrams are put together with required steps in a PDF format.
For each plan, the steps are broken down bit by bit with an accompanying computer rendering of the step. Measurements are given, but sometimes you have to use your knowledge as a woodworker to finesse small parts.
Can I request new plans?
Want plans for a project that we have already made – or have an idea for a project you'd like us to design? That sounds awesome! Email sean@charlestoncrafted.com and let's chat!
We're trying to make complete plans for all of our most popular DIY projects and new projects going forward, but if there's something specific you want to see, we'll talk about it!