This DIY entryway shelf with hooks project has been sponsored by National Hardware. All opinions are our own. Thank you for supporting the brands that make Charleston Crafted possible!
We've got new plans and a great idea for a DIY entryway shelf with hooks to organize your home!
We just moved into our house and it has a nice little mud room off the foyer. We initially set up our wood and pipe bench and a thrift flip table (our first ever project) with our watch and accessories holder.
However, we have been having a problem with our toddler grabbing everything off the table.
So, we wanted to get our keys and wallets up out of his reach and add a place for our jackets for the upcoming winter season!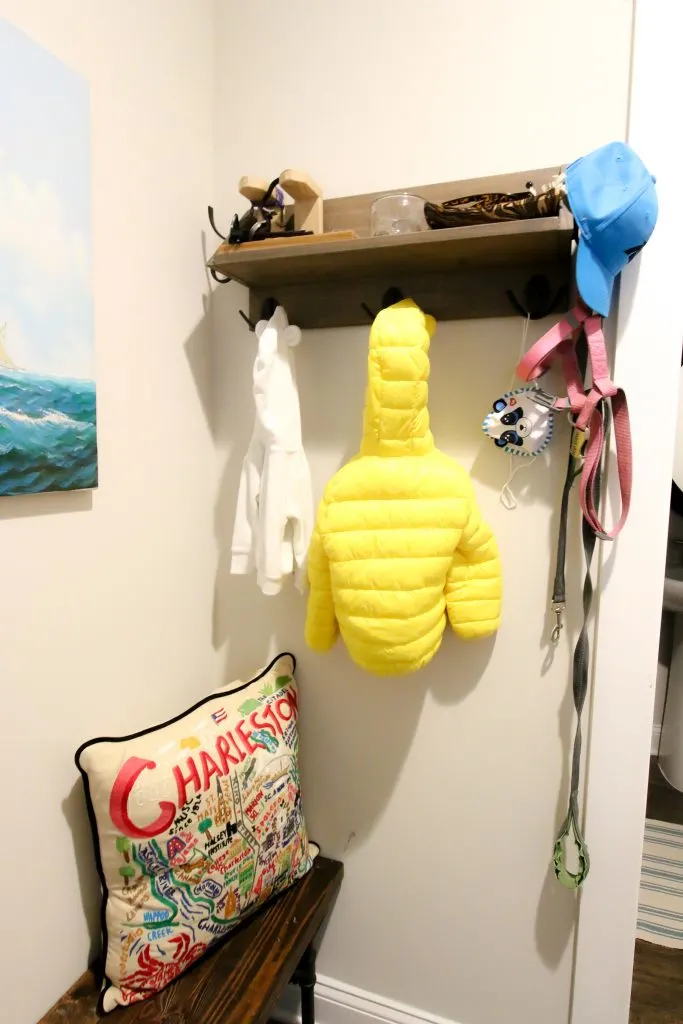 Building a custom entryway shelf with hooks
The goal of this entryway shelf was to provide a space for us to put our keys, wallets, sunglasses and other miscellaneous stuff from our pockets up high and to have a place to hang jackets and leashes.
We are a long way away from doing a full-scale makeover in this room so we built this short-term solution.
This custom entryway shelf using a single board from the store and gorgeous hooks from National Hardware.
This shelf is perfect if you don't have a place to drop your things when you first get home.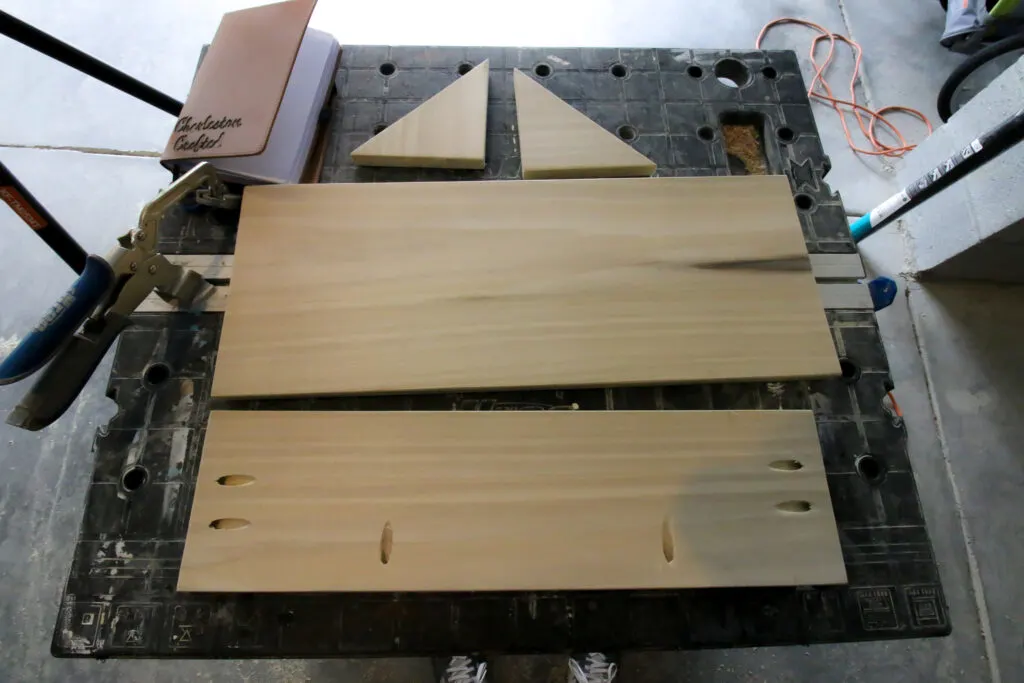 Building the shelf
We built this shelf using a single 1″x10″ poplar board. You can grab one of these at your favorite hardware store.
Remember, 1″x10″ common boards are actually only 3/4″x9 1/4″. Don't get mad at me!
We cut a 2′ section to serve as the back, then cut a shelf board and two triangular corner boards.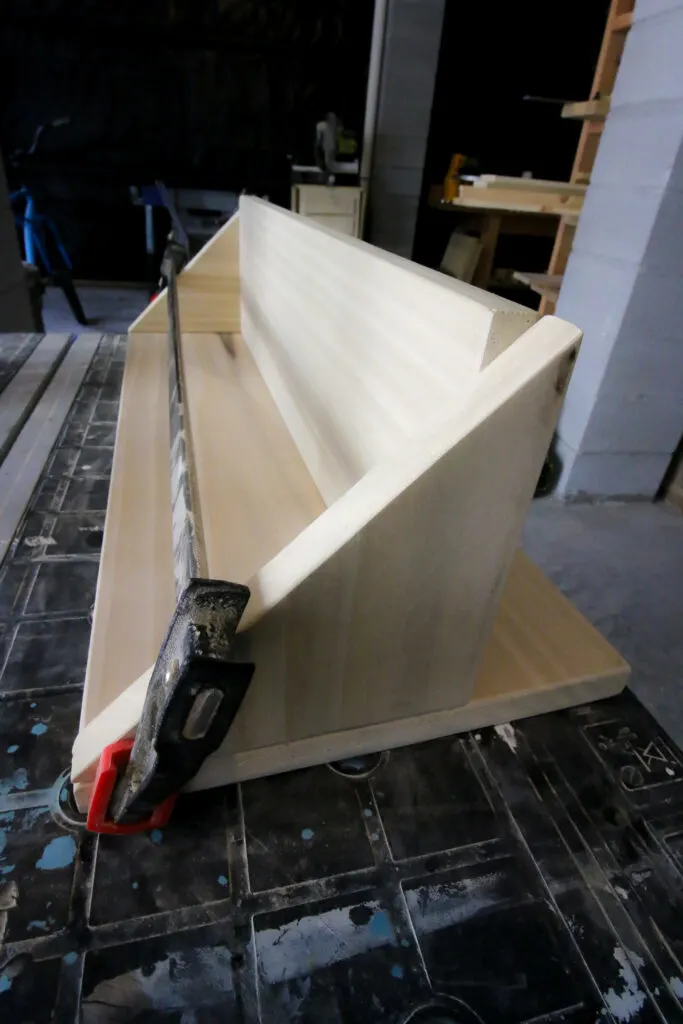 With everything cut and sanded, we drilled pocket holes into the shelf to connect all four pieces together.
Using pocket screws, wood glue and pocket hole plugs, we cinched this thing up tight and added a coat of stain.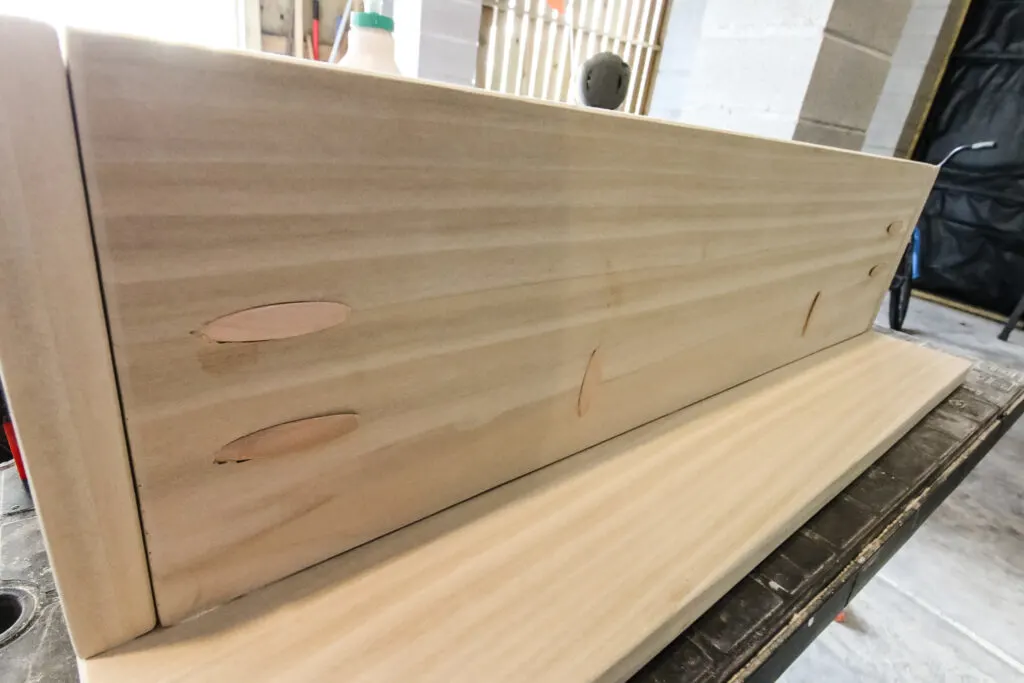 Adding hardware
We wanted this entry shelf to have hooks so it could serve the purpose of hanging jackets, leashes, and purses too.
For that, we opted for two different types of hooks from National Hardware.
We chose to attach three modern double robe hooks across the bottom to be the perfect place to hang jackets for this winter season. Without having an entry closet, this will be the best place for grab-and-go coats.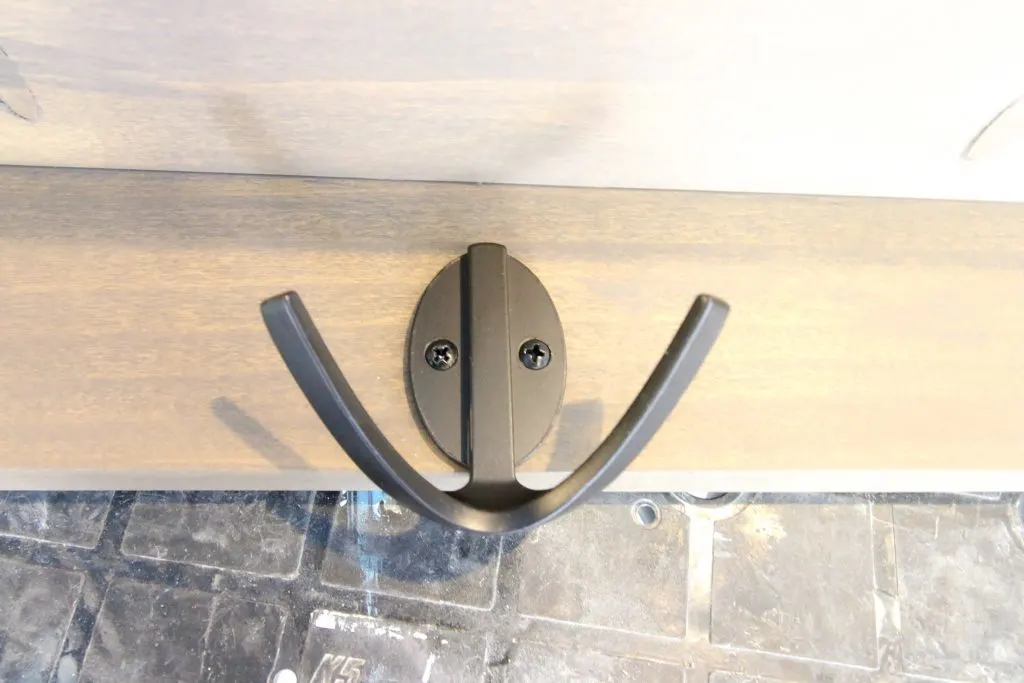 We also added two modern hat hooks on the two sides that are great for hanging a purse, dog leash, or umbrella.
We went with the "modern" hooks because we like the clean edges and points to them. There are also more traditional hooks that have rounder tips and curves.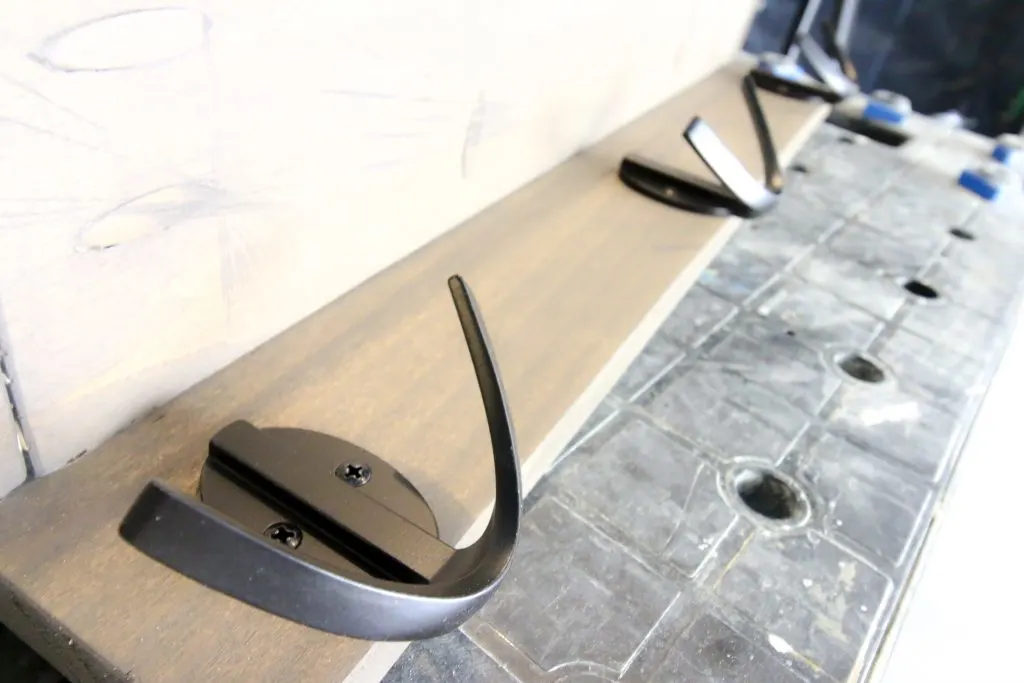 That's a great thing about looking for your home design needs with National Hardware. They have lots of different styles in several color finishes depending on what you're looking for.
When it comes to garment hooks alone, National Hardware has a wide variety of choices.
They also have numerous other categories to help you with organization, storage, barn doors, gates and so much more.
Plus, you can shop their full line on Amazon.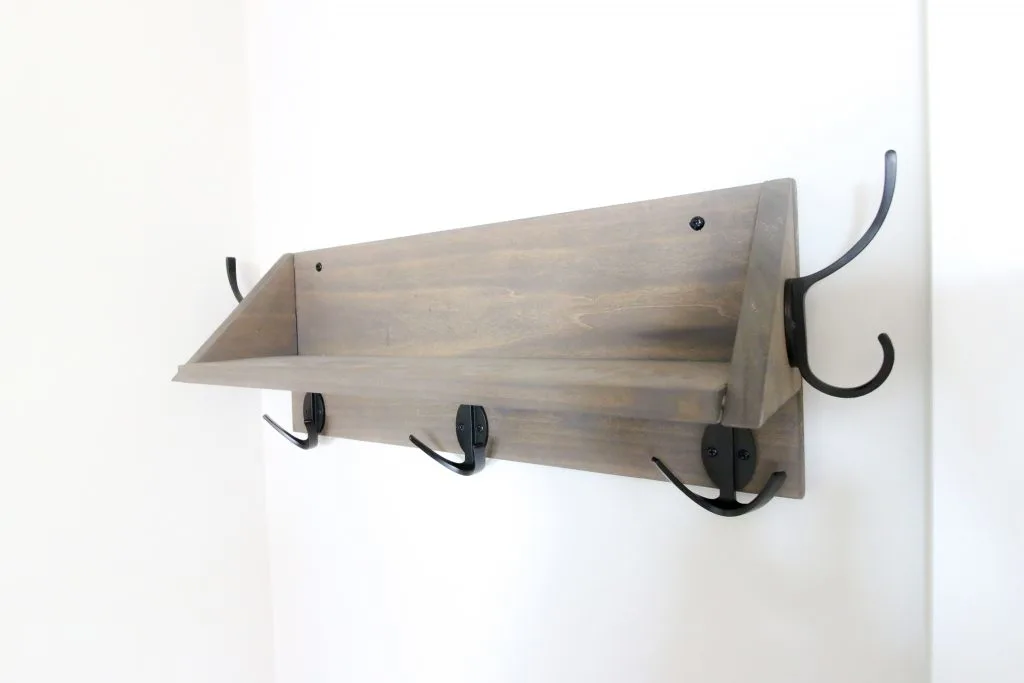 DIY entryway shelf woodworking plans
We've got free plans available for this simple DIY entryway shelf that will let you build the exact product we've come up with.
Once you build the shelf, you can add the same hardware we have.
Or you can shop the National Hardware store and pick something out that better suits your needs!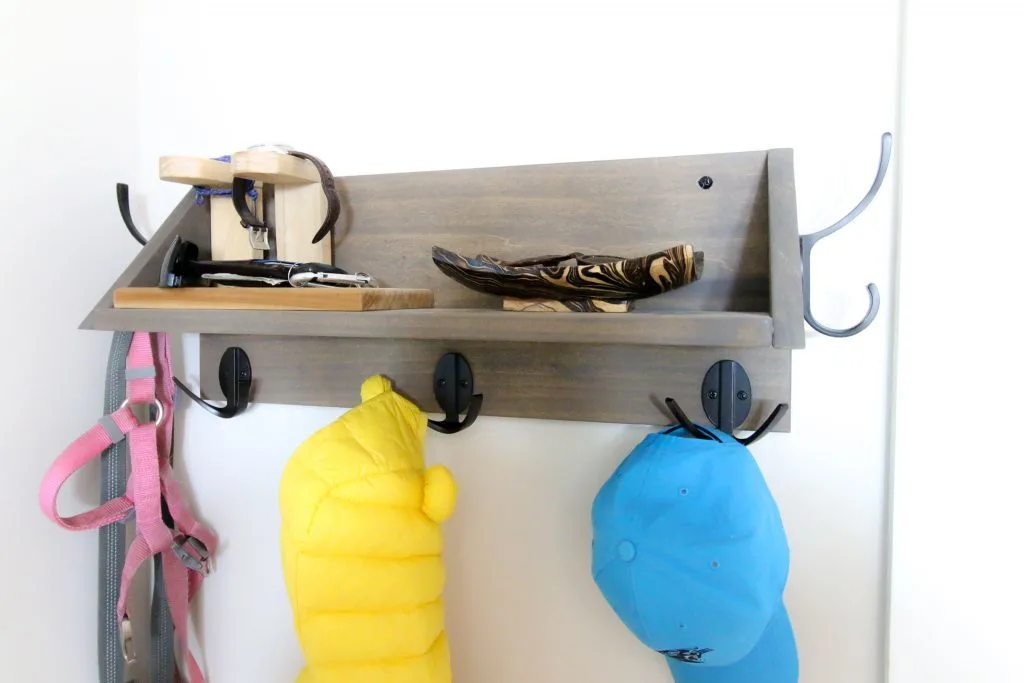 Entryway shelf uses
There are lots of ways you can use an entryway shelf. Use it to drop your keys or loose change and have it all in one place.
An entryway shelf is especially useful if you live in a small place with no real entryway or place to put a table.
Having an entry shelf up high keeps kids and pets from getting into your things.
You can also put a small mirror on or above and entry shelf to check yourself as you walk out the door.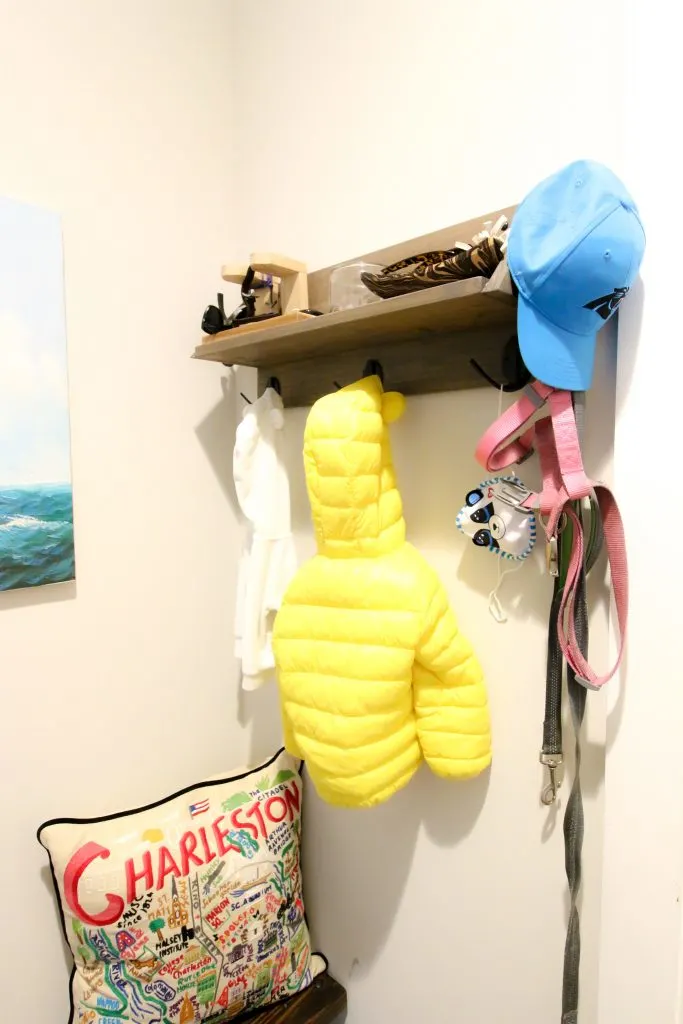 We hope this DIY entryway shelf with hooks is a perfect solution for you! Grab the free plans and get building!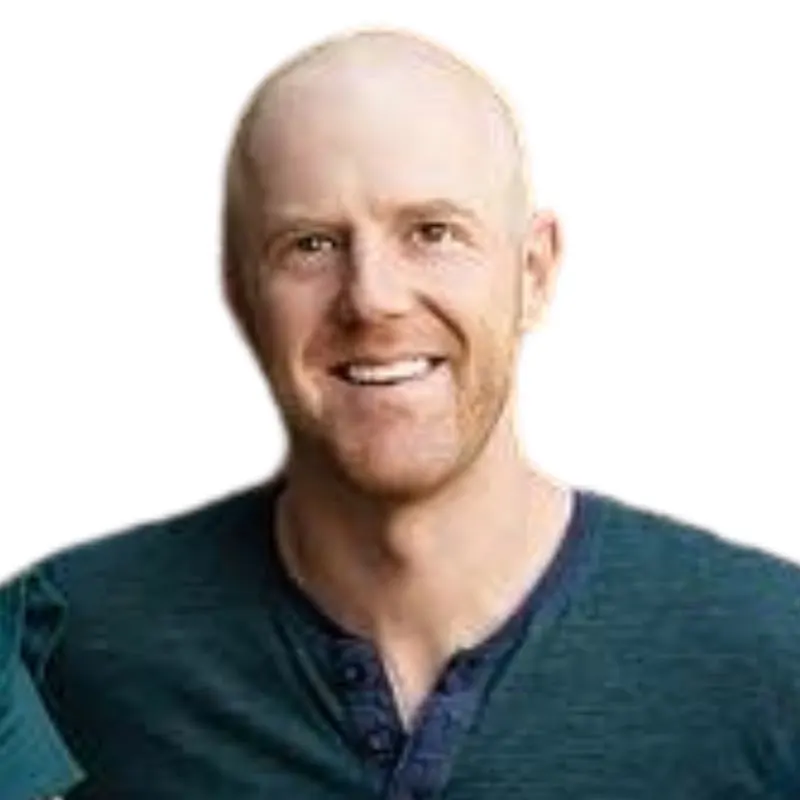 Hey there, I'm Sean, the woodworking enthusiast and builder behind CharlestonCrafted.com! Since 2012, I've been sharing the magic of turning raw materials into beautiful creations. I love teaching others the art and satisfaction of woodworking and DIY. I try to inspire fellow crafters to make something extraordinary out of nothing at all.