Do your kids love reading? This DIY Montessori front-facing bookshelf is a hit with kids! It allows them to see all of their books and pick which one they want to read!
We all know young kids love to read, and they often want to pick from the same selection of books over and over.
However, a traditional bookshelf that shows the spines of books facing out is not great for toddlers who don't know how to read. They need to see the covers of their favorite books to recognize them!
This front-facing bookshelf is the perfect height for toddlers to be able to reach their own books and bring them to you. Customize it for your kids by painting or staining it to match your playroom decor!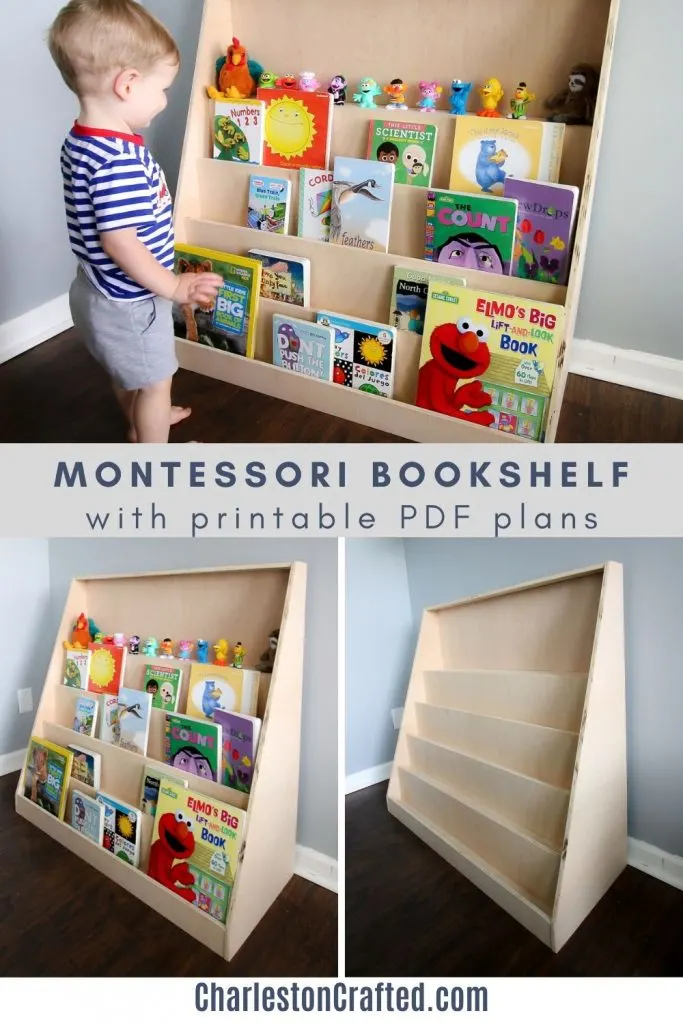 How to build a Montessori front-facing bookshelf
Building bookshelves are relatively easy. Two sides, a top and bottom and some shelves in between.
A Montessori front-facing bookshelf is a little more difficult to build without knowing what it is.
Looking for other Montessori toys? Make sure to check our DIY versions of a Pikler triangle, Pikler climbing arch, and this toddler-sized workbench!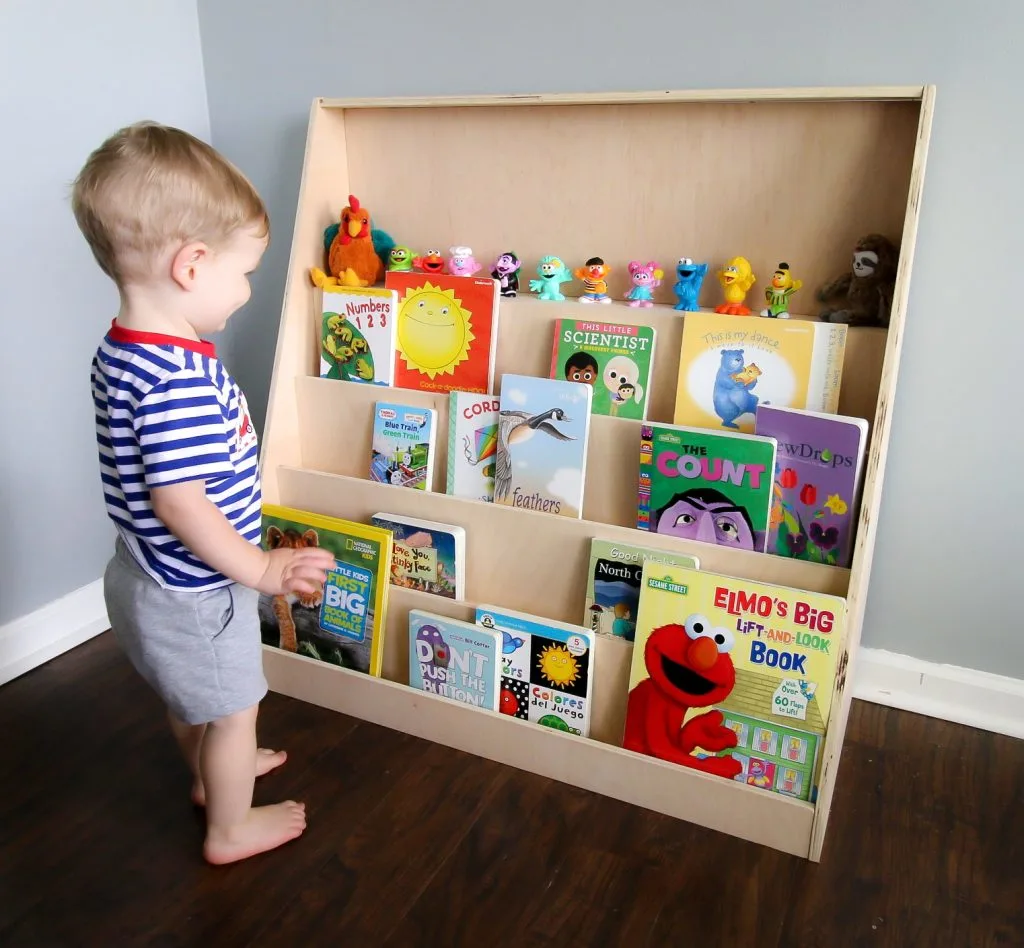 What is a front-facing bookshelf?
A Montessori front-facing bookshelf is designed for a child's books to have the cover facing out toward them, so they can see it and recognize it.
With the book covers facing your child, it is easier for them to find the book they want. It's also (theoretically) easier for them to put the books away when they are done with them.
This project pairs really well with our DIY kids art display!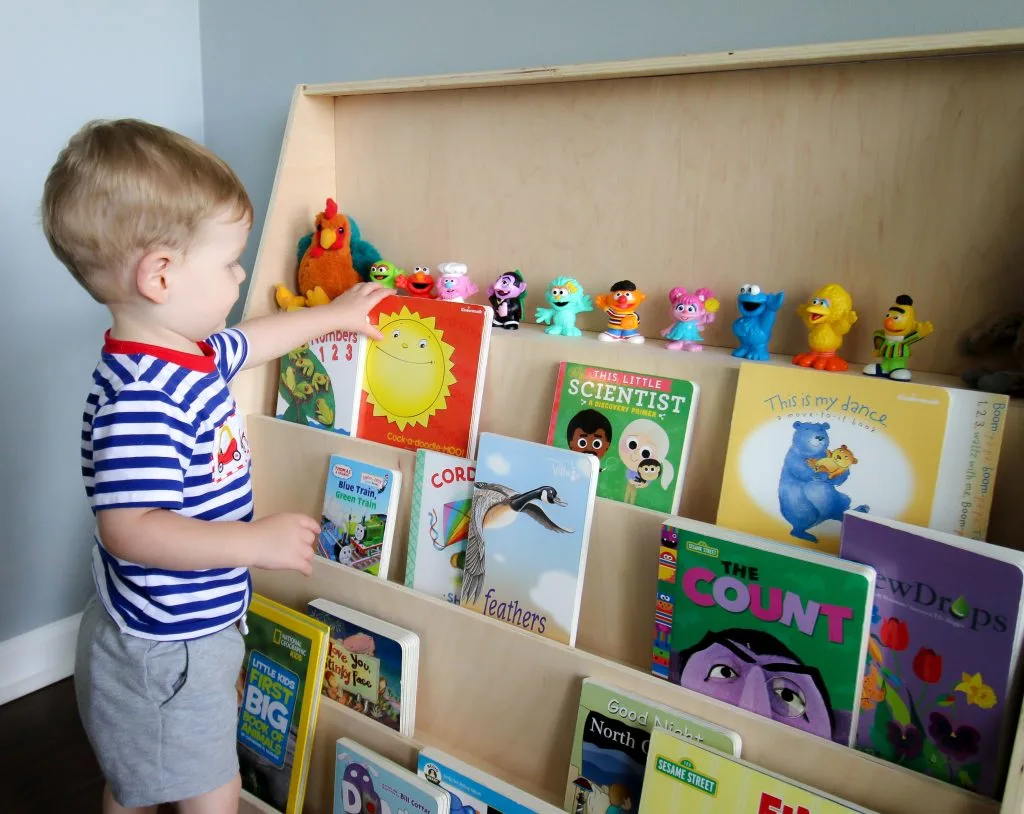 Our child adores this National Geographic book about animals and his collection of "This Little" books.
It's also easier for your child to put their books away, compared to putting them onto a shelf in the traditional way.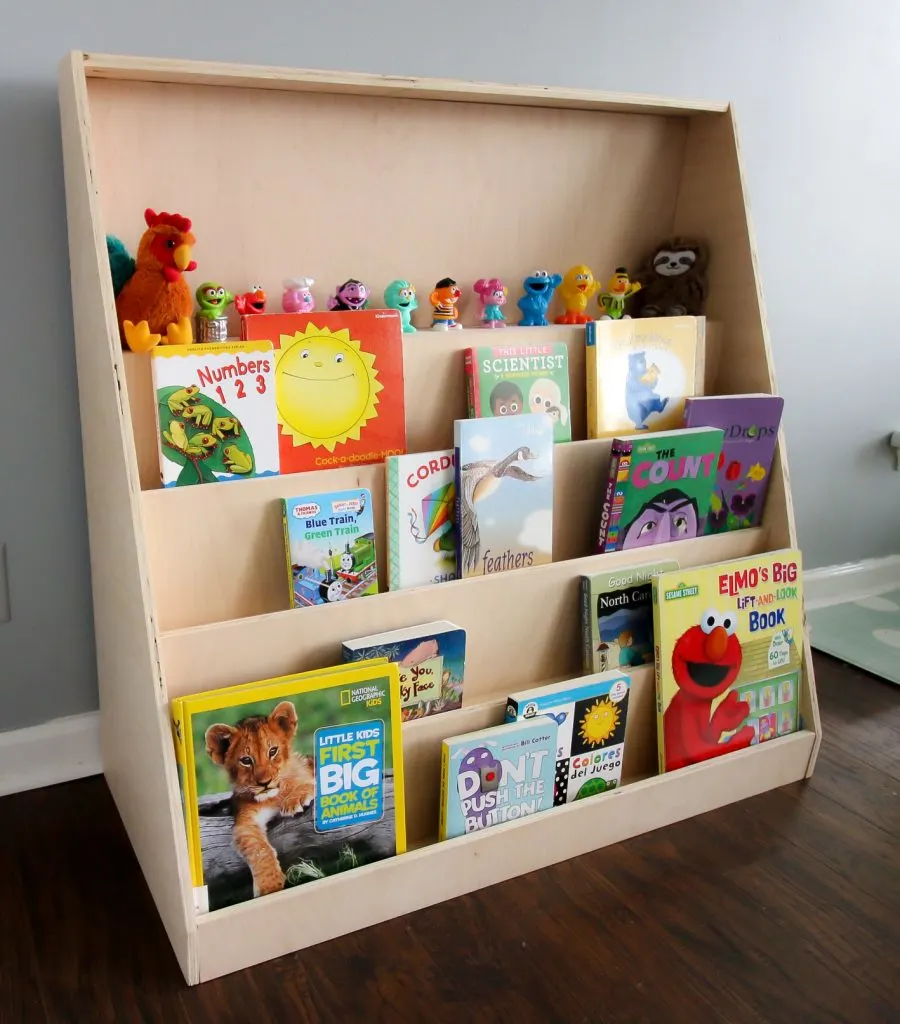 How to build a DIY Montessori bookshelf
Montessori bookshelves have the books facing forward on each shelf. They stay on the shelf by leaning, thanks to a small lip that rises up from the shelf below it.
To build a DIY version of a front-facing bookshelf, you'll need to plan how wide you want it to be and how tall. Keep in mind it needs to not be too tall that a toddler can't reach.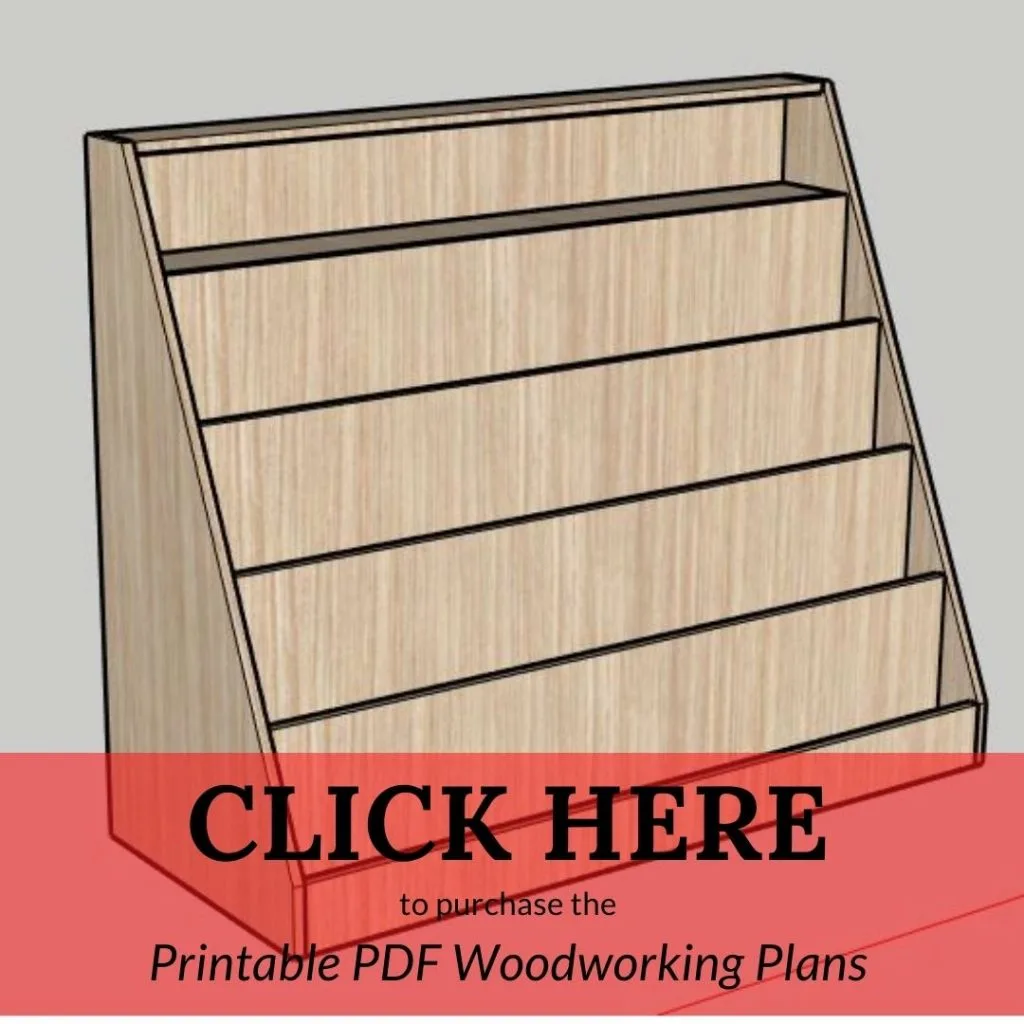 You can follow our plans for a DIY Montessori front-facing bookshelf to get the full dimensions and cuts!
Step one: build shelves
To build the bookshelf, you need to build four shelves and then connect them together with a lip on each shelf.
We did all of our joining using our Kreg Jig pocket hole jig.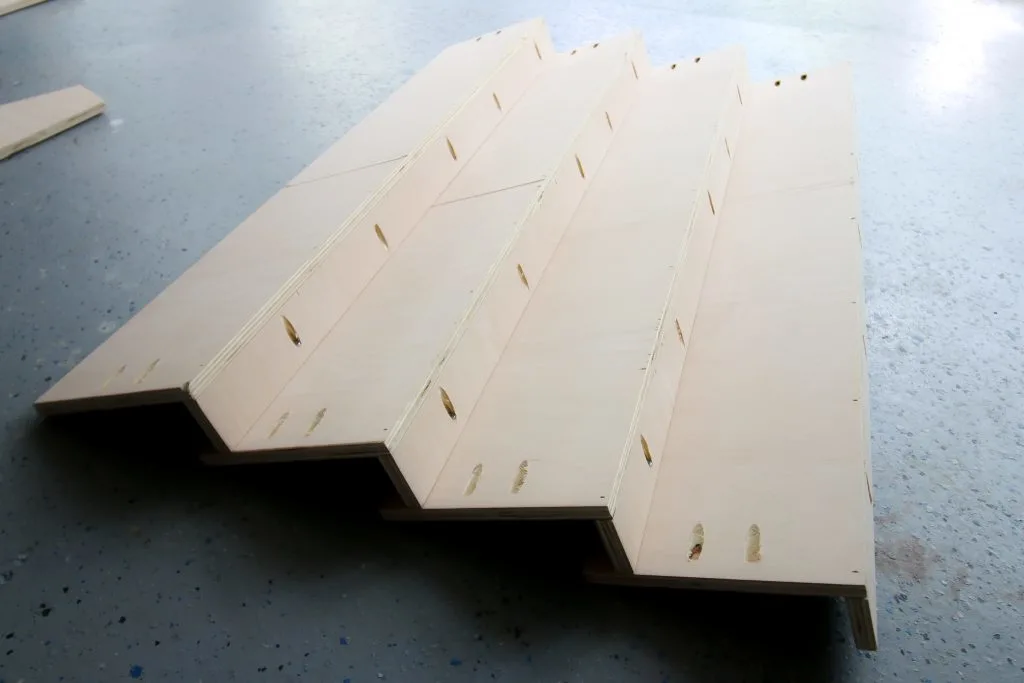 Step two: add sides
The sides are cut at an angle to mirror the progression up the shelves.
To cut angles on long pieces of plywood, you'll need to use a long straight edge guide to keep your circular saw in line. It's best to draw out the line and then follow it with the saw.
We designed our forward facing bookshelf to include a small platform at the top, where you child can put figurines or display different toys.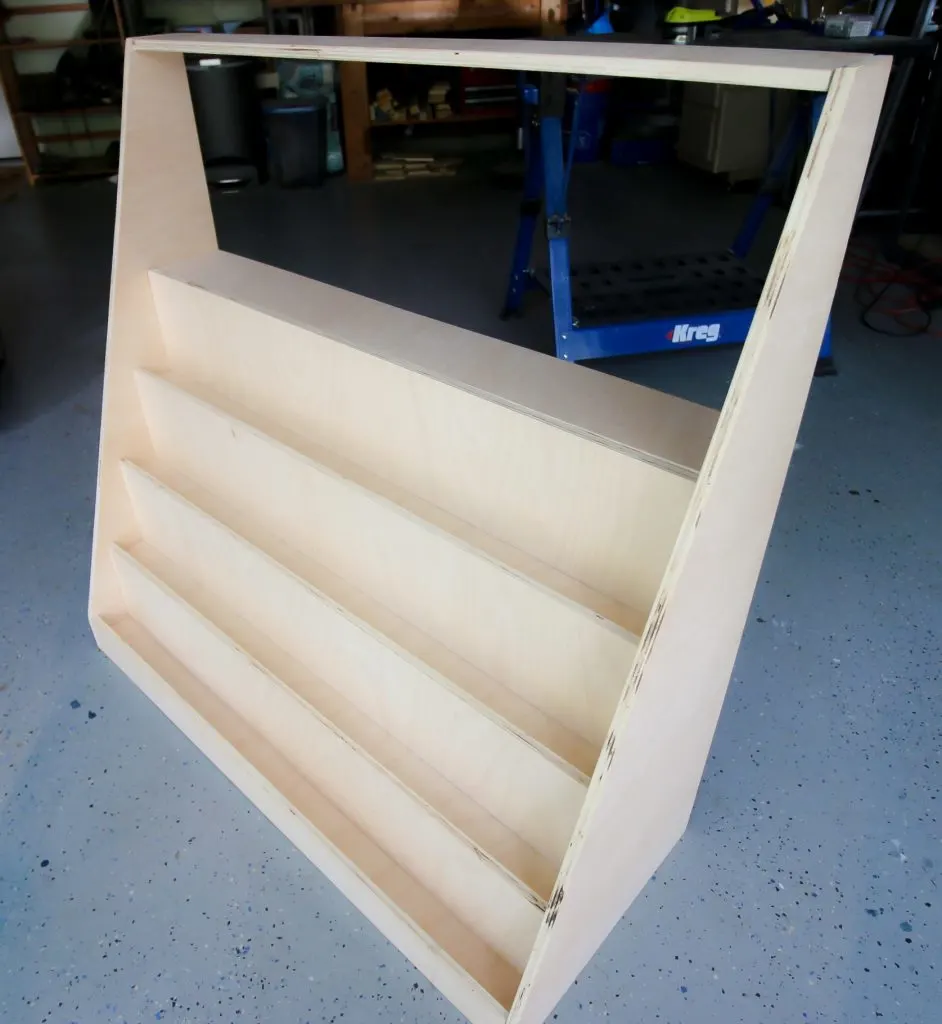 Our son loves to play with his Sesame Street figurines at the top.
Step three: Stain or paint if desired
The best thing about building your own forward-facing bookshelf is that you can customize it in the end. Add your own stain or paint colors to match the decor in your child's playroom.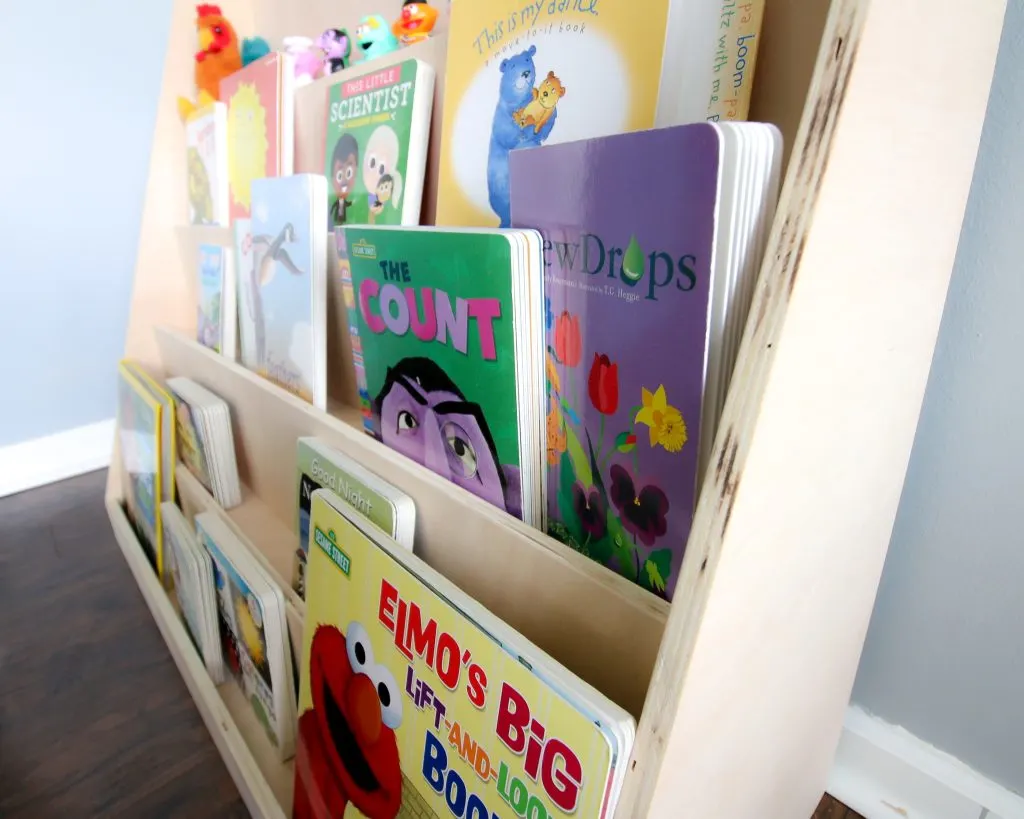 Step four: secure to wall
As with all furniture in a home with children, make sure you secure this item to the wall after you build it.
A front-facing bookshelf can look especially enticing to a toddler as it may resemble stairs.
Ensure it is secured to the wall in case your toddler is reaching for something up high. We wrote an entire post on how to anchor furniture to the wall that you can read through.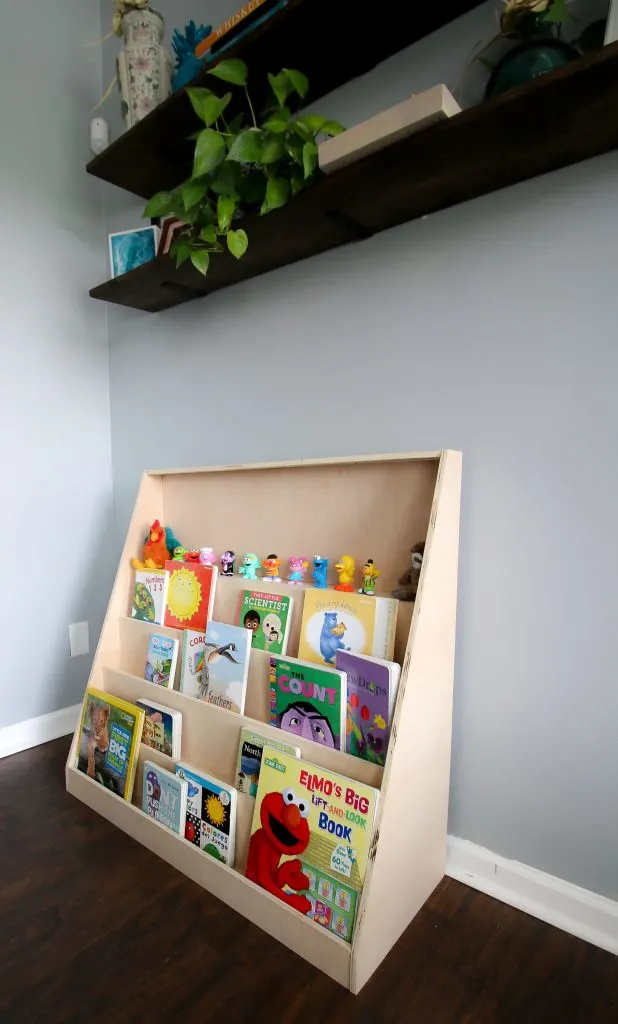 Prefer to buy a bookshelf? Here are my favorite front facing bookshelves available for sale!
DIY Montessori front-facing bookshelf woodworking plans!
If you love this project and want to make one for your children or grandchildren, we can make that easier for you!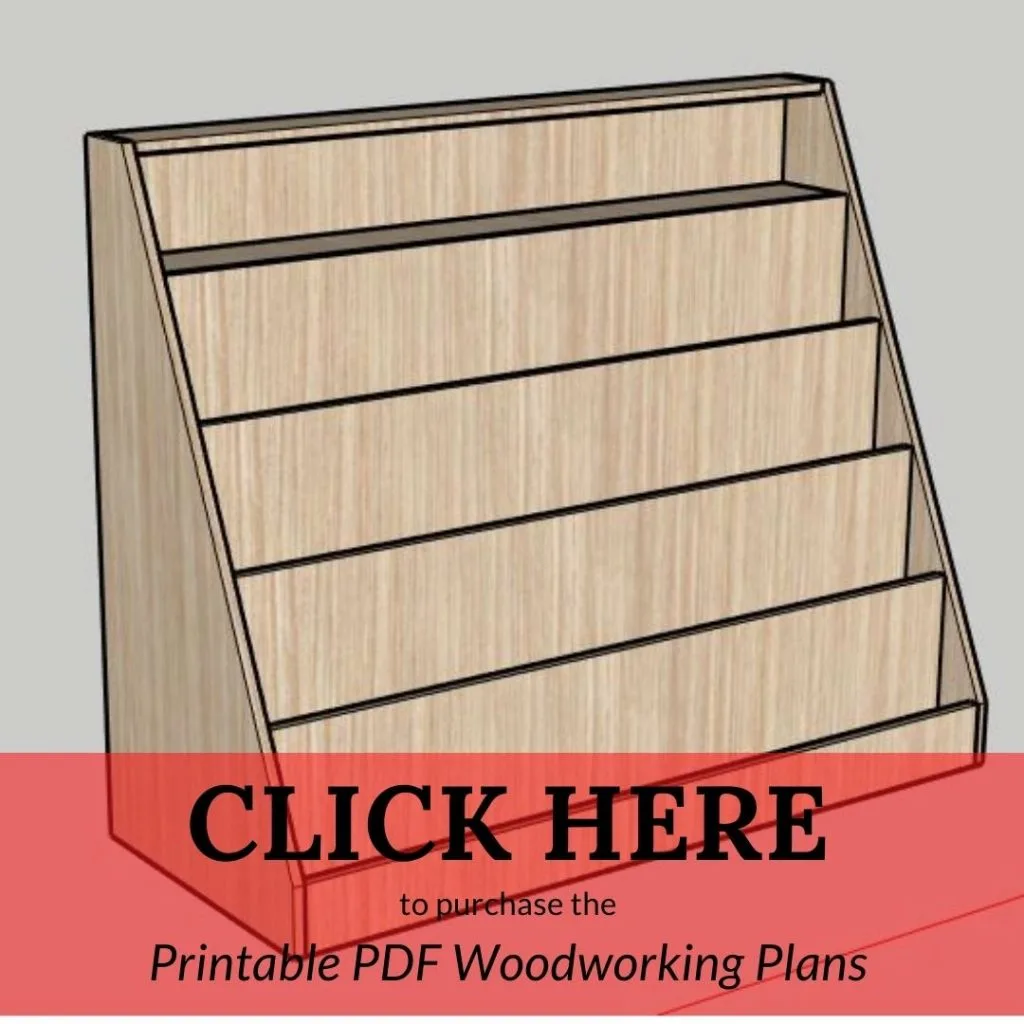 We designed a full set of printable woodworking plans that show you exactly what you need to do to make one yourself. Our plans come with a full material list, cut list, and step-by-step instructions with computer model imagery to help you!
Check out our tutorial + woodworking plans for how to build a kids learning tower!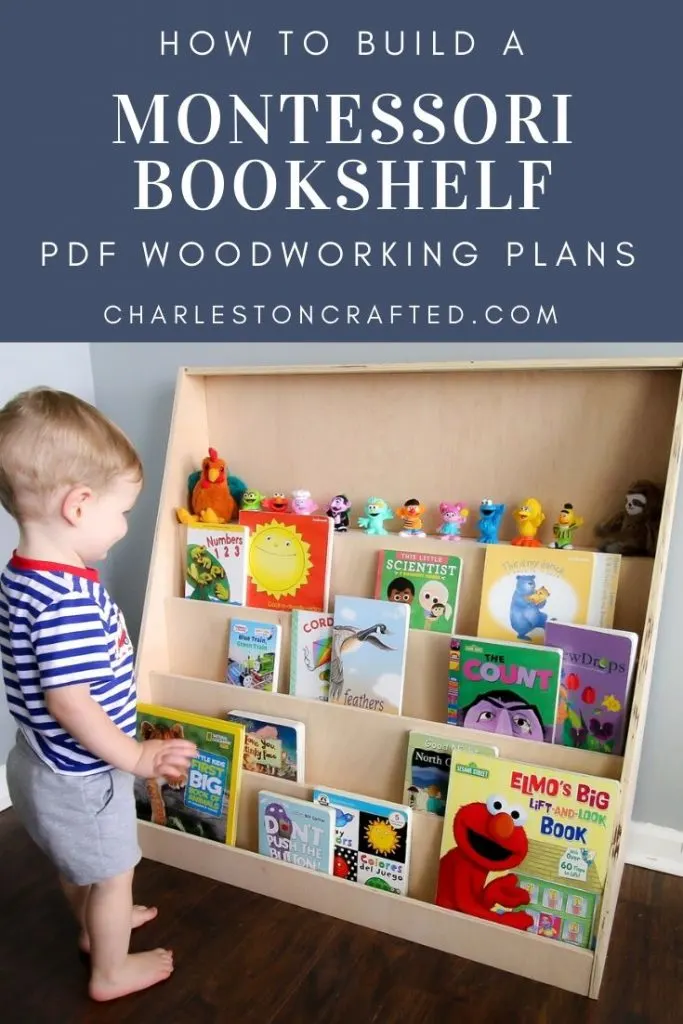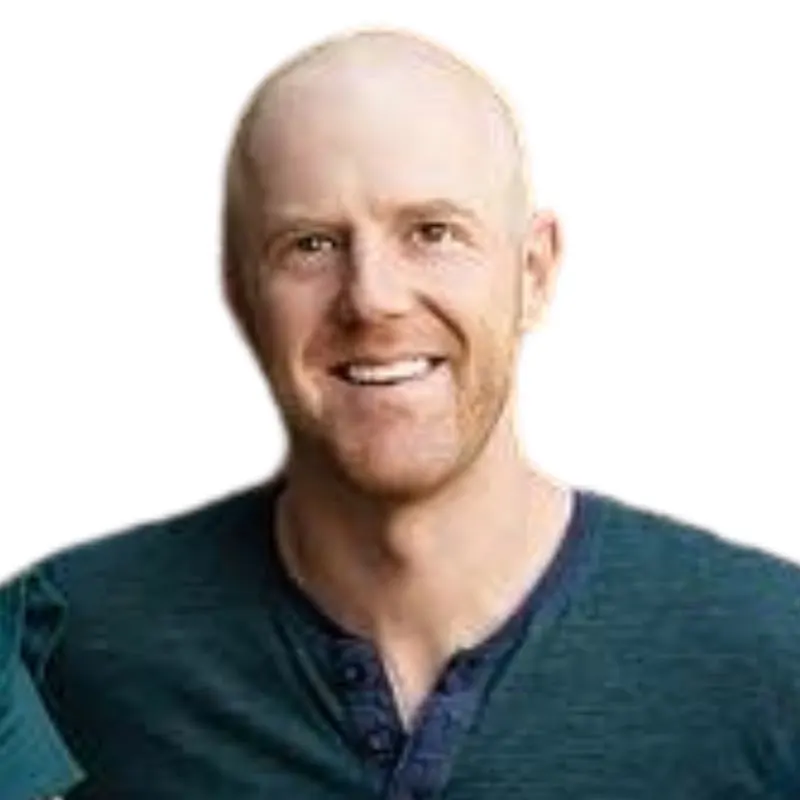 Hey there, I'm Sean, the woodworking enthusiast and builder behind CharlestonCrafted.com! Since 2012, I've been sharing the magic of turning raw materials into beautiful creations. I love teaching others the art and satisfaction of woodworking and DIY. I try to inspire fellow crafters to make something extraordinary out of nothing at all.