This DIY modern outdoor sectional couch is perfect for summer evenings with friends or winter evenings around the fire. The modern design is simple and functional and saves hundreds of dollars compared to buying one online.
This project was sponsored by Kreg Tool, makers of the pocket hole joinery tools we used in this video. All opinions are our own and our opinion is that we love Kreg products. Thank you for supporting the brands that make Charleston Crafted possible!
We are so lucky that our backyard is on a pond with woods all around it and even luckier that we have an elevated house with a screened porch overlooking the pond.
However, we have only ever had a round metal table on the porch that was in the family for years and we refurbished a few years ago.
With summer starting, we want to be able to sit on the porch and enjoy the weather and the view, so we decided to build a modern outdoor sectional couch that would fit our space and have room for our whole family!
Check out the outdoor dining table we built to pair with this couch!
How to build an outdoor couch
Building a modern outdoor couch can seem overwhelming, but it isn't that bad, especially if you have a guide like us!
Check out our screened porch makeover reveal!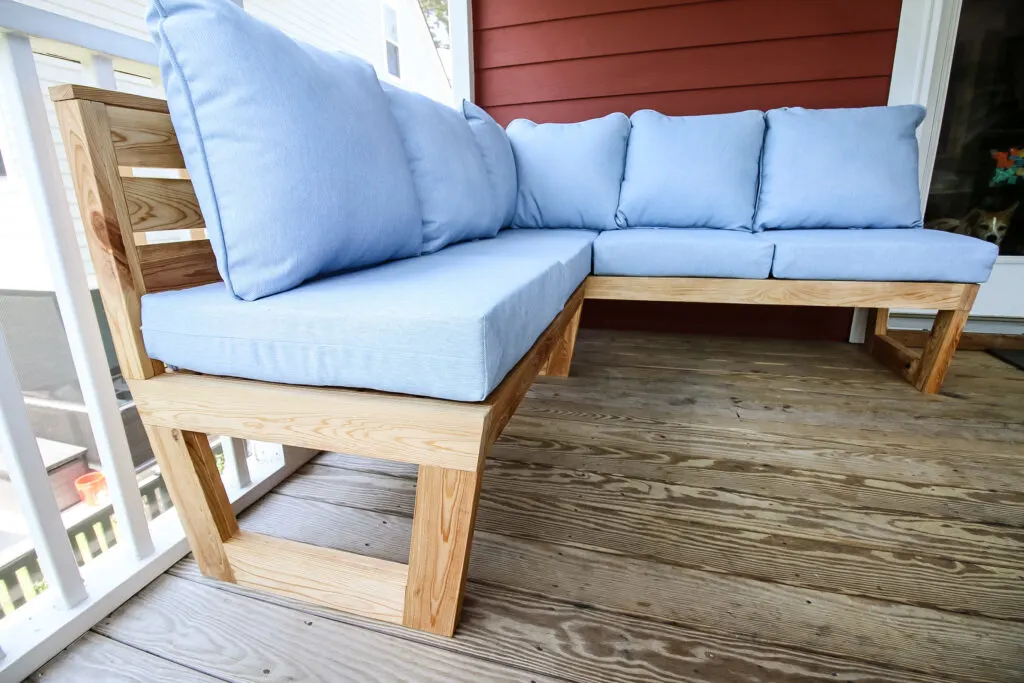 We designed our modern outdoor sectional couch to fit our needs in our space, but it translates perfectly for anyone using traditional outdoor furniture cushions.
Let's dive into how to build a DIY modern outdoor sectional couch and what you need to do it!
Right next to the couch is our new angled three tiered rolling planter- check it out!
How do you make an outdoor sectional
Here are the tools and materials you need to make an outdoor sectional. The full material list and cut list can be found in our PDF woodworking plans below!
Tools used to build a DIY modern outdoor sectional:
Miter saw
Table saw
Cordless drill
Orbital sander
Clamps
Materials needed to build a DIY modern outdoor sectional:
Cypress or cedar boards
Wood glue
Kreg pocket hole screws
Outdoor sealant
Cushions
Best wood for outdoor furniture
The best types of wood for outdoor furniture is either cypress or cedar. These woods are naturally weather resistant to rot and insects, meaning they will hold up best in outdoor conditions for longer.
You can use any wood and seal it with an outdoor sealant, but it's best to use what will naturally survive the best.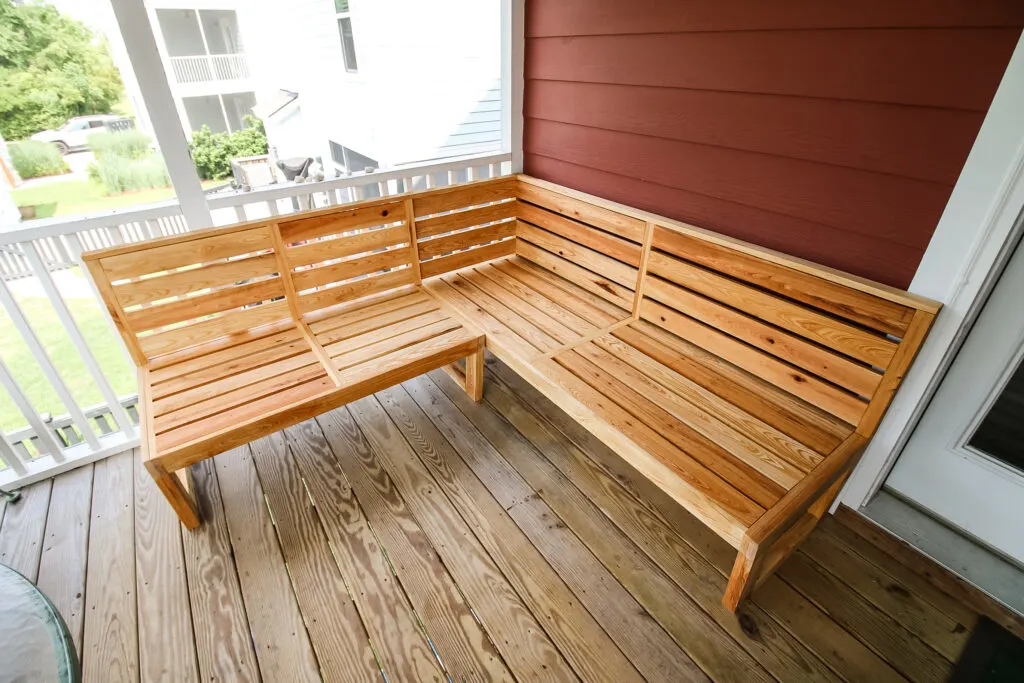 For this project, we used cypress boards, which are actually the cheapest lumber you can buy these days at the hardware store, and then also sealed it with clear outdoor sealant so it is extra protected and should last a long time.
We also used cypress to build this mount for a staghorn fern plant!
Steps for how you make a modern outdoor sectional
Here are the general steps for how you make a modern outdoor sectional. You can get the detailed steps and printable PDF plans here.
Step one: Glue, clamp and assemble legs
This entire couch is built with 3/4″ thick cypress boards, but we wanted to ensure it was stable and strong enough for a few adults to be sitting on it at any given time. Most outdoor couch plans you see use 2x4s to build, so we mimicked that with our legs and supports to be double thick, gluing and clamping them together.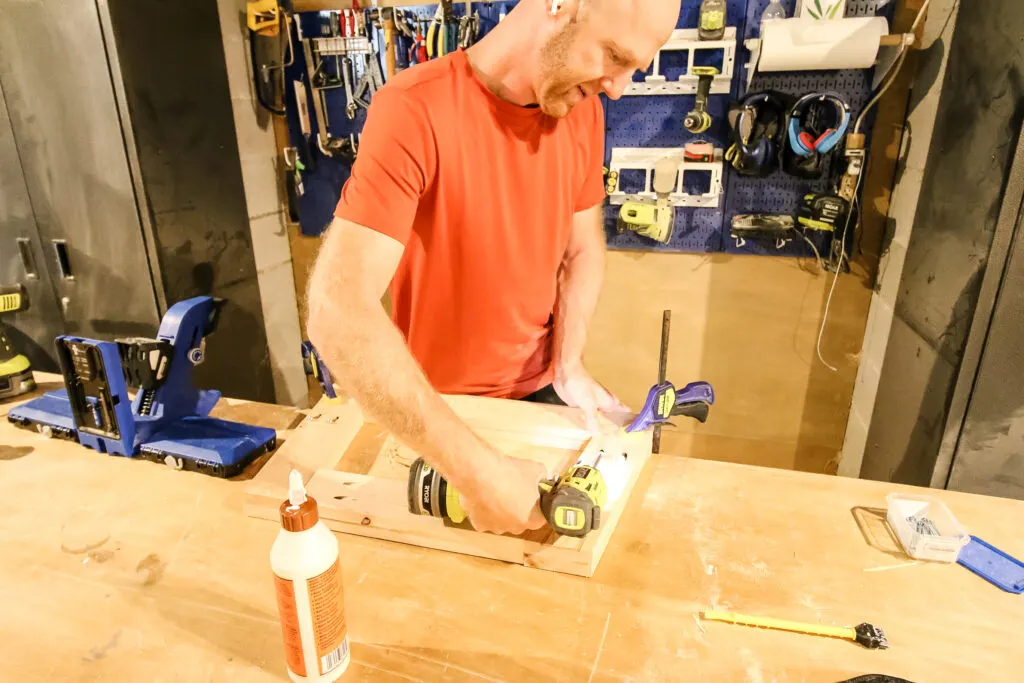 We also chose to use an angled leg design to give the couch a little bit of interest and not just be so boxy and simple. With each of the angled leg pieces cut glued and clamped, we got started putting the four leg sets together.
Each set of legs was four pieces with Kreg pocket holes drilled into them. We used 1 1/2″ holes and 2 1/2″ long Kreg screws to hold each piece together. Combined with the wood glue, each set of legs is extremely solid and sturdy.
Step two: Assemble short couch
We designed this couch to be a corner sofa with equal dimensions on both sides. This accounts for two cushions on each length and a corner cushion.
To make that work, we had to build a separate short couch and long couch and then put them together.
We started with the short couch, attaching the legs together with two pieces on the front and back and then adding a center support.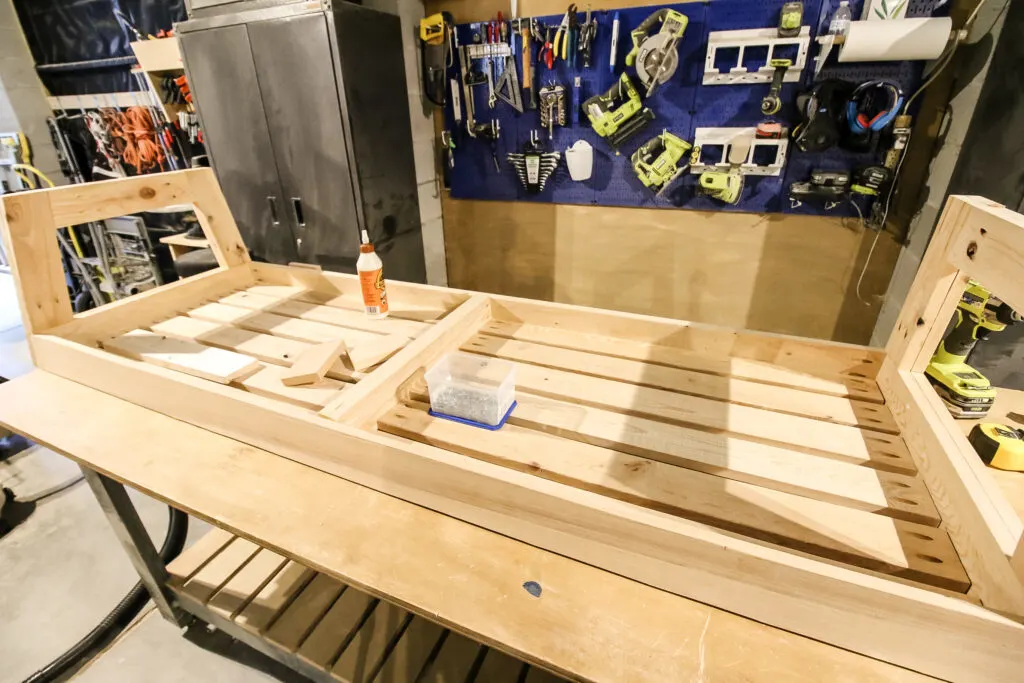 With the frame done, we added slats to each seat using wood glue and pocket hole screws.
We also took this time to assemble the seat backs, mimicking the same slatted design with double thick back posts to screw into.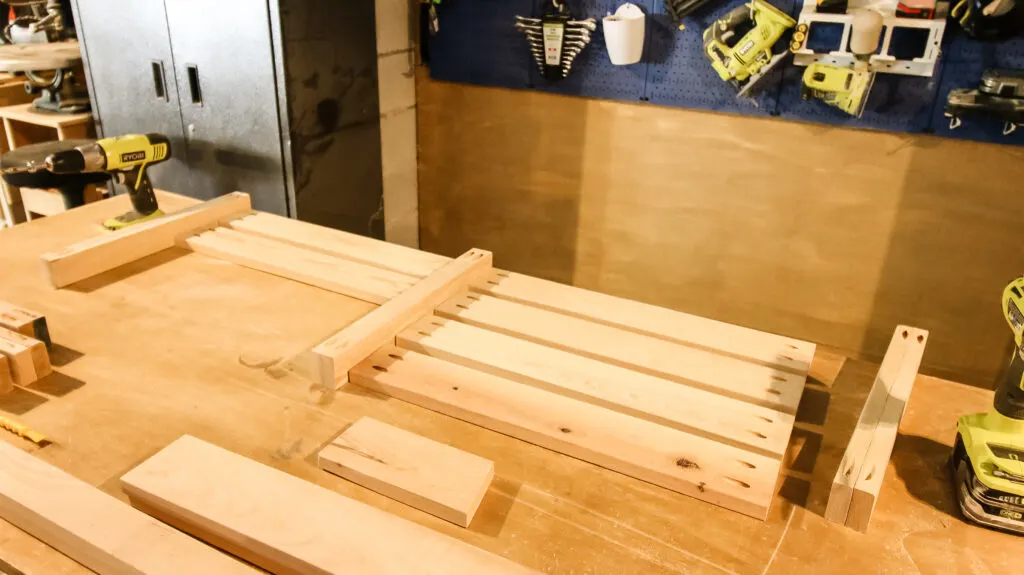 We didn't want to attach these yet because we weren't sure if we could fit the couches through the door of the screened porch with the backs on. Turns out, it wouldn't have been a problem.
Step three: Assemble long couch
The long couch is exactly the same as the short couch, except… longer.
The long couch accommodates three 24″x24″ cushions instead of two and then connects into the short couch.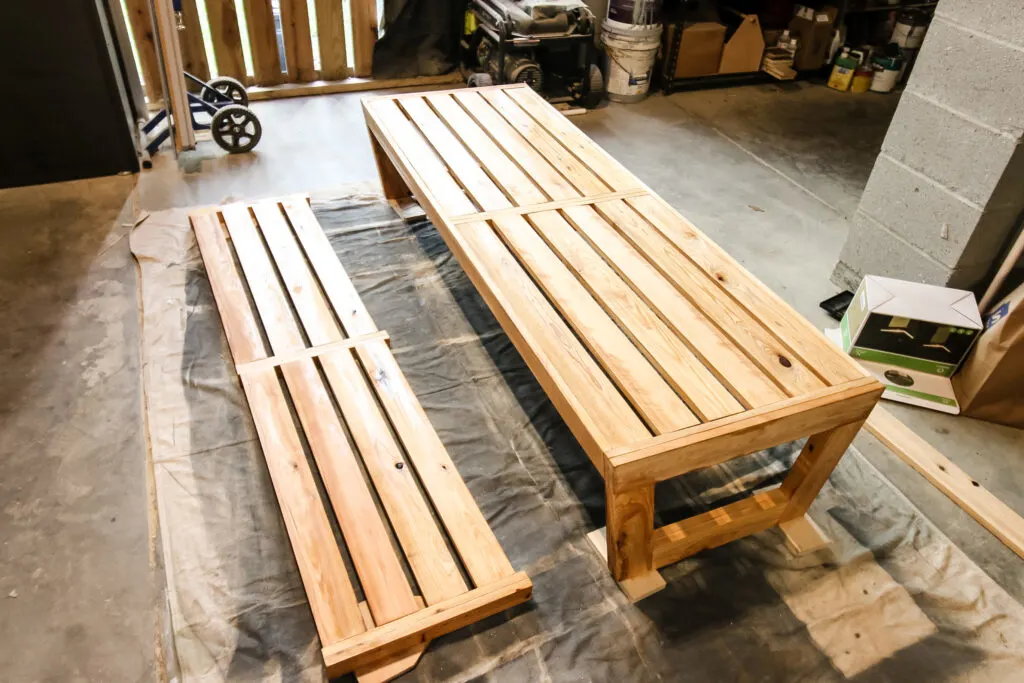 You could actually use these DIY outdoor corner sofa plans to just make a separate couch and loveseat if you wanted and it would work out perfectly!
Step four: Add seat backs
As mentioned, we added the seat backs in place on the porch because we were afraid of it fitting in the door. If you are assembling this on a patio or in the yard, you could add the backs whenever.
Ensure you use wood glue and pocket hole screws since people will be leaning back on the cushions and you don't want to have an accident.
Step five: Connect couches
When everything was assembled, we connected the couches with four slats between the backs of the long couch and the short couch.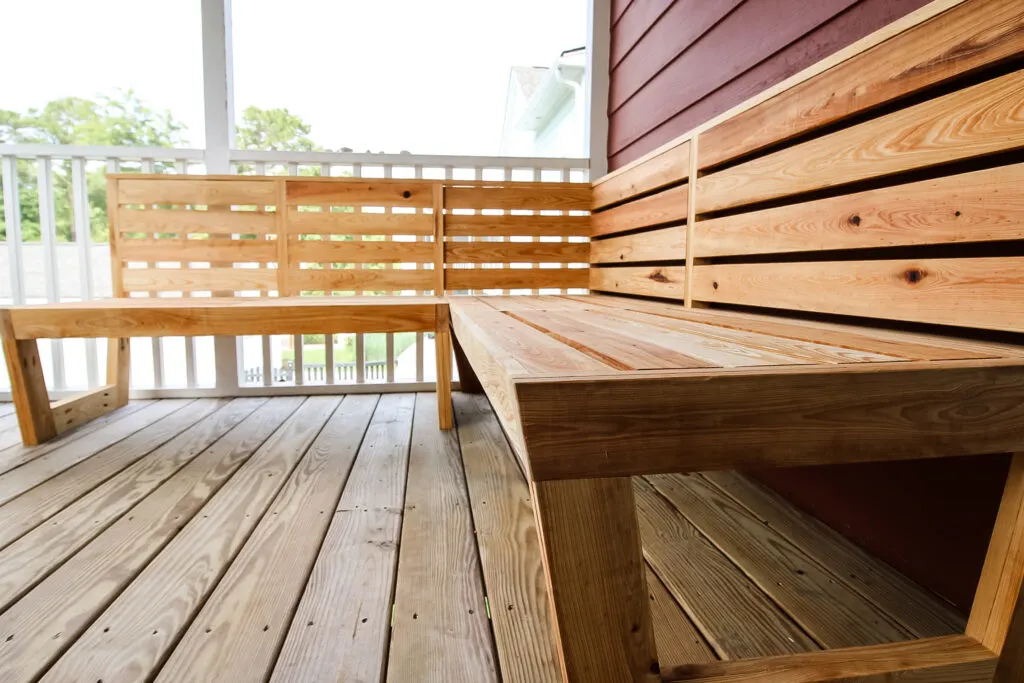 These connectors look exactly the same as the back slats on the couches and make it look like one continuous piece.
Finally, we added a top board to each couch and connected them in the corner with a 45 degree angle so the couches would look complete!
Step six: Add cushions and enjoy!
Last but not least, we added the cushions we bought from Home Depot and got ready to relax!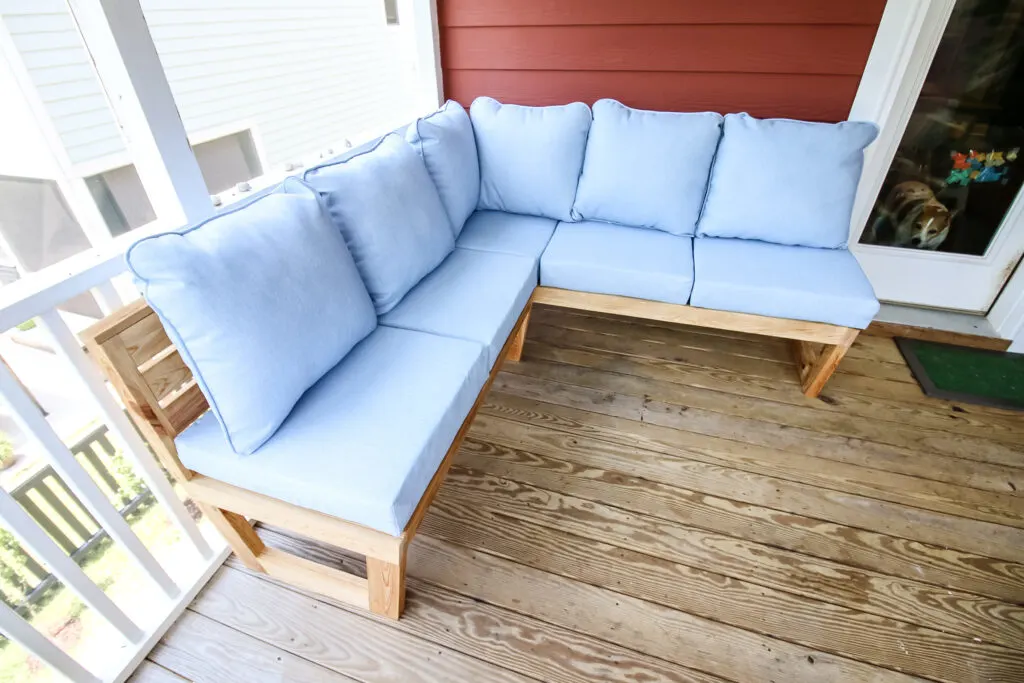 This couch is so comfortable and great for looking out over the view. When we have people over, now we can invite them to sit outside with us and talk.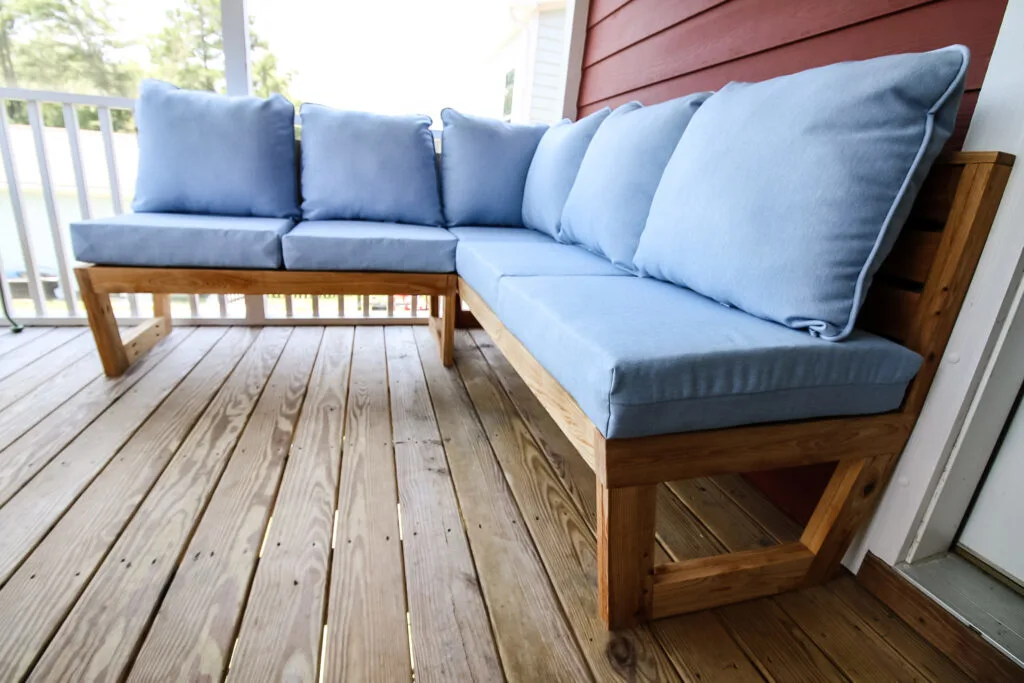 This DIY outdoor sectional is also designed to be at table height, so you can put a dining table here and enjoy meals all summer long!
DIY outdoor sectional plans
If you love this project and want to build it for yourself, it's your lucky day because we have free DIY outdoor sectional plans!
Our DIY outdoor couch plans come with a full material list, cut list and step-by-step instructions with computer imagery so you are ready to go with your build. And thanks to Kreg Tool, they are yours for free!
Our plans for this build are over on Kreg's Projects and Plans site where you can get hundred's of free woodworking plans for whatever you need to build. There are tons of plans there (including dozens of our own) that will help you with other outdoor projects or your next indoor build.
How to build a DIY outdoor sectional video tutorial
Make sure you check out our video tutorial on how to build a DIY outdoor sectional! Click the video image below and our video tutorial will show you a closer look at how we built the couch and how you can do it too!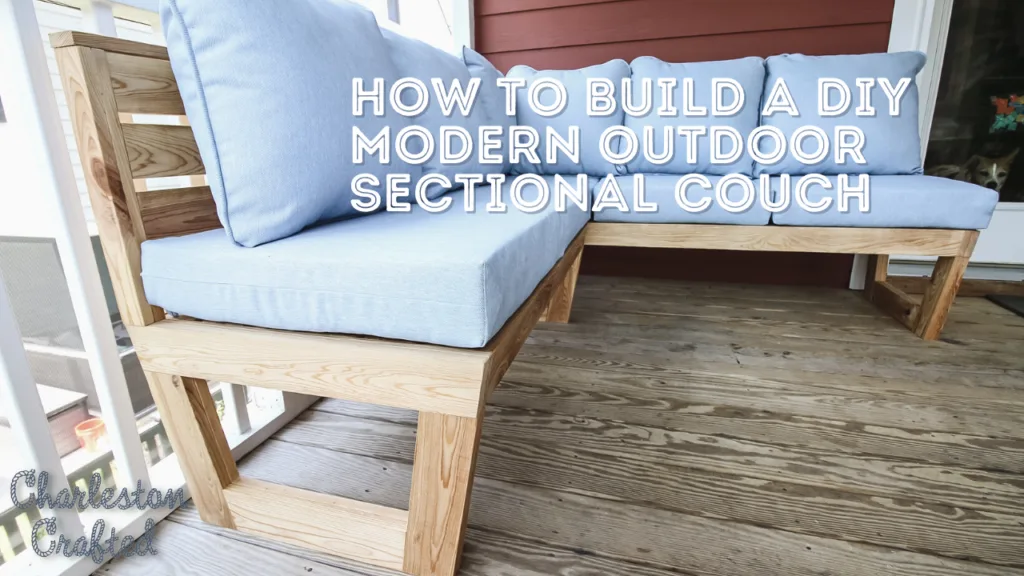 Basic woodworking information for every project
Here are some of our most popular woodworking articles!
Shopping for wood:
Woodworking project ideas
See all our printable PDF woodworking plans!
Our favorite tools + supplies
Remember to also always use safety equipment while woodworking and using tools. Make sure you have proper eye protection, ear protection and a good mask to keep yourself safe.