Today we're bringing you the easy DIY console table plans for this DIY farmhouse style console table we just built for our new home!
We just moved and identified a list of immediate projects that we needed to get done in the first two months before tackling room makeovers.
One of those projects was a console table for behind our couch because our couch was so far away from the TV and needed to be moved forward. We also needed somewhere to put our drinks without reaching for the coffee table.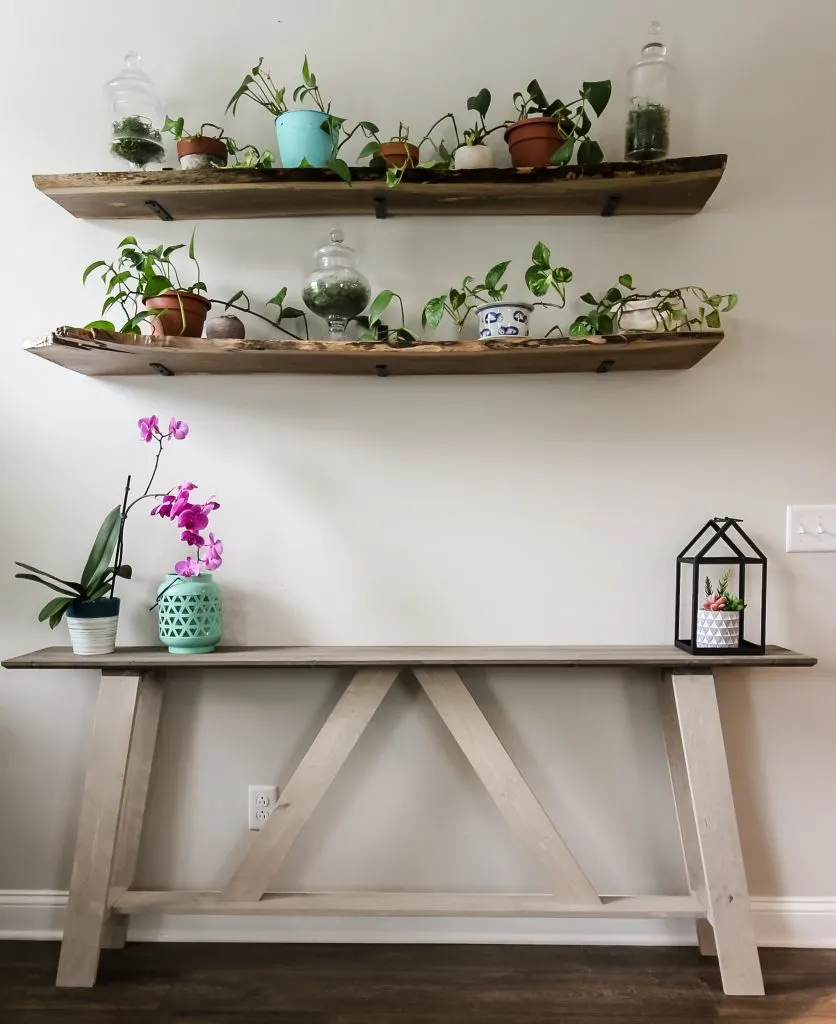 This console table will also work for your entry way or whatever purpose you need! Check out how we built it.
If farmhouse style isn't your thing, be sure to grab the free plans to our DIY coastal console table!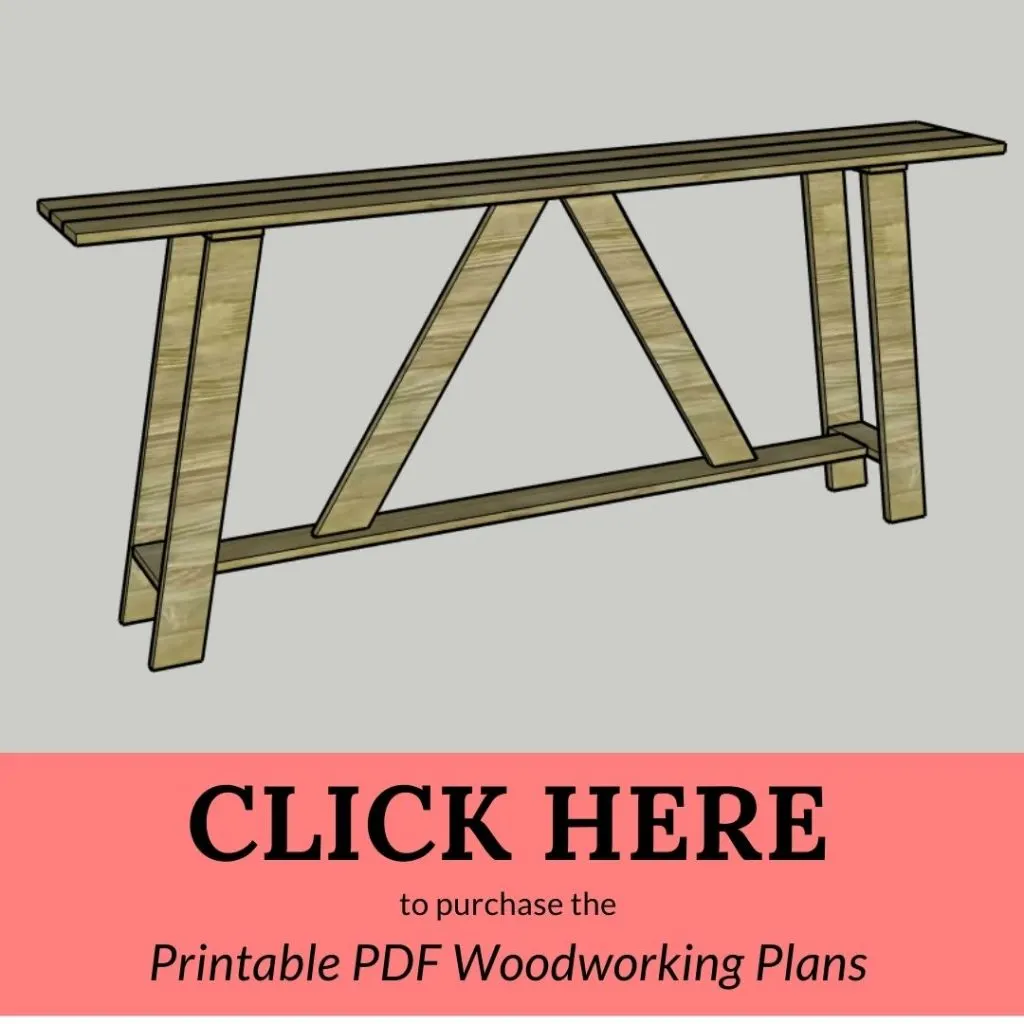 DIY farmhouse style console table plans
This rustic console table is perfect for behind a couch or against a big wall. It's also great as an entryway table if you have a long foyer in your home.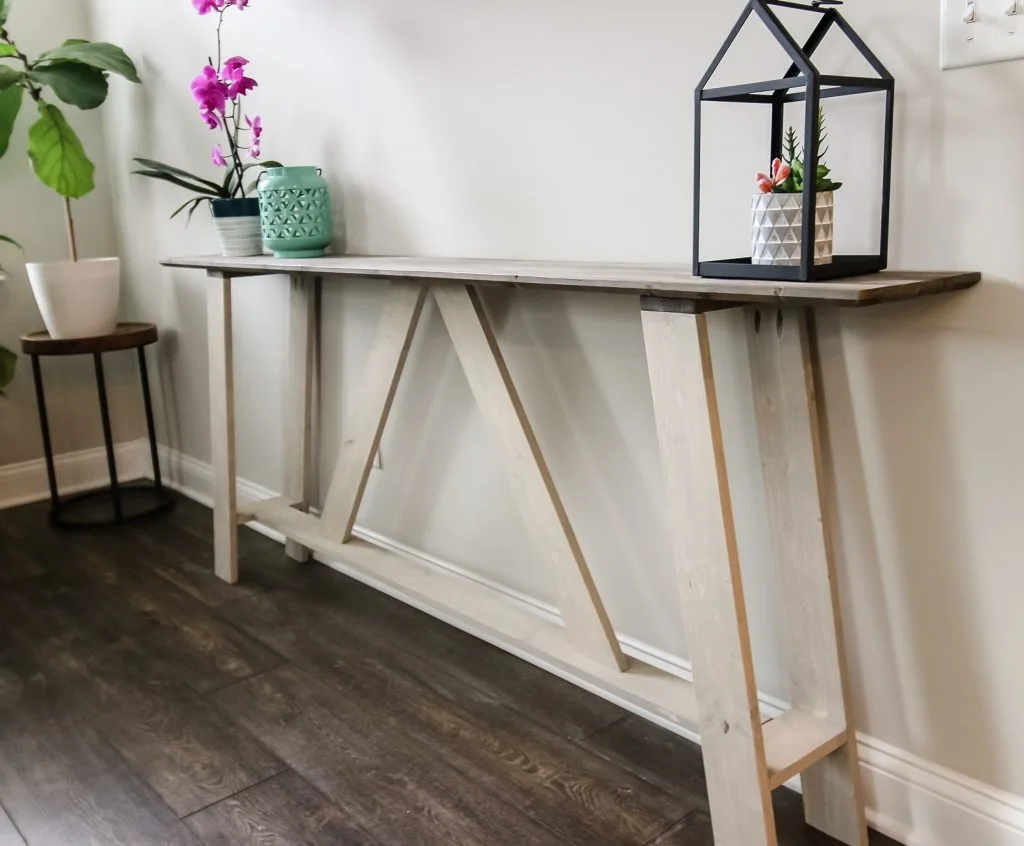 We built this table to meet the needs of bumping our couch off the wall and closer to the television, without having our couch float in the middle of the room.
This table is also great for setting a drink while we're sitting on the couch.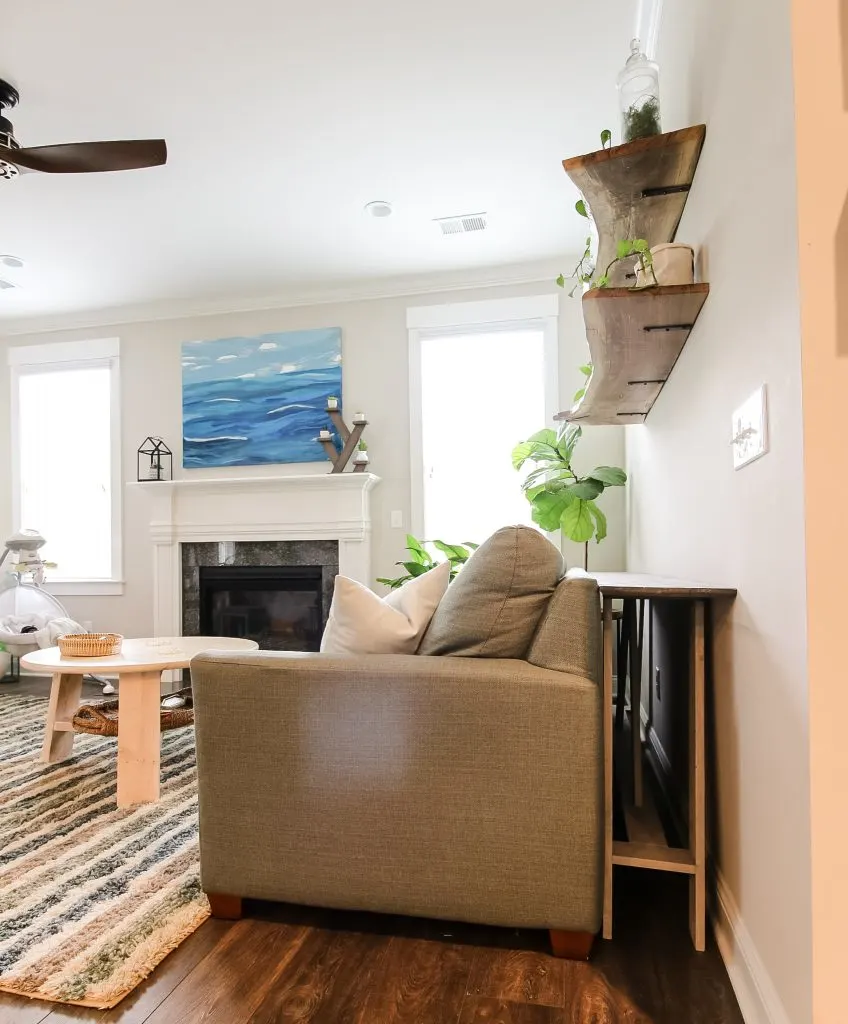 As an entryway table, fill this spot with decor (like this easy to build angled plant stand) and a place to drop your keys (like this cool watch rack with wallet and key storage).
How to build a farmhouse console table
This is a fairly simple build. This whole project can be done with a miter saw, pocket hole jig and sander.
Need to know how to use a pocket hole jig? We've got a guide.
To build this console table, we built two sections: the top and the base. Then, those sections are connected at the end. This also helps if you want to stain them different colors.
The top is simple to construct, just cutting boards to length and connecting with pocket holes. We also added a nice routered edge to add detail.
The base is slightly more complicated, but only because there are more pieces.
The base of this farmhouse style console table is two leg sets connected with a stretcher.
Once those were connected, we attached the top to the base with the legs.
The final step was to add the V-shaped pattern in the center. This adds support to the center of the table top and adds detail that is pleasing to the eye.
This table can be finished however you'd like, but we opted for two different color stains to make the top pop from the base.
Here are a ton more DIY console table ideas!
Video Tutorial
If you want to get a better look at how we made this console table, we've got a whole video tutorial for you! This video will dive into how we did it and give you a look at how simple it is!
Farmhouse Console Table PDF Plans
If you love the look of this farmhouse style console table, you can make one for yourself using our printable PDF plans!
Our plans have the full material and cut list, as well as the step-by-step instructions with diagrams.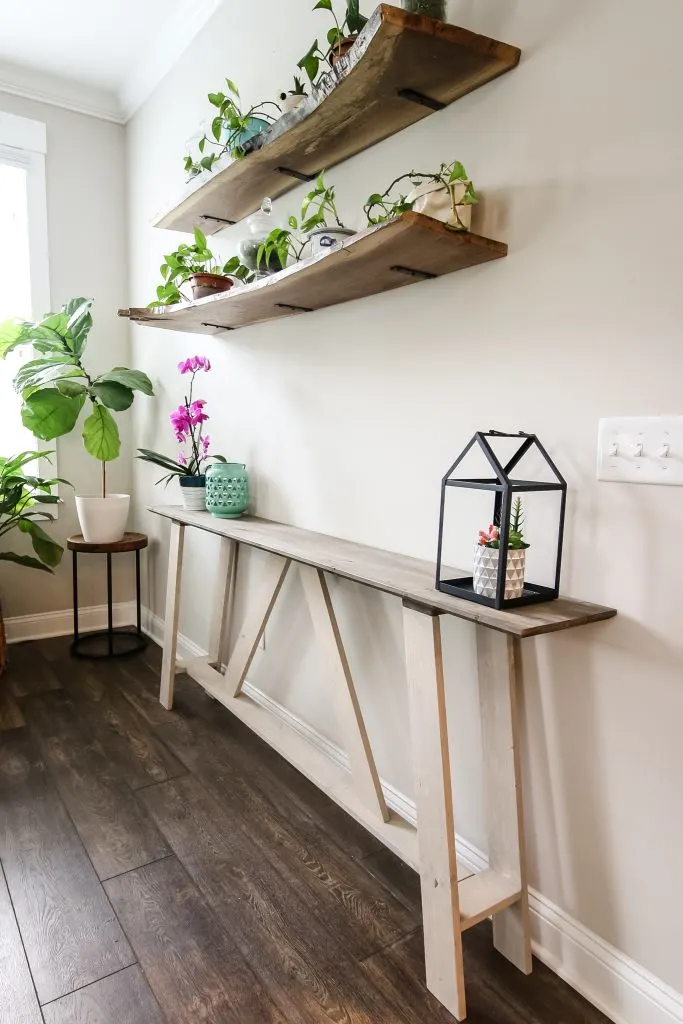 You can even customize this console table for your needs by shortening the top boards and stretcher.
So grab the plans today and get to work on your DIY farmhouse console table!