Check out how we made this plant hanger that looks like a picket fence! It's great wall decor for small potted plants to thrive!
Who doesn't love a good plant stand? And bonus points if it hangs!
We designed this plant hanger shaped like a picket fence to hang on our back patio and hold several small pots.
Previously, we had hung a DIY galvanized bucket planter here, but the succulents in there weren't getting enough light and we needed to move them somewhere else. But the screw was still there!
So, we designed this hanging planter to fit in the space and display a few plants that don't require as much light.
We designed this as an outdoor plant stand, using cut off boards from our garage enclosure project where we had 156 pieces of wood roughly 18″ long each. This was a creative DIY project to use a few of them up!
This is a really simple DIY project that you can use scrap wood for, using treated wood for outside or regular lumber to hang it up in your house.
If you're looking for planters to hang ON your fence, check out this one!
DIY picket fence shaped plant stand
This DIY plant hanger is a really fun one because it looks like a picket fence. That might mean something special to you or you just need a place to put some small flower pots.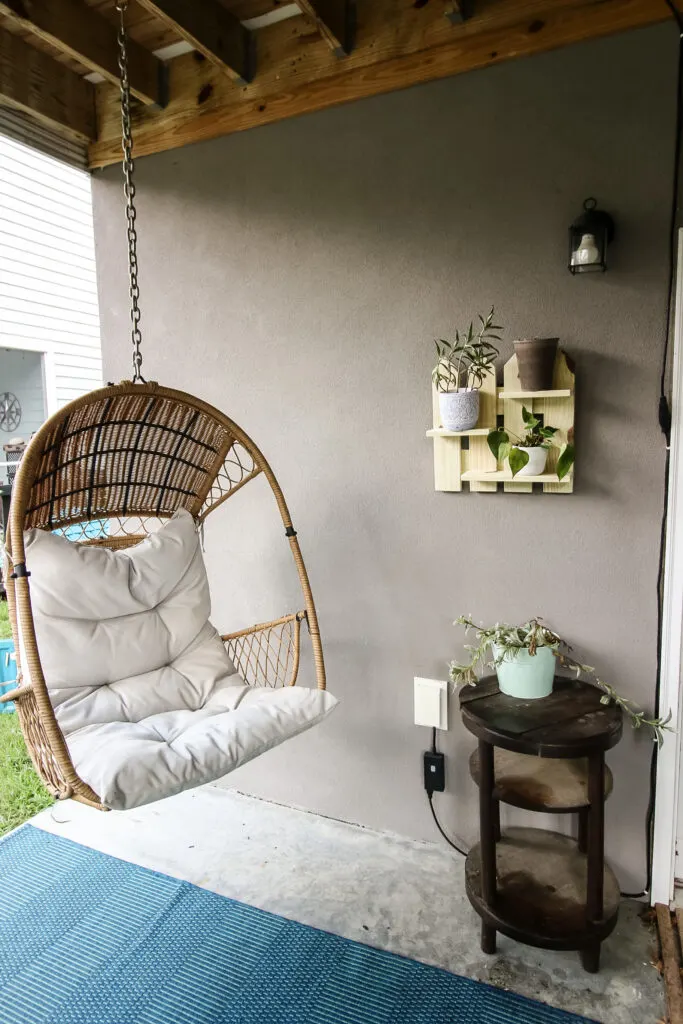 You can't ever have too many places to hang plants and this is another great example or a good wall hanging plant stand.
Check out this hanging plant shelf we hung from the ceiling!
Materials needed to build:
3/4″ thick wood (we're hanging ours outside and used pressure treated wood, but you can use any 3/4″ thick wood you want to hang indoors)
wood glue
1 1/4″ brad nails or screws
1 1/4″ Kreg screws
How to make a plant hanger that looks like a fence
Here's the steps you'll need to make this easy DIY fence planter to hang and display some small potted plants!
Click here to check out more hanging planters!
After reviewing the project, make sure to grab a free copy of our downloadable PDF woodworking plans with material list, cut list and step-by-step instructions!
Step one: cut pickets
Start by turning your boards into "pickets" by cutting an angle at the top of each of four boards.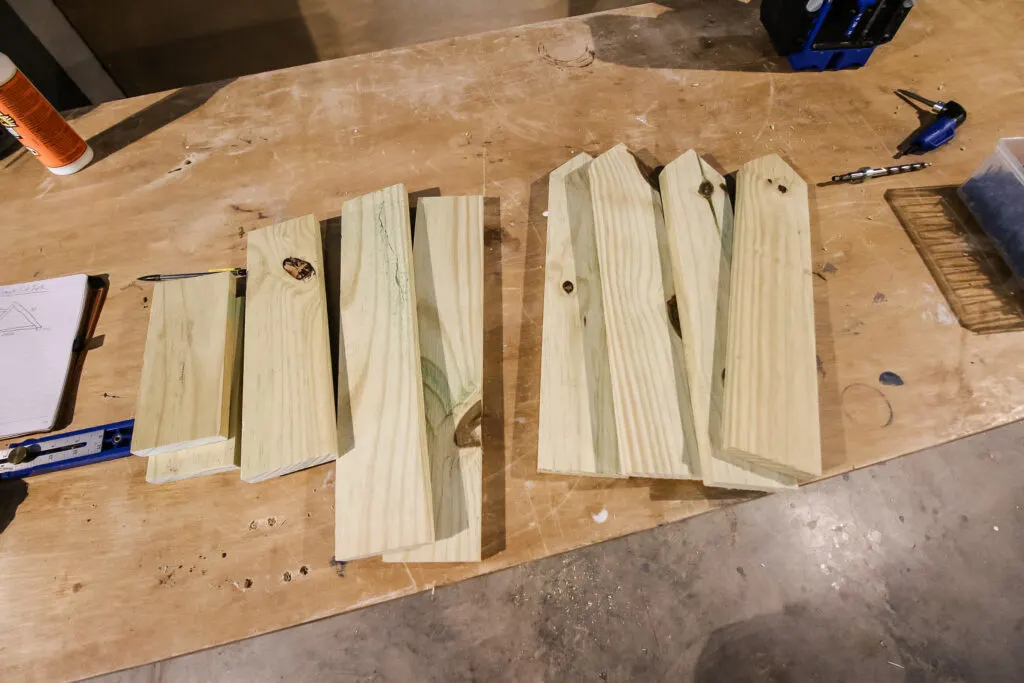 We did this by measuring from the center of one end and down 2″ on each side and cut off those pieces.
You can adjust this however you want if you wanted a steeper or less steep point.
Step two: attach pickets
Next we attached all the pickets together with two boards along the back. These were long enough to space out each of the pickets evenly and hold them together.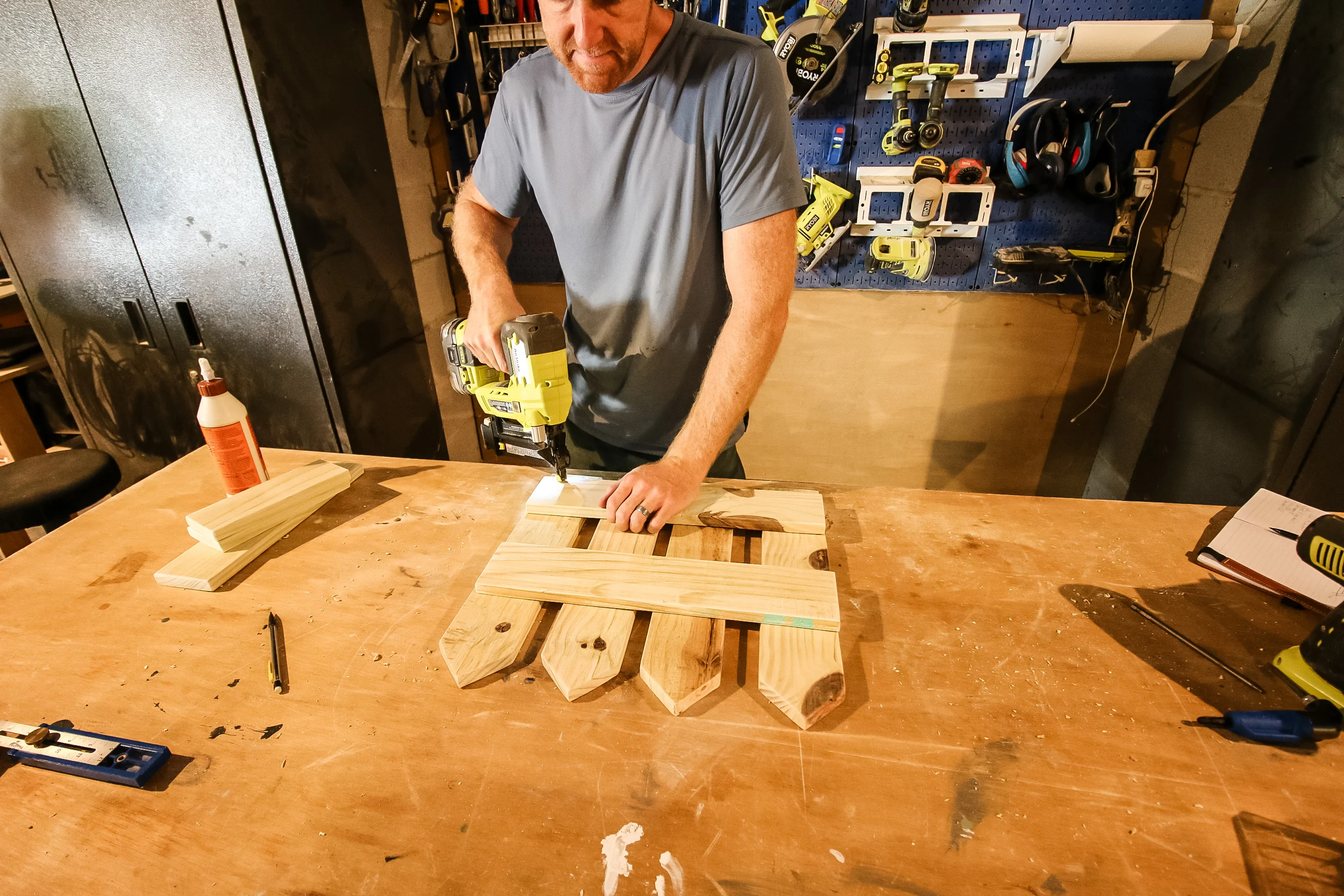 To attach these, we used wood glue under each of the back supports and nailed through the back into the pickets.
However, you could also use screws if you don't have a brad nailer!
Step three: attach plant shelves
Then we attached three plant shelves. These we used Kreg pocket holes to hold them in place since they'd be at a 90 degree angle.
The pocket holes were simple to drill, but we had to make sure that they would line up with two fence pickets.
Once the holes were drilled, we added wood glue and screws and attached the three shelves.
The one on the bottom is a little longer to give some visual interest, but it also makes it so that you could do a climbing or overflowing plant that would spill onto the shelf.
If you wanted to stain or paint your DIY fence picket planter, now would probably be the best time to do that, but we left ours natural with the plan to leave it outside.
Step four: hang and display
With the shelves made, all you need to do is add some picture frame hanging hardware to the back and a screw or nail on the wall and hang it up!
We added just some wire to the back and then hung it over the existing screw that was there from the old galvanized tub hanger.
Once it's up, grab some small potted plants or even some decor or pretty rocks and put them on display!
Finished picket fence plant hanger
This wooden plant stand is a really fun one to build! The picket fence look gives it just a little something extra.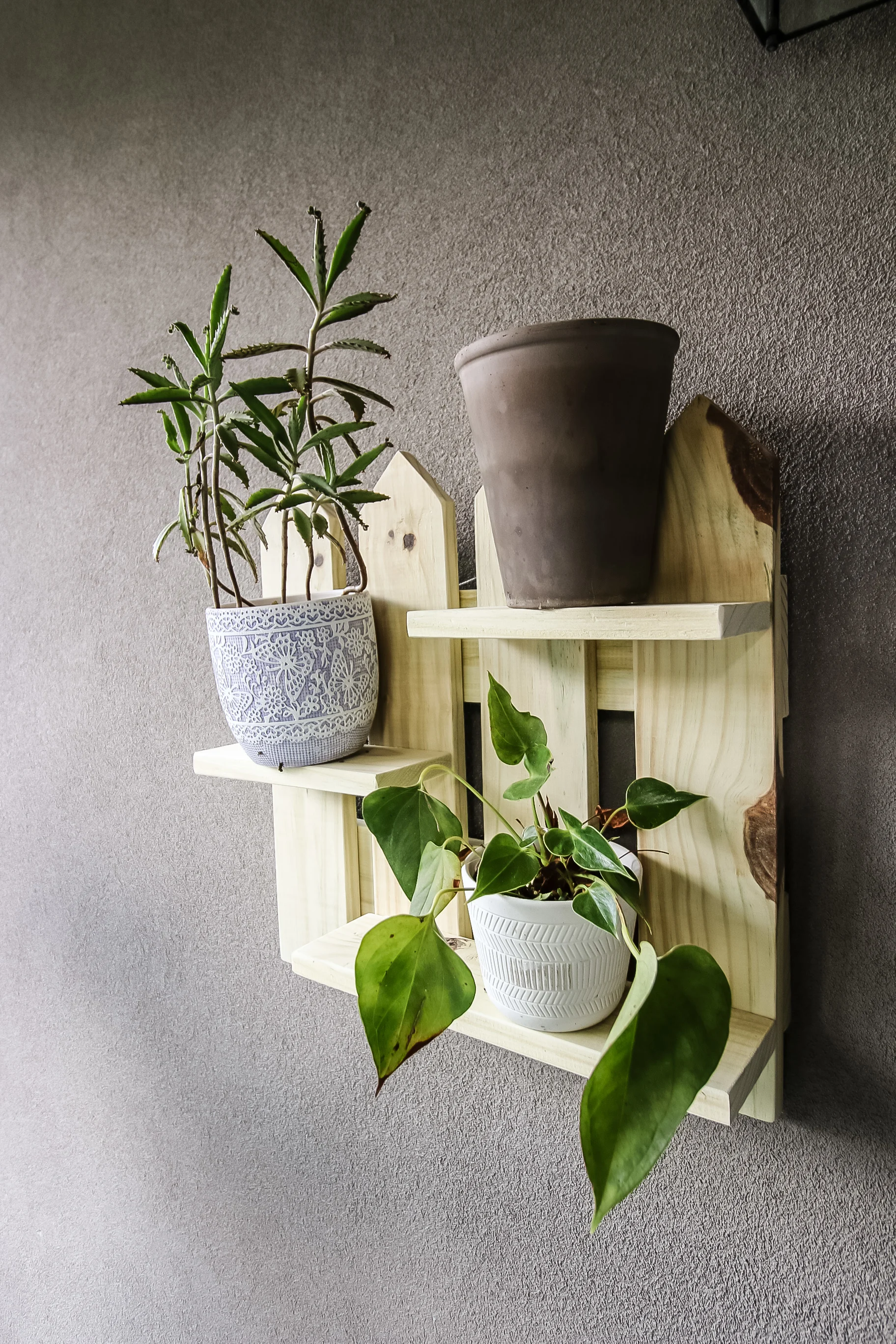 You could also make this as big as you wanted, including making it taller or adding more pickets to make it longer, depending what you wanted.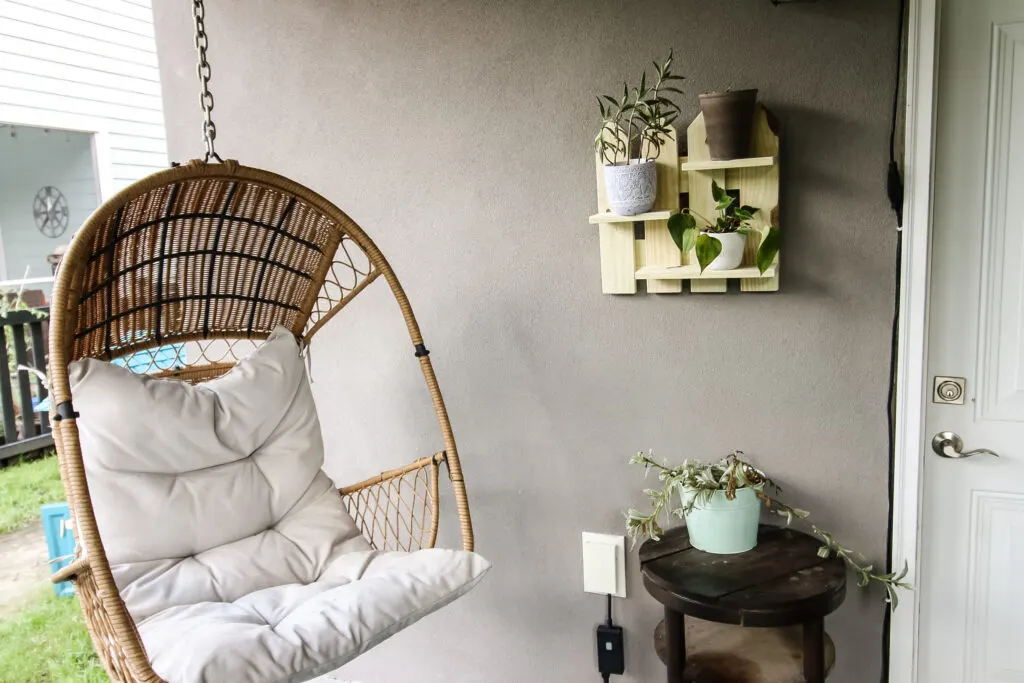 Looking for more great DIY plant stand ideas? Click here!
Picket fence plant hanger woodworking plans
Love this project? You can grab our woodworking plans for this project for free!
Our plans come with a full material shopping list, cut list and step-by-step instructions with computer model imagery to help you make this project for yourself!
You can download our woodworking plans for free and enjoy full access to them, and check out some of our other plans as well.