Hey y'all – We are Morgan & Sean McBride and we are crafting our home together in Charleston, South Carolina.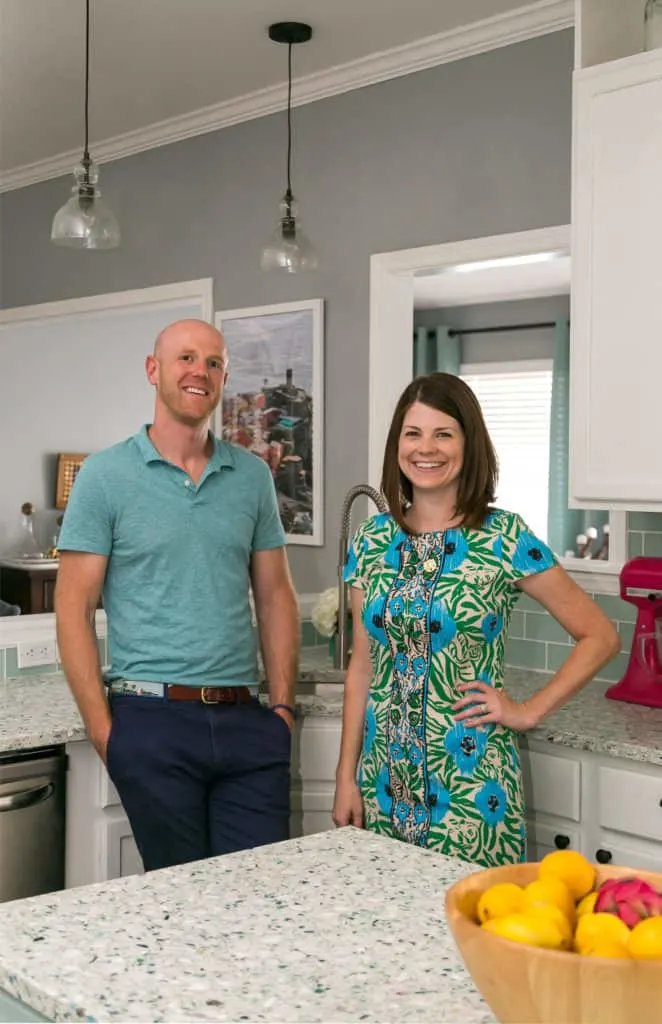 We blog here at Charleston Crafted to share with you our experiences on transforming our home into our dream home. We're also empowering YOU to try DIY by showing you easy ways to make a huge impact in your home.
We have a beautiful son and daughter named Luke and Rory, a beagle named CiCi Sabathia, and a fluffy grey cat named Bear Grylls.
Click here to see our past & present home tours
From 2012 to 2016, we lived in a two bedroom condo where started this blog to share the projects that we worked on while decorating and living in that condo. You can see the whole condo tour here. It was a hobby and we really found our passion.
In July of 2016, we sold our condo (for a huge profit!) and bought our first house. It was a bit of a fixer in that the bones were great, but we wanted to take down a few walls and, in general, bring the home into this decade and our style with DIY projects and design. Check it out, but we think we did a pretty good job! This was where we turned this blog into a business featuring these projects and bringing them to you.
Some of the biggest projects we did there that you have to check out:

Our DIY Coastal Kitchen was a complete transformation.

We shared ways to make massive changes to the look of your home while maintaining its existing footprint with projects like extending your fireplace or swapping out balusters. But we also share bigger projects, like whole room makeovers such as our laundry room or our nursery, or building projects, like our kitchen table, our coffee table, wooden lanterns or midcentury modern side tables.
In 2020, we bought our second home and then had a baby 10 days later. The home is much more modern than our last one, but very builder-boring as the previous owners did nothing. We're spicing it up and showing you all the projects you can do!
You can contact us via email here – Morgan or Sean!
Crafting our home into our dream home is our passion
We are so excited to not only share our journey with you but also help you craft your home into your dream home.
Before we started on our DIY journey, we had no idea what we were doing. We both had desk jobs and have learned as we go and are continuing to learn every day. We have no background in construction or decorating or anything like that.
We continue to evolve as DIYers and we are here to show you that crafting your first home doesn't have to be difficult, scary, or expensive. We love sharing advice as well as projects going on in our own home and we hope that you will enjoy following along.
Click here for our disclosure page
Want to work with us? Here's how! We've worked with dozens of our favorite brands, including The Home Depot, Kreg Tool, Gearheart Industry, HomeRight, CedarSafe, Woodgrain Millwork, and many many more.
We hope that you will enjoy! Be sure to follow us on social media and add us to your blog reader to stay up to date.