Need to take a seat in the shower or put your leg up for shaving? Modern showers don't include any ledges, so whip together this DIY wooden shower stool and put it to good use!
This stool is super simple to make and needs just one board cut into four pieces. Scroll down to check it out and get the FREE printable PDF plans to build it yourself!
Want to add a bench to a tub-shower combination? We've got that too. Check out our plans for a DIY tub bench!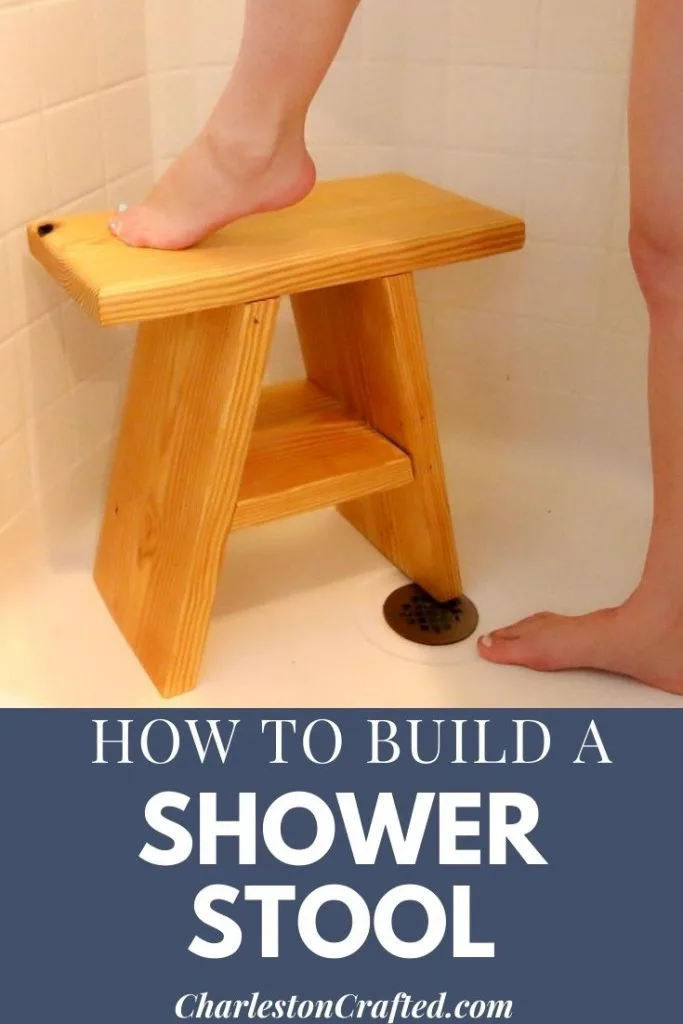 Check out all of our DIY woodworking projects for the bathroom!
How to build a wooden shower stool
A shower stool is a great upgrade for many bathroom showers! Here is our step by step guide to how to build a shower seat.
Supplies needed:
One 6′ long common 2″x10″ board
Spar urethane or other waterproof sealant
Tools needed:
Miter saw
Kreg Jig K4
Sander
Drill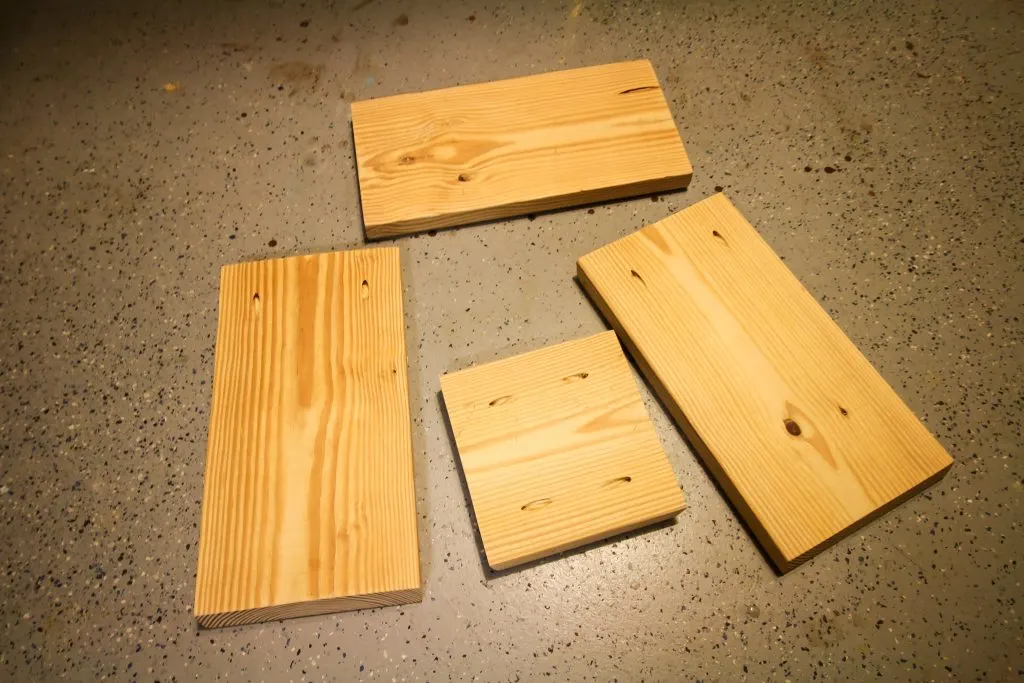 How to build the shower stool
STEP ONE
Cut all the pieces and sand them down. Add pocket holes to the legs and stretcher as laid out in the plans.
STEP TWO
Attach the legs to the bottom of the seat.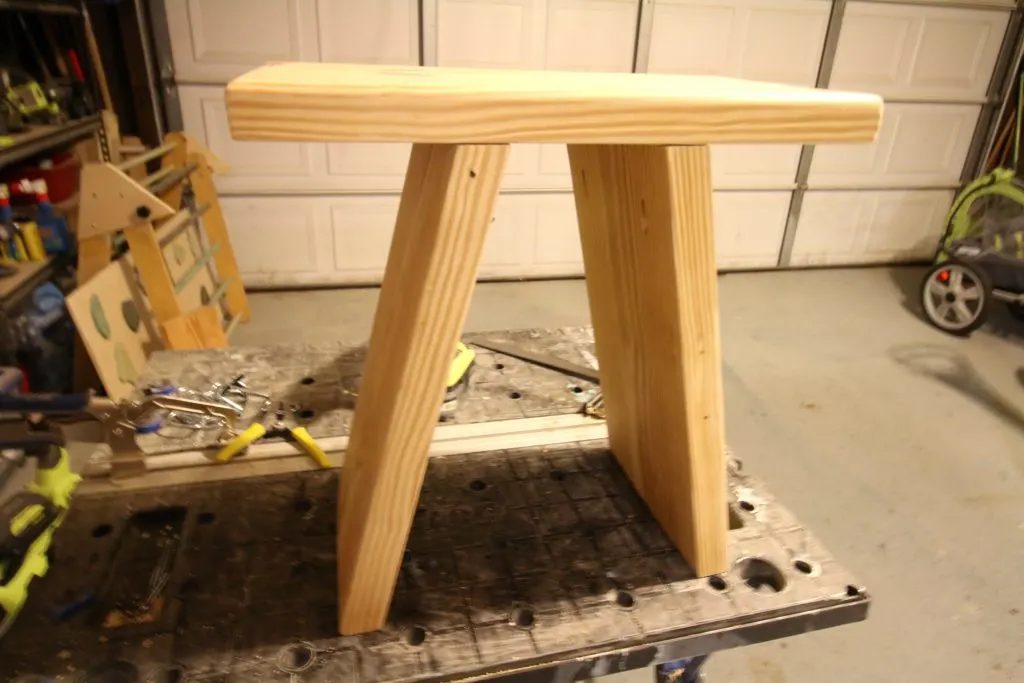 STEP THREE
Attach the stretcher between the legs
STEP FOUR
Seal to keep it from getting moldy.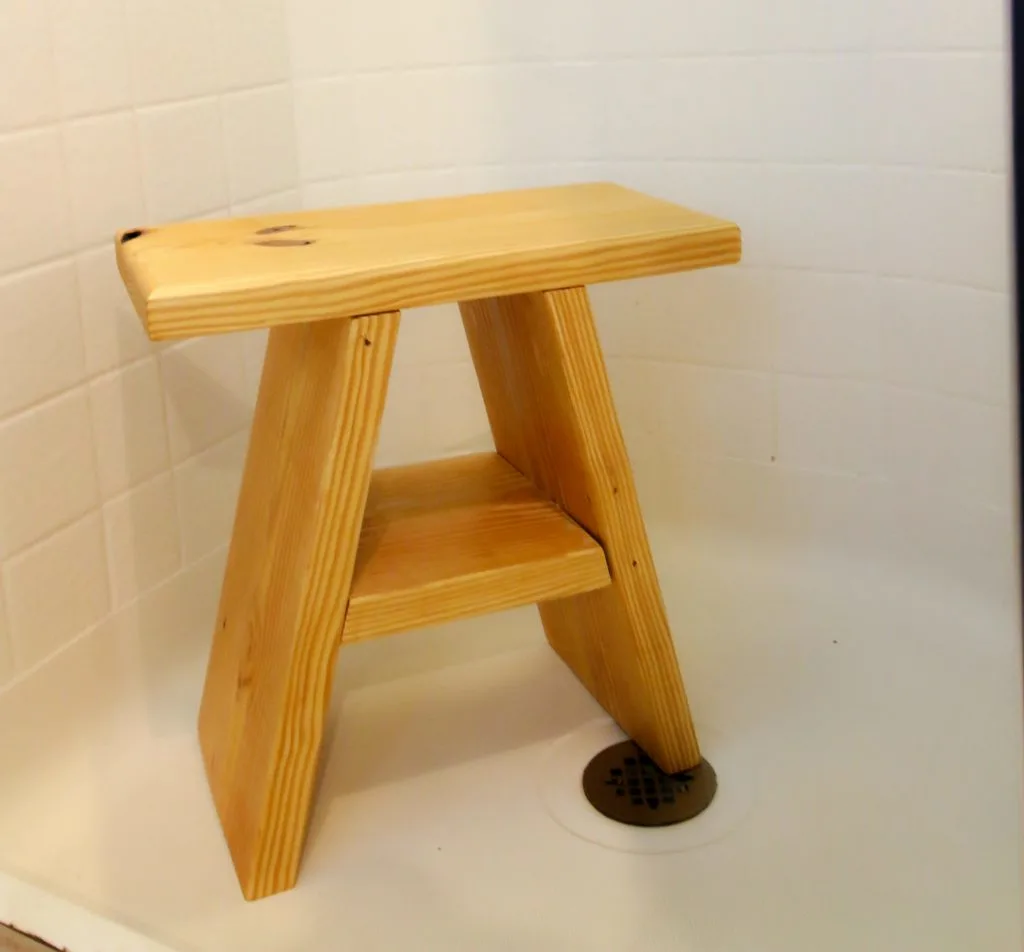 What kind of wood do you use for a shower bench?
You have two options for wood when building a shower stool.
First, you could use any wood that you prefer and seal it with a water-grade sealant. This will waterproof any type of wood. We prefer Spar Urethane.
Second, you could use a type of wood that naturally repels water and moisture. These woods are less likely to mold and rot.
This includes: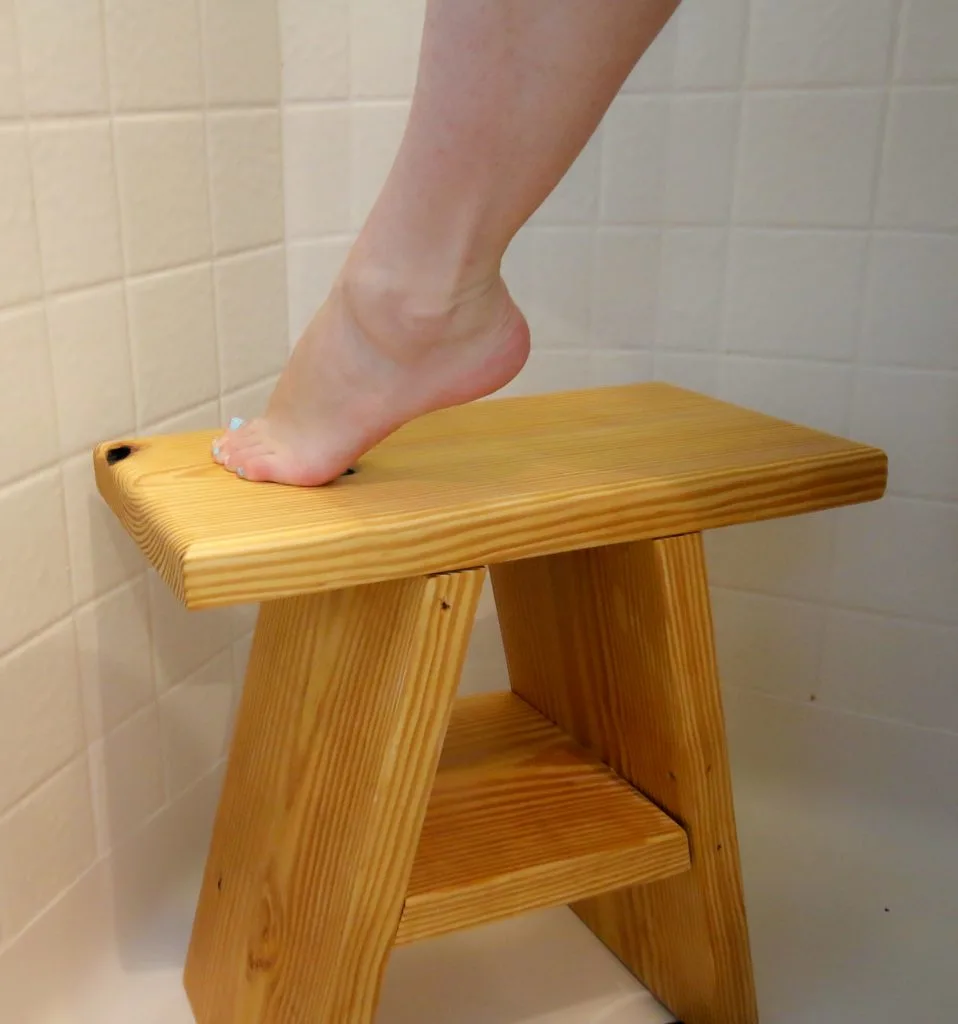 Why put a bench in a shower?
If you have to ask, you probably don't need a bench in your shower!
But really, there are a few good reasons to put a bench in your shower:
Storage – a bench can serve as a spot to set shampoo bottles or similar items if you don't have a shower ledge.
Relaxation – want to sit in your shower and just feel the heat and steam all around you? That's pretty hard to do without a stool!
Convenience – people who shave their legs will understand how convenient it is to have a stool in your shower to prop their foot up!
Accessibility – shower stools are a great option for people who have difficulty standing on their own for too long.
Decor – shower stools can have a decorative look and are often featured in magazines and real estate photos, especially in larger showers.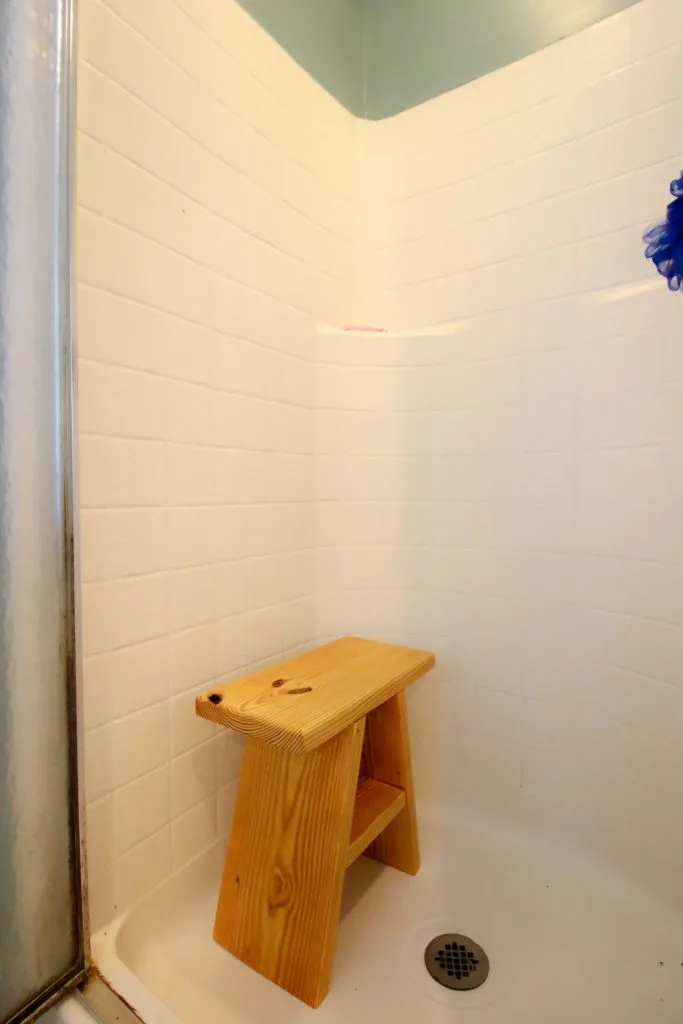 Will this bench work in a bath tub?
As long as it fits inside your tub, it will work. However, we also have plans for a bench specifically for tubs that rests on the two ledges!
Check out our plans for a DIY tub bench!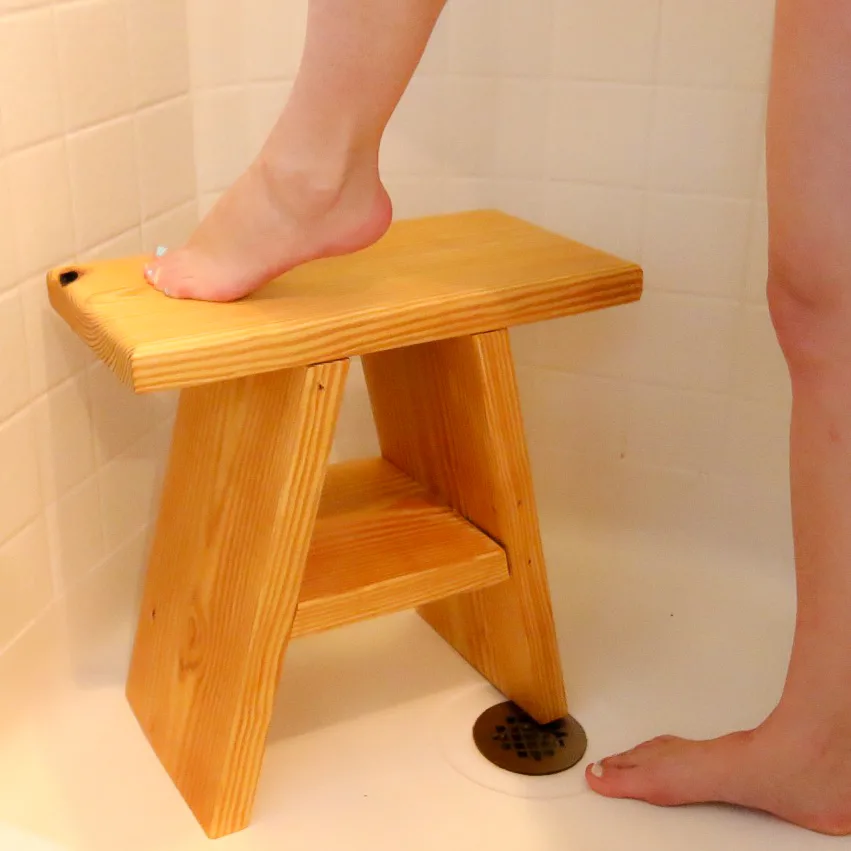 DIY Shower bench plans
Click here or use the widget below to get the FREE printable plans with a cut list and step by step guide to making this project!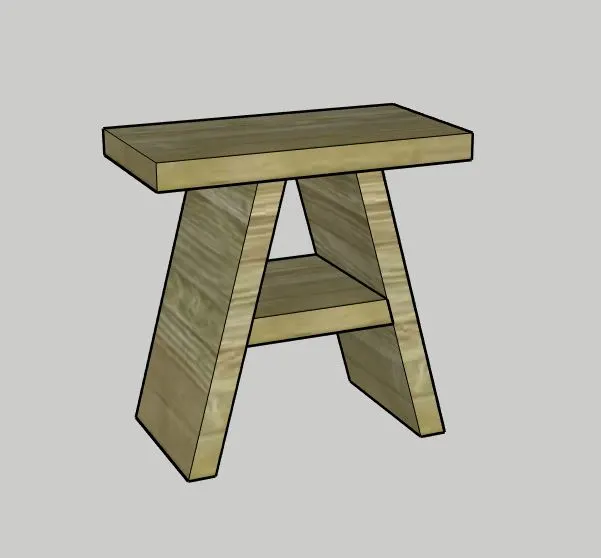 Yield:

1
How to build a wooden shower stool
Make a simple wooden shower stool with these instructions and the full printable PDF plans we offer.
Materials
6 foot long 2x10 board of your choice
Tools
miter saw, cordless drill, pocket hole jig
Instructions
Cut legs, stretcher and seat top according to PDF plans
Attach legs to seat top using pocket holes
Attach stretcher to legs using pocket holes
Seal and use.
Recommended Products
As an Amazon Associate and member of other affiliate programs, I earn from qualifying purchases.