Want to build with cedar? Here are the benefits, some things to keep in mind and some fantastic cedar woodworking project ideas and tutorials!
Once you get into woodworking, one of the fun things to do is experiment with different types of wood. There's a time and place to just use the cheapest possible wood, but there's also a time and place to use beautiful, unique wood species.
Today I wanted to dive in to one of our favorite wood species to work with: cedar.
I wanted to share the benefits of cedar wood, tips for working with cedar, and share a lot of ideas for cedar woodworking project tutorials.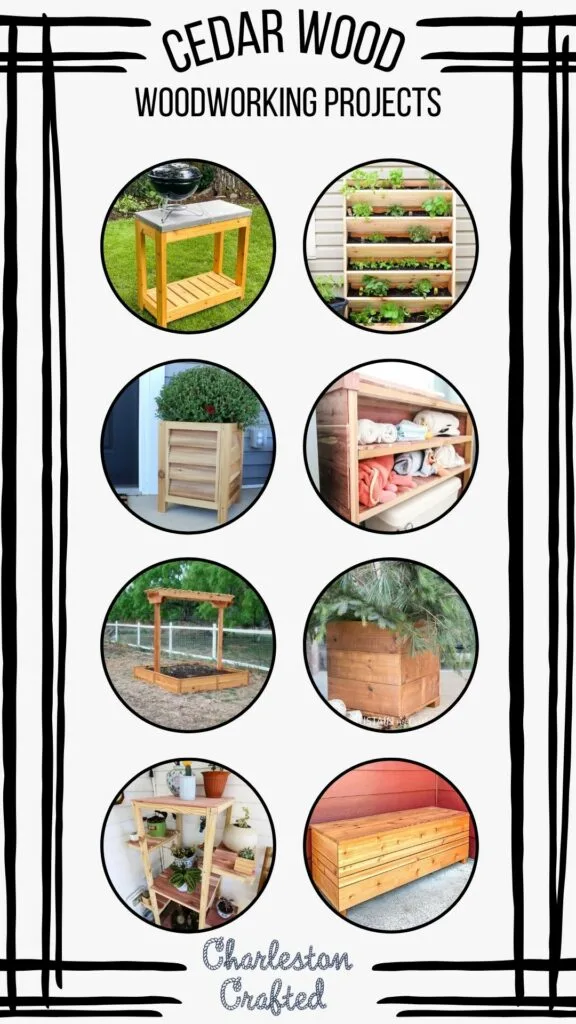 The Beauty and Benefits of Cedar Wood
Cedar is a wood with a lot of natural beauty. It has a very distinct grain pattern and a beautiful, warm red color. It fades to more of a golden brown as it is exposed to air and overtime.
Some of the benefits of cedar wood include:
Naturally moisture, mold and mildew resistant – so great for outdoor builds
Durable and strong
Resistant to decay
Natural insect repellant
Absorbs sound
Beautiful color and grain patterns
Smells wonderful
Lightweight
Some of the disadvantages of cedar wood:
Softer wood that scratches/dents easily
Mid-priced – not super cheap (not the most expensive either)
Color might not be your style
Color changes over time
Very porous, expands and shrinks over time
Is cedar good for making furniture?
Cedar is a beautiful, durable wood that is wonderful to use for woodworking projects and for making furniture.
Is cedar wood very expensive?
Cedar is not a cheap wood and typically costs about 30% more than comparable pine wood. However, it can be less expensive than many exotic hardwoods. It's more of a mid-priced lumber.
Tips for Working with Cedar
Always have proper ventilation and protective gear due to the potential for sawdust irritation.
Cedar is soft and cuts easily, making it easier to get a smooth finish
This soft wood can also split easily, so pre-drill holes to prevent splitting.
Use sharp blades for clean cuts and to reduce tear-out.
Stick to a clear coat finish to enhance the wood's natural beauty while providing protection.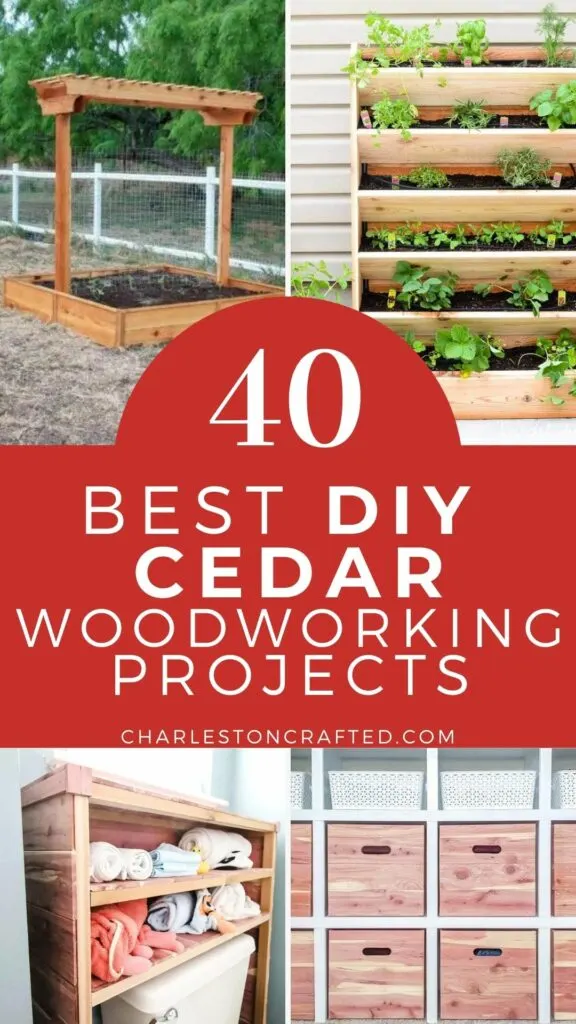 Cedar Woodworking Project Ideas
Here are a ton of woodworking projects made using cedar!
Cedar woodworking project ideas
Here are a ton of woodworking projects made using cedar!
What's your favorite cedar woodworking project?