We built this DIY Pikler Climbing Arch and Rocker for our 18 month old and it has been a huge hit! Here is a tutorial for how we built it AND printable PDF woodworking plans so you can build your own.
The Pikler Triangle was invented by a pediatrician in the early 20th century as a means to help children learn how to move their bodies on their own.
The concept is simple- create a ladder that is adjustable that your young child can climb on and gradually become more comfortable with the way their body moves.
Check out this article about the benefits of a pikler triangle! Here are all of my favorite indoor toddler climber toys!
We built a Pikler Triangle for our son for his first birthday. He is now 18 months old and we decided to expand his Pikler collection to include a Pikler Climbing Arch Rocker!
What is the difference between a Pikler Triangle and a Climbing Arch?
The Climbing Arch is different from the Pikler Triangle in design but not in purpose. They both have been widely accepted by lovers of Montessori style wooden toys because they lend themselves to a lot of open ended play.
Most obviously, the climbing arch is arched like a rainbow, while the Pikler Triangle is triangular.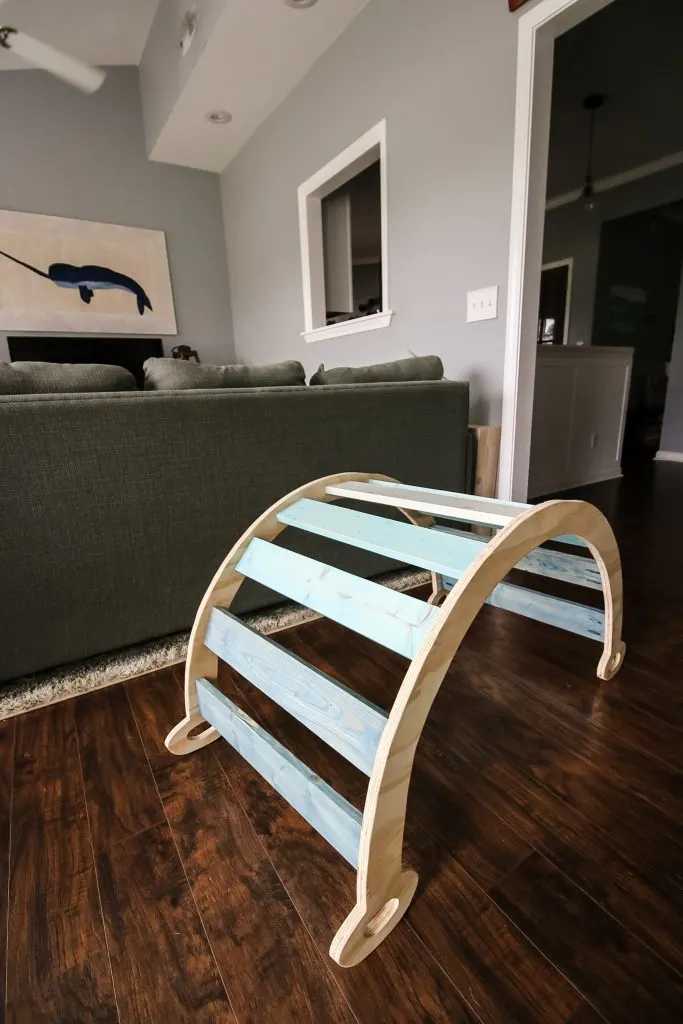 The arch is also reversible, so you can flip it upside down and use it like a rocker. Our son loves the rocking!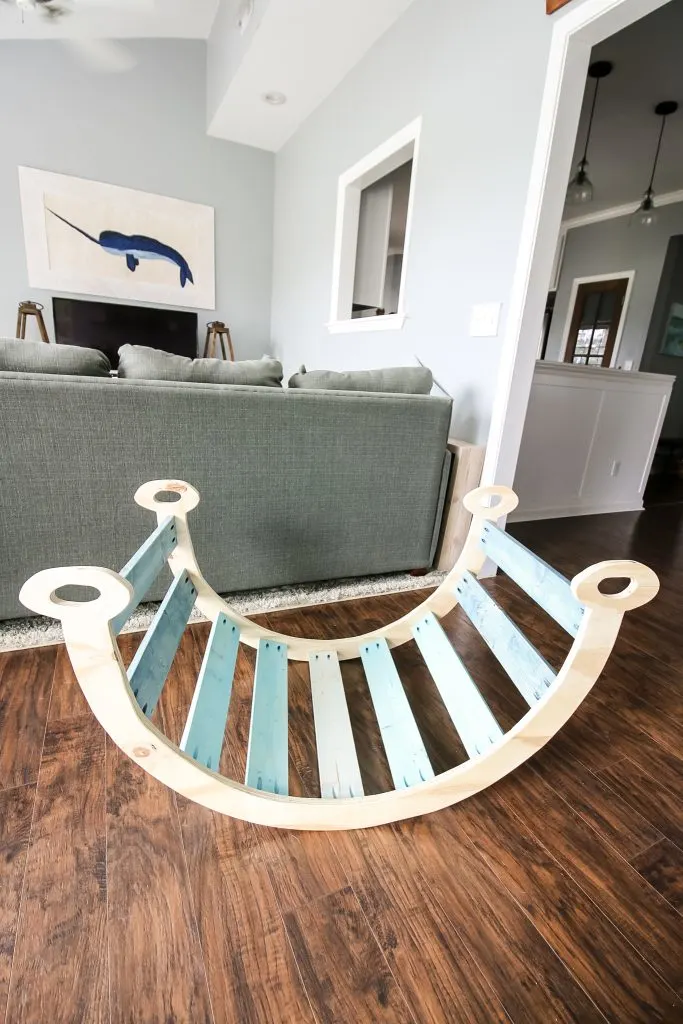 This climbing arch does not fold, so it takes up a lot more floor space compared to a folding Pikler triangle when not in use. Just something to keep in mind!
You can make either one with slats or round dowels as climbing rods. We used dowels on our Pikler triangle and used slats on this one. The slats are cheaper to buy, and feel more sturdy than the dowels so I would definitely recommend taking this route!
Uses for a Climbing Arch
There are 3 main uses for a Pikler climbing arch:
Climbing like a ladder
Rocking when upside down (U shape)
Cover with a blanket and use as a cave to play in!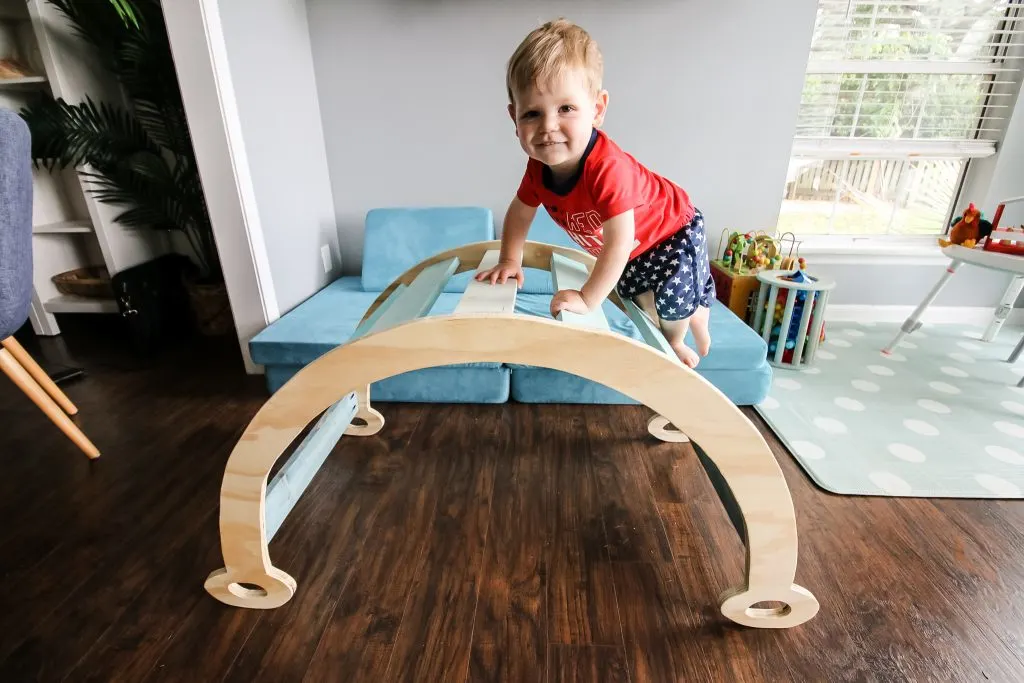 The cave is a surprisingly big hit, considering our son is not really into forts/having a blanket over him. He loves sticking little toys between the slats of the climbing arch and the blanket!
The climbing arch also pairs really well with a DIY climbing ramp!
Click here to get the PDF printable woodworking plans on how to build a Pikler Climbing Arch + Rocker!
Click here to buy a bundle of plans to build a Pikler Triangle AND a Pikler Climbing Arch/Rocker!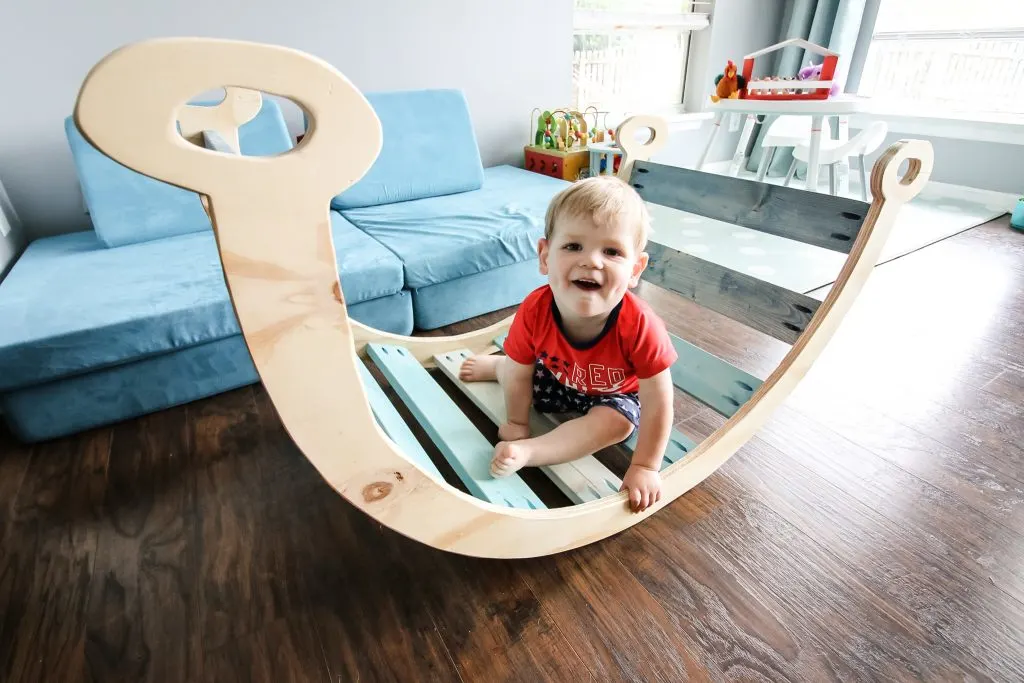 Supplies
You need a few supplies to build a pikler climbing arch rocker. Get the full cut list in our printable PDF plans!
Tools
You don't need many tools to build this Pikler climbing arch! You need:
How to build a Pikler Climbing Arch Rocker
The arch is fairly simple to build. The general idea is that you cut out two curved arches with handles from two pieces of plywood.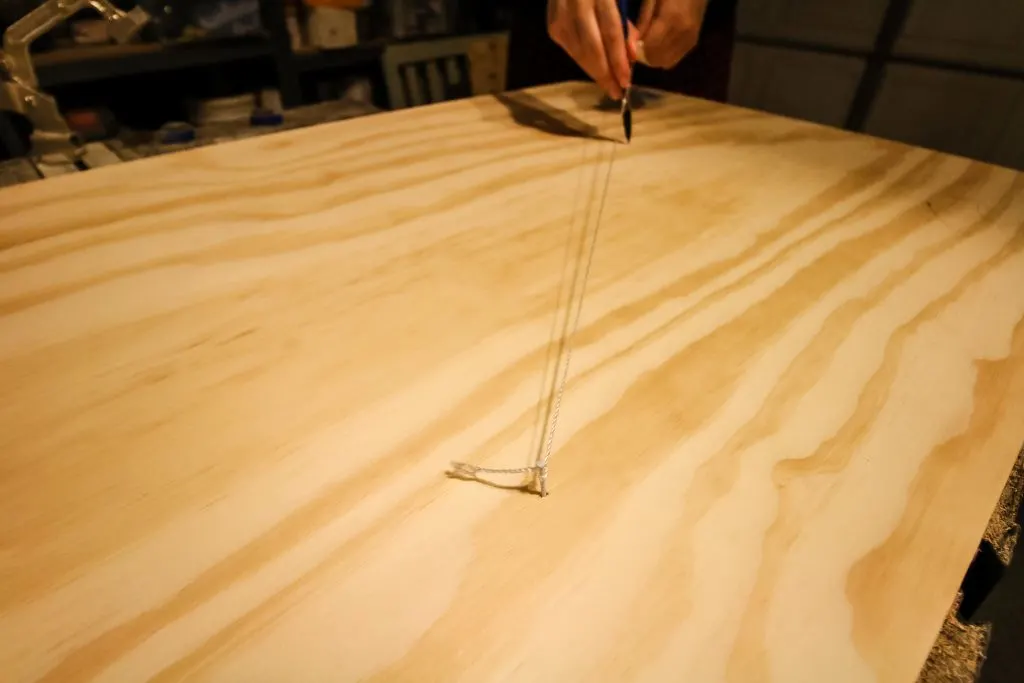 Once you have the arches, you cut the slats to go across the middle to connect them together.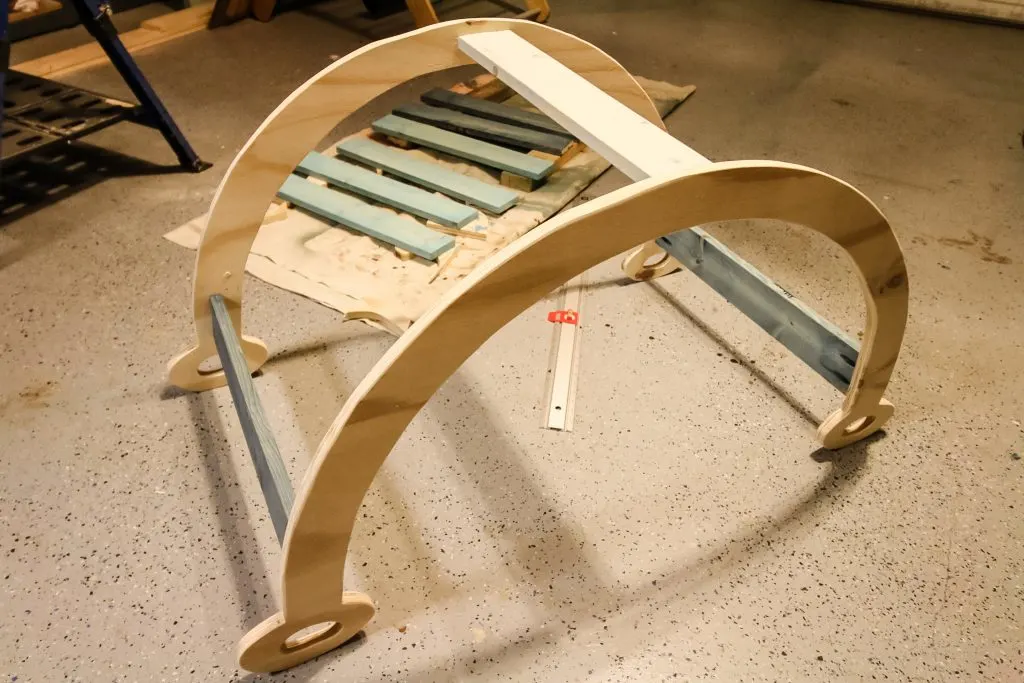 The slats connect with wood glue and pocket holes for a double sturdy effect. The slats can be stained all one color or as a rainbow.
Check out our tutorial on how to build a balance beam for kids!
PDF Printable Woodworking Plans
To make it simple for you, we've done all the leg work. We created printable PDF plans for you that give you the full materials list, cut list and step-by-step instructions for how to build your own Pikler climbing arch and rocker.
These plans are easy to follow. We also have the option for you to pick up both plans for the Pikler Triangle and the climbing arch to make a full Pikler playground in your house!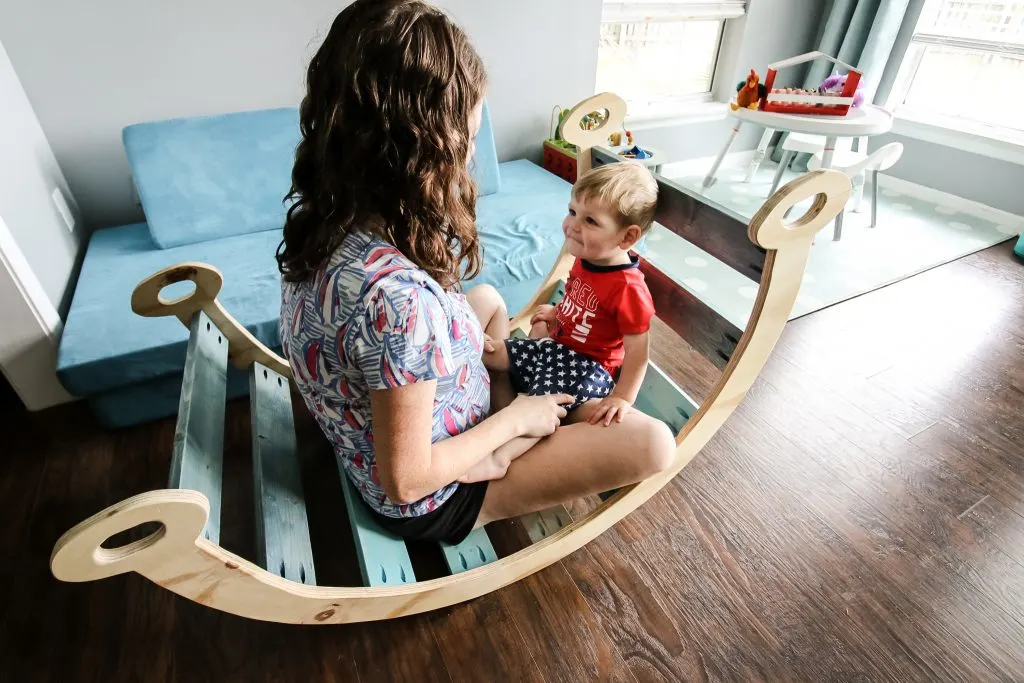 Check out our tutorial + woodworking plans for how to build a kids learning tower!
Montessori Kid's woodworking plans bundle
Love building for your kids? Click here to get our bundle of Montessori inspired woodworking plans for:
Get the bundle (valued at $55 individually) for only $44.99 together! That's a FREE plan!