Today we're bringing you free plans for a DIY toddler workbench! These plans are simple to follow and will result in tons of fun for your little one!
Get your toddler started learning about DIY projects right alongside you as they use their very own toddler sized workbench!
This workbench is designed for small kids who can work in the shop with mom or dad and play pretend as they build new things, just like you!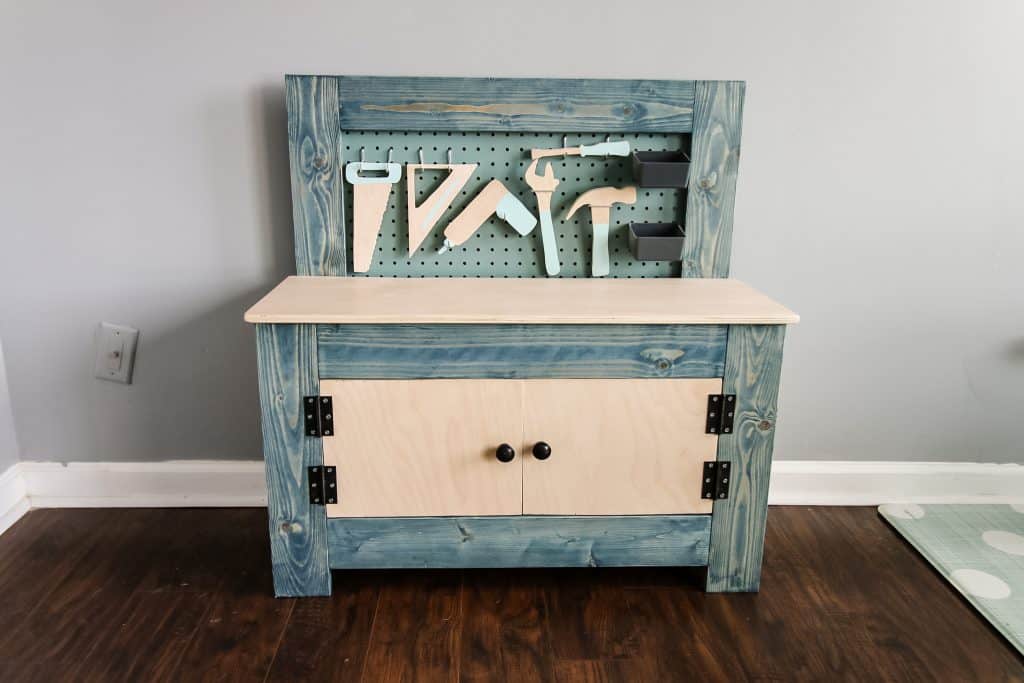 How to build a toddler workbench
Obviously the key to building anything for a toddler is size. It needs to be small enough that they can use it functionally.
As with most toddler furniture, the concept is the same as an adult version, just shrunken down to fit their height.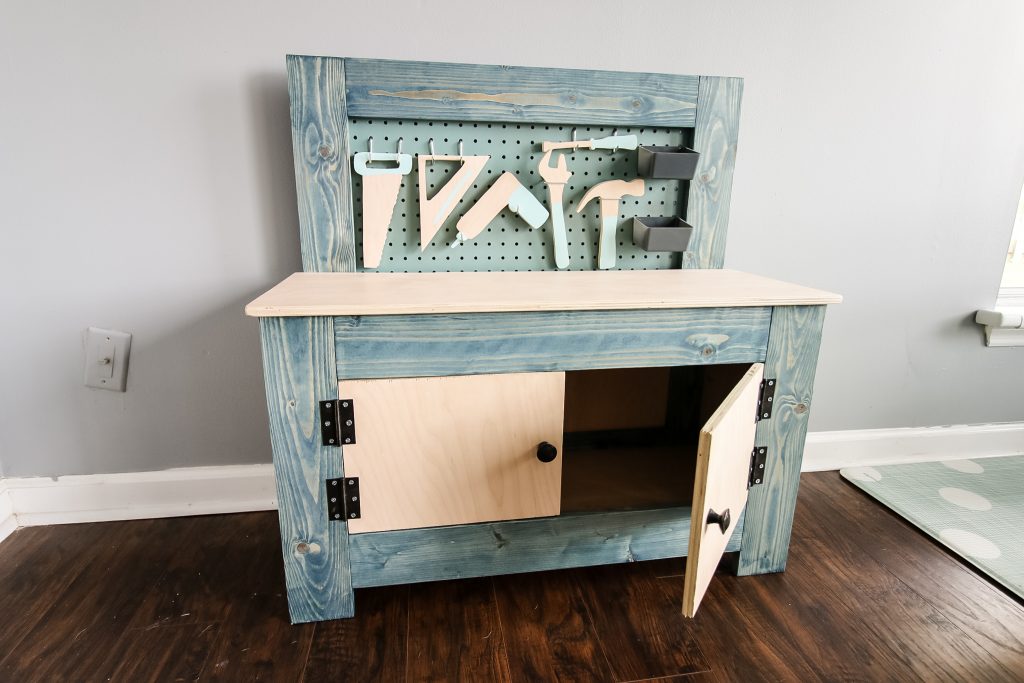 As we continue to grow and do more projects in the workshop, it's harder to split time watching our son.
We wanted to put this toddler workbench together so that our son could pretend to work right alongside us in the garage with his own imagination.
If you like building kid toys, make sure to check out our plans for a Pikler Triangle and Climbing Arch!
Construction of a DIY toddler workbench
The concept of our DIY toddler workbench is to build a frame, then add plywood sides and doors.
You could do this plan and skip the sides and doors and just make it a workbench with a top and a lower shelf.
Whatever you think works best! Our son loves opening doors, so he's getting doors!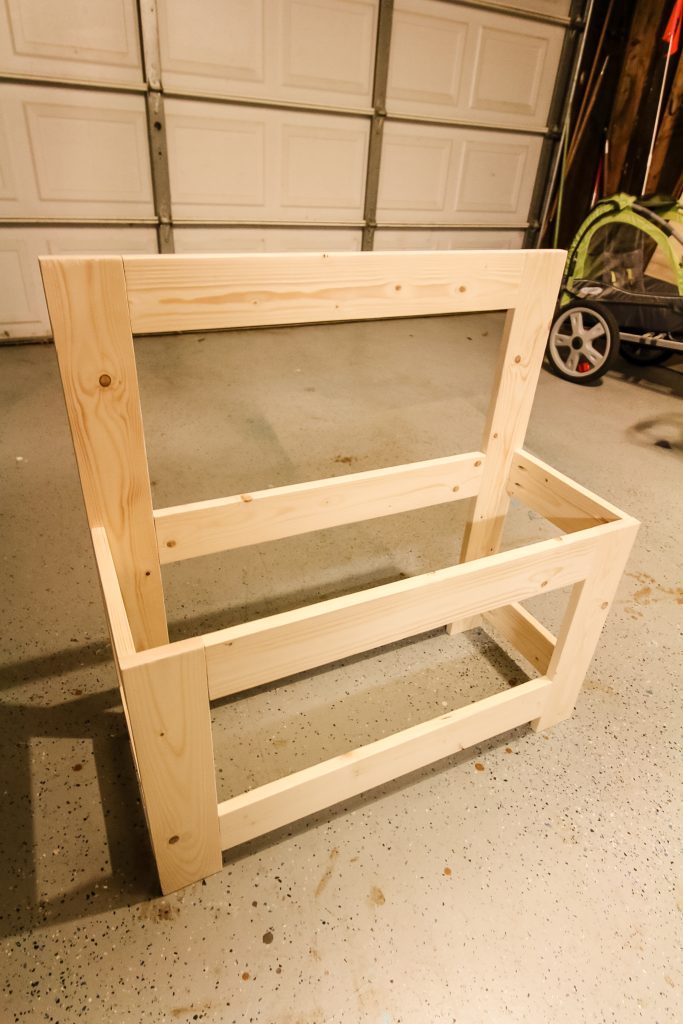 We started by building the frame, which is made up of 1x4s. We built the front and the back sections, then connected them with four short beams.
Our toddler workbench has a two-toned look, with the frame one color and leaving the plywood natural.
So we took the opportunity to stain the frame before moving on.
Next we added plywood on the sides and back, then the bottom. Trust us, do it in that order.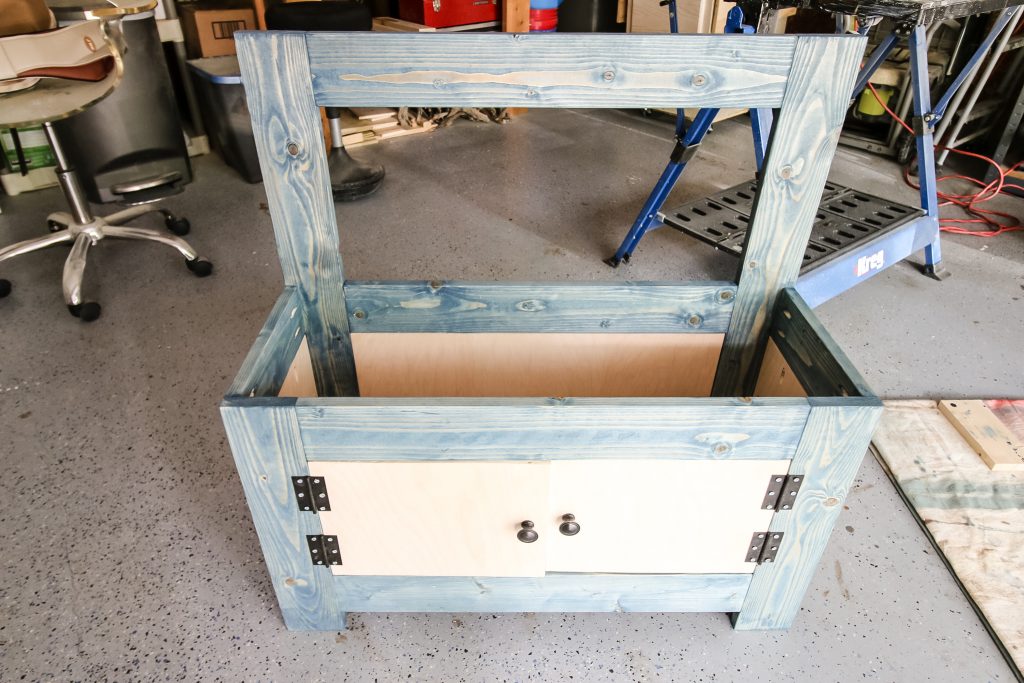 Next up came the doors. We added four hinges and two spare knobs we had from other projects to make functional, swinging doors.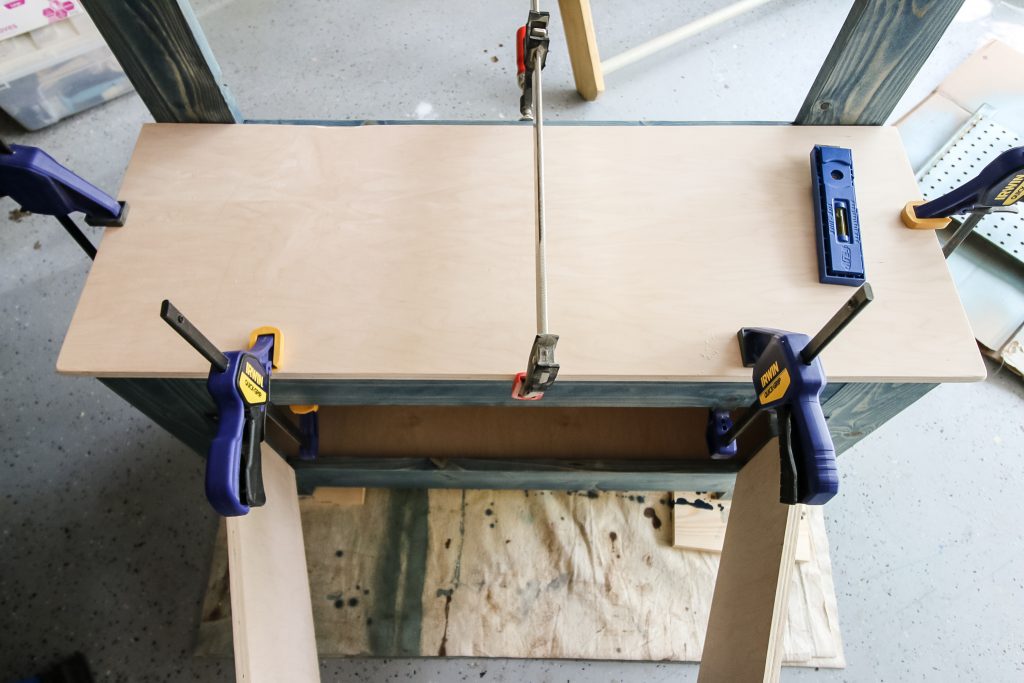 Finally, we glued on the top work surface and screwed in the pegboard to the back.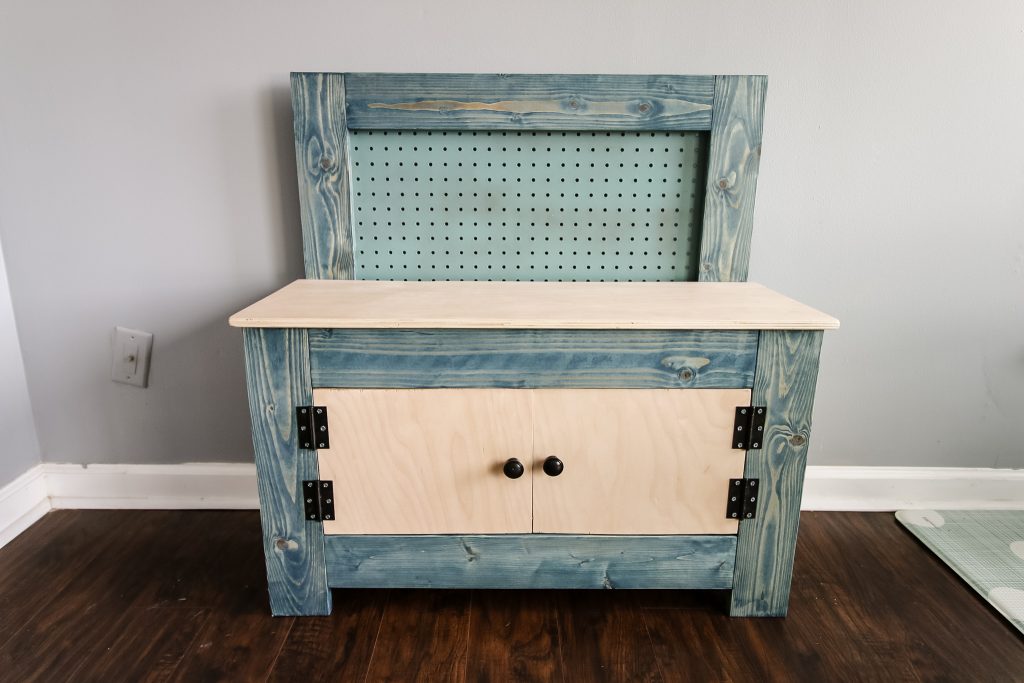 Check out our tutorial + woodworking plans for how to build a kids learning tower!
Accessories for our toddler workbench
We finished off our DIY toddler workbench by adding real pegboard hooks.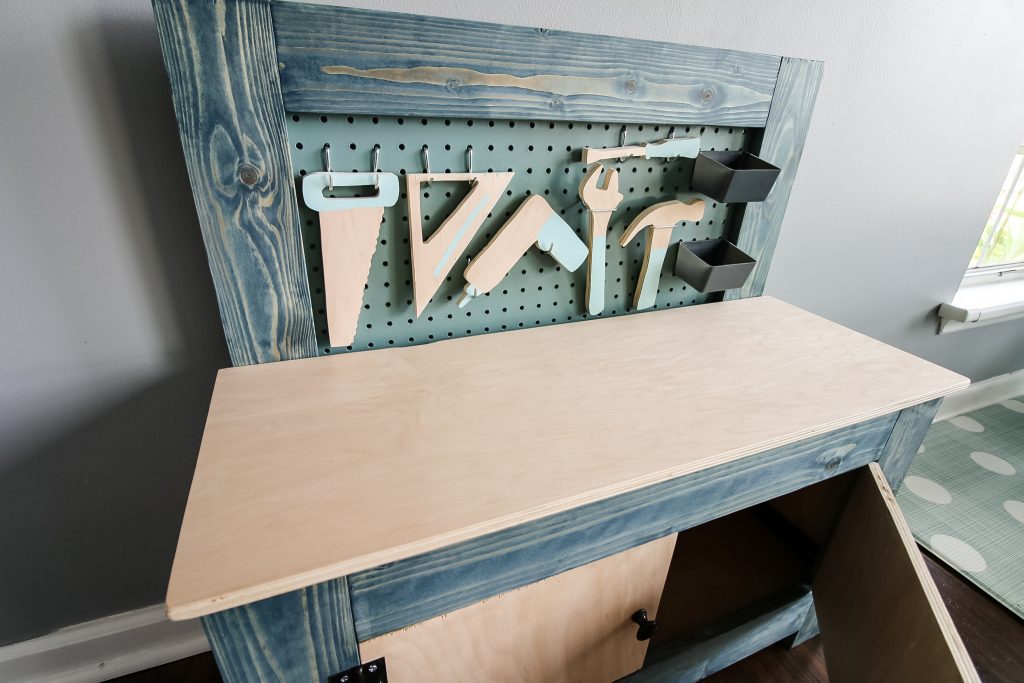 But what are we hanging on those hooks? We used our scroll saw to cut out simple wooden tools from plywood cut offs!
These were really simple. We traced actual tools and shrunk them down. Then we cut them out with a scroll saw and sanded them.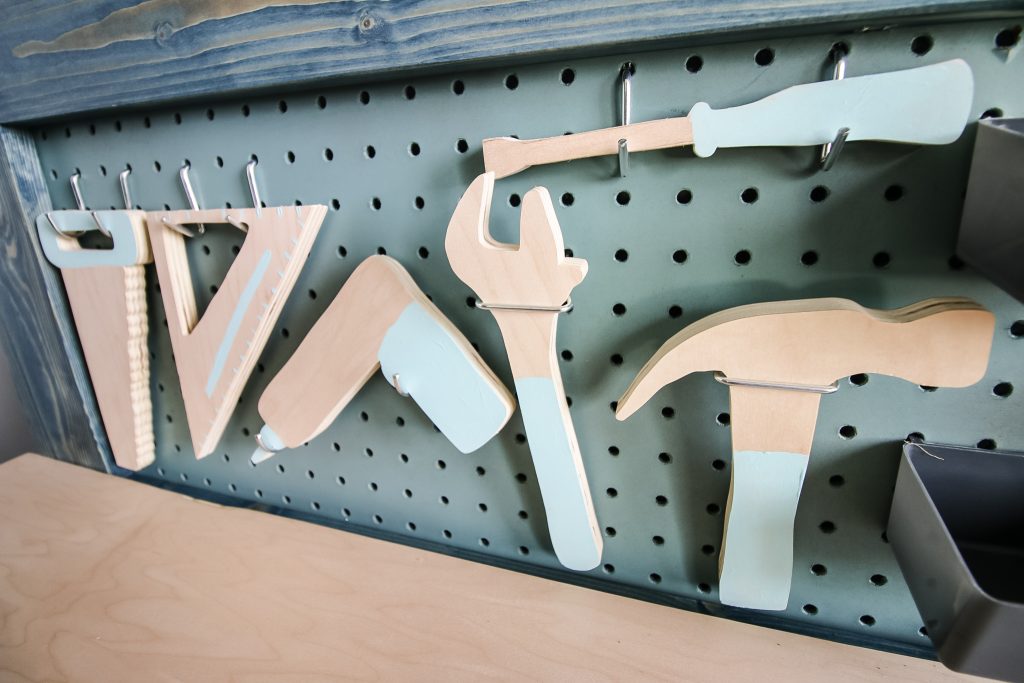 We painted the handles on one side so they would stand out against the benchtop.
The Plans
We've partnered with our friends at Kreg Tool to bring you our DIY toddler workbench plans FOR FREE!
You can get the full step-by-step instructions and cut list on BuildSomething.com.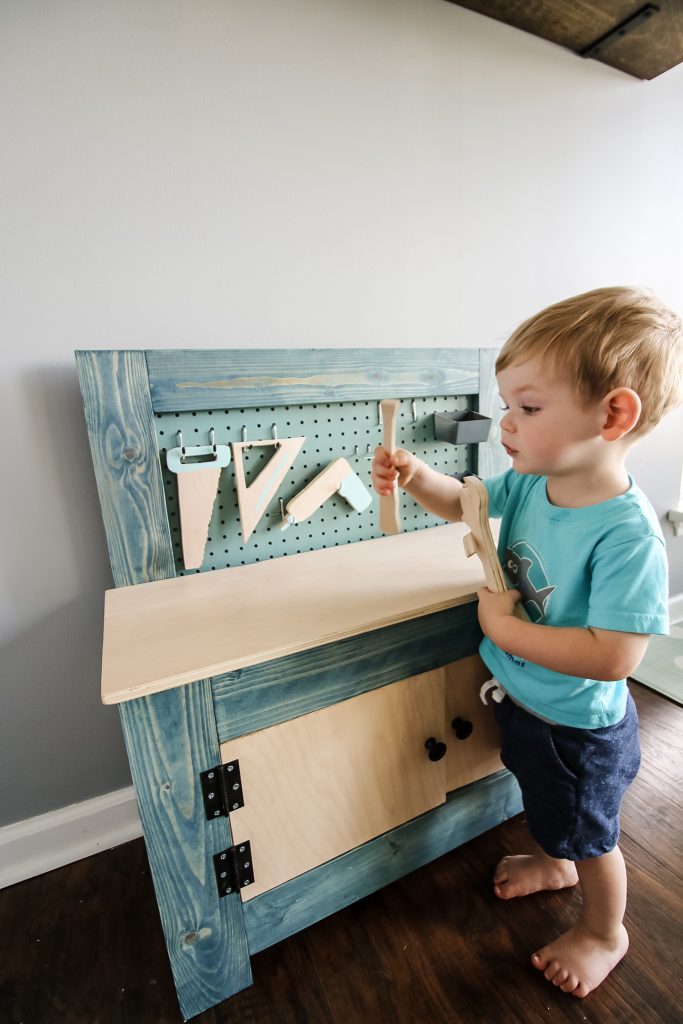 There are a lot of pieces to connect in this project, but doing it all with Kreg pocket holes is super simple and makes the workbench sturdy.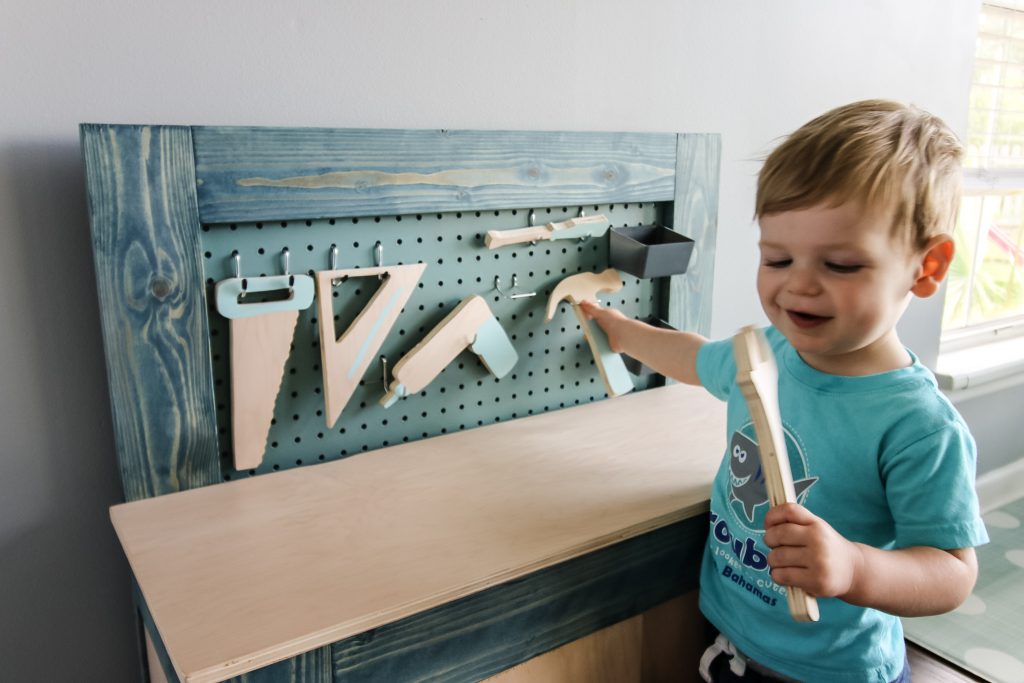 So head over to BuildSomething.com to get the full set of plans for our DIY toddler workbench.
While you're there, make sure you check out some of our other furniture plans, like the geometric base coffee table, a modern platform bed that can be build for $50, or a simple nightstand.
Facebook | Instagram | Pinterest | Twitter | YouTube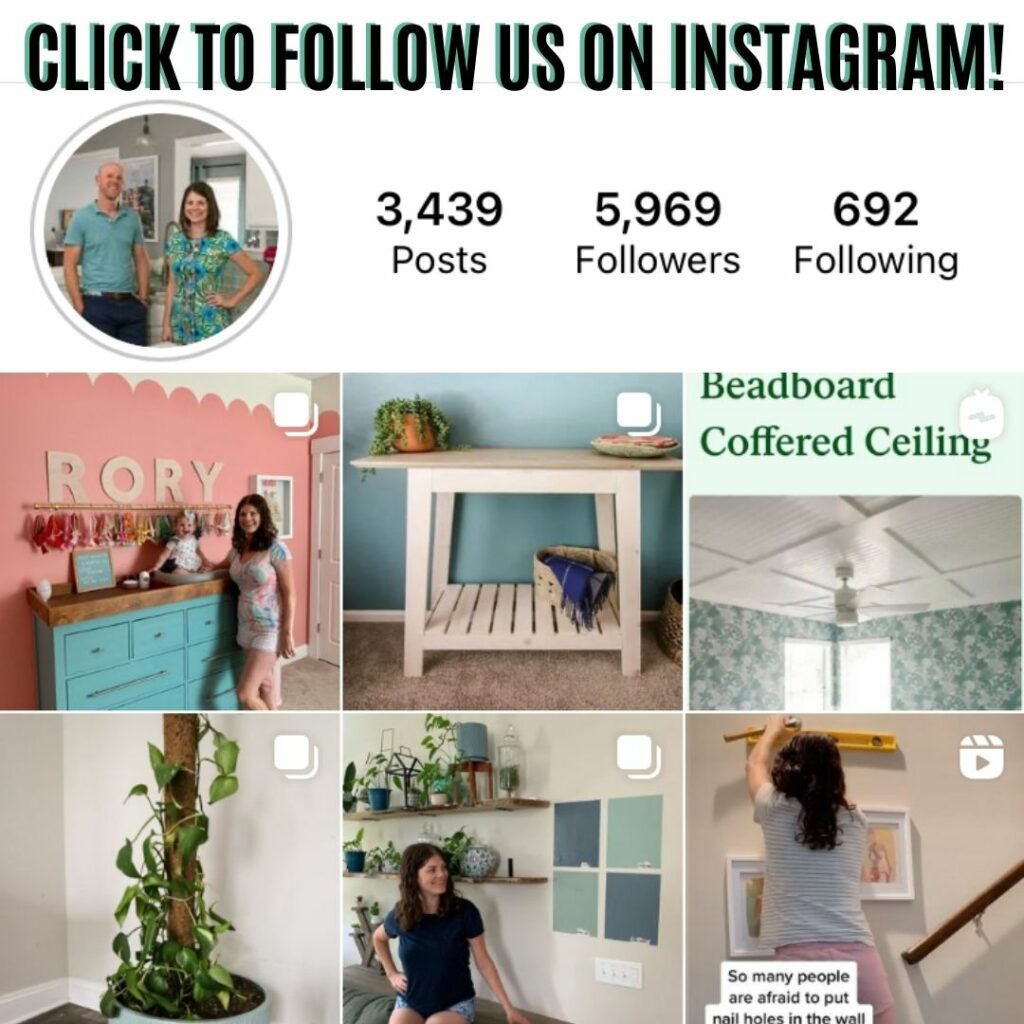 ---
Can we send you our newsletter?
Another great way to keep up with out latest projects is by joining our weekly newsletter! Get alerts of our latest projects and special peeks behind the scenes!
Follow along on Instagram
Join our online community where we share real time behind the scenes looks at our DIY projects and peeks inside our home + family!
---