If you want to add a bookshelf shaped like a tree to your home, here is how to build it! We are giving our son a jungle themed bedroom makeover and decided to build him this DIY tree style bookshelf and toy shelf!
This post was sponsored by Kreg Tool, which offers tools perfect for DIYers trying to improve their homes. All opinions are our own and our opinion is that we love Kreg products. Thank you for supporting the brands that make Charleston Crafted possible!
We are excited to begin diving into Luke's bedroom makeover.
Remember his jungle themed nursery in our old home? When we asked him what he wanted in his new bedroom, he said "animals!" The kid has loved animals his whole life.
If you follow us on Instagram, you know that Morgan has been painting a jungle themed mural in his bedroom! I can't wait to share that project when it is done.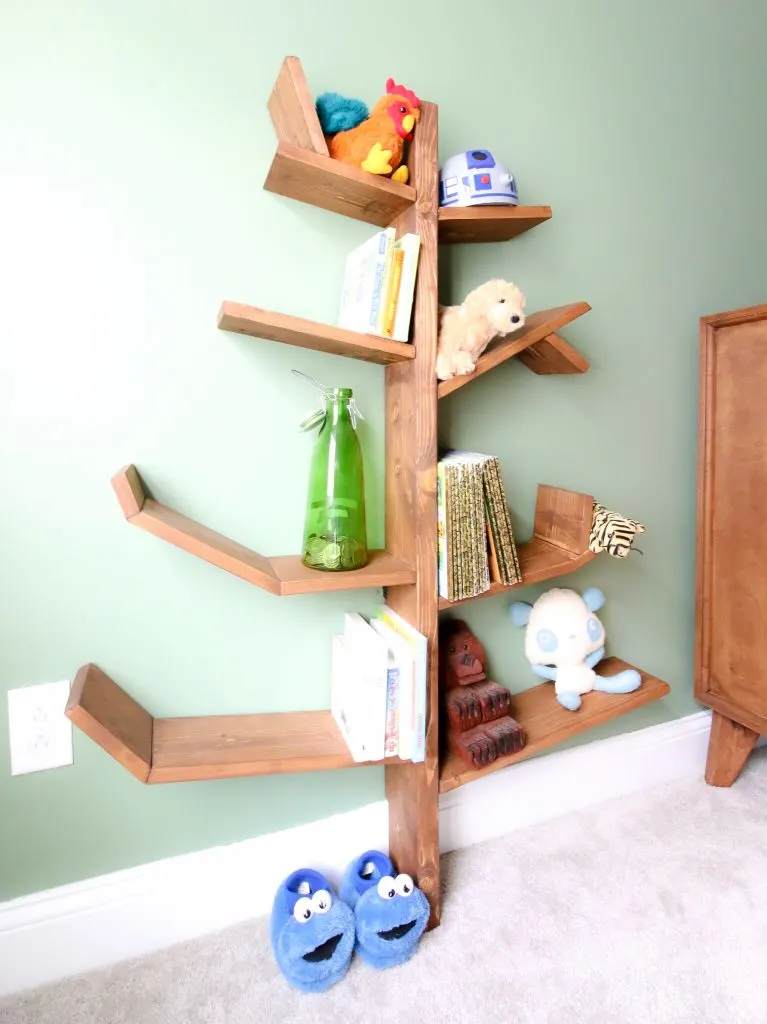 DIY Tree Shaped Bookshelf
So, designing him a jungle room theme, we decided to build him a tree shaped bookshelf. He loves to read and has tons of books and we loved this idea.
Inspiration
This shelf was inspired by the Babyletto Spruce Tree bookcase.
However, we decided to mimic the feel of that bookshelf but not copy it exactly.
We decided to go for a more simplistic approach and built this shelf out of 1×6 and 2×6 lumber.
Thanks to our Kreg pocket hole jig, it was super easy to connect the branches and make them super strong.
Basic woodworking information for every project
Here are some of our most popular woodworking articles!
Shopping for wood:
Woodworking project ideas
See all our printable PDF woodworking plans!
Our favorite tools + supplies
Remember to also always use safety equipment while woodworking and using tools. Make sure you have proper eye protection, ear protection and a good mask to keep yourself safe.
How to build a DIY tree bookshelf
Building a DIY tree bookshelf is about making a custom look of a tree for your space.
You could build this bookshelf just using straight or singular branches off the trunk.
We opted to add interest by adding different angles and additional branches to really mimic the abnormalities of a tree.
Make sure you check out our dollhouse shaped bookshelf too!
We started by cutting the trunk to the height we wanted and notched the bottom to make room for the baseboard.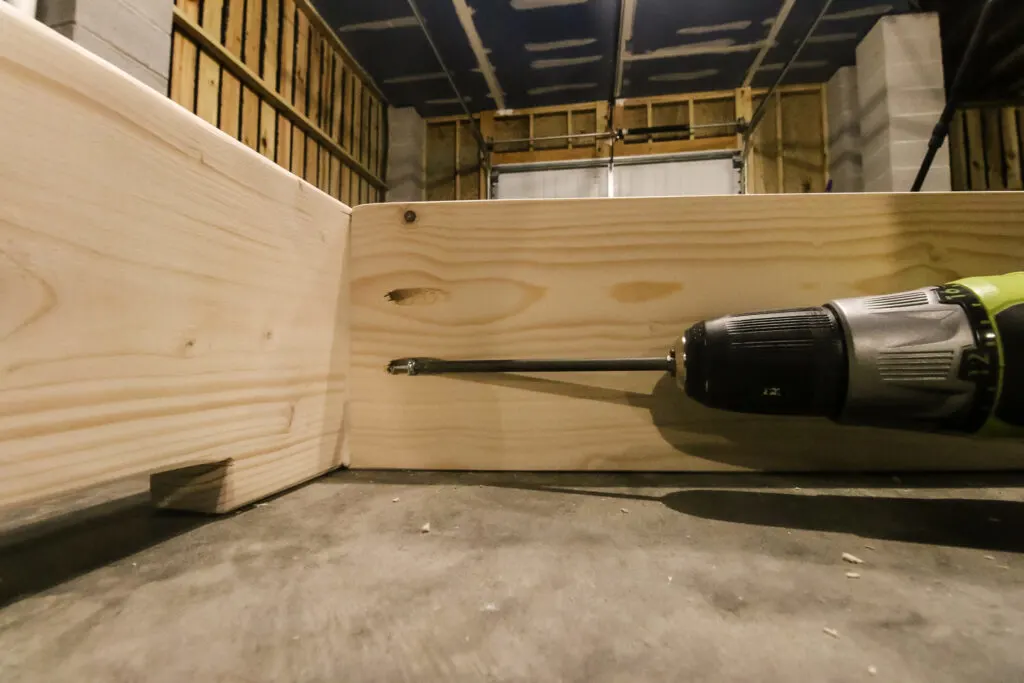 Then, we cut branches at 10 degree and 30 degree angles so they would come off the trunk.
We added pocket holes with our Kreg jig on every branch where it connected to the trunk or another branch.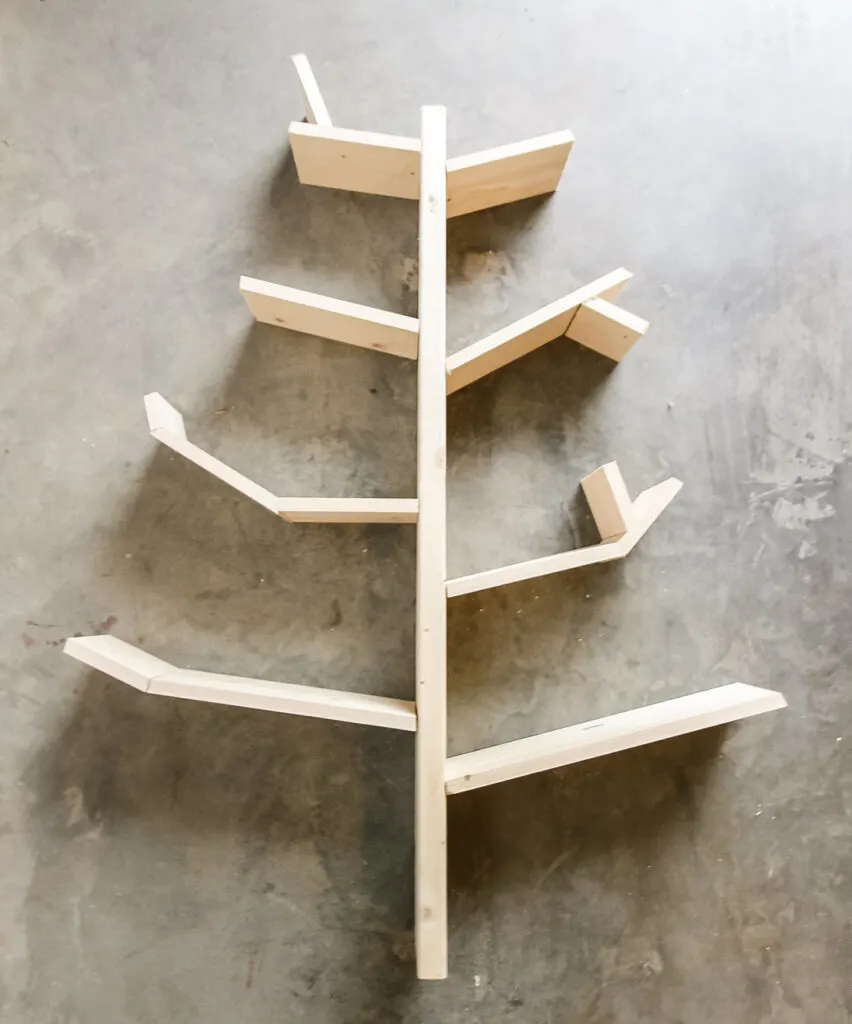 When we had all the branches right where we wanted them, we attached using wood glue and Kreg pocket screws.
Finishing the shelf
The inspiration bookshelf is actually lacquered. To get that look you would want to paint your shelf with a high gloss paint or paint it and finish with a glossy top coat.
We decided that we wanted a more natural look. So, we stained the tree Early American to match the crib we built for him that are next to each other.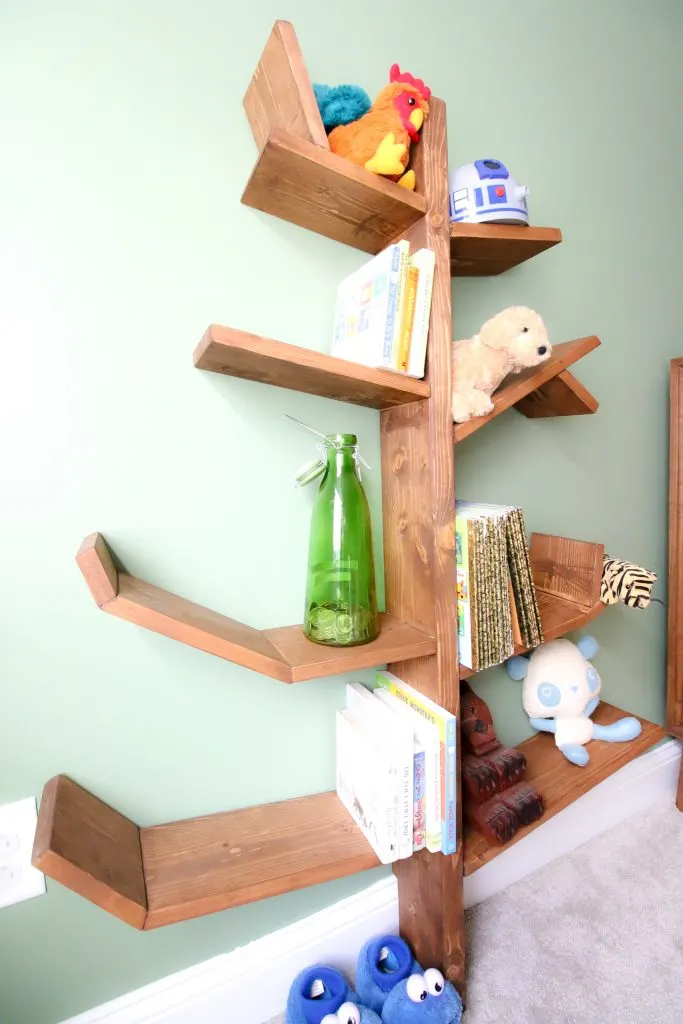 This ties really nicely with the stain on Luke's crib (another great DIY build!) and the brown in the mural.
Mounting the shelf to the wall
To mount the bookshelf to the wall, we used simple corner brackets and drywall anchors. We also painted them to blend with the wood and wall.
We put two brackets on each side of the trunk to stabilize it to the wall. This is important, because this can look like a tempting ladder to a toddler.
We didn't do anything to support the branches other than the wood glue and pocket hole joints. We aren't going to put that much weight on them and they are very solid.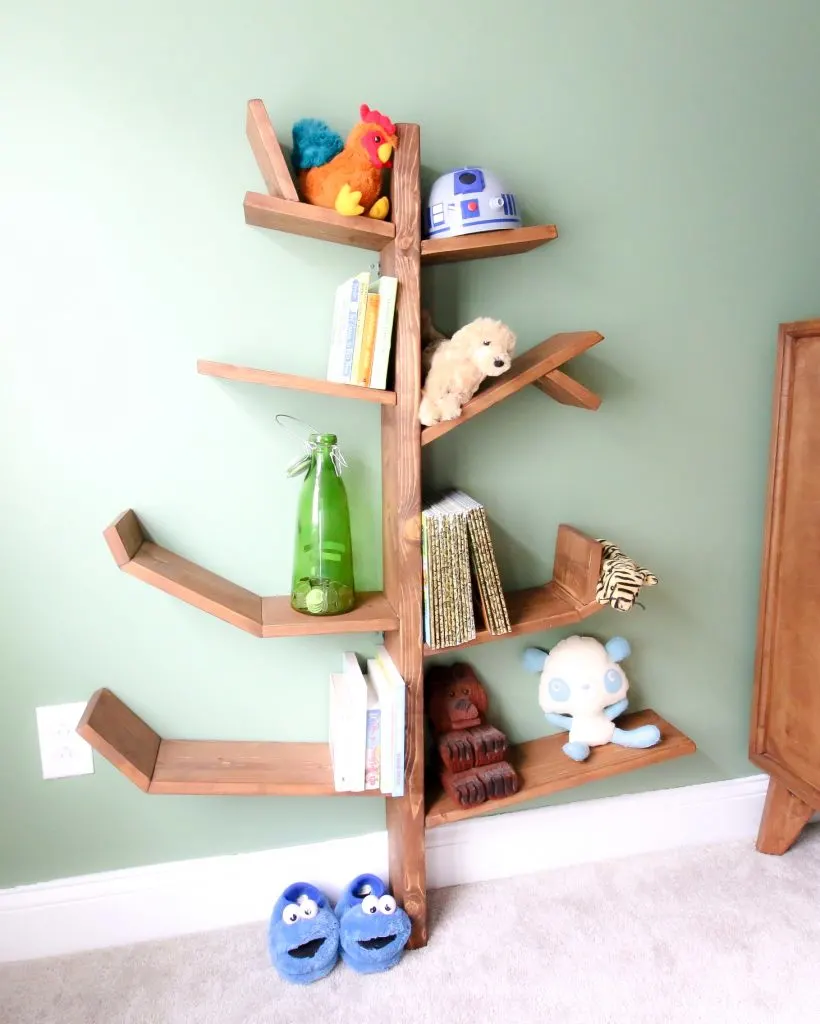 Plans to build this tree bookshelf
You can get the plans to build this bookshelf on BuildSomething.com. The full cut list and step-by-step instructions are available there.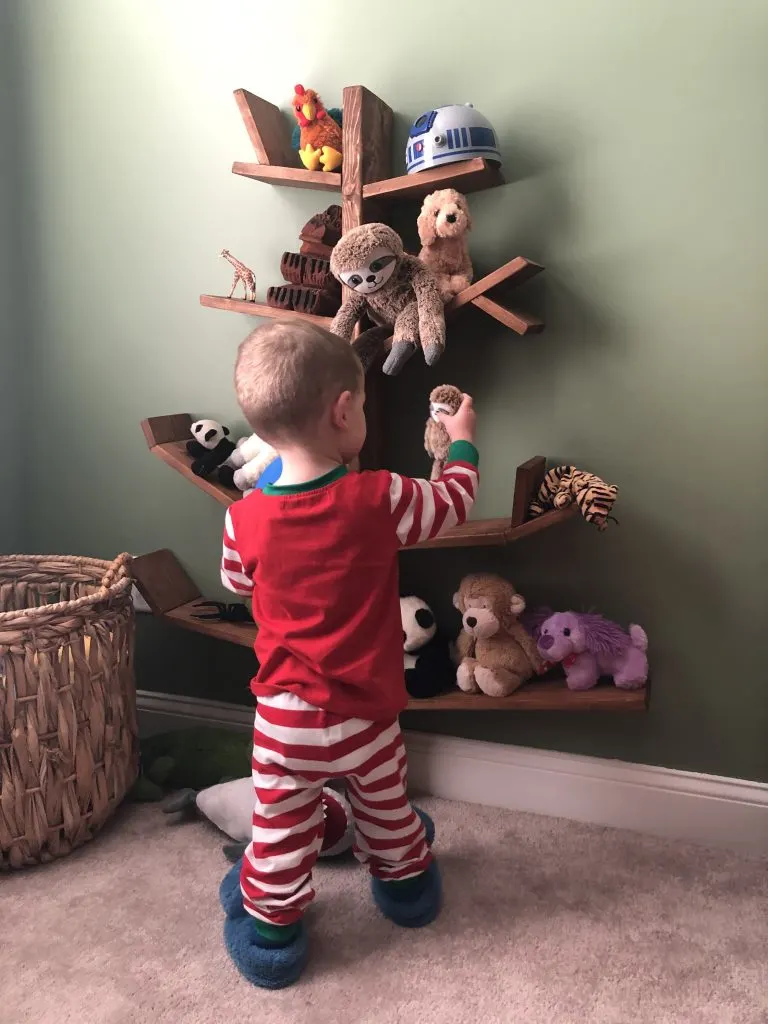 For an overview, check out our how-to card here.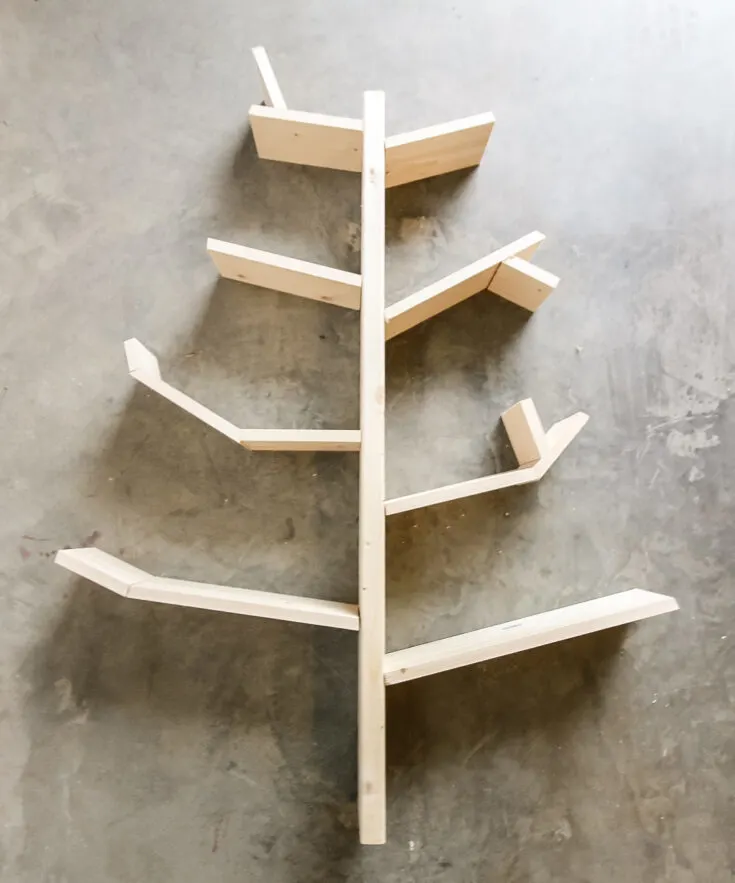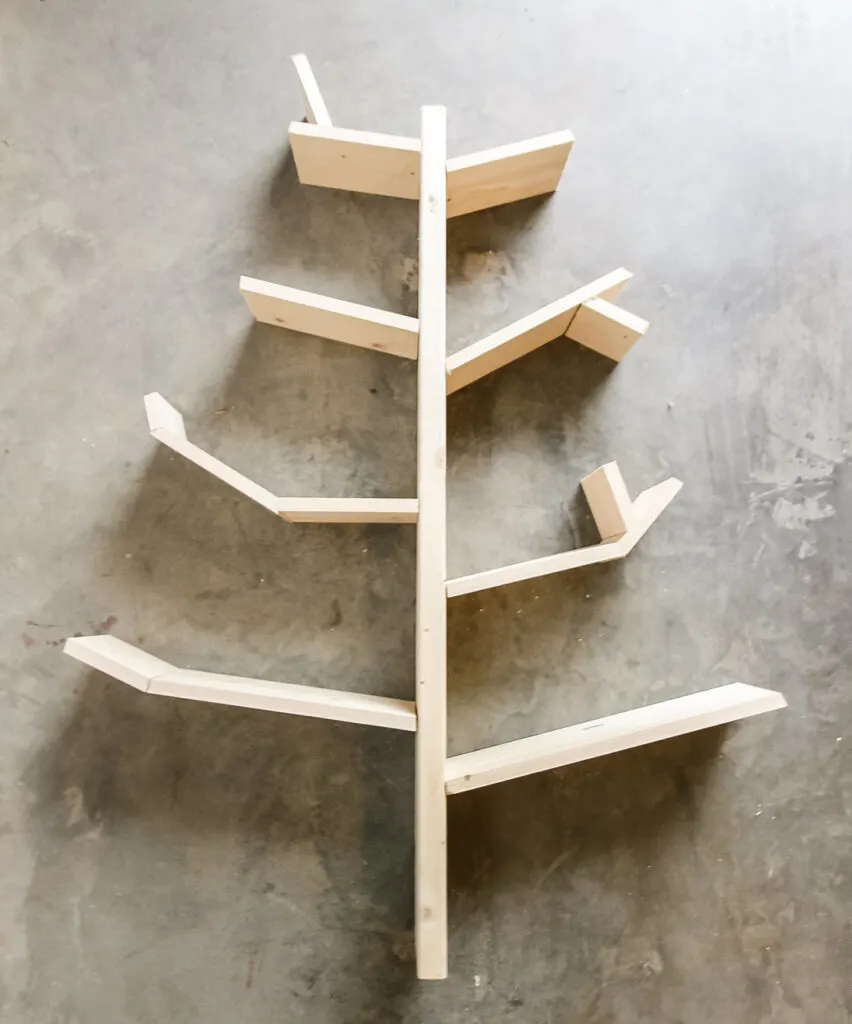 Yield:

1
How to build a DIY tree bookshelf
Additional Time:
30 minutes
Here's how to build a super cute DIY bookshelf shaped like a tree! This bookshelf is great for toddlers and kids who love nature. Add books and decor items to the branches and let you child explore all day!
Materials
- (1) 6' 2x6 board
- (2) 8' 1x6 boards
- 1 1/4" pocket screws
- 4 corner brackets
- wood glue
- stain or paint
Tools
- Kreg K4 pocket hole jig
- Miter saw
- Drill
- Sander
Instructions
Cut the trunk board.
Cut branch boards at angles.
Drill pocket holes in branch boards.
Attach branches to trunk with wood glue and pocket screws.
Stain/paint
Attach to wall.
Decorate.
Recommended Products
As an Amazon Associate and member of other affiliate programs, I earn from qualifying purchases.
Other bookshelf ideas
Looking for other bookshelf ideas? Here are some tutorials that we have shared: