An outdoor bench is a great place to spend a beautiful day, especially in the garden. Grab the details and plans for our easy DIY garden bench!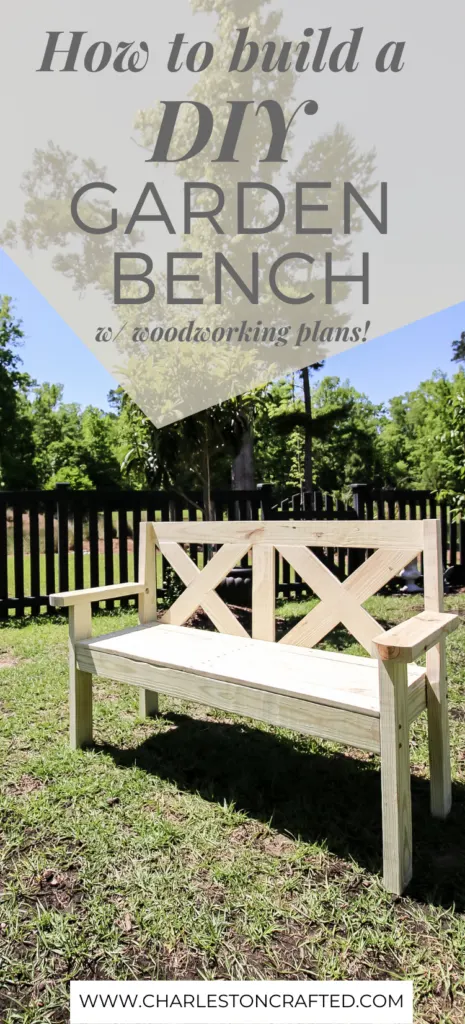 We've been working super hard on our backyard ever since we moved in. There was no growth or any structures in the yard when we first bought it, so we've had to build it all from scratch.
One of the things that works best in our yard has been our raised bed gardens. Each season we've added one to expand our growing.
Last year, we build another one and filled it with just sunflowers and watched as they grew to be about 8 feet tall. This garden is in the shade in the morning and is where we plan with the kids in the summer so they don't get baked by the sun.
So this year we added another raised bed garden with a trellis across from it. We made this one a little different and left an indent in the front of it because we had the idea to put a lovely wooden bench in that space to sit and enjoy the flowers or watch the kids.
This simple DIY outdoor garden bench is a great build and can easily grace any part of your yard or garden. Let's transform your outdoor space with this DIY garden bench!
Simple DIY outdoor bench
Outdoor furniture doesn't need to be difficult to make, heavy or intricate. One of the best things about DIY furniture building is that you can make everything exactly how you want it. Add stain or paint or change up the design on the back and you'll have a custom bench!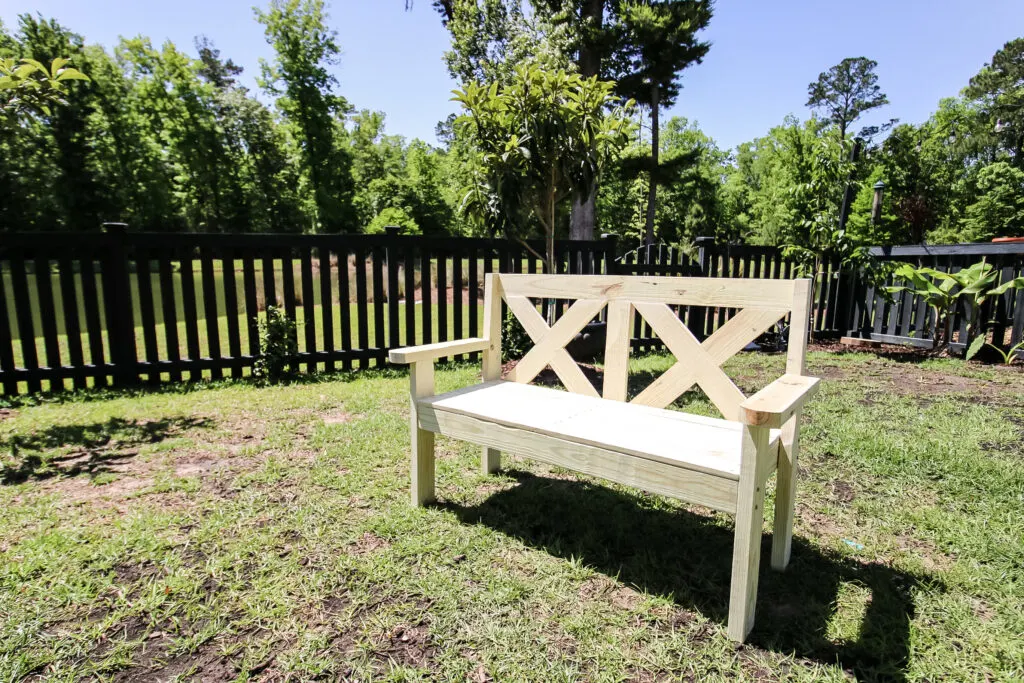 Garden furniture is great because it can sit by itself but it can also work into the natural growth you have going on and can be part of the entire scene.
A wooden bench is a great piece of outdoor furniture to add to your yard wherever you need seating.
How do you make a simple garden bench
Making a simple garden bench is a great DIY project for the spring! This build will give you a great place to enjoy the nice weather and all the beautiful things you have in your garden.
Making a simple garden bench is easy to do with a few building materials from the home improvement store and a couple of tools. If you follow the steps for how we made our outdoor bench, you'll have no problems and can be enjoying it soon!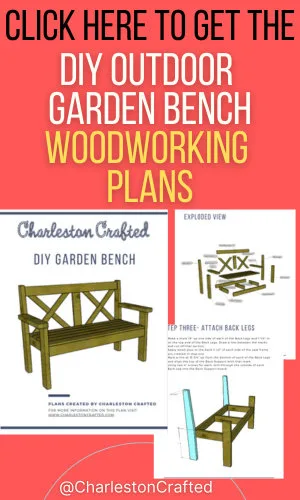 You can get the full material list in our printable PDF woodworking plans for this project, but you'll need:
Basic woodworking information for every project
Here are some of our most popular woodworking articles!
Shopping for wood:
Woodworking project ideas
See all our printable PDF woodworking plans!
Our favorite tools + supplies
Remember to also always use safety equipment while woodworking and using tools. Make sure you have proper eye protection, ear protection and a good mask to keep yourself safe.
How to build an outdoor garden bench
Here's the overview on how to build an outdoor garden bench for your yard! If you want the full details and exact breakdown of this project, make sure you grab the downloadable PDF plans to guide you through the project!
As always, make sure you use proper safety gear when building any woodworking project!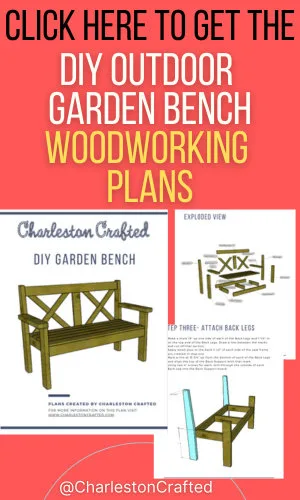 Step one: Build the frame
Start by building the frame of your bench. This is where it's important to use solid, stable wood because it will be where everything connects to and supports your weight.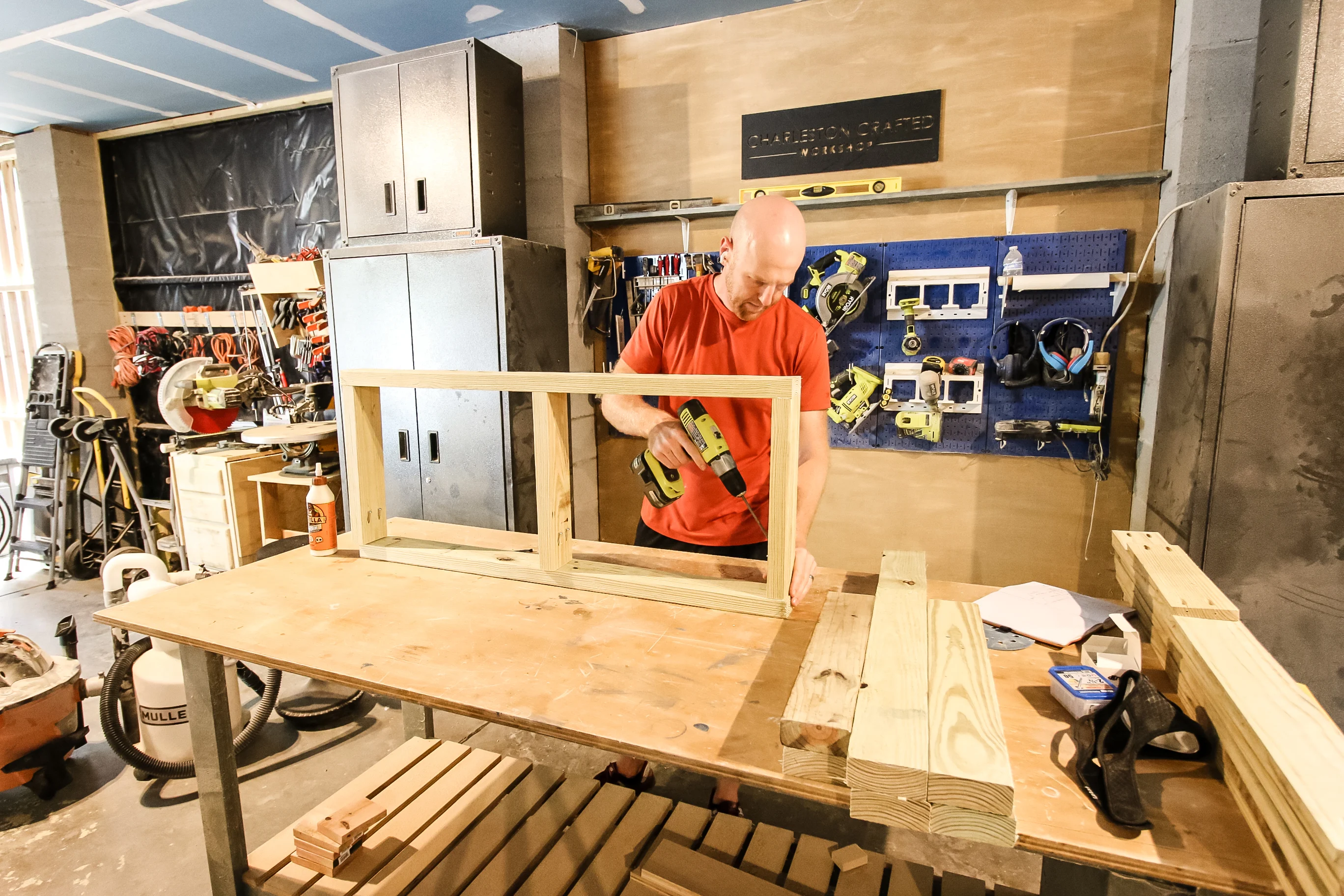 The frame connects together with pocket hole screws and wood glue to ensure its stability. Make sure you have a good pocket hole jig like the Kreg 720 Pro (click here for our full review!) to make this an easy job.
Step two: Add legs
Don't skimp on making sure your legs are securely in place on the frame! We designed our outdoor bench plans to have a standard seat height, but you can also adjust a little depending on your height.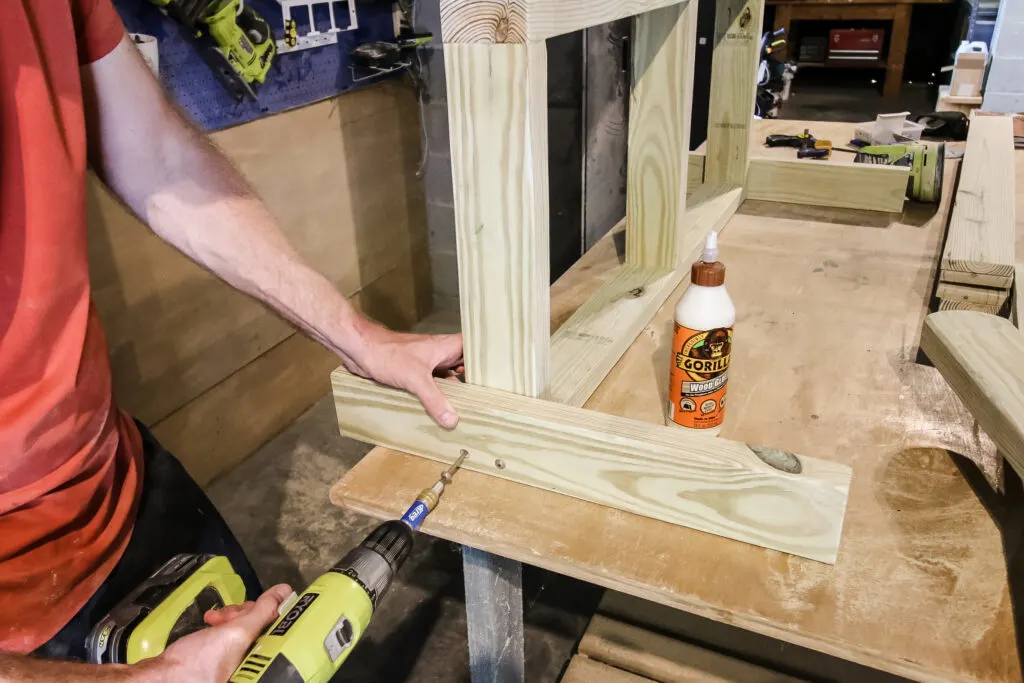 We attached the legs straight through into the frame and also added wood glue for complete stability.
Step three: Need a place to sit
After the legs are on, add the seat slats. For each board, we put it on across the supports of the frame and used a Kreg Quick Flip tool to quickly drill the pilot holes on each board and then screwing in the screw on the other side.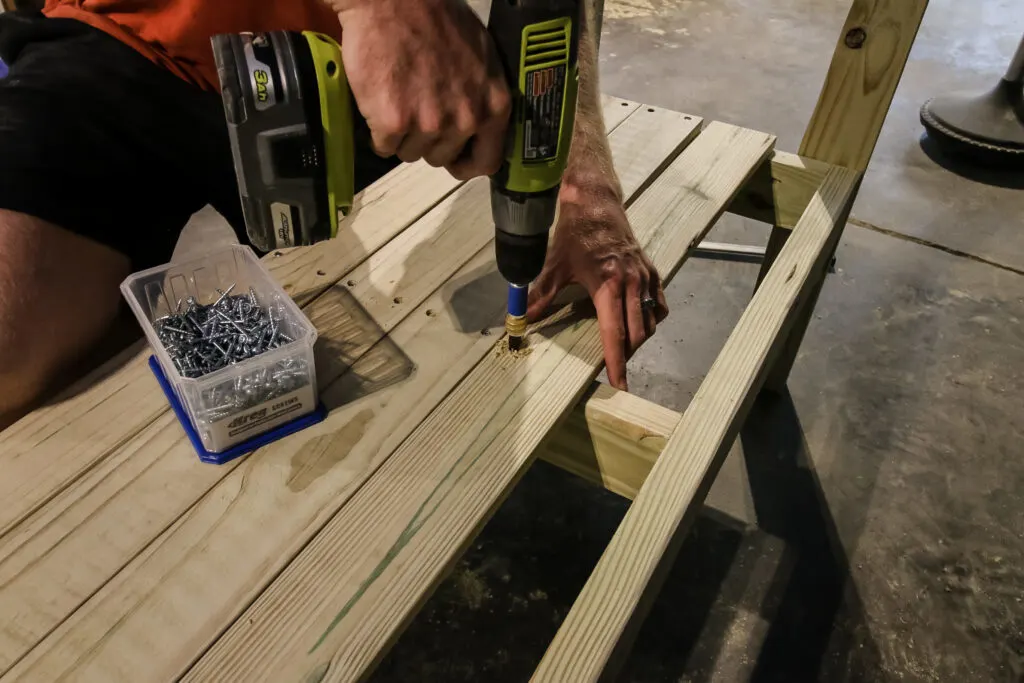 The Quick Flip made each screw quick and easy to attach, so each board went on quickly. We didn't add spacers between them, but they should shrink over time and will add some space.
Step four: Attach back and arms
Next, assemble the back. We opted for a criss cross pattern on the back, making two X's. This style bench is classic, but you could also go with vertical or horizontal slats.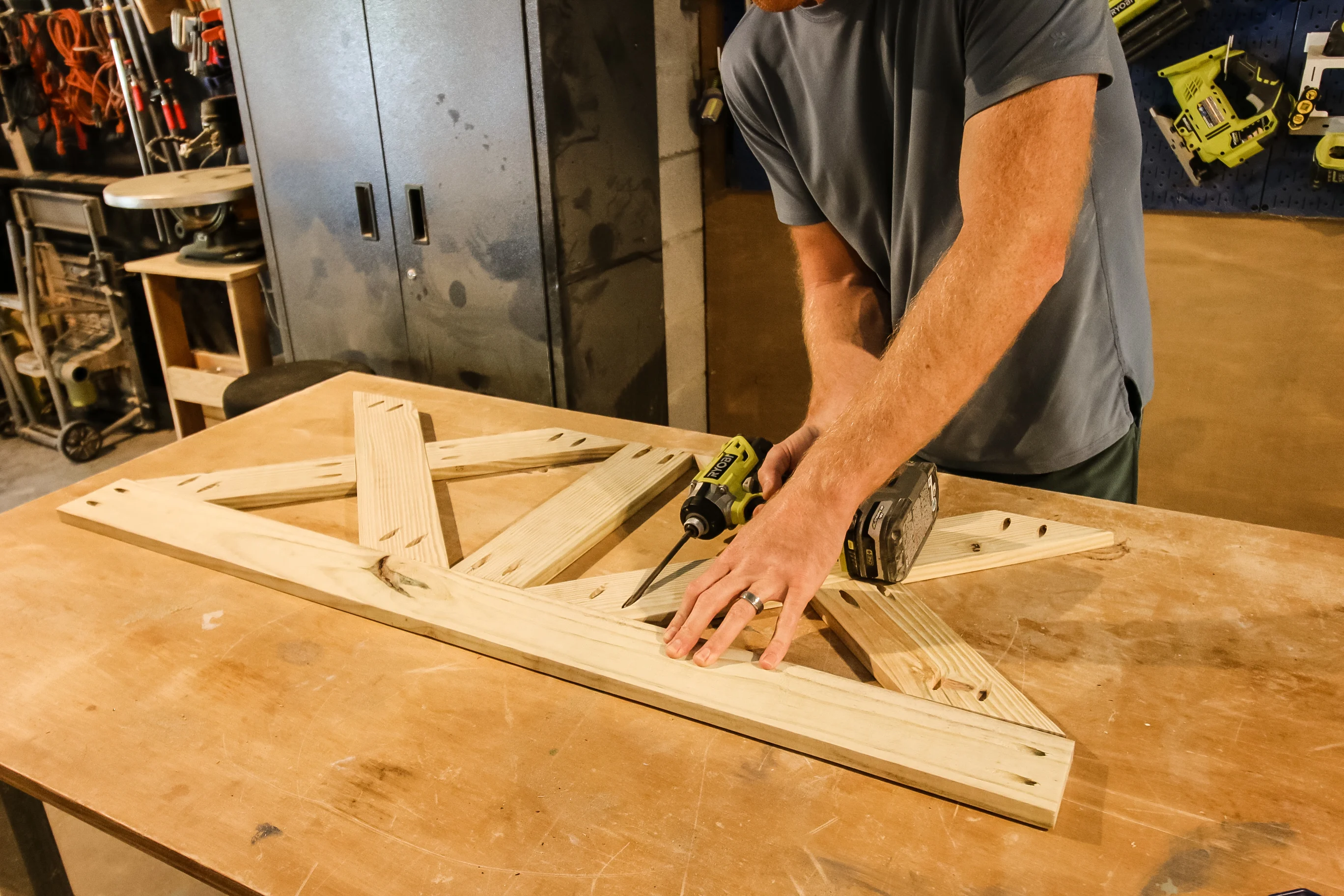 We added a top and center support, then cut the X's to size on each side and attached with wood glue and pocket hole screws.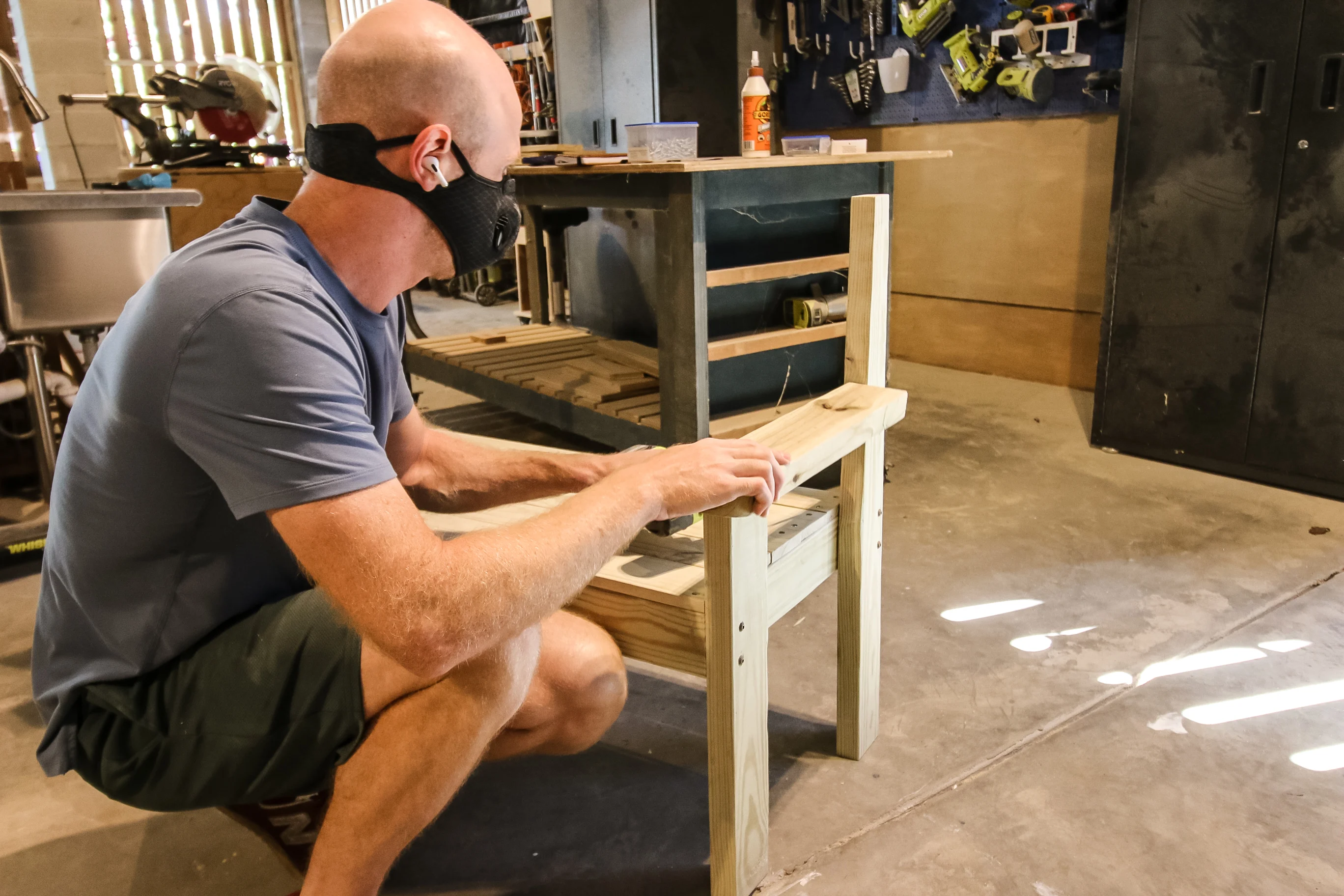 Then, we finished it off by adding arms to lean on. Now your bench is ready to sit on!
This outdoor garden bench is great for your garden or even around the fire pit (as long as you're an appropriate distance from the flames because… it's made of wood).
If you want another bench idea for the fireplace, check out the ones we made with wood beams and concrete blocks!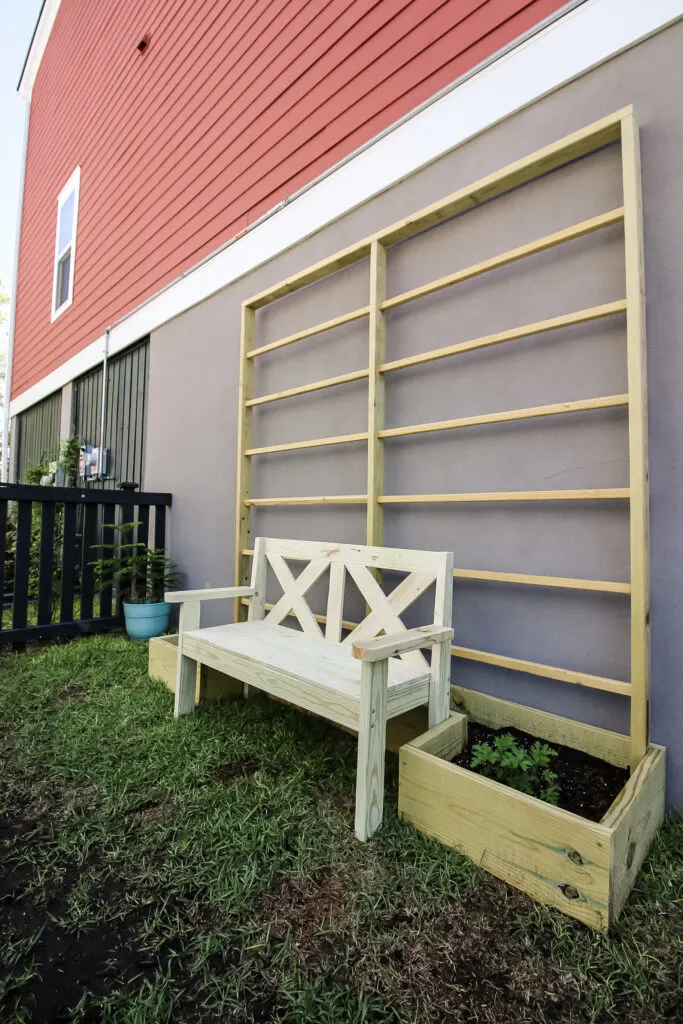 DIY garden bench woodworking plans
If you love this project and you're ready to make one for your yard, you're in luck! We have a full set of printable PDF woodworking plans for our DIY outdoor garden bench!
Our plans come complete with a full material shopping list, cut list and step-by-step instructions with computer model imagery.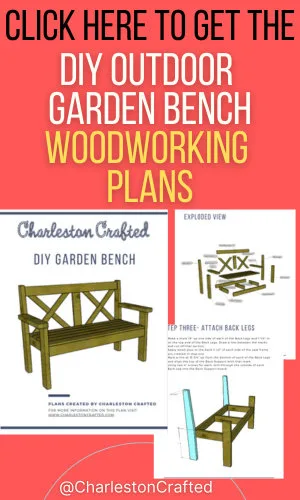 These garden bench woodworking plans will walk you through the full details for each step in the project and help guide you to a bench that is perfect for your yard!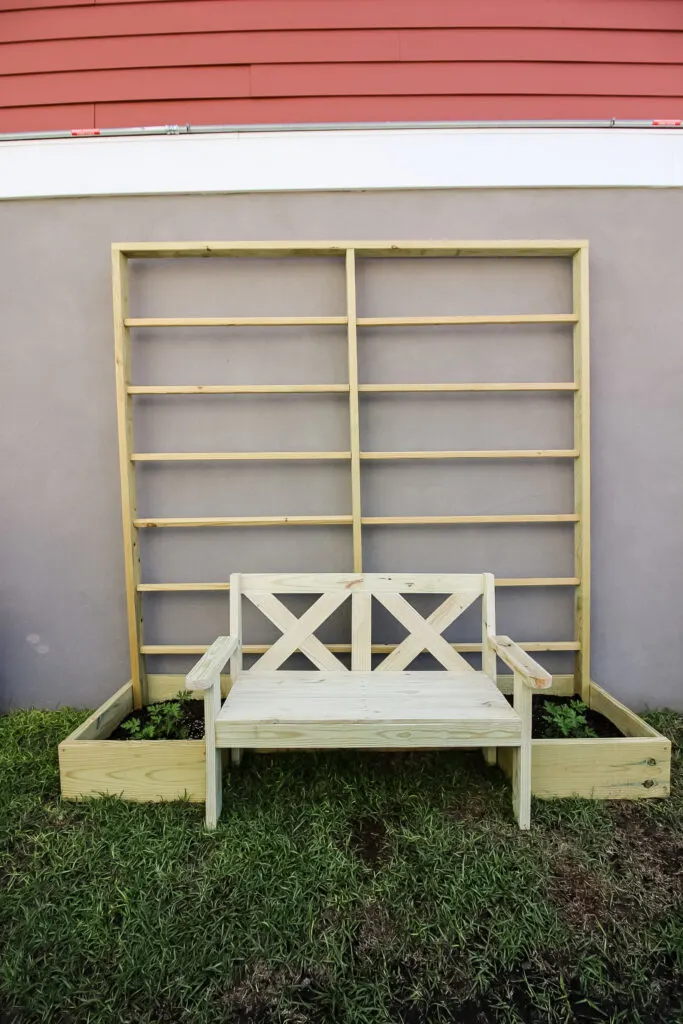 And, if you love a good combo, you can save money on a bundle to grab the garden bench plans with our raised bed garden and trellis plans! The garden trellis plans are specifically designed for the bench to fit inside, so it's a perfect combo!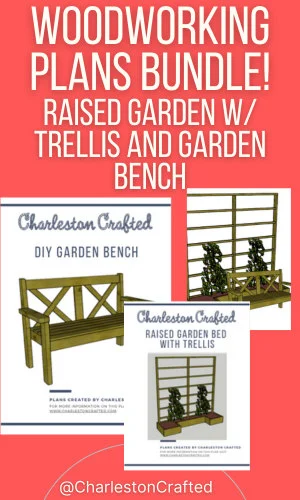 What is a good wood for a garden bench?
There are a few choices for good wood for a garden bench. When picking a type of wood to use for an outdoor bench, you need to remember that it will constantly be exposed to the elements, so you need wood that will prevent rot and decay from setting in on your beautiful bench.
The best type of wood for a garden bench is one that will prevent damage to the bench. We chose to use treated ground contact rated dimensional lumber from Home Depot. This wood is treated with chemicals to withstand the environment.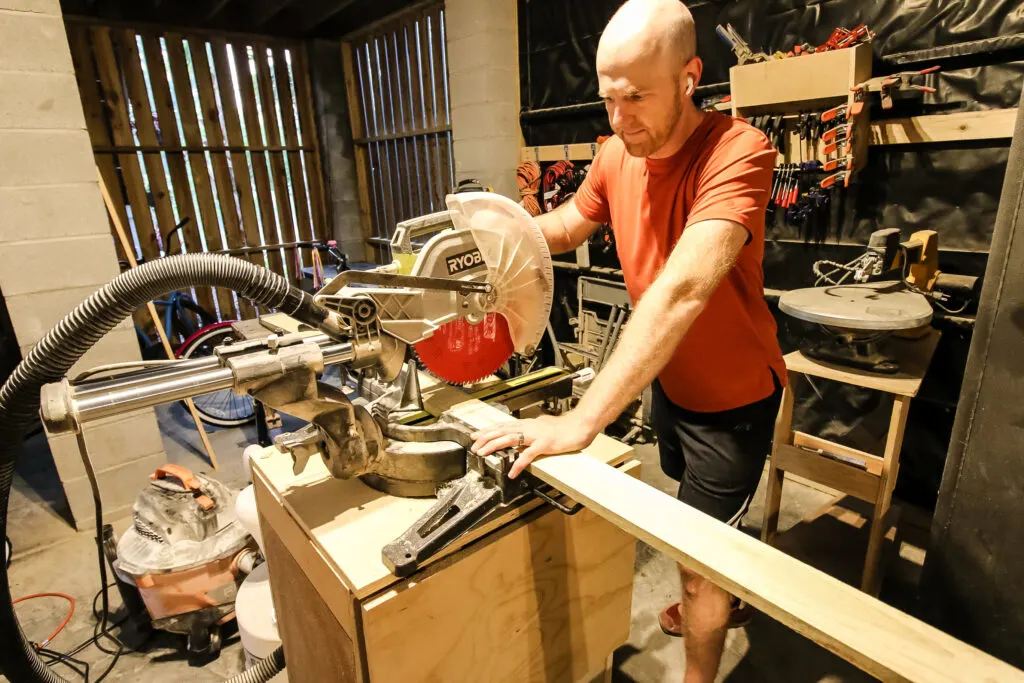 We used cedar AND treated lumber for this outdoor bench with trellis and storage!
You can also choose cedar or cypress if you want a natural wood that is resistant to the elements. This wood will be harder to come by, but is a great natural choice.
Buying dimensional lumber from Home Depot will give you the natural color of the wood that is a little lighter than what you want in your yard. However, remember that wood will fade over time and will look more grey in a year. You can also use outdoor stains to change the color of your bench.
How thick should wood be for a garden bench?
The wood for a garden bench needs to be thick enough to withstand weight over time.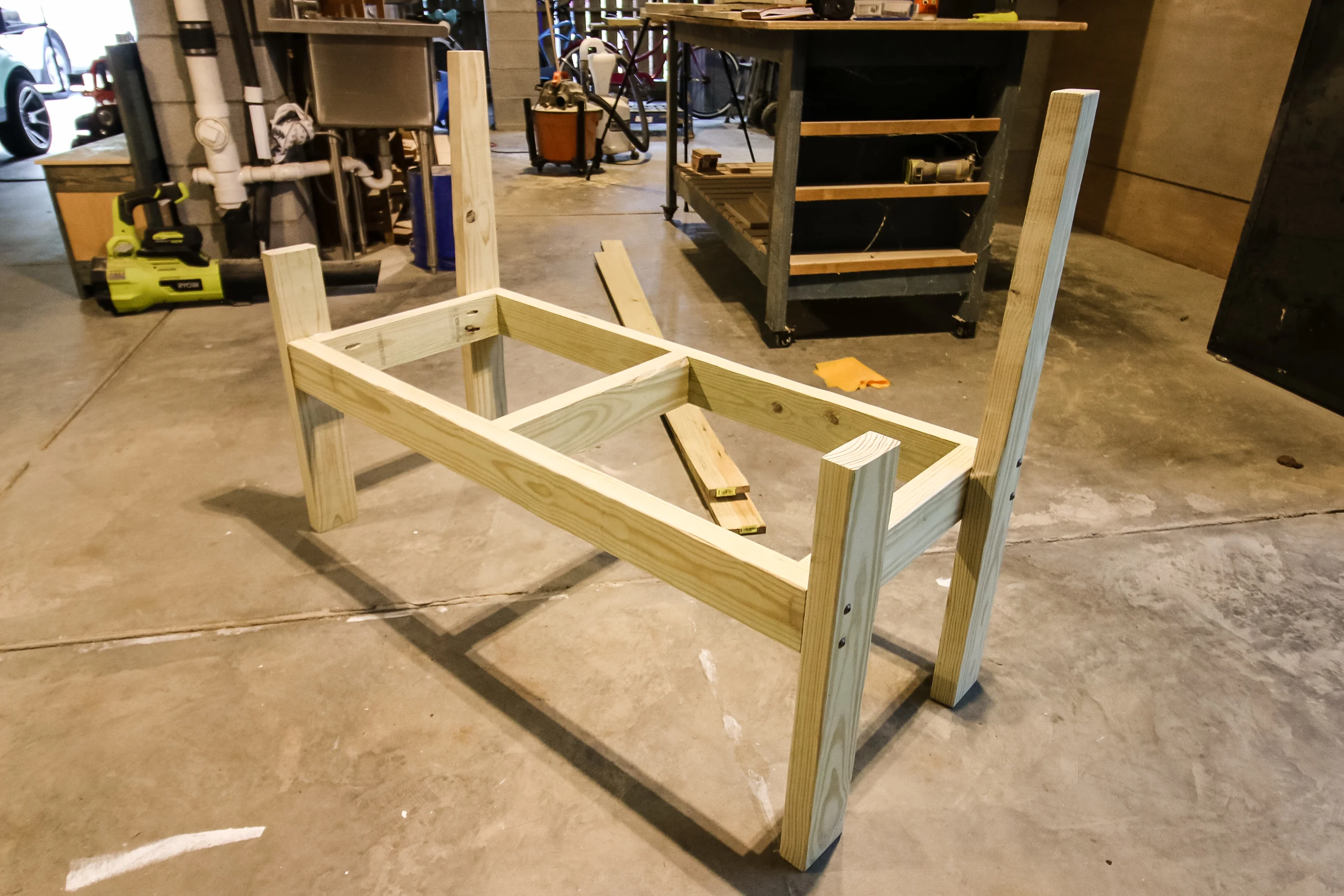 We used 1 1/2″ thick standard boards for the framework of the bench, but 3/4″ thick boards for the seat itself and the back because they are resting on the thicker frame.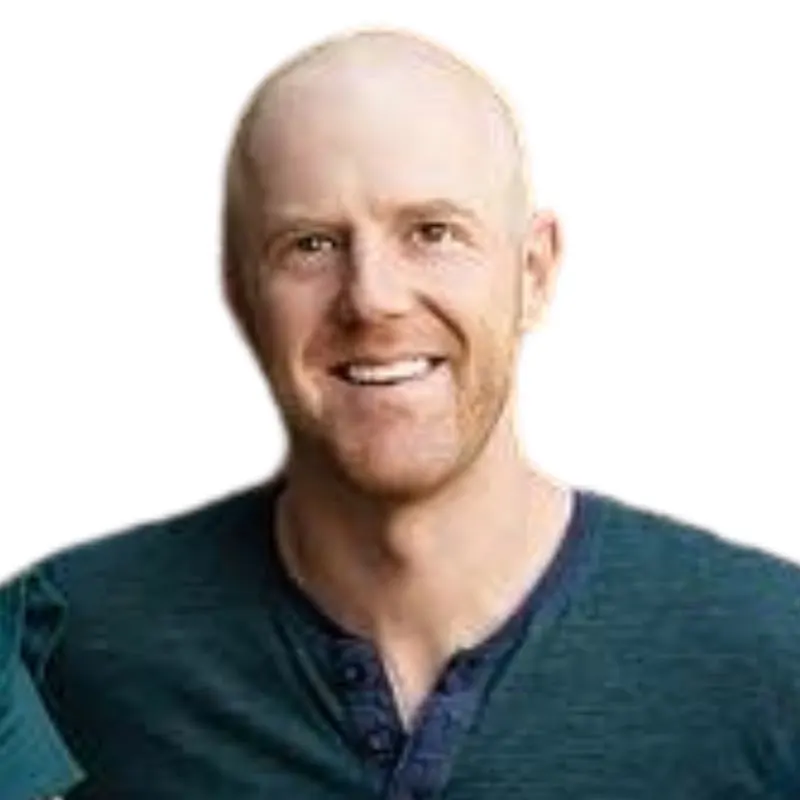 Hey there, I'm Sean, the woodworking enthusiast and builder behind CharlestonCrafted.com! Since 2012, I've been sharing the magic of turning raw materials into beautiful creations. I love teaching others the art and satisfaction of woodworking and DIY. I try to inspire fellow crafters to make something extraordinary out of nothing at all.