Today is a bittersweet day as we will be sharing our final home tour of our current house.
We have loved loved loved living in this home and transforming it over the last four years. Truly, 95% of the big transformation was in the first 2 years, before Luke was born 🙂
We are very sad to leave, but it is the right move for our growing family.
In the meantime, we thought that it would be fun to take a walk down memory lane and look at the before and afters of our home.
A great thing about blogging is that we have an online diary of this whole process. I found this blog post with our original to-do list for this home, and thought it would be fun to compare that to what we actually did!
Home tour video
Prefer to watch a video? Check out the full tour:
Our final home tour
Front of house: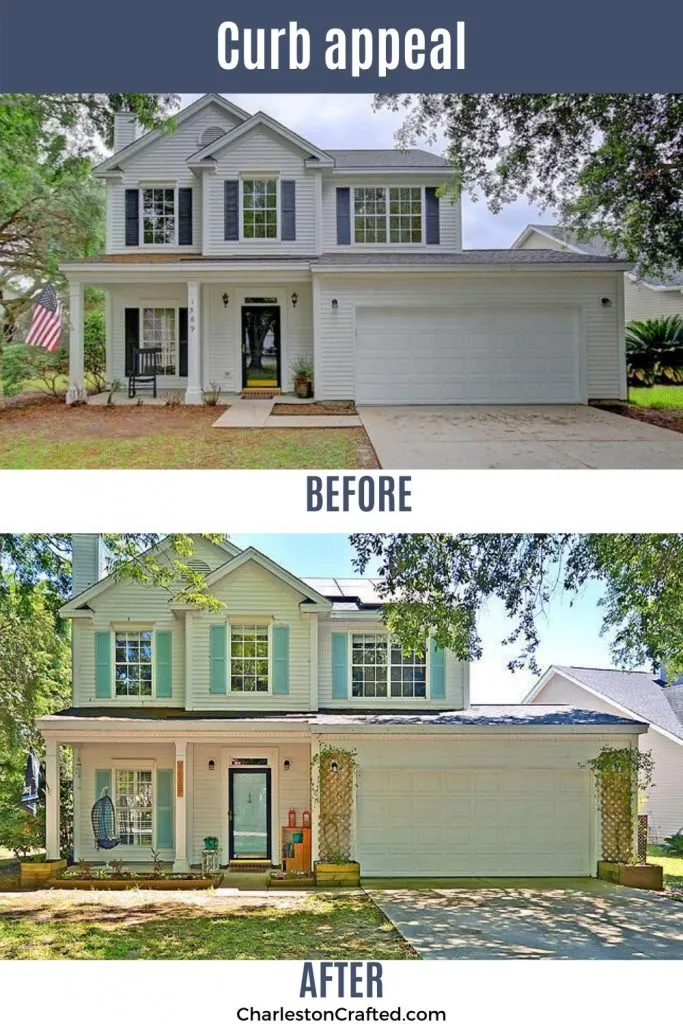 I have always found the curb appeal of our home to be super charming. I love the crisp white siding and the nice front porch.
We had a great base to start and just freshened the place up with some more coastal colors as well as planters and accessories!
Our plan:
Add swing to front porch – we added an egg swing that we inherited from Sean's dad, but it's not really comfortable for sitting. It makes a great picture, though!
Paint door – we painted our front door Watery by Sherwin Williams, which is also our kitchen island color!
Update gold door hardware – when I painted the door, we swapped out the knob and knocker for silver hardware and spray painted the kick plate silver, too!
Update landscaping in front of house – we added plants and grass over the years. The six huge live oak trees made it hard for anything to grow super well, though!
Plant and grow grass – well, we tried. Here are our best tips for growing grass in non-ideal situations.
Build a pergola over the garage – we decided not to do this project and instead added planters with trellis on either side.
Update front lighting – we replaced and modernized the lights on the front porch.
Other projects we did:
Formal living room: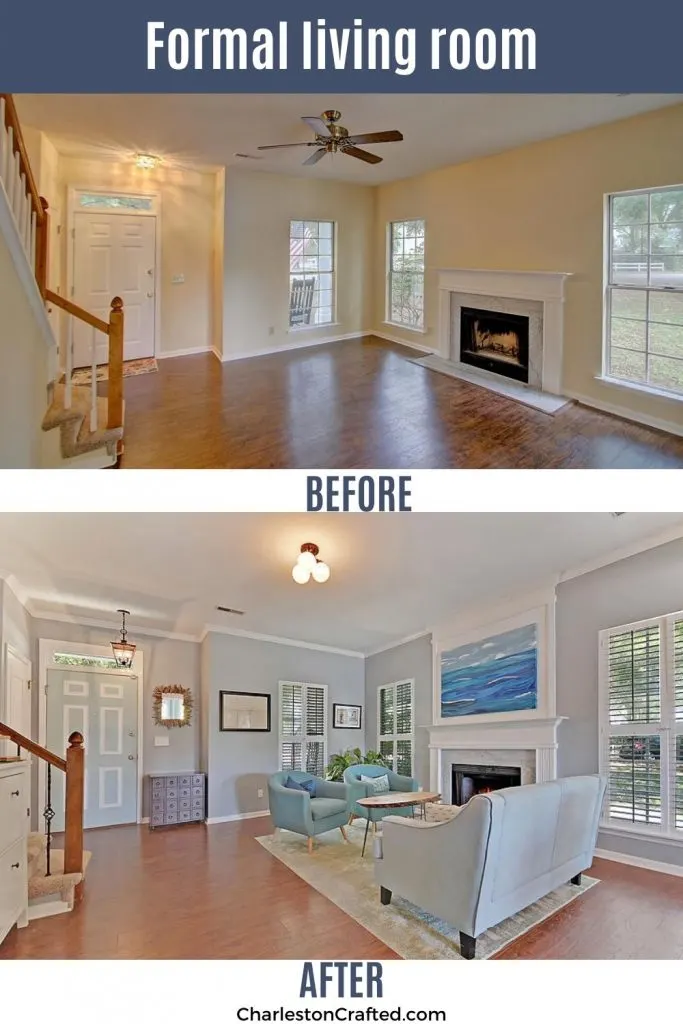 The formal living room in the front of our house was the room that we were least excited about – we just aren't formal people!
However, I am really proud of how pretty we made this space. We might not sit there a lot, but it makes a great impression on guests entering our home.
Our plan:
Other projects we did:
Dining room: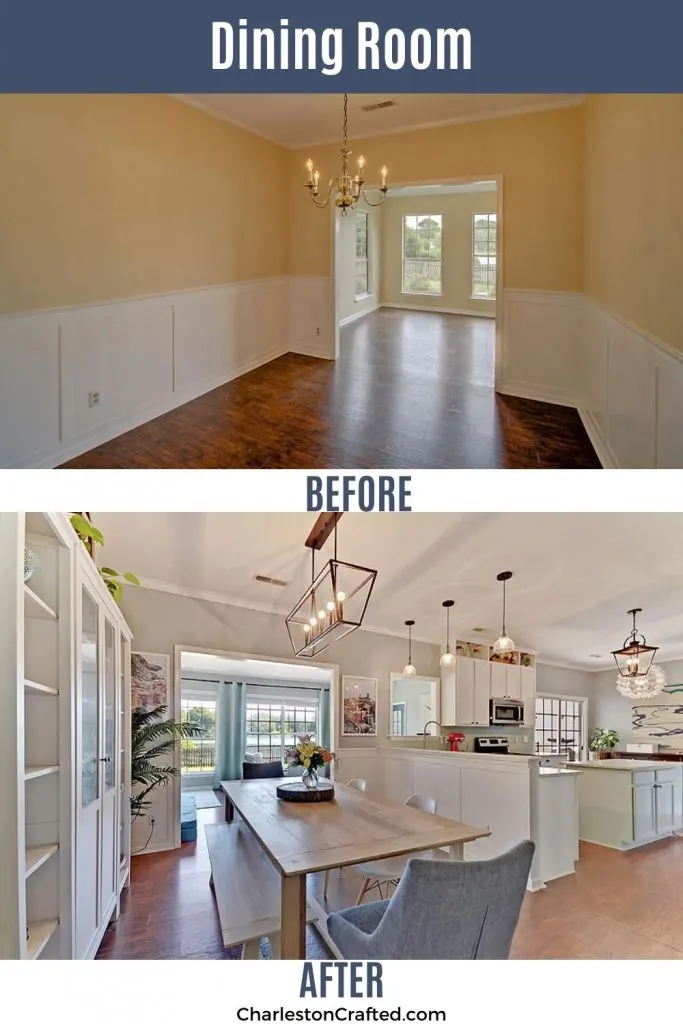 A formal dining room is another thing that we didn't really want in our home – but we are so glad that we had it!
By the time we had lived here 4 years, we actually got rid of our eat in kitchen area (and replaced it with a bar haha!) and ate exclusively in the dining room.
This is the second table that Sean built for this space – I love the light bright and airy feeling!
Of course, we had walls taken down between the formal living room, dining room, and kitchen to create a "great room" feel.
Otherwise, it was just decor that really freshened up this space.
Our plan:
Other projects we did:
Wood slice lazy susan – we get so many comments on the lazy susan in the middle of our table, and of course it was a DIY!
China cabinet – we used three pieces of Ikea Hemnes shelving to create a china cabinet.
Kitchen: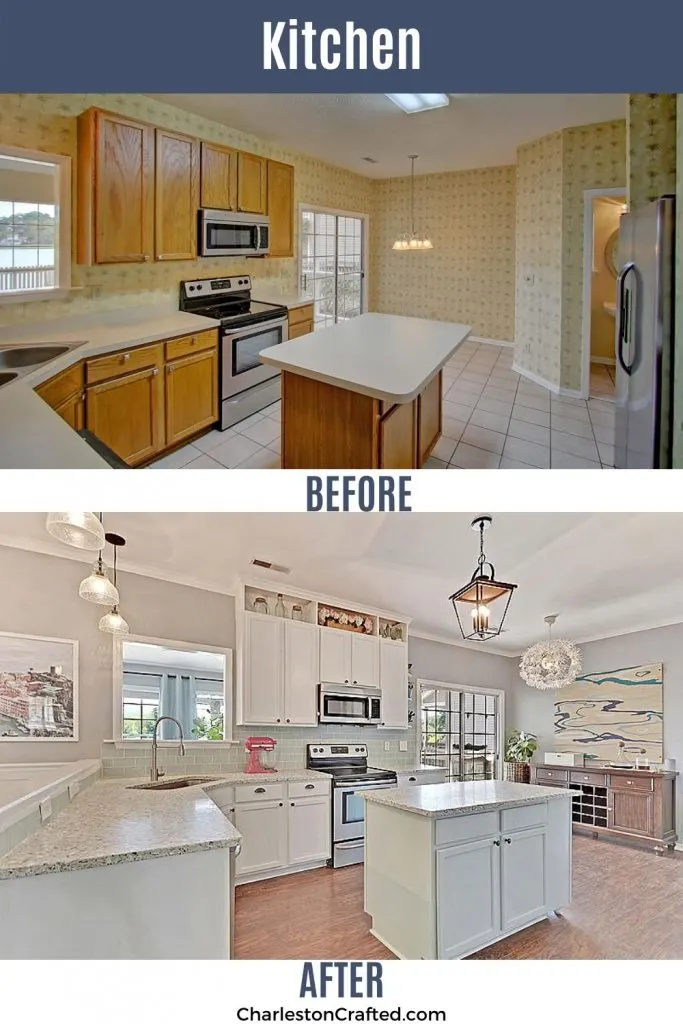 Our kitchen was our biggest and my favorite transformation in this home!
When we first toured the house, the kitchen was really scary! Dated oak cabinets, plastic counter tops, and loads of wallpaper.
We completely renovated – but on a budget. By keeping the cabinets and layout, it was much more affordable.
Our sea glass and oyster shell countertops are the clear highlight. This is a beachy paradise now!
Our plan:
Other projects we did:
Half bath: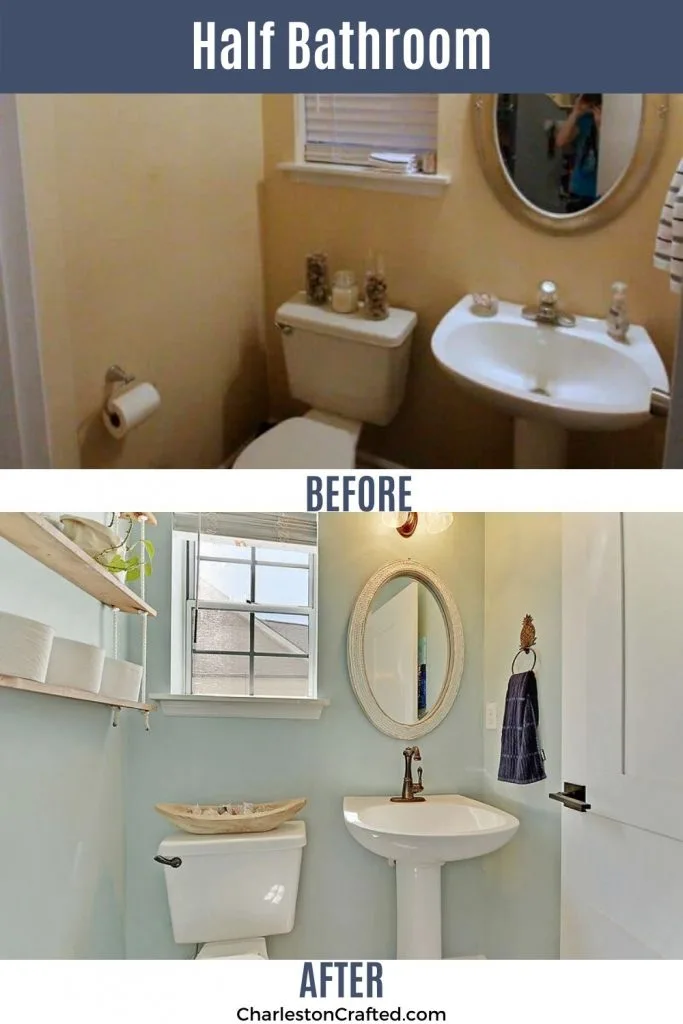 I've never loved that our half bathroom is literally in the kitchen, but it's better than having no half bath at all.
We gave this space a little personality as a part of a $100 makeover challenge, and I just love its simple charm!
Our plan:
Other projects we did:
Sunroom: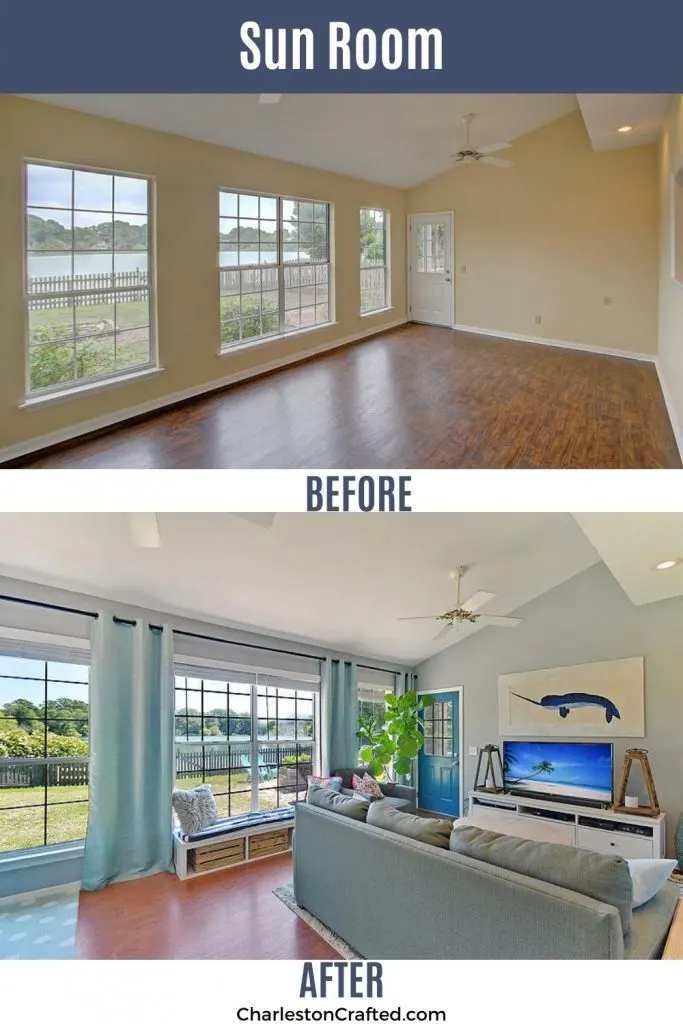 Our sunroom is on the back of the house, overlooking the lake. We use this room as our main living room and TV watching space. In the last year, it has also become a playroom for all of Luke's toys.
Our plan:
Scrape ceilings – we had new drywall hung over the popcorn downstairs!
Add crown molding – we added crown molding throughout the entire downstairs.
Paint walls – our entire downstairs is painted Online by Sherwin Williams.
Add blinds to windows – we added white faux wood blinds to all of the windows
Furnish – we added a sofa, chair, rug, and coffee table, as well as the TV stand and TV.
Add lights to fans – we never upgraded these fans. Sean was not thrilled at the idea of messing with electrical with these lofted ceilings.
Other projects we did:
Master bedroom: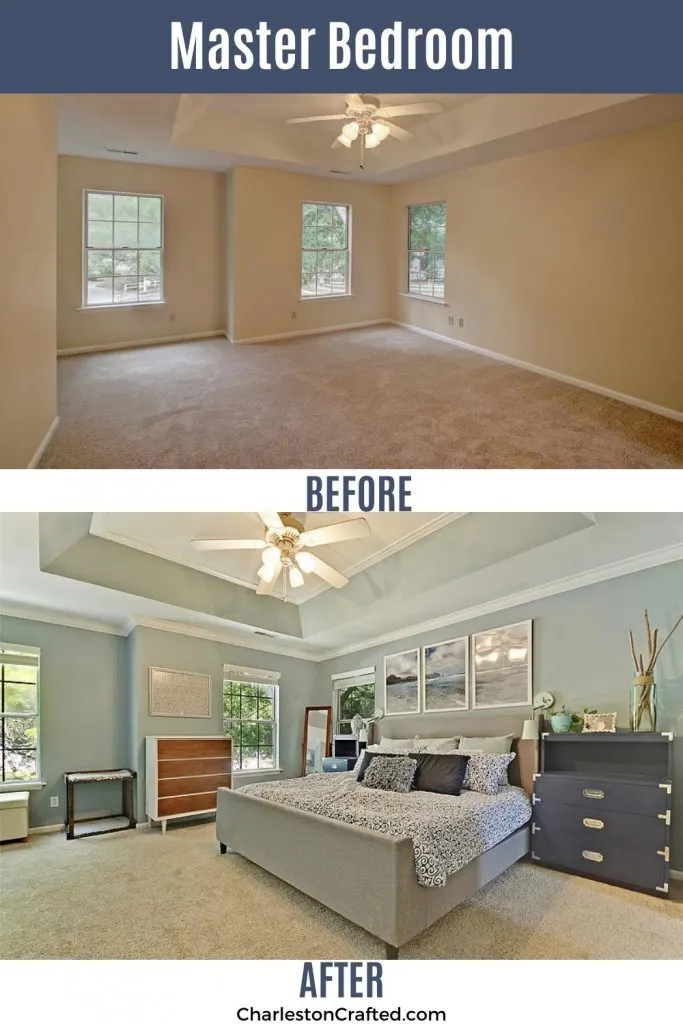 The master bedroom in this house is huge – it even has a large nook area that we ended up turning into an office! While it's not how I would have chosen to use the square footage, it's not the worst thing in the world to have.
We really made this room feel light and beachy with a blue-gray paint color and beach themed artwork!
Our plan:
Scrape ceilings – we scraped the ceilings in this room by hand, and it was enough to make us not want to do that again!
Add crown molding – we added crown molding in this space, too.
Paint walls – we painted the walls Interesting Aqua, which is a really pretty dusty teal blue.
Add blinds to windows – we added white faux wood blinds to all of the windows.
Furnish – we added a king size bed and a LOT of dressers to this space!
Other projects we did:
Master bathroom: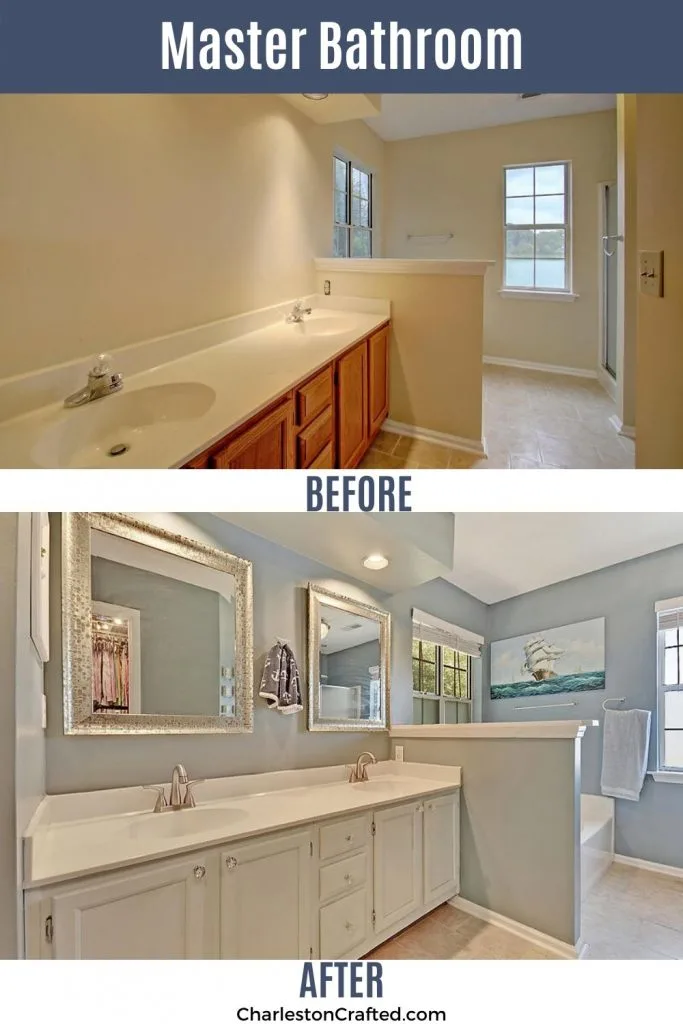 Our master bathroom is a room where I wish we could have done more – we had great plans for a big renovation, but it just didn't make sense financially.
If this was our "forever home", we would have done a lot more, but as it stands, I'm glad we didn't sink any big money into this space.
Our plan:
Other projects we did:
Guest bathroom: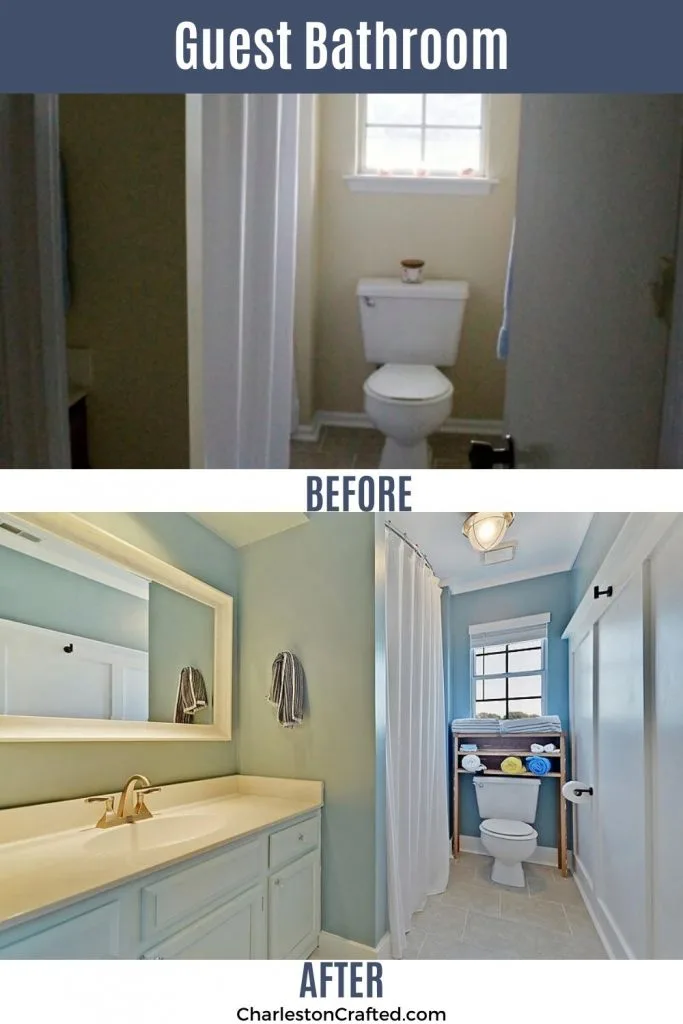 Our guest bathroom, or Luke's bathroom, we also left pretty simple and just gave a few cosmetic updates!
Our plan:
Other projects we did:
Guest bedroom: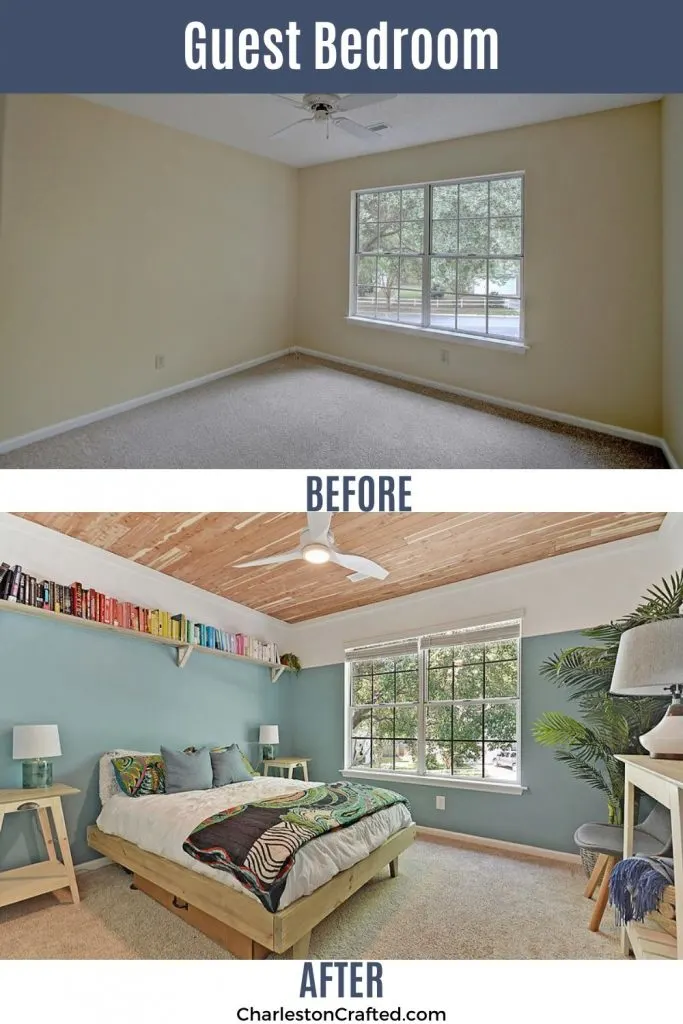 Our guest bedroom ended up being one of our favorite (and least used) rooms in the house. It has a really fun, playful feel to it.
We incorporated a lot of outdoorsy elements, which was different from the rest of our house and felt really special and unique!
Our plan:
Other projects we did:
Laundry room: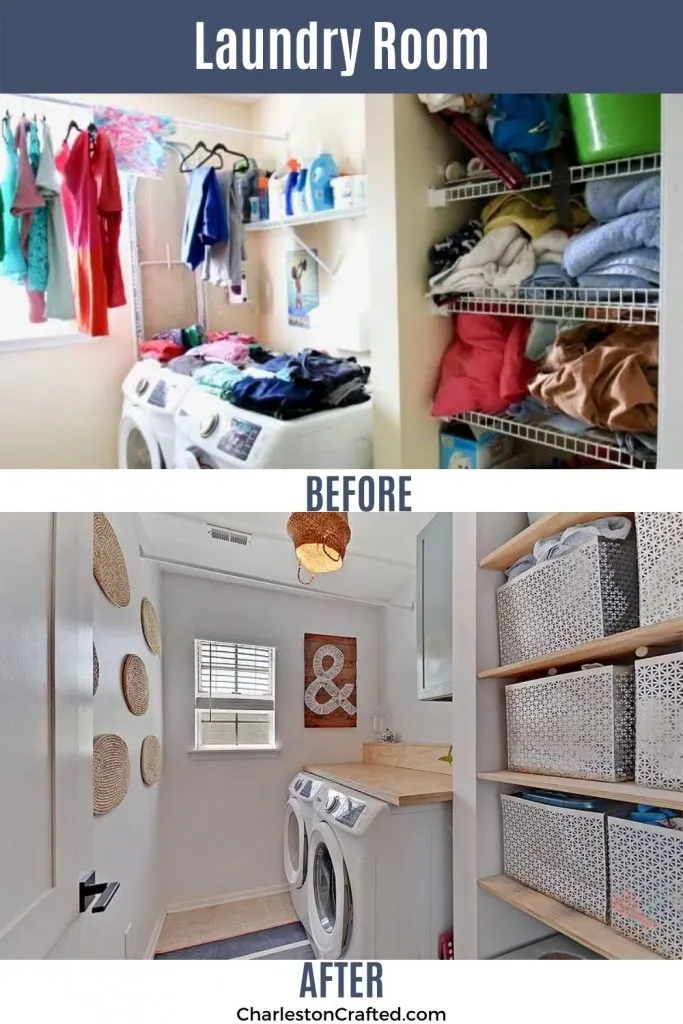 Laundry rooms might not be that glamorous, but if you have to spend time there, you will enjoy it more if it's pretty.
I was so glad to have a laundry ROOM and not just a closet in this house. It is not huge (I wish we had a sink!) but I am still grateful for the space.
Our plan:
Scrape ceilings – we scraped the ceilings in this room by hand, it was not fun.
Add crown molding – we actually never added crown molding in here!
Paint walls – We painted this room white to match the tile.
Add blinds to windows – we added white faux wood blinds to all of the windows.
Add laundry folding table – we added a stacked plywood countertop over the washer and dryer.
Add shelving – We added pegboard style shelving into the "linen closet" section of this room.
Other projects we did:
Office/Craft room/Luke's nursery: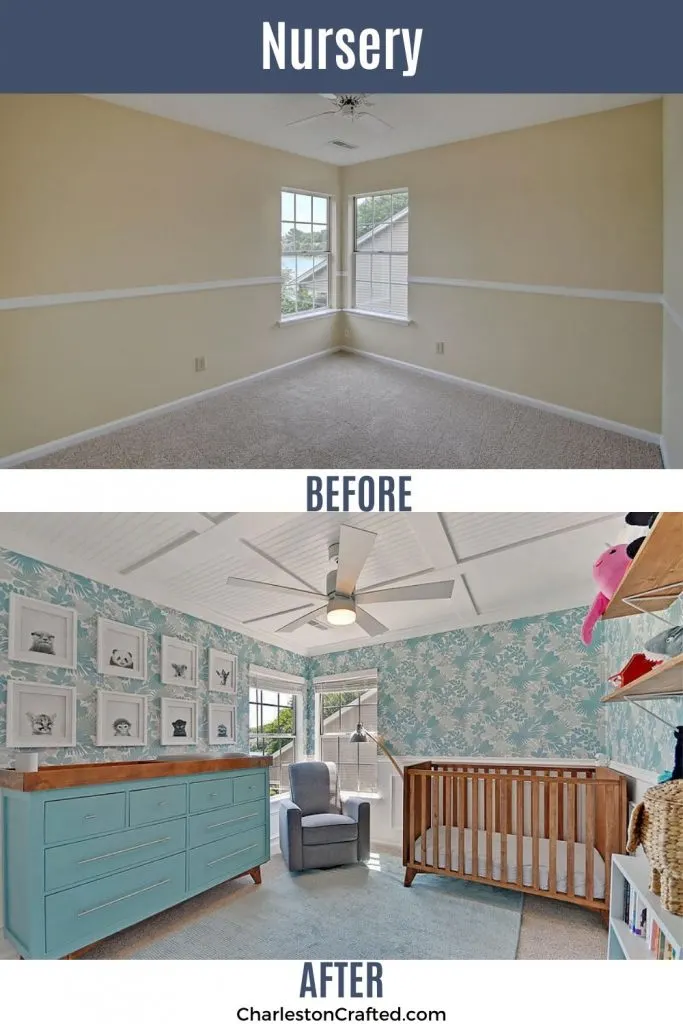 This room started as my office craft space, but ended up as Luke's nursery!
This is my very favorite room in the house. I am obsessed with the coffered ceiling, and the wallpaper is so bold and fun.
We did so many fun projects in here and I am really really sad to leave it!
Our plan:
Other projects we did:
Screened porch: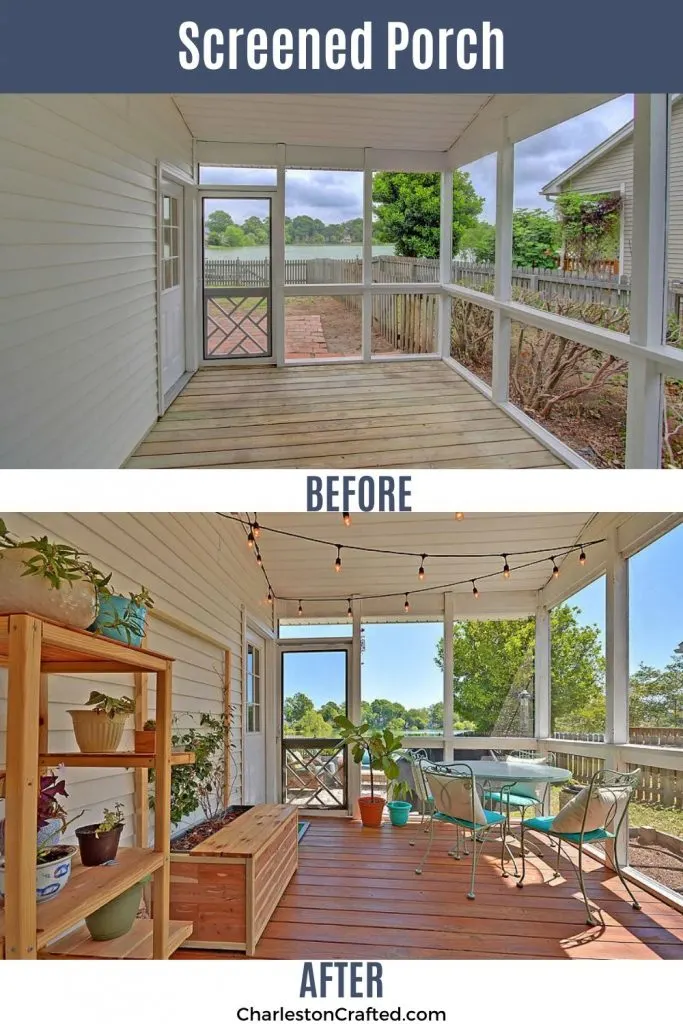 A screened porch is such a great bonus for any home. Living on the lake, it has been a really nice place to eat dinner on not-too-hot evenings and to play with Luke in the shade!
Plus, our cat, Bear, is obsessed with coming out here to bird watch!
Our plan:
Other projects we did:
Plant stand – I got really into house plants while living in this house, so this huge rolling plant stand was the perfect place to keep them!
Planter bench – I love that this DIY planter bench has hidden storage for kids' toys – and a trellis for some vertical interest.
Dog toy box – CiCi's outdoor toys got out of control and having a toy box makes it so much easier to keep them tidy.
Back/side yard: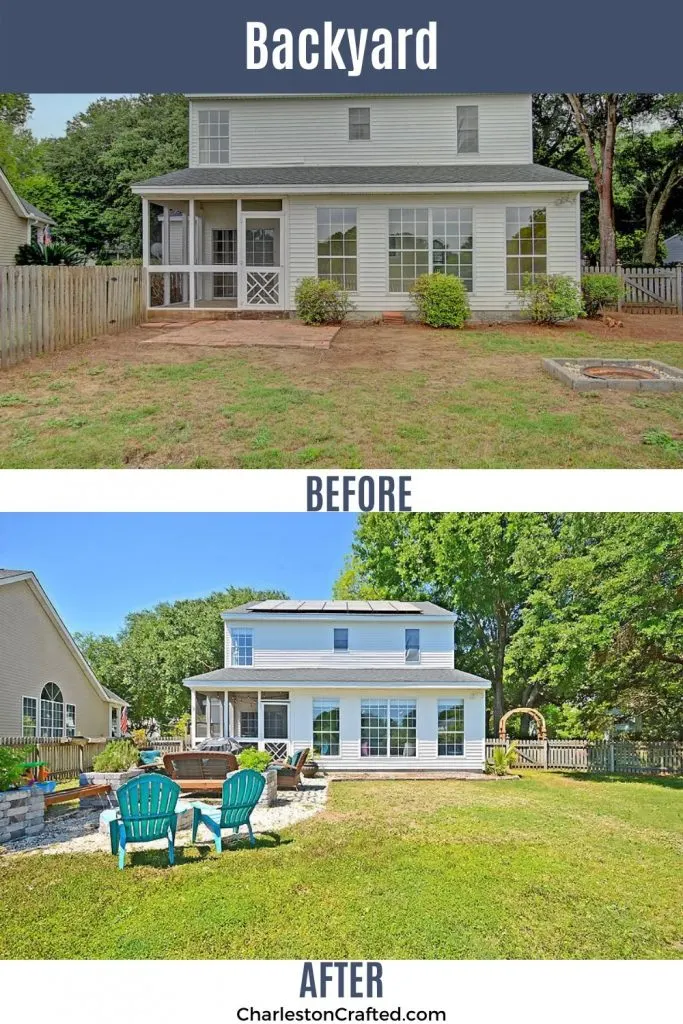 The backyard is the reason that we bought this house. We love the privacy of only having one neighbor, and being on this large lake has been so peaceful and fun.
Our house was previously occupied by a renter and the yard was very neglected. It was mostly dirt and ant hills, with a few sad bushes thrown in.
We tried really hard to make it a more beautiful and useful space!
Our plan:
Build a deck or patio – we laid a molded concrete patio just off the screened porch!
Add a raised vegetable garden – we added several raised garden beds!
Relocate fire pit – for some reason, they had put a crappy fire pit in the exact center of the yard. We removed it and repurposed the stones for flower bed edging!
Add place to hang hammock/swing – Sean built this custom hammock pergola, which has become my favorite spot in the yard.
Remove dead bushes – Sean dug up over 25 bushes, by hand, in this yard. That was a TON of work!
Plant and grow grass – We did our best to grow grass. Here are our tips for growing grass in non-grass friendly yards.
Plant and grow flowers – we planted tons of plants including tropical plants, hibiscus, dahlias, and even a peach tree!
Other projects we did:
Benches and fire pit – We added built in benches and a fire pit in a spot that made more sense for our yard.
Shed – we added a shed to store the lawn mower in a more convenient location.
Our home was a massive set of projects, including so many decor projeccts that didn't even make this list. We had so much fun and we can't wait to do it all over again in our new home!
Any questions?