So, you want to paint cabinets in your home? A paint roller is a great way to go – but you need to use the right one! Here is everything you need to know about selecting the right roller for the job.
We have painted quite a few cabinets – and cabinet-like pieces of furniture! I understand that it is scary to do at first. However, if you go slow and take your time, no problem is un-fixable!
We painted our kitchen cabinets, bathroom cabinets, and used a similar technique on these dressers – amongst many others.
I have learned from experience that the easiest way to paint cabinets and get a smooth finish with minimal clean up is to use a paint roller.
I will note and say – if your cabinets are detached from the wall and can go outside (like our laundry room cabinet) – a paint sprayer is the easiest way to paint them.
However, all of the taping off and clean up from paint sprayer-ing inside makes me use a roller for cabinets that I cannot remove.
However, you cannot just use a regular old wall roller on cabinets. You will get a textured finish, plus it is probably way too wide. You need a specialized roller.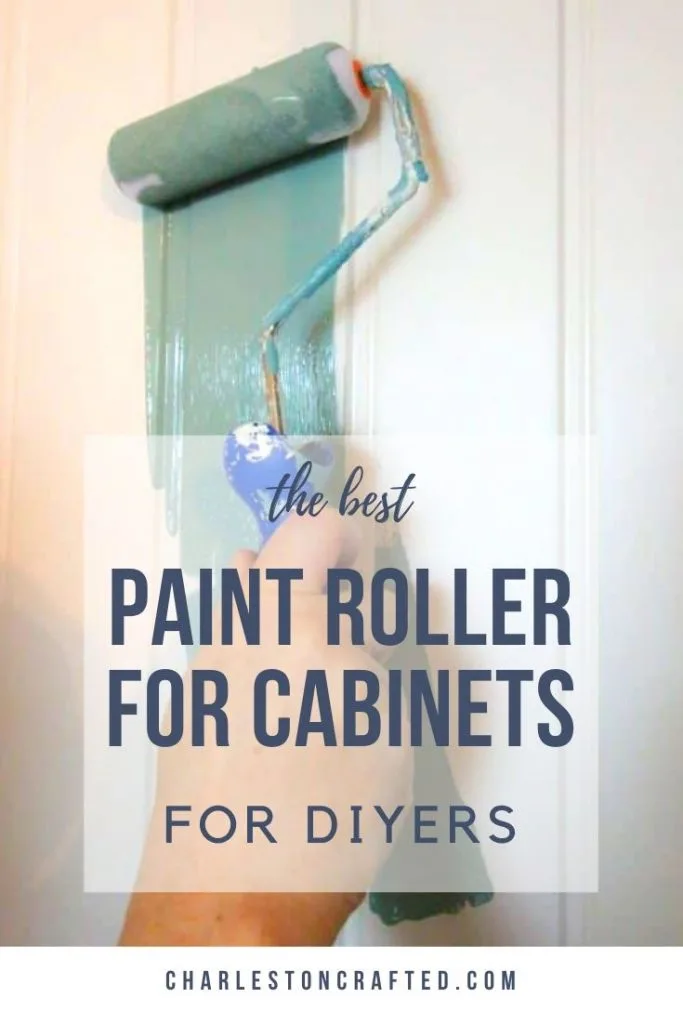 The best roller for painting cabinets
The best type of roller for painting cabinets is a mini roller with a high density foam cover.
These rollers have a few aspects about them that make them great for cabinets:
The narrow (usually 4 inch) width makes them a good size for the average cabinet.
High density foam gives the smoothese possible finish.
The roller cover
Traditional rollers have a nap to their finish that applies a texture when they roll. This is intentional for walls – a slight texture covers up imperfections in the drywall – but for cabinets, you want the smoothest finish possible.
Foam roller covers work best with latex or water-based paint. I use latex paint when painting cabinets.
Fabric roller covers must be used with oil-based paints. They will leave an imperfect finish on the cabinets.
"Nap" is what you call the thickness of a roller cover. Rollers with a thick nap are best for rough surfaces, and rollers with a thin nap are best for smooth surfaces.
The best nap size for each project
| | | |
| --- | --- | --- |
| Roller Cover Nap Type | Thickness | Best For |
| Thick Nap | 3/4 inch | Brick, Concrete |
| Medium Nap | 3/8 inch | Ceilings, Drywall |
| Thin Nap | 1/4 inch | Cabinets, Furniture |
The best roller for smooth finish on cabinets will always be a thin nap!
The best roller size
Paint rollers come in sizes 4-inch up to 14-inch.
If your cabinets are completely flat fronted, with no molding or detail at all, you can use up to size 7 inches wide.
If you have detailing on your cabinet, you want a 4 inch wide roller.
4 inches is a standard "mini roller" size and will be easiest to find in the high density foam, anyways.
The best brand name for paint rollers
The brand name of your paint rollers does not matter. Here's what matters:
Price – foam rollers might look cheaper than fabric roller covers. Great! However, fabric rollers can be washed and re-used. Foam rollers are one time use due to how absorbent they are (trust me – I have tried to wash all the paint out to re-use. You can't!)
Material – look for 1/4 inch "high density" foam for the smoothest possible finish
Frame compatibility – be sure that the roller cover works with the roller frame that you have – or purchase the right one. Most foam rollers have a tiny hole, so you can't pair them with a roller with a cage.
The roller frame
When shopping for a roller (not the cover) look for one WITHOUT the cage. These mini foam rollers are not compatible with cages.
Here is an example of a roller without a cage
Here is an example of a roller with a cage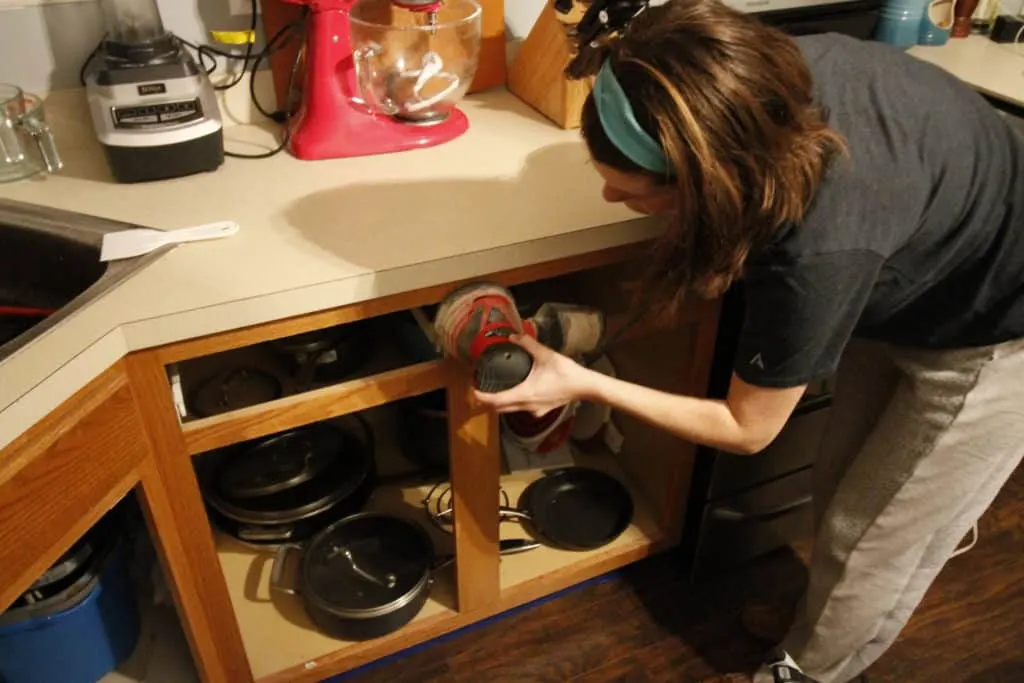 Frequently Asked Questions
What type of paint roller gives the smoothest finish?
You want a roller with a high density foam cover – like this one.
How many coats does it take to paint kitchen cabinets?
I would plan for 3 coats – 4 if you are painting over a dark color!
Can you reuse the same paint roller for multiple coats?
Yes! If it will be more than about 30 minutes, I seal in a ziplock bag and stick in the refrigerator to keep soft and wet.
How do I get a smooth finish with a paint roller?
Use the right type of roller – foam cover.
Do multiple light coats of paint to avoid drips.
Let paint dry fully before handling any pieces.
If you need to use a brush (I like a foam brush) to get in any detail or ridges, roll over the area afterwards to help smooth out any brush marks or unevenness.
Can you paint cabinets without sanding?
I'm just going to say it – no. Your cabinet has a protective coating on it. This will keep the paint from sticking properly. You HAVE to sand it off. Sanding is not that bad, I promise!
Any other questions about painting cabinets?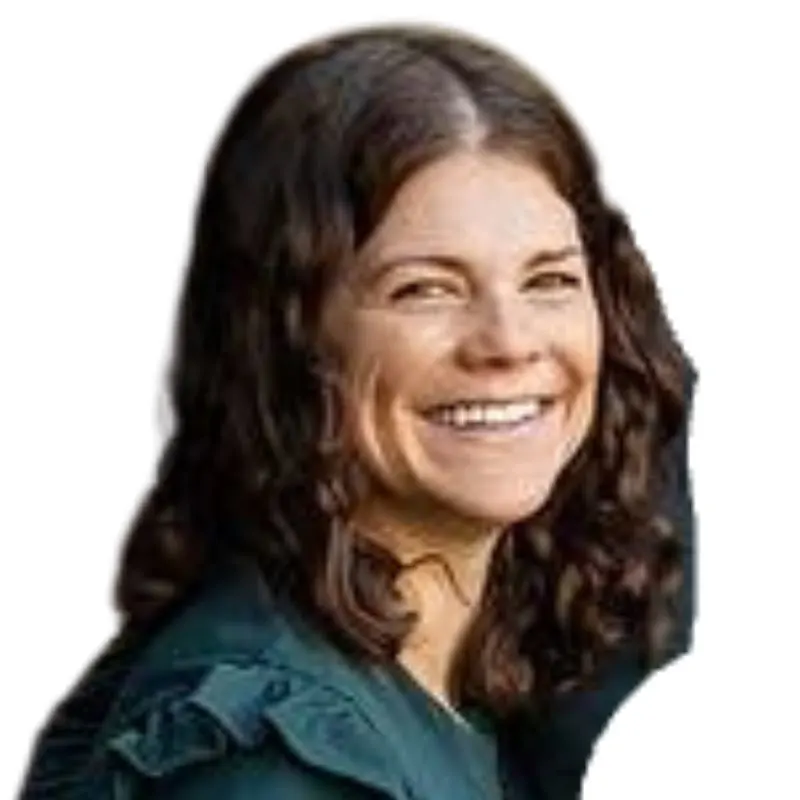 Hello, I'm Morgan, half of the creative force behind CharlestonCrafted.com! With a passion for DIY that dates back to 2012, I've transformed three homes and now I'm dedicated to helping others craft their dream spaces. Let's turn your house into a home together!