Want to learn the best way to paint metal patio furniture? Here is a step by step guide to get the perfect finish every time!
I love this little metal patio table of mine. It was originally my Granny's, on their screened porch for a long long time. Then, it lived in my parent's backyard, unused for a while.
I used it as a kitchen table in my first ever apartment (peep it here!)
Then it sat on the screened porch of our condo. Many a meals were eaten there!
It was on our screened porch in this house for a while, but when I got the big bamboo dining set, we moved this table to the side yard.
It sat out, exposed (minus the seat cushions which I stored inside). It got rained on, hurricaned on, even snowed on once!
But, Luke has recently started expressing a lot of interest in the screened in porch. He wants to play out there and honestly, the bamboo table was always too big and bulky for the space.
So, we sold it on Facebook Marketplace. We got $100 (pretty good for a free find – though I did purchase the cushions) and a new, empty porch.
We pulled up this metal patio set, because it was much smaller in footprint than the bamboo set. However, it had obviously rusted from being exposed to the elements for three years.
So, I gave it a spray paint makeover!
It is so easy to make over metal patio furniture and I wanted to share a step by step guide to that process with you here today.
Here is the best way to paint metal outdoor furniture!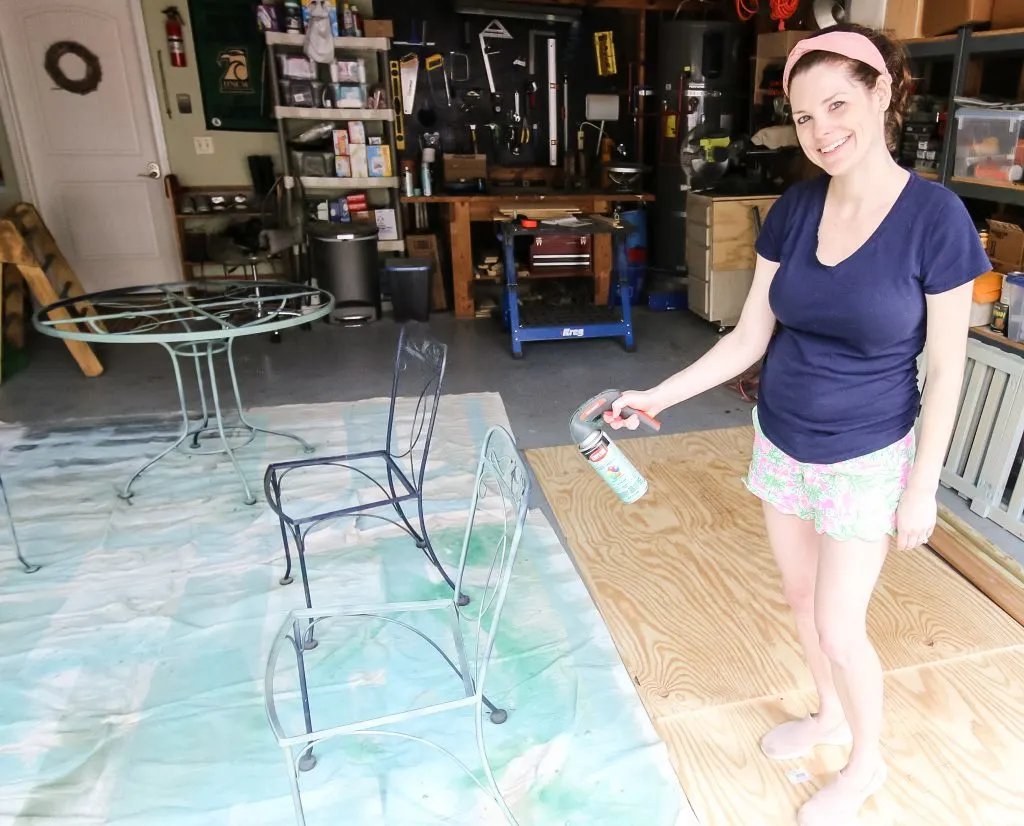 The best way to paint metal patio furniture
The easiest way to paint metal furniture is with spray paint. Spray paint is super easy to get into the small grooves and edges of metal furniture.
If you have metal mesh furniture – then spray paint is a must for getting in the little holes!
What spray paint do I use on metal outdoor furniture?
You can use most spray paints. However, you want to look for a can that specifically says METAL on it listed as a use.
If your furniture is particularly rusty, you might consider a separate metal primer.
The paint that I chose is Krylon brand (from Lowes) in a Satin Jade color. I selected a paint and primer in one, since my furniture wasn't severely rusted.
How to paint mesh metal patio furniture
If your patio has metal mesh on it you DEFINITELY need to use spray paint. That is the only way that you will get in all the tiny grooves.
Remember to do many light coats to avoid drips and to come at it from several angles to be sure you hit every spot!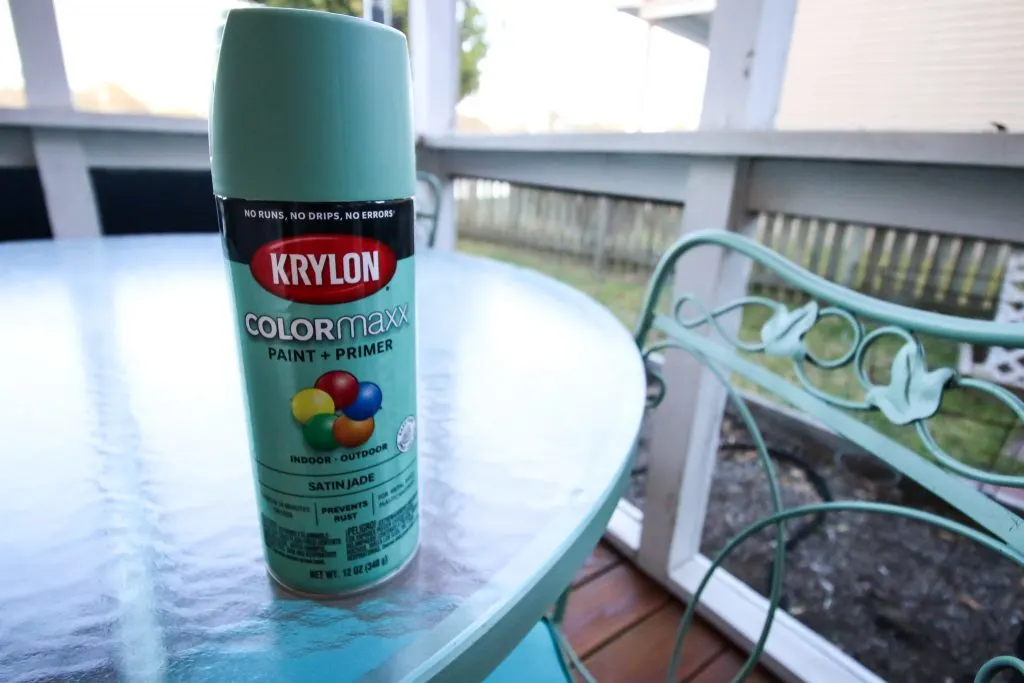 What other tools do I need?
I prefer to use the Rustoleum Comfort Grip for cans with the top button. This is 100% not necessary, but a very nice to have.
I went through six cans of spray paint, and the comfort grip is a lot more comfortable. Alternatively, look for a can of paint with a trigger style button.
Otherwise, I like to have a rag or paper towel on hand in case of drips.
Dab them immediately so that you do not get a dried drip spot, and always inspect each piece/side/section right after painting to see if there are any drip drops.
I always lay down this drop cloth under my painting. Plus, plan to wear a face mask if you are painting in a closed off space like a garage – but it is better to work in a well ventilated area!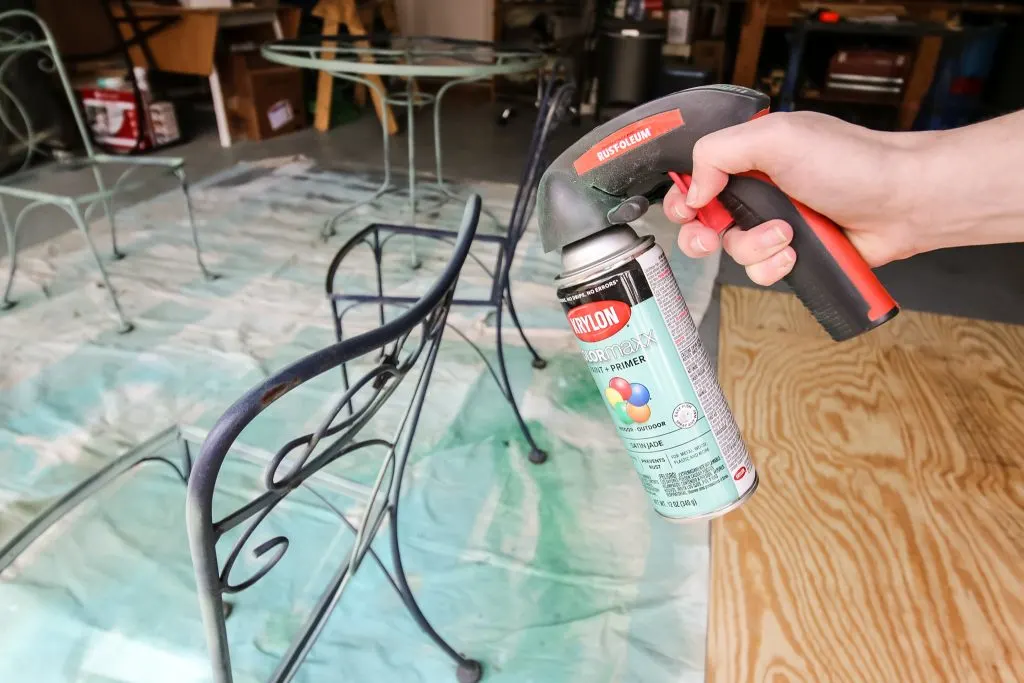 How do you prepare metal patio furniture for painting?
Preparation is key when painting metal furniture. You will need to sand it to remove any loose material and clean it well!
What if my furniture is rusty?
If you have metal furniture sitting outside, it's probably going to get rusted eventually. We live in a very wet climate, so metal surfaces don't stand a chance.
STEP 1: Sand
Use a metal sanding sponge to remove loose rust as much as possible. You can also use steel wool or a wire brush, if you have that on hand.
STEP 2: Clean
Wipe the rust off really well with a damp cloth.
You need to remove any loose paint or rust as well as dirt, dust, or cobwebs.
This is an annoying step but anything left behind will be painted over and result in a bumpy finish.
If your furniture seems to rust easily, you will definitely want to use a metal primer before re-painting. Look for a spray primer paint that specifically says rust on the bottle.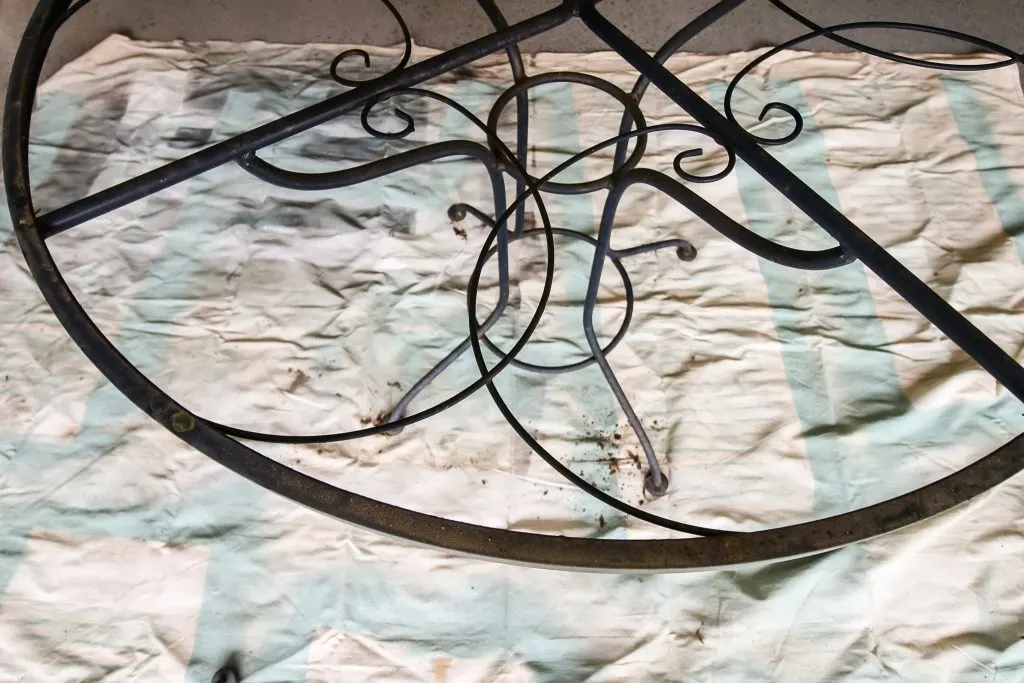 What is the best way to spray paint metal furniture?
The #1 rule for spray painting is to do many light coats to avoid drips. It can be so annoying to do multiple coats of paint (I did 4-5 coats to get the light green over navy blue).
However, it is worth it to do a slow, careful paint job and get a smooth finish.
If you do get drips, you can dab them up quickly with a cloth. You will just need to paint back over that section.
I like to let the paint dry fully between coats. Refer to your spray paint can for specific directions.
After painting your furniture fully, let it dry over night. Then, flip it upside down. This will expose new angles and crevices that you likely missed.
Let the paint dry over night before replacing cushions or tabletops or moving back into use!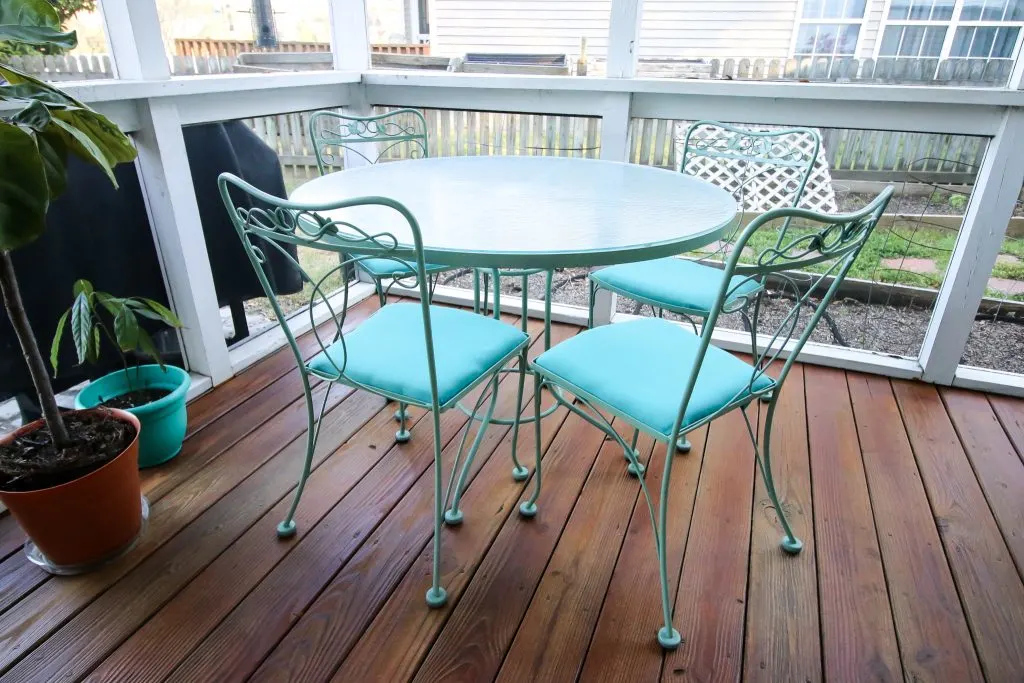 Check out our tutorial on how to build a raised bed garden!
How to repaint metal patio furniture?
Is your patio furniture already painted? This is at least the fourth color that has been used on this patio set! No problem, just be sure that you sand odd any loose paint.
If there is tons of rust and chipping paint, you can hire someone to sandblast it or use paint stripper to remove stubborn paint chips.
A wire brush or sandpaper will get a lot of old paint off.
If there is a section you do not want to get paint on, tape it off or tape paper over that section, carefully.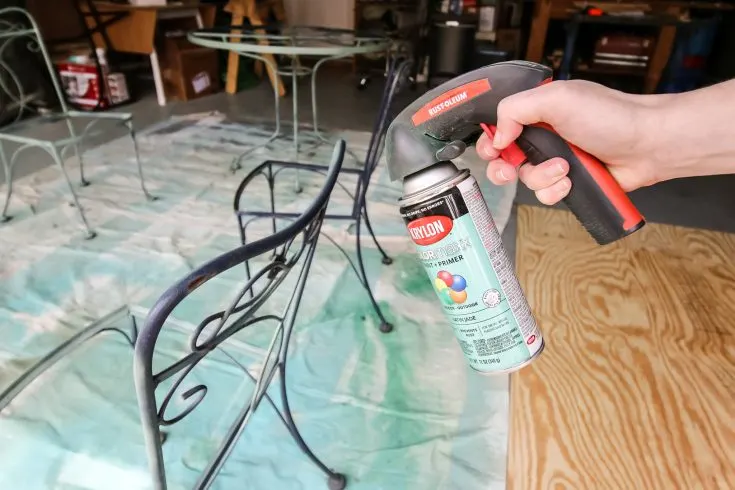 Yield:

1 painted patio set
How to paint metal patio furniture
Does your metal patio furniture need a refresh? Here is the easiest way to do it yourself!
Materials
Spray paint
Paper towel or rag
Metal furniture
Tools
Spray paint comfort grip
Sanding block
Instructions
Prep your patio furniture. Remove any cushions or glass tops.
Wipe down thoroughly with a damp cloth.
If rusty, use a metal sanding block to gently remove rust, then wipe again.
Spray paint with several thin coats. Go light to avoid drips.
Once very dry (overnight if possible), flip each chair or table upside down and spray paint again. This is the easiest way to get good angles.
Let dry at least 24 hours.
Replace cushions, tabletops, etc, and enjoy!
Recommended Products
As an Amazon Associate and member of other affiliate programs, I earn from qualifying purchases.
Be sure to check out my best tips for spray painting!
What have you been spray painting lately?