If you have a lot of potted plants, consider making this simple DIY 3 tiered corner plant stand! It is the perfect corner planter for your front porch and can hold six pots at a time. You're going to love this cheap and easy 2×4 DIY project.
Y'all know that I have been going crazy buying plants this season.
I've taken a special affection towards buying "sick" plants off the discount rack (watch me live shop one here!)
However, even I had to admit that our front porch was starting to look like an unorganized hoard of miscellaneous store bought pots.
It was a big mess and needed to be better organized.
Around the same time, we were invited to participate in the 2×4 and More Challenge with Remodelaholic and so we decided that it was the perfect opportunity to build a 3 tiered plant stand for the front porch outdoor space completely out of 2x4s!
I love the look of this modern plant stand and really love how easy and inexpensive it was to make.
This is a super doable DIY project – you don't need any fancy tools or skills. You can do this!
We put this plant stand on our front porch, but it is really an indoor outdoor design that could work anywhere in your home.
Love easy, do-able DIY? Sign up for our FREE weekly newsletter!
Click here to pin this project your pinterest board!
2x4s get a bad rap but they are really an awesome building material. They are cheap and sturdy and can be great for builds big and small.
The base of our dining room table and benches are 2 x 4s – they are really so versatile!
Plus, 2x4s are really inexpensive.
When you are buying them at the store, just examine each board carefully to be sure that it is straight and square. Some of them can be a bit wonky!
3 tiered corner plant stand
Click here to download free PDF woodworking plans to build this project!
To build this DIY project, we used approximately 40 feet of 2x4s. We designed the whole thing to fit the 27″ corner of our front porch with 12″, 24″, and 36″ high tiers.
You can adjust these measurements to custom fit your space exactly! Ahh, the magic of DIY!
Each tier has two 2x4s as supports on either side as well as one in the middle (at the corner) for additional support.
We made all of the cuts with our miter saw. You could also use a table saw or a circular saw.
At the time of this build, all we had was a miter saw! Make it work!
We joined the boards two ways. All of the boards that touch horizontally, we used wood glue to adhere them and allowed that to dry overnight.
Wood glue is going to really help keep the boards together, but it was important that each board be straight or they wouldn't get a flush edge.
Clamp the boards together after glueing and allow them to dry really well.
We used a drill and 2 1/2″ deck screws to screw all of the glued pieces together.
It came together really quickly at this point! The screws hold each of the glued together sections together.
Glue is not as sturdy on perpendicular boards like this so that's where the screws come in.
We stained and sealed the whole thing with our go-to outdoor stain, Thompson's Water Seal.
This will help water that lands on the wood bead up and fall right off and keep the piece in better shape for longer.
You could paint or stain the stand any color to coordinate with your style or decor. The world is your oyster!
It looks so good on our porch. I am obsessed with the vertical height that it adds to our beautiful plants!
Warning – this sucker is REALLY heavy! 2x4s will result in a bulky, but sturdy, end product.
We have already gotten compliments from our neighbors, and I have awesome visions of decorating it for the holidays!
This was such an easy DIY – you have to replicate it!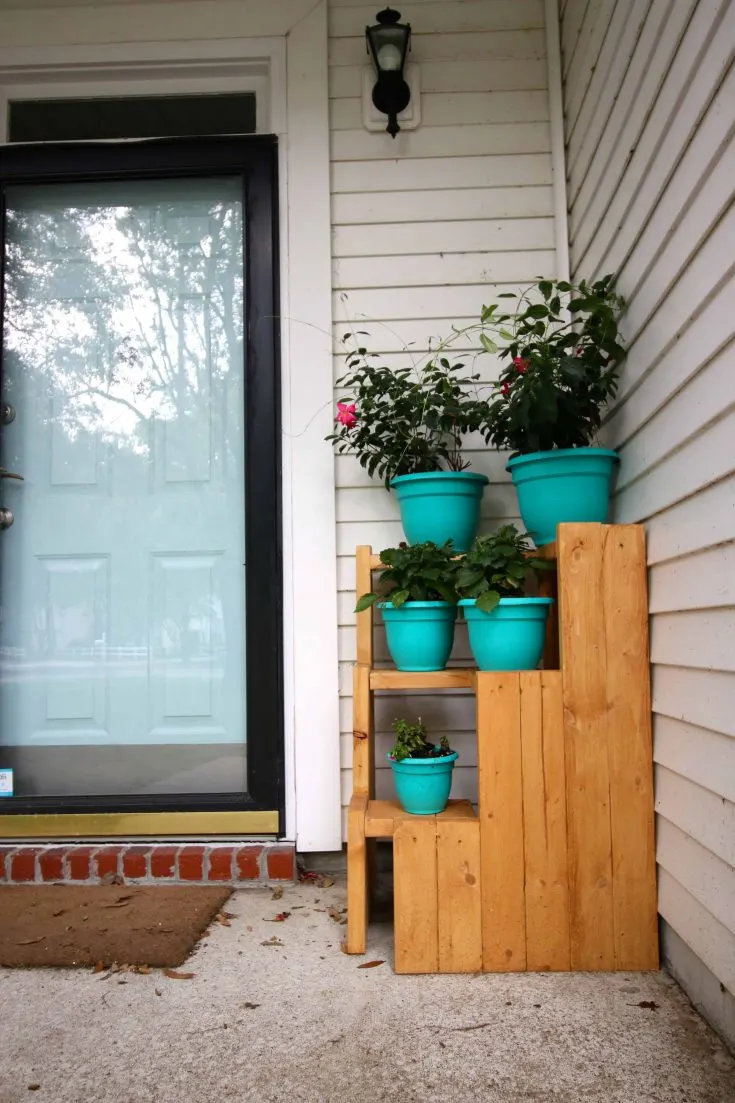 DIY 3 Tiered Corner Plant Stand
Back this beautiful and impactful plant stand for your front porch out of just 2x4 lumber!
Materials
40 feet of 2x4s
Stain (outdoor grade) + brush
Wood glue
2 1/2" deck screws
Tools
Drill
Saw of choice
Sander
Clamps
Instructions
Cut boards to appropriate lengths for legs.
(4) - 36"
(4) - 24"
(4) - 12"
Use wood glue to adhere horizontal edges of boards together. Clamp and let dry overnight.
Cut boards for each tier, dependent on how big of a space you need to fill.
Use drill + screws to screw glued pieces together.
Cut and attach a support beam for the middle and top tiers to the ground.
Stain+seal the entire project.
Recommended Products
As an Amazon Associate and member of other affiliate programs, I earn from qualifying purchases.
Check out our tutorial for how to make a hanging plant shelf!
Here is a video of the whole process.
Be sure to check it out and to click over and check out all of the other participants in the 2×4 and More Challenge!
Check out all of the other 2×4 and More Challenge posts here:
Here are some of the supplies that we used for this project (affiliate links):


Love this project? Here are some other DIY plant holders:
Scallop planter from pallet wood
Peacock chair to a plant basket
Foot stool to a herringbone plant stand
Click here to see all of our favorite DIY plant stand ideas.
Be sure to check out all of the other 2×4 projects participating in the challenge!