We bought a used IKEA Hemnes dresser on Facebook Marketplace that was perfect to transform into our baby's dresser and changing table. We have several pieces of the IKEA Hemnes line in our home, so it would be ok as is. But, we decided to give it a mid century modern twist.
Peep all the details of our tropical nursery here!
Morgan has been going crazy buying baby clothes (surprises surprise) and this dresser has really big and deep drawers, which are perfect for tons of onesie storage.
Something worth noting is that this makes for a really tall dresser.
If you are short and looking for a changing table, this might not be the best fit for you.
Also, we got the 6 drawer version of this dresser.
There is actually no Ikea in the state of South Carolina (I know, I know) and we bought this used on Facebook Marketplace for $30.
Click here to pin this project to your Pinterest board!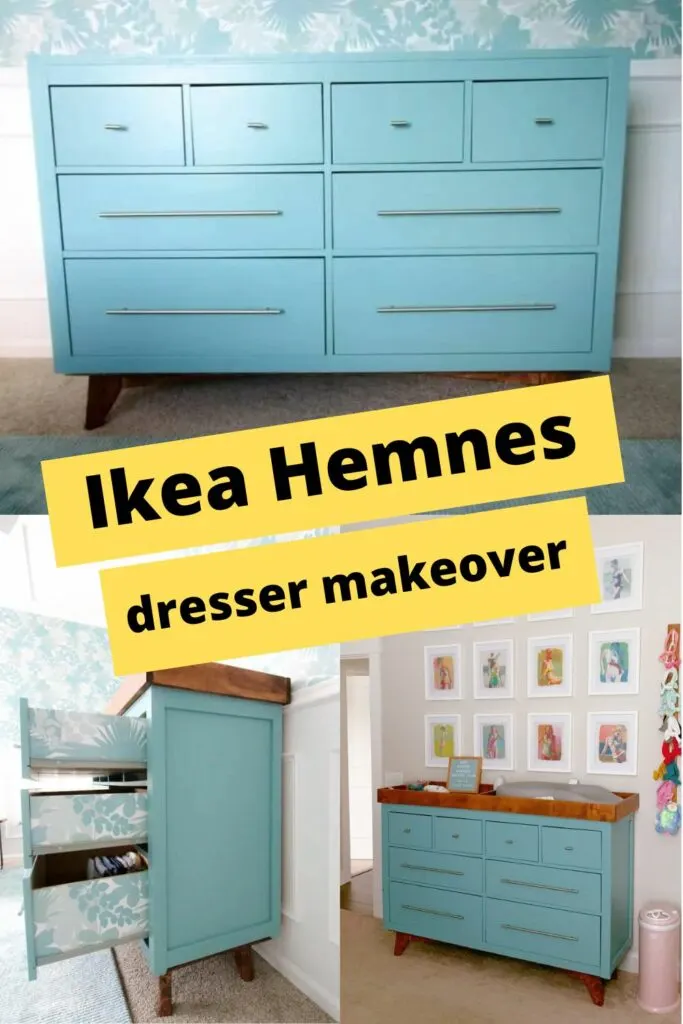 So, here's our IKEA Hemnes dresser mid century modern hack!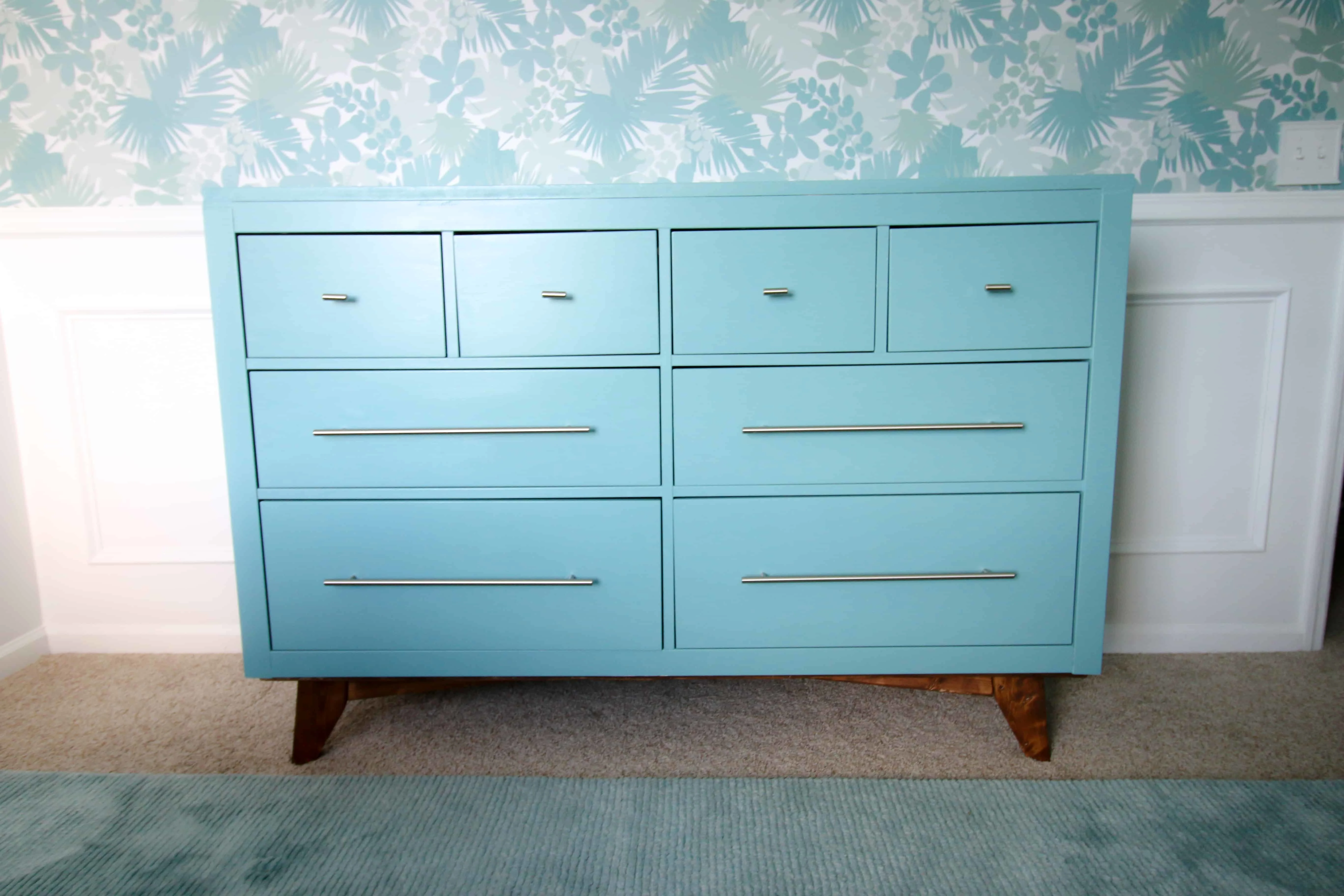 IKEA Hemnes Dresser Mid Century Modern Hack
Deconstruct the Dresser
The first step of our IKEA Hemnes dresser mid century modern hack was to make a new shell of the dresser.
We started by trimming off the overhanging edges from the top.
Then, we sawed off the vertical legs on the bottom. This left us with a plain square shell.
Refinishing the Dresser
We painted the dresser and the drawers with Behr Marquee Tower Bridge.
This plays off the nursery's wallpaper and the inside of the closet.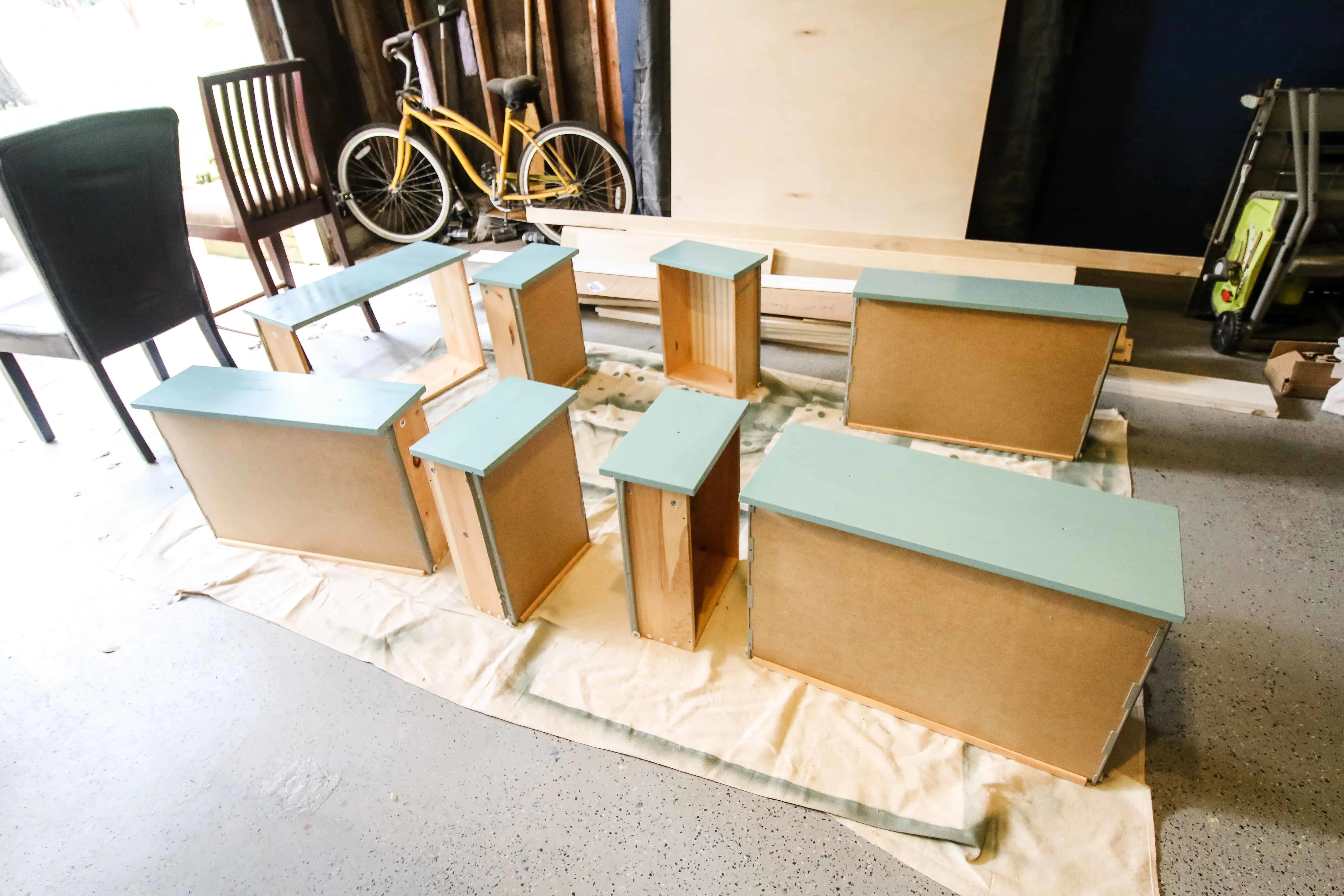 We styled the drawers by adding strips of scrap wallpaper and adding new hardware.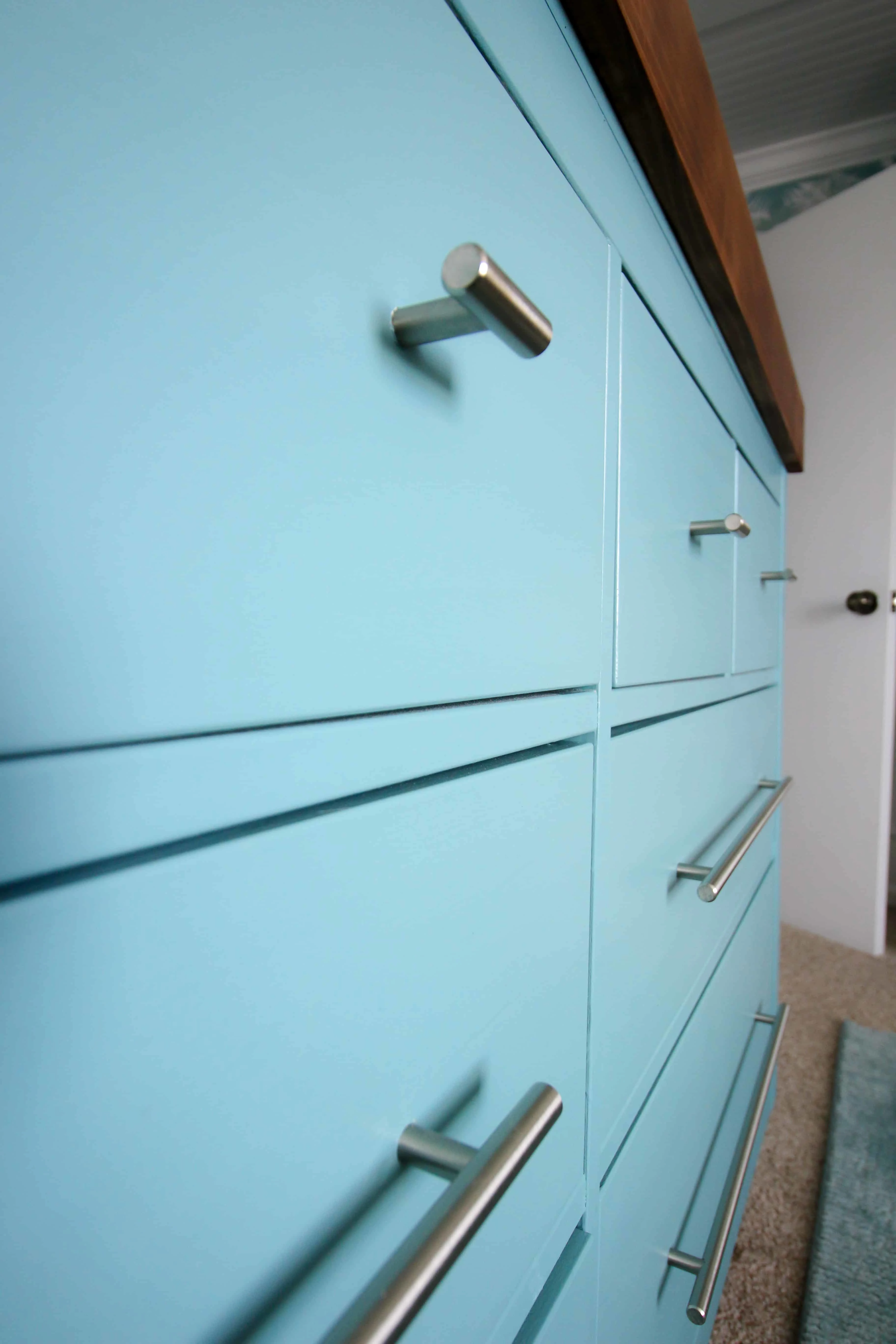 Thanks to Liberty Hardware for sending us their steel bar knob pulls and steel bar drawer handle pulls.
We used these pulls on the bi-fold closet doors as well, so they tie in nicely. These pulls are much more modern, but give a mid century look as well.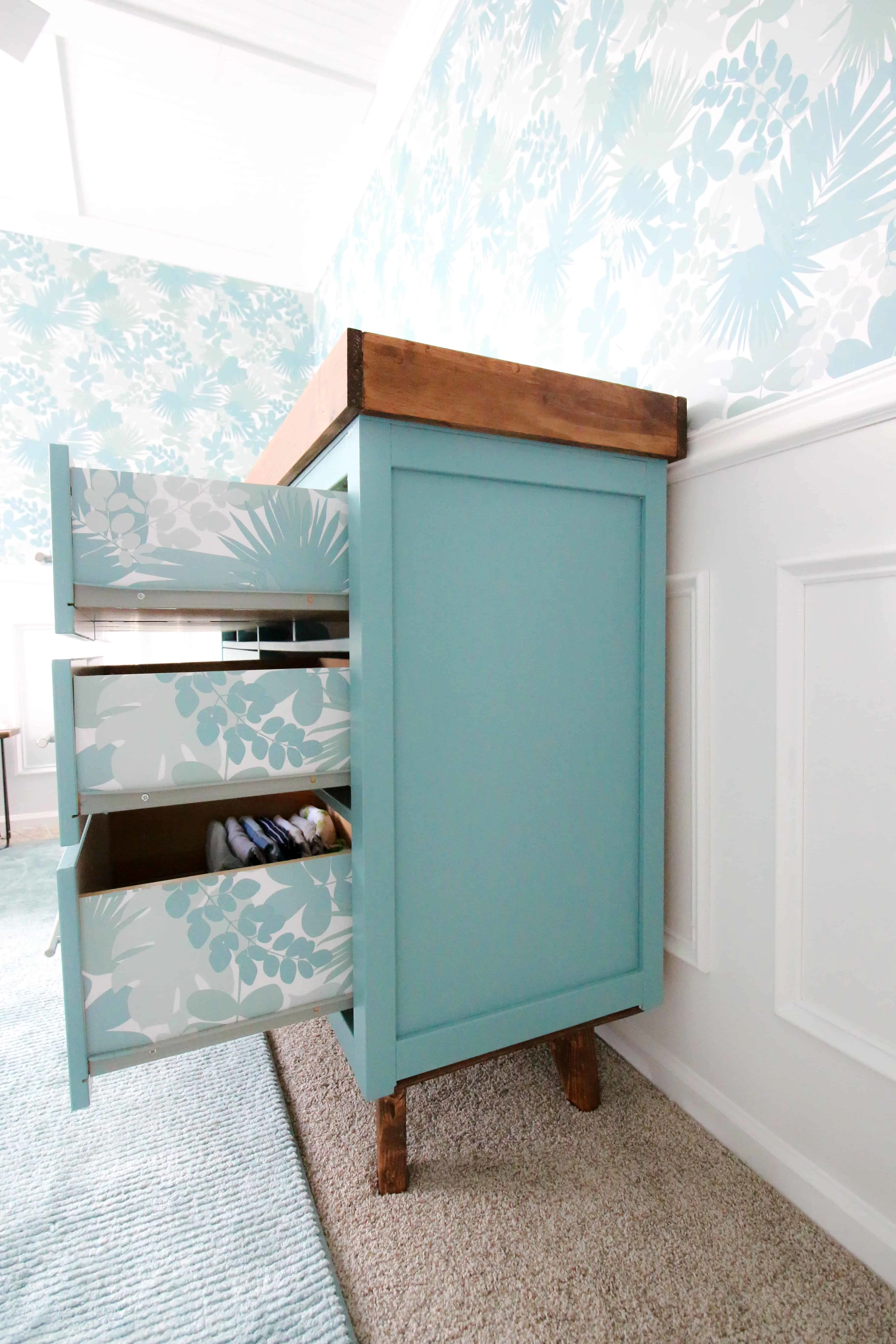 Making Mid Century Modern Legs
The biggest part of this project was creating new legs that look MCM. No – not man crush Monday – mid century modern!
We wanted to have angled legs with a sturdy base. Here's the steps to make this leg base entirely from 2x4s:
Cut four 8 inch long pieces with a 7 degree parallel miter on each end
Mark about 2 1/2 inches down one side and 1 to 1 1/2 inches in from the bottom. Draw a line between the two points and cut that off.


Cut two 2×4 pieces the length of the diagonal you want from corner to corner. For me, it was 49 inches each. Trim them down to only be 2 1/2 inches wide and with non-parallel 7 degree miters on each end.
Since this IKEA Hemnes dresser actually doesn't have a solid base, you also have to cut plywood out to connect to the bottom of the dresser so that the new legs you made have somewhere to support.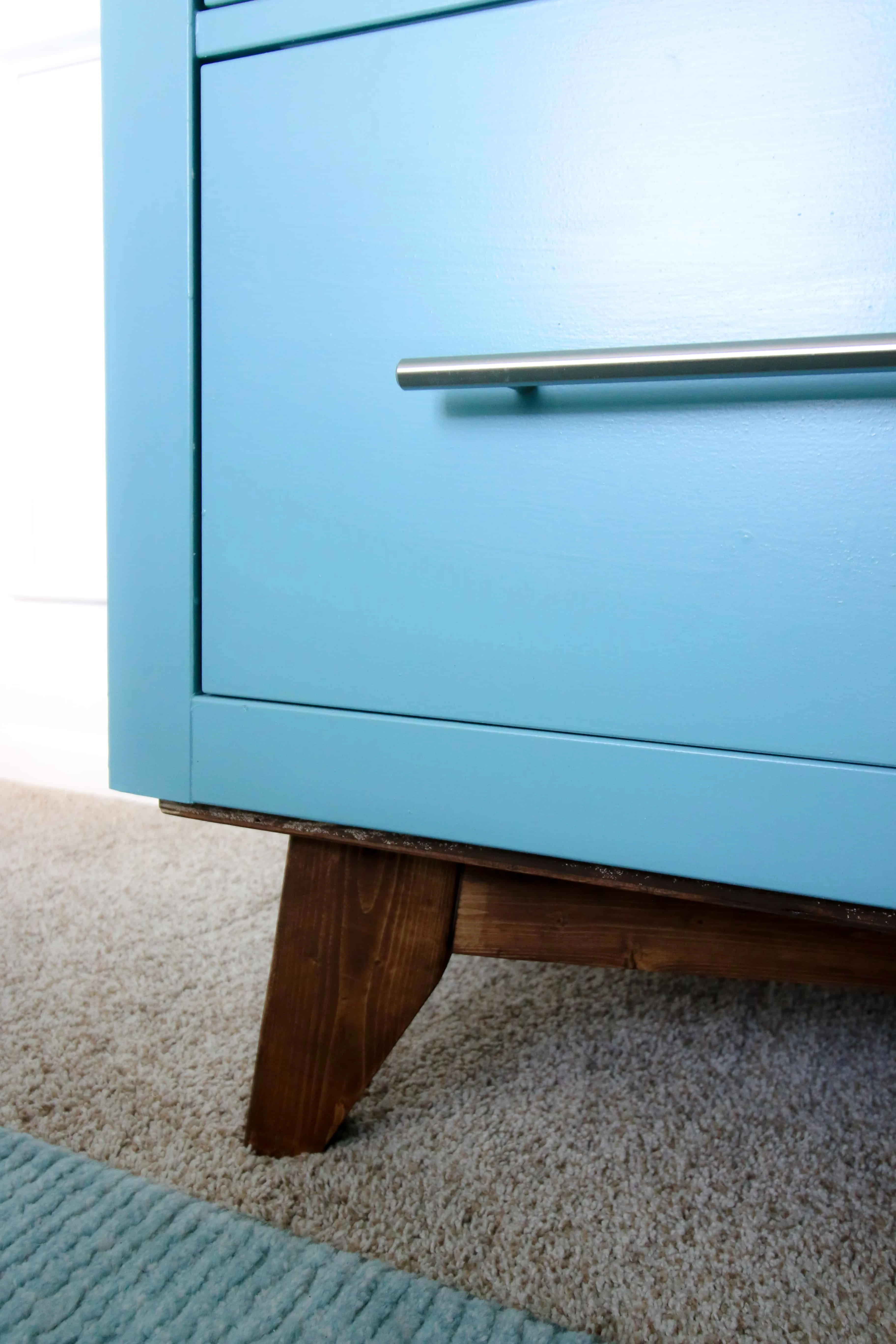 Final Steps
Stain the plywood base and legs a color of your choice.
Attach the legs to the base and the base to the bottom of the dresser using a combination of wood glue and screws.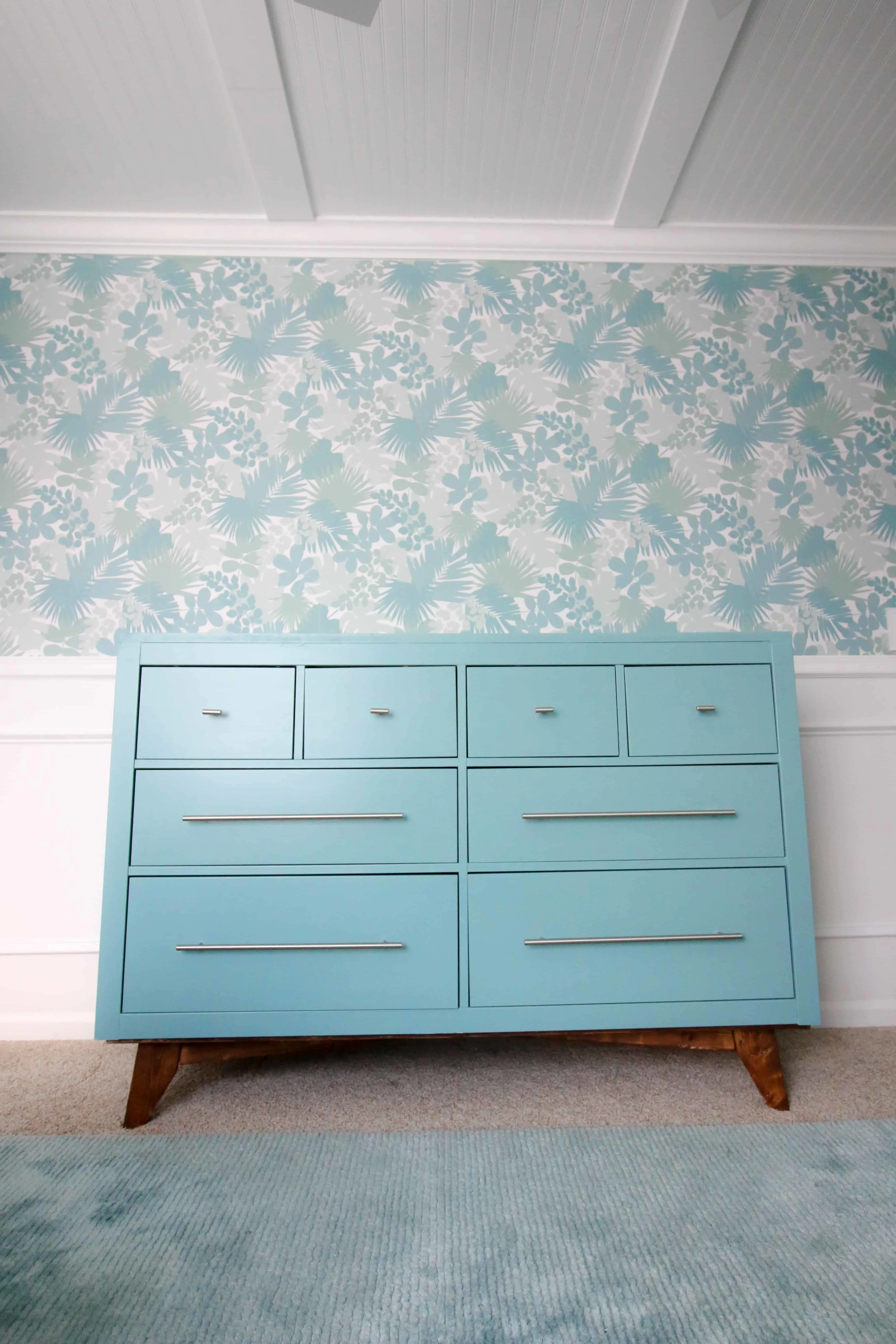 IKEA Hemnes Dresser Mid Century Modern Hack
This IKEA Hemnes dresser mid century modern hack is a great way to bring new live to an old piece of furniture.
We love the look of the base of the dresser and the more streamlined body of the dresser.
Paired with the refreshed color and hardware, we're swooning.
If you want to attempt an IKEA Hemnes dresser mid century modern hack, remember that paint is very delicate on the IKEA pieces until it is cured and sealed.
Any cuts will temporarily leave the dresser a little less solid until you recreate a new base as well, so always be careful.
I love how this dresser looks in our tropical nursery and love the Tower Bridge color with our wallpaper. Swoon!
I am digging the mid century modern feel and am excited to bring that vibe in with very similar legs on the crib!
Click here to pin this project to your Pinterest board!
Here is the tutorial for the DIY wooden changing table topper.
Click here to see more details on that gallery wall and check out how we made over the bifold closet doors!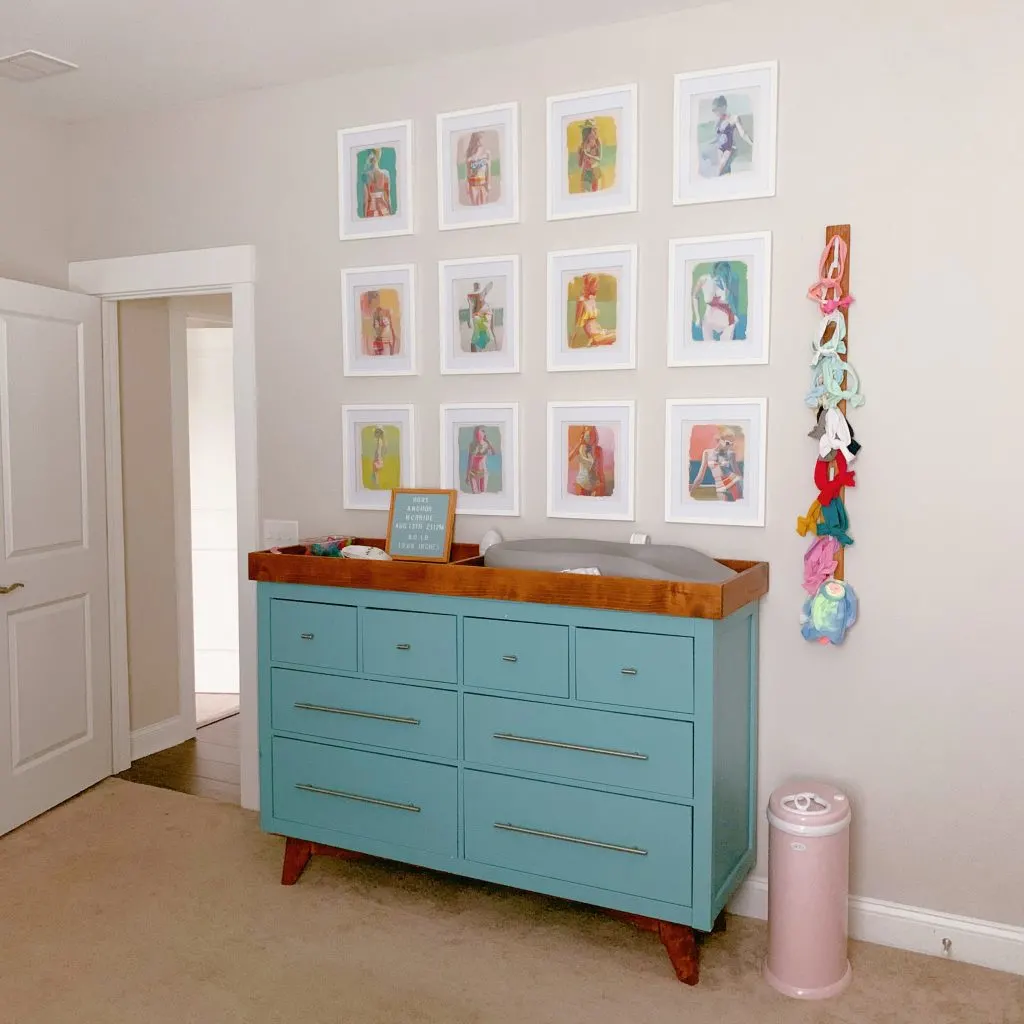 Be sure to click over and check out our Jungle Theme Nursery Reveal!
Share with us your creations!