This post was sponsored by Mister Sparky® electric. All thoughts and opinions are my own.
Y'all – it is hot outside. If you aren't from around here, I don't know if you truly understand South Carolina summers, but it can be unbearable to be outside. Yet we have a beautiful screened porch with a view of the water that is pretty much unavailable to us nearly six months of the year because of the heat. So, we decided to add a fan to the porch so we could sit outside. We didn't have a great electrical set-up out there, so we decided to call Mister Sparky® electric to come set us up.
You all know we are all about DIY in our house, but there are some jobs that are just better left for the pros, whether it is because of the difficulty, time or investment. Mister Sparky electric has locations all over the place, (to find the location near you, visit their website or call 888-8-Sparky) and we easily made an appointment for less than a week out.
You can see how we DIY installed a ceiling fan on our condo's porch here.
On the day of our appointment, I received an automated text saying which technician would be doing my electrical work and gave me some interesting facts about him and a photo. I thought this was great because I knew who would be walking into my home. Their electricians are skilled, clean, courteous and background-checked.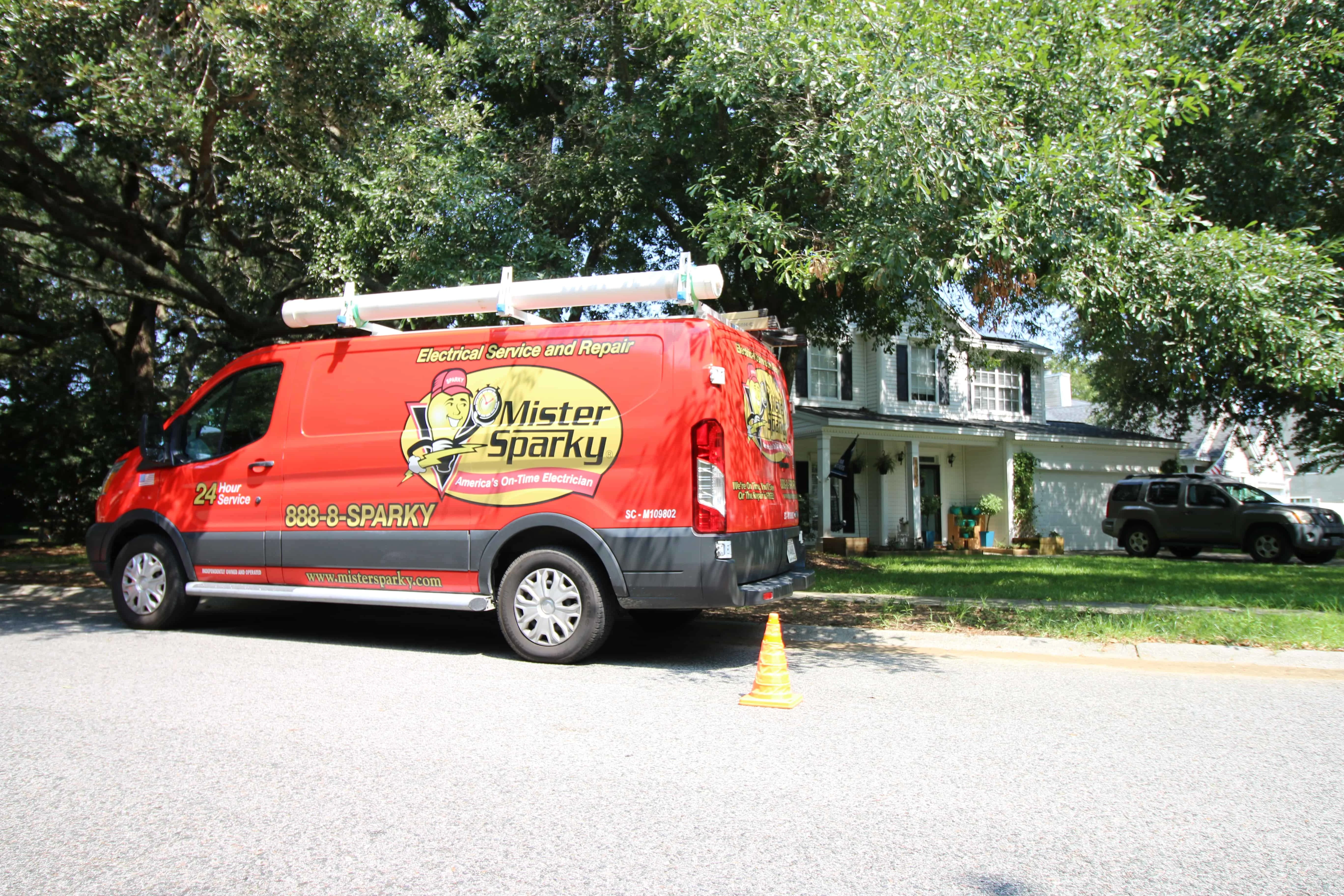 When Eric arrived, we talked about the problem I wanted solved (after he put on these little yellow booties to keep our floors clean). We came up with two possible solutions. He could hard wire a fan onto the ceiling and create a new switch that would operate the fan, or he could also install a new outlet box instead and we could get a fan that hangs and has a simple plug. We talked about the details surrounding both and then he went out and created a quote for me to look at. I also had him throw in a few other possible things we might want done, like removing some old satellite dishes and swapping out some outlets in the nursery. This was good because I could look at what he came up with for each and pick and choose what we wanted to do.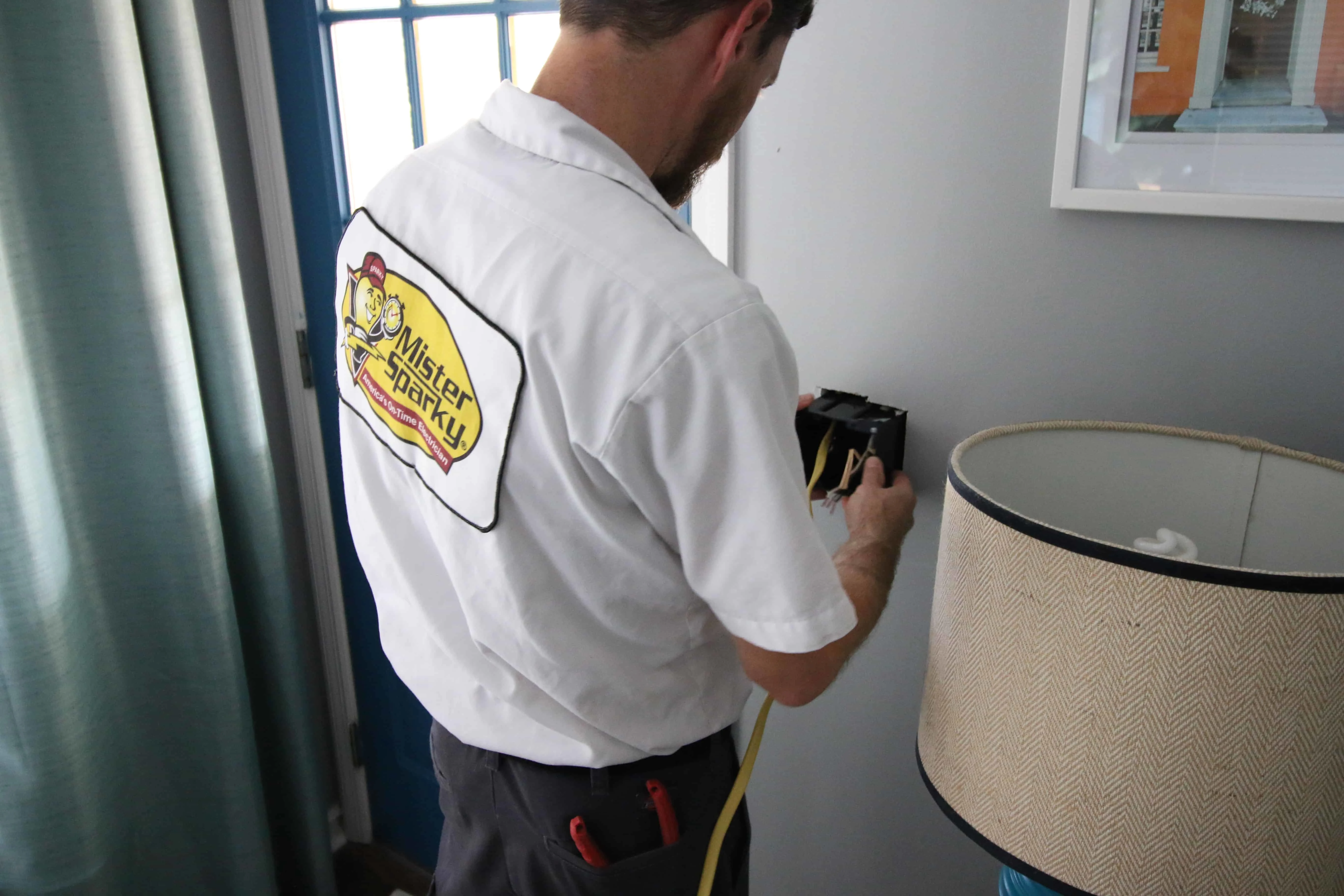 I decided in the end to have Eric install an outlet outside, high up near the ceiling, and install a plug in fan. Due to the work involved, this option was significantly cheaper than the hardwired fan, plus it allows me to plug in our hanging string lights to the same outlet so they will now be on a switch. I decided this was the best way to go.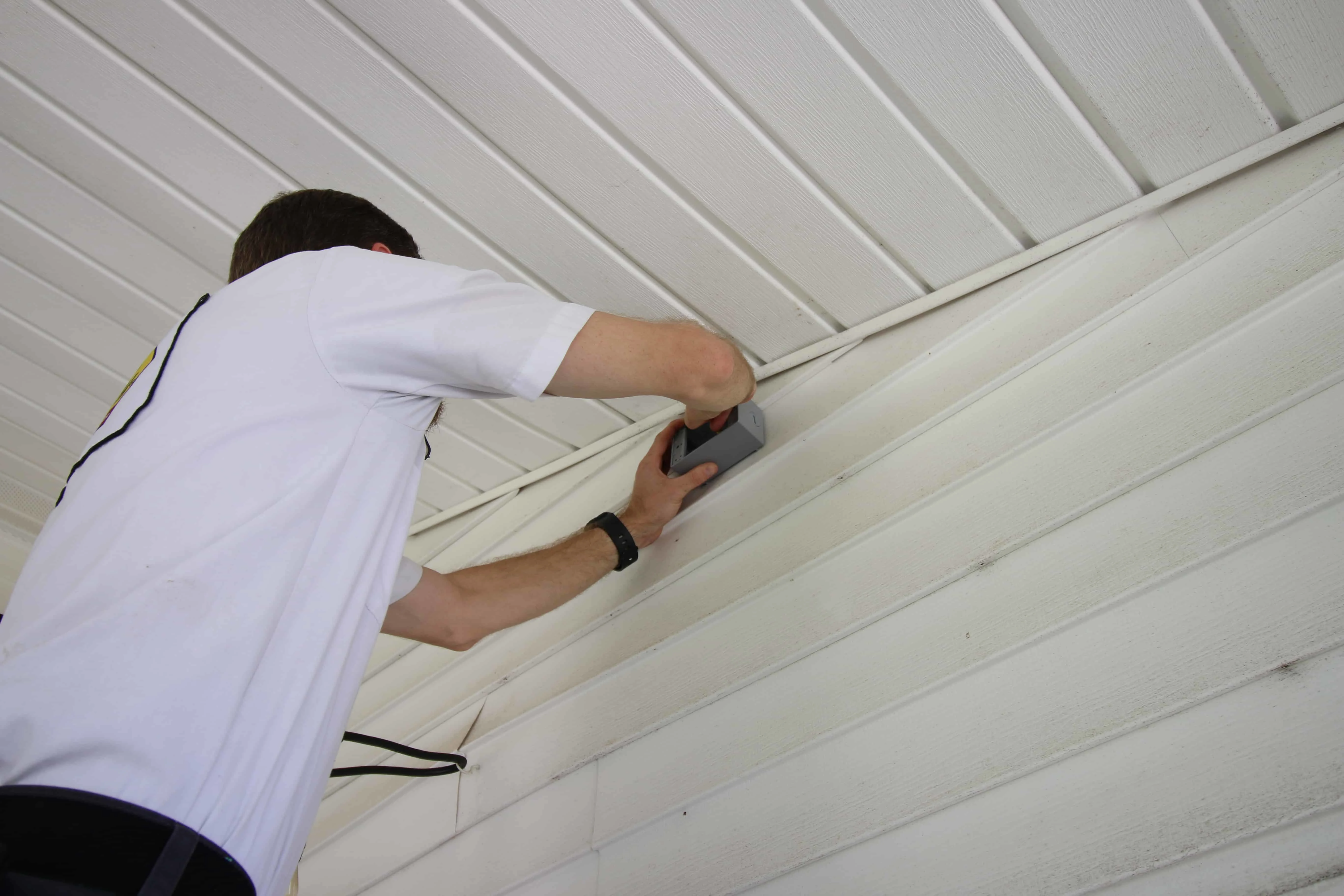 Eric got right to work. He explained things to me when I was curious and left me alone when I wasn't. He clearly wanted me to be better-informed. He was great to talk to and extremely friendly. He told me the job would take around two hours, but the work only took one hour. He cut some drywall and added a second switch to our wall, ran a line up the wall and through the vinyl siding where he installed an exterior outlet box. He said it was a pretty easy job, but for me, I wouldn't want to get anywhere near that.
Once he had that up, all we had to do was hang and plug in the fan that we bought. Instant exterior relief.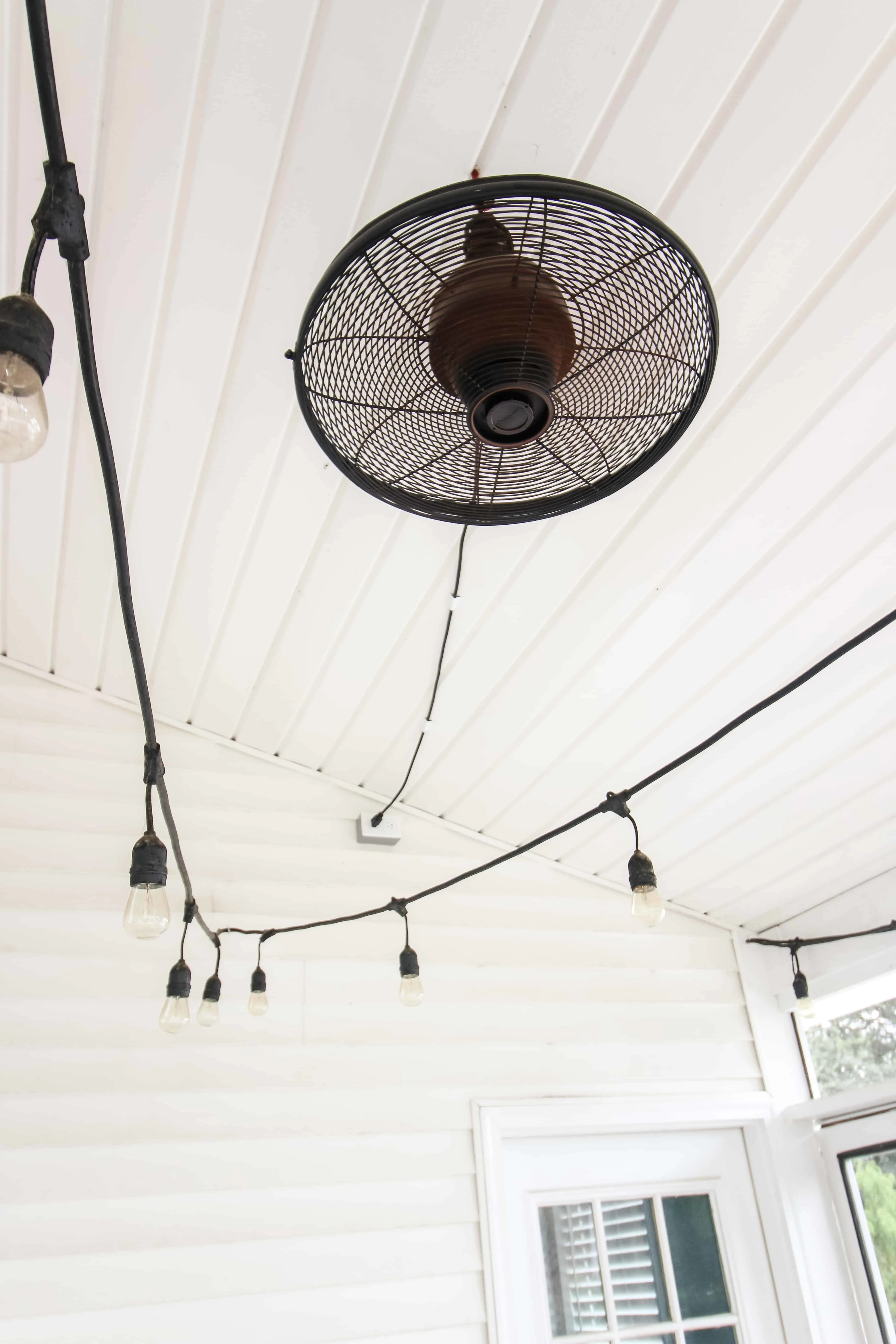 Like I said, we encourage people to try DIY in their homes for as much as they can, but even we knew this job would be better suited for a pro. Mister Sparky electric, which is part of the Direct Energy family of brands, has independently owned and operated locations around the country, and they provide local service with local professionals. Shoot, Eric told me he lives approximately four minutes away. Plus, their service is backed by an on-time guarantee. After this visit from a Mister Sparky electrician, I know that they are a brand I can trust and that they provide quality service. We're probably going to have them come back out to tackle all the satellite dishes hanging from our roof sometime.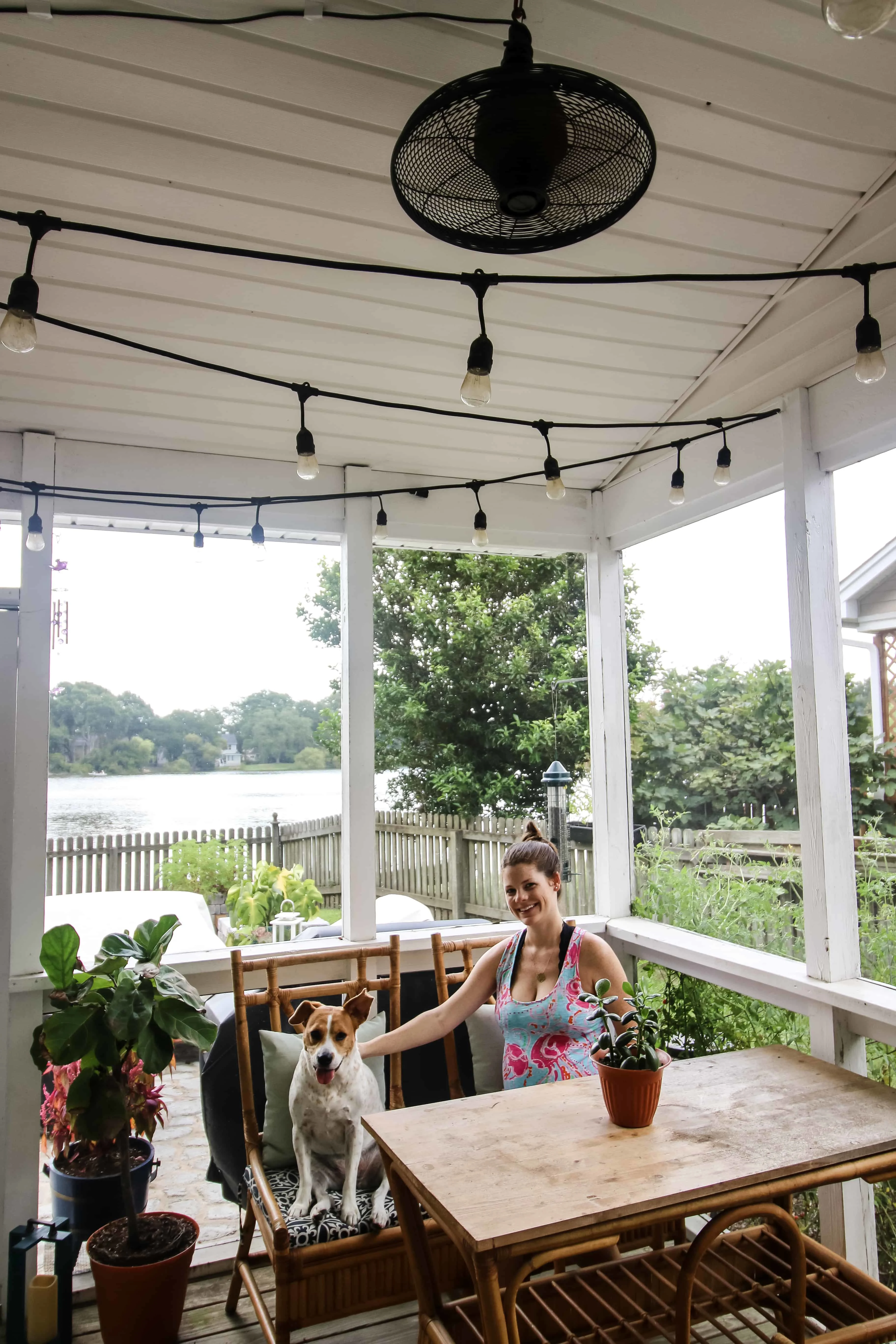 So, our new screened porch ceiling fan is awesome. It really provides us with a breeze that is much-needed in a South Carolina summer. Thanks to my local Mister Sparky electrical provider, the electrical work was done much more quickly and much better than I could have done.
This post was sponsored by Mister Sparky electric. All thoughts and opinions are my own.