Want to make a DIY rope mirror? You'll love this simple tutorial!
One thing that I really wanted to include in our half bathroom makeover was a rope mirror. I have pinned a ton as inspiration, but y'all know that I love the coastal vibe of rope everything! Luckily, rope is really inexpensive and easy to work with. Rope projects are budget friendly and a great DIY!
Click here to see a full reveal of our half bathroom!
In the past I have made a rope lamp, a rope vase, a rope doorstop, rope coasters, a rope bowl, and rope placecards for our wedding. So, I was totally ready to conquer this project as a DIY!
DIY Rope Mirror
Here is what you will need:
A framed wall hanging mirror + hardware to hang
Hot glue gun + hot glue
Rope
When selecting your rope, you can choose either cotton or nylon. They have different looks – nylon is usually whiter and shiny. Cotton is more of a matte fabric, off-white look. Neither is wrong, you just should check them out in person at your favorite hardware store!
Here is what you do:
I of course wanted to use the mirror that we already had to save cash. So, I simply took it off the wall and laid it flat to work on. We were painting so it had to come down anyways.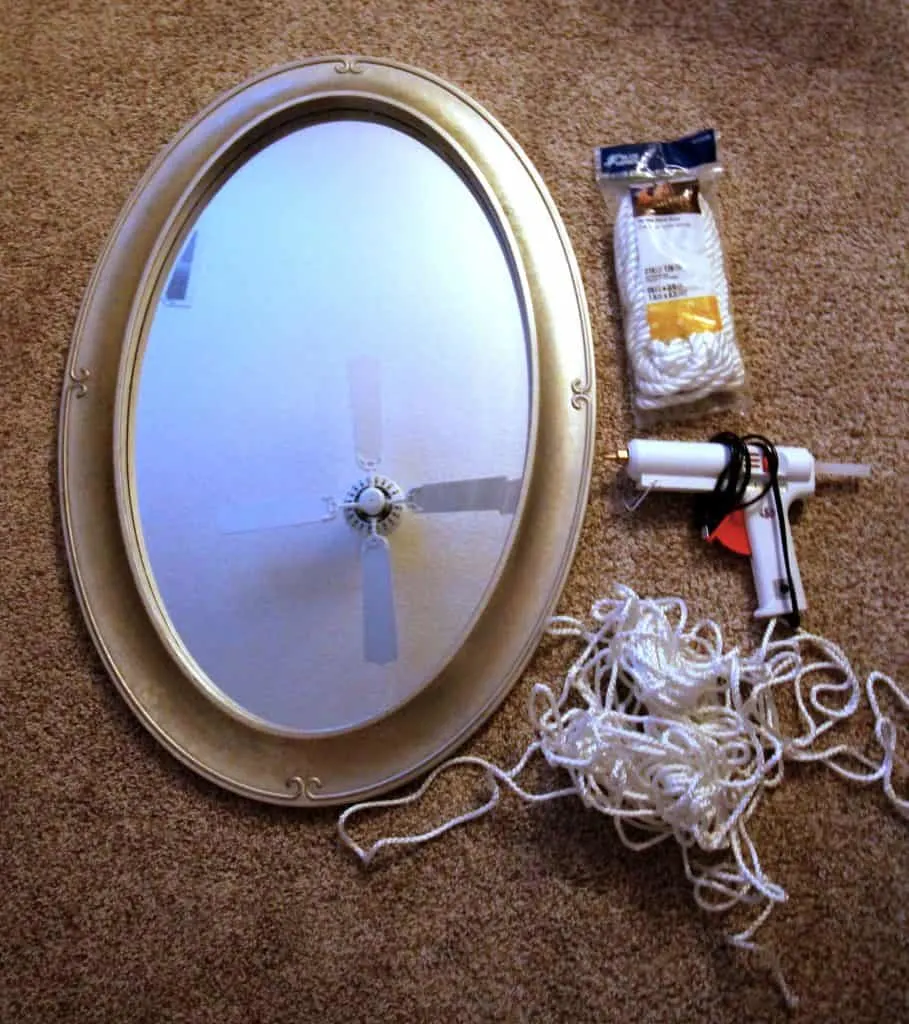 I decided that I wanted 2 widths of rope – a thicker one for the middle and a thinner one for the border. I already had a lot of rope on hand but ended up picking up a 25′ roll of 3/8″ inch rope from Lowe's for $8.
My thinner rope is 1/4″ in width. If you mix ropes, plan to stick to a similar finish (these are both glossy white). The total length that you need will depend on the size of your mirror.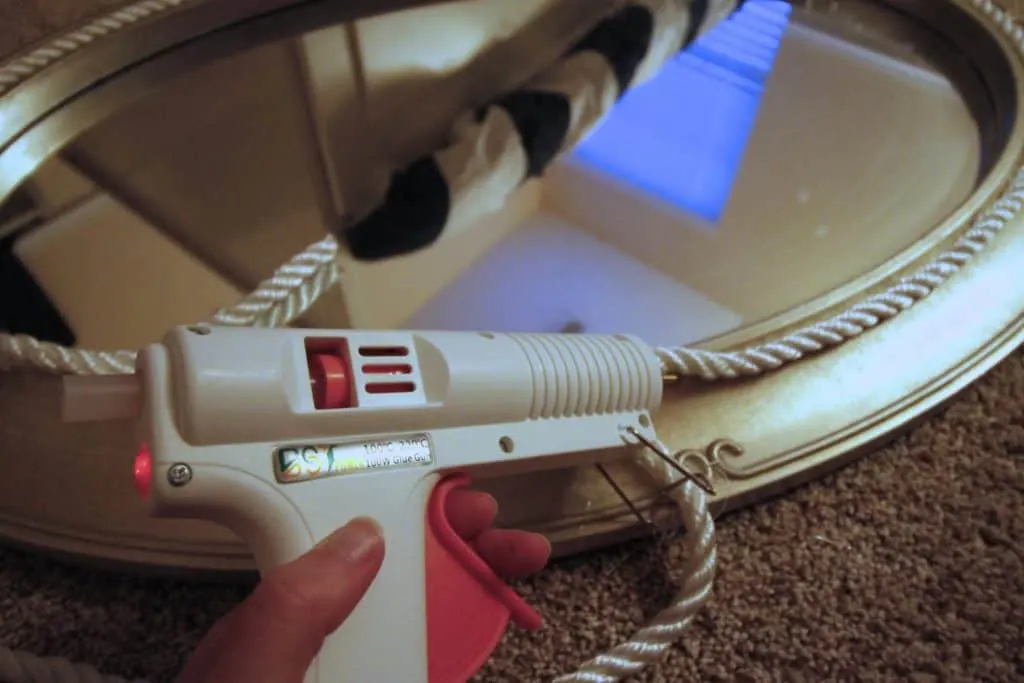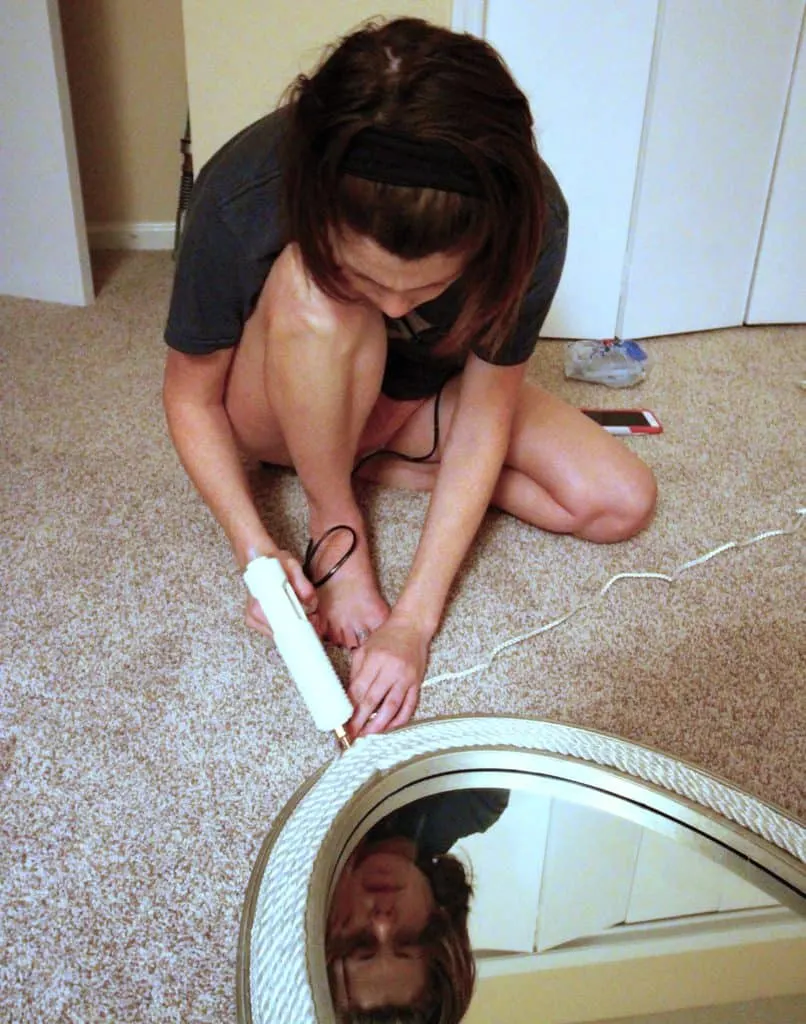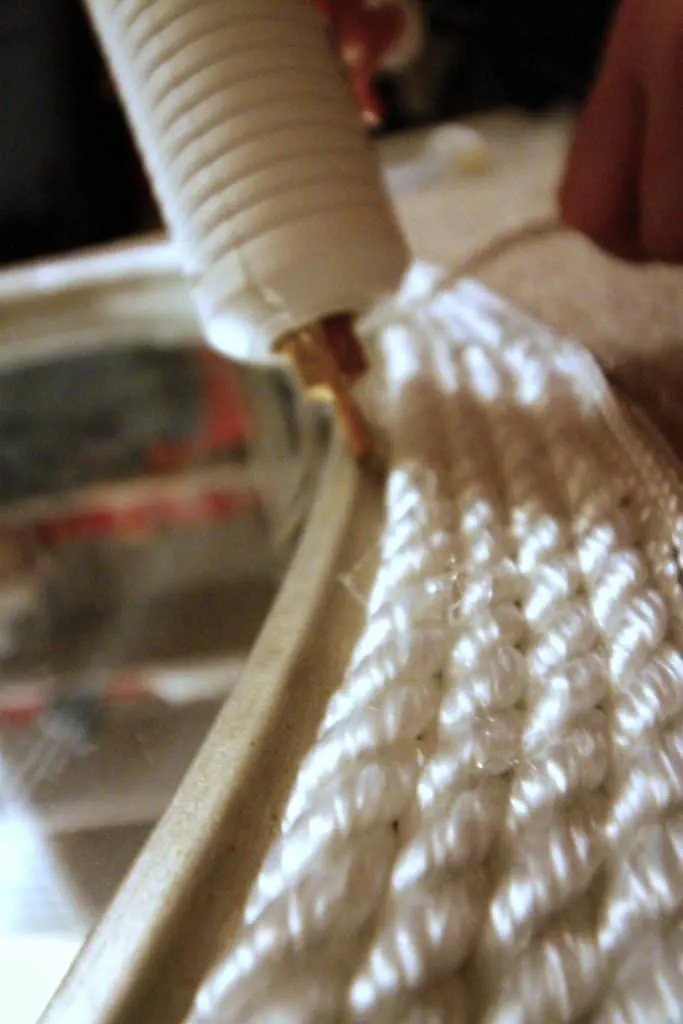 Pick a spot to start. I chose the bottom of the O. Hot glue your rope in place and work your way around the frame. I found it easier for me to sit in place and spin the mirror. I went around and around for about 30 minutes, gluing it down in 6 inch sections and then pressing it with my fingers to secure.
My biggest tip is that you neeeeeeeed a high heat glue gun. This is the one I have. It is not expensive and works amazingly – it melts the glue very quickly and keeps it going. It puts my old dinky gun to shame!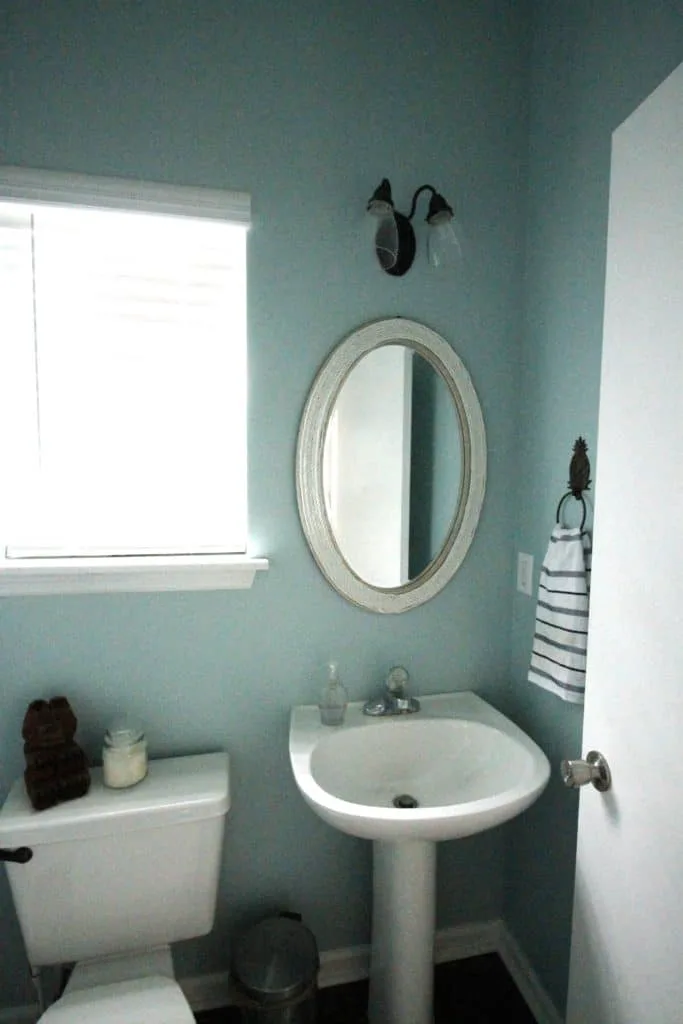 Next, we hung it up on the wall. Looking good!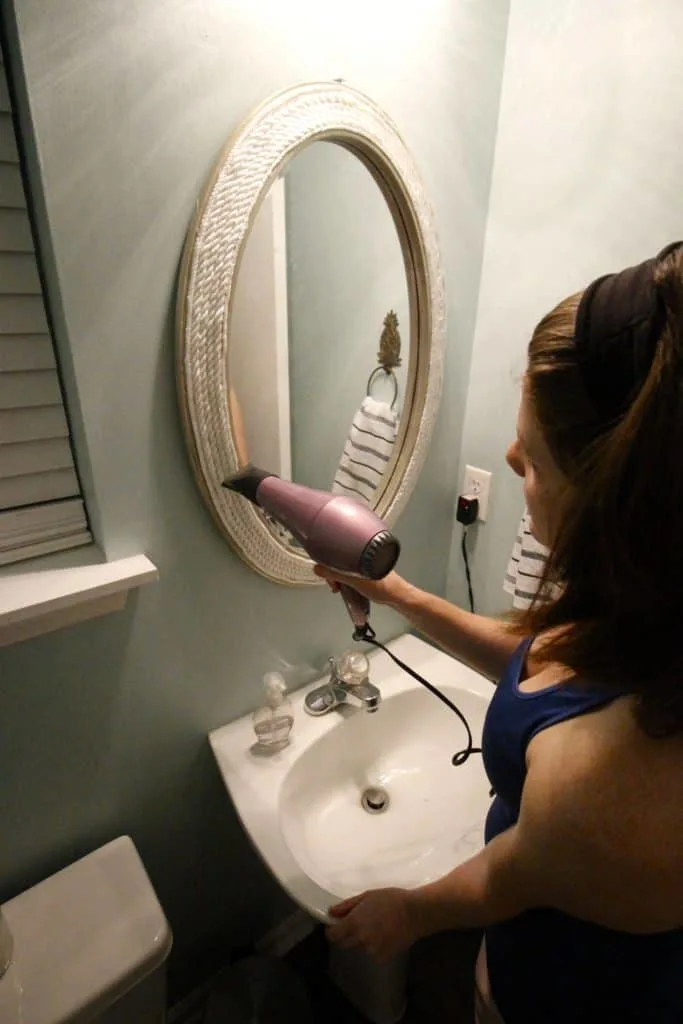 My final step is optional but makes a big difference. Hot glue can be stringy and messy. I suggest taking a hair dryer to the project to melt the strings and get a cleaner result.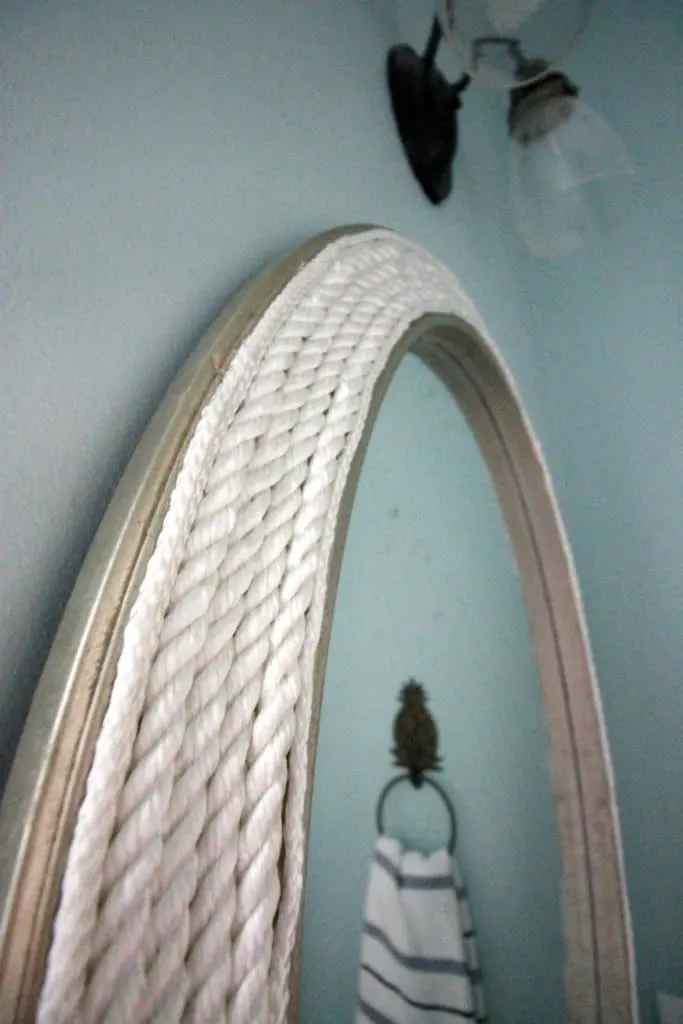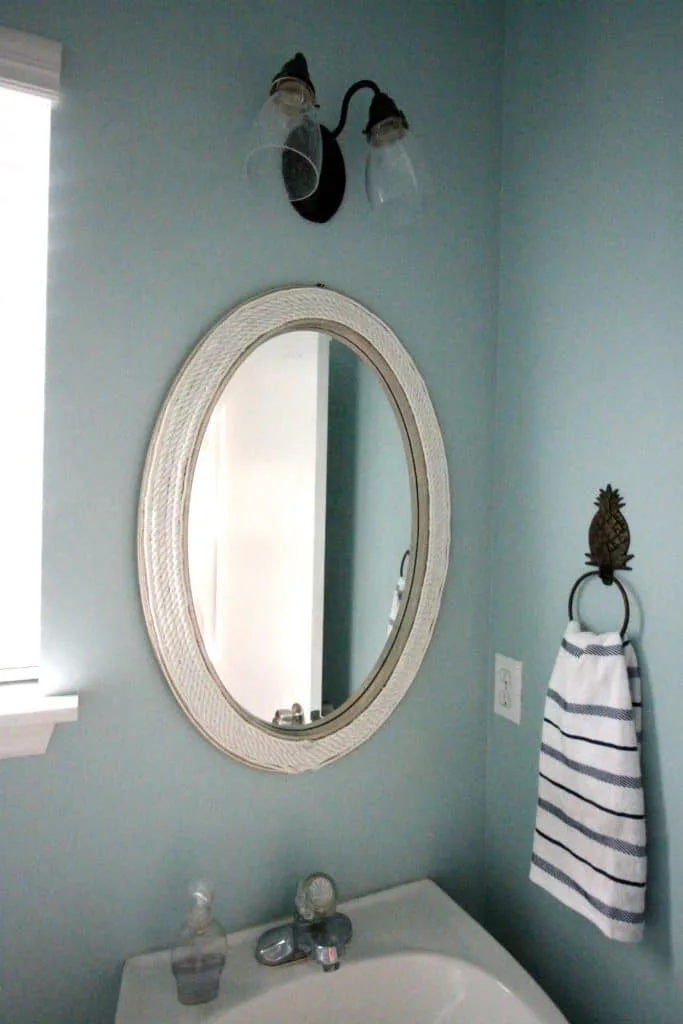 Pretty good for $8 out of pocket! Of course, I had a lot already on hand, but that's the game in this project – for $100 make over, you really have to use what you have!
Be sure you check out the other participants in the $100 challenge this week:
[inlinkz_linkup id=703337 mode=1]