Want to learn to build a scrap wood wreath? It's so easy! Here's how.
I recently updated our mantel for fall and shared it on Instagram. I got a comment from a follower that really struck home with me – the blue and white painting over the mantel was throwing off the fall vibes.
She was totally right. I L-O-V-E love that painting, but the cool tones were making the mantel read summer and not fall. I needed to bring in some warm tones to make the space feel more like the autumn season.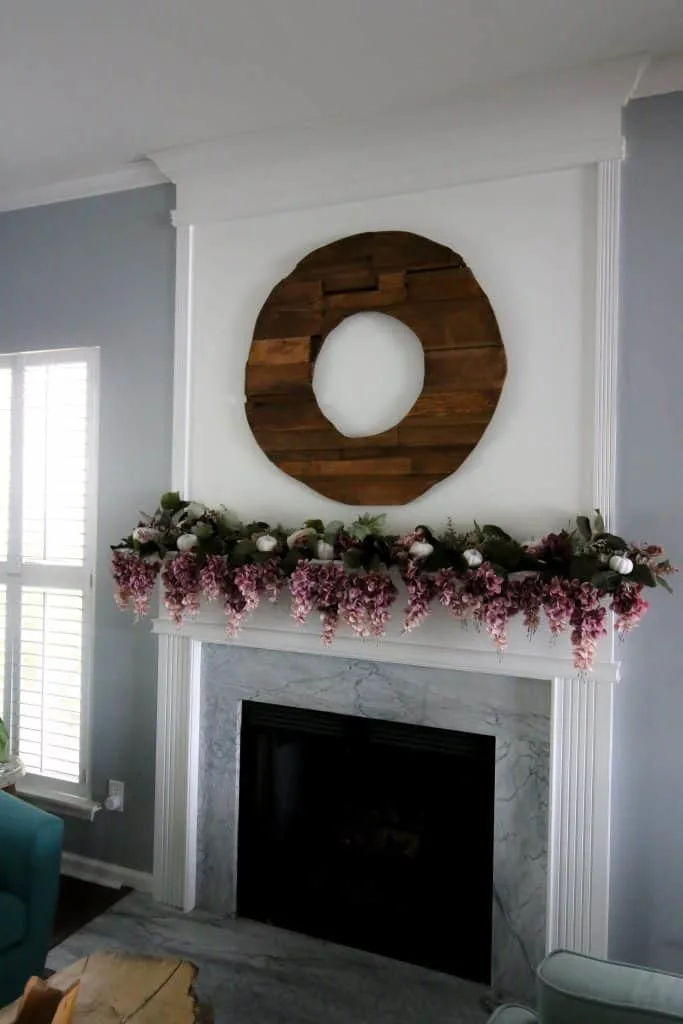 But, I really didn't want anything red, orange, or yellow. Those just aren't my colors. I'm a cool color girl! The one warm color I can get behind, however, is warm wood tones.
So, I decided to make a wooden wreath to go over the mantel. It is 36″ across (and I still feel like it could have been bigger?!) and made from scrap wood.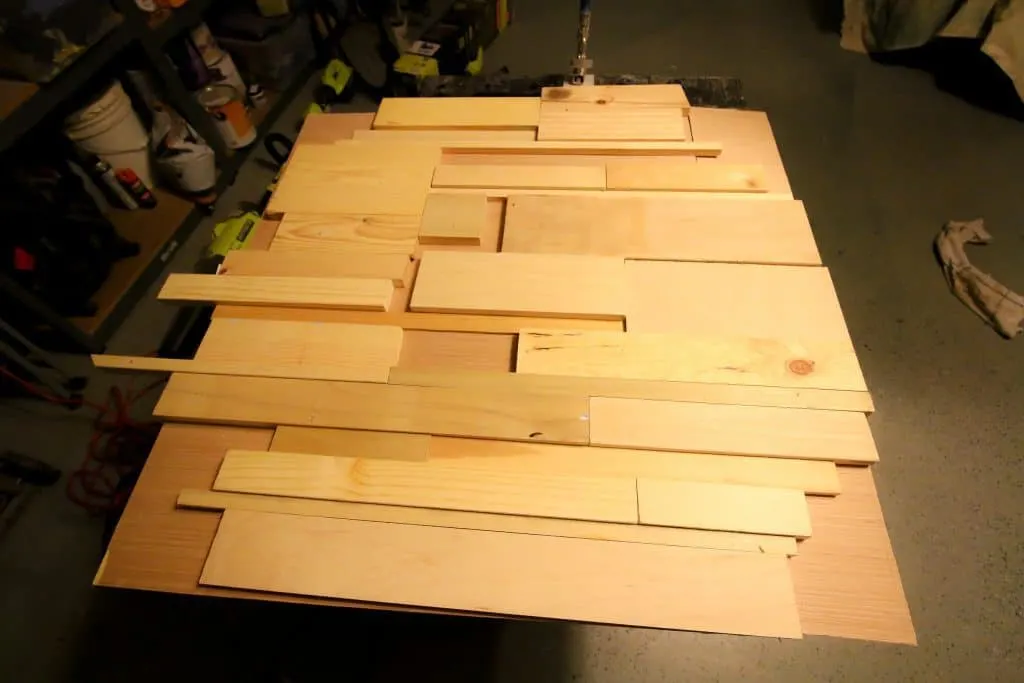 I made the whole thing from plywood as the base and scrap wood on top. I actually made this when Sean was at work on a whim – he came home to a lot of sawdust that day!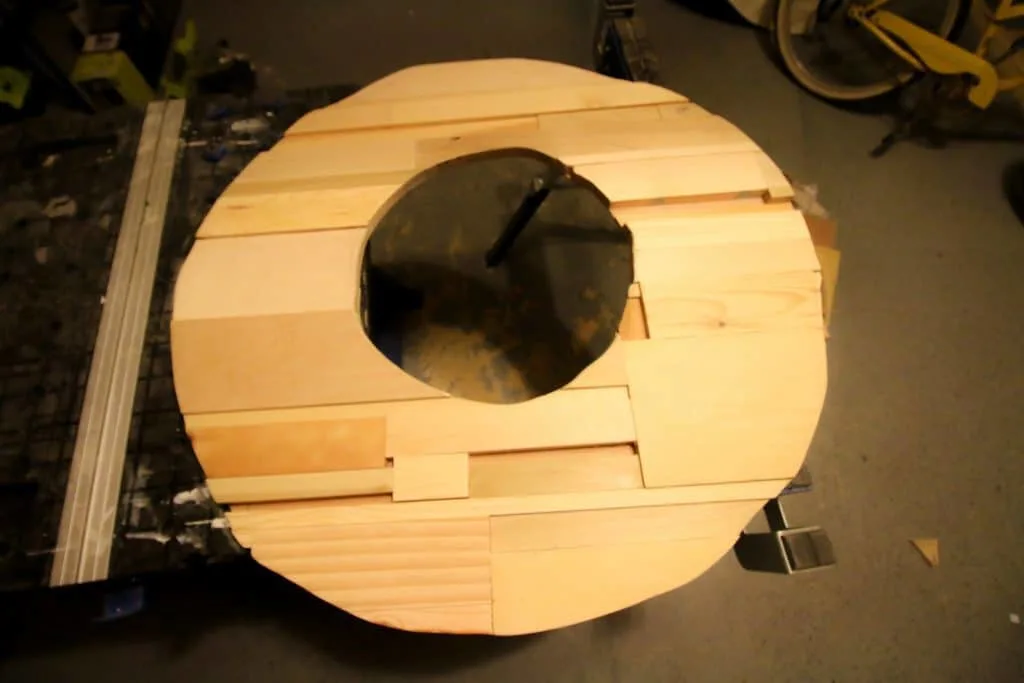 Tips for making a scrap wood wreath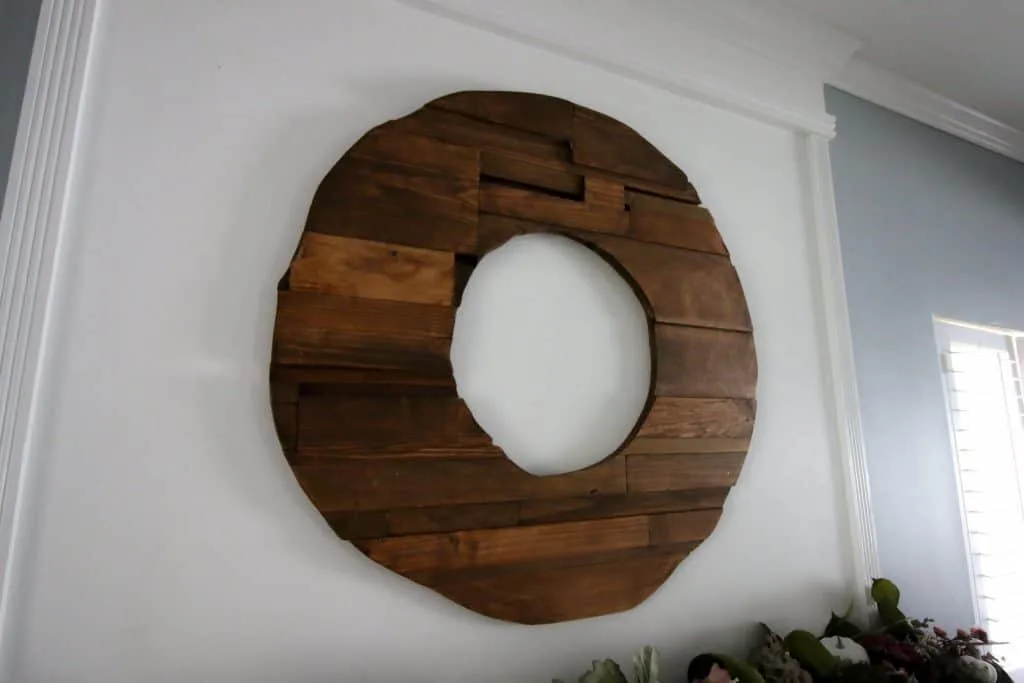 I used wood glue to attach the wood scraps to the plywood. Only apply glue where it will stick to the wreath, and not the hole you are cutting out of the center. Un-glued wood will pop off (when you cut out the center) and you can save/hoard/reuse it!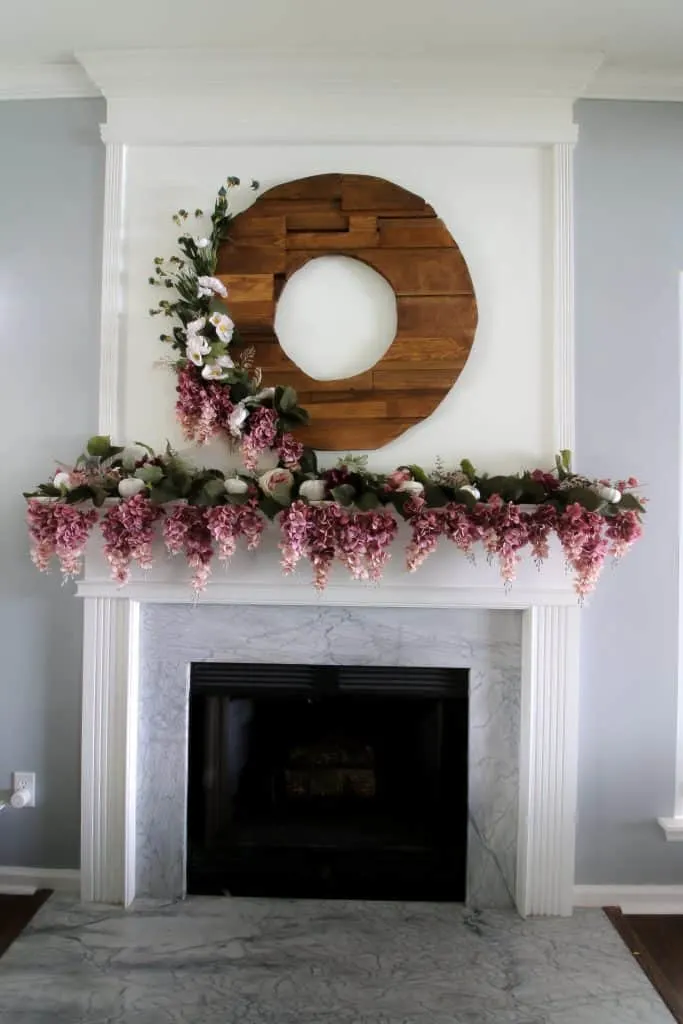 Use different thicknesses of wood. At first I was afraid that would look bad, but it adds a nice textural feel to it.
If your wreath is as wide as mine, you might not have enough scrap wood long enough to span the wreath. That's okay! You can have 2 pieces butted up against each other, but that looks best if they are the same width.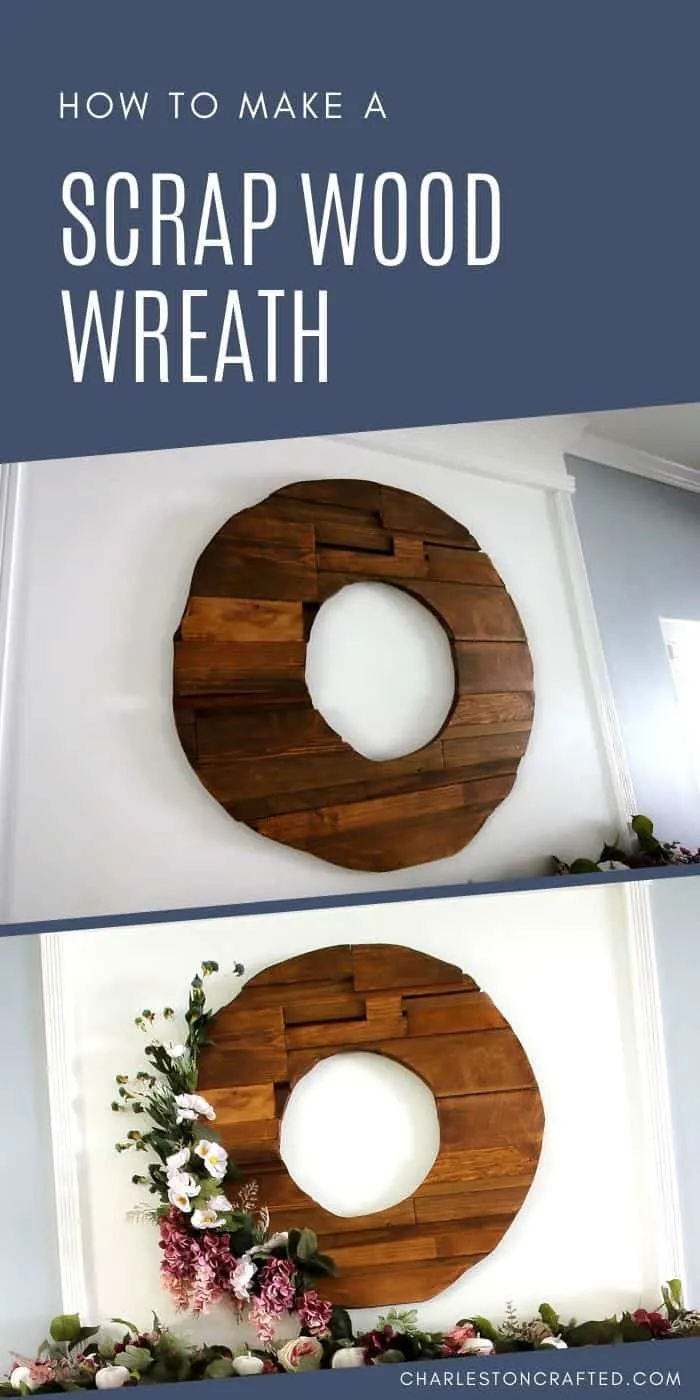 Yield:

1 wreath
How to make a scrap wood wreath
Check out this super simple tutorial for how to make a DIY scrap wood wreath.
Materials
Scrap wood
1/4" plywood
Wood glue
Stain of choice
Hanging hardware
Tools
Jig saw
Sander
Drill
Tape measure
Pencil
Instructions
Use your pencil and tape measure to mark out the shape of your wreath on the plywood. I marked the center and then measures 18" around to make a 36" wreath. I then marked 8" out for the center cut out. Mark around the circle then connect the dots to get the shape of your wreath.
Lay out your scrap wood to cover the circle you just drew. Mix up the pieces so they have an interesting, random pattern.
Apply wood glue to scrap wood and attach to plywood. Clamp if necessary. Do not apply glue to portions of wood that will not be on the wreath when it's done, so you can save that scrap.
Allow to dry.
Use jig saw to cut outside of wreath into a circle.
Use drill to drill into the center of the wreath. Insert jigsaw and saw out center cut out.
Sand thoroughly. Wipe clean.
Stain as desired.
Allow to dry
Add hanging hardware to the back and hang. Warning: this thing is suuuuper heavy. Hang it on a stud or use anchors.
Recommended Products
As an Amazon Associate and member of other affiliate programs, I earn from qualifying purchases.
Love wood wreaths? Be sure to check out my DIY driftwood wreath!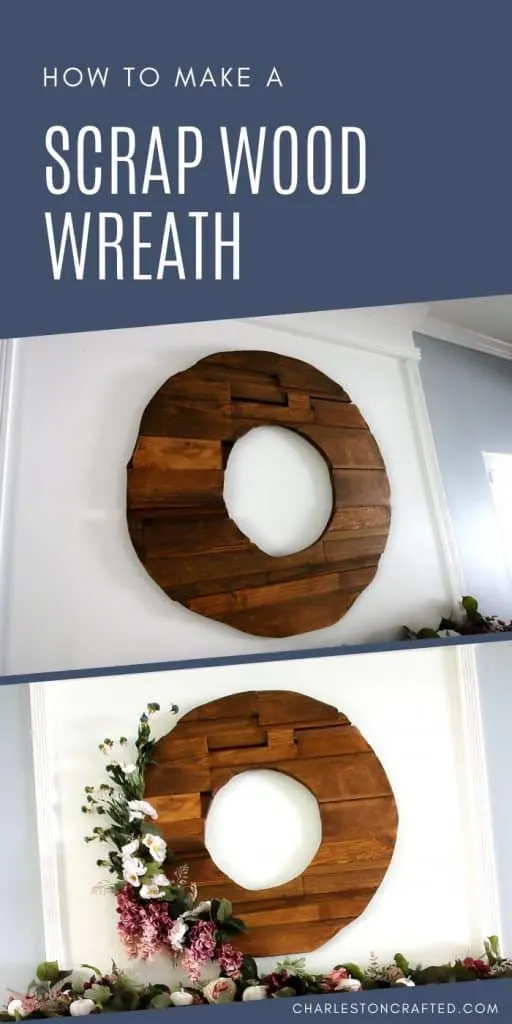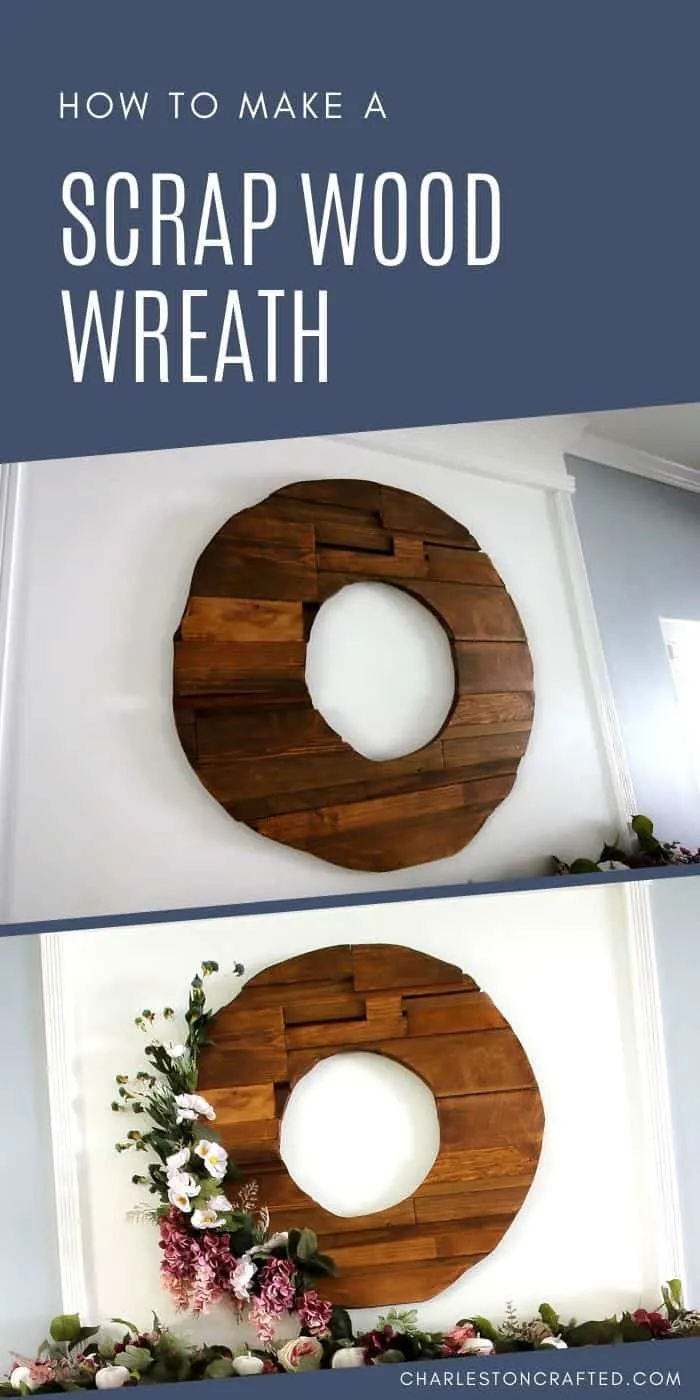 Have you ever made a wood wreath?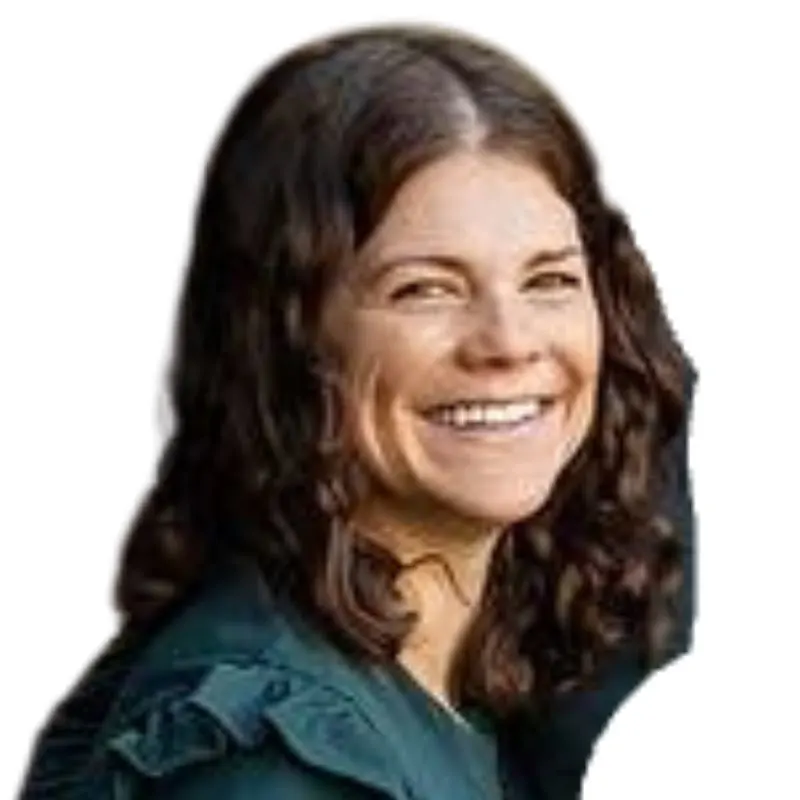 Hello, I'm Morgan, half of the creative force behind CharlestonCrafted.com! With a passion for DIY that dates back to 2012, I've transformed three homes and now I'm dedicated to helping others craft their dream spaces. Let's turn your house into a home together!