Hello and welcome to week 6, the reveal, of the One Room Challenge! We have made over our walk in master closet and taken it from a generic, dysfunctional space to one that is personalized to our exact needs. In keeping with our DIY style, we did the whole thing by ourselves and on a budget. Nothing here was sponsored!
If you are just visiting us for the first time (Hi! Welcome! Check out our About Us page!) here is what you have missed:
Week 2: How to design a closet system in Excel
Week 3: How to remove a wire closet system – demo, patching, & painting
Week 4: building the closet system
Bonus post: custom shoe shelves + bag storage
Week 5: Repurposing the Linen Closet
Bonus post: wooden hanging belt & tie rack
So, here is how the space looks!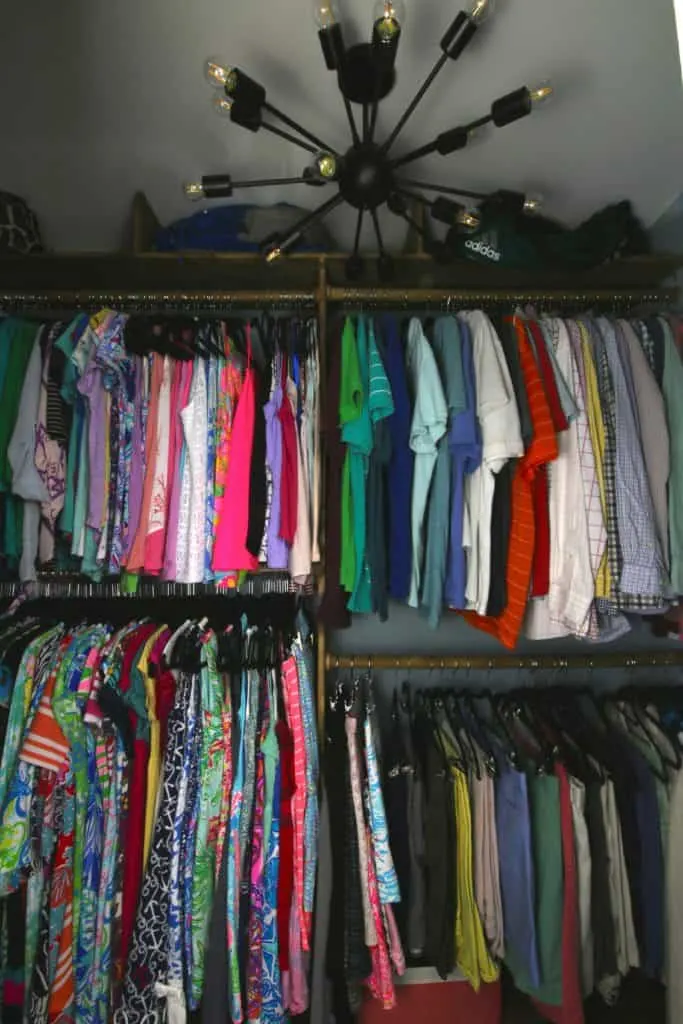 I just love how many more clothes we can fit in here compared to the one horizontal rod that we started with. And, yes, I have a ton of Lilly. It's an addiction.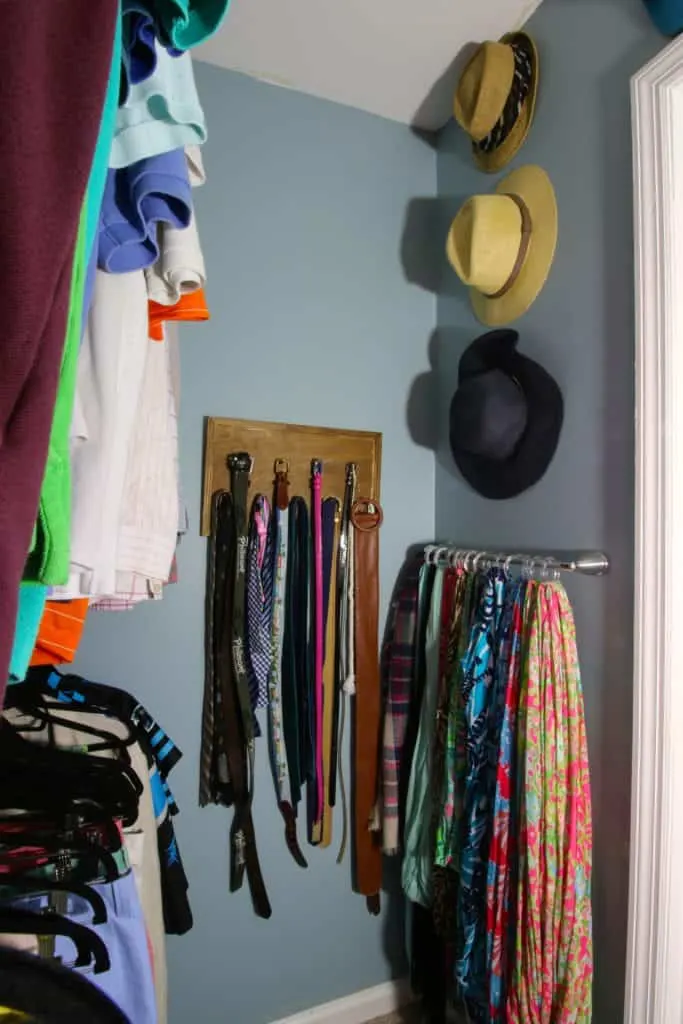 I was really excited to get rid of all janky metal over the door type hangers and upgrade to wooden and metal hooks. I think that it just really looks more permanent and custom this way.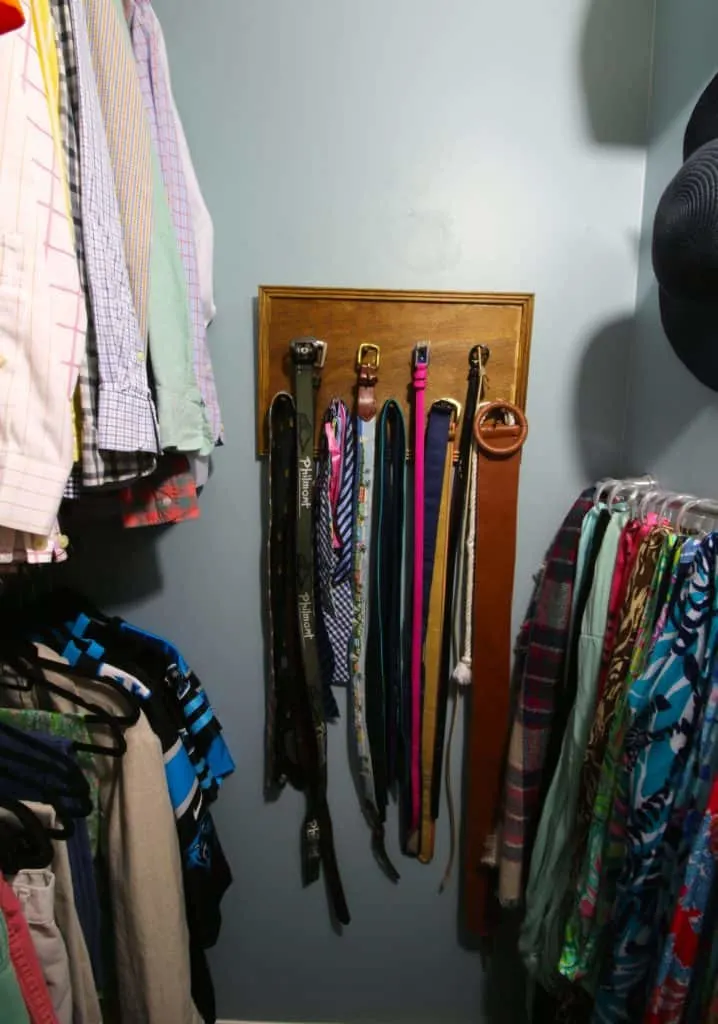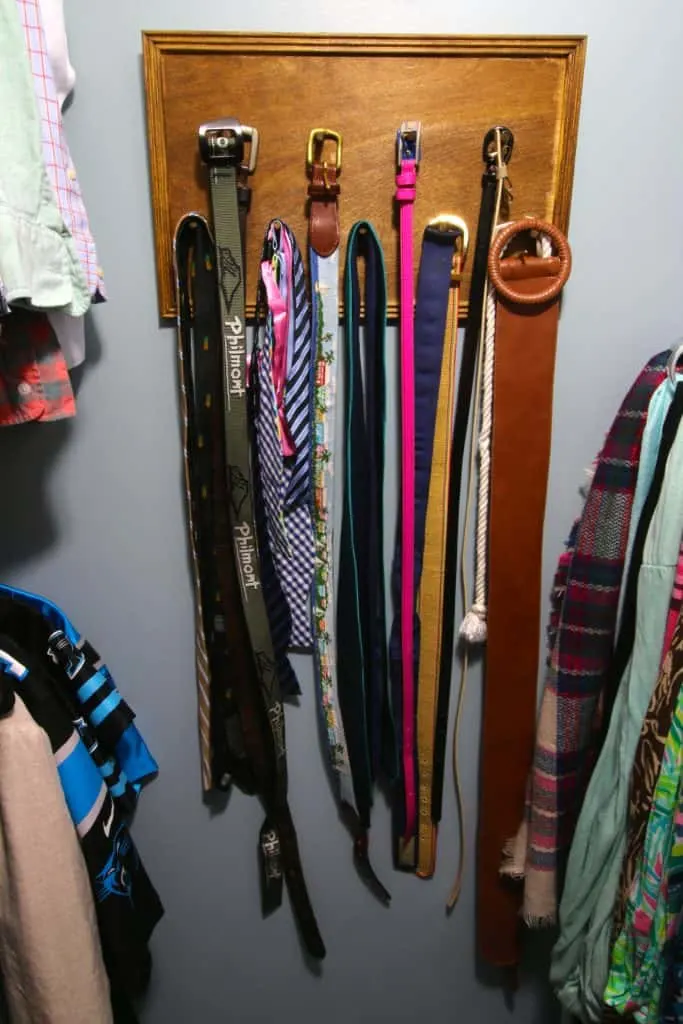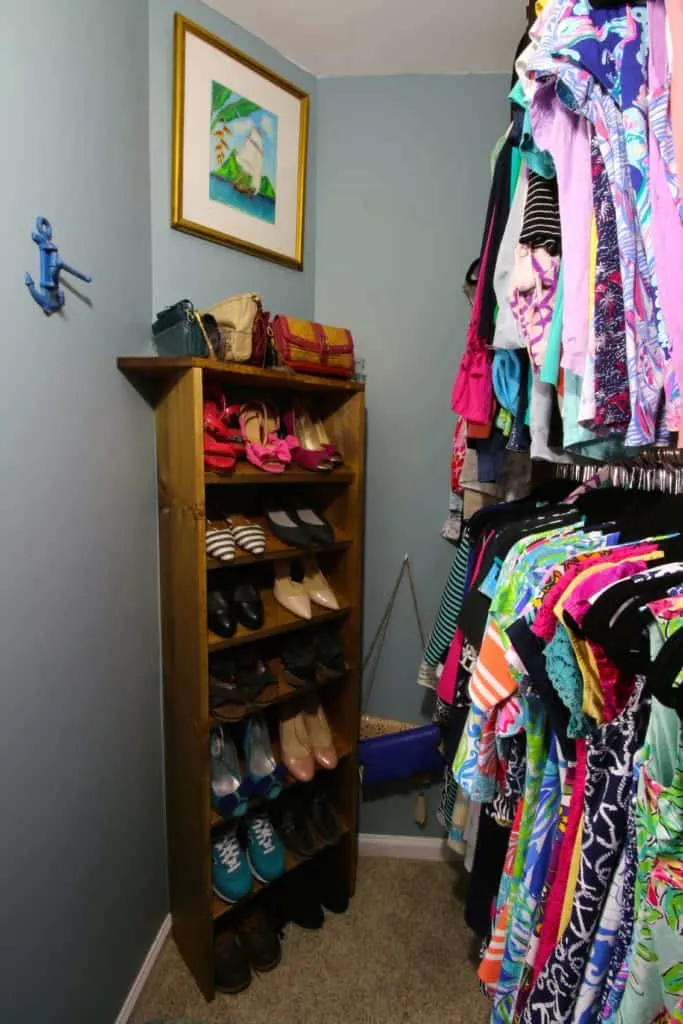 Getting my shoes off the floor is a huge bonus, too. (Sean's shoes are all in the lower cubby of the hanging system. We both have ratty outdoor boots and shoes on the rack in the garage).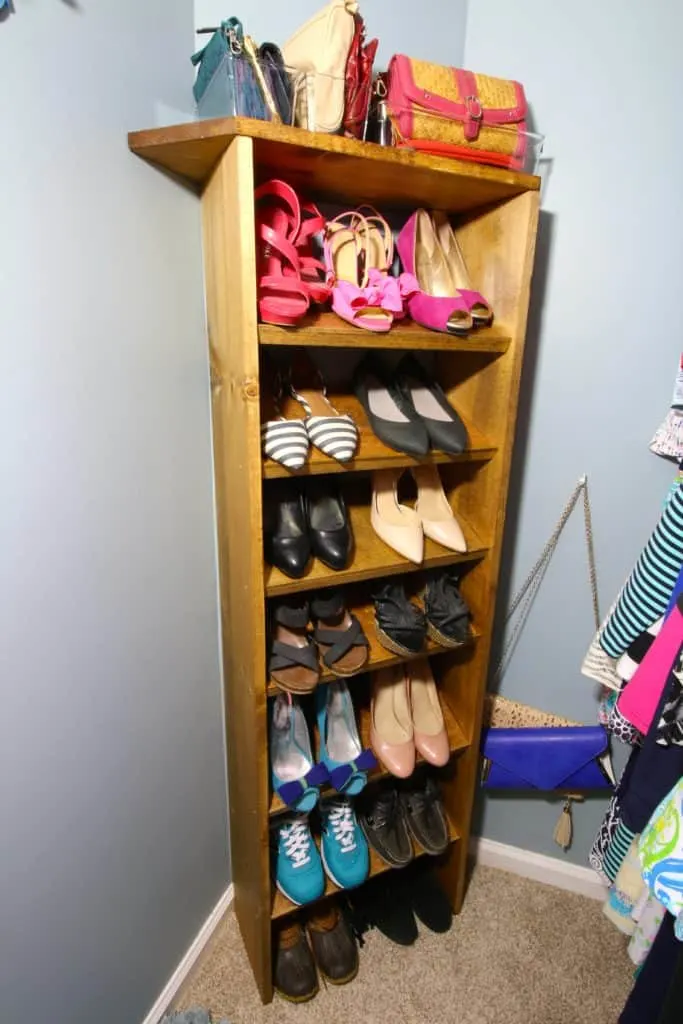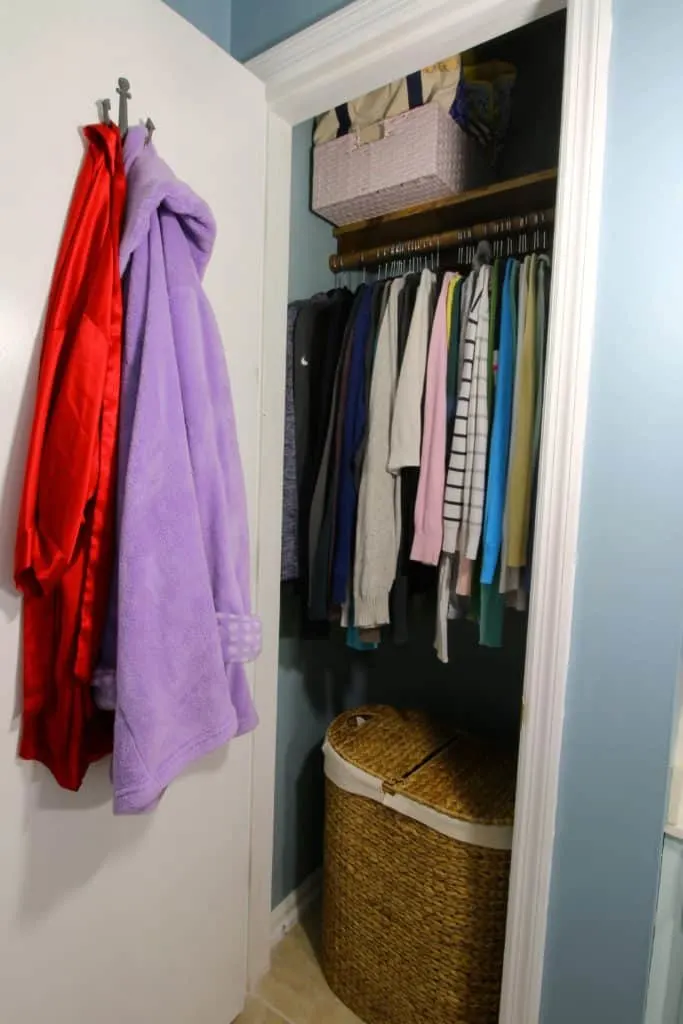 Updating the linen closet to hold off season clothing was a last minute idea but really turned out to be a good one. We have plenty of room to add more things in here, too!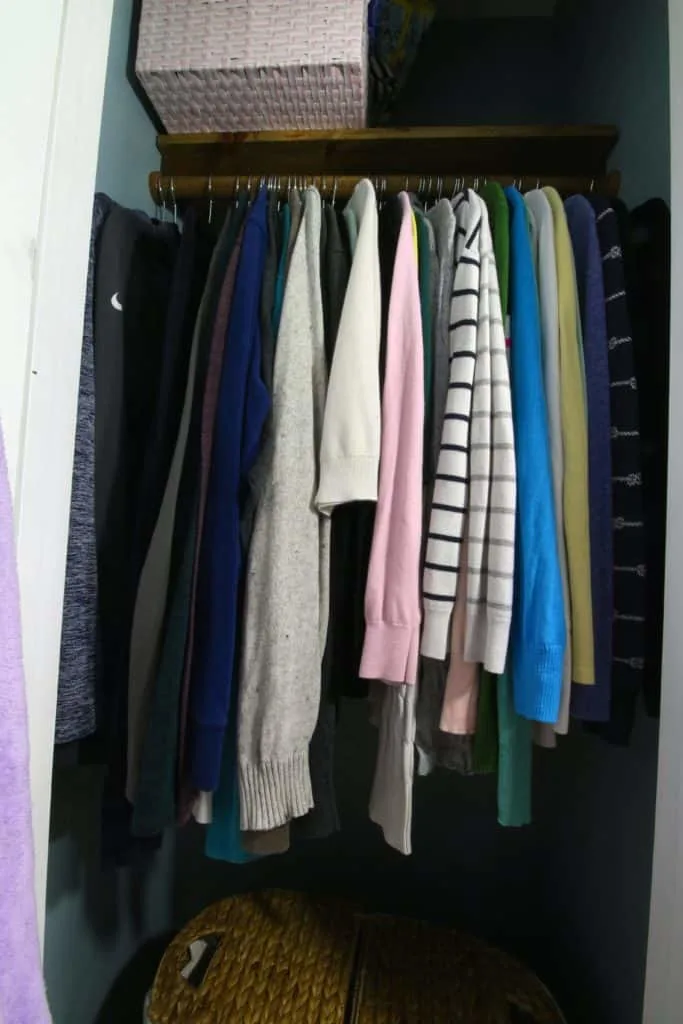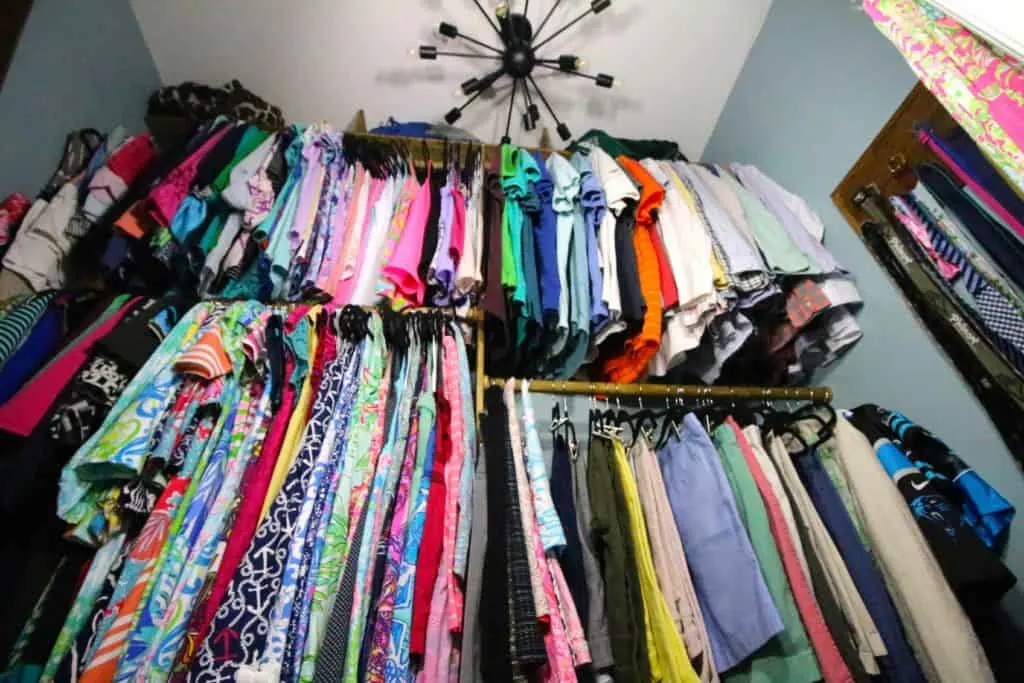 It's shockingly hard to get a decent picture of this whole space, since you can't back up more than 3 feet. How about this view from the floor? Also smooth ceilings = a happy Morgan. I can't believe we were scraping just 6 weeks ago!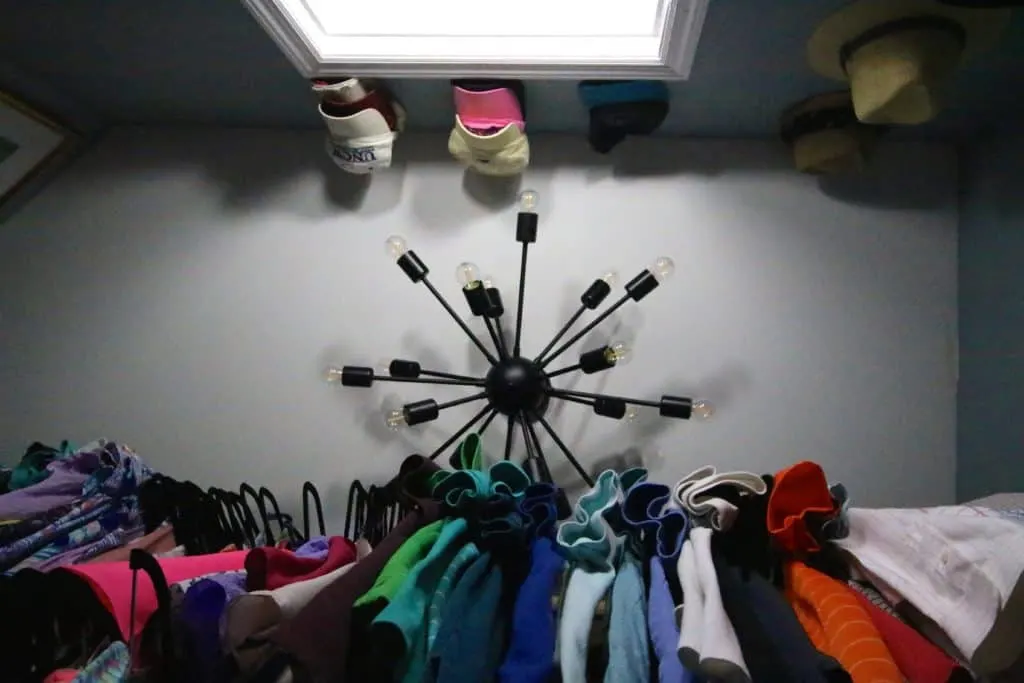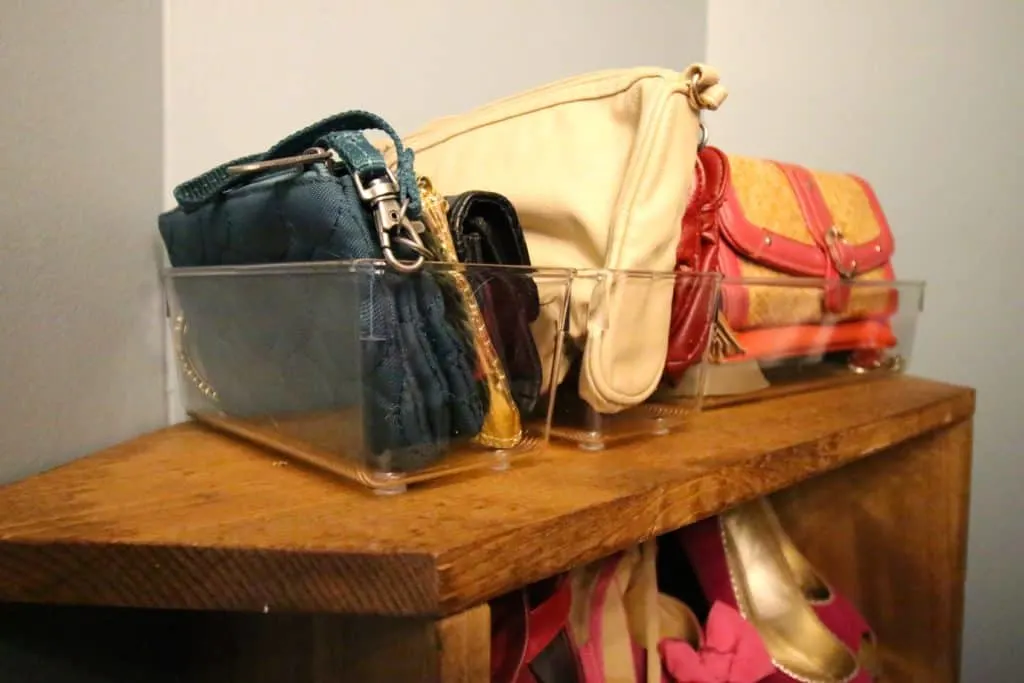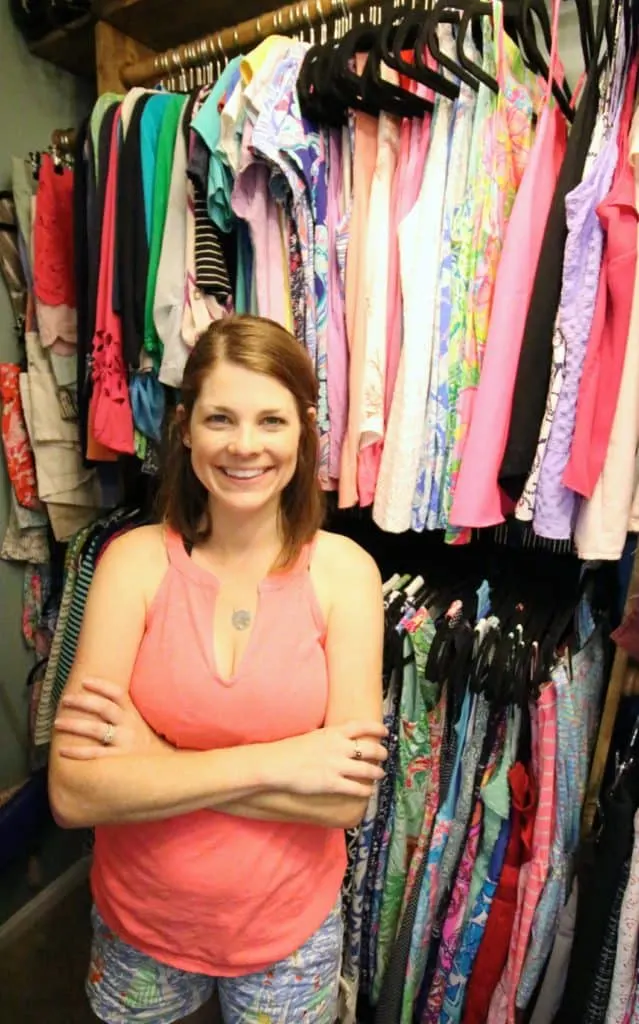 And I love sharing a budget breakdown on these bigger type projects. I think it really helps you to see how attainable/doable something like this really is! I knew that the cost of the closet system wood wouldn't be nothing, but my goal was to make over the space for under $250. We ended up at $255, which is pretty good. I guess my anchor hooks were unnecessary and put me over, but I'm OK with it 🙂
ACTUAL SPENDING:
Paint – $18 via Lowes, color is Sherwin Williams Interesting Aqua
Painting supplies – had on hand
Closet boards – $19 x4 = $76, via Lowes
Dowels – $6 x 5 =$30, via Lowes
Dowel Holders – $2.50 x6 = $15, via Lowes
Shoe Shelf wood – $25 x2 = $50, via Lowes
Stain – Minwax Early American, had on hand, via Lowes
Anchor hook – $8.50 via Amazon
Anchor hook with pivot – $8 via Amazon
Bins in bottom of closet – had on hand (via HomeGoods a while ago)
Bins for purses/wallets: $20 total, Large, small via Amazon
Light – had on hand, previously in hallway, via Amazon
Rugs – $9.99 x3 $30 total via Homegoods
Hamper – had on hand, via Amazon
Total spent: $255.50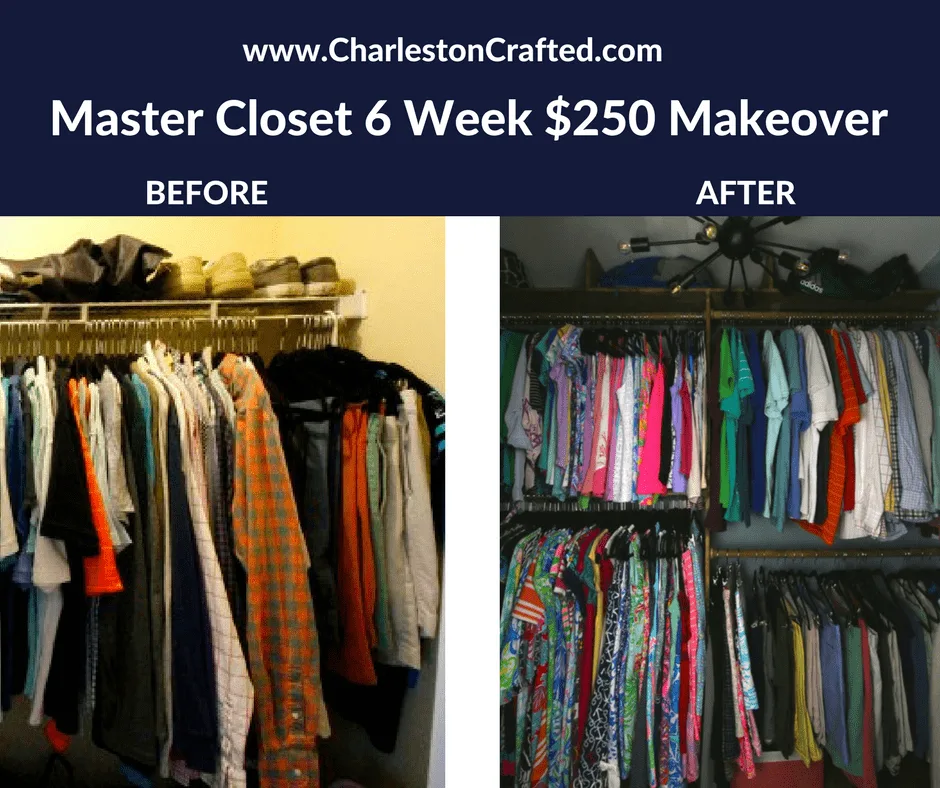 This post contains affiliate links. That means that if you click through and make a purchase, we receive a small percentage of the sale. Thanks for supporting the brands that make Charleston Crafted possible!