If you are considering an IKEA China Cabinet, check out our gorgeous Hemnes glass front cabinet setup!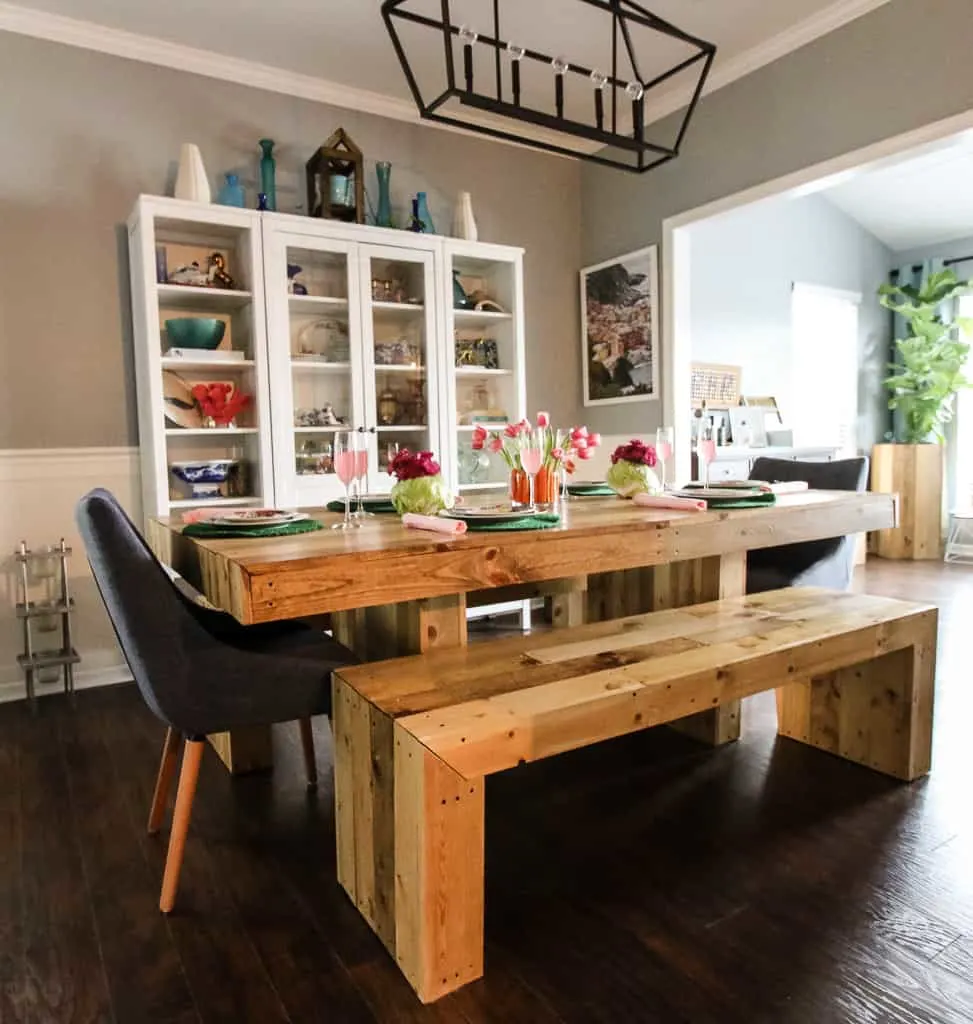 Right before Christmas, Sean got my china down from the attic. It's a set that I actually got at a thrift store a few years ago (the pattern is discontinued but called Imperial Leaf). He told me that we needed to use the china at Christmas or get rid of it. I was so mad!
I love that china, but he was correct in that we never use it. However, that was because it was stored in a cardboard box in our pull down attic. Hardly convenient. So, I decided to finally buckle down and find a china cabinet for our dining room.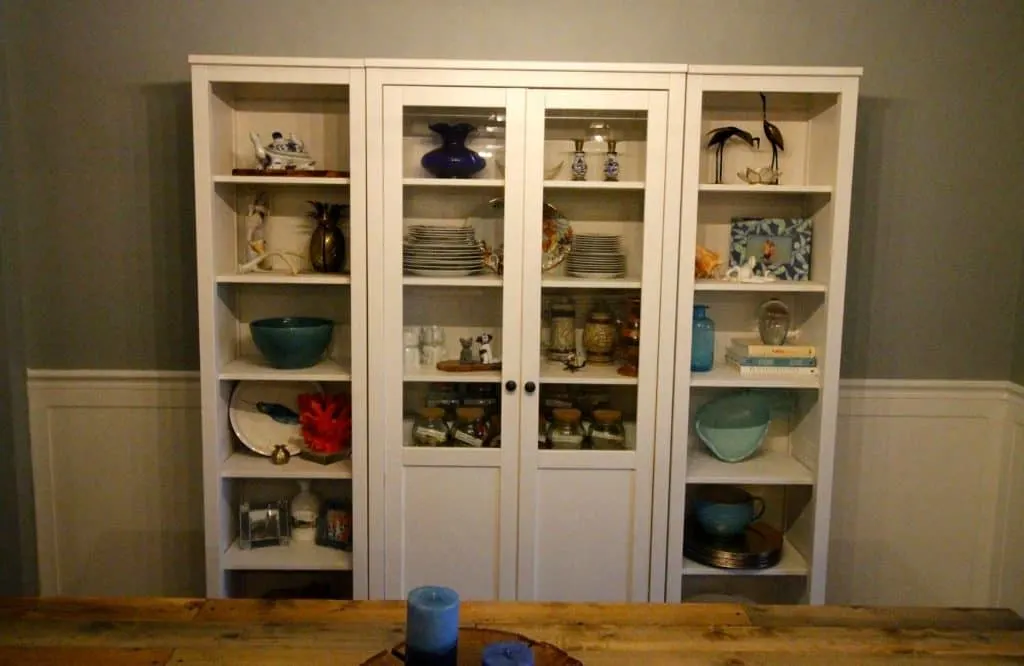 Click here to pin this to your Pinterest board!
Of course, it helped that we had already set up our dining room table. This made it clear that the existing Hemnes bookshelves (formerly a part of our entertainment center but they won't fit around the TV in our new space) made the doorway to the sunroom feel too tight. I didn't really want to get rid of them, so I instead decided to try to incorporate them into my china cabinet display.
We also have Ikea Hemnes dresser and shoe storage! We love this line.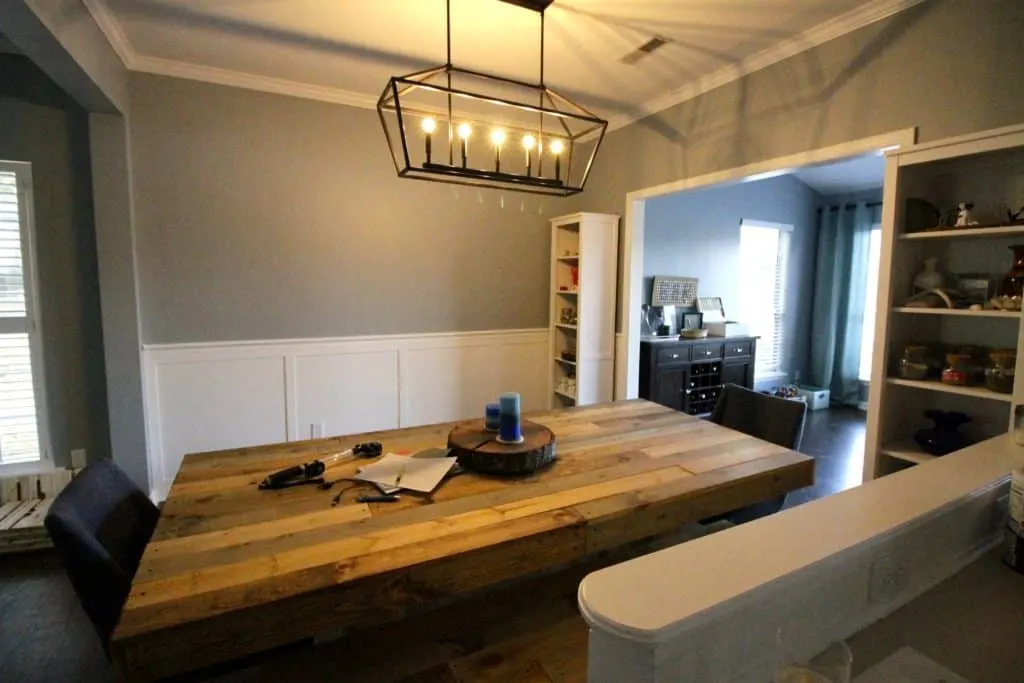 A quick hop onto the Ikea website lead me to the wide variety of Hemnes living room furniture. I wanted to stick to the white washed Hemnes because it would match our existing pieces. I couldn't decide between the glass door cabinet or the one with three drawers on the bottom, so we decided to pick in the store after seeing them in person.
We stopped at Ikea on the way home from the mountains and did a quick zip through the cabinet storage section. We decided that neither of us cared if there were drawers or not, but since the drawered cabinet was $70 more than the one without drawers, we decided to go with the less expensive route.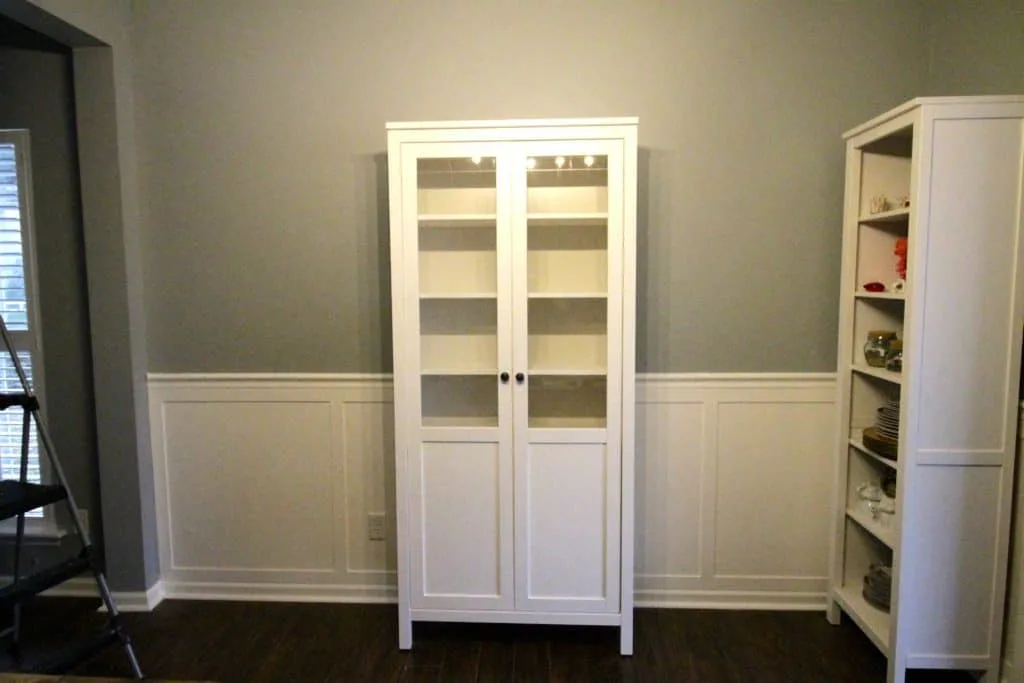 Once we got home, it was fairly standard Ikea assembly. The doors were a little bit weird to get on the hinges (you really have to pop them in there until you hear the click!) but once we figured it out it was no problem. We slid a regular cabinet on either side and secured them all to the wall.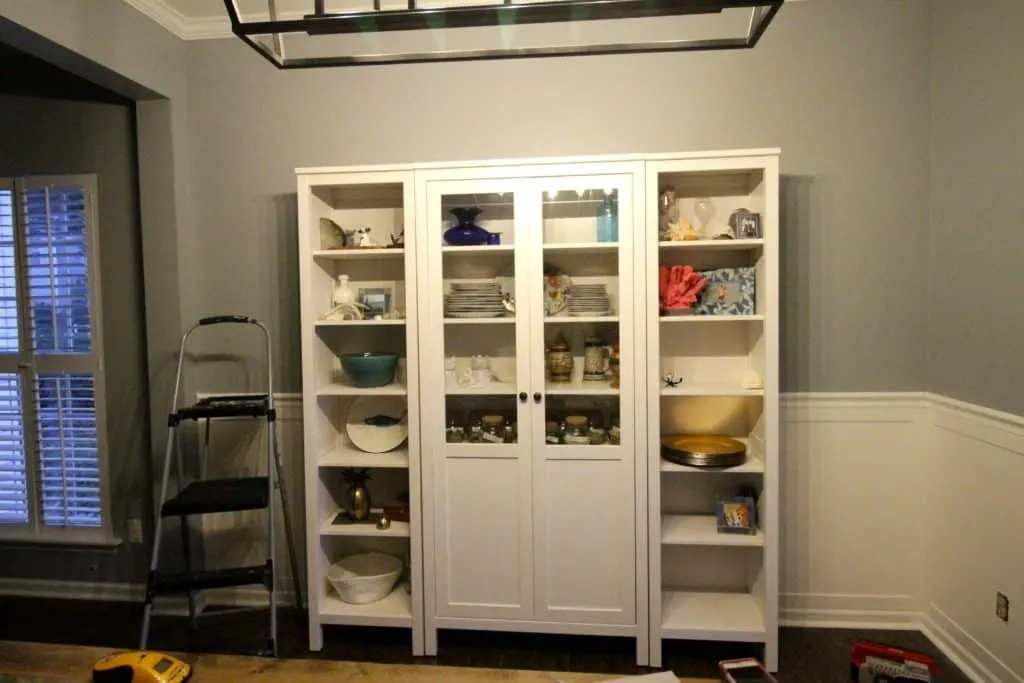 I am working on the styling now – it is not my strength but is something that I am trying to work on! I am focusing on blue, white, gold, and a little bit of natural wood. What do you think? The center cabinet holds my china set and a few other pieces. We definitely have room to grow!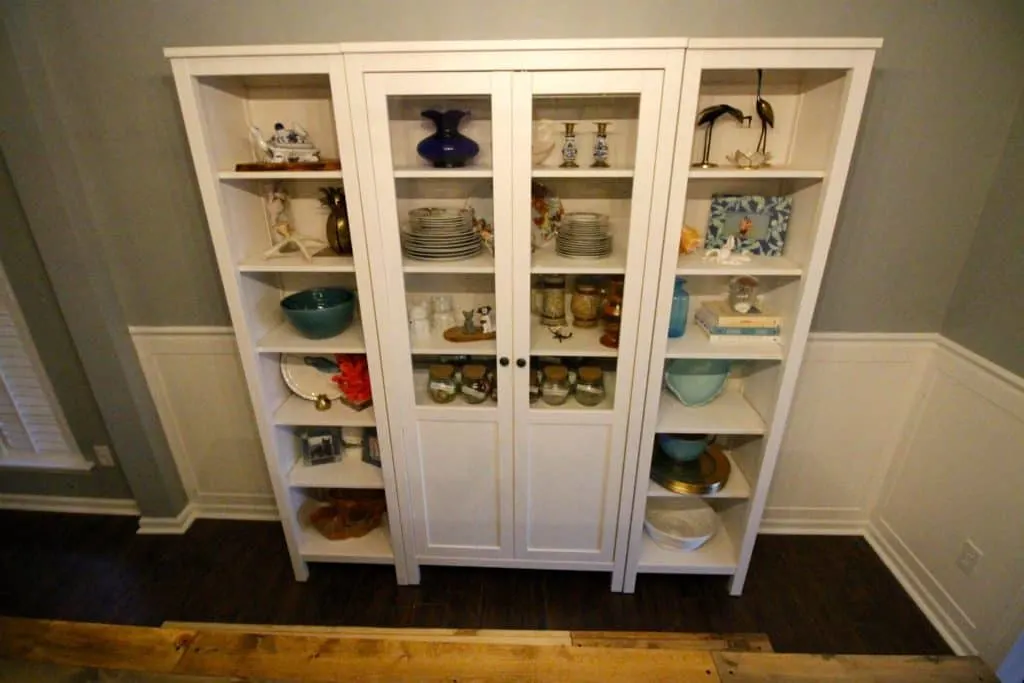 There is still a lot of work to be done in the dining room, but I am loving how it is looking so far!
Here is a picture of the space a year later. You can see how we made the dining room table and benches in those linked blog posts!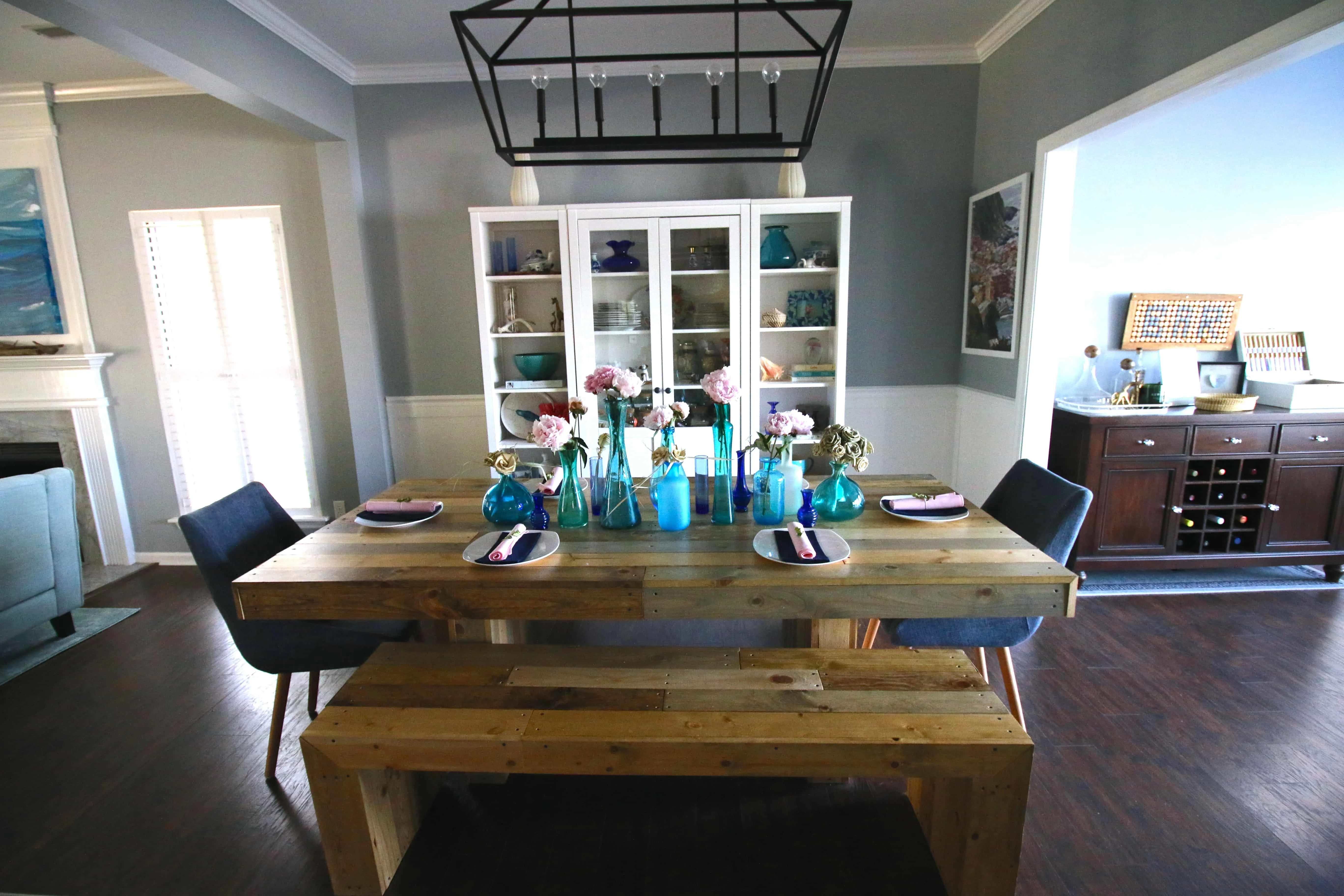 Are you considering an Ikea Hemnes china cabinet for your home? Let me know your concerns and I will give you my honest feedback!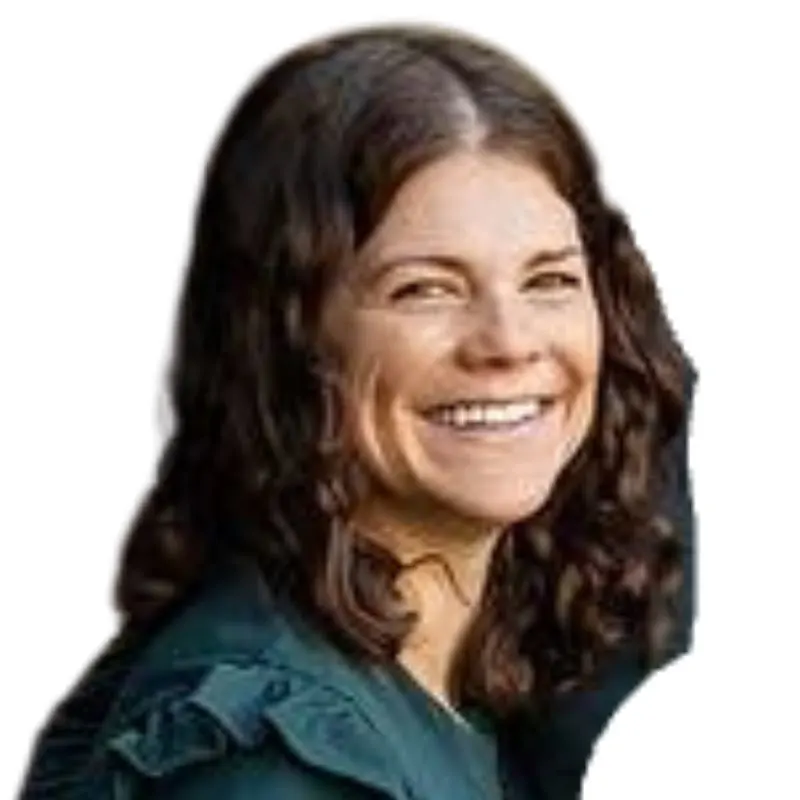 Hello, I'm Morgan, half of the creative force behind CharlestonCrafted.com! With a passion for DIY that dates back to 2012, I've transformed three homes and now I'm dedicated to helping others craft their dream spaces. Let's turn your house into a home together!