Bi-fold closet doors are typically what most people would consider "very ugly." We did a simple and fast bi-fold closet door makeover that we think you'll love and would quickly spice up your doors if you wanted to give it a try!
love this project? check out all of our nursery projects here!
Bi-Fold Closet Door Makeover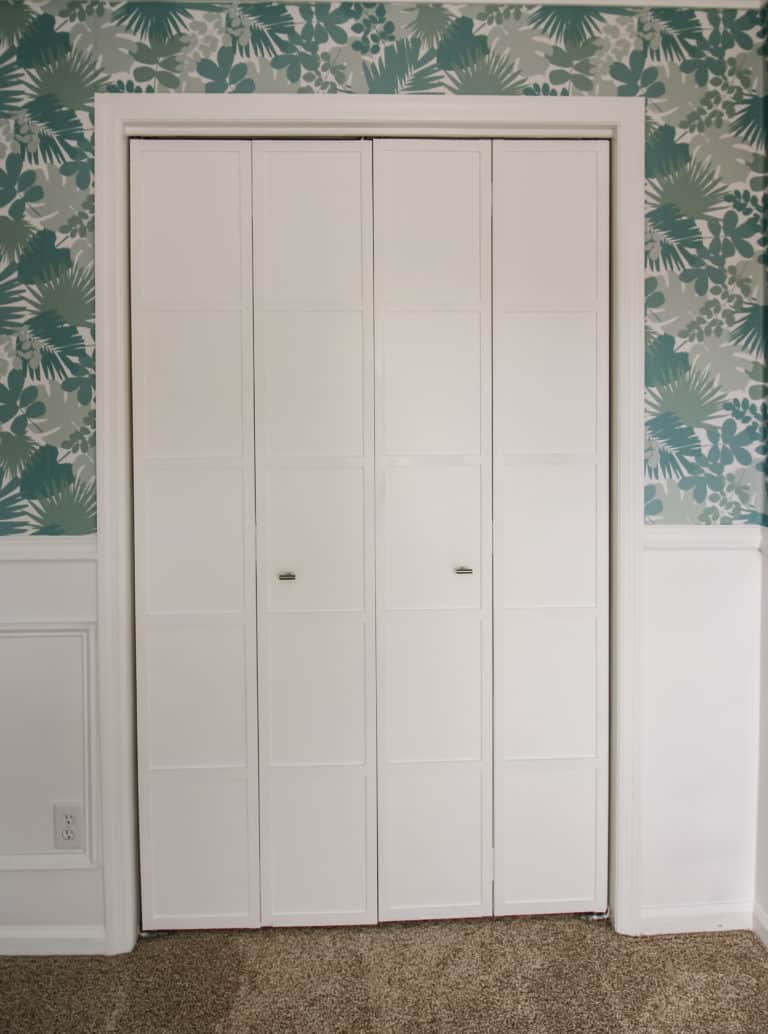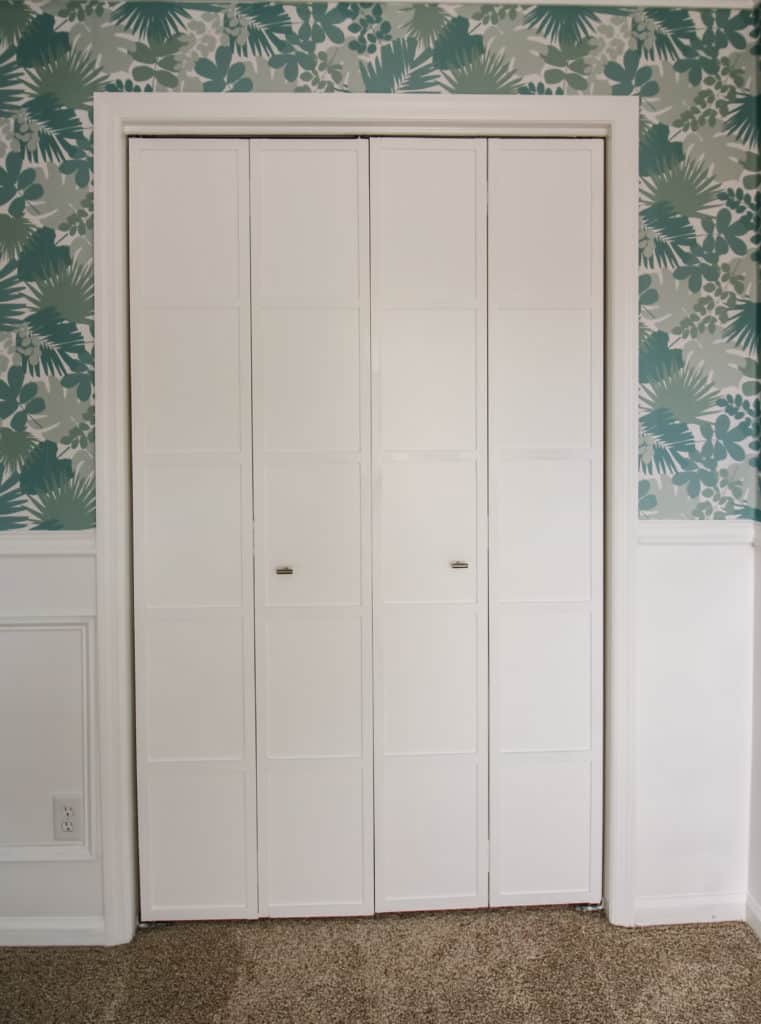 The bi-fold closet door makeover for our nursery was so easy, y'all. Using 1/4 inch thick by 1 1/2 inch wide slats, we totally transformed our doors. This look is easy to replicate or slightly alter. We love the eastern feel that these doors have now!
What you need for a bi-fold closet door makeover:
1/4″x1 1/2″ slats enough for your door. Ours required approximately 77 feet (79″ vertical pieces and 12″ horizontal pieces) and yours likely will be right around this.
One inch brad nails
Caulk
Paint
Replacement knobs, if desired
How to do a bi-fold closet door makeover: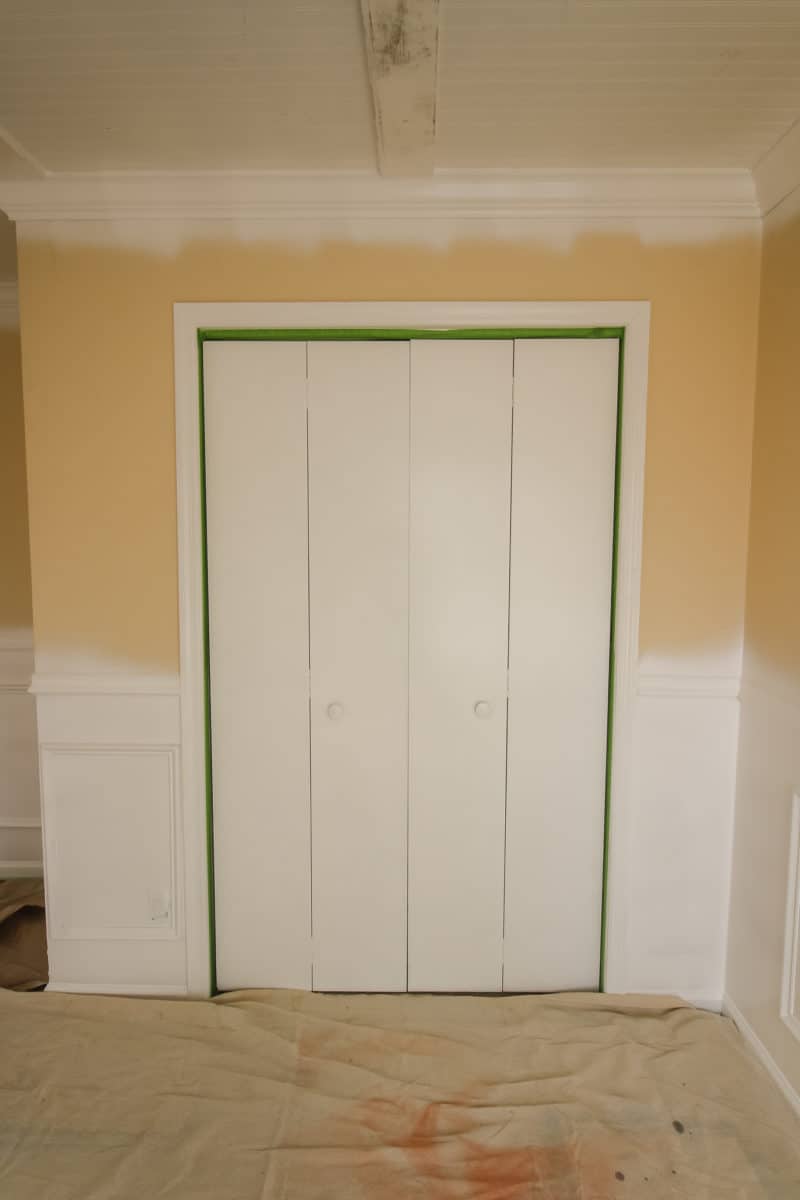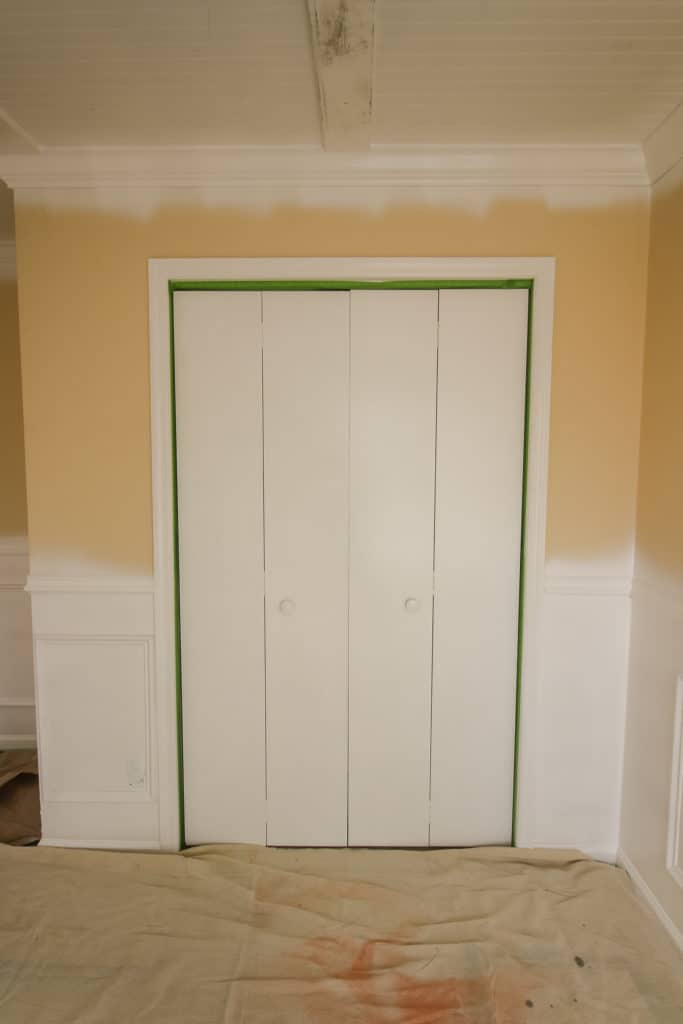 Measure one of your four door panels. Measure the height and cut two long slats for each side.
Use your brad nailer to tack in the slats on each side so that they are flush with the outside edge.

Measure the space between the two vertical slats.
Cut six pieces of slats to that length.
Nail in the horizontal slats, starting with the top and bottom flush along the edge, and then evenly spaced on the door to create five equally-sized panels.
Repeat steps 1-5 for the remaining doors.
Use caulk to cover up the seams and nail holes.

Paint the entire door to match.

Add new hardware. We used Liberty Hardware's 1-5/8″ (40mm) Cabinet Bar Knob pulls
Look at that transformation! This bi-fold closet door makeover took us less than an hour to complete the entire thing and it is absolutely completely changed. We hadn't planned to do this project for a week but we finished our DIY wainscoting project early one Saturday morning (because that project was super simple too) and decided to start this one and accidentally finished before lunch! If you're looking to do a bi-fold closet door makeover, consider this option. The eastern look to the doors fits with lots of styles and is so easy to make your room look like a million bucks.
Be sure to click over and check out our Jungle Theme Nursery Reveal!

This post was last updated on