Well, we have now had our solar panels in action for one year. We wanted to wait until we had 12 months of statements so that we could really get nerdy on the facts with you. In case you are interested, here is our post about how and why we got the solar panels. One of the biggest questions that we get is "are solar panels worth it?" So I decided to really break it down for you today!
What was the total cost?
The total cost was $29,000.
This was set up as two loans (we put $0 down). One was a 0% 12 month loan for 30% of the total amount – this is the amount that we would get in the first year as a federal tax refund due to the tax credit. Warning: if you normally owe taxes each year, you might not get the full credit as a refund. Talk to a tax professional. The remainder of the cost was a loan at 2.99%. This gives us a monthly payment of around $145 for 12 years. We have been paying a little bit extra plus putting the South Carolina tax credit (25% of the total cost, but is spread out as only $2,500 a year, over the course of 3 years) towards the balance. It's our goal to have the loan paid off in 5 years and the current balance is around $7,500
What do you pay each month?
We have a monthly loan payment (on the solar panels) of $145. That includes an 2.99% interest rate and we currently have a balance on there of around $7,500.
We also have to pay an $11.46 fee to SCE&G each month. This is a "hook up" fee and honestly wasn't described to me in advance. I was told we would get no bill. You'll notice this was a pattern in our experience. I don't know if I was deliberately misled or just didn't know the right questions to ask.
Finally, we have to pay for any electricity any month that we use in excess of our production, because the panels don't store excess energy we create in any other month. We've had to do that in December and January and February.
What has the production vs. usage been?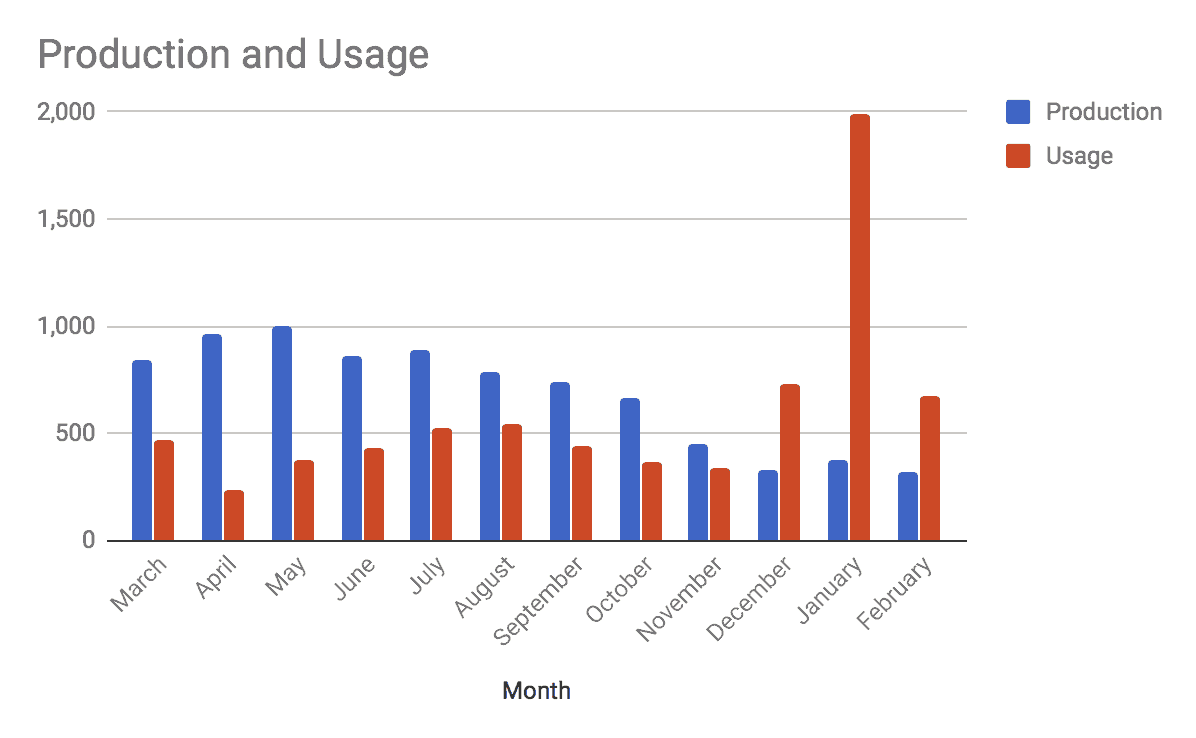 As you can see, most months we produced way more than we used. I would conclude from this year that the solar panels are fantastic in warm, sunny months and definitely cover our AC usage. We are on a heat pump which uses a ton of power to create heat. We had a freak snow in January (once in a decade around here!) and people's energy bills were double-triple the average month across the board. I really wish that we were able to store and use some of that summer energy!
What do you get paid for any excess produced? How does that work?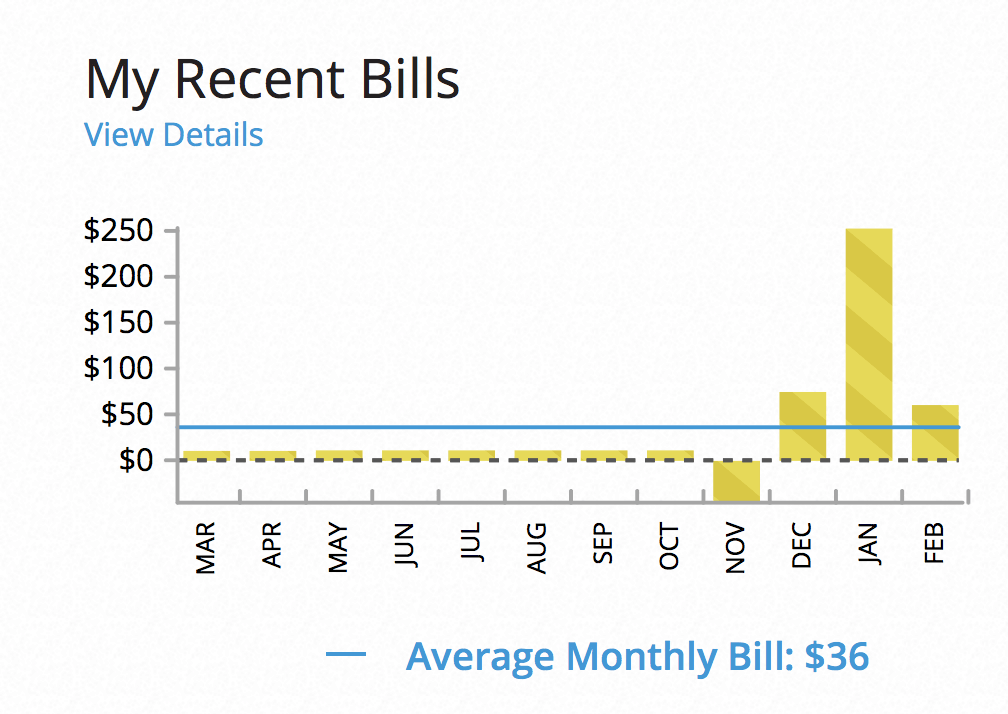 This was one of the biggest surprises for us. We knew that we produced a lot more than we used in the first 6 months. However, when we got our overage statement (in November) we learned that while SCE&G charges us 12 cents per kwh, they only pay out about 3 cents per kwh. While not shocking, this was still very disappointing and seems very sketchy.
So for 1,624 kwh of excess produced, we received $57. This was paid to us as a credit towards our future bills, and you can see it as the negative bill in November. I wish that the KWH could have been saved and used as a credit based on KWH for the winter, but they made it a credit based on $ instead, so it only went about 1/4 as far.
Anything else?
I didn't really consider this in advance (no one mentioned it to me and blame it on my first time home owner naivety), but our solar panel loan required us to add the solar panels to our home insurance policy. Makes sense, since we still owe on them, we need their value covered in case of an emergency. Well, I did that, didn't think about it. This year we got our escrow statement and found out that we owed almost $2,000 for last year and that our payments were going up over $150 a month due to insurance increases. While it wasn't entirely due to the solar panels, I was told that a lot of it was for that coverage. $150 a month is more than our monthly electric bill so that was honestly shocking.
Secondly, I really think that I would feel so much happier with and better about our solar panels if we could store power ourselves with a backup battery. I have heard that technology is becoming more cost effective thanks to Tesla and I am really hopeful that that turns out to be a good option for this home. A back up battery would allow you to have power during outages (huge since there is no natural gas in our neighborhood) and it would let you store all that excess and use it instead of being credited a tiny fraction of it's "street value" and having to pay in months that you under-produce. Right now, batteries are cost-prohibitive but would definitely be great to have.
Our Conclusion
I have honestly been underwhelmed by the financial benefits of the solar panels. We are still paying a lot per month. The overage payouts have been less lucrative than I had hoped. We have owed additional electric charges several times. I am glad for the benefits to the earth of producing some clean energy and I am still hopeful that it will add long term resale value to our home. We also think that we'll feel better about them once we have completely paid them off, because we will only be receiving the small monthly admin charge at that point. But, so far, financially, it hasn't been a huge win.
Do you have any more questions for us?!