Hey y'all! Welcome back for week 5 of our spring One Room Challenge where we are making over our walk in master closet in 6 weeks.
In case you missed it:
Week 2: How to design a closet system in Excel
Week 3: How to remove a wire closet system – demo, patching, & painting
Week 4: building the closet system
Bonus post: custom shoe shelves + bag storage
This week we conquered the linen closet. It is also in our master bathroom and is one step from the walk in closet. We keep all of our extra linens in the laundry room shelving or on the open shelving in our bathroom, so we wanted to re-purpose this space. If you read our initial plan then you know that I wanted to make this an accessories closet. Dreamy, right? Well, we had to make a tough call and that got nixed. Our evil but adorable beagle mix, CiCi, has a terrible habit of getting into our dirty laundry. Since the only doorway in this space with an actual closing door that she can't open (yeah, she can open the barn door) is the linen closet, we decided that the hamper needs to go in there. We have this hamper and it's gorgeous and functional and as wonderful as a hamper can get, but it is 24″ high and therefor took out over 1/3 of our closet shelf space. I begrudgingly agreed to move the shoes to the main closet and re-think this space.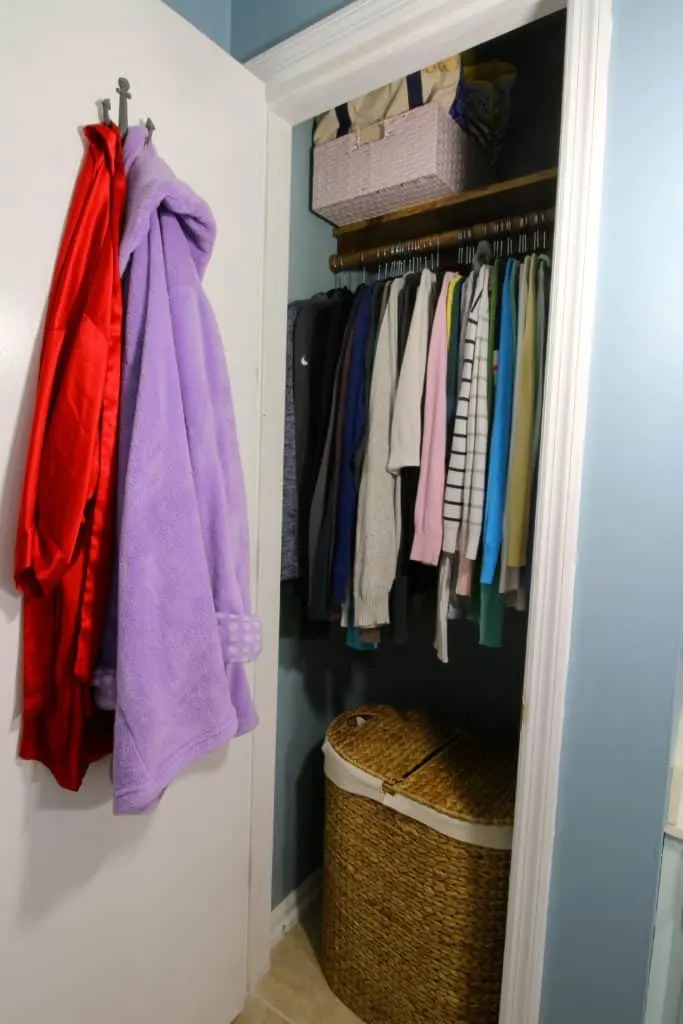 It actually wasn't until we refilled the closet with all of our clothes that I realized what we really needed more of – hanging space. Crazy, I know. We decided to add one rod to the space and use this to store sweaters. Living in South Carolina, we wear sweaters for about 1 month a year (at most) but it really feels luxurious to get these out of tupperware bins and up hanging. And, if we every decided that we needed this hanging space for more frequently used clothes, back into the tupperwares they could go.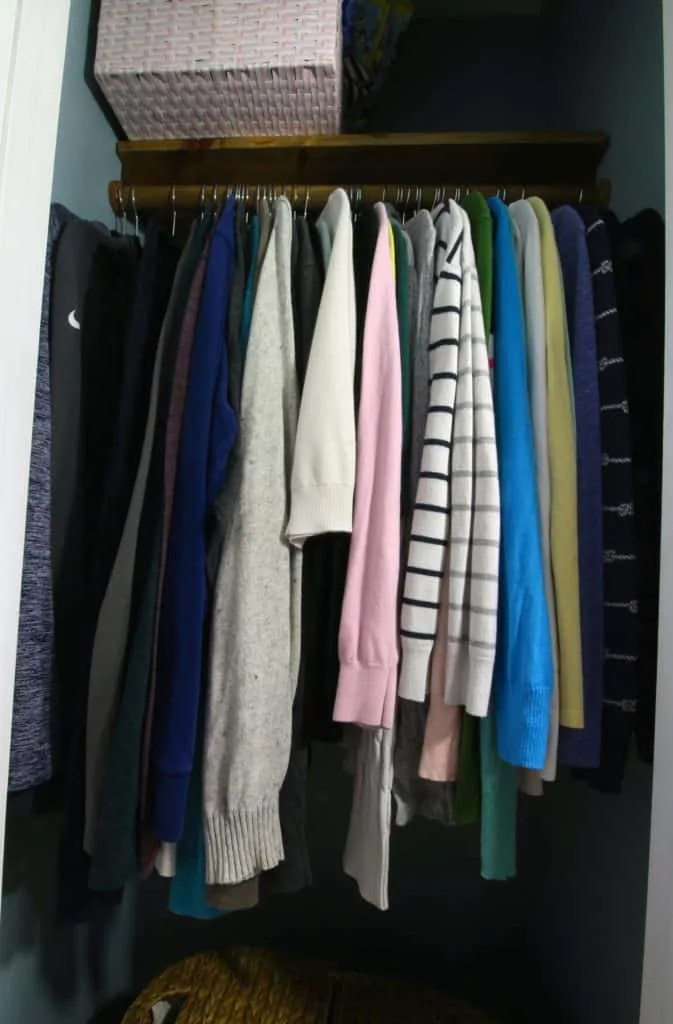 We also added one flat shelf right above the rod. This has a bin to hold my tote and beach bags. As I've mentioned, I tend to have one higher end purse (currently a Kate Spade) that I wear daily for 2-4 years until it is worn out and then I replace it. So I have totes and beach bags to store, as well as cross bodies and clutches for nights out, but no real handbags. Tucking these totes up and out of the way is just fine by me since they are mostly for travelling and not exactly display worthy.
As a reminder, here is what it looked like before!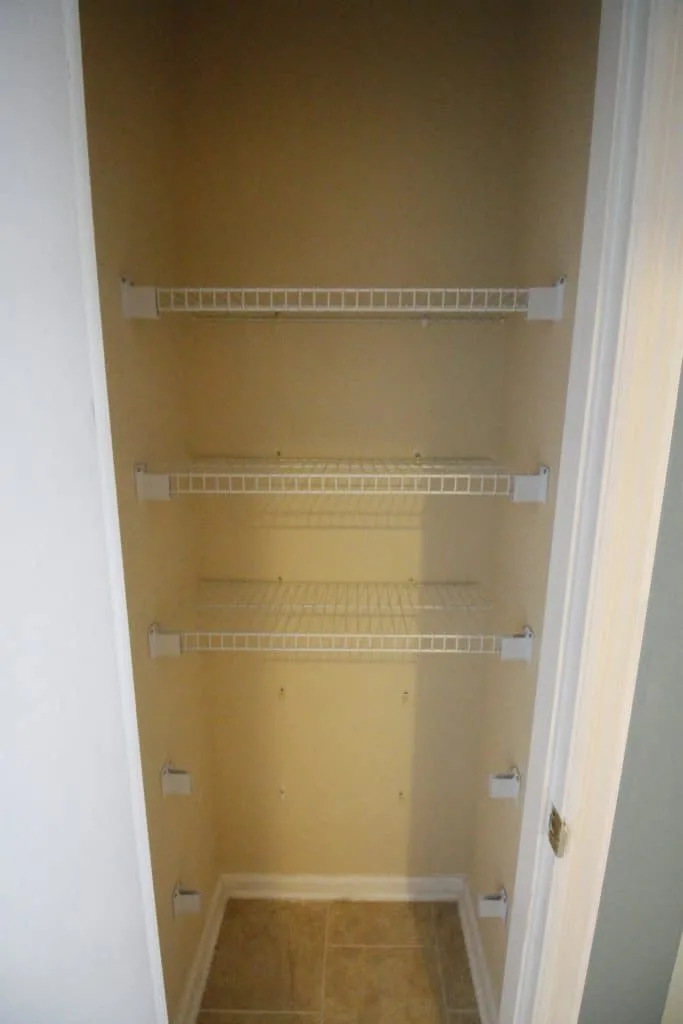 I am so excited to finish this space in the next week. All we have left is tie/belt storage, adding some hooks and finishing touches, and taking final photos! I am going to get out my light kit and really try to capture the full space for you. I can't wait!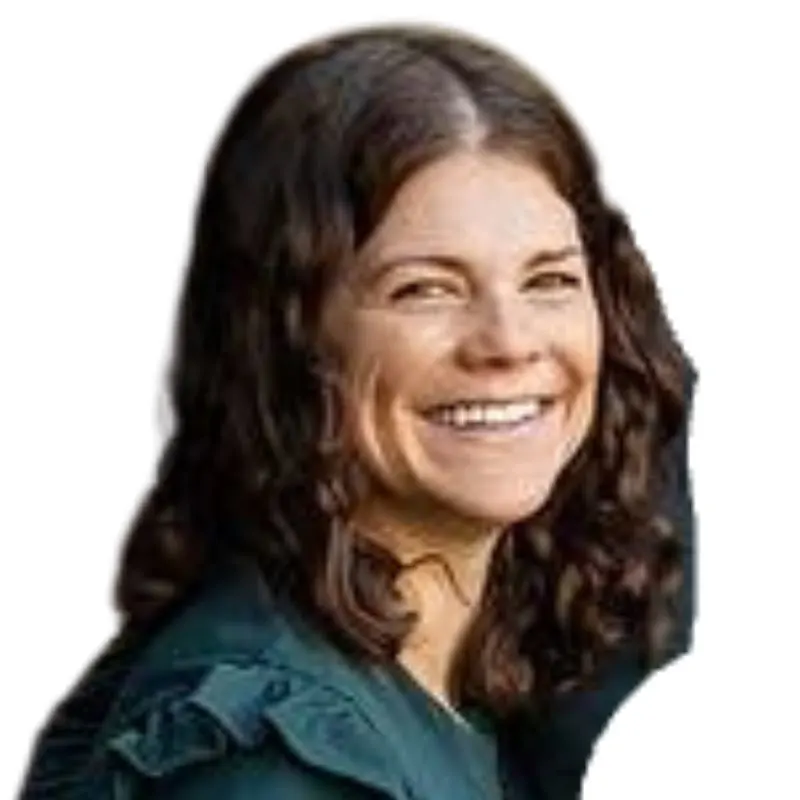 Hello, I'm Morgan, half of the creative force behind CharlestonCrafted.com! With a passion for DIY that dates back to 2012, I've transformed three homes and now I'm dedicated to helping others craft their dream spaces. Let's turn your house into a home together!