Considering a Rubbermaid shed? We got the Roughneck Storage Shed – here's all the details and our review!
Note: this post was not sponsored. We bought the shed full price (minus a coupon) from Lowe's. This is an honest review.
We have a two-car garage and an attic. That should be plenty of storage, right? Except, it's not. We have a whole workbench setup in our garage, which takes up a bit of space. We also have a ping pong table! While we have space for 2 cars technically, it leaves zero room for even walking around.
We plan on doing a full garage organization spree this year, and step 1 was getting some of the larger outdoor items (like the lawn mower) out of this space.
So, we wanted to share why we got a Rubbermaid Roughneck Storage Shed and our review of it.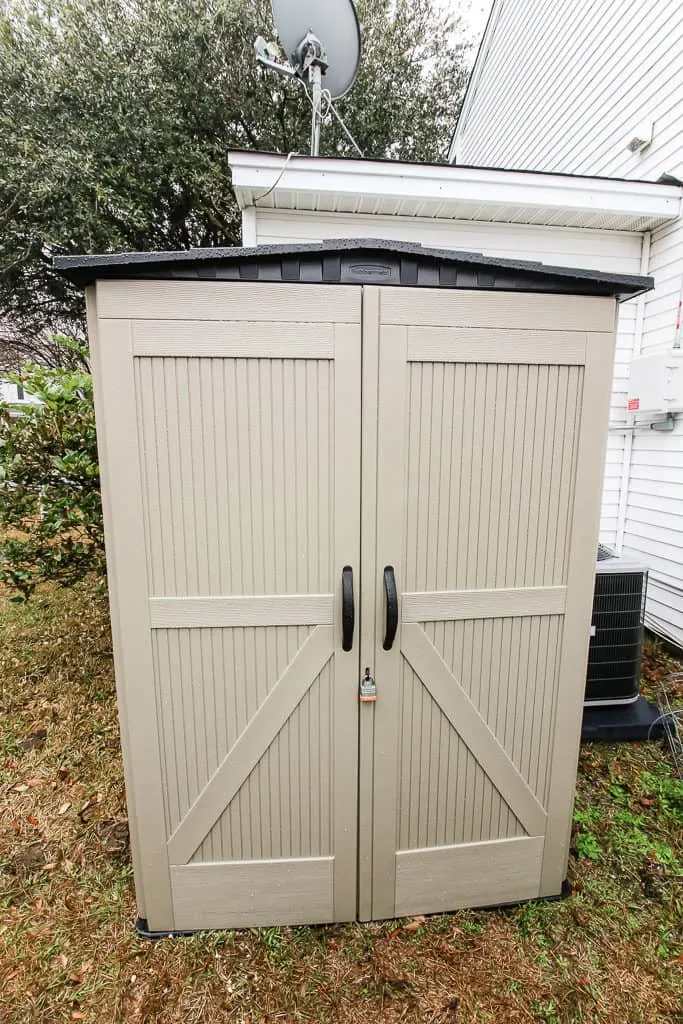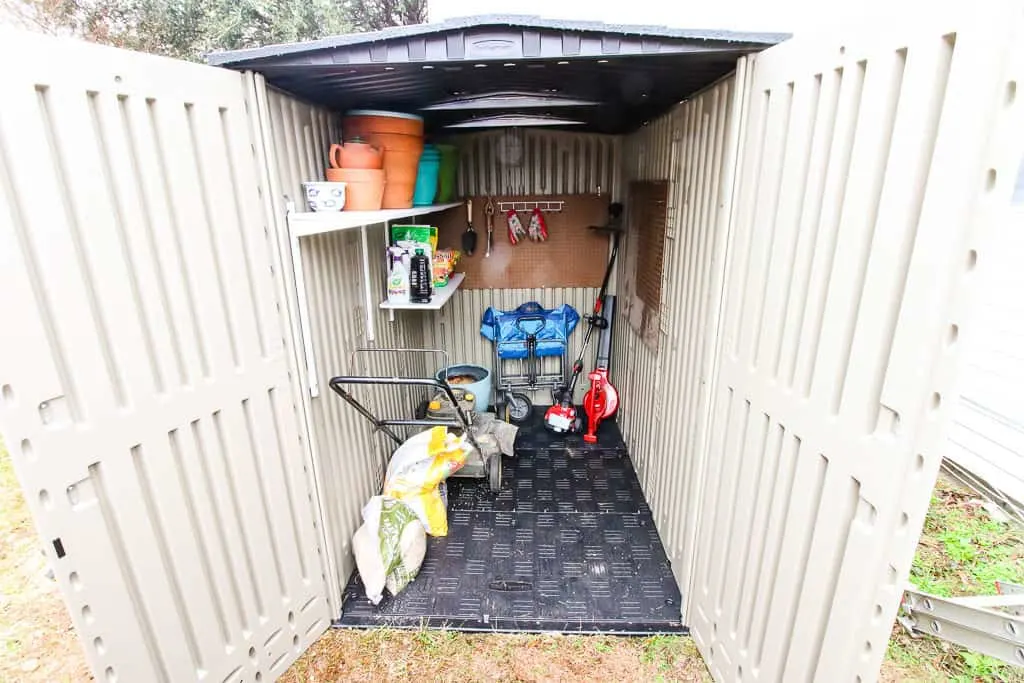 We needed a place to put all of our outdoor supplies in one spot and we figured a shed outdoors would be the best place for that. It was important to get something big enough to fit all of our outdoor power equipment, pots, gardening tools, dirt, etc.
I wanted something maintenance free so I was really interested in a plastic shed.
I love the material of this shed and how weather resistant it is. We live in a very humid area and we needed something heavy duty that would last!
We opted for the 5×6 large Rubbermaid Roughneck Storage Shed because that was the only one that could fit the lawn mower.
Sean was a little skeptical at first that it would be too big and obvious, but it is tucked behind the garage and a bush and you can't see it from the front yard whatsoever.
The approximate dimensions of the large Rubbermaid Roughneck Storage Shed is 52″ x 72″ x 72″ tall
Buying the Rubbermaid Storage Shed
When we picked it up at our local store (Lowes), it was so much bigger than we anticipated. We had ordered it online with in-store pickup, so we didn't know the size of the box and holy moly.
It took four people to lift it into the back of Sean's truck. The two of us were able to slide it out and onto the ground and then we just had to carry it piece by piece to the back yard. Luckily, each panel is plastic and not heavy at all.
So, be prepared and maybe have some helpers on hand to get this thing into place!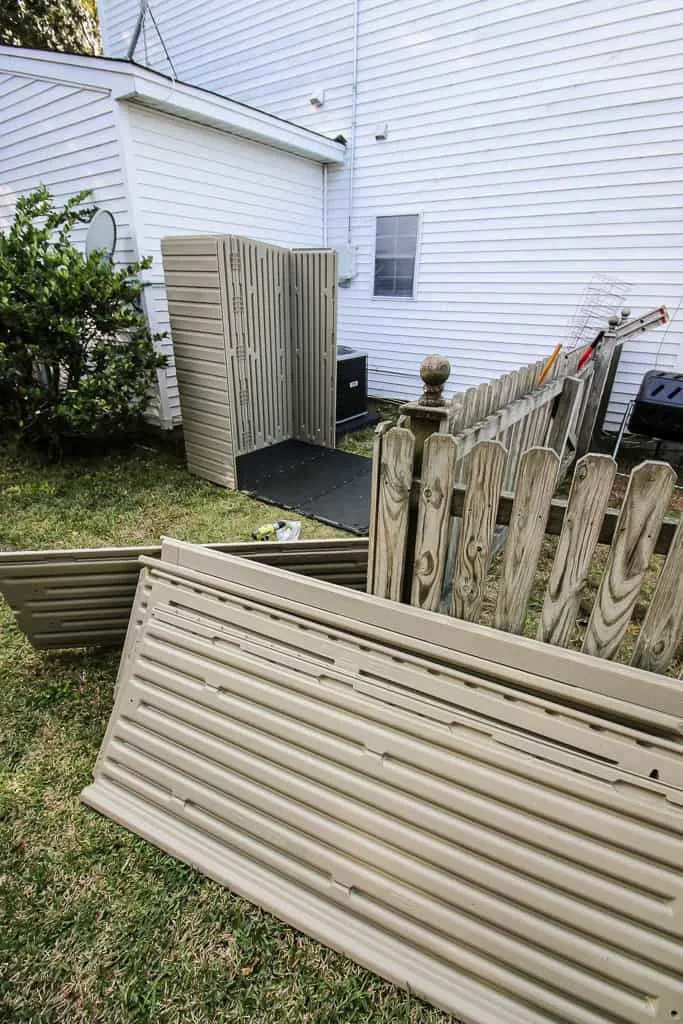 Assembling the Rubbermaid Storage Shed
Assembly was a breeze. The instructions were extremely easy to follow and went step-by-step with each piece properly labeled.
We won't bore you with the how-to setup because the instructions are seriously easy to follow. The entire thing took less than an hour and the space was big enough for a yoga studio.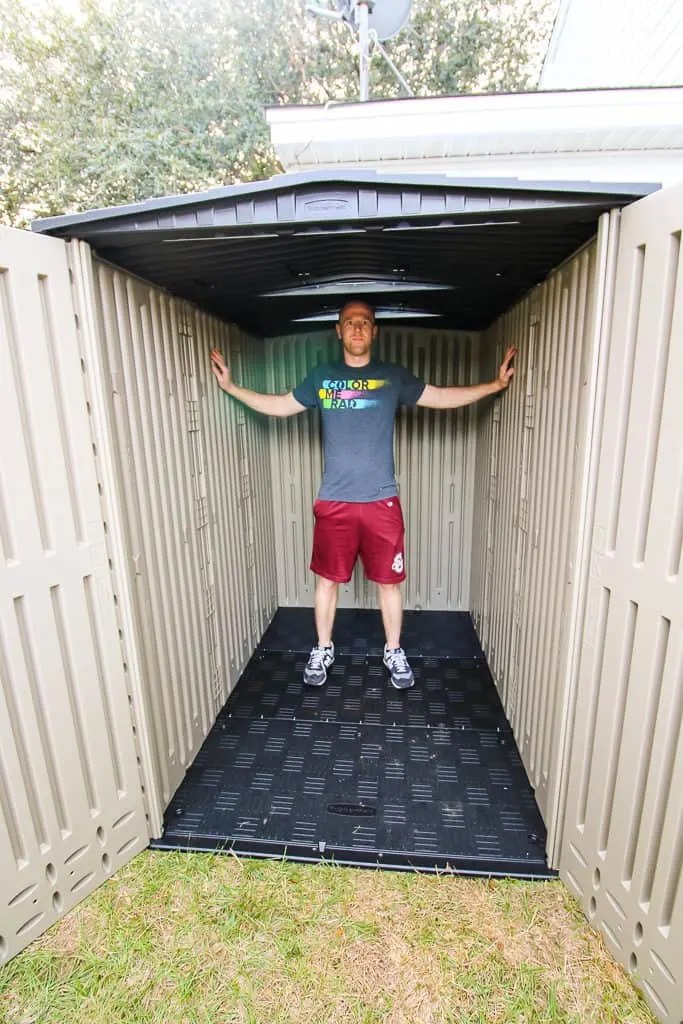 Accessorizing the Rubbermaid Storage Shed
We customized our shed by adding shelving and pegboard that we cut to size. The shed is plenty large for a few rows of shelves, pegs and stuff on the ground.
The only thing to remember when customizing with accessories is to make sure you can still get in there and move around, otherwise you won't use it to its full potential.
The double walled construction of the shed makes it possible to mount hooks or shelves without them being visible from the outside of the shed.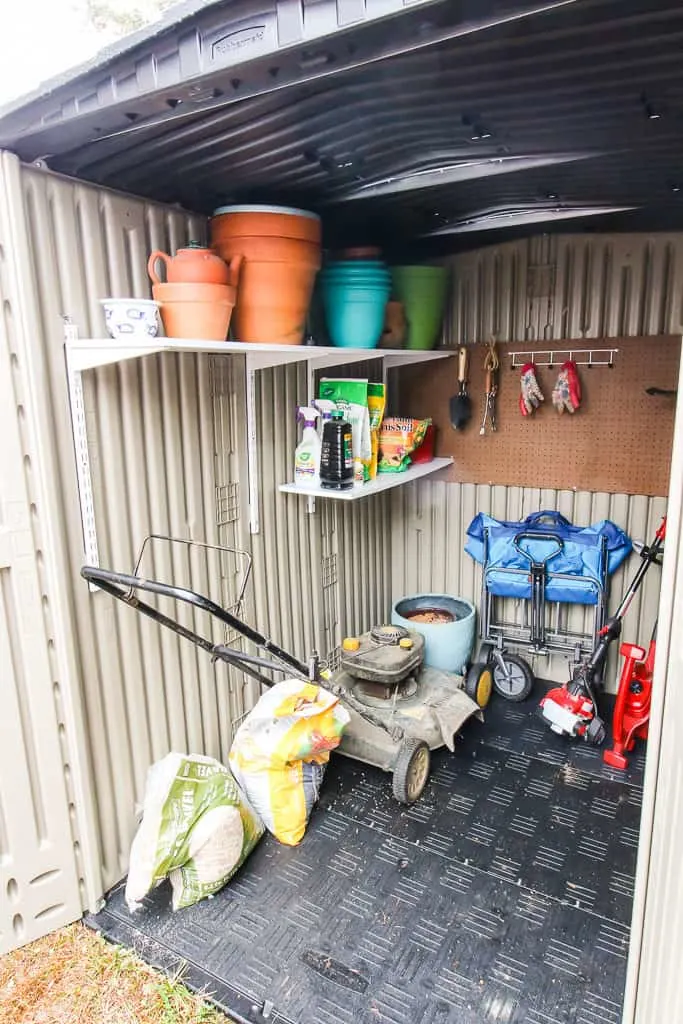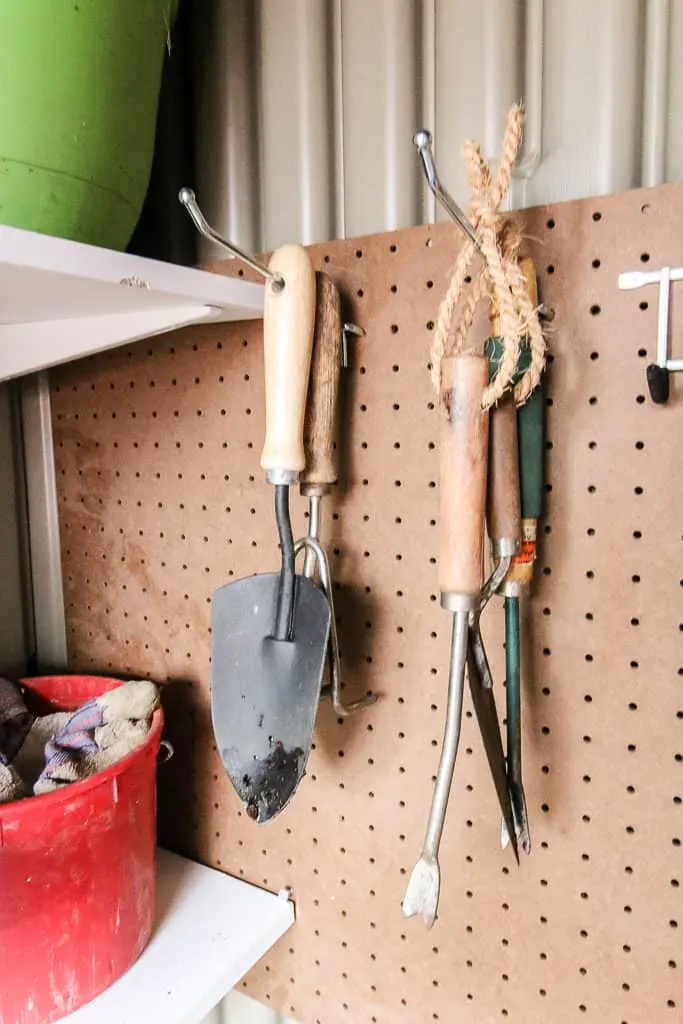 Using the Rubbermaid Storage Shed
We're loving our Rubbermaid Roughneck Storage Shed so far and can't wait to use it more in the spring. It is five feet from our vegetable garden, which will make things very convenient for working in there.
We'll also be able to keep all our outdoor equipment right outdoors and can access it with ease. Also, because people have asked, it is really well hidden by the bushes on the side of our house, as you can see (or not see!) below.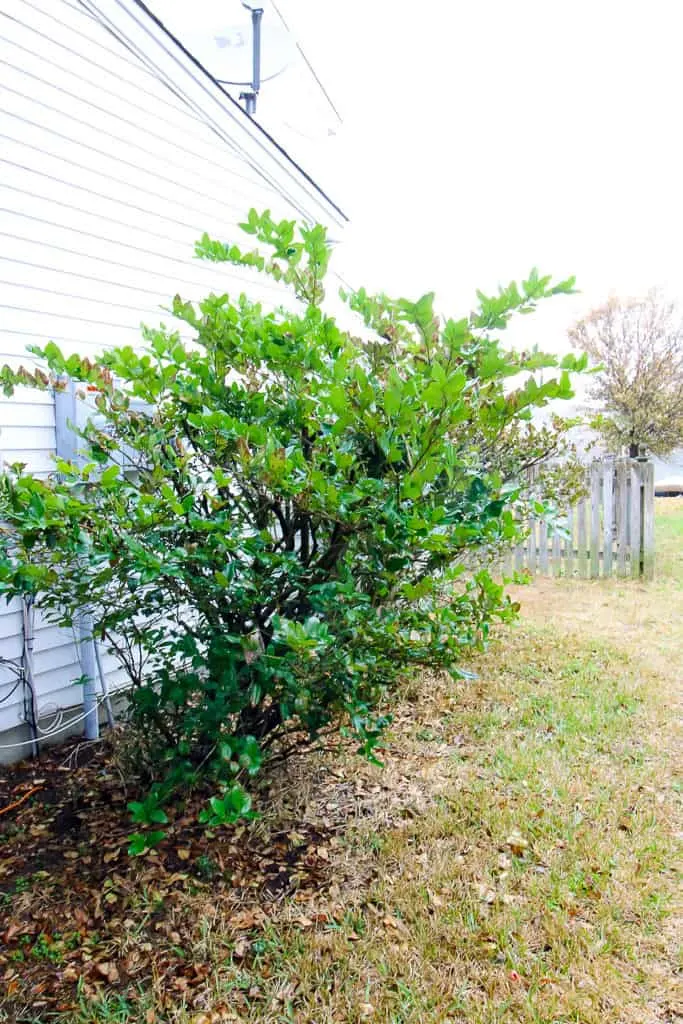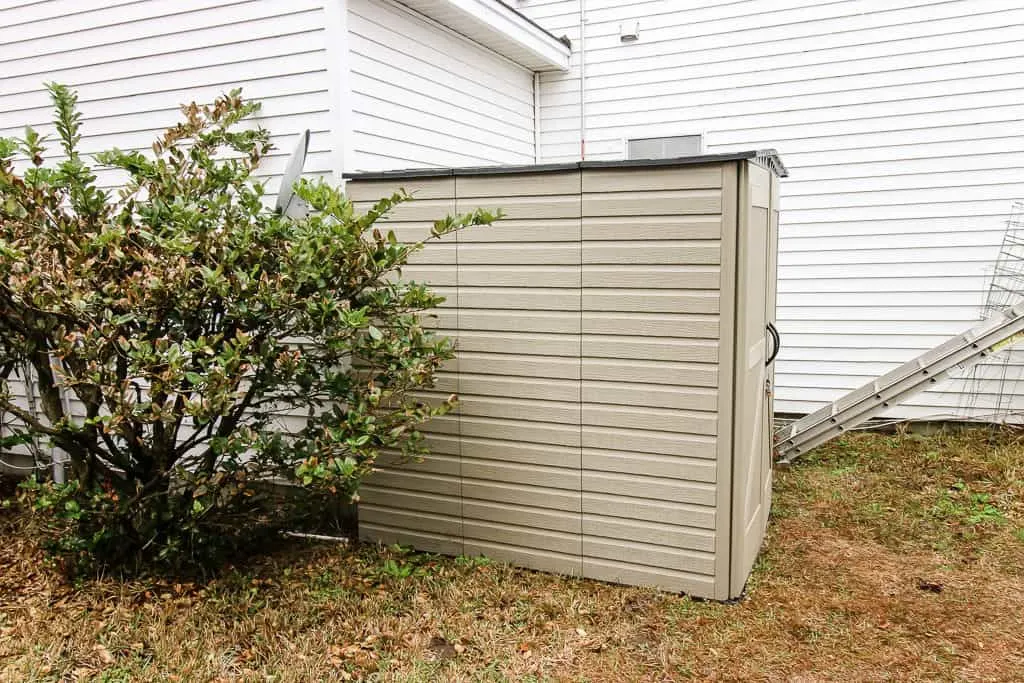 Do you recommend the Rubbermaid Roughneck Storage Shed?
That's a big YES from us! We love this shed! Make sure you have a way to carry it home, but otherwise – get the biggest one that will fit in your space!
**Update**
We used and loved this shed for 3 years before selling this house and moving to a new home. The new house is raised and we didn't need a shed for storage.
We actually were able to sell this shed before we moved almost for the full price we paid for it (it was during Covid so this was definitely a fabulous investment for our family!
Do you have a shed? How do you handle outdoor storage?