It's springtime and we are bringing you an outdoor rolling plant stand for your porch! This plant stand is perfect for porches. It can be rolled out for a sprinkle of rain or rolled indoors in the cold winter nights.
Outdoor Rolling Plant Stand
We have so many small potted plants from trying lots of propagation. This past winter, we were carrying things into the house one by one and it got to be annoying. We had an old bar cart there holding some stuff, but it was a jumbled mess that barely rolled.
So we designed this outdoor rolling plant stand to be the perfect solution for holding plants on our screened porch. It tucks nicely into the corner of our porch.
The stand is tall and tiered, giving us multiple levels for plants. Plus, we added four wings to put some smaller pots or vine-y plants to drape down.
Check out our DIY deck rail planters for more outdoor planting!
Construction
This rolling plant stand was built to withstand being outdoors. While it is not in directly impact from the elements, we will want to roll it out to get wet in the rain. Therefore, we built the frame with treated 2x2s and used cedar planks to create all the shelves.
We used the amazing cedar planks from CedarSafe. These are the same planks we used when we built our over the toilet storage for our bathroom. CedarSafe planks are so easy to work with, all while looking and smelling great. CedarSafe planks naturally resist bugs, which is great since this is already outside. We love the tung and groove design of CedarSafe's planks, which was perfect to create a tight seal to form the shelves and wings.
The planks are cut to length and simply nailed into the frame of the stand with a brad nailer. Our plans are designed to fit the size of the planks.
Plans
We've got the full plans ready for you to download and build this outdoor rolling plant stand yourself. The whole thing only requires a couple of 2x2s, a box of CedarSafe planks, and some casters. This project is simple to build and makes a huge impact. We'd love for you to build it and share with us your results!
Thanks again to CedarSafe for partnering with us on this outdoor rolling plant stand. CedarSafe is an easy, DIY-friendly, green, 100% natural product that is made entirely in the USA. We really enjoy the versatility of the cedar planks and can't wait to use them for some more projects!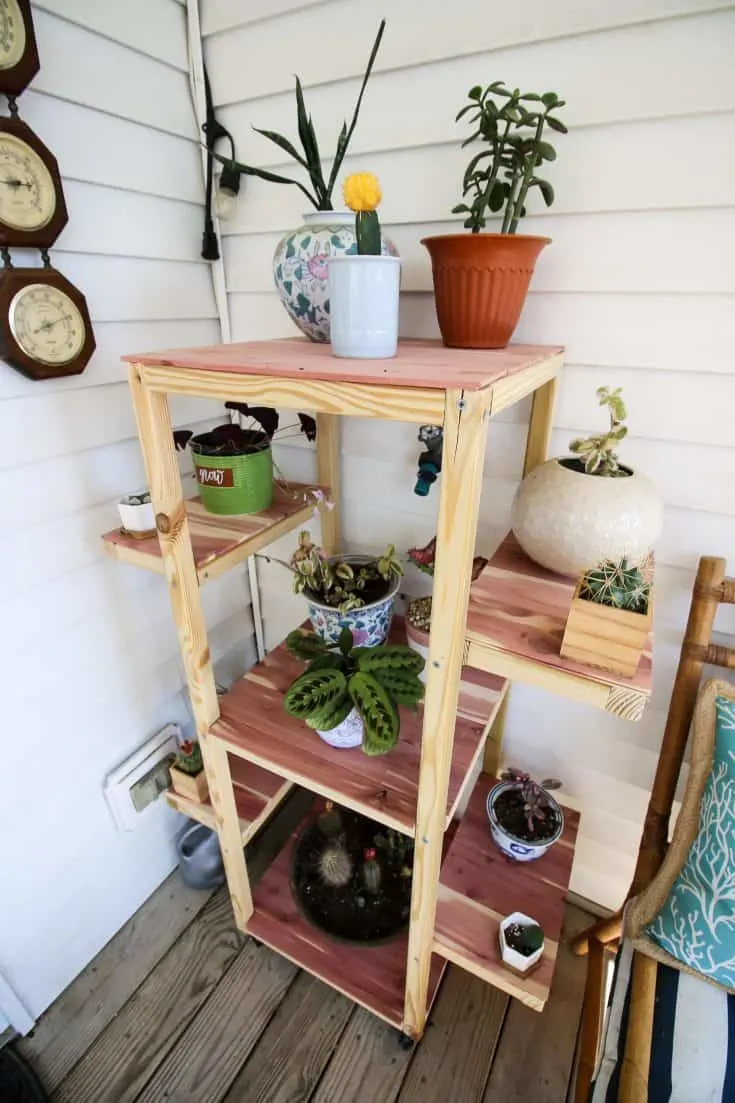 Yield:

1
Outdoor Rolling Plant Stand
This outdoor rolling plant stand is perfect for your porch to keep small potted plants and be able to roll them into the rain or inside if it's too hot or cold.
Materials
(6)- 8' 2"x2" treated boards
(1)- box of CedarSafe cedar planks
(4)- 2" casters
screws and brad nails
Instructions
Make your cuts for the frame:
(4)- 48"
(20)- 15"
(8)- 6"
Create the inner tower of the plant stand by attaching 15" pieces to the top, bottom and center of each of the 48" pieces. This creates a tall rectangular form.
Build and attach four wings evenly spaced between the top/middle and middle/bottom on opposing sides of the frame. For each one, form a rectangle by attaching two 6" pieces to the inside of two 15" pieces. Then attach them to the inside of the frame.
Cut 18" cedar planks for the three platforms in the middle and 9" cedar planks for the four wings. Place them on the platform with the tung and groove, then nail into place.
Screw casters into the bottom corners of the stand.
Recommended Products
As an Amazon Associate and member of other affiliate programs, I earn from qualifying purchases.
This post was sponsored by CedarSafe, an easy, DIY-friendly, green, 100% natural product that is made entirely in the USA. All opinions are our own and our opinion is that we love CedarSafe planks. Thank you for supporting the brands that make Charleston Crafted possible!