Interested in painting a color block wall in your room? Here is the easiest way to DIY it yourself! No special tools needed!
When planning our guest bedroom makeover, I quickly decided that I wanted to use Behr's Tower Bridge as the wall color.
There were a few reasons:
1. I am really vibing some green lately.
2. We already had a gallon and a half of leftover paint (leftover from Luke's dresser and room accessories).
3. I love how the color looks in the nursery.
4. I place a lot of value on continuity of color in our home. I like spaces to all flow together, even if they are not an exact match. This color would match the adjacent room (the nursery) and coordinate very well with the shade of blue of our laundry room and master bedroom.
I sold Sean at free left over paint so he was definitely on board.
However, I didn't want to just paint the walls green. It is a bit of a deeper color than I usually use for a room, and the room is pretty small. I wanted to brighten it up with a bit of a white accent.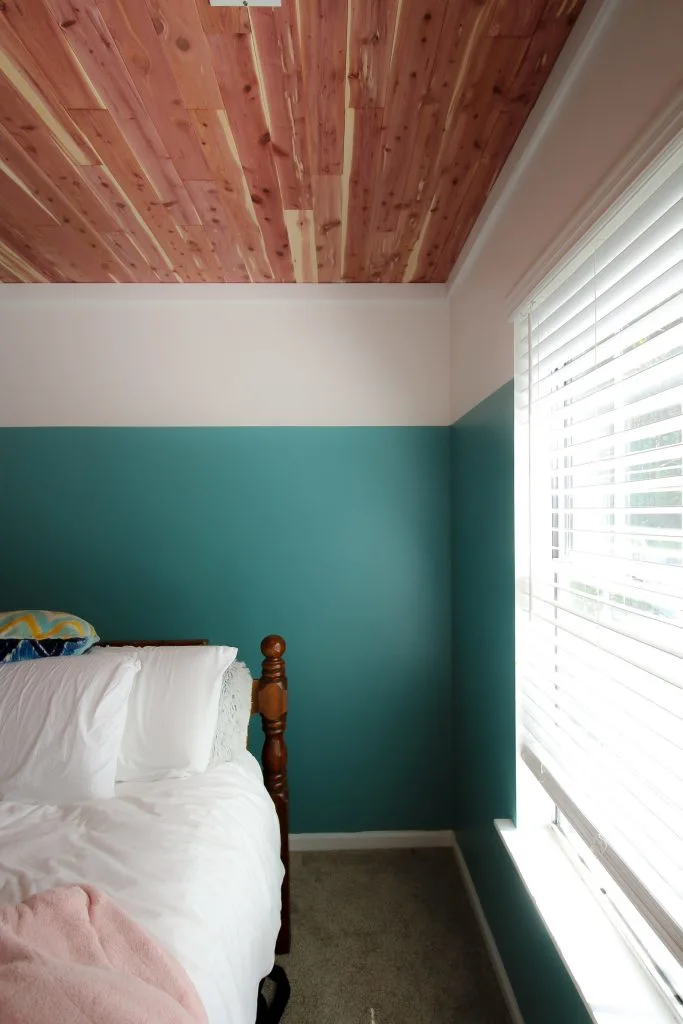 So, I decided to color block the walls, with 1/4 of the wall white on top and 3/4 green on the bottom.
How to paint a color block wall (the easy way)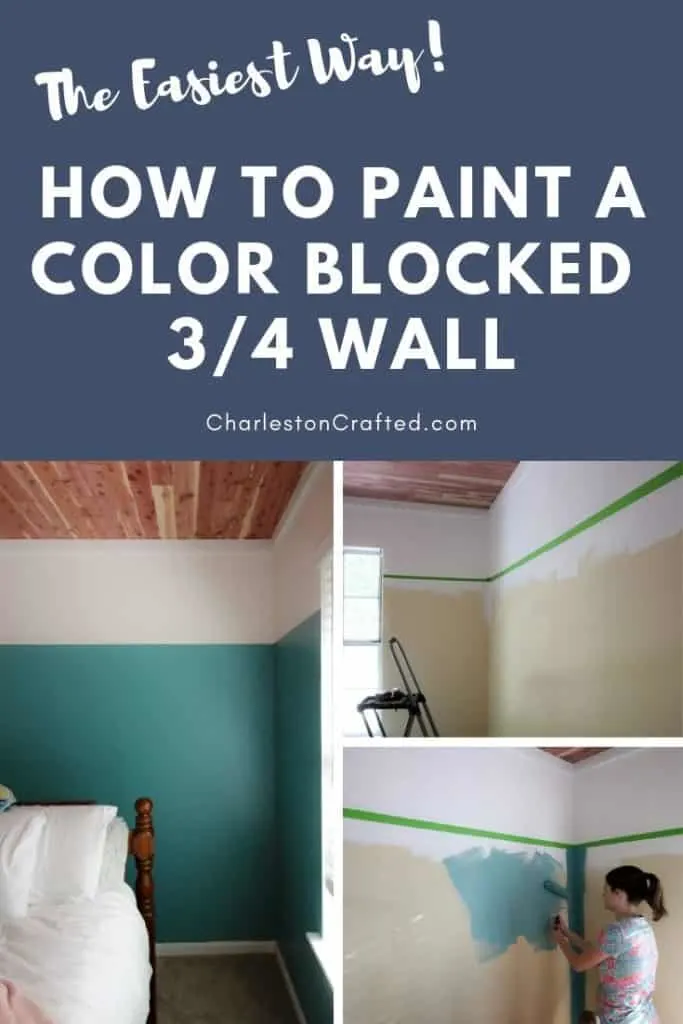 Decide where you want your color block line to fall. You don't have to do a horizontal line – think vertical, diagonal, any thing!
Paint your base color. For me, that was the white. I roughly decided how far down the white should go and then painted a bit further than that. Do your full 2 – 3 coats and let it dry for at least 24 hours.
Need help opening your paint can? Here is our tutorial on the best way to open a paint can without making a mess!
Measure for your paint line. I have 8 foot walls and measured 2 feet down from the top. I marked that spot on each wall and then used my laser level to make a straight line at that point.
Apply Frog Tape ABOVE your line. This way everything you paint will be under the line in the second color's section.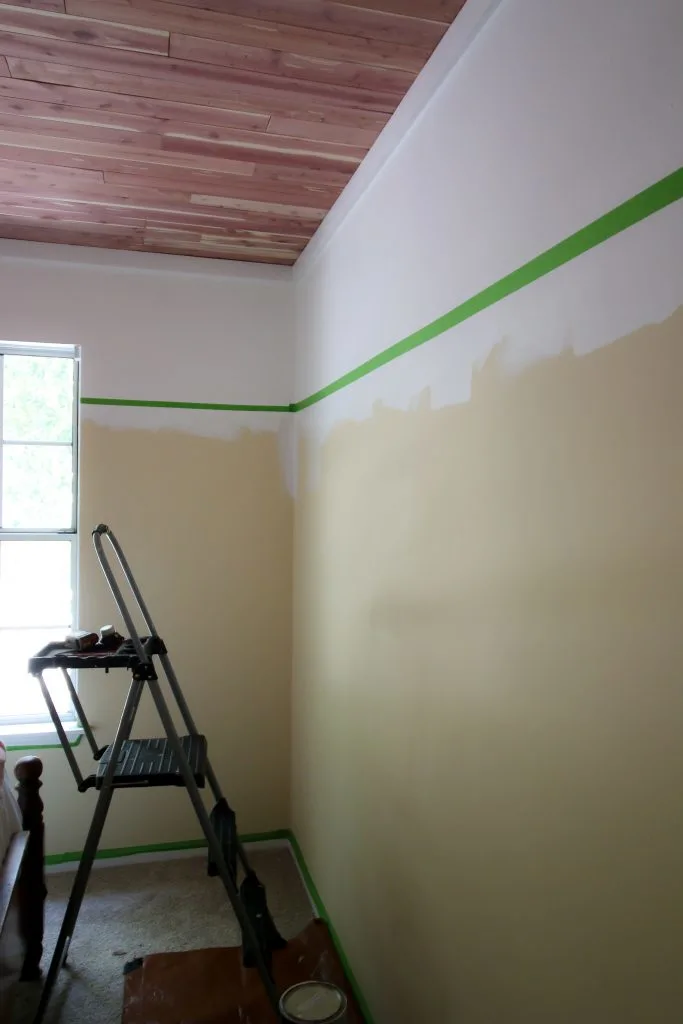 Use a wet rag to rub down all of your tape. This activates the color block technology. I wrote a huge post about how to use Frog Tape correctly!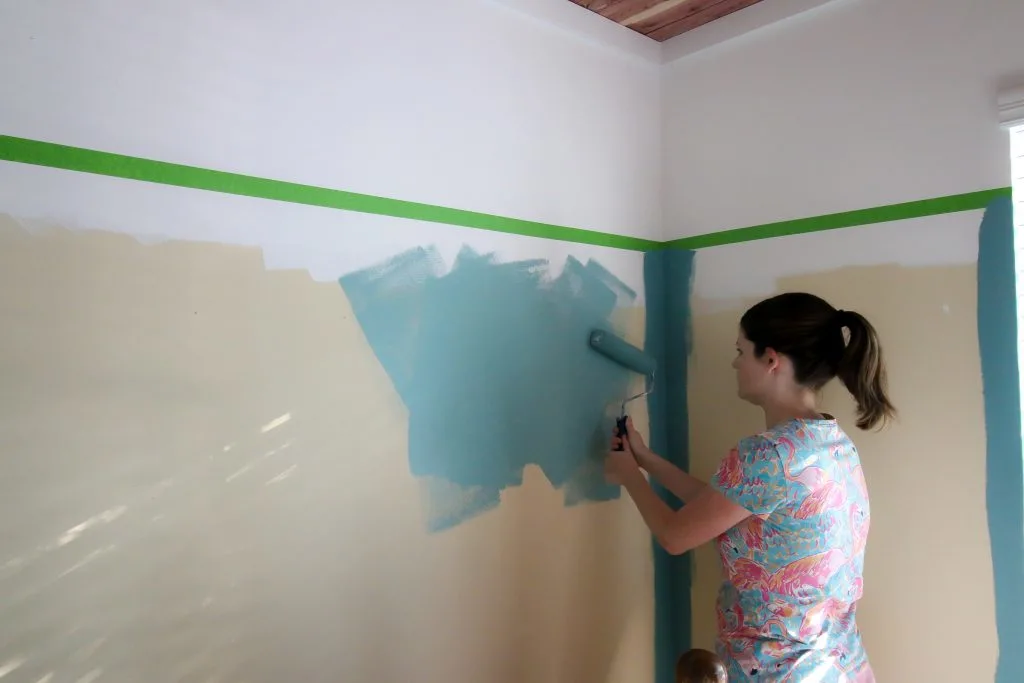 Paint on the paint line and below. Do your 2-3 coats.
Peel off the tape while the paint is still wet. This is crucial for crisp lines!
Enjoy your modern colorful gorgeous color blocked wall!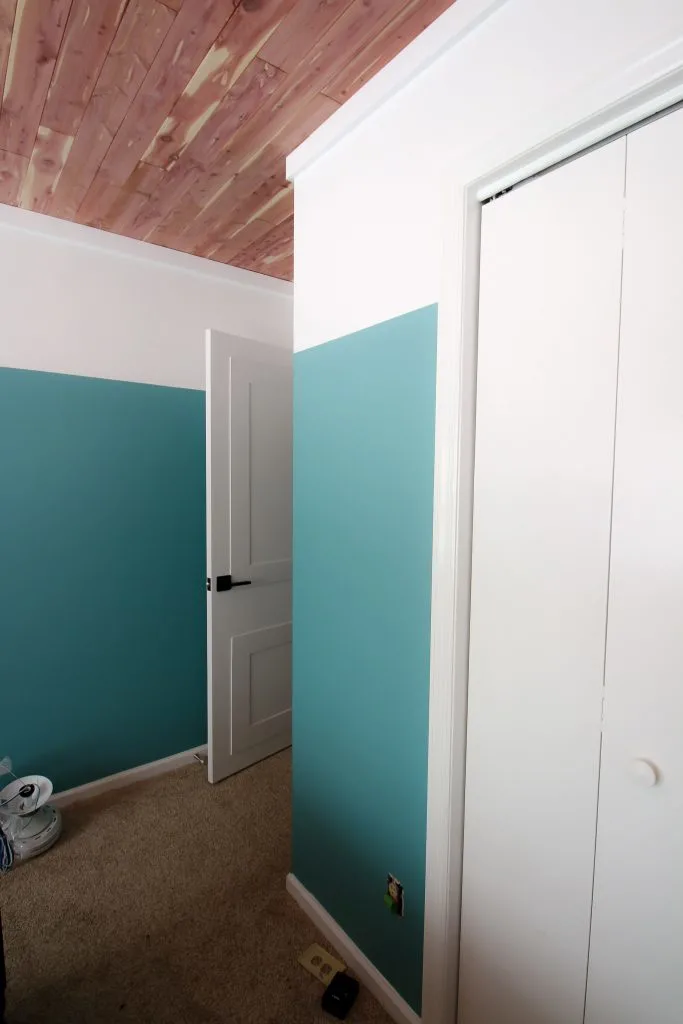 I am beyond in love with how this paint job turned out. The space feels modern, coastal, and almost California to me.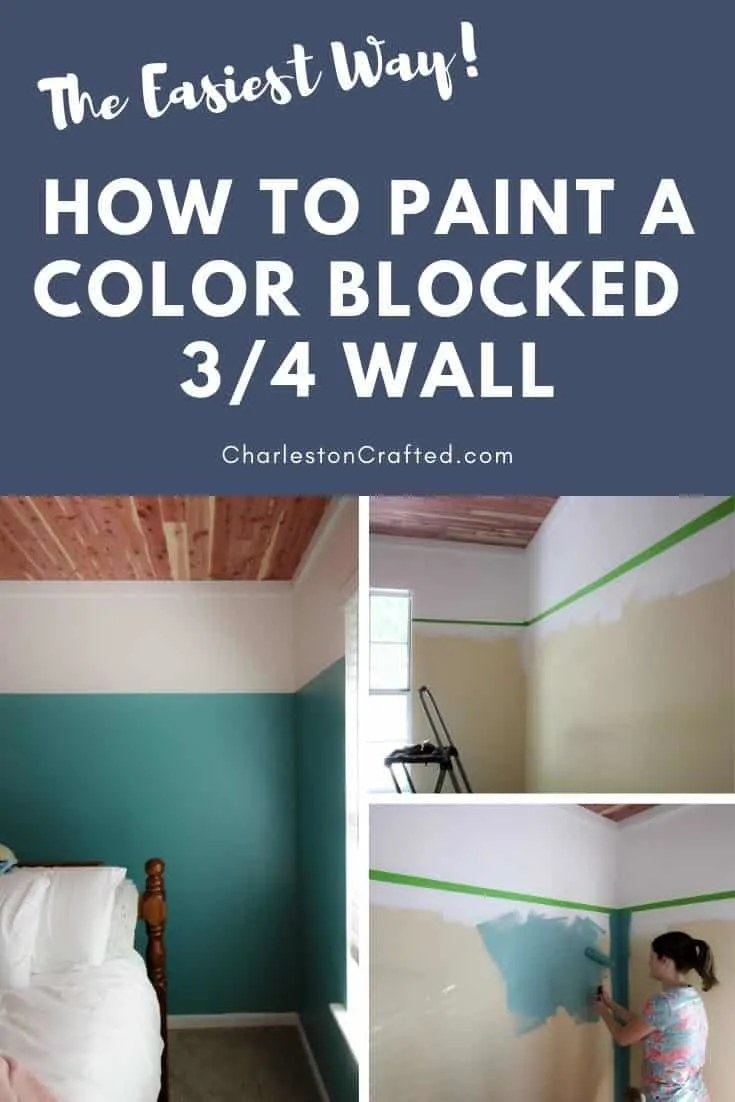 How to paint a color blocked wall
Total Time:
2 hours
30 minutes
Color blocked walls are a great way to bring a fun modern twist to your space. And they are easy and cheap to DIY! Here is how.
Materials
Frog tape
2 colors of paint (or more)
Damp rag
Tools
Paint roller
Paint brushes
Pencil
Level
Laser level
Instructions
Decide where you want your color block to be. It can be horizontal, vertical, diagonal, whatever!
Paint your base color. Paint 2-3 coats of that color all the way up to and slightly overlapping where you want the line to be.
Allow to dry for at least 24 hours!
Draw your paint line. I used a straight edge to mark 24" down form my ceiling and then used a laser level to connect those points with a straight edge.
Apply Frog tape just above your line.
Use a damp rag to seal the painters tape well.
Paint below the tape including overlapping the tape.
Apply 2-3 coats, as needed.
Peel off the tape while the paint is still wet.
Recommended Products
As an Amazon Associate and member of other affiliate programs, I earn from qualifying purchases.