Today, we're showing you the easiest way to build a platform bed with legs for under $50! This project is so easy and makes a huge impact.
We have been making over our guest bedroom, with furniture builds like midcentury side tables and a console table, and a color block wall.
The old dark wood 80's bed just wasn't going to cut it, so we built a platform bed in one day for less than the cost of Thai food takeout.
How much does it cost to build a platform bed?
We built this bed for $50 worth of wood.
It will cost you more if you don't have stain, screws or a pocket hole jig on hand, but that won't add much to the cost.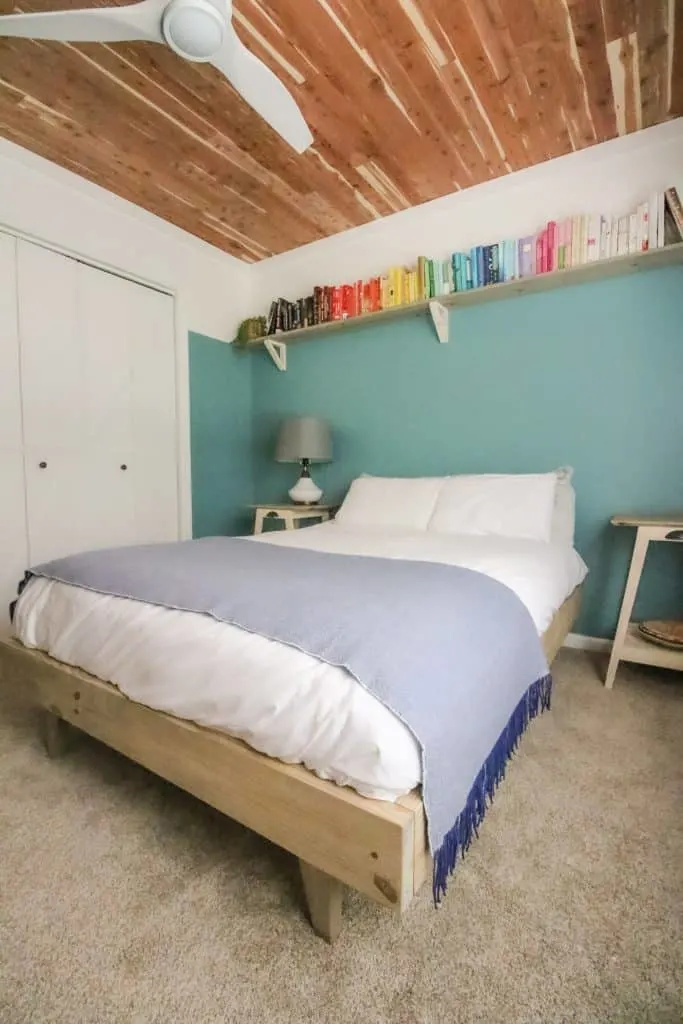 DIY Platform Bed
The main thing to consider with a platform bed is how high you want it to be from the ground.
We chose 9 inches because we have our rolling under-bed storage for wrapping paper underneath.
It was important that our platform bed have legs so that we could take advantage of that precious storage space!
When making your measurements for a platform bed, the inner dimensions of your bed frame need to be the same dimensions as your bed.
We built this for a double/full size bed, and the standard dimensions are 53″ x 74″.
Click here to get a PDF copy of these plans sent to your inbox.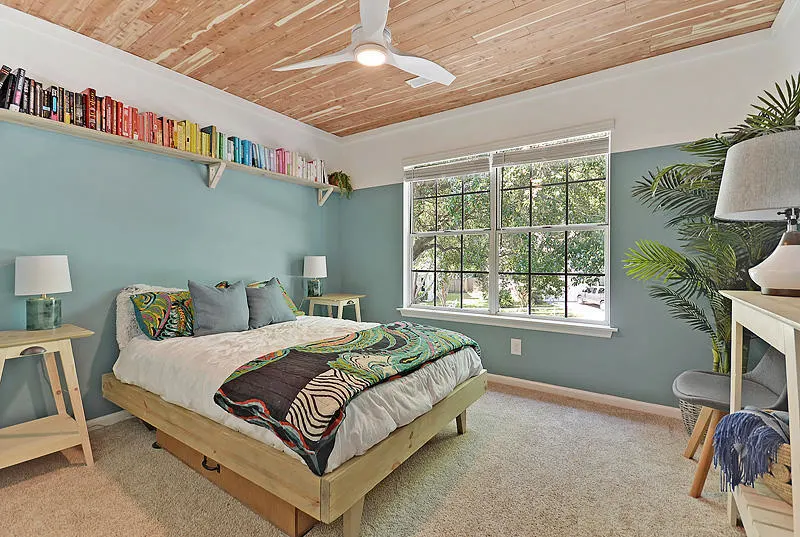 Want to make this bed in a different size?
We sell the plans to build a King sized platform bed and a Queen sized platform bed in our Etsy shop! Or, buy them all as a bundle!
How to build a platform bed frame
There are lots of ways to build a platform bed with all sorts of styles. This is a simple box bed with legs and slats.
We started by cutting and sanding all our wood to the dimensions needed (see the how-to card below for the full cut list).
Here are a bunch of beds that you can build using a Kreg Jig!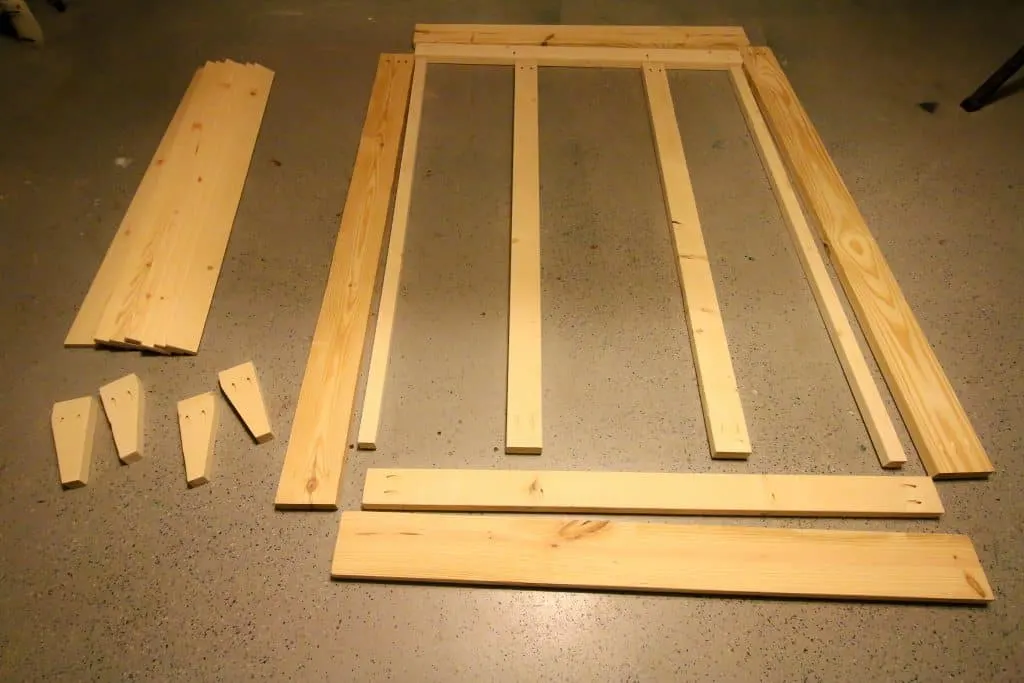 All the pieces in this build are attached using a Kreg Jig.
I usually use the Kreg 720 Pro, but since these are big, long 2x6s, it is a lot easier to clamp on the brand new Kreg 320 directly to the wood.
I absolutely love the 320. It is super user-friendly and great for beginner woodworkers.
The 320 has a thickness gauge which allows you to determine the exact thickness of your wood and then set everything on the 320 to that thickness.
You can set the jig itself and the stop collar on the drill bit to the same dimension to avoid any miscues.
This will also tell you what length screw to use. For the 2x4s and 2x6s used in this project, you need to use 2 1/2 inch Kreg screws.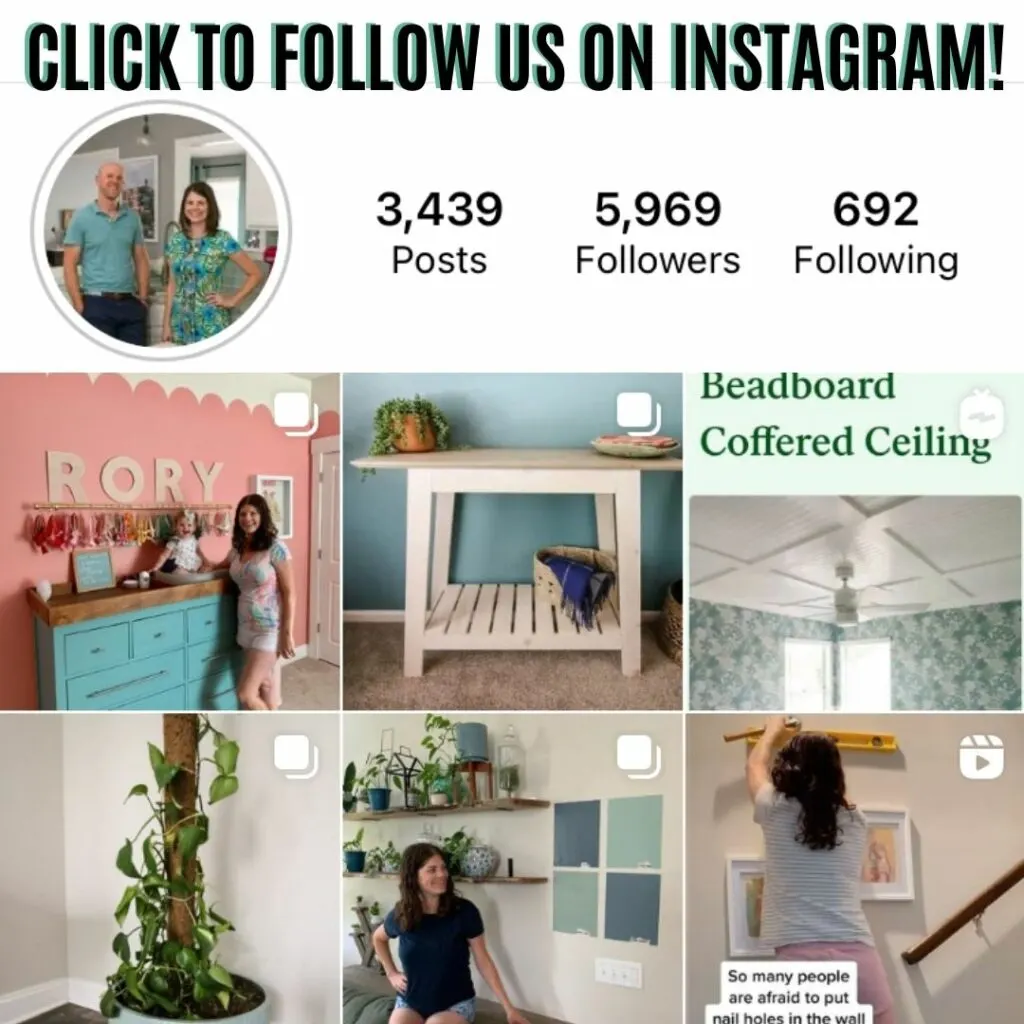 Steps to Build a Platform Bed
First step was to build the outside box frame by connecting the four sides of the bed.
Next, we attached support railings along the insides of each side of the frame.
Since we were using 2x4s, we subtracted 7 inches from the long sides and 3 inches from the short sides to account for the other pieces.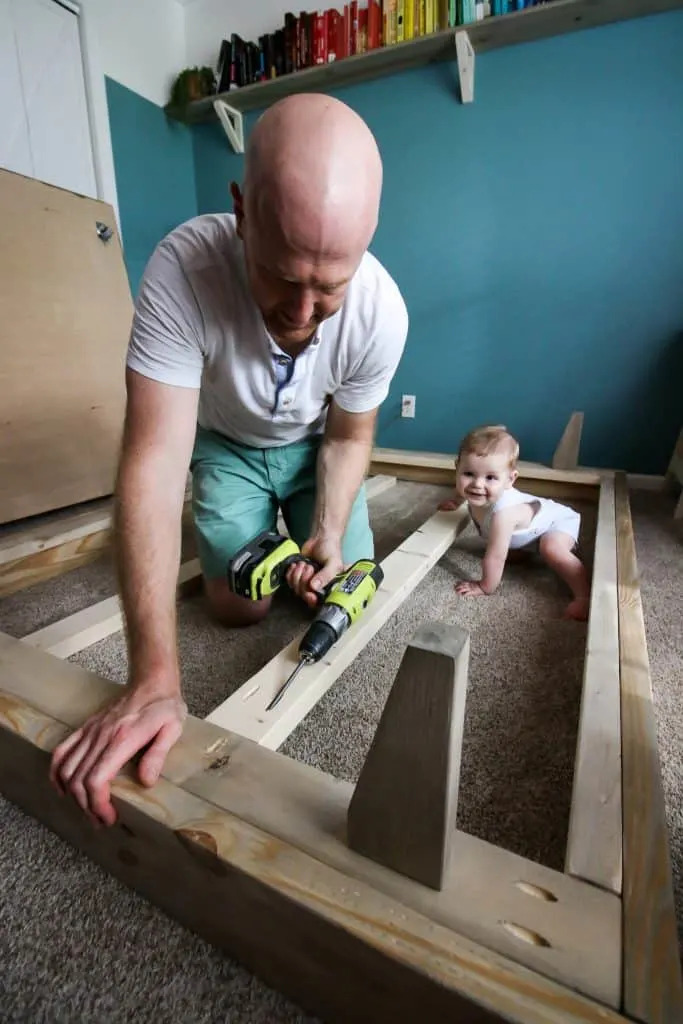 We added legs to the bottom of the 2×4 supports along the front and back.
We cut the same angled legs as we did on our DIY midcentury crib and IKEA Hemnes dresser hack.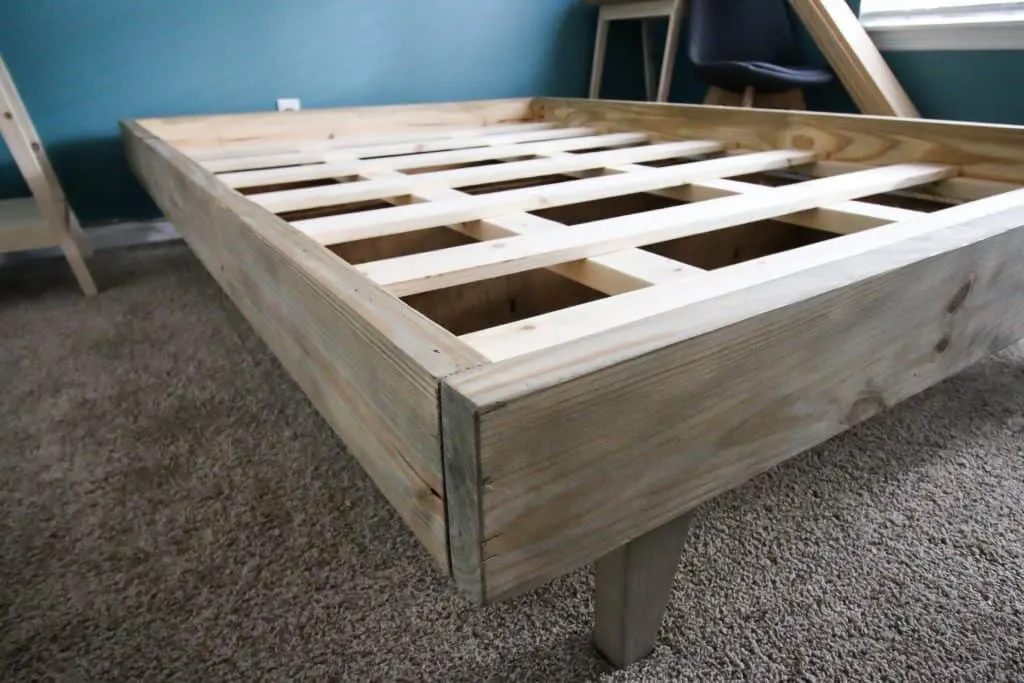 The last step is to add the support for the mattress.
We attached two more 2x4s down the middle length of the bed and then laid 1×4 slats across the width.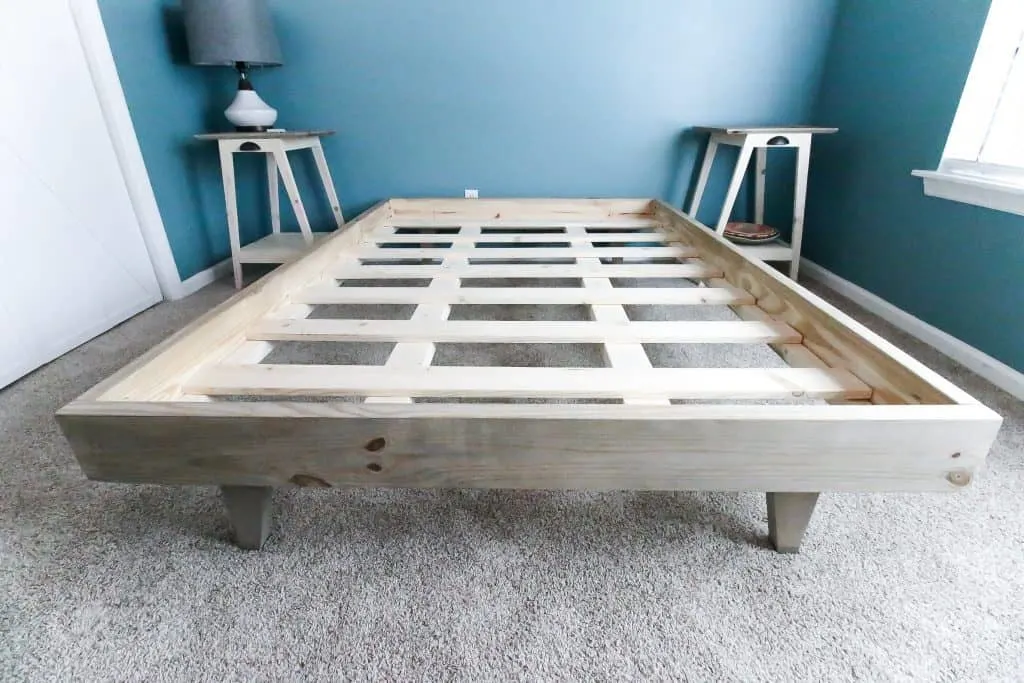 Final Results
We popped the mattress into the frame and it fit perfectly.
We're keeping the comforter and everything tucked down into the frame so that it stays prominent.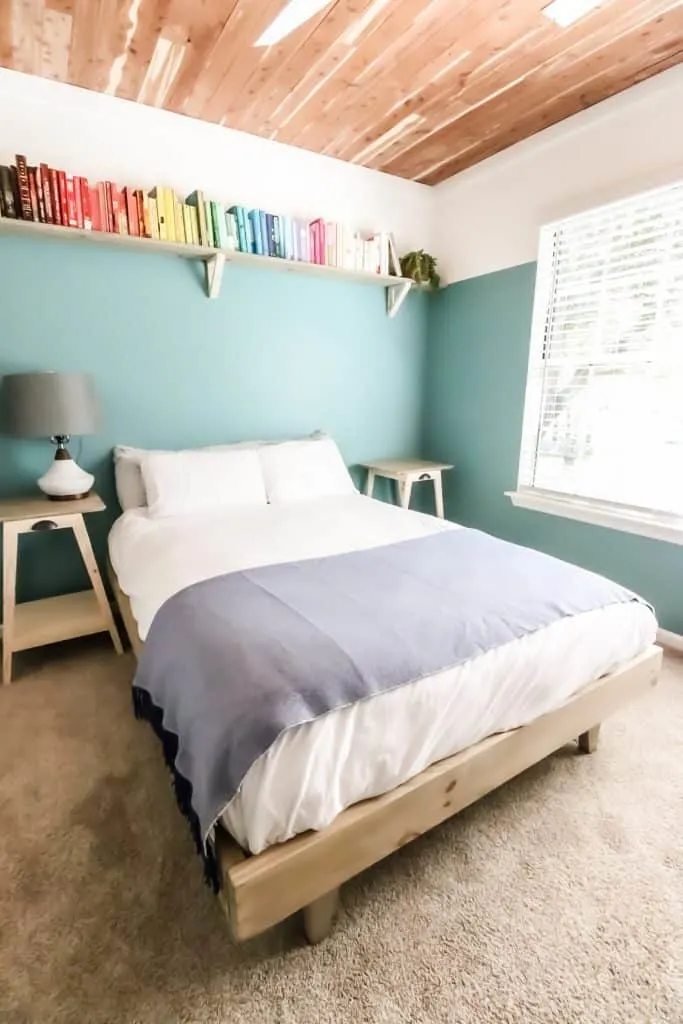 We love how this DIY platform bed turned out. It is sleek and modern and takes up much less space than the old bed.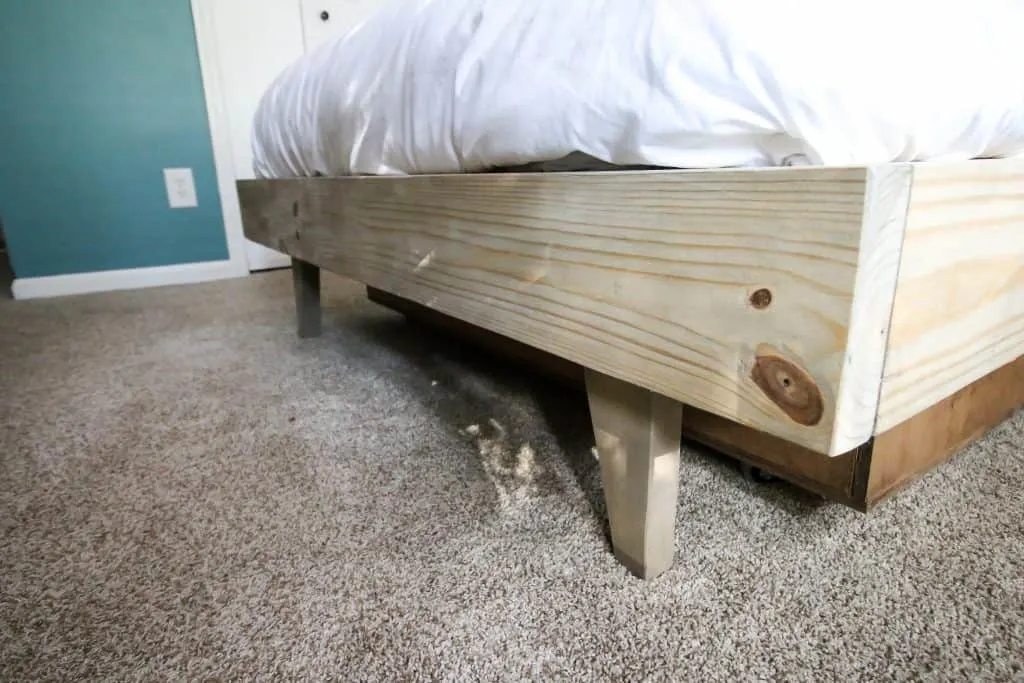 I love how we built this for $50.
Our plan before was to build casings to go around the old headboard and foot board because I was worried about building an actual bed.
Turns out this was so much easier than building casings would have been.
This build might seem like a larger-scale build, but it was extremely simple. It's a box with legs!
This is a great beginner woodworking project to really get you feeling like a pro.
It was all made so much easier thanks to the versatility of the Kreg 320 Jig.
We still need to build a headboard, but this plan for how to build a platform bed is super simple to follow!
What is the best wood to use for a platform bed?
You can use any species of wood to build this platform bed. We chose pine because it is the cheapest wood at the hardware store and we wanted to complete this project on a small budget.
Do I need a special mattress for a platform bed?
No, you can use any mattress on this bed. Just don't use a boxspring! That is the beauty of a platform bed – the mattress sits directly on the wood.
How much does it cost to build a platform bed?
There are a few factors that will determine how much it costs to build your platform bed. The main one is type of lumber used.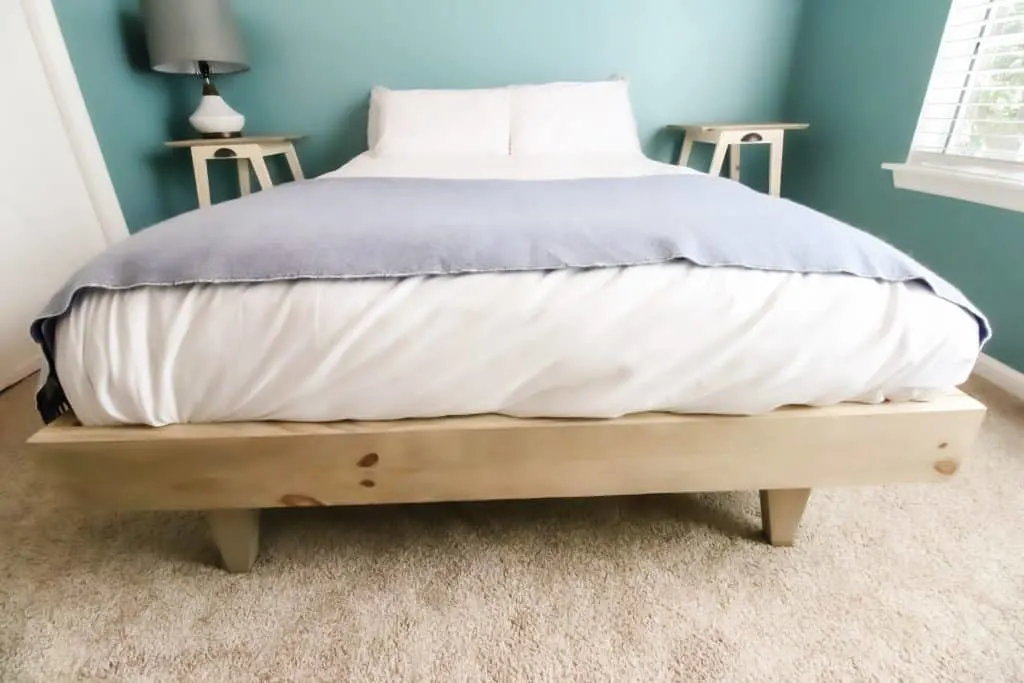 The second factor is what tools or supplies you have on hand or can borrow. We built this double sized bed for just under $50 worth of lumber – we had all of the tools on hand already.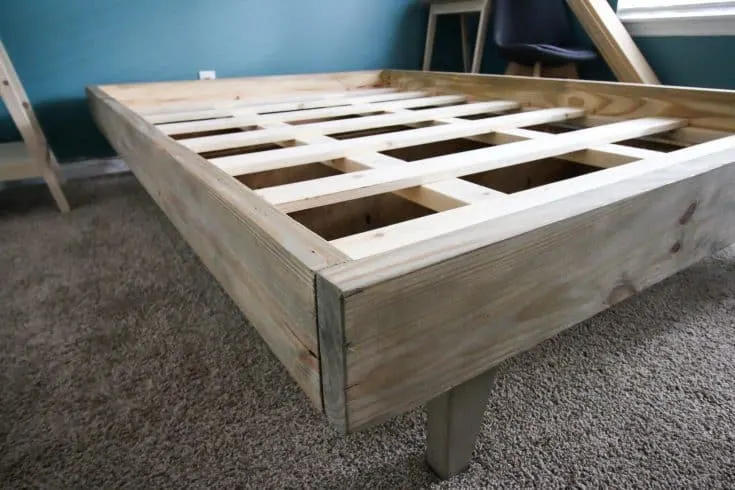 Yield:

1
How to Build a Platform Bed for $50
We're showing you how to build a platform bed for only $50 in materials. If you've ever wanted to switch to a platform bed and ditch the box spring and huge headboard/foot board, this is what you need. You can build this platform bed in just a day. Please note, these instructions are for a double/full size bed. If you want to build a platform bed for a twin, queen or king mattress, you can use the same instructions, but you'll need to scale them appropriately.
Materials
Four 2x6s
Four 2x4s
Two 2x2s
Ten 1x4s
2 1/2" Kreg pocket screws
Stain
Sealant
Tools
Miter saw
Kreg 320 Jig
Drill
Instructions
Make Cuts:
Front and Back (2)- 56" using 2x6
Sides (2)- 74" using 2x6*
Inner Side Supports (2)- 67" using 2x2
Front and Back Leg Supports (2)- 53" using 2x4*
Long Center Supports (2)- 67" using 2x4*
Slats (7)- 53" using 1x4
Legs (4)- 9" using 2x4
*-indicates to drill two pocket holes on each end
Cut your legs at an angle. Make a mark 1 1/2" in on the short side, then make a mark 2 1/2" down on one long side. Draw a line between them and cut off that corner. Drill two pocket holes on the top.
Attach the Sides to the inside edge of the Front and Back.
Attach the Front and Back Leg Supports flush on the bottom edge of the Front and Back. Add 2-3 additional pocket holes on the long side of the Supports to connect them to the Front and Back.
Attach the Inner Side Supports to the Sides by drilling through the Supports into the Sides.
Flip your piece upside down and attach the Legs to the Leg Supports 7" in.
Attach the Long Center Supports to the Front and Back Leg Supports evenly spaced.
Lay slats out evenly across the supports.
Stain and seal to your liking.
Pop in your bed and enjoy a well-deserved good night's sleep.
Notes
This bed is designed to be taken apart and reassembled. If you want to cut, sand and stain all your pieces in your workshop, you can then construct it in the bedroom entirely or build in the garage, take apart and reassemble.
Recommended Products
As an Amazon Associate and member of other affiliate programs, I earn from qualifying purchases.
This post is sponsored by Kreg Tool. All opinions are our own and our opinion is that we love Kreg Tool. Thank you for supporting the brands that make Charleston Crafted possible!