We're continuing on with the guest bedroom makeover with these DIY triangle shelf brackets! We've shared with you our cedar plank ceiling and our color block wall painting already. Once we had the frame of the room done, we could start with filling it in. We started by making these brackets and a wall-to-wall shelf over the bed for books!
DIY Shelf Brackets
These brackets are high impact and really cool. We wanted something unique and study to hold literally all of the books that we own.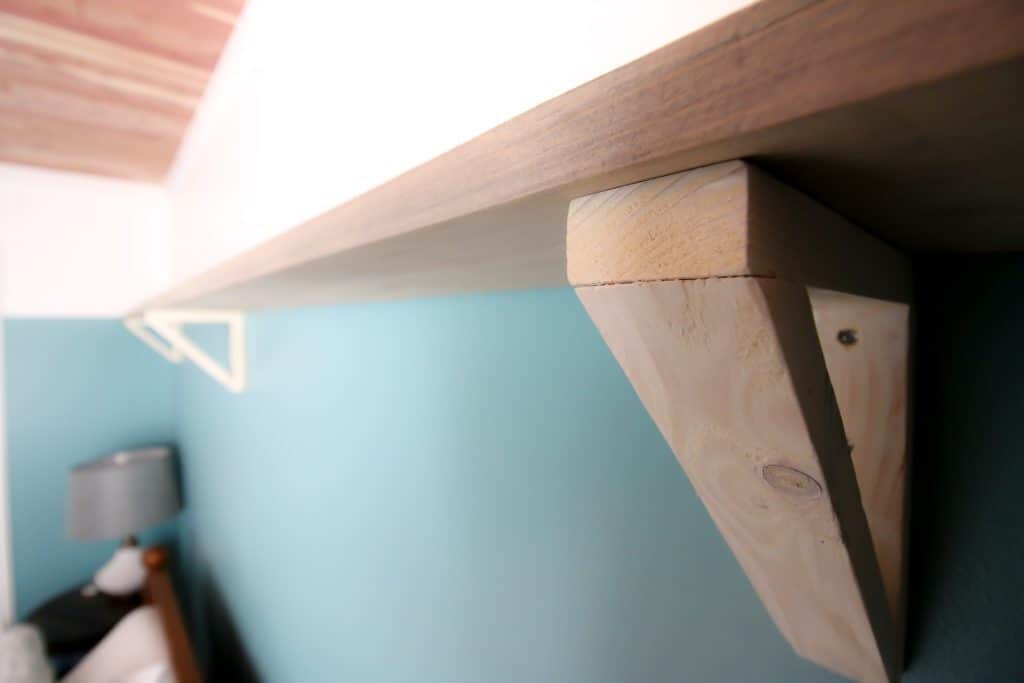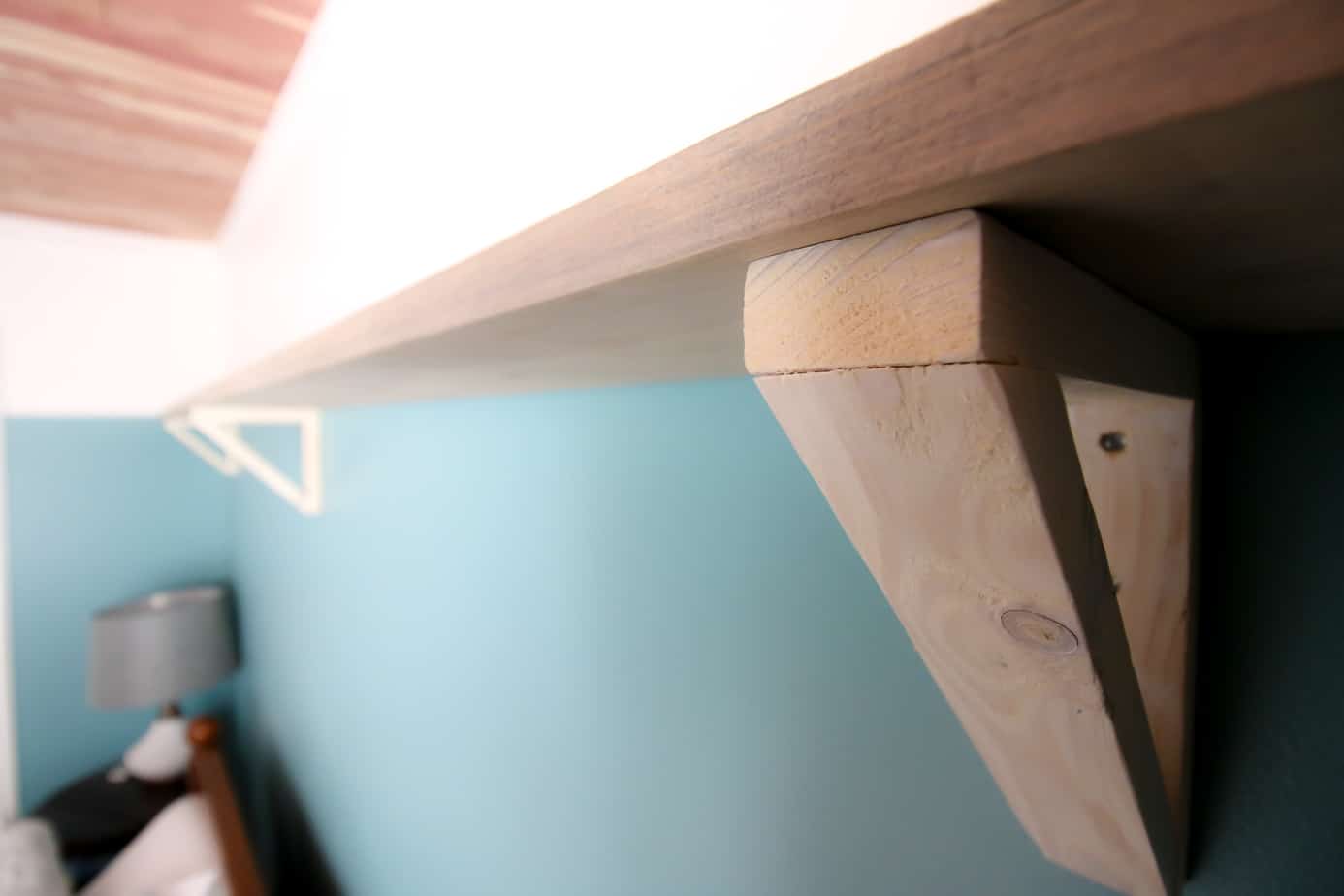 How to make triangle shelf brackets
Making a triangular shelf bracket is easy. It requires three pieces of wood. We made these brackets based on planning to hang a 1″x8″ shelf.
We used 1×3 lumber for these brackets, meaning they are 3/4″ thick by 2 1/2″ wide.
For each bracket, we cut three pieces- 7″, 6 1/4″, and 9″ (this one being beveled at 45 degrees on each end and the 9″ being the longest side.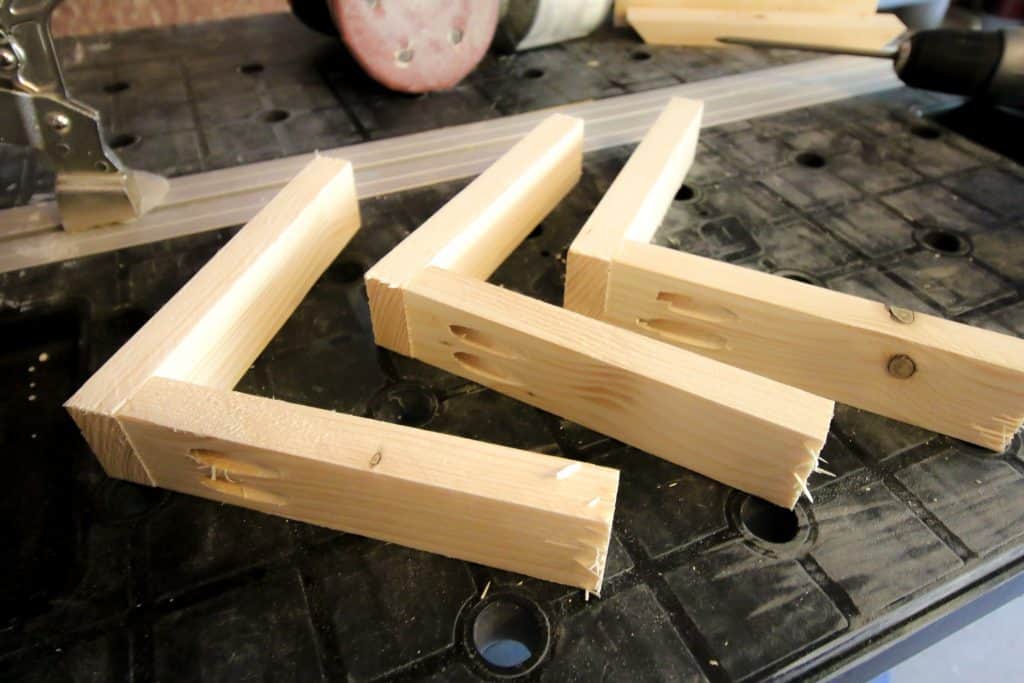 In the 6 1/4″ piece, we drilled two pocket holes and then attached this piece into the 7″ piece. Then we spread wood glue on the two cut edges of the 9″ piece and secured that to the angle of the other two pieces.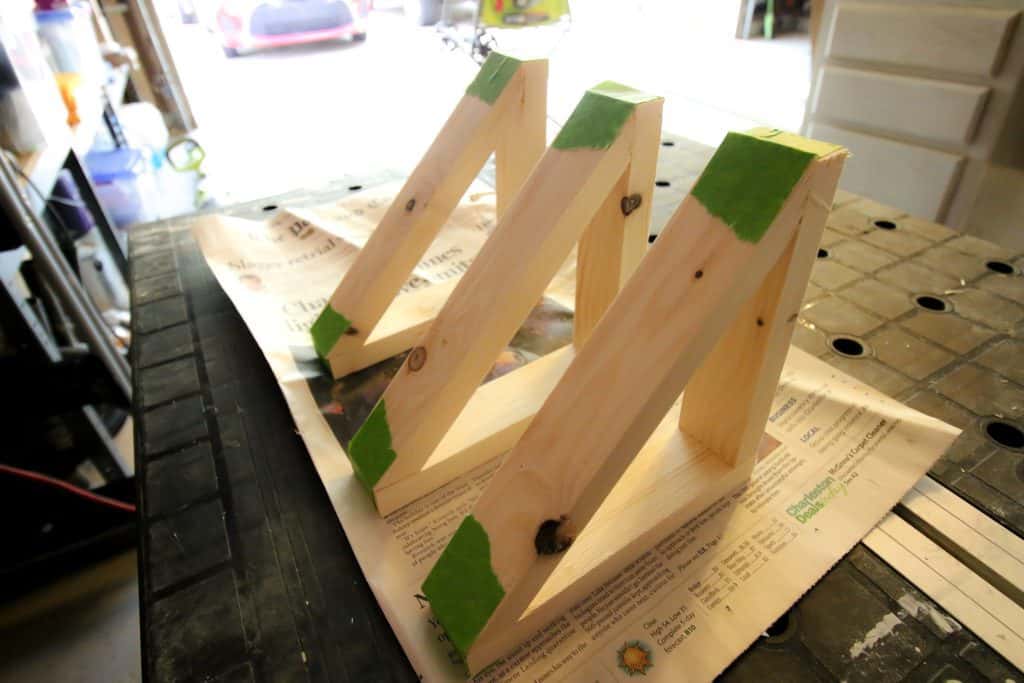 Once the glue was dry, we removed the tape and then stained the brackets with a white wash.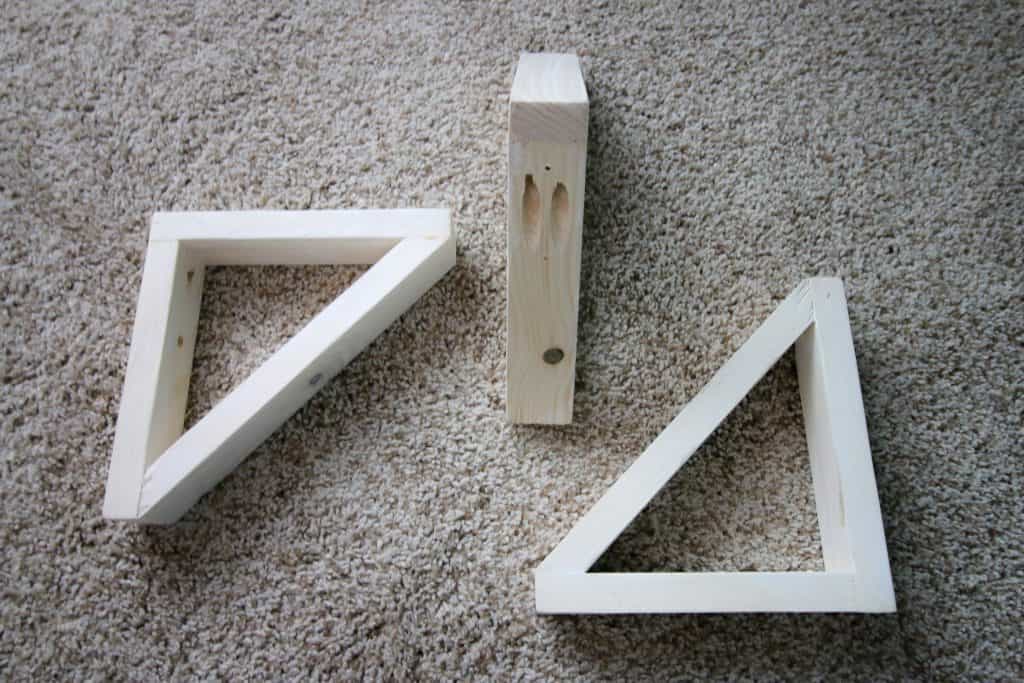 Shelf
For the shelf, we cut a 12 foot board down to the exact dimensions of our wall so it would go the full length. We stained the board with Varathane Weathered Wood Accelerator to create a similar look to the side tables. We wanted to have things match as best as possible.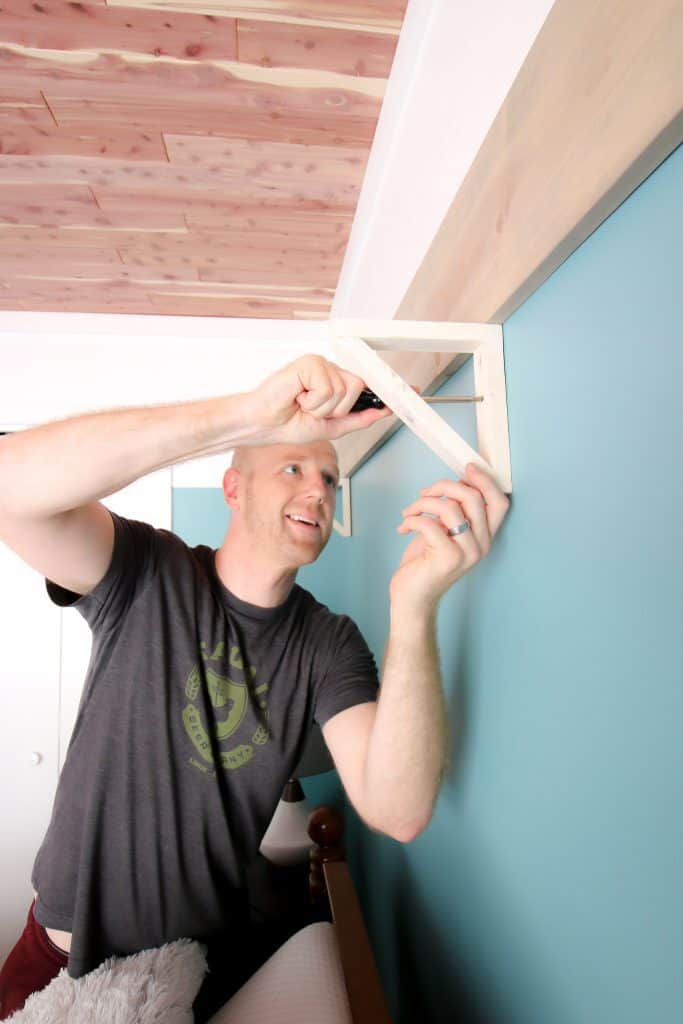 Installation
We hung the brackets on the wall using drywall anchors and screws. We set it so that the shelf would sit right at the line of our color blocked wall. The three brackets were spaced out with two each a foot from the walls and one in the center.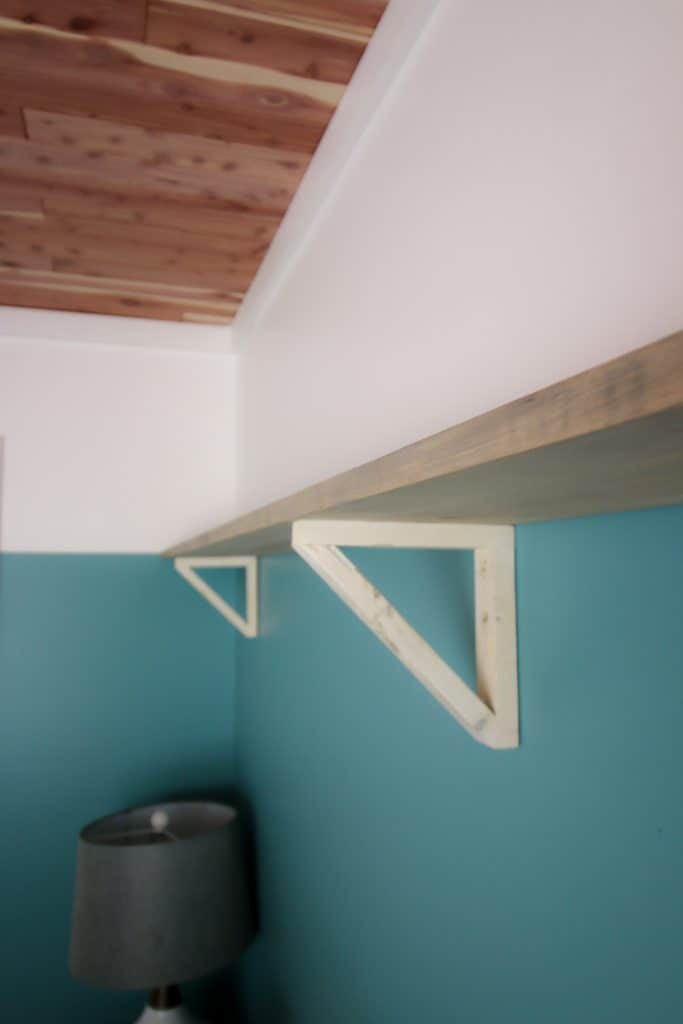 We spread out all of our remaining books that we haven't purged on the bookshelf. Now, if one of our guests needs something to read, all they have to do is reach up!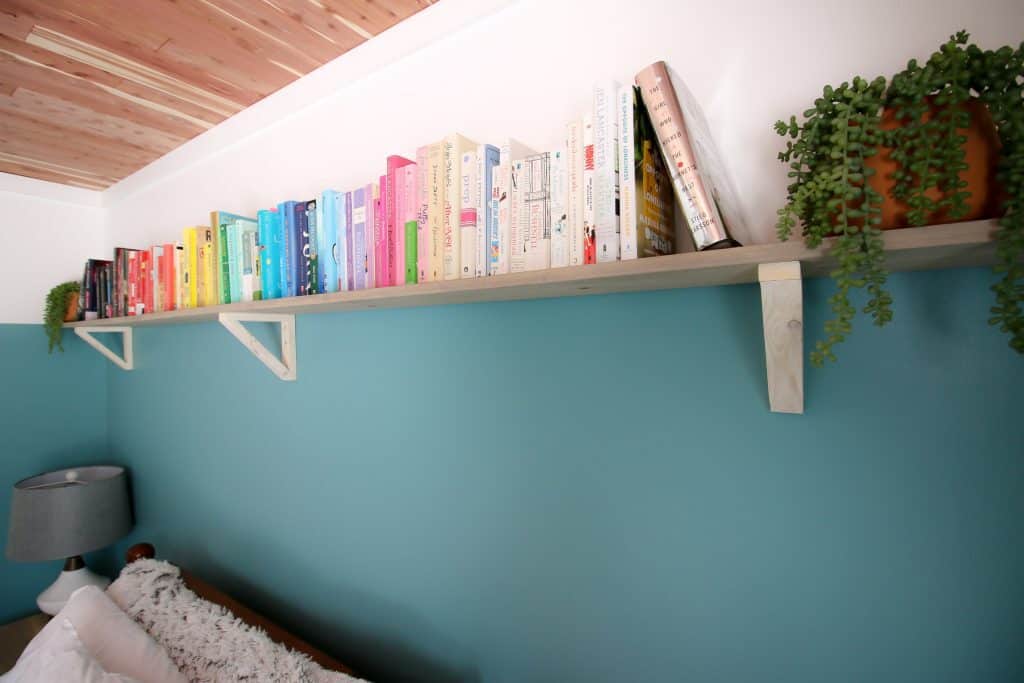 This post contains affiliate links, meaning that if you click through and make a purchase, we receive a small percentage of the sale. Thanks for your support!