If you're looking for beginner level woodworking projects, you're in the right place! These projects will help you get started learning woodworking and are easy for beginners!
Want to get started with woodworking as a hobby or business? You have to start somewhere, and we highly recommend starting small and simple.
Literally, smaller projects are easier. That might sound obvious, but the smaller the project, the less different complexities there are and usually they are more straightforward.
Woodworking can get expensive, so it's best to start with simple builds that use inexpensive materials.
It's also smart to start with projects that require only a few tools. When we got started, we were working on a very small screened porch at our condo with a handsaw and drill. You can do woodworking anywhere with whatever you have available!
Be sure to check out our top 10 essential woodworking tools for beginners!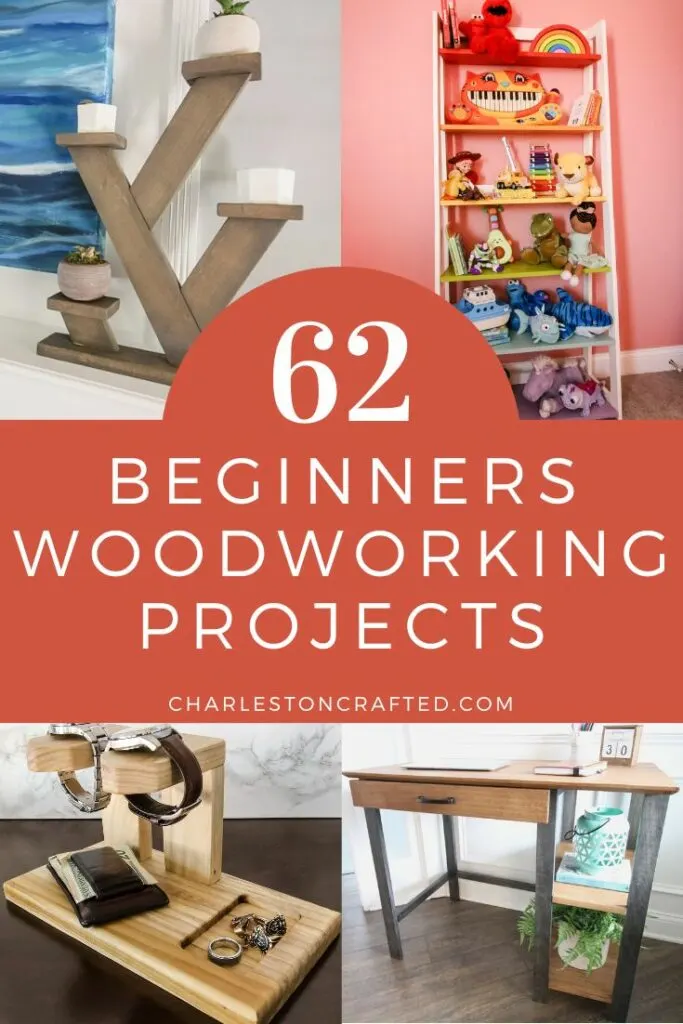 Basic woodworking information for every project
Here are some of our most popular woodworking articles!
Shopping for wood:
Woodworking project ideas
See all our printable PDF woodworking plans!
Our favorite tools + supplies
Remember to also always use safety equipment while woodworking and using tools. Make sure you have proper eye protection, ear protection and a good mask to keep yourself safe.
What makes a project a beginner woodworking project?
Simple woodworking projects use just a couple of tools, have simple steps, and don't use any sort of complex tools or joinery.
Wood projects for beginners can also be typically completed in just a couple of hours. They are easy to build!
Beginner woodworking projects are broken down into easier steps and have simple joints or tools that put them together. Basically, think of the tools that the everyday person would have or could get easily.
How can I start woodworking?
To start woodworking, you need to pick a DIY project and just start! I suggest sticking to inexpensive types of wood, borrowing power tools if you don't have them, and practicing with those tools on scrap wood first!
Pick easy woodworking projects to start – these simple wood projects will probably be small, without a lot of pieces and not needing too many cuts or tools.
Starting with easy wood projects will allow you to build your confidence and skills. You'll be ready for more complex woodworking ideas in no time!
As I said, we started with a handsaw and drill on the screened porch and now have a full-on workshop in our garage under our house. Woodworking can be an addictive hobby that can be a lot of fun.
Use woodworking as a hobby to build pieces for your own home, make gifts for friends and family, or sell pieces to the local market. Once you get going, the possibilities are literally endless.
Beginning woodworking projects
Here are some of our favorite woodworking projects for beginners! These are all projects that we have made and include step-by-step tutorials and/or free woodworking plans.
These projects don't require a lot of know-how, tools or wood to do. These are all things that you can do in a weekend without much trouble.
What are your favorite beginner woodworking projects?