Who doesn't love a good plant stand? If you like plants, you need a lot of different plant stands to suit the needs of the different size pots and plants.
We've designed a lot of types of plant stands over the years, from this wood house shaped plant stand, to this rolling plant stand with shelves, to this three tiered corner plant stand.
Today we're bringing you an angled tabletop plant stand that is perfect for small plants or succulants!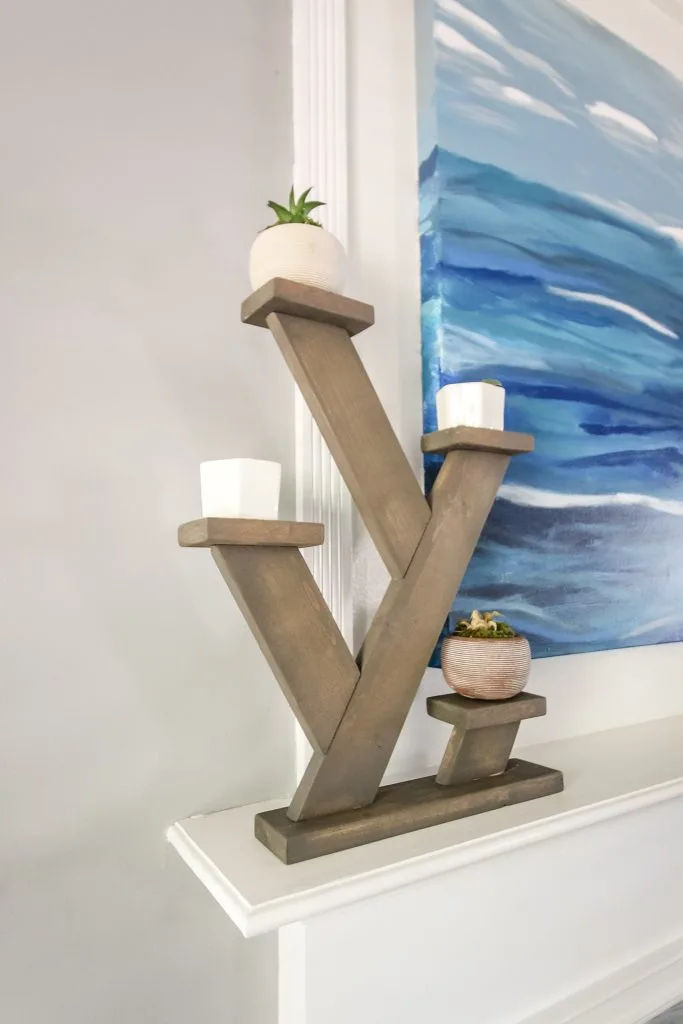 Plant stand for small pots
We have some drippy plants that needed a good home and decided to make a plant stand that mimicked a tree. We wanted the plant stand to look like a tree with branches and the plants themselves to look like the leaves and greenery.
This is a simple build that is easy to do with some small pieces of wood that you might have lying around. If you're stuck at home right now, this is a perfect project for you!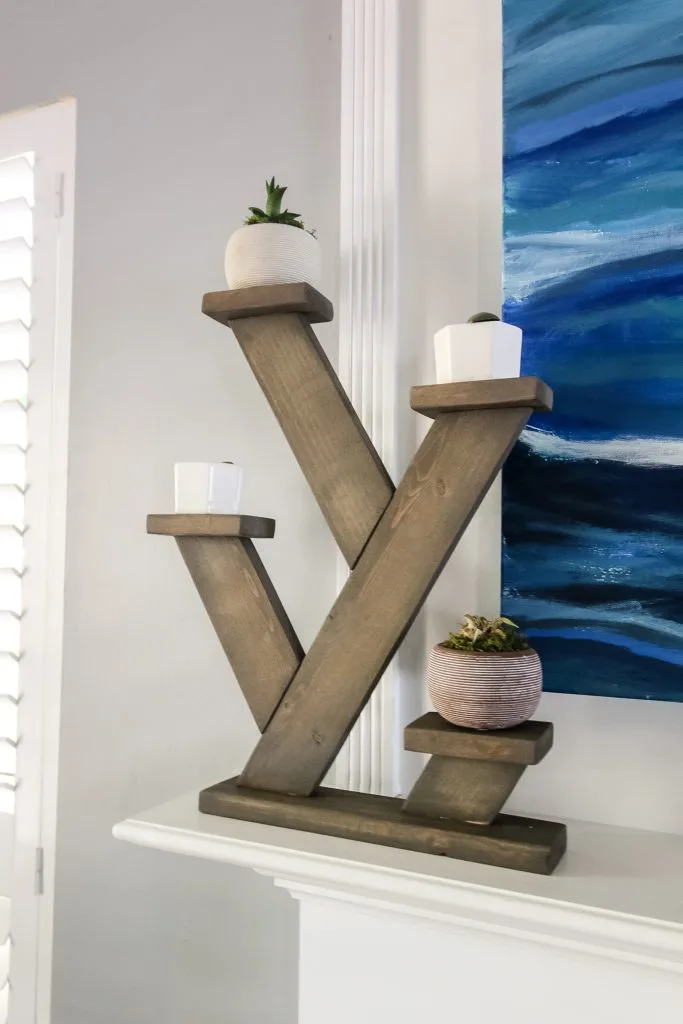 Construction
To build this project, we only needed eight boards cut to size. This entire project can be built from one standard 6′ long 1×3 from the hardware store.
The idea is to use opposing angles stemming from the main "branch." Each branch is going to have angles on each side in order to make it match up and have a flat top for the plant to sit on.
Since these angles were strange, the best way to make sure that each piece was securely attached to every other piece was to use pocket holes.
We used our Kreg Jig K4 to drill holes on each branch to make sure it was securely attached. Even though the plant stand will feature small, lightweight pots, it's important that it is structurally sound.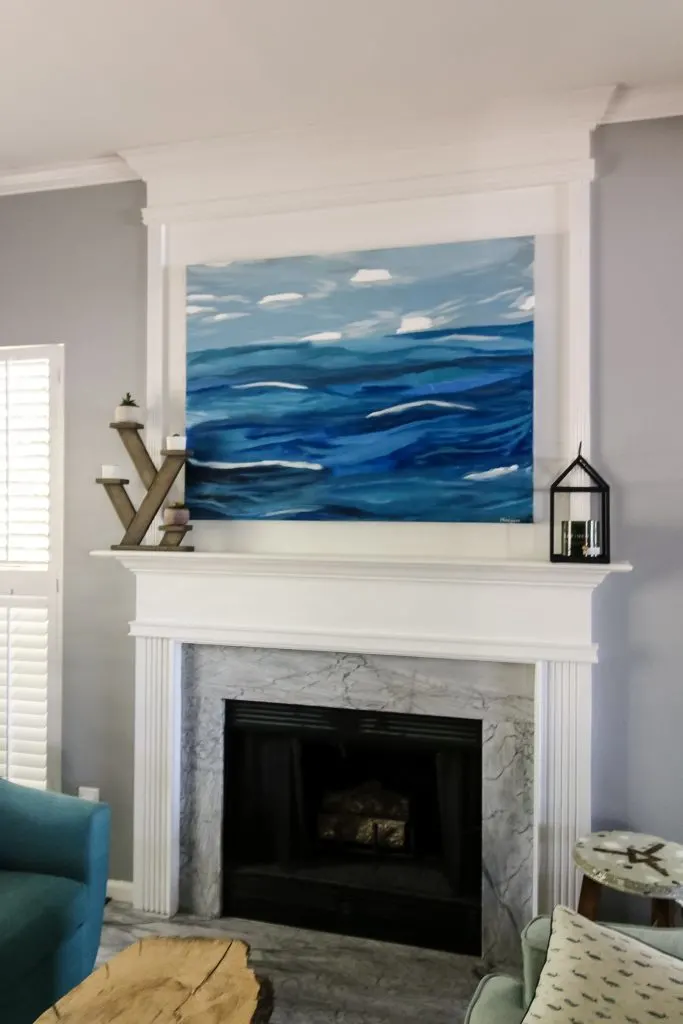 The Plans
For this project, we partnered with Kreg's BuildSomething.com website to host our plans. BuildSomething.com is an amazing resource for planning projects. Their website is full of hundreds of FREE plans for every room of your house.
While there, you can download the free plans, including the cut list and step-by-step instructions to make this angled tabletop plant stand.
We have about a dozen plans on BuildSomething.com that range from a coffee table to a plywood and concrete desk to a Christmas tree shaped poinsettia stand. Make sure you check them all out!
Check out our tutorial for how to make a hanging plant shelf!
This post is sponsored by Kreg Tool. All opinions are our own and our opinion is that we love Kreg Tool. Thank you for supporting the brands that make Charleston Crafted possible!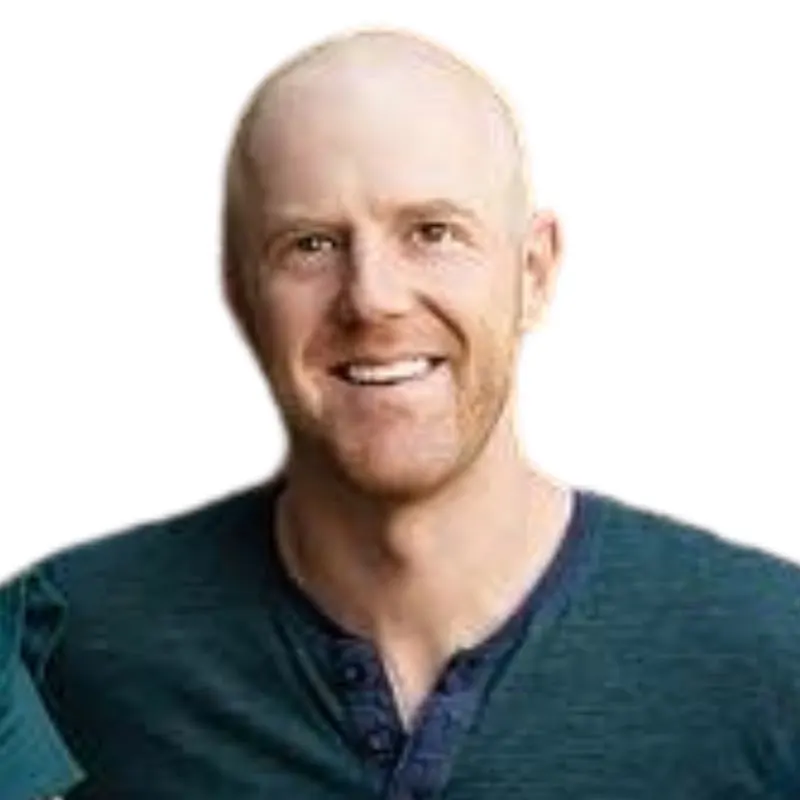 Hey there, I'm Sean, the woodworking enthusiast and builder behind CharlestonCrafted.com! Since 2012, I've been sharing the magic of turning raw materials into beautiful creations. I love teaching others the art and satisfaction of woodworking and DIY. I try to inspire fellow crafters to make something extraordinary out of nothing at all.