Looking for a present for dad for the holidays? How about making him this DIY watch and accessories display? He'll love it!
Everyone needs a gift for dad this holiday season. Men are notoriously difficult to shop for because we usually say we don't need anything.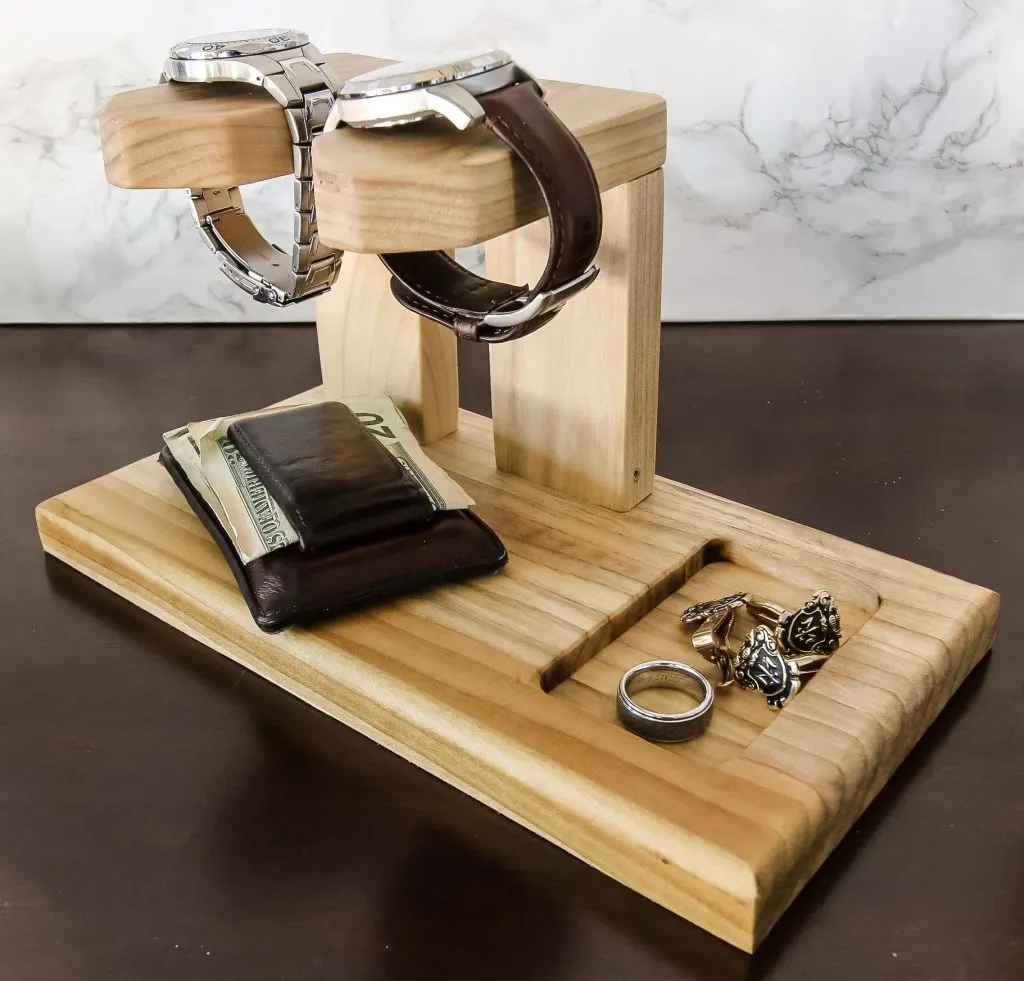 Guys are also notorious for just dropping their keys and wallet and watch all in a pile by the front door. This DIY watch and accessory holder will solve these problems for the man in your life!
DIY Watch and Accessory Holder
This is a great simple build project that you can do pretty quickly and have wrapped before Thanksgiving! This organizer is perfect for holding a couple of watches, rings, cufflinks and a wallet.
It's built starting with a base that has a routed out section for jewelry. You can also route around the exterior to give a finished look.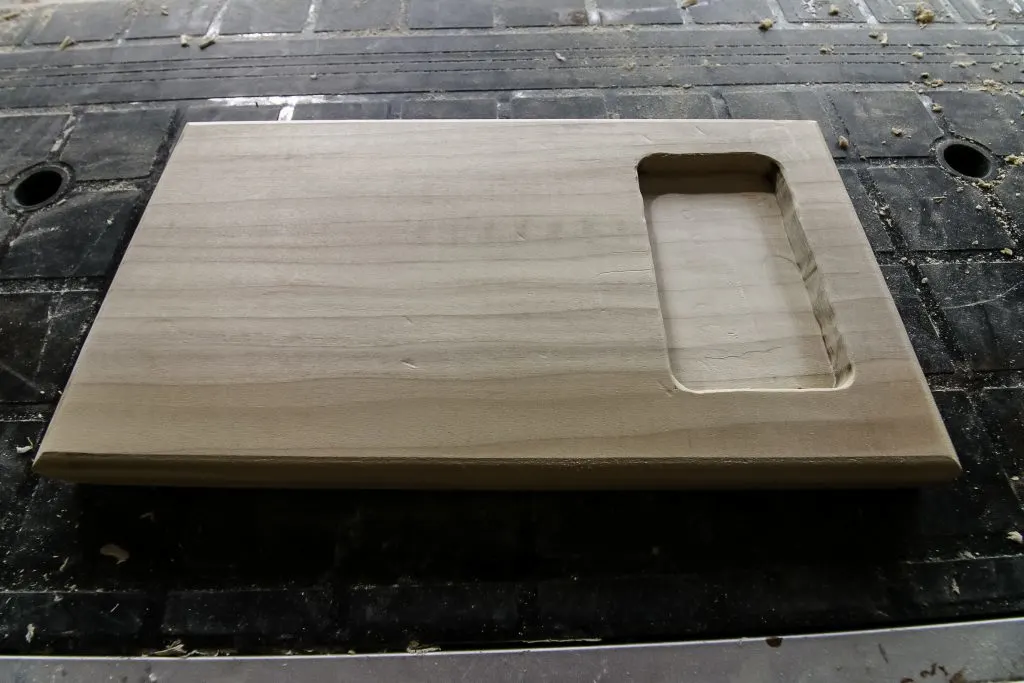 This organizer also has two specific racks for watches. These holders are made using Kreg pocket hole joinery.
We constructed it by drilling pocket holes with our Kreg 720 Pro pocket hole jig. The watch holders are upside down L's, attached to the base.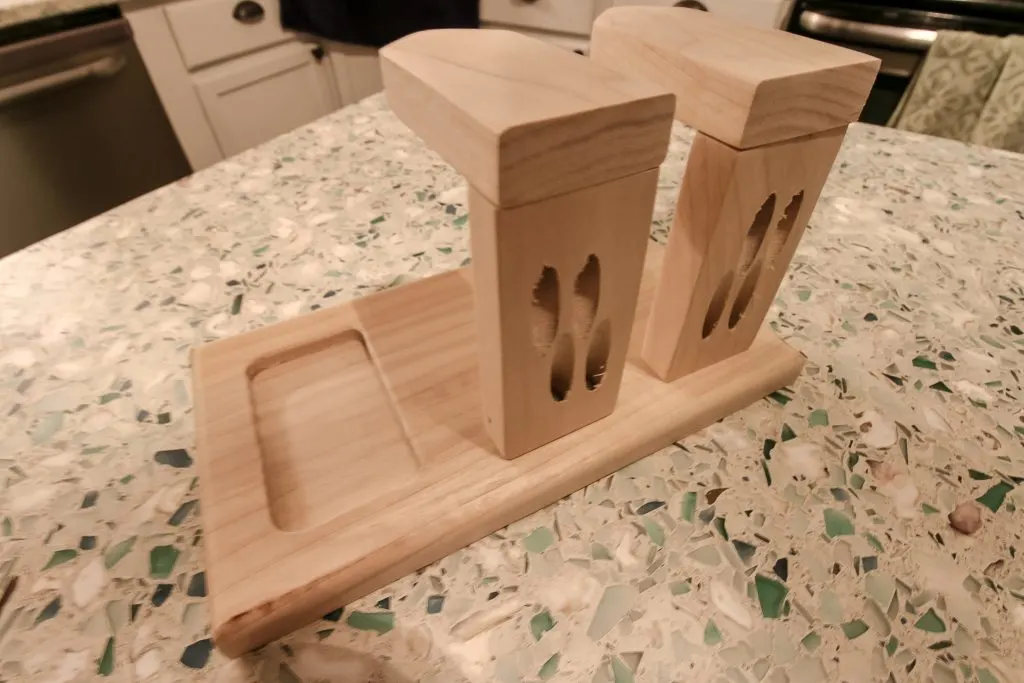 We cut the pieces to be the width of a standard watch face and then formed a right angle. Each top piece also has an angle cut on it to give it a more finished look.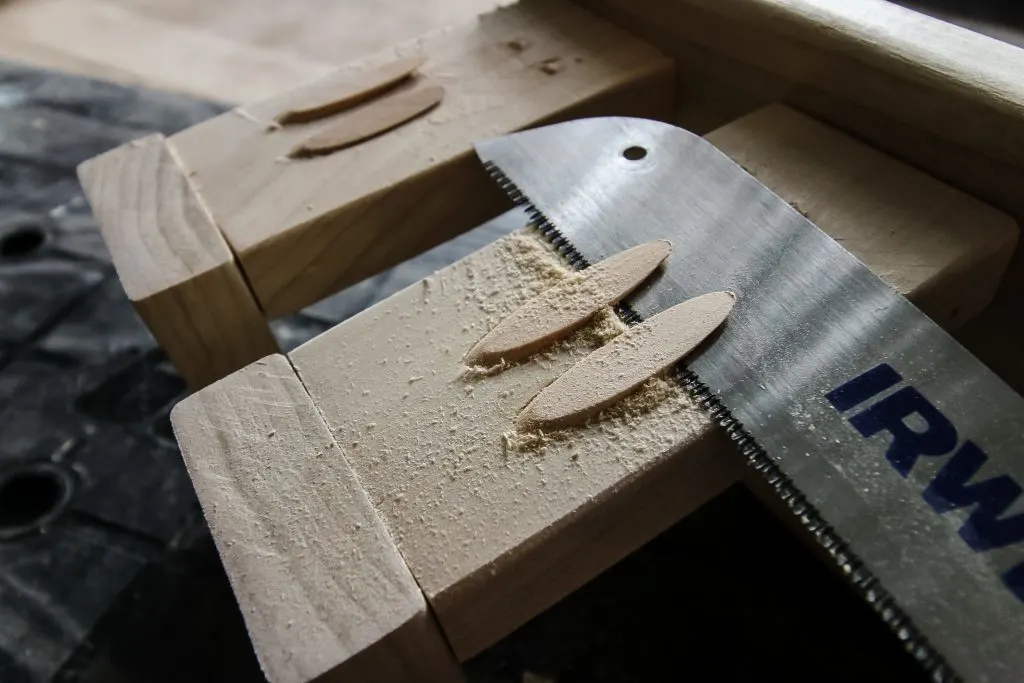 Since this watch holder is a gift and will be prominently displayed in a home, we filled the holes using Kreg pocket hole plugs. They fill the holes perfectly and look so much more finished than an open hole.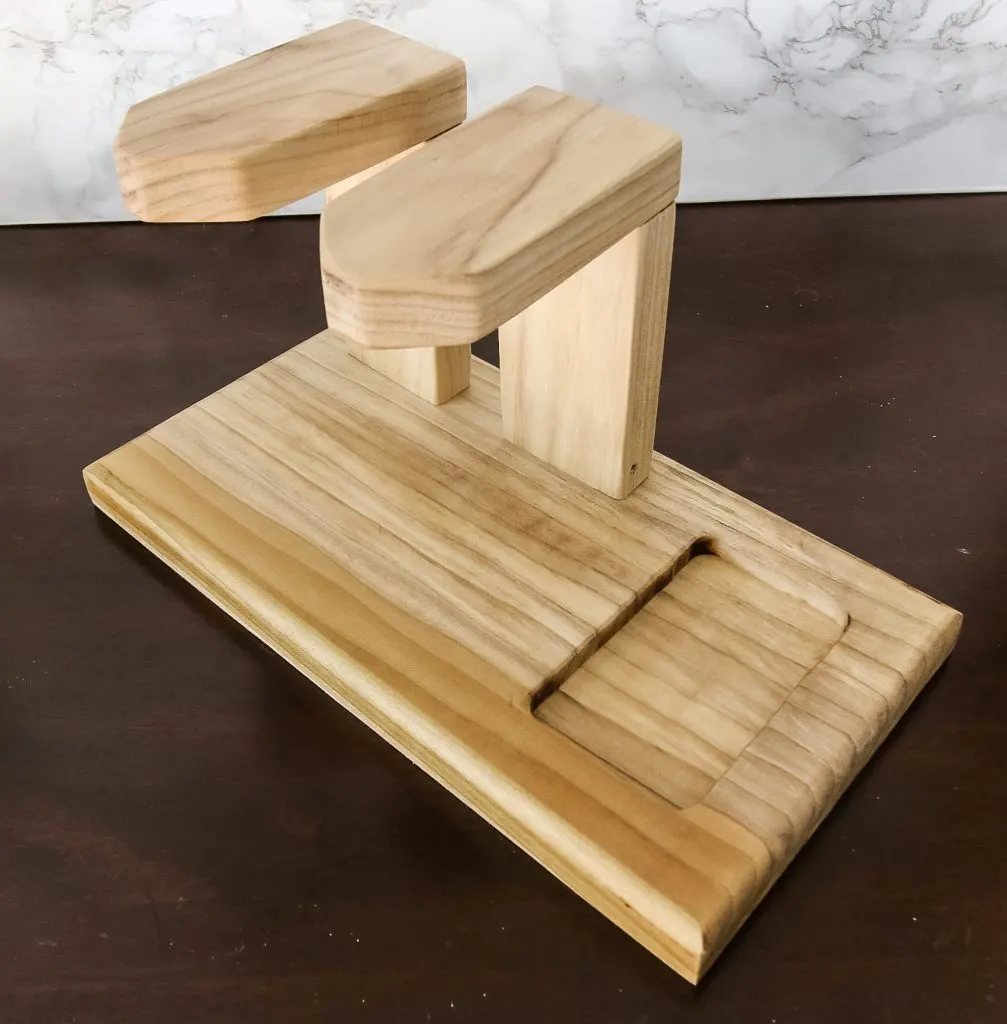 When the whole thing was complete, we oiled it down and it looks beautiful!
The Plans
We partnered with our good friends at Kreg to bring you the full plans for this men's accessory holder gift idea. Using Kreg pocket holes makes this project sturdy and no one's watch is falling down.
You can use a Kreg 720 Pro and 1 1/4″ Kreg screws to make this project. We also did the entire project on our Kreg Mobile Project Center, which allowed us to clamp everything while we were working and have an easy work surface.
The uniformity and precision of using Kreg systems for a project like this makes it so much easier.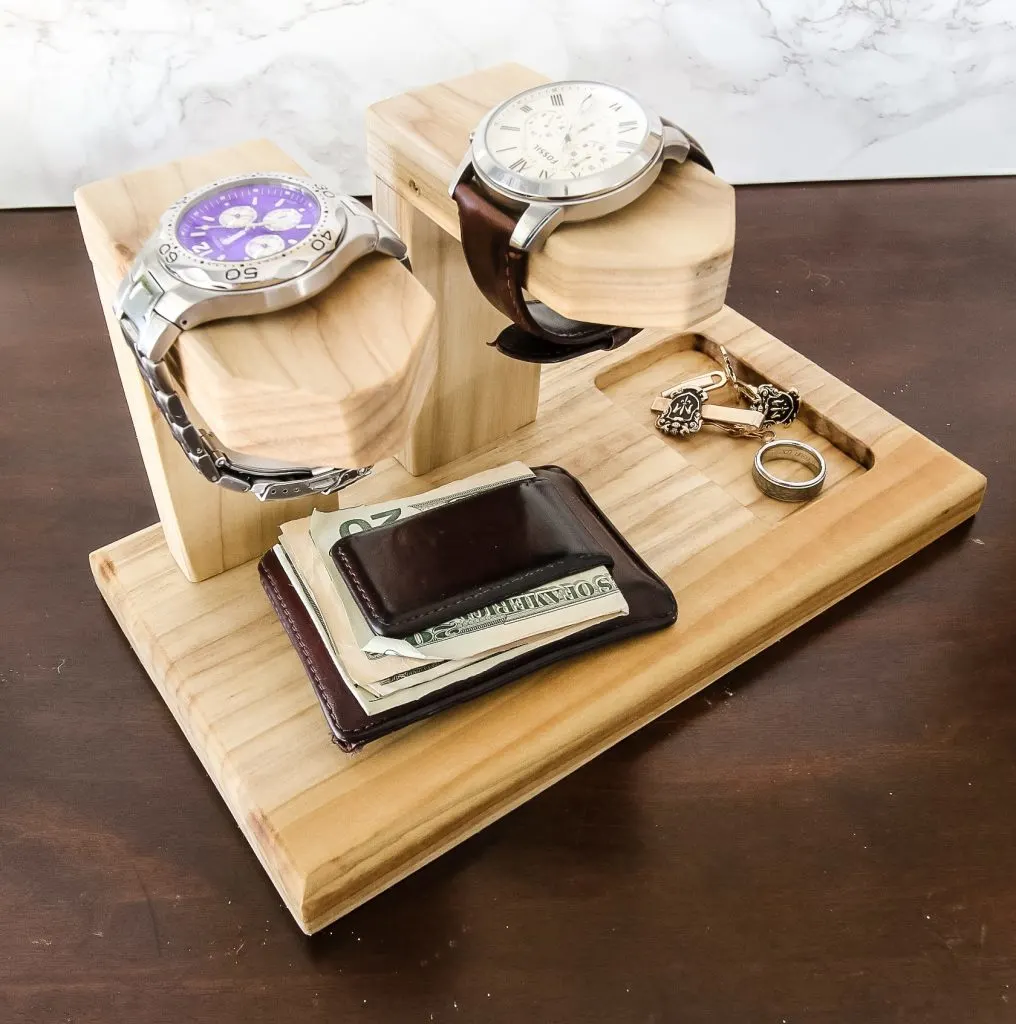 We put the entire set of project plans for this men's accessory holder BuildSomething.com where you can get our step-by-step cuts, measurements and pocket hole placements.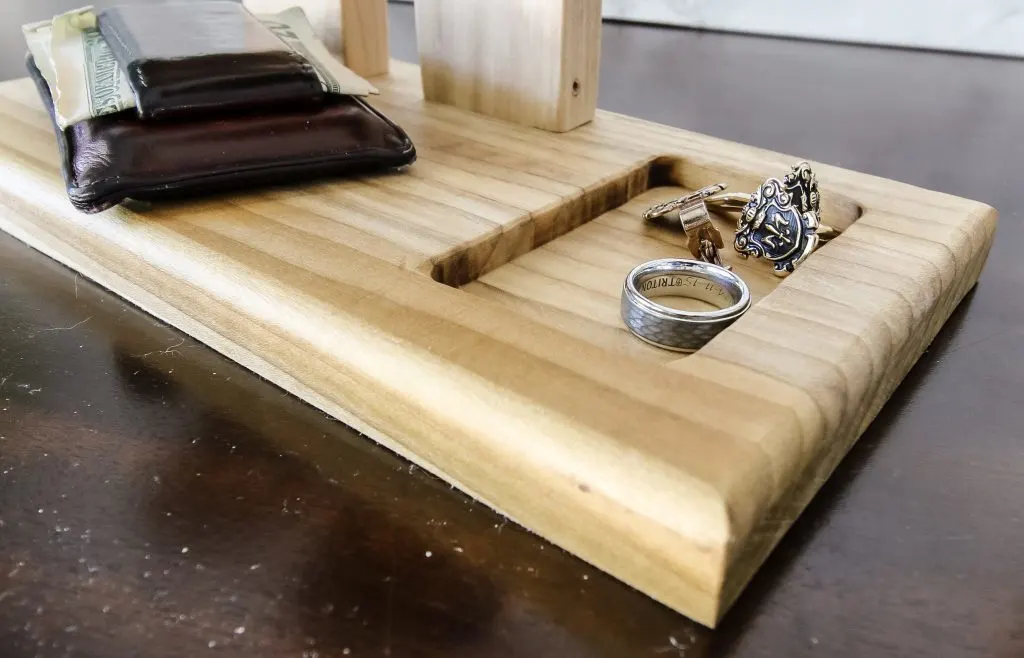 So head over to Kreg's BuildSomething.com to get the free plans for how to build this DIY watch and accessory holder for a man in your life. Their website is full of easy, helpful plans from lots of amazing builders.
We've got lots of other plans on there (like our waterfall edge cheese board, geometric coffee table, quick and easy ottoman, under bed storage, plywood desk and many more), so be sure to check them out.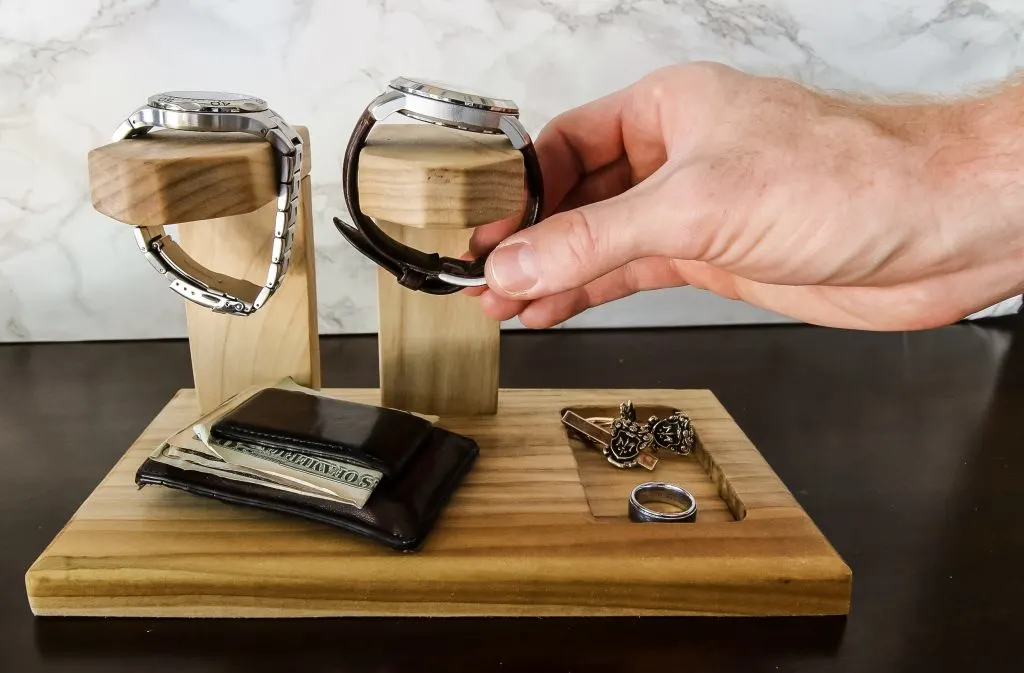 Interested in the Kreg Jig? Click here to read our full Kreg Jig review and to see all of our Kreg Jig projects.