If you need to fill a nail or screw hole in wood, or repair dented or cracked wood, you need wood filler! We compared popular brands and determined the best wood filler for each project!
Whether you're a DIYer, avid woodworker, or weekend enthusiast, any project involving wood is going to require fixes from time to time.
One of the most common issues in woodworking is needing to fix or fill a hole or crack in wood.
The best way to accomplish that is to use wood filler to get it back to new.
Click here to learn more about when to use wood filler, caulk or spackle!
However, not all wood filler is the same.
You might be limited to what brands of wood filler they have in stock at your local hardware store, or you might have more flexibility and can order something online.
But picking something off the shelf or ordering it blind online won't always mean you get the best wood filler you need for the project you're doing.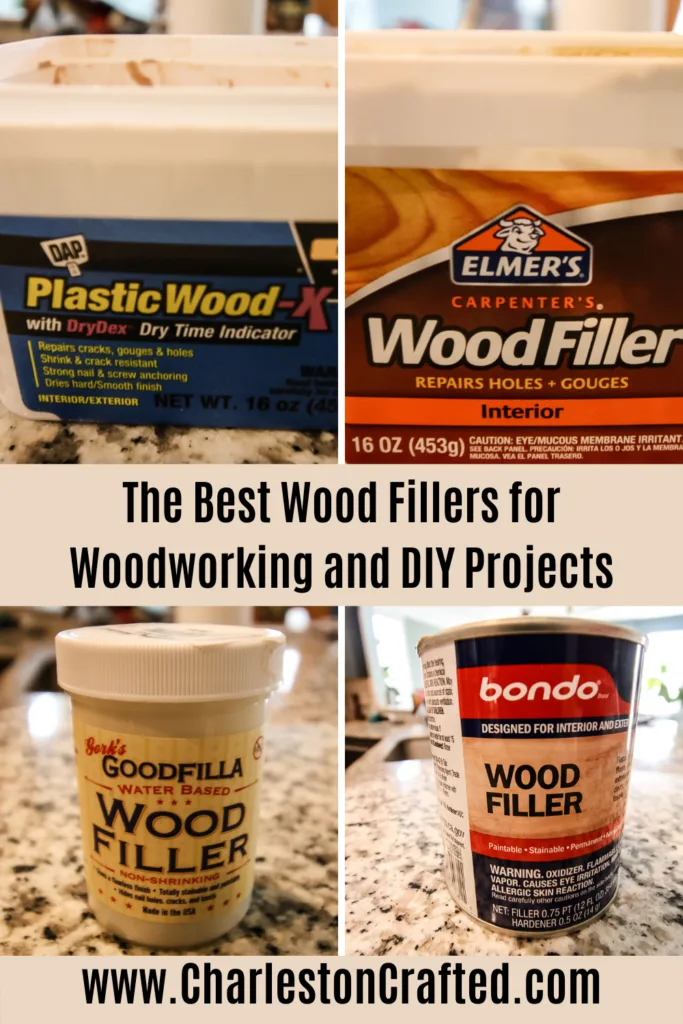 We've compared four of the most popular brands of wood filler that are available either at Lowe's, Home Depot, or Amazon, as those in general cover most of the selection.
Dive in below to learn about these brands of wood filler and the pros and cons of each for different projects!
How to use wood filler
Knowing how to use wood filler is the most important thing before even deciding which brand to buy. If you can't properly use it, it doesn't really matter what brand you have.
Wood filler is used to fill small holes, cracks or imperfections in wood. These holes could be from nails or screws you have put in or could be natural wood knots or splits in wood from overdriving a screw.
No matter what the need, wood filler is the best for filling or repairing small holes or cracks in wood.
Wood filler isn't typically used to fill large holes because it is difficult to dry deep in a hole. Having a strong wood filler that is properly used will create a strong, natural finish that will be just like the original piece of wood.
In general, the correct way to use wood filler is to get a small dollop out of the container and work it into the hole or crack, using either a gloved finger or a putty knife.
Work the wood filler into the hole until it is completely filled and then wipe as smooth as possible.
When the wood filler is drive, use a light grit sand paper to sand it smooth.
Key features of wood filler
There are a few things to keep in mind when buying wood filler! They are base type, consistency, dry time, application, and color.
Wood fillers have either a water or solvent base.
Water-based wood fillers are generally less smelly, dry in about 15 minutes, and are easy to clean up. You can dilute them with water if they are too thick for your project.
Solvent based wood fillers are often made with an epoxy type base. This gives them a strong odor and means they take at least an hour to dry. But, they are much harder once dry.
You want to make sure that your wood filler doesn't crack and shrink, giving you new imperfections over time.
Consistency
Some wood fillers are thick like grout and others are thin like pancake batter.
Big holes need to be filled with thicker filler that will hold its shape. Thinner filler is better for smaller divots or dents.
When working with smaller holes, usually, we prefer to work with wood fillers that are thicker and more dry and can be almost just be rubbed into a hole like a piece of chalk.
Dry time
Different wood fillers have wildly different dry times. This obviously can make a big difference if you are working on a tight deadline.
If possible, no matter what the packaging might say, it's usually best to let wood filler sit for at least several hours so that you can be sure it's dry before sanding. Sanding too early will result in movement of the wood filler and cause issues with the application.
Application
Different wood fillers are intended for either interior or exterior use. Don't use interior wood filler outside or it will not hold up.
There are wood fillers that say they are suitable indoors and outdoors, but there are also specifics as well.
Color
Color can effect how dried wood filler looks on your wood and how it accepts paint and stain. White wood filler, for example, will show differently through paint or stain than brown colored.
Wood fillers usually go on either white, tan or pink. Pink is a color changing formula that turns tan when dry. Overall, this has not been particularly helpful and doesn't seem to really make a difference.
The best wood fillers
Here are the wood filler brands that we tested:
Here are the four wood filler brands we tested and our overall opinions of each.
Here's a better breakdown of each of the wood fillers we tested, in order from our overall favorite to least favorite.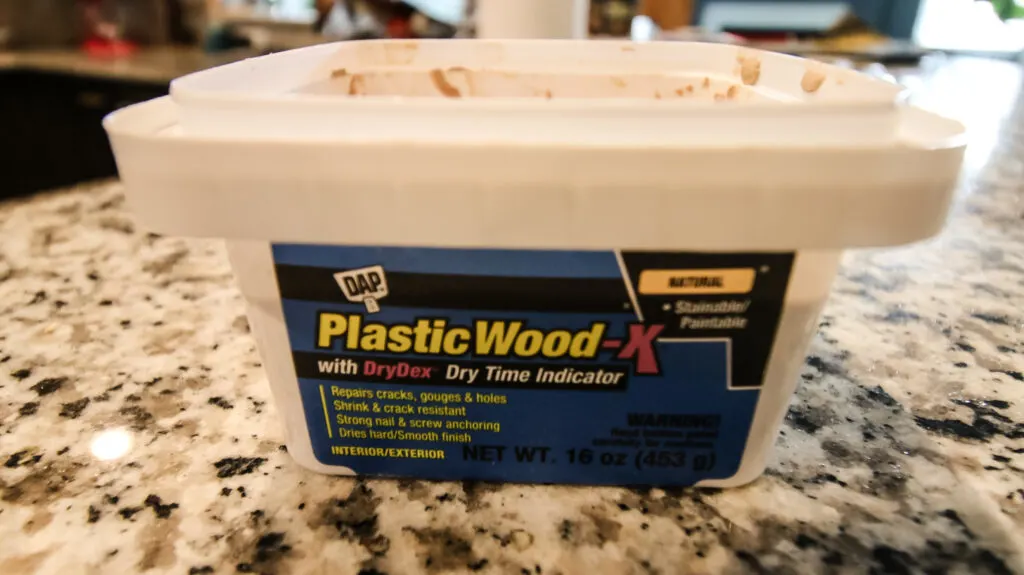 Base: Solvent based
Consistency: Very "putty" like, goes on like thick pancake batter.
Best used for: Rubbing into smaller holes and sanding smooth.
Dry time: One hour
Application: interior/exterior
Color: Goes on pink, turns tan when dry.
Pros: Color change is nice to determine when dry, however it isn't totally necessary. Easy apply with a nice consistency.
Cons: Feels less natural. Says it works on exterior applications, which is ok in small batches, but not on a large hole.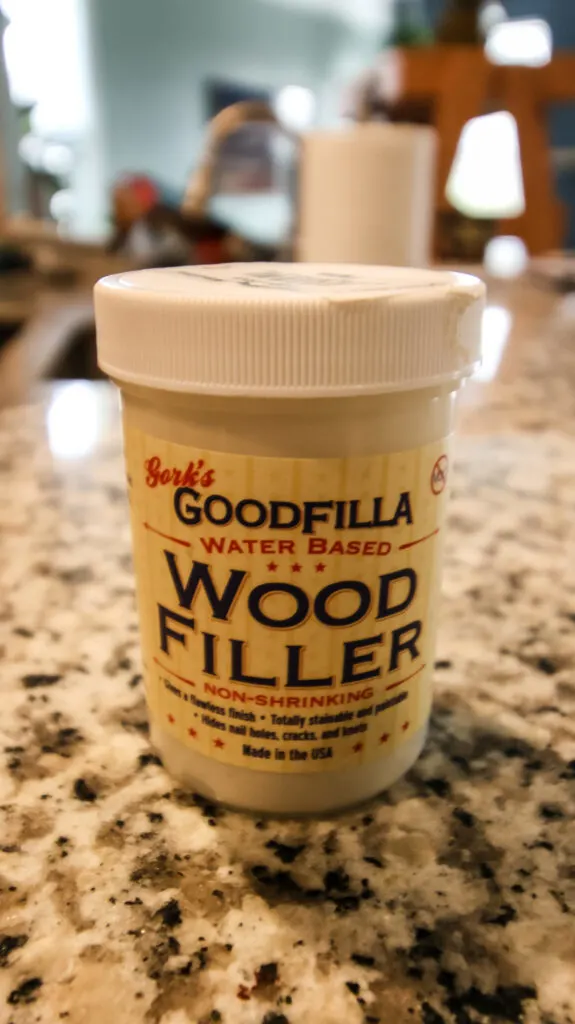 Base: Water based
Consistency: Smooth and tacky
Best used for: Grain filler, shallow hole filler, filling in larger grooves in floors or furniture.
Dry time: 15 minutes to dry, 24 hours to fully cure.
Application: Interior
Color: White for the regular color, but specific colors available to match wood.
Pros: This is a tacky substance, but it spreads very easily and smoothly across surfaces. No shrinks or cracks and easily reconstitutes when dried out. However, twist top container makes it very easy to keep from drying out.
Cons: Smaller package for slightly higher cost per ounce.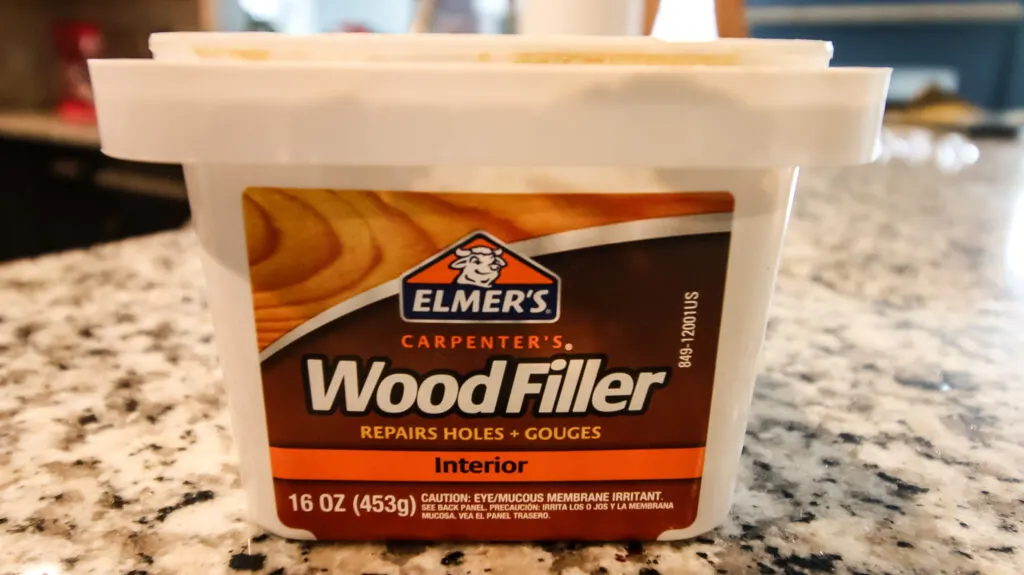 Base: water based
Consistency: Thicker, like grout and more dry
Best used for: Rubbing into smaller holes and sanding smooth.
Dry time: One hour, full in 12-24 hours
Application: Interior
Color: Yellow
Pros: Can be rubbed in smoothly but is a little drier than other applications. Ideal for wiping into small holes but not spreading over large cracks.
Cons: Dries out very easily in packaging, so don't plan to store over a long period of time.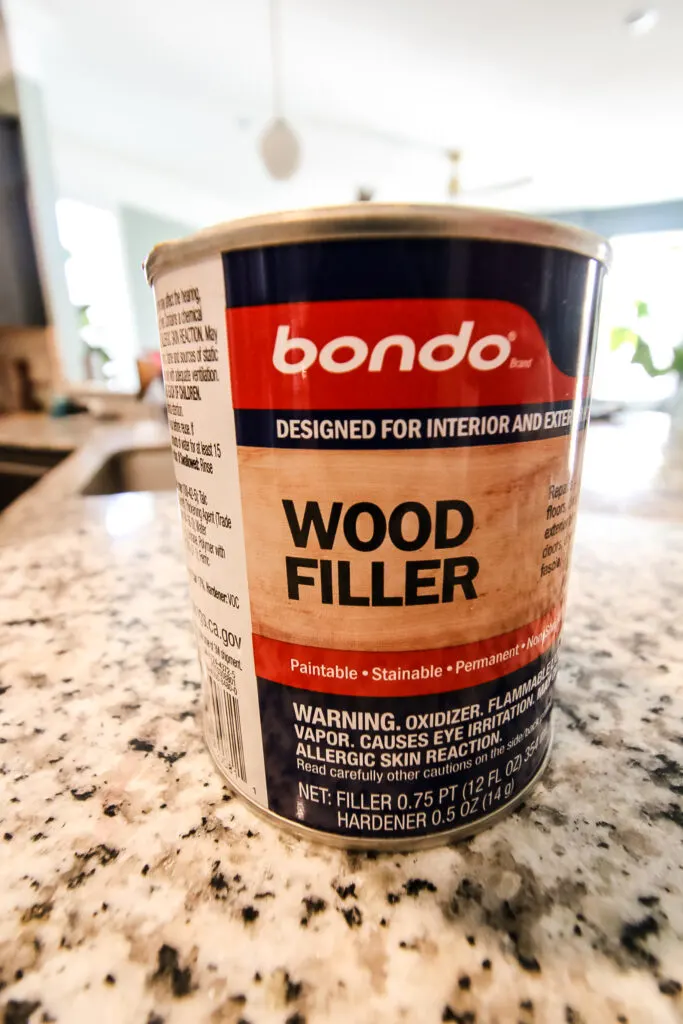 Base: Solvent based
Consistency: Very goopy
Best used for: Outdoor projects
Dry time: 15-30 minutes
Application: Claims interior and exterior, but don't use indoors.
Color: Tan
Pros: Bondo Wood Filler is extremely hard and firms extremely quickly.
Cons: Bondo Wood Filler smells so bad that it is impossible to use indoors, even though it says it can. It also hardens too quickly to use much, which means you have to make the mix several times to do even a fairly small project. Bondo doesn't work into small holes very well due to it's goopy texture and is hard to sand because it is so hard when set.
What is the best wood filler for large gaps?
The best wood filler for large gaps is Bondo Wood Filler. In large holes, Bondo dries very hard, very quickly.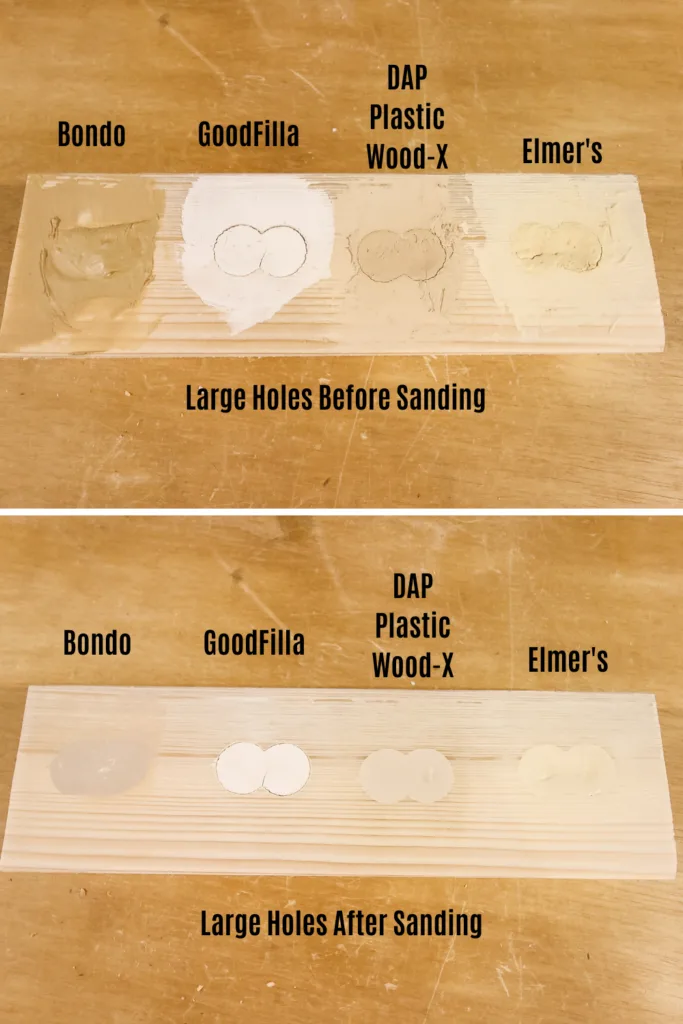 For large holes, we found that Bondo was the fastest to dry. In about 30 minutes, it was very solid, however, it smells really bad, even when done outside. The problem with Bondo is that it dries so hard, it is difficult to sand and leaves residue on the surrounding areas.
GoodFilla is also a good choice for deep holes as it set mostly dry in about one hour and has no odor. However, it dries with cracks around the edge. It needs to be used in shallow bursts.
DAP Plastic Wood-X and Elmer's Carpenter's Wood Filler both take a long time to dry in a deep hole, making it less appealing. They also didn't dry with a smooth finish and collapsed in the middle. However, these are also the easiest to sand afterward.
What is the best wood filler for nail holes, dings and divots in wood?
The best wood filler for nail holes in wood is DAP Plastic Wood-x. This is the most easy to work with in small quantities and fills small holes very easily.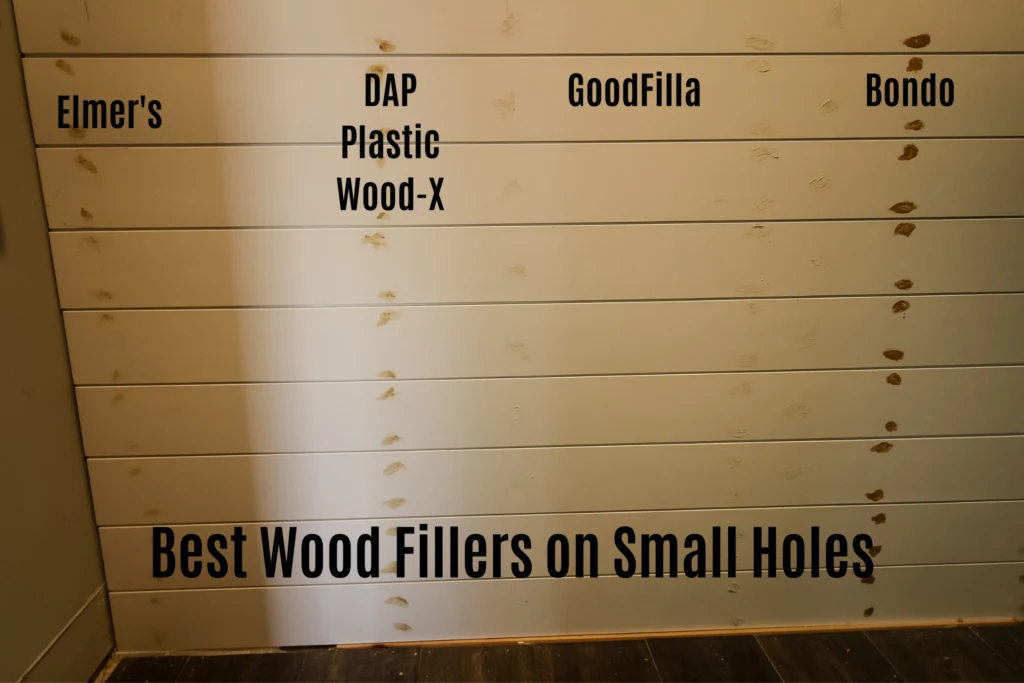 Each of the wood fillers we tested works for small holes, however we don't recommend the Bondo Wood Filler for small holes because it is the goopiest to work with and smells very bad. Often, small holes are patched indoors and this is a bad choice.
DAP Plastic Wood-X is the easiest to work with on multiple small holes indoors.
What's the best wood filler for painting?
The best paintable wood filler is DAP Plastic Wood-X or GoodFilla. Both of these wood fillers sand extremely smooth and take paint on with no issue.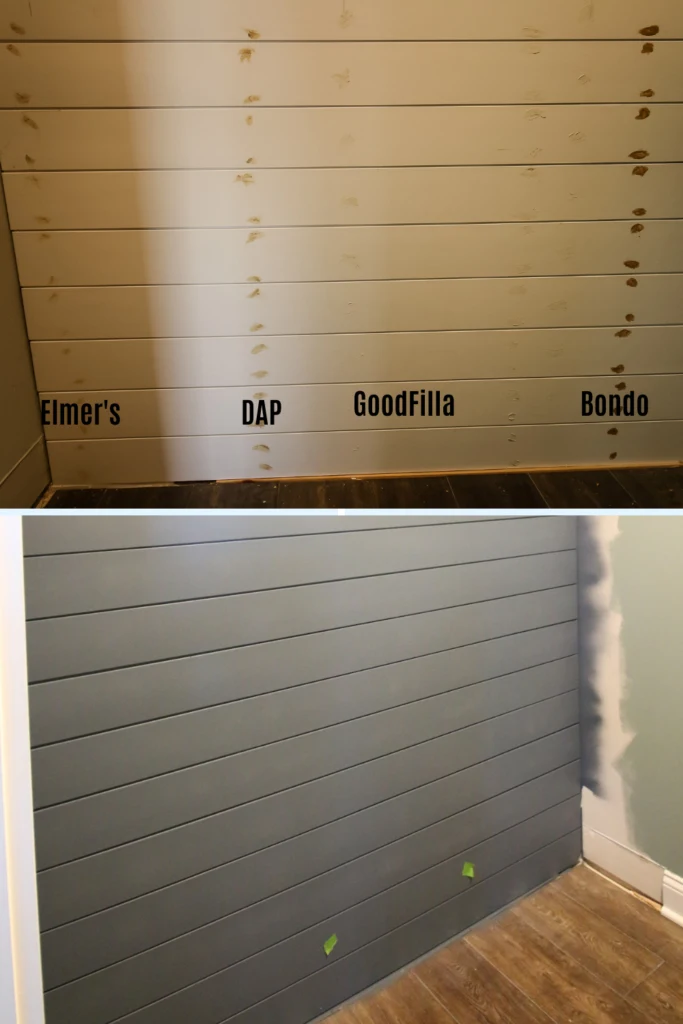 What's the best wood filler for staining?
The best stainable wood filler is Elmer's Carpenter's Wood Filler. It stains with the most consistent color compared to the wood.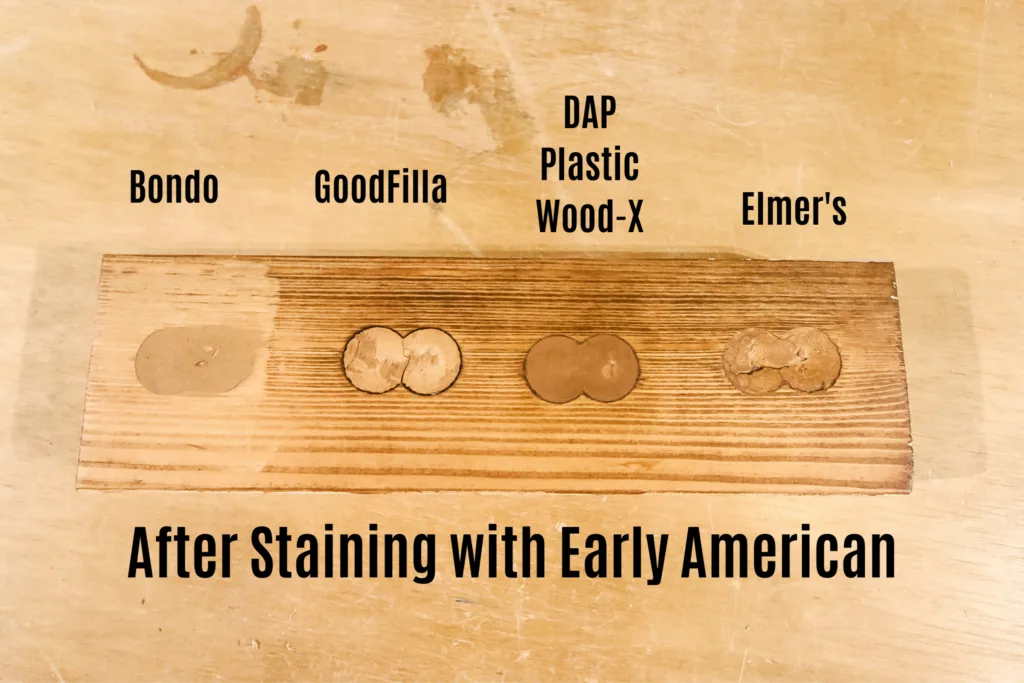 With all of these wood filler's they all stain best with small holes or scratches and look worst on large areas. They each blend much better when used in small amounts.
Bondo stains in a strange color compared to wood whereas GoodFilla dries much too light.
What's the best exterior wood filler?
The best exterior wood filler is Bondo Wood Filler, due to its nature of hardening extremely quickly. This works well for outdoor applications that take a more severe beating from the elements.
Remember that Bondo Wood Filler solidifies very quickly, especially if working outside in the heat. Work in small batches for any outdoor projects or you will waste a lot of product.
What is the difference between wood putty and wood filler?
Wood putty doesn't completely harden, making it perfect for wood that will expand and contract – such as outdoor or in humid environments. This can also be good for wood joints and other areas that will have a little movement.
Wood filler gets completely hard – it is often made with solvents – and is best for filling holes and cracks in wood where flexibility is not needed.
Dap wood filler vs Bondo
Dap wood filler is very easy to work with on small holes, it easy to sand, and stains and paints wonderfully. On the other hand, Bondo is much harder and more durable. But, it is a bit more difficult to work with and does not sand, stain, or paint as well.
You will have to decide which is more important – durability or appearance.
Basic woodworking information for every project
Here are some of our most popular woodworking articles!
Shopping for wood:
Woodworking project ideas
See all our printable PDF woodworking plans!
Our favorite tools + supplies
Remember to also always use safety equipment while woodworking and using tools. Make sure you have proper eye protection, ear protection and a good mask to keep yourself safe.
Any more questions about these wood fillers?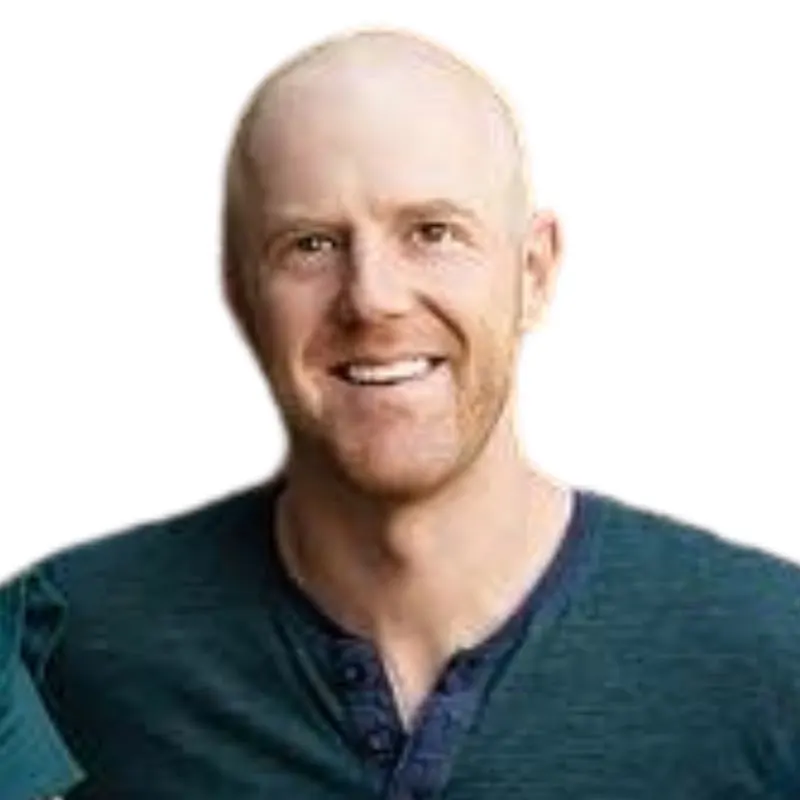 Hey there, I'm Sean, the woodworking enthusiast and builder behind CharlestonCrafted.com! Since 2012, I've been sharing the magic of turning raw materials into beautiful creations. I love teaching others the art and satisfaction of woodworking and DIY. I try to inspire fellow crafters to make something extraordinary out of nothing at all.