There are so many wood stain colors available at the store. The wide selection can be overwhelming! This guide can help you pick the best wood stain for your project.
So, you spent a lot of time building the perfect piece of furniture. Now, it's time to stain it. Don't mess it up!
There are so many wood stain colors to choose from.
We have done a lot of woodworking and DIY projects and have tried a lot of wood stain colors.
Be sure to check out our project testing 10 wood stains on 5 species of wood!
While we like to mix it up, we do have some favorites that we find ourselves coming back to time and time again.
What is wood stain?
Wood stain is pigment mixed with a liquid that can be used to change the color of wood surfaces!
What are the types of wood stain
Transparent
Transparent wood stains are the most see through. They show a lot of the underlying wood grain.
Semi-transparent
Semi-transparent wood stains provide more coverage and let less of the natural wood grain patterns show through.
Clear (top coat)
Clear top coats protect wood without changing the color of it. It's worth noting that even clear top coats often slightly darken the natural color of wood!
Here's our guide on how to seal stained wood.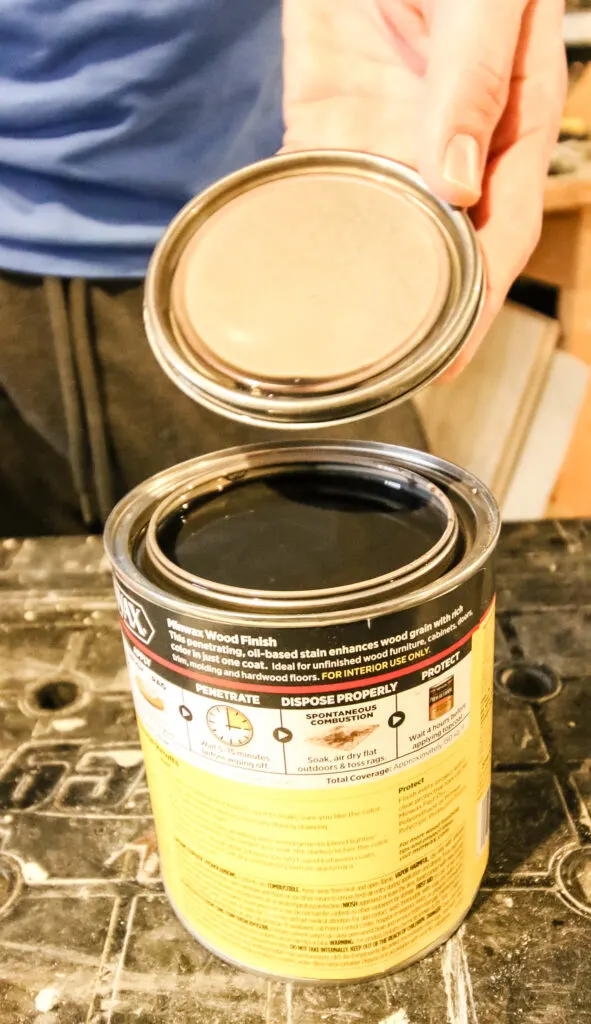 Things to consider when buying wood stain
Color
What color do you want your wood surface to be? Stains come in a ton of different colors.
Wood type
Different wood species will absorb wood differently.
In general, soft woods absorb stains more than harder woods.
Also, the natural undertones and color of a wood will mix with the stain color. Redder woods will look much different than more naturally golden woods.
Desired coverage
Do you want a transparent, semi-transparent, or full coverage finish?
Indoor/outdoor
Will your project go outdoors or in? Outdoor projects need outdoor specific wood stains.
Other usage factors
Do you need this to be food safe? Will it be possibly gnawed on by children? Will it get a ton of UV light?
Cost
Most wood stains are comparable in cost, but there is some variance and you might want to keep that in mind if you are on a budget!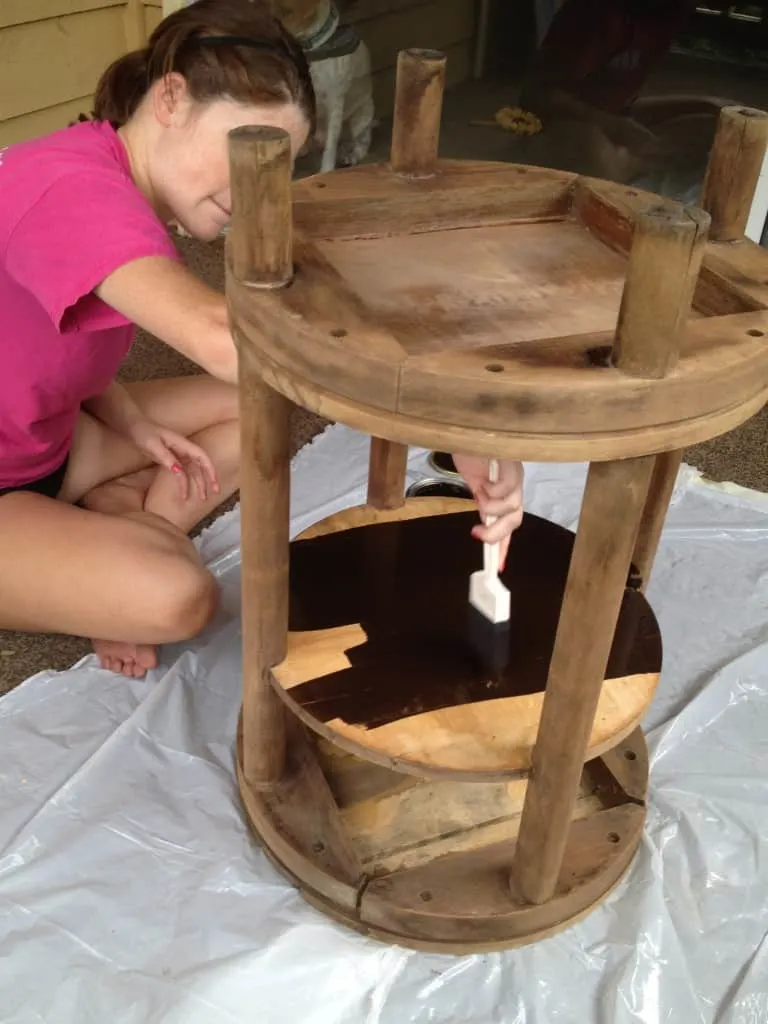 What wood stain is best?
What is the most popular wood stain?
Early American is one of the most popular wood stains, with its rich brown color.
Which is best wood stain or wood dye?
Wood stains sit on top of the surface of wood, while wood dye penetrates the wood surface. We personally stick to wood stains for our projects.
Which stain is better Minwax or Varathane?
We find Minwax and Varathane stains interchangable, quality wise. Varathane is generally available at Home Depot while Minwax is at Lowes. Pay more attention to the sub-brand (IE color wash, weathered wood accelorator, transparent, semi-transparent, with built in top coat) than the brand itself.
Do I need to use a wood conditioner pre-stain?
Applying a pre-stain helps to even out the surface of your wood and helps the stain absorb more evenly, and less blotchy. It is most important on soft woods like pine. Read our complete guide to wood conditioner here!
How do I choose a stain?
Choose a stain that has the coverage, color, and indoor/outdoor protection combination that you need.
Need wood filler? See our side-by-side comparison of top wood fillers here!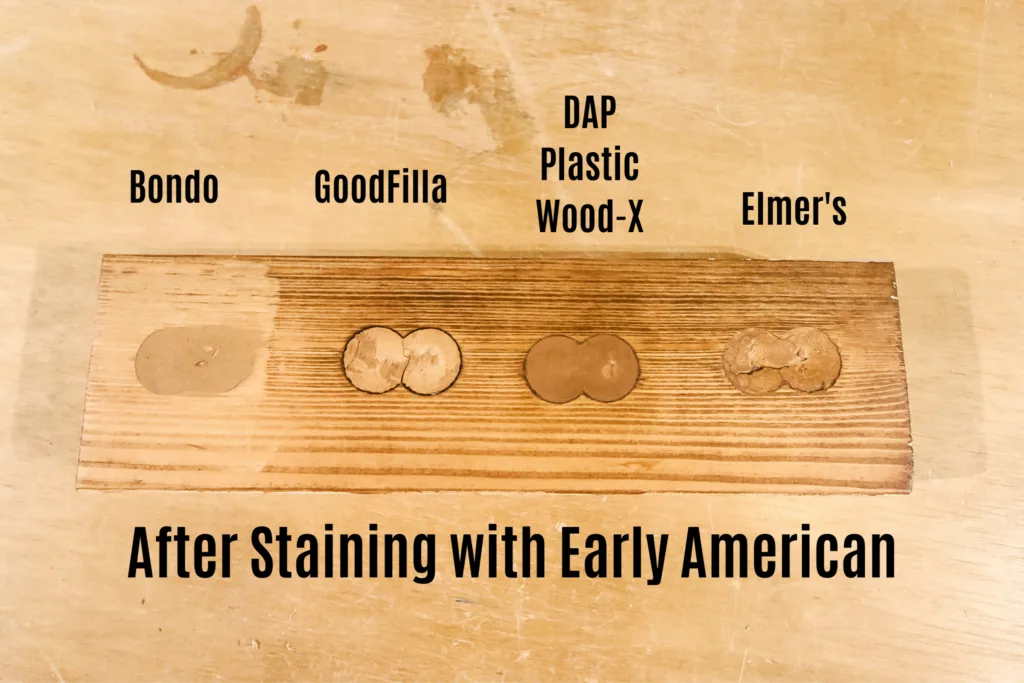 Best natural wood stain
Whether you don't want to pay for wood stain or just prefer a more natural approach for your wood projects, we have you covered!
You can make a tea stain, coffee stain, use white vinegar (or other vinegars!), food coloring, or watered down paint natural stain!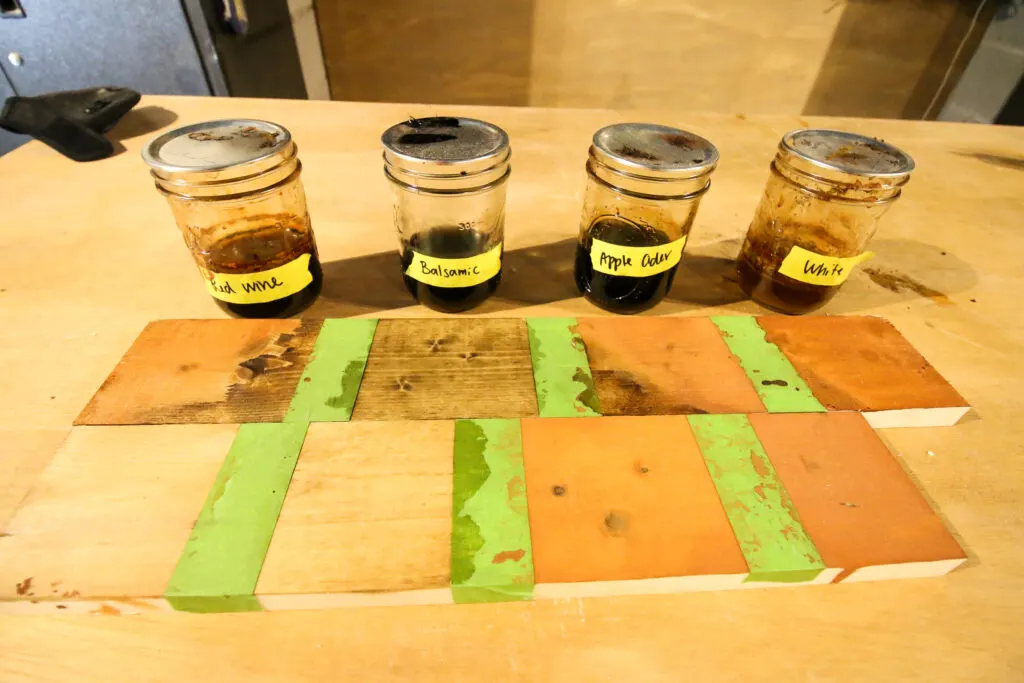 Want to make your own DIY wood stain?
Also, it's not quite so natural, but here is our guide on how to stain wood with watered down paint!
The best wood stain colors
The best light wood stain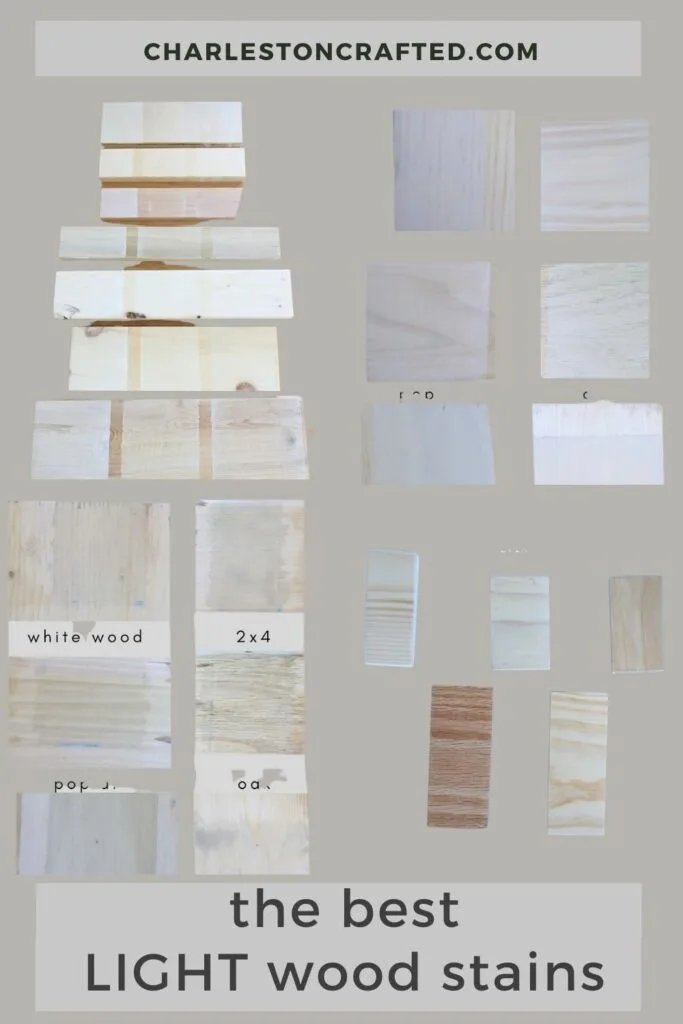 Light wood stains are good for giving wood a light, beachy, or rustic look. They include white, light gray, light brown, and natural wood stains.
Our favorite light wood stains include:
Read our complete guide to light wood stains here.
The best white wash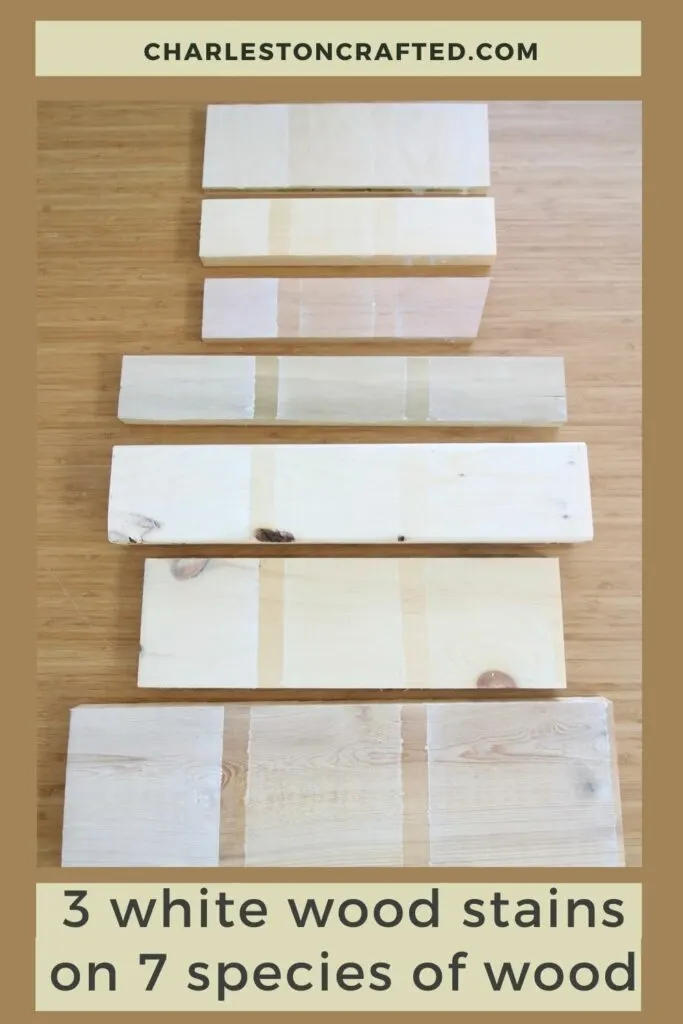 White wash wood stain gives much fuller coverage compared to a regular transparent stain. It's more like watered down paint.
Our pick for best white wash is Varathane White Wash!
Read our complete guide to white wood stains here.
The best dark wood stain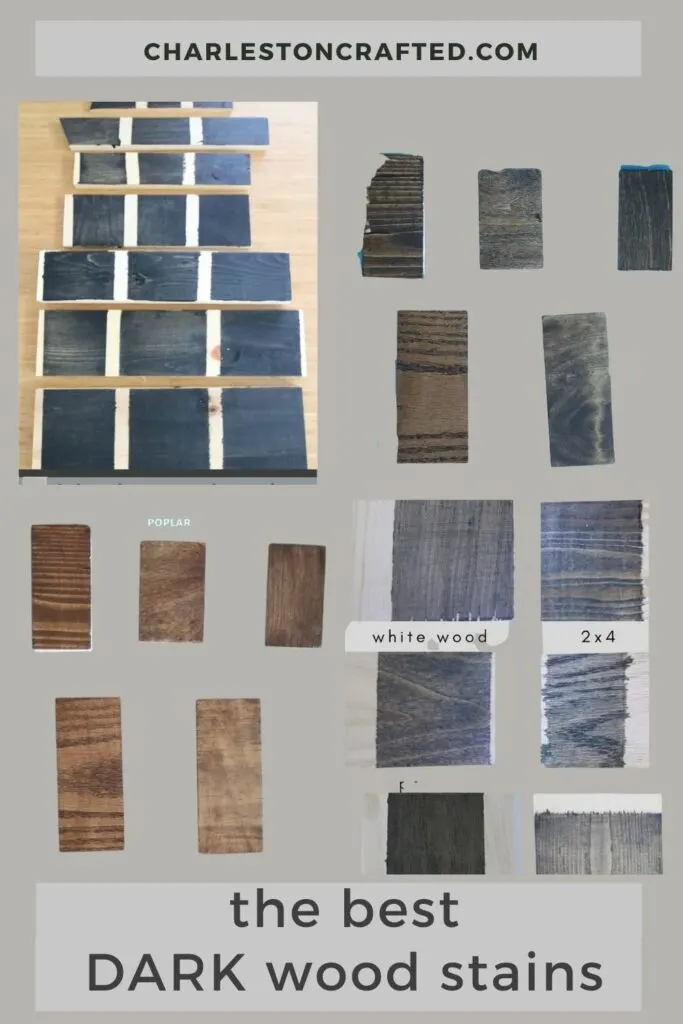 Dark wood stains can give wood a luxe, traditional, high end look. Black wood stains look extremely modern and can be used to provide great contrast!
Our favorite dark wood stains include:
Read our complete guide to dark wood stains here.
The best gray stain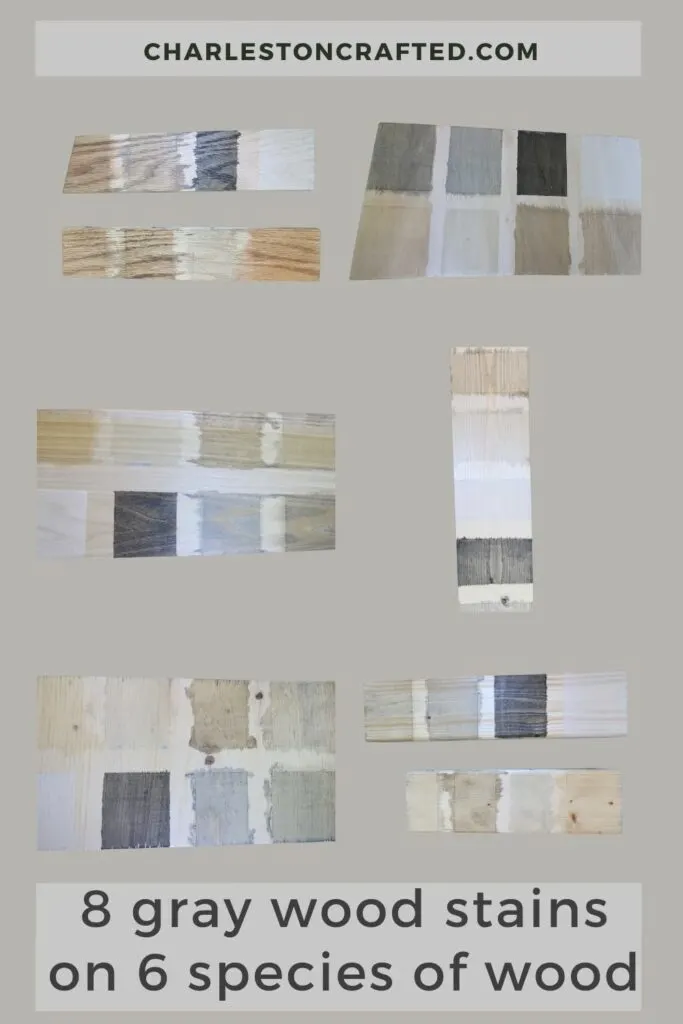 Light gray wood stains often look aged, rustic, or even beachy. However, dark charcoal gray stains look more modern and sleek.
Our favorite gray wood stains include:
Read our complete guide to the best gray wood stains here.
The best stain for wood by wood type
The way that wood stains look varies significantly based on the species of wood that you are staining. The same can of stain can look wildly different on different wood.
Honestly, colors can look different even on the same species of wood, just different pieces.
For example, poplar can look nearly white, green, or even purple in places. This different graining will take the stain very differently.
For that reason, it's always best to sample wood stains on the wood you are actually using.
But, to get you started, we have tested a TON of wood stains on many types of wood!
Here are our favorites for each wood type!
Oak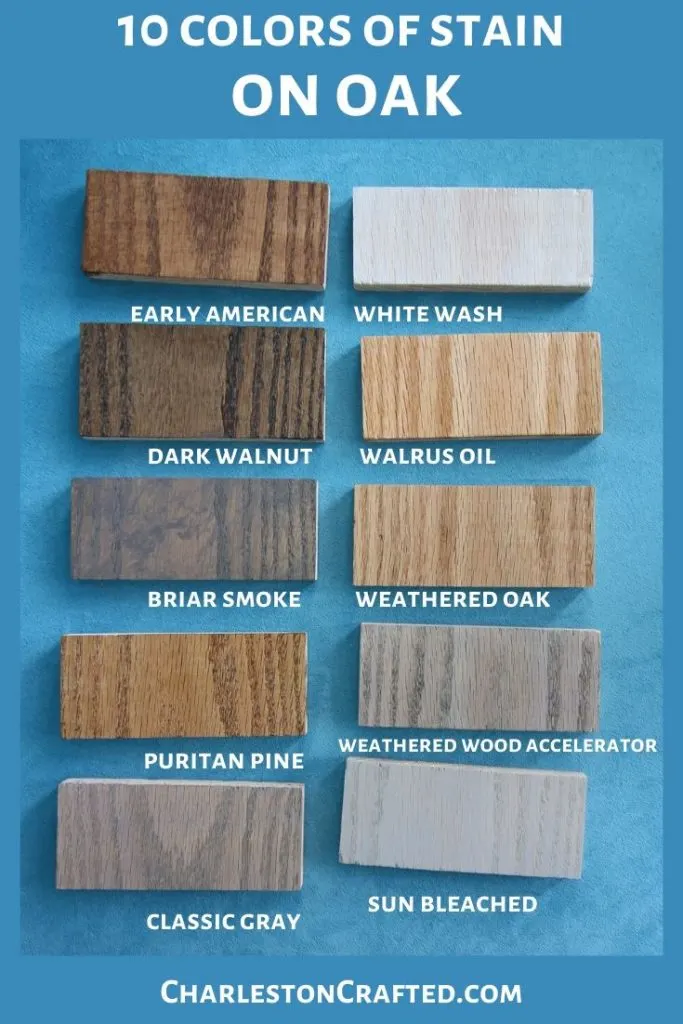 Oak is a gorgeous hardwood with a beautiful natural grain. There is a reason that this type of wood has been so popular for hardwood floors, cabinets, and furniture across decades of time.
I honestly love the natural rich color of oak wood and don't like to cover it up with a dark stain. For that reason, I prefer stains that are transparent or in the least semi-transparent.
Our favorite stains for oak include:
Click here for our complete guide to the best stains on oak!
Pine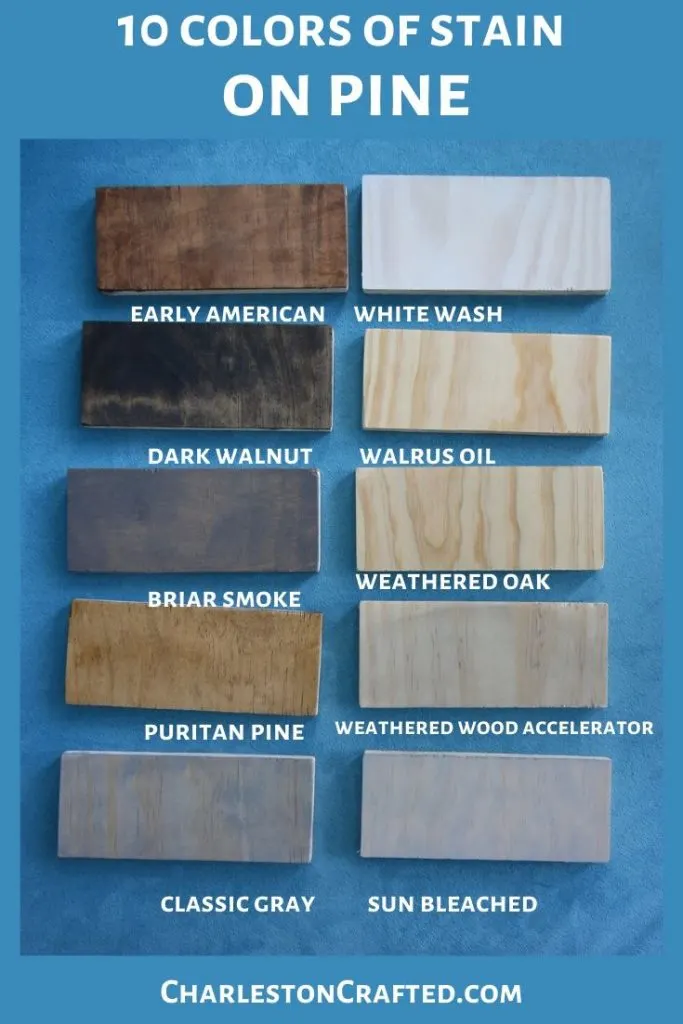 Pine is a cheap, soft wood that is popular with beginner woodworkers because it's cheap. We used to build almost everything out of pine.
Pine is a white wood that can look yellow or golden. It has dark wood knots.
For this reason I usually prefer less transparent stains to cover the knots and light wood more evenly.
Our favorite stains for pine include:
Click here for our complete guide to the best stains on pine!
Birch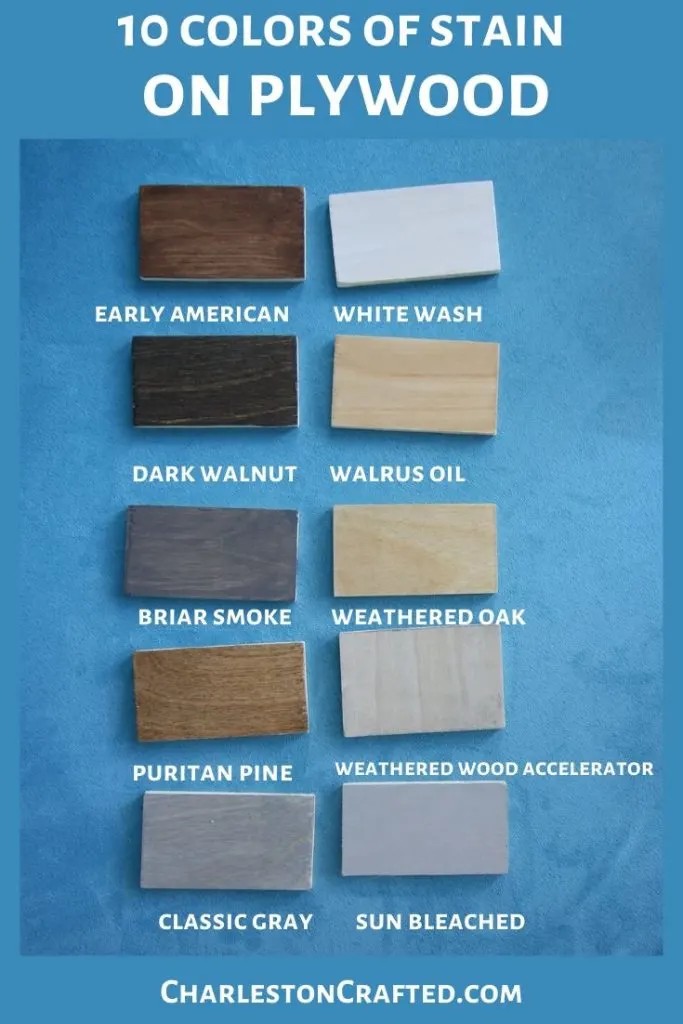 We typically use birch plywood because it has beautiful graining and a nice consistent color.
Plywood is easy to cut to the exact size that you need and is almost always cheaper for large projects compared to buying individual boards.
Here's our guide to buying wood for woodworking projects!
Our favorite stains for birch plywood include:
Click here for our complete guide to the best stains on birch plywood!
Poplar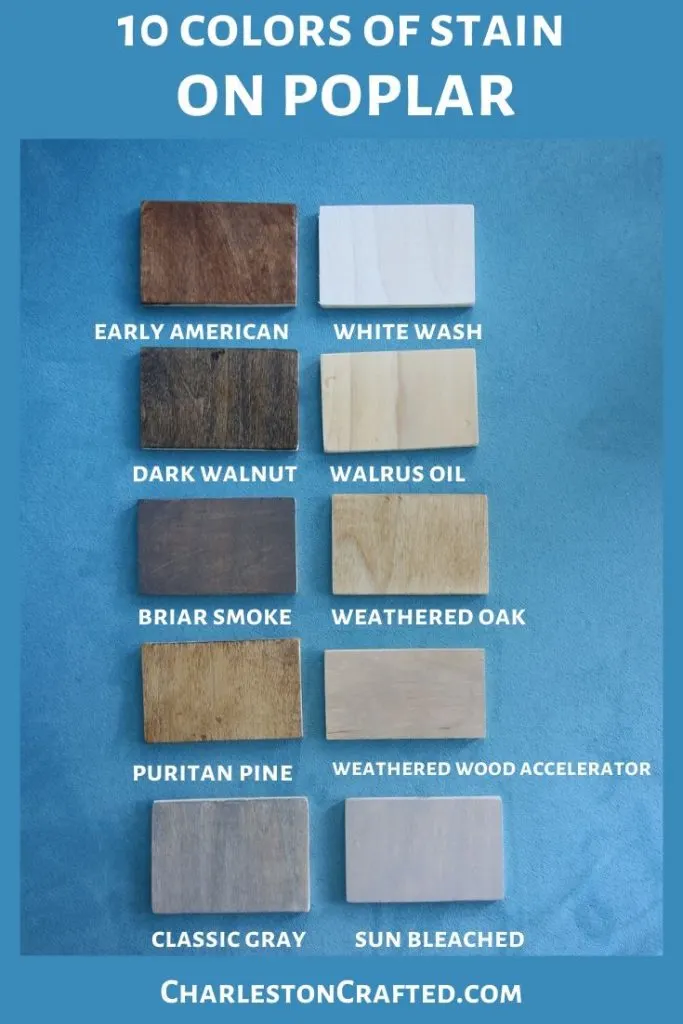 Poplar is really beautiful on it's own and doesn't even need a wood stain – oil is often all it needs – but you can also add a stain to it.
One important thing to remember about poplar is that it comes in a lot of different colors.
Some pieces are very light tan, there is yellow poplar, and darker pieces that have green or even purple tones.
With so many different possibilities, it's really best to test poplar on the exact poplar boards that you are building with – save a scrap if you can!
Our favorite stains for poplar include:
Click here for our complete guide to the best stains on Poplar!
White wood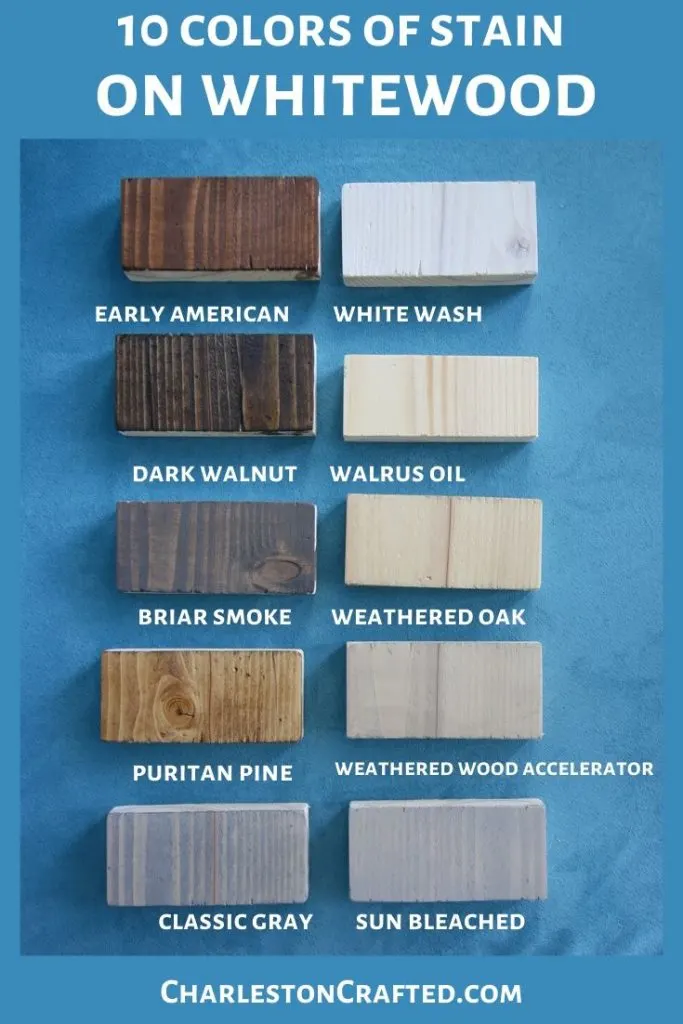 White wood is the generic name for cheap, white wood at hardware stores. In reality, it can be a lot of wood types. However, it's always soft, light, with dark knots.
Because of this, I usually prefer a stain with fuller (less transparent) coverage on white wood.
Our favorite stains for white wood include:
Click here for our complete guide to the best stains on white wood!
Basic woodworking information for every project
Here are some of our most popular woodworking articles!
Shopping for wood:
Woodworking project ideas
See all our printable PDF woodworking plans!
Our favorite tools + supplies
Remember to also always use safety equipment while woodworking and using tools. Make sure you have proper eye protection, ear protection and a good mask to keep yourself safe.
Any more questions about wood stains?!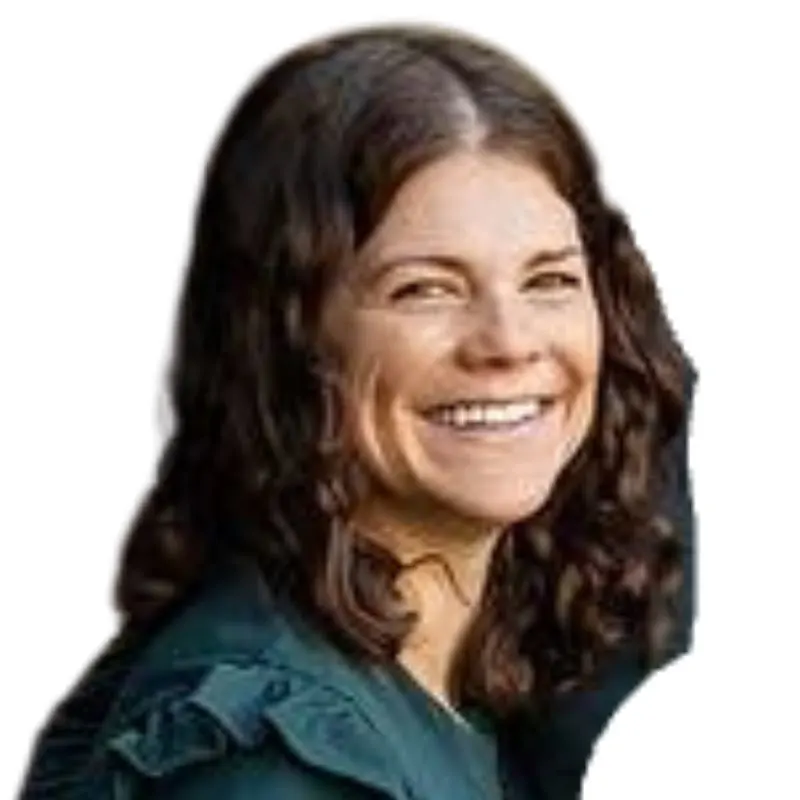 Hello, I'm Morgan, half of the creative force behind CharlestonCrafted.com! With a passion for DIY that dates back to 2012, I've transformed three homes and now I'm dedicated to helping others craft their dream spaces. Let's turn your house into a home together!