Want to get started with woodworking? Here is a complete guide on where can I buy wood for woodworking projects including what wood is best from each store.
Woodworking is a fun hobby to have – and can even become a lucrative business.
When you are getting started, you have to first figure out where to get wood for your woodworking projects!
The most straightforward options are local big box stores, but there are other choices as well.
There are a few options to where to buy nice wood – let's run through them and get your shopping started.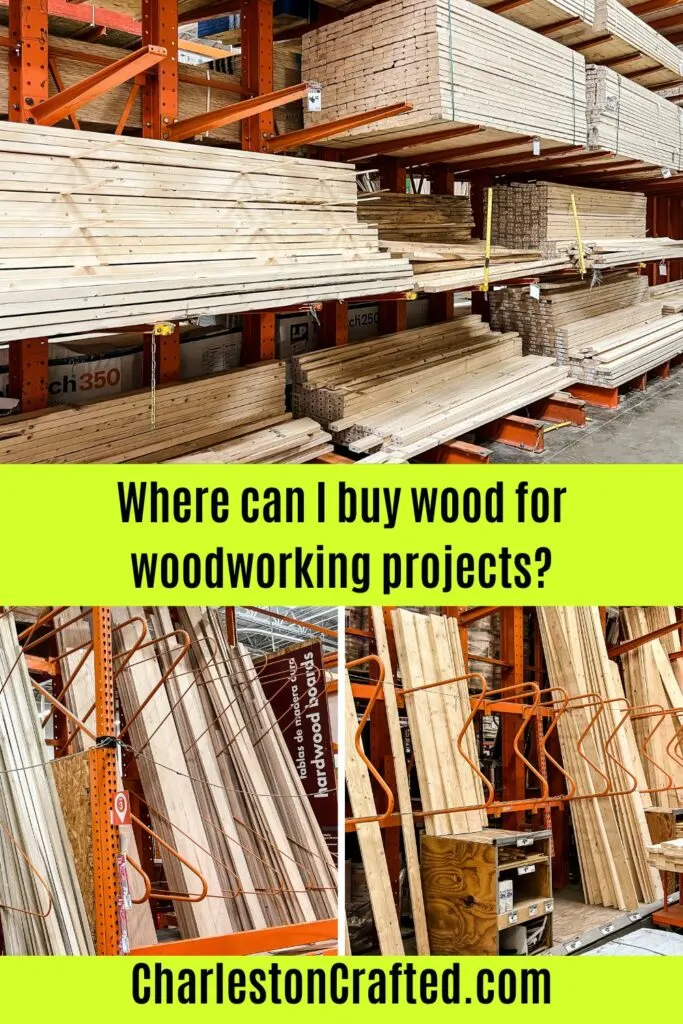 How can I save money on wood?
Shopping for woodworking lumber can be expensive! Save money by buying in bulk, shopping around, being flexible in material type, and getting creative with where you source your wood.
You can also save money planning a couple projects at a time in advance. This way, you can buy wood and have a specific cut list for the whole thing.
This applies especially to plywood. If you know you have a couple of projects you can buy wood for, pay attention to how you can buy the wood to service both projects.
What is the cheapest way to buy wood?
You can get cheap lumber from:
Neighborhood Facebook groups
Facebook Marketplace
Cabinet makers
Local woodworker groups
Construction sites
Lumberyard bundles
Freecycle/Buy Nothing groups
Discount racks
Don't forget to consider taking apart old furniture or pallets to get wood with plenty of life left to it.
This is especially good for garage, attic or outdoor projects where the wood doesn't have to be perfectly smooth and have zero imperfections.
Click here to read our complete guide on how to get cheap and free lumber!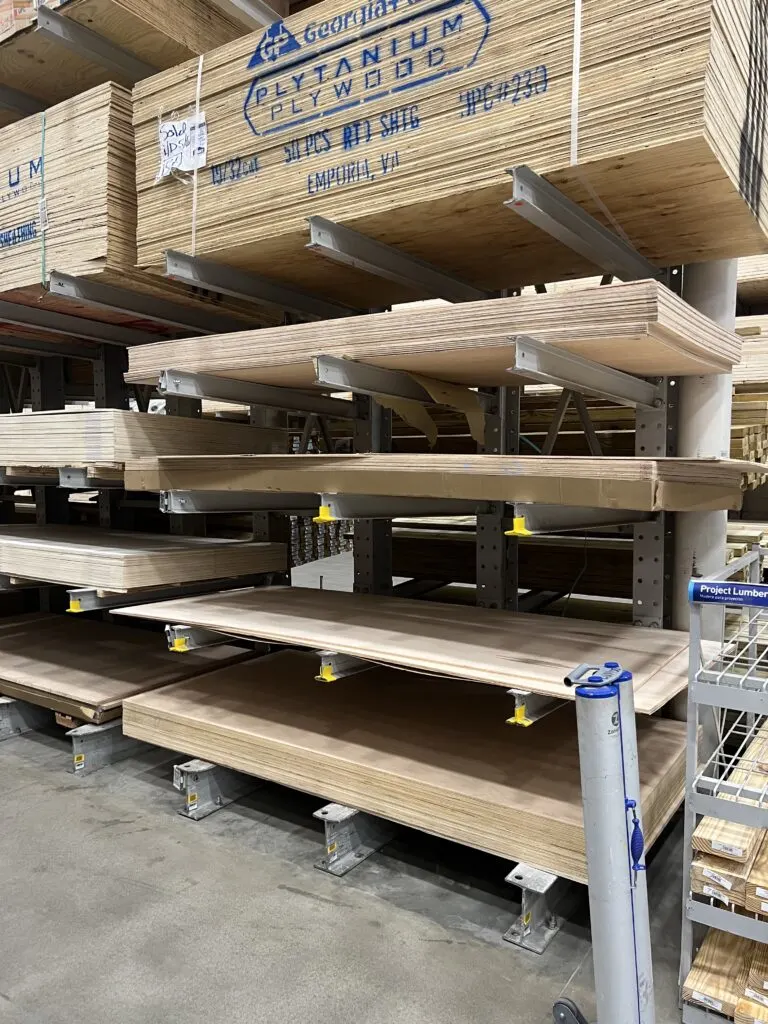 Where can I buy wood for woodworking projects?
You can buy lumber for woodworking projects either at an in-person lumber shop near you or by shopping for lumber online.
Keep in mind that these are all the options, but you limit yourself if you need wood quickly.
If you are looking for specialty wood and are able to plan ahead, you'll give yourself a lot more options.
Where to buy lumber near you
Your main options for buying lumber in person are hardware stores, big box stores, craft stores, and lumber yards. If you're new to buying lumber, be sure to check out our guide on how to shop for wood for projects!
Hardware Stores
Local hardware stores will sometimes have a lumber section. Typically, these are smaller sections compared to big box stores.
Since they have less wood in stock, smaller hardware stores often have higher prices compared to big box stores or lumber yards.
However, since these stores know they can't compete with the wide selection of big box stores, sometimes they will stock really unique items you can't find elsewhere.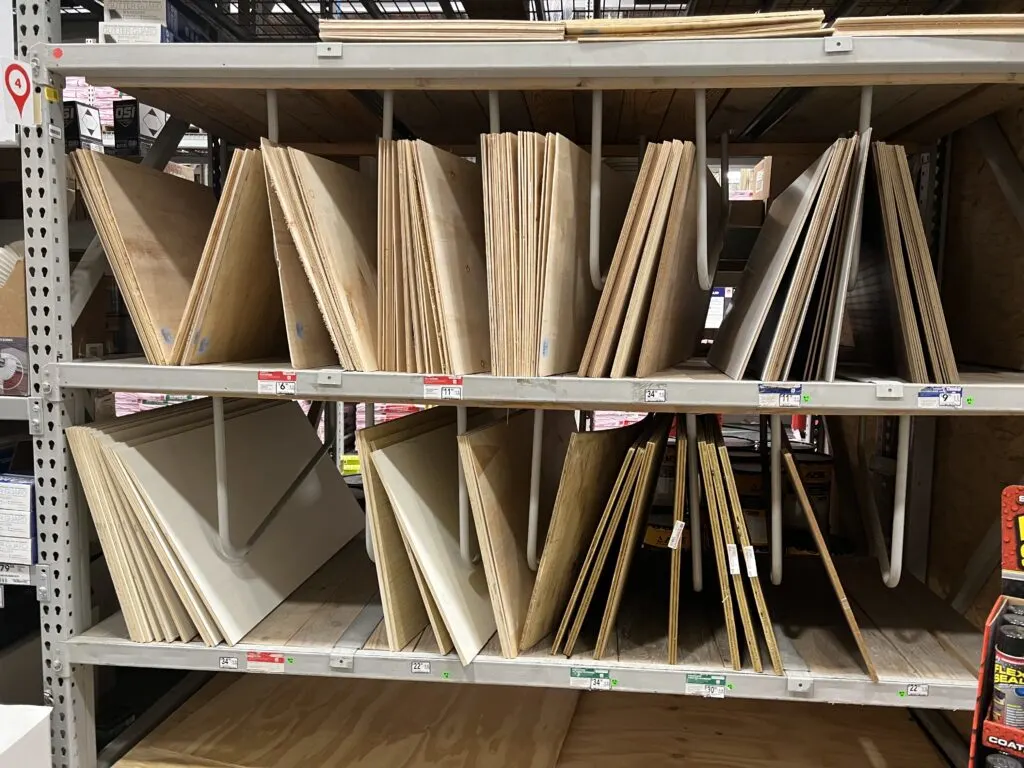 Big Box Stores
The big box stores that I am referencing in the United States are Home Depot and Lowes. These stores each have large lumber selections, with mostly plywood, construction lumber and a small selection of hardwoods.
Home improvement stores are usually easily accessible and have a large selection, high volume of each option, and offer a decent price. Home improvement stores also will offer you the most consistent selection from trip to trip.
If you are a beginner or occasional woodworker or DIYer, a big box home improvement store is a popular choice for the best place to buy wood for projects to meet your needs consistently.
Big box stores are also going to be the best option if you are short on time. They will always have the same lumber selection and you can always get it. If you don't need something specialty, this is likely your best choice.
Types of common woods typically available at home improvement stores include:
Pine
White wood
Poplar
Oak
Cedar
Cypress
Plywood
Treated lumber
Keep in mind that big box stores often will not have high-quality lumber. They are at the mercy of their suppliers and you will pay market price, even for bad (warped or damaged) wood. Make sure you read our post on how to buy lumber from a big box store!
Take your time to check for straight grain – it matters.
You often have to sort through a lot of pieces of wood just to get a good straight piece, especially when purchasing lower-cost wood types like pine or construction lumber.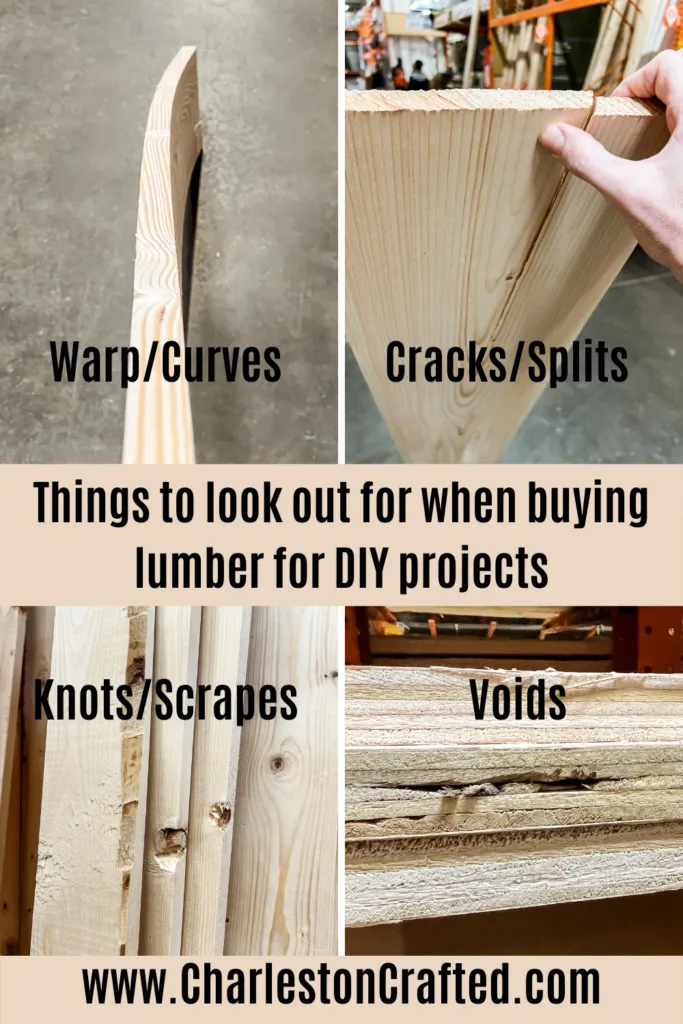 Craft Stores
Craft stores will also often have a small selection of wood. Usually this is for small wooden crafts or hobbies like dollhouse making.
If you need small, thin wood – like basswood – or pre-cut wood shapes, it can be a great option. But, craft stores won't have much in the way of true lumber.
Lumber Yards
Speciality wood stores and local lumber yards are often the best place to get high-quality wood or if you are looking for very specific types of wood.
Lumber yards are going to have a large selection of high-quality hardwoods, but there might not be as much or as consistent of pieces as a big box home improvement store.
The wood from these places is also much more expensive compared to big box stores. However, you're probably buying the wood for a more luxury level project, so you keep that in mind.
We got a slab of curly maple for our fireplace makeover from a lumberyard!
With lumber prices currently at an all-time high, specialty hardwood lumber is now less cost-prohibitive because prices haven't been affected as much as dimensional lumber from the hardware store. This gives buyers an opportunity to try something new.
Specialty wood stores and lumber yards will also offer high-quality cuts with dried and planed smooth boards that are almost always going to be smooth and straight.
Lumberyards can seem intimidating, but the people that work there are usually really interested in lumber and are happy and excited to talk to you about your project and lumber needs.
Building a relationship with the employees of the lumberyard could mean that they set aside awesome wood for you in the future or let you know if they have any specials or discounts going on.
Where to buy lumber online
You always have the option of buying wood online. Remember that you will have to pay for shipping for anything bought online. Because of that, it usually makes sense to save the online shopping for very specific pieces that you can't find locally.
We bought a slab of wood on Amazon for a live-edge coffee table back in the day!
Some great sites to buy lumber online:
Keep in mind that you can also order lumber online from both Lowes and Home Depot. There is an additional charge for forklift delivery, but it is free if you have it shipped to the store and drive it home yourself.
However, make sure you inspect the boards before you accept them. The employees at these stores are going to fulfill your order by grabbing whichever pieces are on top in the pile. They won't take as much care to check each board like you would.
Where to buy lumber by wood type
Often, the best option of where to buy lumber depends on the lumber you want to use!
| | |
| --- | --- |
| Lumber Type | Where to buy it |
| Pine | Lowes/Home Depot |
| Poplar | Lowes/Home Depot |
| Plywood | Lowes/Home Depot |
| Spruce | Lowes/Home Depot |
| Pressure treated lumber | Lowes/Home Depot |
| Walnut | Lumberyard |
| Oak | Lumberyard |
| Maple | Lumberyard |
| Live edge slabs | Online |
| | |
Basic woodworking information for every project
Here are some of our most popular woodworking articles!
Shopping for wood:
Woodworking project ideas
See all our printable PDF woodworking plans!
Our favorite tools + supplies
Remember to also always use safety equipment while woodworking and using tools. Make sure you have proper eye protection, ear protection and a good mask to keep yourself safe.
Any other places where you like to buy lumber?