If you are doing a woodworking project, you first have to get the wood to fit in your car for the drive home. Here's what you need to know about having Home Depot cut wood for you!
When we first started with DIY projects, we lived in a second floor condo with a small 6'x8′ screened porch as our only outdoor space.
We hardly owned any tools – just a drill, a sander, and a hand saw +miter box combo.
For any sort of build, we always had to consider how we would be able to cut the wood.
One easy solution is to have the store cut the wood for you.
Be sure to check out our tips for getting cheap and free power tools!
Now we have a lot of tools and sometimes even bring a circular saw in the car so we can cut wood down on the spot, in the parking lot, to fit in our SUV.
But, you can definitely take advantage of the cutting service that Home Depot offers.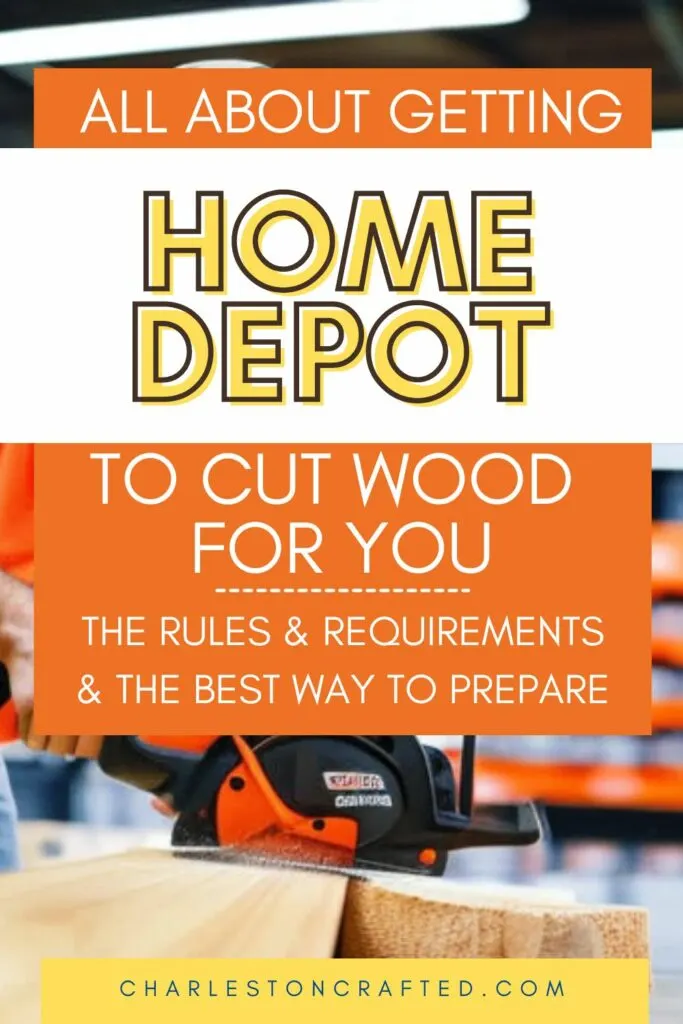 Basic woodworking information for every project
Here are some of our most popular woodworking articles!
Shopping for wood:
Woodworking project ideas
See all our printable PDF woodworking plans!
Our favorite tools + supplies
Remember to also always use safety equipment while woodworking and using tools. Make sure you have proper eye protection, ear protection and a good mask to keep yourself safe.
Will Home Depot cut wood for you?
Yes, Home Depot will cut wood for you! However, they won't make all of the cuts that you need for a project.
The main reason that Home Depot cuts wood for buyers is to help you be able to get large pieces into your car – not to do your project for you!
Home Depot just has a big chop saw and, in our experience, the cuts that they make are not super precise.
Also, keep in mind that not every Home Depot location has the same rules around cutting. It can be good to ask customer service in advance, if you are depending on a use of their saw.
I have heard that some locations charge per cut – but I have never experienced this. It's always good to ask first!
And, a lot can depend on who is working that day. Some people are super friendly and want to help. Others are busy and not quite as willing to help.
Here's what you need to know before you head to your local Home Depot.
Home Depot wood cutting rules and requirements
Home Depot will only cut wood that you bought there, when you are buying it there.
Most Home Depot stores limit themselves to one cut per board.
Cuts are limited to straight cuts along the length or width – no curved cuts, no angled cuts.
These are rough cuts – the saw is dull and uncared for, usually. It's not going to be a super clean cut, especially on plywood or anything that tends to tear.
In my experience, they don't like to make small cuts – like cutting 1-2 inches off the end. The employee has always told me this didn't do well for their saw and to stick to at least 12″ pieces.
The cuts are not precise – they will vaguely measure for you, but they aren't getting down to the 1/4″. Remember – they throw the saw up there (often on a vertical cutting surface) and pull the saw down. That's it!
Cutting is done on a first-come, first-serve basis. If you know you need cuts made, swing by the saw first. Check to see if there is a line or go ahead and speak to the employee working the stand if you can!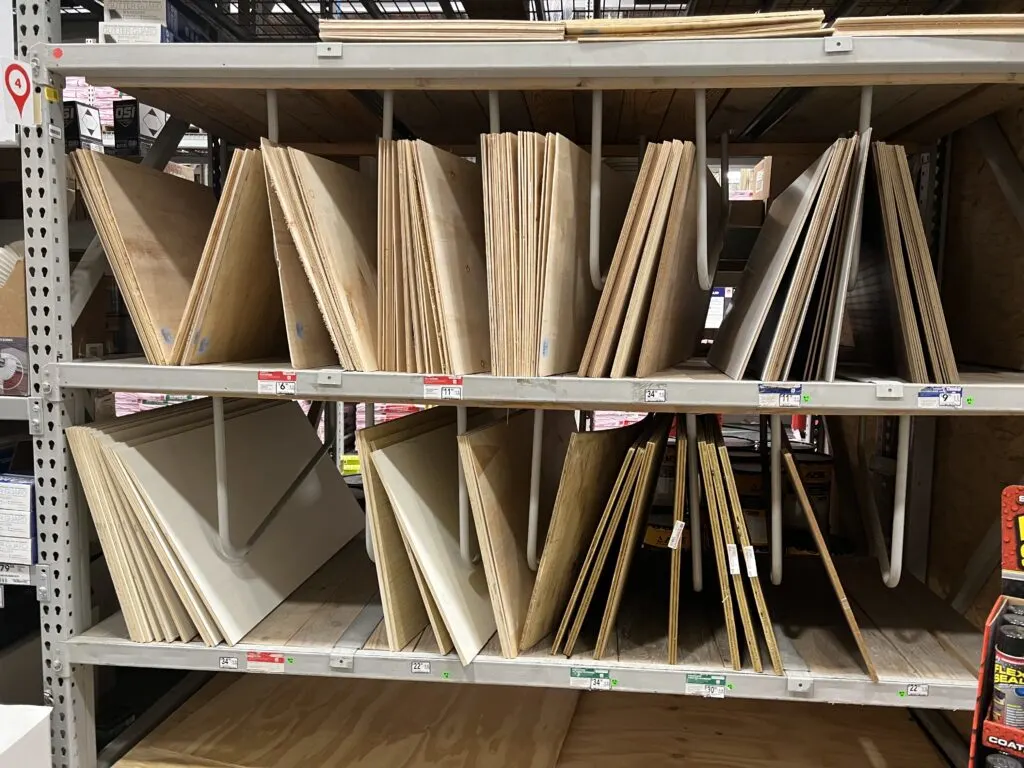 What Does Home Depot Cut In-Store?
Home Depot actually has machines to cut a few things in their stores! Call to be sure your store has each option, but overall, they offer cutting services for:
Lumber
Trim
Blinds
Rope
Chain
Galvanized/black iron pipe
What wood will Home Depot cut in store?
Home Depot will typically make 1 cut per board in:
Traditional common boards
MDF
Plywood
Particle board
Melamine
Many stores will not cut pressure treated wood. Ask in advance!
Also note that they don't cut trim for you. They have a little miter box and hand saw for you to cut it yourself. Interestingly enough, Home Depot sells trim by the foot while Lowes sells it by the board, so we are frequently hand cutting trim at Home Depot!
How much does Home Depot charge for cutting wood?
Most Home Depot locations will do 1 cut per board purchased in their store that day for free. Some stores will do 2 cuts. If you go asking for more cuts than that, some stores will charge a dollar or less per additional cut.
How long does it usually take for Home Depot to cut wood?
It usually takes longer to flag down an employee and get them to agree to cut your wood than it does to actually cut it. Remember – they don't take their time to be precise or gentle, they just chop it up quickly.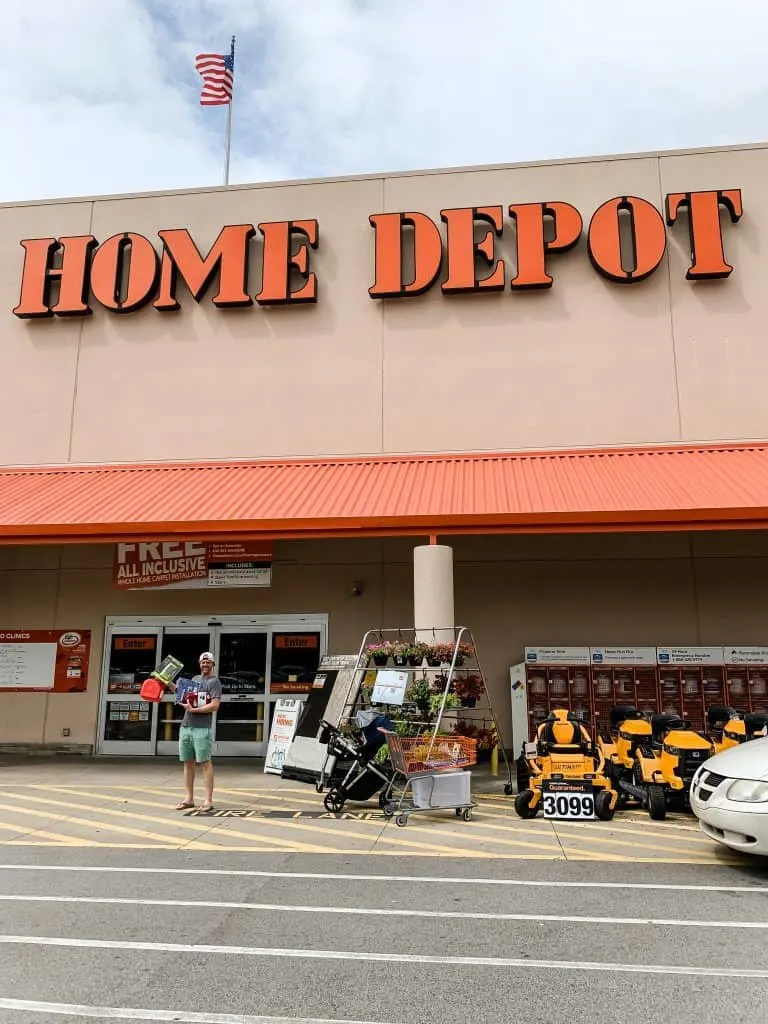 The process for having wood cut at Home Depot
Plan in advance the boards you want and the cuts you need made. Write it down!
Go to Home Depot and grab your lumber on a lumber cart.
Head to the cutting station and push the button to request an employee's assistance.
If no one comes, head to the customer service desk.
Ask if they can help you cut your wood. They might have requirements or specific requests.
Tell them exactly how long you want it cut. Consider bringing a tape measure and pencil and pre-marking the cut to make sure you get what you want.
Assuming all is good, they will pick up your wood, cut it on the saw, and give it back to you.
Go check out and pay for your wood.
Load it into your car easier than a wobbly 12′ board 🙂
Don't forget my top tips for getting wood cut at a store:
BE NICE. They are doing you a favor, act like it!
Help out! Load your wood on or off the saw as needed. Help them lift the huge plywood. Just make yourself useful!
Plan in advance. Don't wait until they are ready to cut to say hmm how long do I want this I'm not sure. Plan your cuts out and write them down!
Don't come at peak hours. If at all possible, come when the store is less busy to get the best possible customer service.
Consider bringing work gloves or a plywood carrier to help you better transport your cut wood to the car.
Any questions about Home Depot cutting wood?