Want to build pet bunk beds? We made these for our cat and dog and love the results!
Check out our updated post with FREE PDF woodworking plans here!
This shop has been compensated by Collective Bias, Inc. and its advertiser. All opinions are mine alone. #UltimateLitter #CollectiveBias
We love both our cat, Bear, and dog, CiCi, and love that they love each other so much. However, sometimes the togetherness can be a bit much. Exhibit A: Bear has taken a liking to going to sleep in CiCi's bed. CiCi tends to stay on the couch with the humans until bedtime, and then, when she goes to her bed, it's already occupied. This leads to her either looking sad and pouting, or squashing in next to her sister.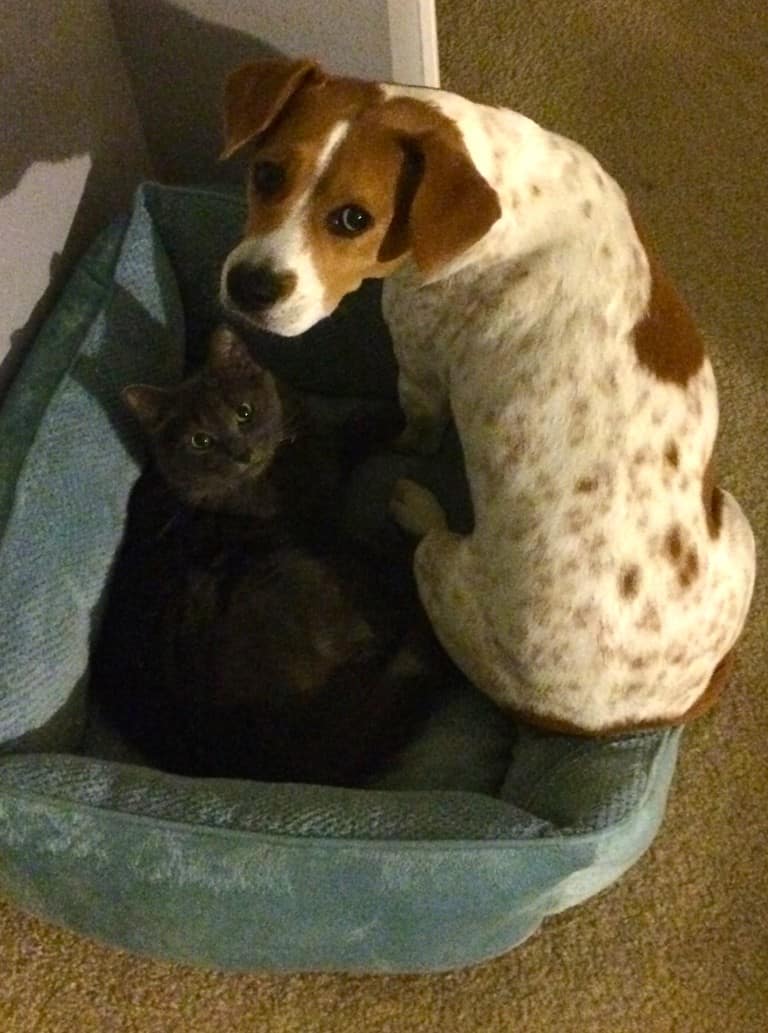 To remedy this issue but still allow them maximum togetherness, we decided to build cat & dog bunk beds – AKA love bunks. This might seem a bit crazy, but Bear really loves being up high and this was a great way to give her a raised bed in our master bedroom.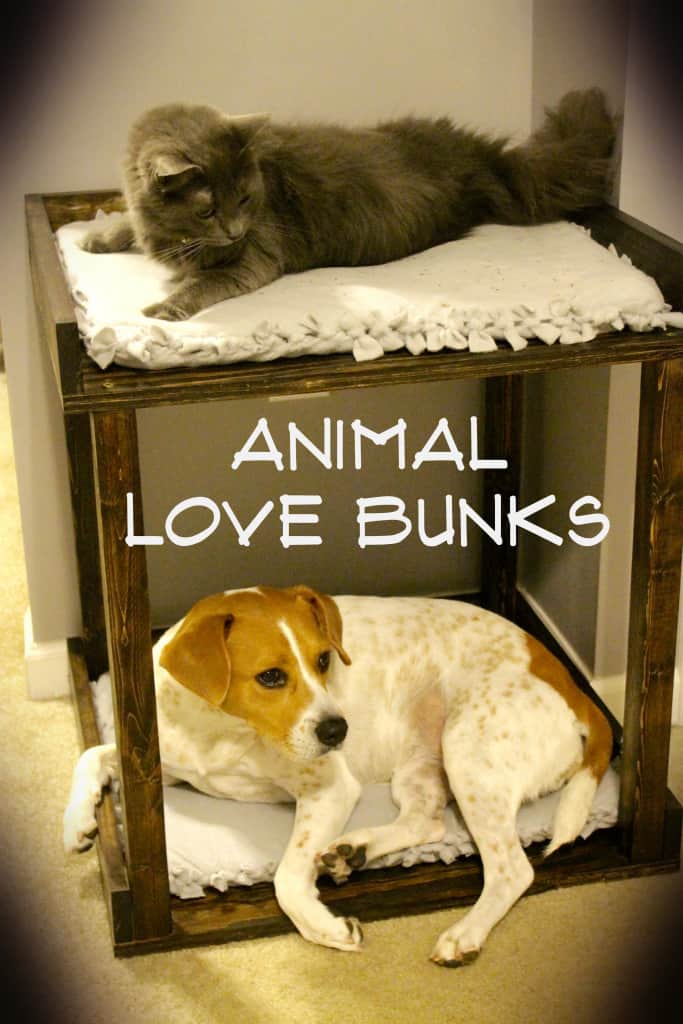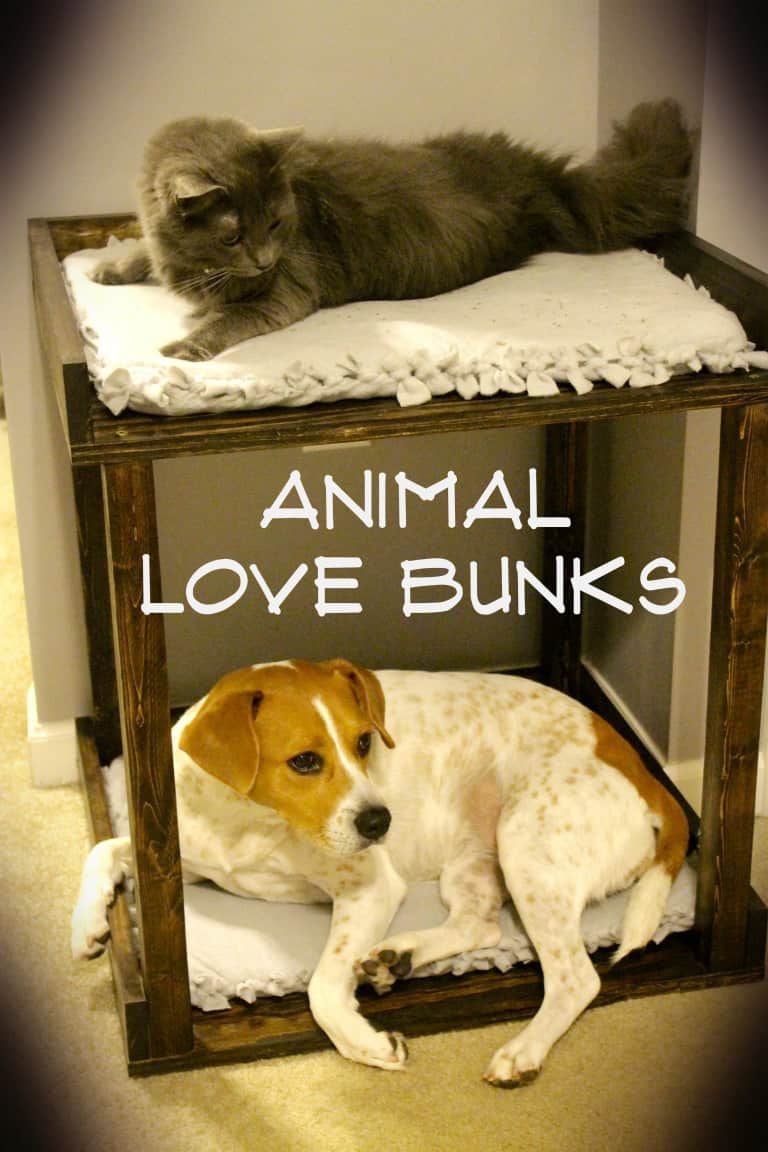 Here's how we made it.
Want to build a bed for a human too? Check out our modern platform bed!
Pet Bunk Beds
Sean picked up the wood at Lowe's (see breakdown on lengths below). While we are DIYers to that max, Lowe's will cut your wood for you for free to your exact specifications, so if you're just doing simple straight cuts to make boards a certain length, sometimes it's just much easier and quicker to have the pros do it for you. Sean had made a sketch of his vision for the love bunks and knew exactly what lengths they needed to be cut to, so that was easy.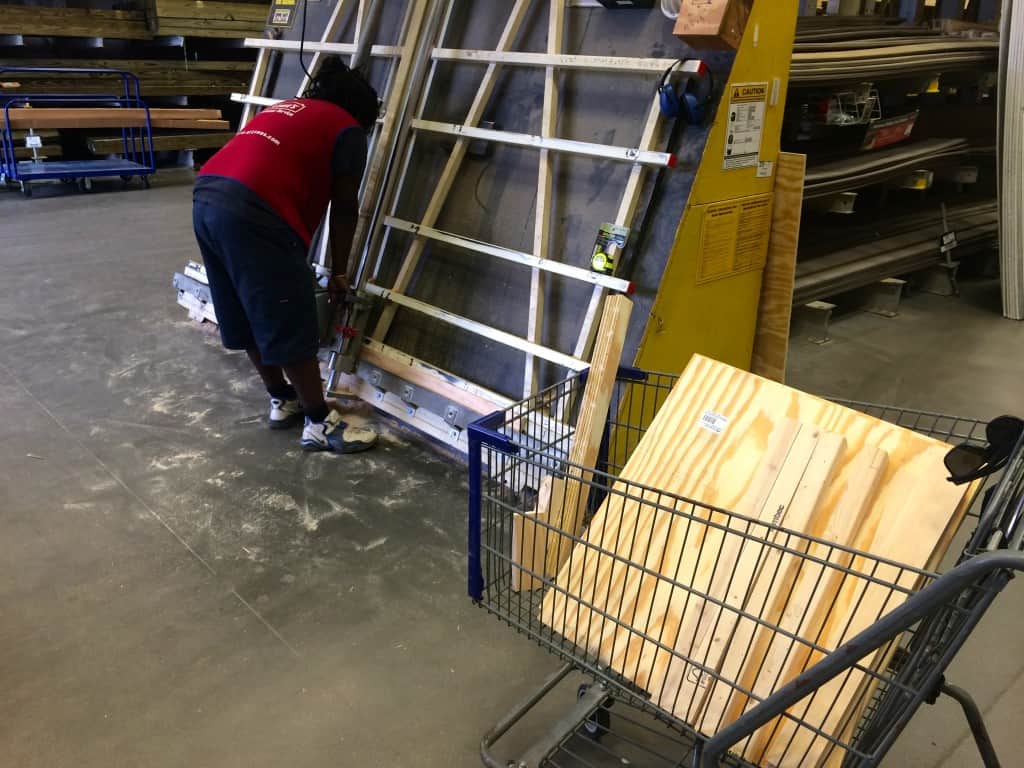 Once at home, he used our electric sander to smooth out all the surfaces. The pine boards were already pretty smooth, but it's good to give any wood at least a quick sand, especially if you're going to stain it.
Then, Sean simply followed his design, using 2 1/2″ wood screws to put together the edges of each bunk, and then securing the edges to the base of the bunk.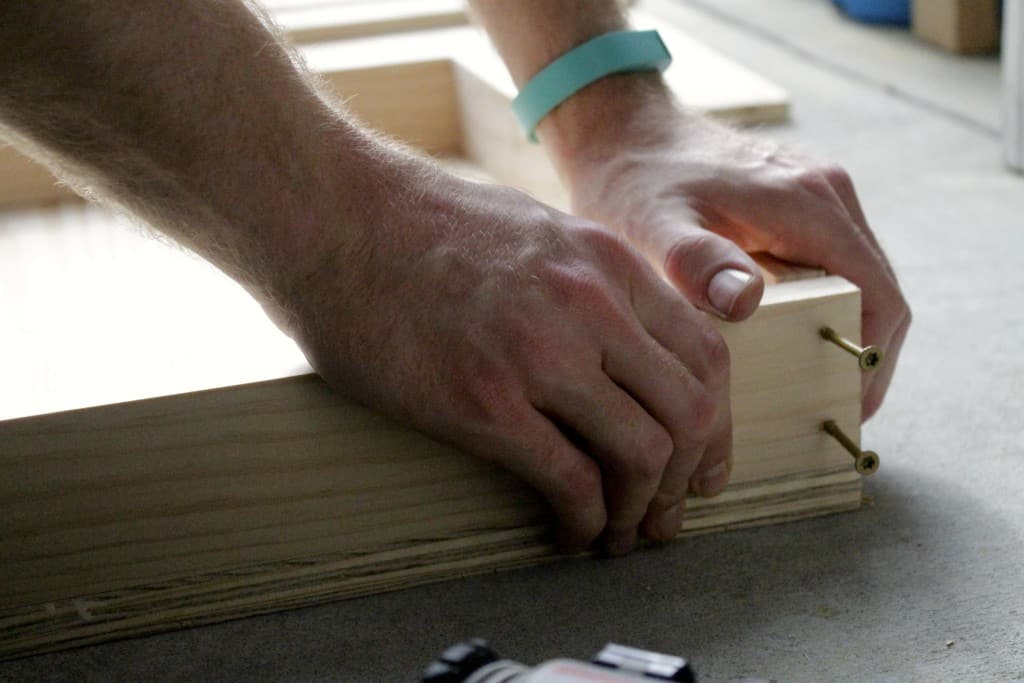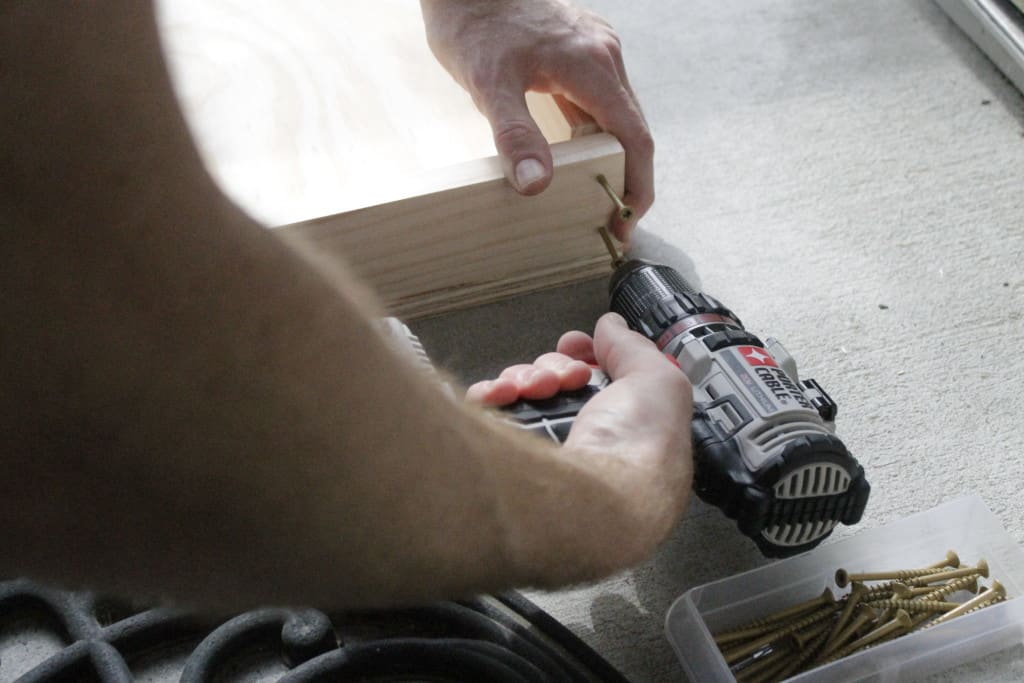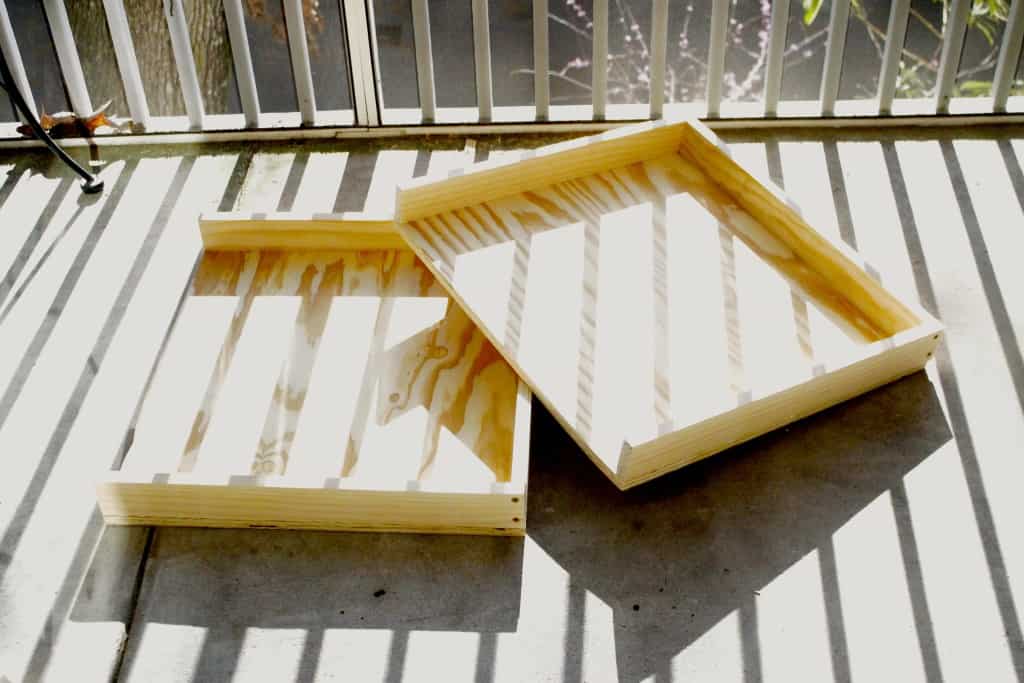 Then, he used 3 1/2″ wood screws to screw in the posts to the bottom bunk, going through the bottom, and then to the top bunk, going through the top.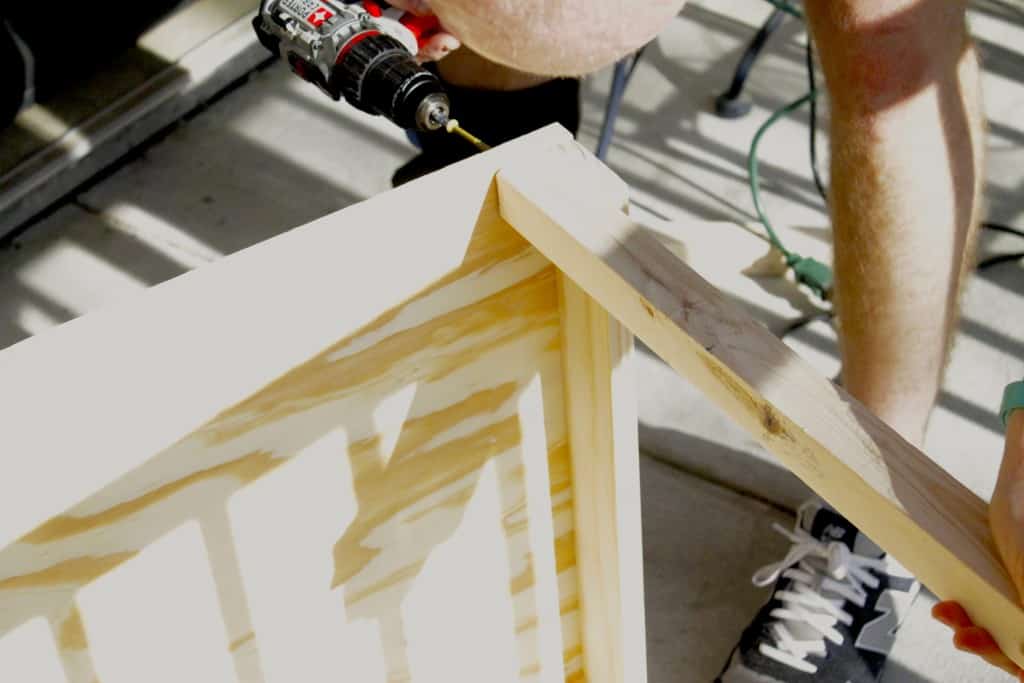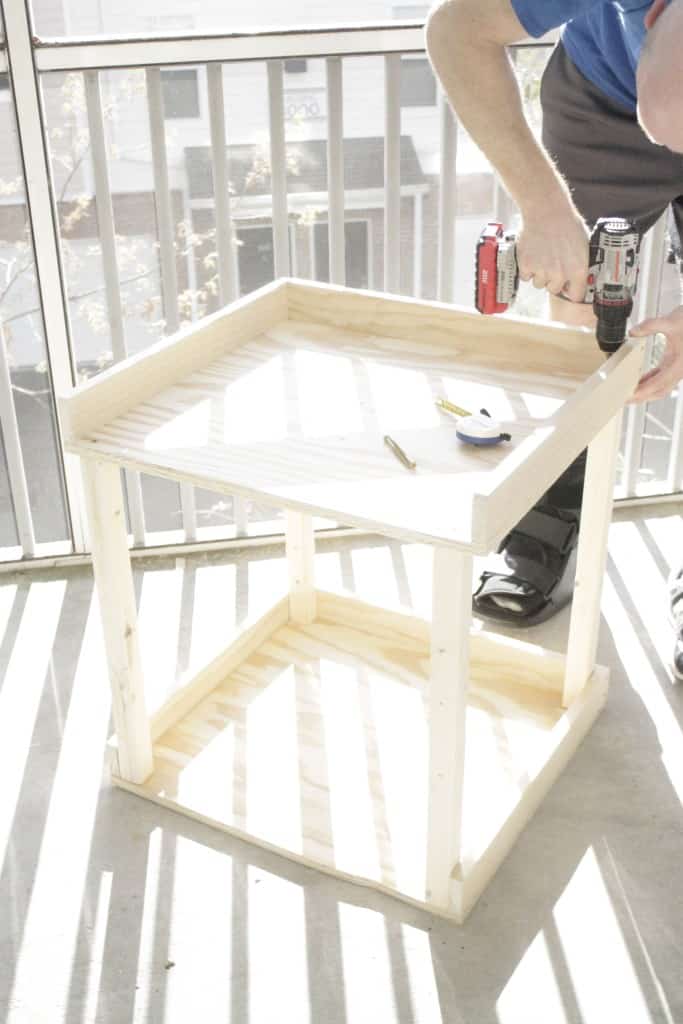 Then all we had to do was stain and seal it!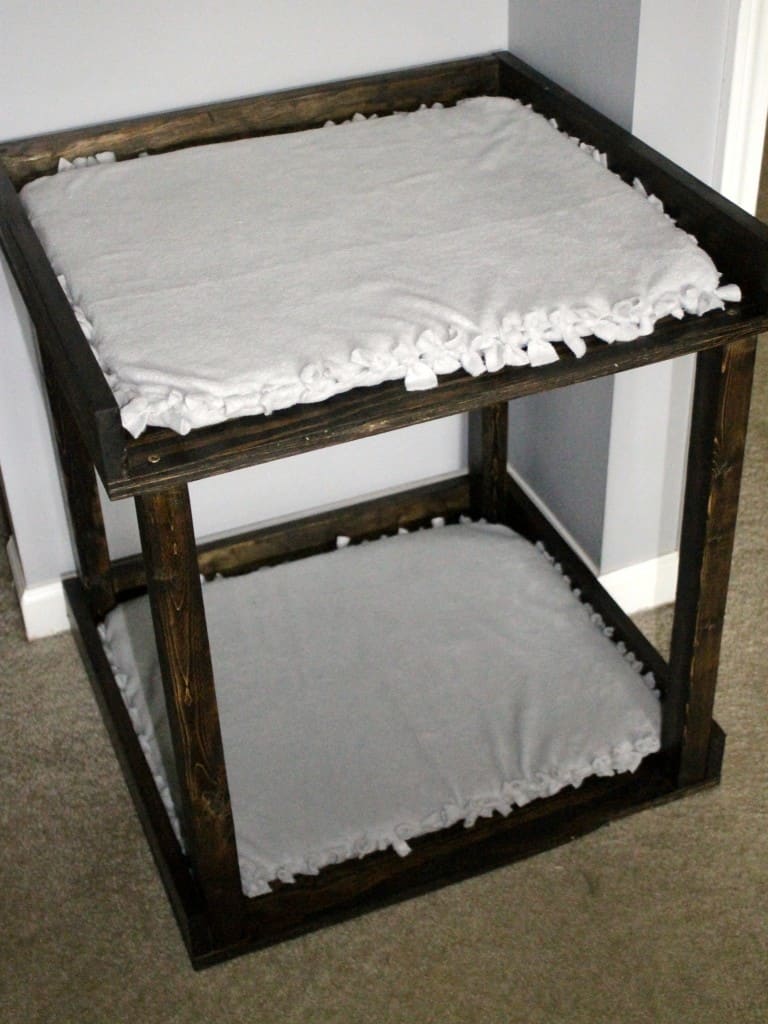 I decided to make a simple cushion to line each bunk. I cut squares of a foam mattress pad (left over from reupholstering this bench) about 1 inch smaller length and width than the size of each bunk. I cut grey fleece (left over from these narwhal pet costumes) with 2 inches overhang around the square of foam (so add 4 inches to each length and width, 2 identical pieces for each cushion). I copied the "no sew fleece blanket" method I learned in Girl Scouts 2 decades ago and cut slits around the sides and tied simple square knots. It took about an hour to make both but was free since I used leftover materials that I had on hand.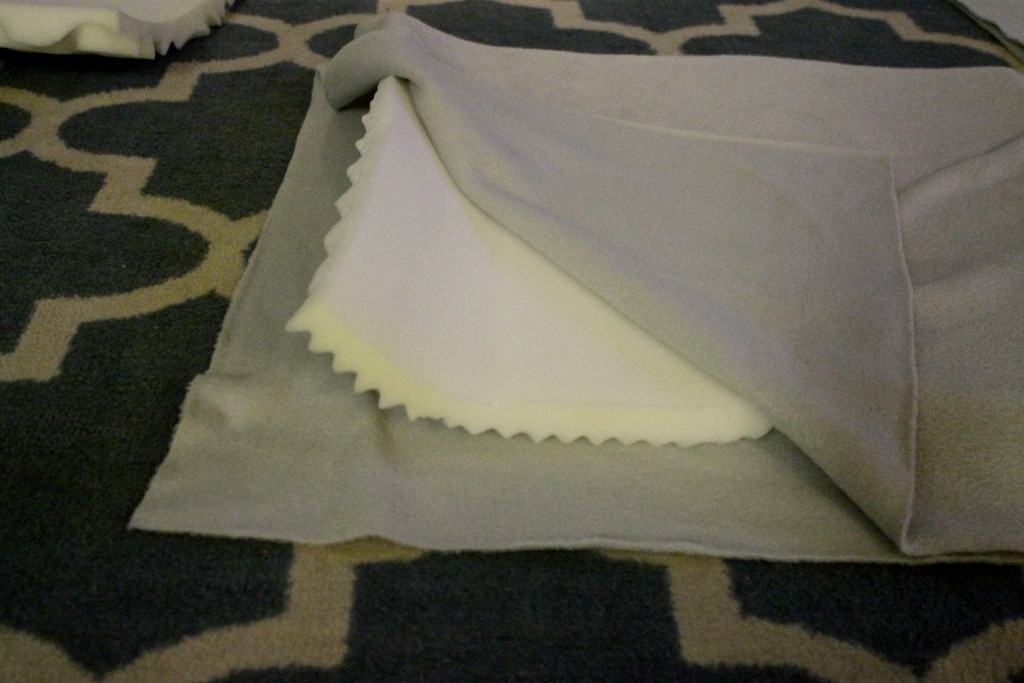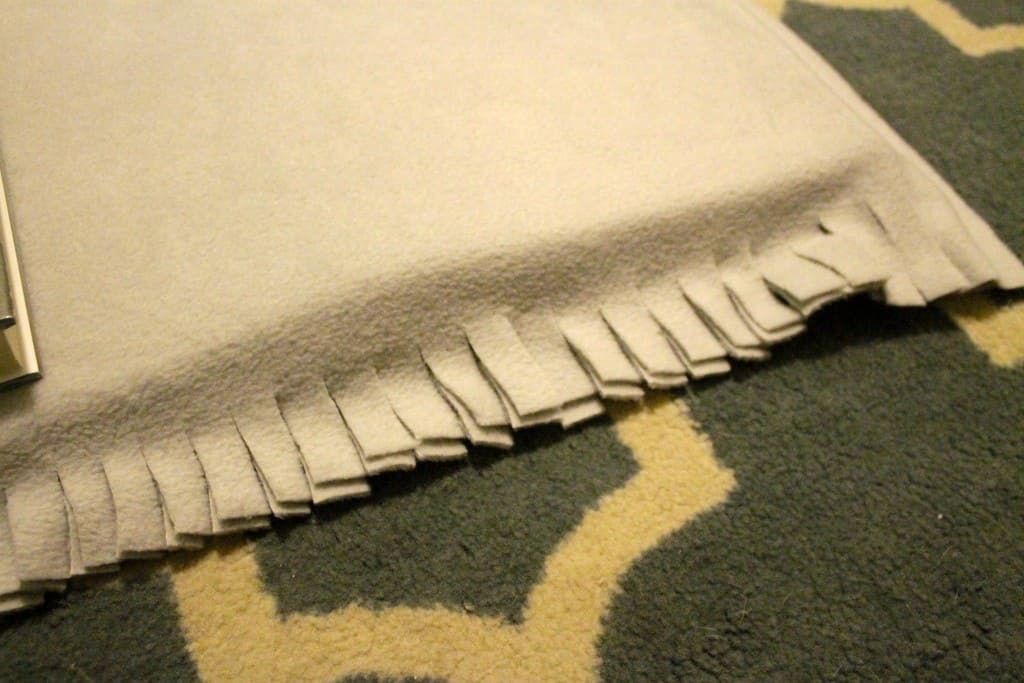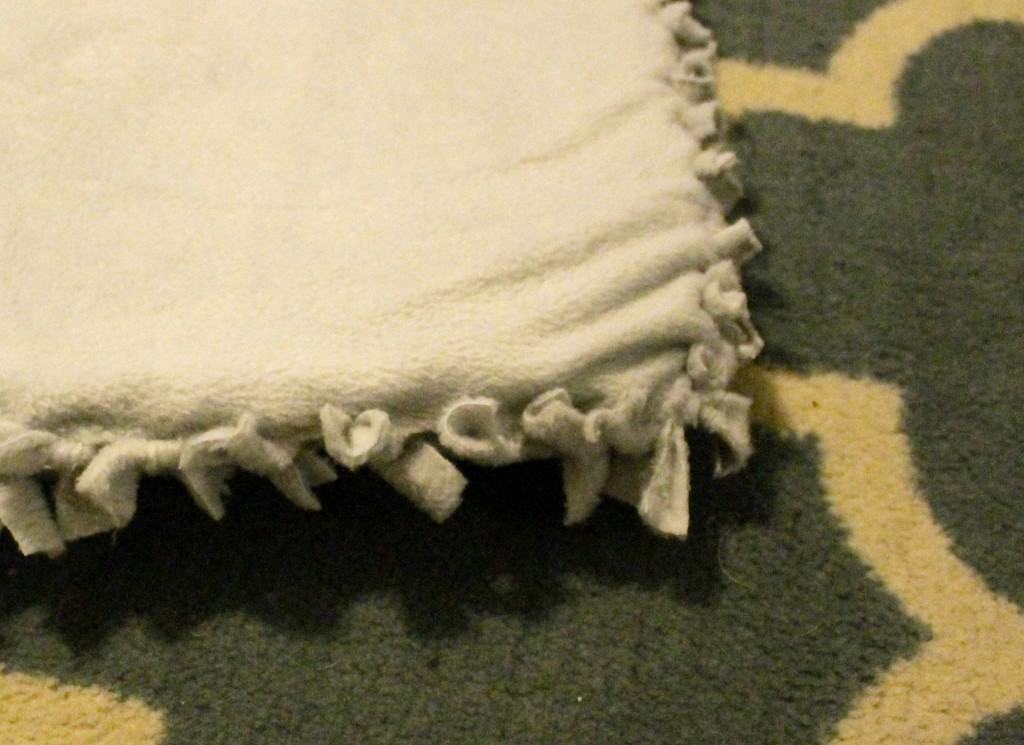 The love bunks live in our bedroom now and perfectly fit in a small nook. Bear loves the chance to be up high, and CiCi is okay with it too – though she loves it the most when she has her bed under there as well.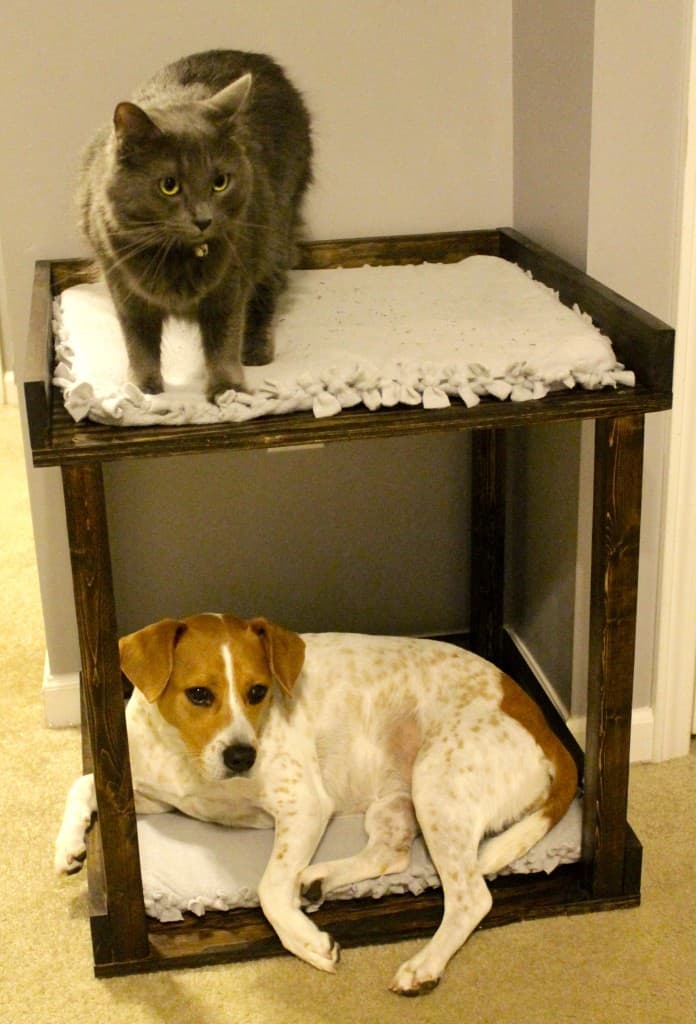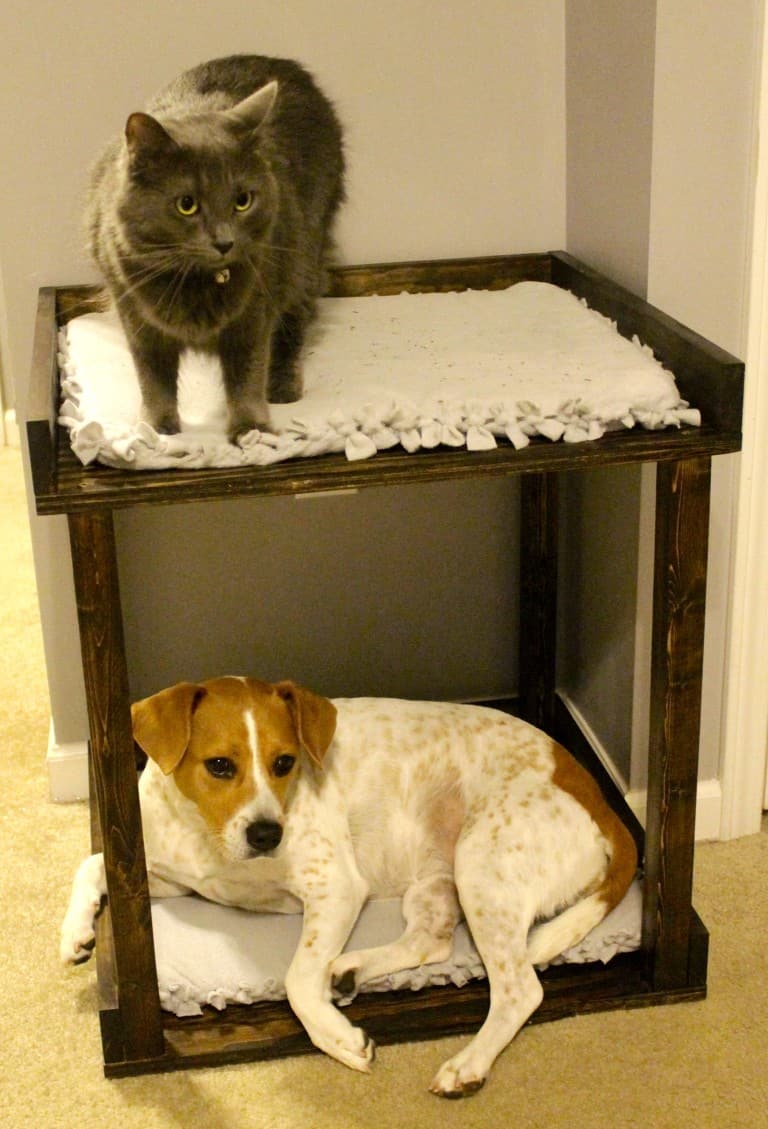 Cost Breakdown:
Two 1″x3″x72″ pine boards- $6.87 each
2″x2″x8′ furring strip- $1.95
23″x48″ pine particle board – $11.08
Stain – had on hand, $10.07 (used less than 1/8 can)
Screws – had on hand, $6.63 (used 28)
Foam pad – had on hand, $22 (used less than half)
Fleece – had on hand, $5 (used under 1 yard)
Total cost to us: $26.77
Total cost with nothing on hand: $70.47
Cats are complicated. Great litter is simple. I picked up this Cat's Pride® Fresh & Light Ultimate Care® at Walmart and love that it's low dust, makes strong clumps and is now over 50% lighter at 10 lbs (†See packaging for details) with 10+ day odor control & powerful absorption (*Based on laboratory testing, when used as directed). Click here to check out the coupons available for this product!
We also really like that Cat's Pride partners with organizations such as the American Humane Association and the Jason Debus Heigl Foundation™ to help end animal cruelty. We love our pets and adopted them out of bad situations, and every purchase of Cat's Pride supports their causes.
Check out tons of ideas for DIY projects for your cat!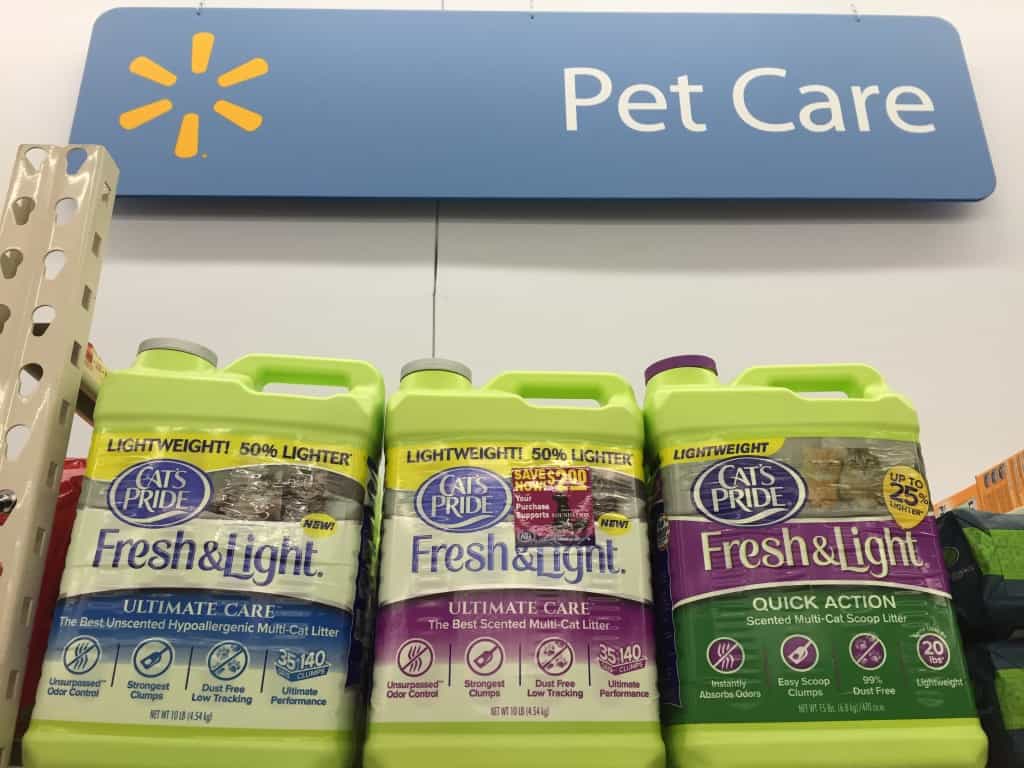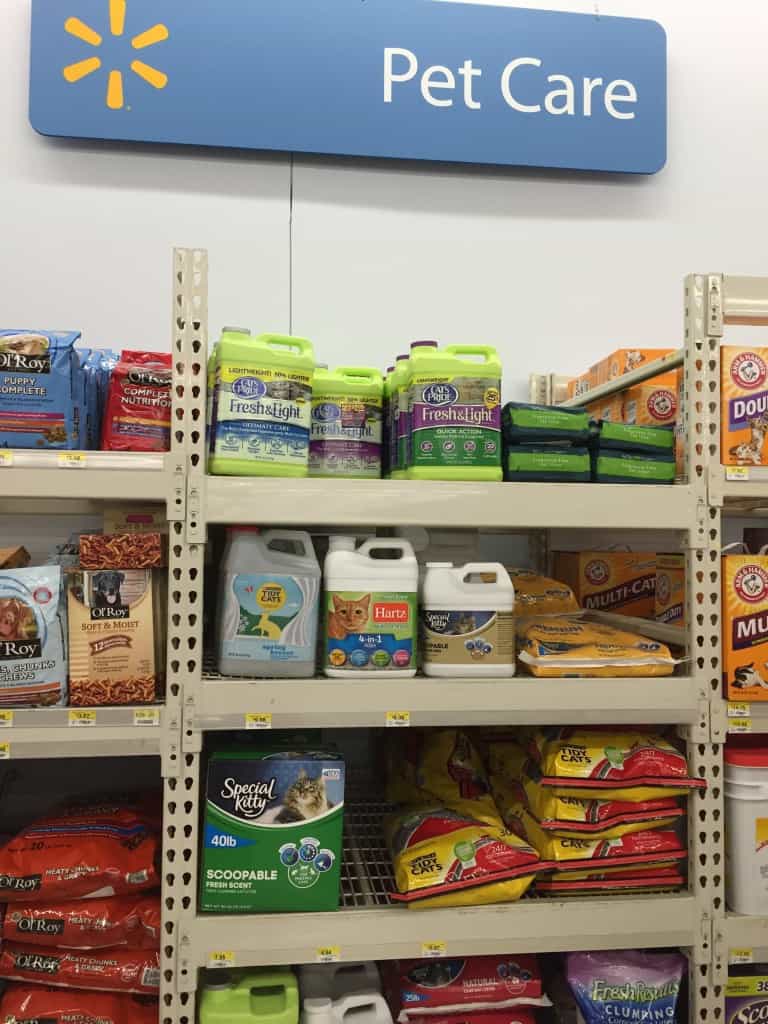 No Purchase Necessary. The #UltimateLitter Sweepstakes begins on 3/15/16 at 12:00 A.M. ET and ends on 4/25/16 at 11:59:59 PM ET. Legal residents of the 50 US/DC only, 18+. Void where prohibited. For Official Rules, click below.
Cat's Pride Fresh & Light Ultimate Care Cat Litter
This post was sponsored but all opinions are my own. Thanks for supporting the brands that make Charleston Crafted possible!