If you are wondering how to build a rustic barn door, we are laying out the full tutorial in this blog post! This post will show you exactly how to make a barn door for your home. We will also share the cost and DIY barn door plans. Add this easy DIY to your to do list!
Click here to download free PDF plans for this barn door!
We had a really awkward space between our master bedroom and bathroom where three doors open up into each other.
They were either banging into each other or blocking half the closet.
We decided that the best thing to do was to build a door that didn't cause us any issues. I am so excited to show you how to build your own barn door!
So, I designed a barn door that could slide on the outside of the wall.
So here's how to build a rustic barn door of your very own. Trust me, building a door is not that hard.
How to Build a Rustic Barn Door
Already have a barn door that you want to mount? Here is how we mounted our barn door! Here is how we lock our barn door!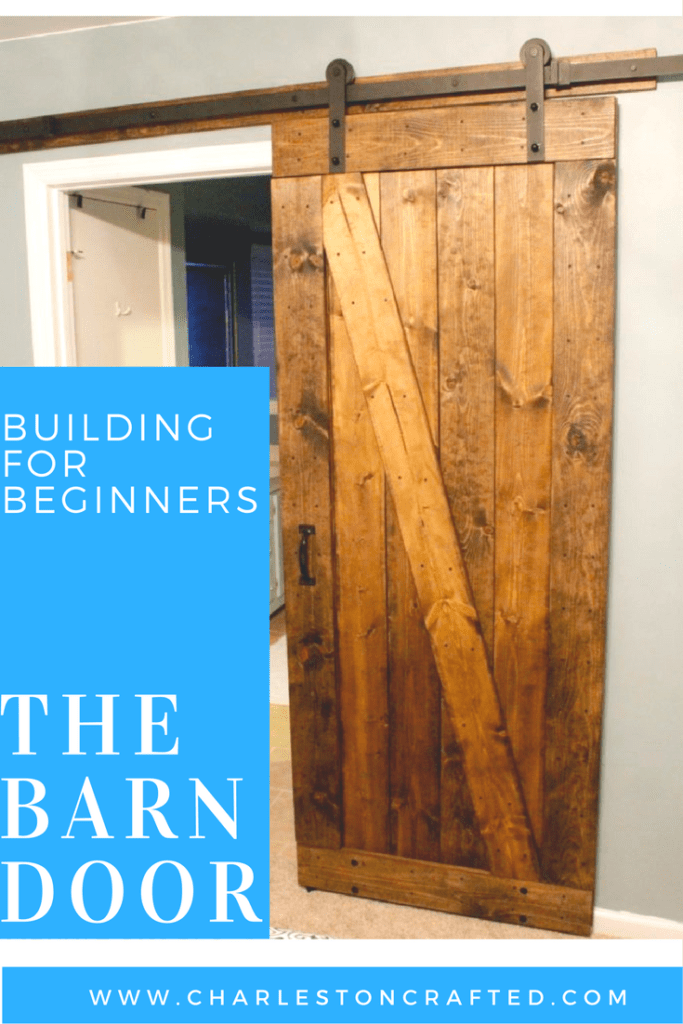 Click here to pin this project to your Pinterest boards!
Measure the space you want to cover and make sure you have at least that same amount of room on the blank wall for it to open.
It would really suck if you built the whole thing, hung it, and realized when you slid it open it hit a wall.

Design your door using the measurements and make sure you have a few ways to keep all the boards in place.
Make sure that you measure your doorway to ensure that the width of the door will cover the doorway opening.
The smart thing to do is have two layers. Have a bottom layer that is just vertical boards and then having a design on the second layer.
I had a space that was 83 inches tall by 36 inches wide. So I got six 1″x6″ pine boards to be the first layer.
Then for the second layer, I got three more 1″x6″ pine boards to do horizontal, vertical and diagonal pieces to bind the first layer together.
The horizontal top and bottom boards, along with the one diagonal board, held the rest together.
When you go to buy wood, make sure you check that the boards are straight and not curved or warped.
Also, for this type of project, try to get boards with the most knots and lines in order to help with that rustic look.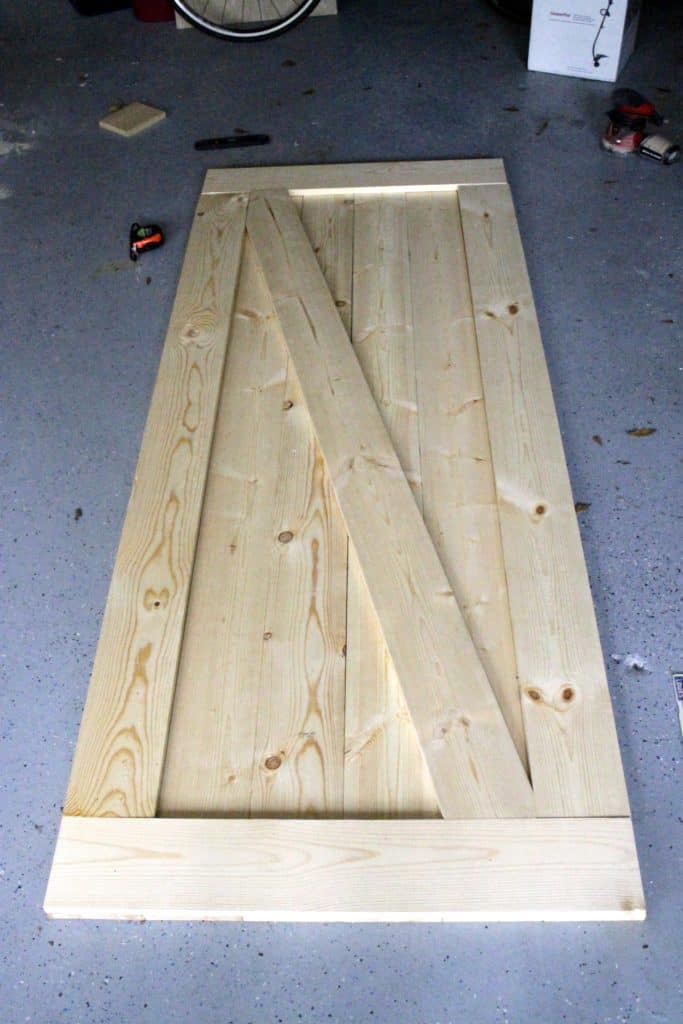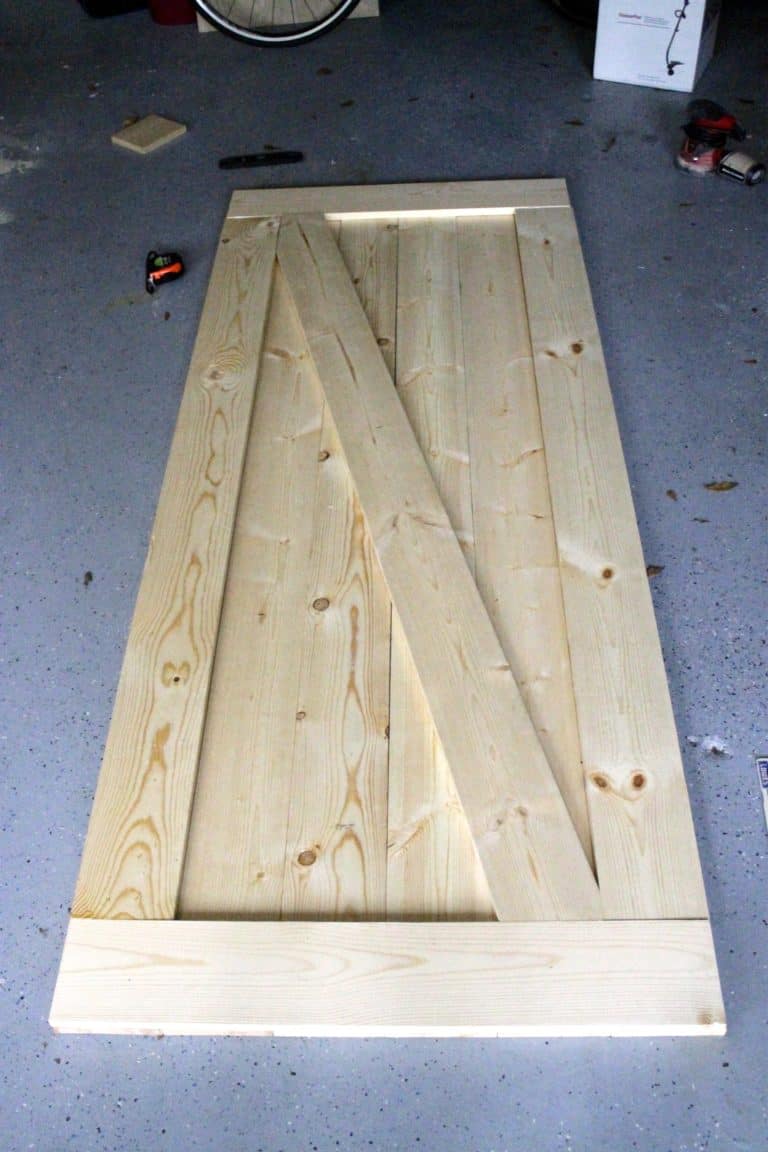 Cut your wood to your specifications and lay it out along the way to make sure that it is all sized up correctly.
This is the first time I got to use my new miter saw and I love it. It made cutting straight cuts so much quicker and easier that using a hand saw.
I never had one before because I didn't have the space at the condo. So I've always made cuts by hand, which is awful.
Plus, the miter saw allowed me to make the angled cuts for the diagonal board down the middle.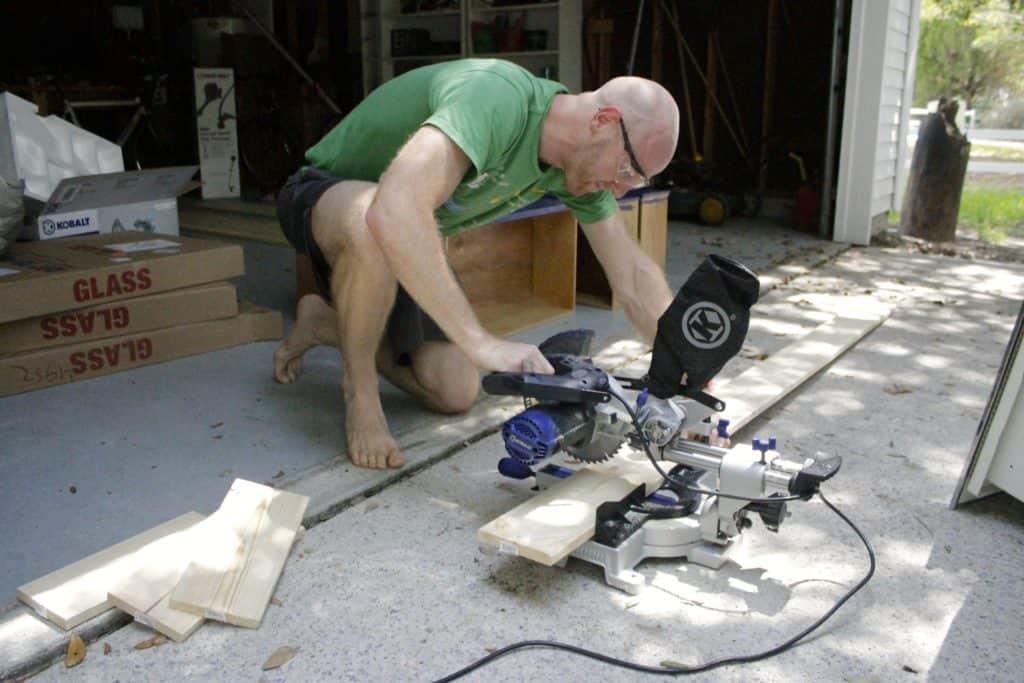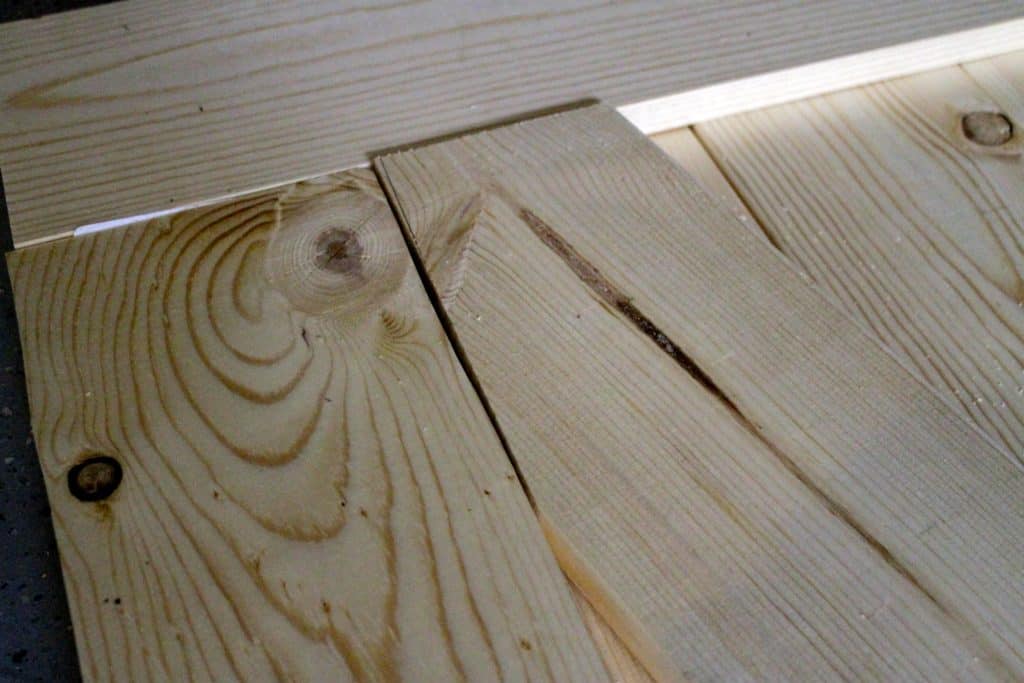 Sand down all sides of all the boards, but make sure to keep them in order.
Stain all sides of the boards using a nice, dark stain. We prefer Dark Walnut as our go-to color for our wood projects, so we used it again here.
One trick when staining is to use a rag and dip it into the stain, then wipe it onto the board.
When you stain the edges of wood with a brush, sometimes the stain leaks to the underside of where you aren't staining yet and leaves weird marks.
Doing this method, I also chose not to go back and wipe them off. I simply let it all soak in before doing the other side the next day.
Be sure to check out our Dark Walnut by Minwax wood stain review!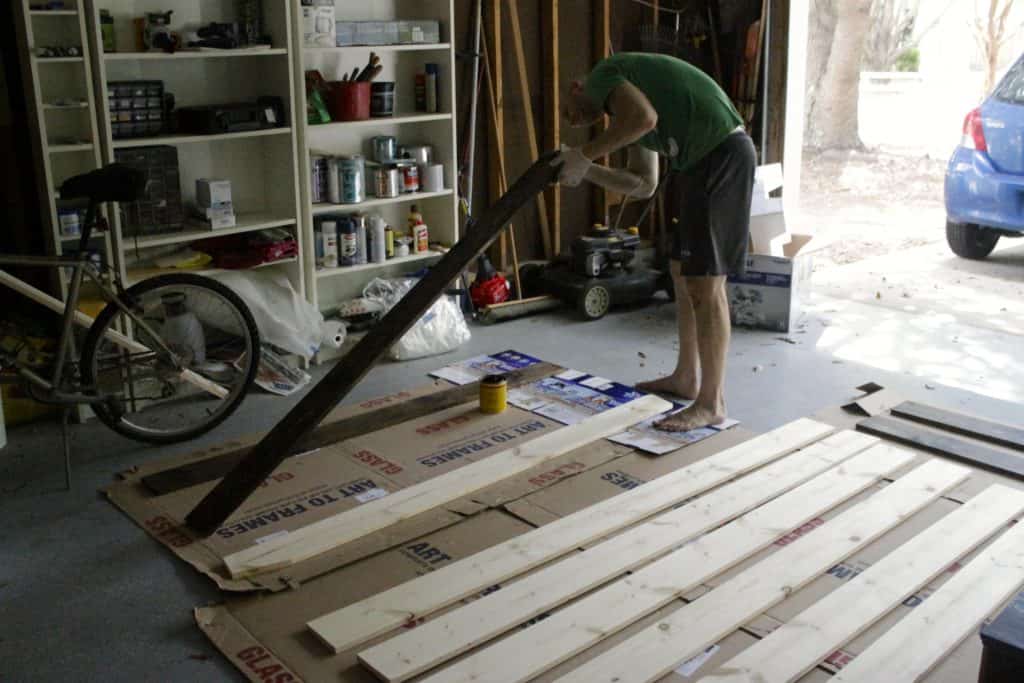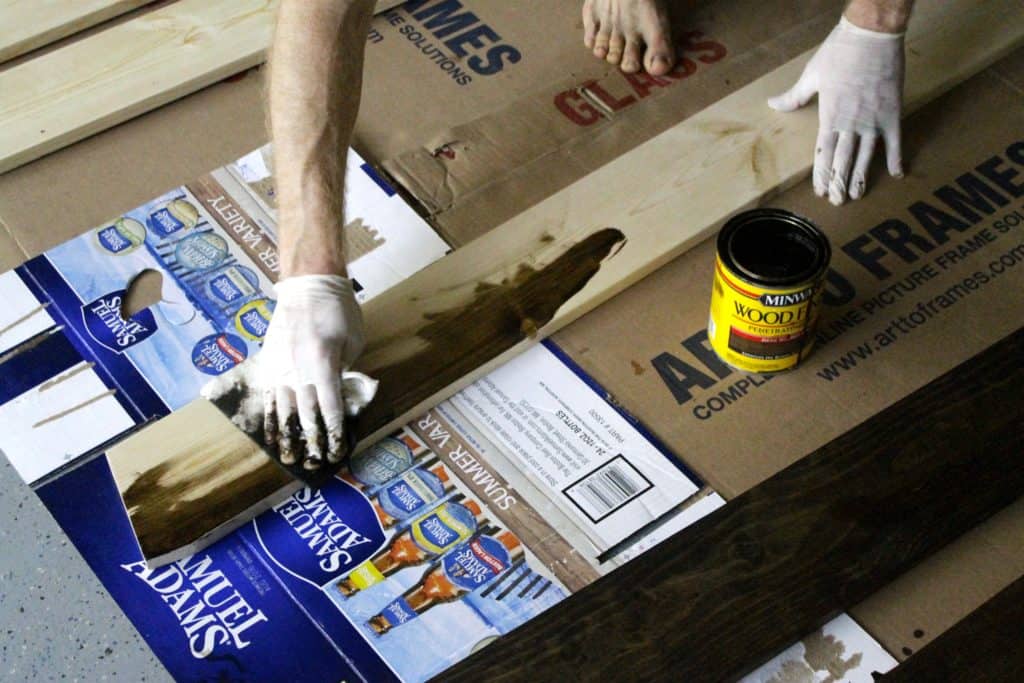 Construct the door based on your design. I used black cabinetry wood screws because I was going for the rustic barn door look.
Click here to download free PDF plans for this barn door!
The sliding barn door hardware I got for hanging it on the wall was black.
So, I didn't want to have shiny silver screws all throughout the door. I wanted these to be prominent.
Because pine is a softer wood, I tediously went through and measured and drilled small pilot holes where I was going to drive the screws.
This took the longest of the whole construction process. But, it allowed me to avoid any cracking or splitting wood.
When I screwed them in, I also didn't drive all of them in all the way to the wood and instead left some of them a millimeter or so out, in order to give it a more rustic look.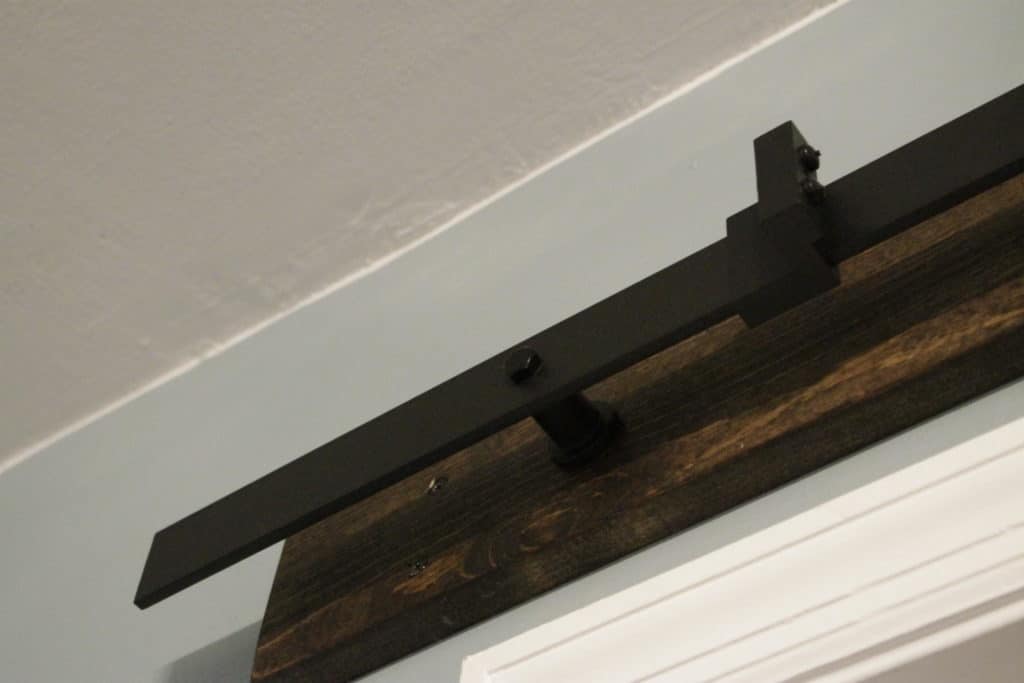 Add any additional hardware to add to your rustic barn door look.
The sliding mechanism for the wall used big black bolts to connect the sliders to the door at the top sides of the door.
I bought four silver nuts and bolts and spray painted them glossy black and drilled them into the bottom of the door to match the top.
I also added a black handle to pull the door open and closed.
Click here to download free PDF plans for this barn door!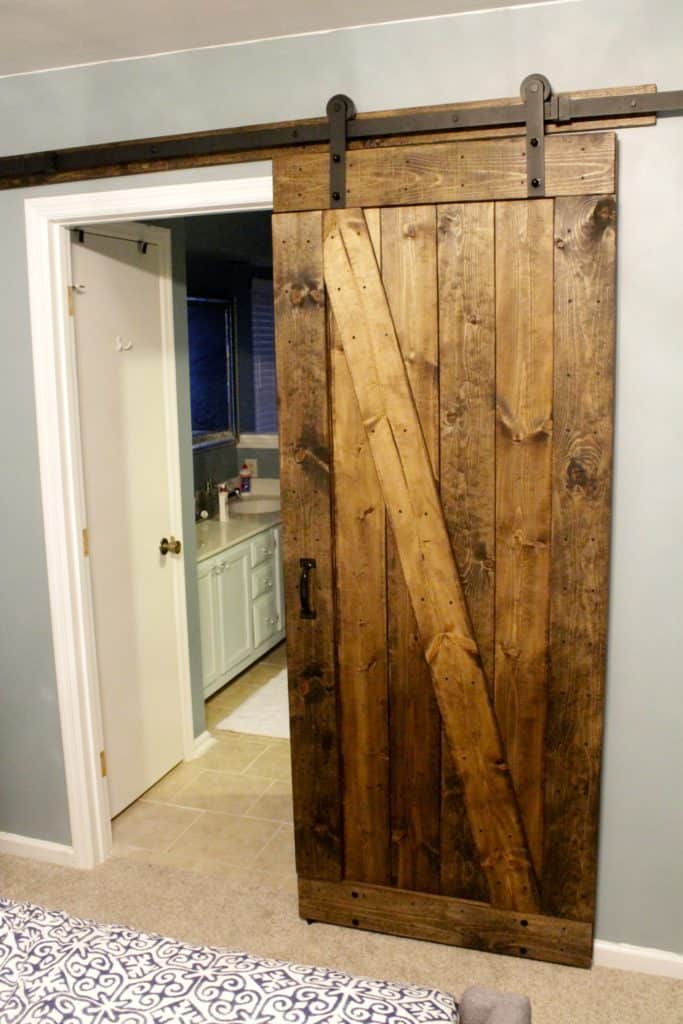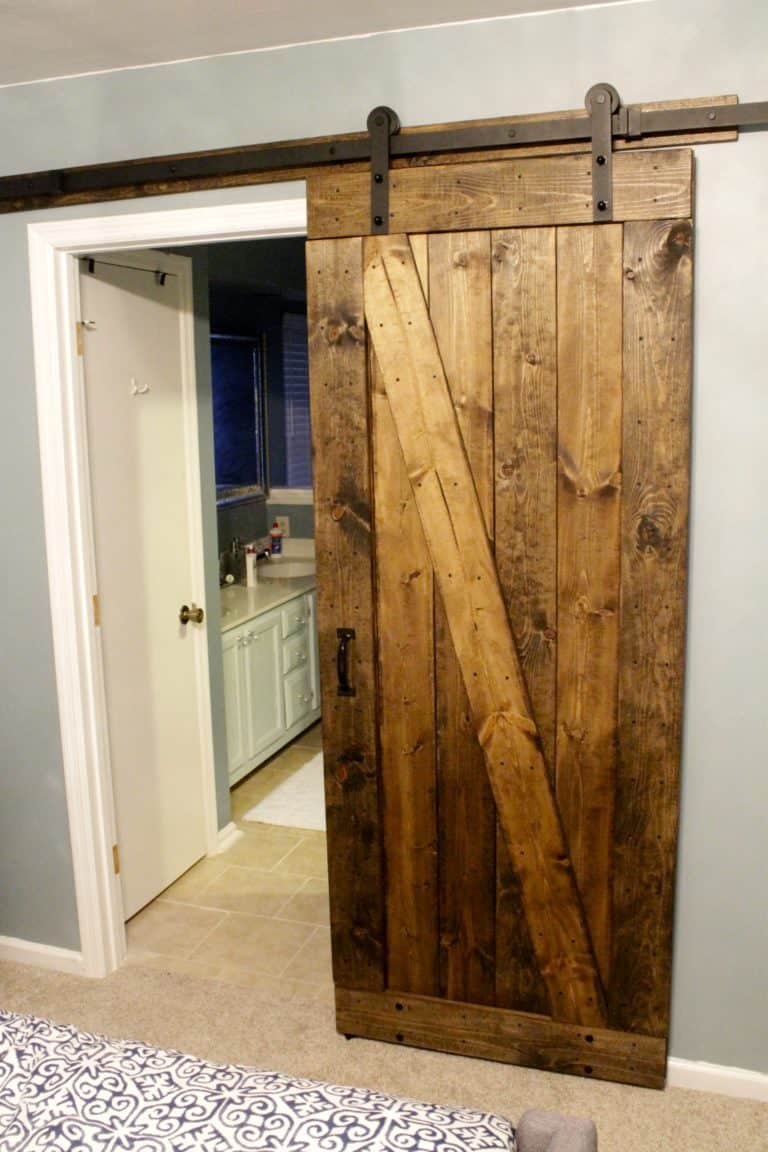 And there you have it. That's how to build a rustic barn door. It wasn't very hard. (the mounting process was MUCH harder) and it looks great.
I love how it looks like an old rustic door.
We mounted our barn door using a door hardware kit from Amazon.
Click here to pin this project to your Pinterest boards!
Want more barn doors? Click here for all of our barn door content!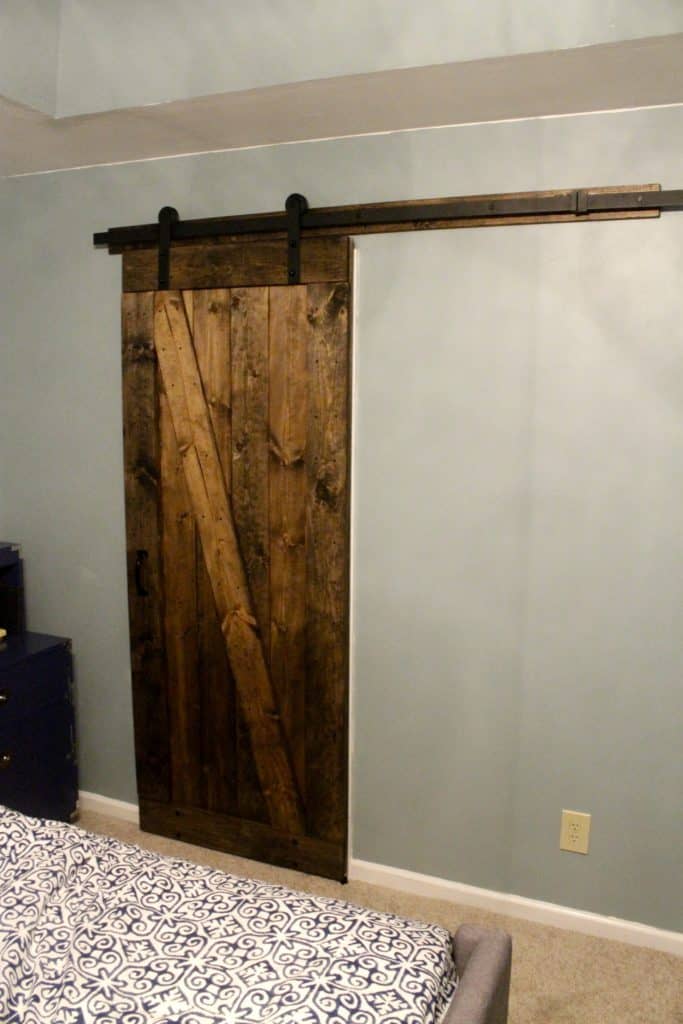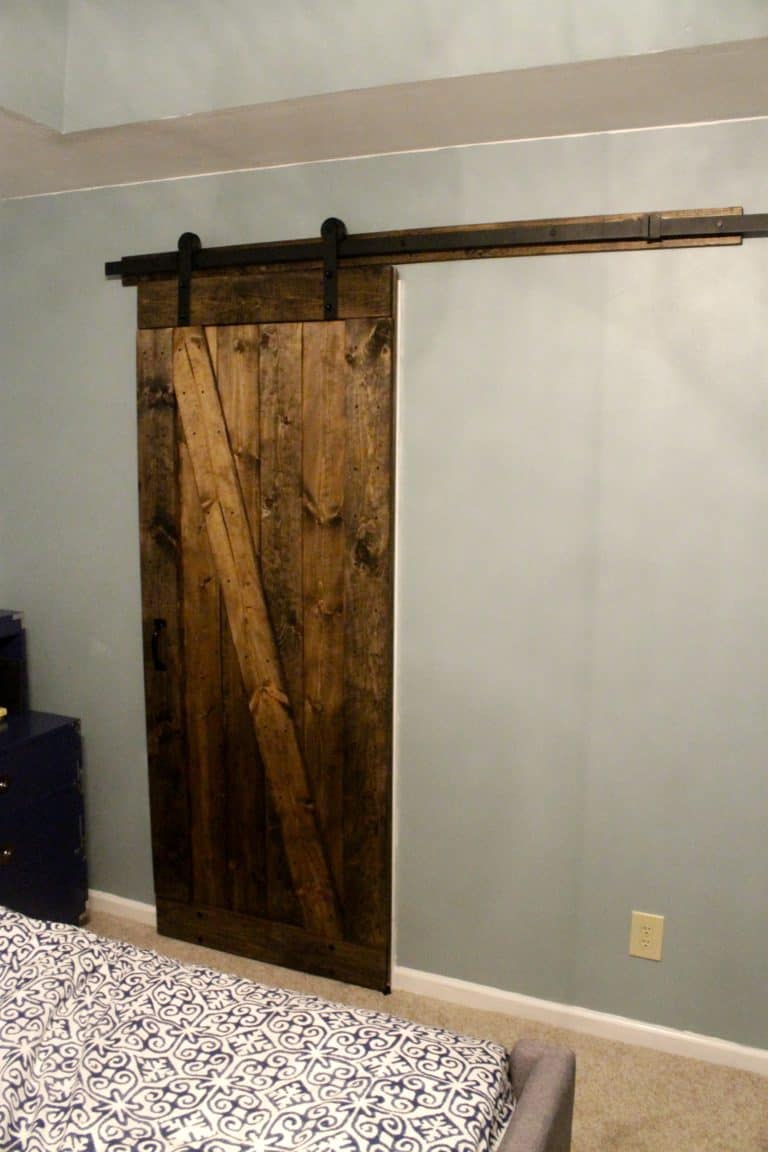 How much does it cost to build a barn door?
The wood cost about $100, the screws were around $5. The nuts and bolts were the same.
When you search for doors that people are making and selling online, they cost about $300-400. This is a much better option and you can do it yourself.
Here is my blog post on how to mount a barn door and try to avoid some of the issues I had with that process.
We suggest using a barn door kit to mount your barn door.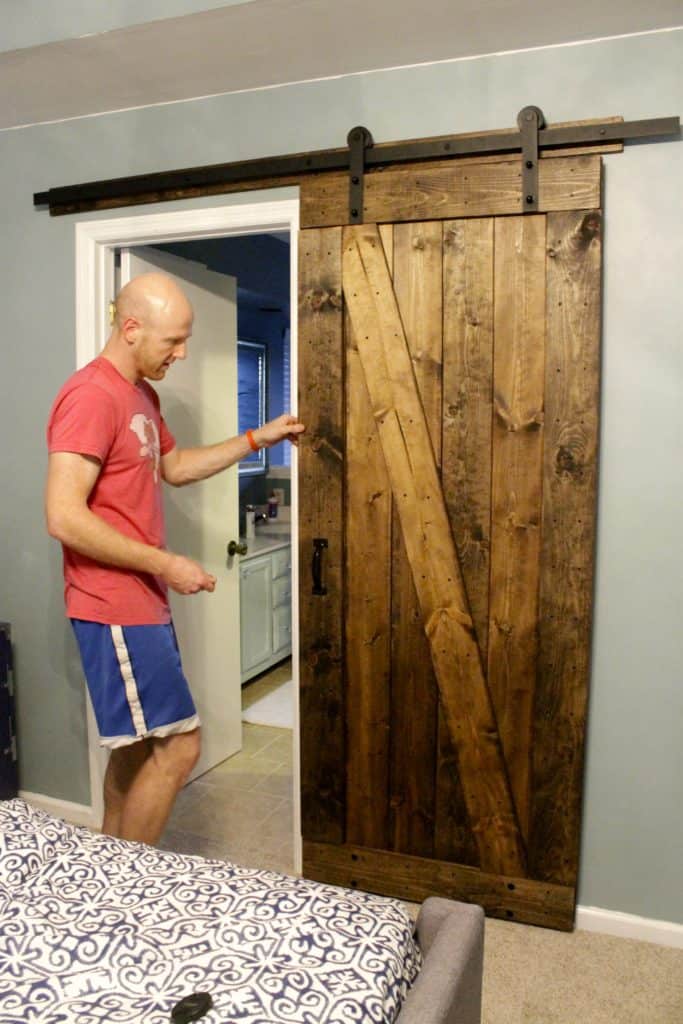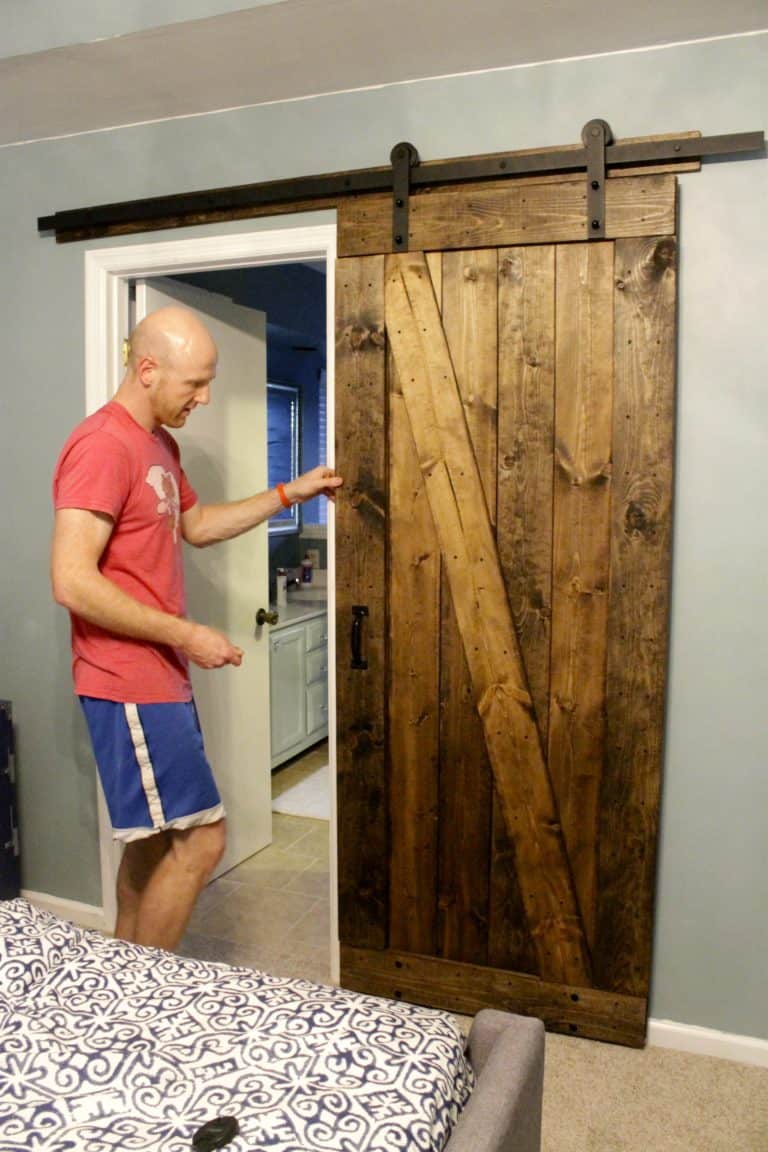 What keeps a barn door from swinging?
You can see in this blog post about how we mounted our barn door that the barn door is connected to the floor on the bottom. This keeps it from swinging.
Do barn doors need a bottom track? Read all about barn door tracks!
Can interior barn doors lock?
We wrote a whole blog post about what kind of lock works for a barn door!
What kind of wood do I use to build my barn door?
You can use any type of wood to build a barn door! From inexpensive knotty pine all the way to authentic barn wood, there are so many options!
The most important thing to keep in mind is that the type of wood that you use should match the barn door style.
So, if you want a rustic look, use a more rustic wood, for example.
How wide should my barn door be?
Be sure to size your barn door to be wide enough to cover the opening of your doorway with a small amount of overlap on the door frame.
You can use barn doors as single doors or have two sliding apart from each other as double doors!
What is the benefit of a barn door vs. a pocket door?
There are several benefits of a barn door over a pocket door.
First of all, barn doors don't require ripping out drywall to install them. They are an easy DIY install.
Secondly, barn doors make more of a decor piece than regular sliding doors. They really stand out and are almost a piece of art for the room!
Can any door become a barn door?
Want more barn door goodness? We wrote an eBook all about Barn Doors – and you can get it for free!
Click here to download free PDF plans for this barn door!
How to repair a door jamb after removing a door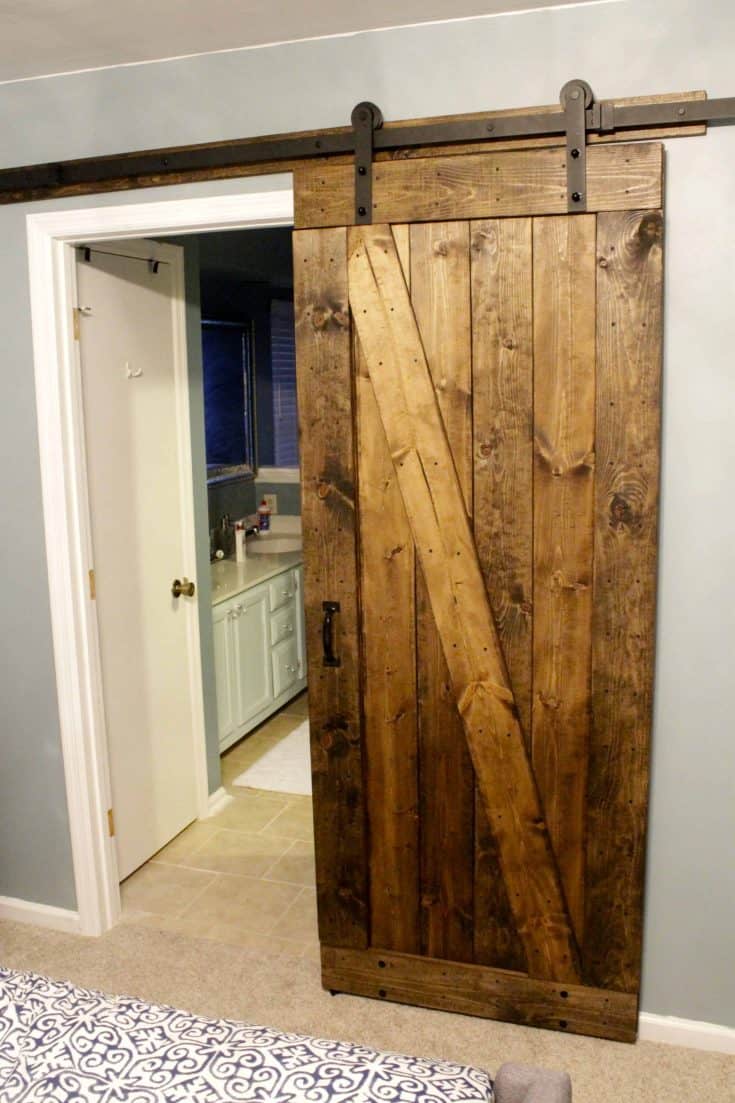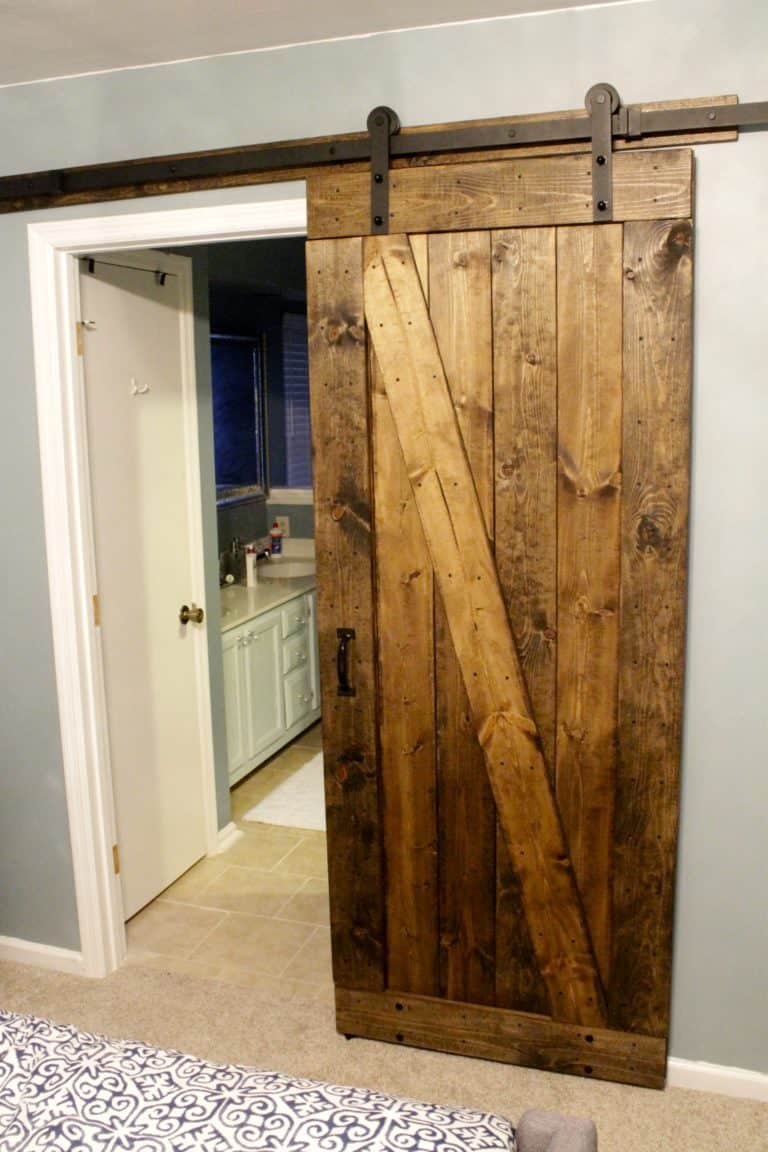 Yield:

1
How to Build and Mount a Barn Door
Barn doors are trendy and fashionable and can add a rustic flair to your space. Here's how to build a barn door and how to mount a barn door.
Materials
Roughly nine 1x6 boards
Screws
Barn door hardware
Instructions
Measure the space you want to cover
Design your door. Use two layers.
For the back layer, use as many 1x6 boards as needed to cover the gap of your door.
For the front layer, cut two 1x6 boards to span the width of your door space and attach at the top and bottom of the back layer. Then cut 1x6 boards to span the gap between those two boards vertically. Finally, cut a board to go diagonal from the top corner to the bottom corner.
Use 1 1/4" screws to attach all the boards from the front layer to the back layer.
Stain or paint your door to fit your decor.
Add a pull for a door handle.
Order barn door hardware. Different brands will differ slightly, but the idea is the same.
Attach a 1x6 board to your wall in the studs if your doorway has a frame that you need to go past. If your doorway doesn't have a frame, you can mount your rail bar directly into the wall.
Mount your rail bar.
Add bumpers for the barn door rollers to hit where you want to door to stop on each end.
Attach the rollers to the top of your door and hang the door on the rail bar.
Add a bottom guide for your barn door so that it doesn't swing back and forth.
Recommended Products
As an Amazon Associate and member of other affiliate programs, I earn from qualifying purchases.
Already have a barn door that you want to mount? Here is how we mounted our barn door!
Click here to pin this project to your Pinterest boards!
Facebook | Instagram | Pinterest | Twitter | YouTube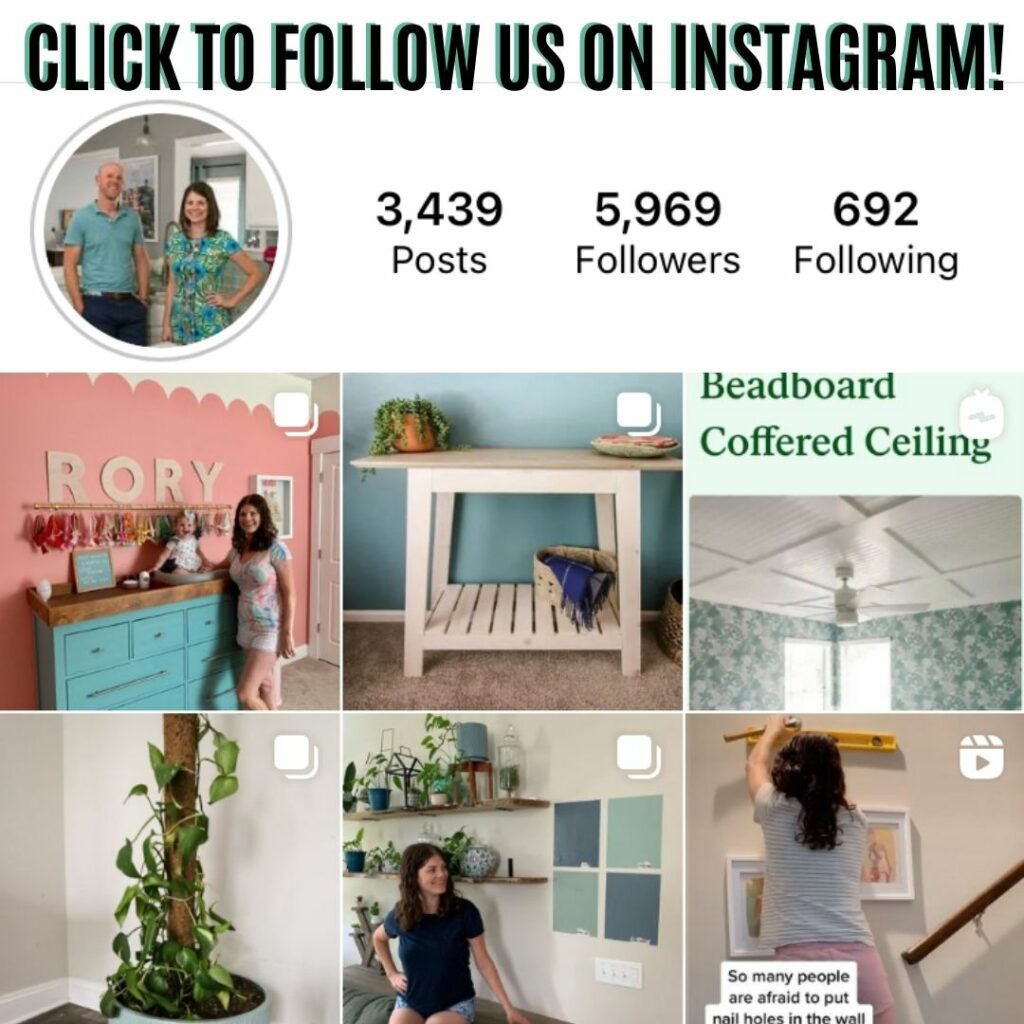 ---
Can we send you our newsletter?
Another great way to keep up with out latest projects is by joining our weekly newsletter! Get alerts of our latest projects and special peeks behind the scenes!
Follow along on Instagram
Join our online community where we share real time behind the scenes looks at our DIY projects and peeks inside our home + family!
---