One of our very favorite tools to use is a Kreg Jig. A Kreg Jig is a pocket hole jig that makes it super simple to join two pieces of wood together. Using a Kreg Jig in addition to your drill to join wood makes your woodworking projects instantly more professional and it's very easy to use.
Which Kreg Jig do I need?
There are several Kreg Jig systems that have different pros and cons depending on what you're doing. It's good to have a handle with all of them, but most importantly to pick one and be comfortable with it.
Comparing Current Kreg Jigs:
Kreg Pocket Hole Jig 720 Pro– their new top of the line jig that replaces the K5 jig is full of innovation, including their AutoMaxx clamping system which means you don't have to adjust for the thickness of your wood- it does it for you!
Kreg Pocket Hole Jig 520 Pro– unlike any jig we've seen before, the 520 Pro replaces the K4 and features a squeeze handle clamping system that adds so much versatility to your work.
Kreg Pocket Hole Jig 320– very versatile system that clamps on to pieces of wood, can be expanded, and dials in thicknesses with ease.
Comparing Older Kreg Jigs:
These are the main systems for a novice woodworker. The Kreg 720 Pro is the best system for making easy, repeatable cuts on various sizes of wood without having to make any adjustments to the jig.
The Kreg 520 Pro is best if you like on the go drilling or work with large sheets of plywood regularly as it can clamp itself directly onto a board.
The Kreg 320 has to be clamped on and unclamped on each board you're trying to do, adding a little annoyance and less precision, but it's also the cheapest option.
All of these come with their measuring device to determine wood thickness and make it easy to adjust the stop collar on the drill bit for common wood thicknesses.
Each system will come complete with a special Kreg drill bit and square driver bit. You'll also need the appropriate screw for the thickness of your wood.
Some of the jigs come with clamps, and some you will need to clamp on yourself.
All of these Kreg Jigs make pocket holes and will help you make beautiful furniture!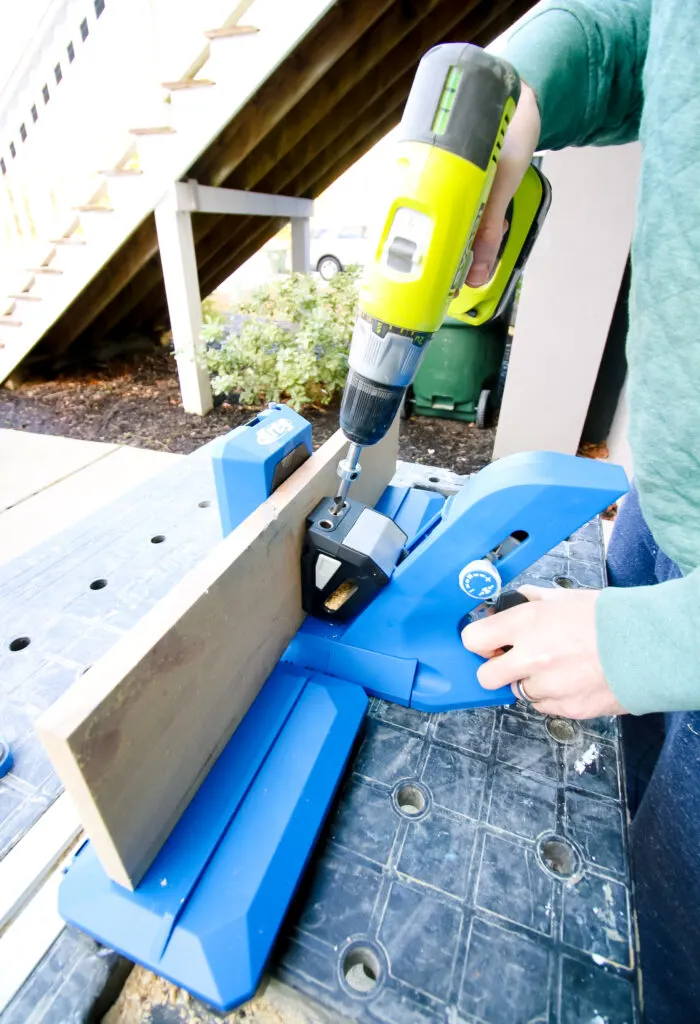 How to use a Kreg Jig
Steps to use a Kreg Jig:
Steps for how to use a Kreg Jig vary slightly depending on which system you are using, but the overall idea is the same.
Set the drill guide to the thickness of your wood material
Set the collar of the drill bit to the thickness of your wood material
Clamp your wood into the system and drill your necessary pocket holes
Use the appropriate length Kreg screw and the Kreg specific square head driver bit in your drill to attach your pieces
For the full steps on how to use a Kreg jig, including set up, drilling and construction, click here!
How to Drill Pocket Holes with a Kreg Pocket Hole Jig
Clamp your jig to the material
Add the Kreg drill bit to your drill
Drill into the holes in your jig and into your material
Unclamp the jig and blow off any excess sawdust
Which thread pattern of pocket hole screws do I need?
Fine-thread pocket screws were made to work with hardwoods like oak, maple, and poplar.
Coarse-thread pocket screws were made to work with softwoods like pine, plywood, and MDF.
How to Drive Pocket Screws
Driving pocket screws is the process of attaching two boards using pocket holes!
Clamp your two boards together. Be sure they are flush in all directions.
Place the screw in the pocket hole and screw. You want it to feel snug but not overly tight!
Repeat until you have screwed in each pocket hole.
Other helpful Kreg tools:
They have lots of other tools and accessories other than the jigs on their website, but the products we use most often include:
Kreg Jig Projects
We have done so many simple and fun projects with our Kreg products. You can read this post to see tons of Kreg Projects, or just click their photo below!
Click here to see my Pinterest board full of Kreg Jig project ideas!
This post contains affiliate links, meaning that if you click through and make a purchase, we receive a small percentage of the sale. We genuinely love our Kreg Jig and all of their products! Thanks for your support!