Your baby is on the move! Don't panic. You can build them a DIY baby playpen right now using these plans! Our son started moving and I moved all the projects on my list down to build this. It only took a day and it was worth it. This DIY baby playpen is customizable and ready for your child to have a safe play area!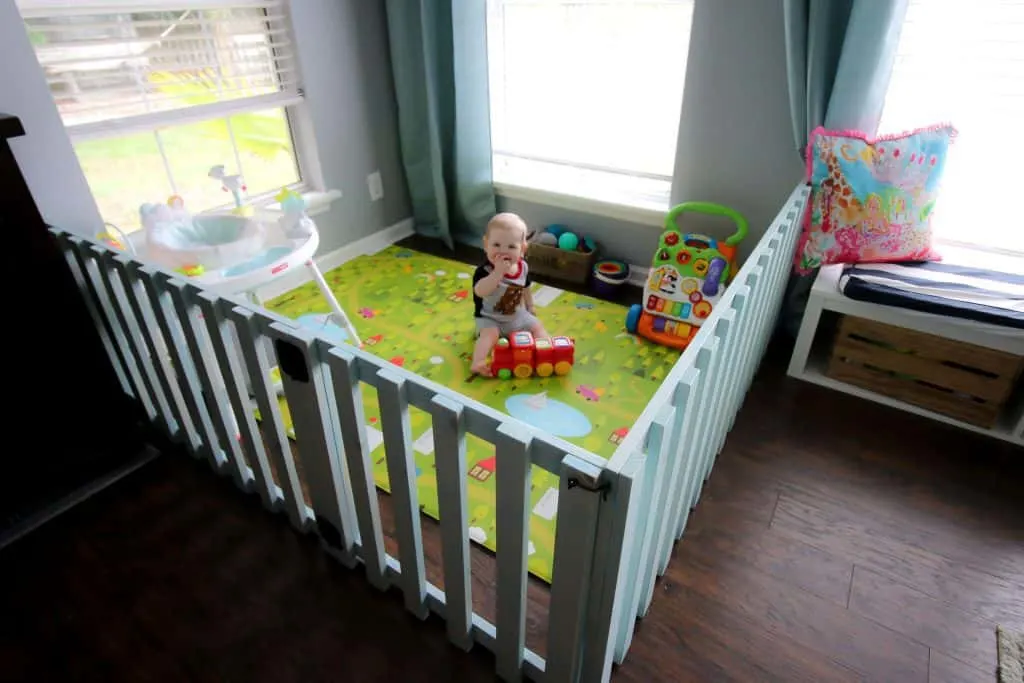 How to Build a DIY Baby Playpen
The full step-by-step instructions for building this wood baby playpen (or play yard) are located in the how-to card in this post. I'll give you the basics now and some things to keep in mind.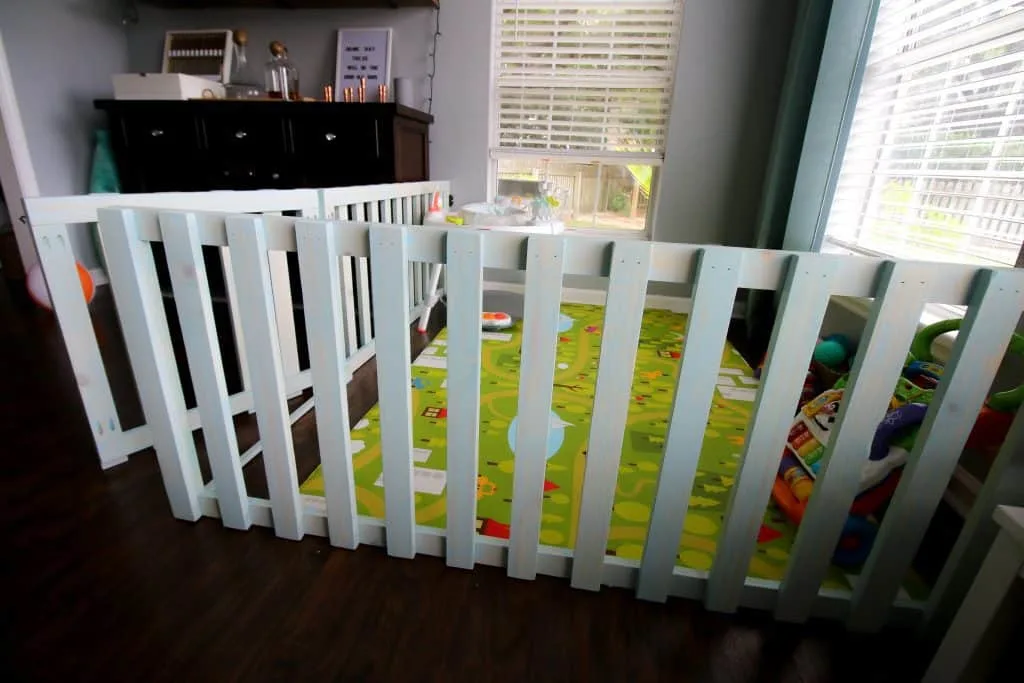 The first thing is that I built this playpen to be two sided with a gate. This works if you want to install it into a corner. You can also copy the plans for each side and build two more if you want to build a full square.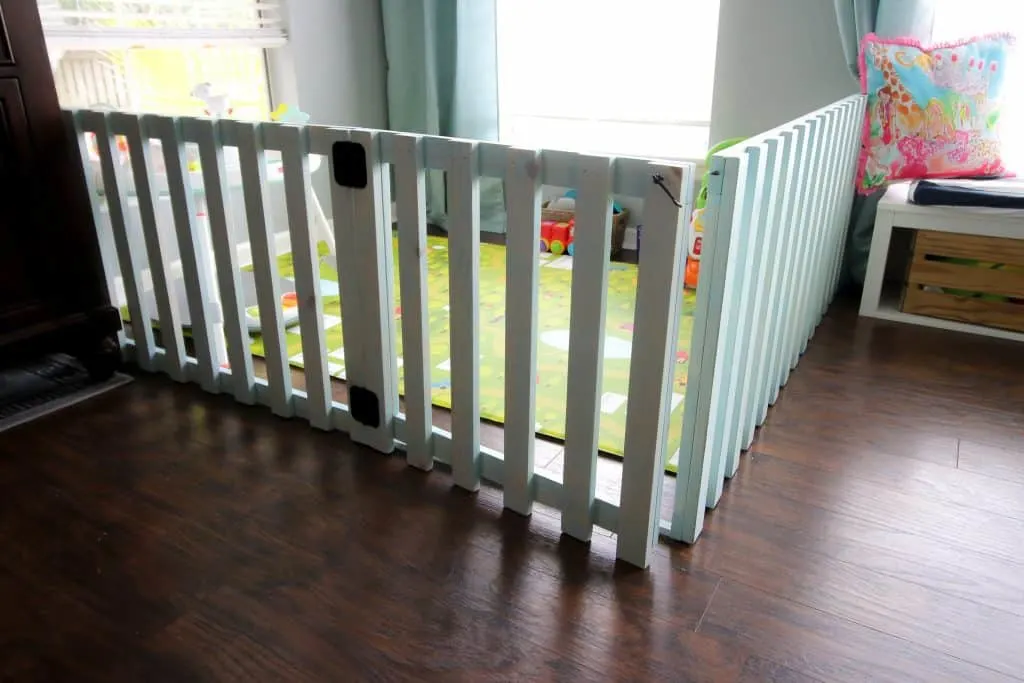 The sides can also be extended if you have a bigger or smaller space than us. Basically, the entire plans are customizable to your home and space!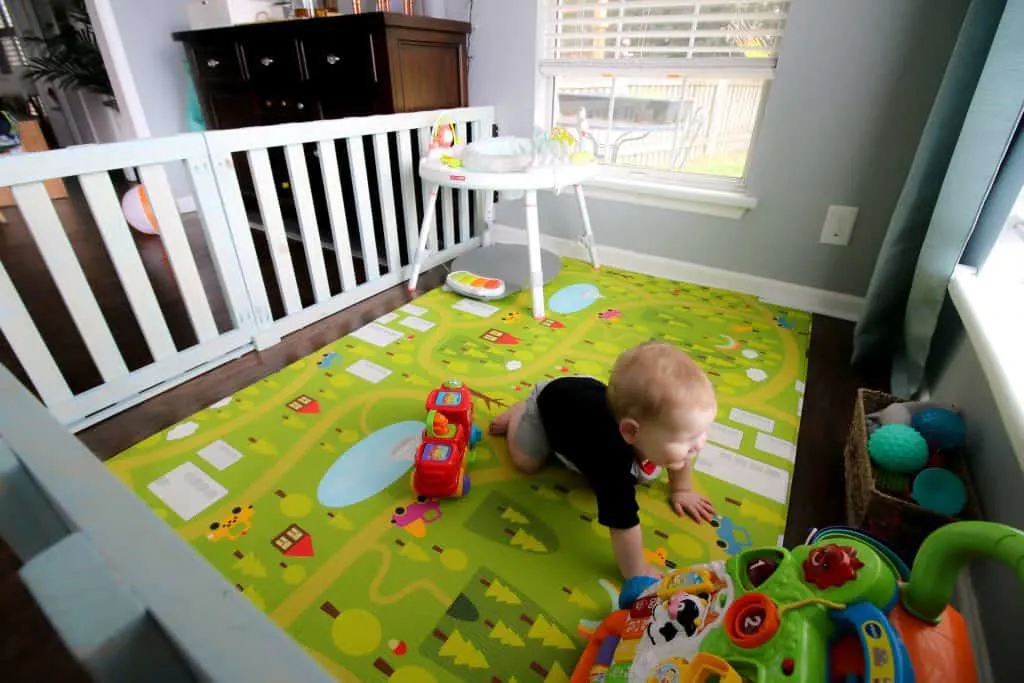 The next important thing to consider is the size. This playpen is 24 inches high, which is a good height to help your baby stand up eventually, but not let them climb over.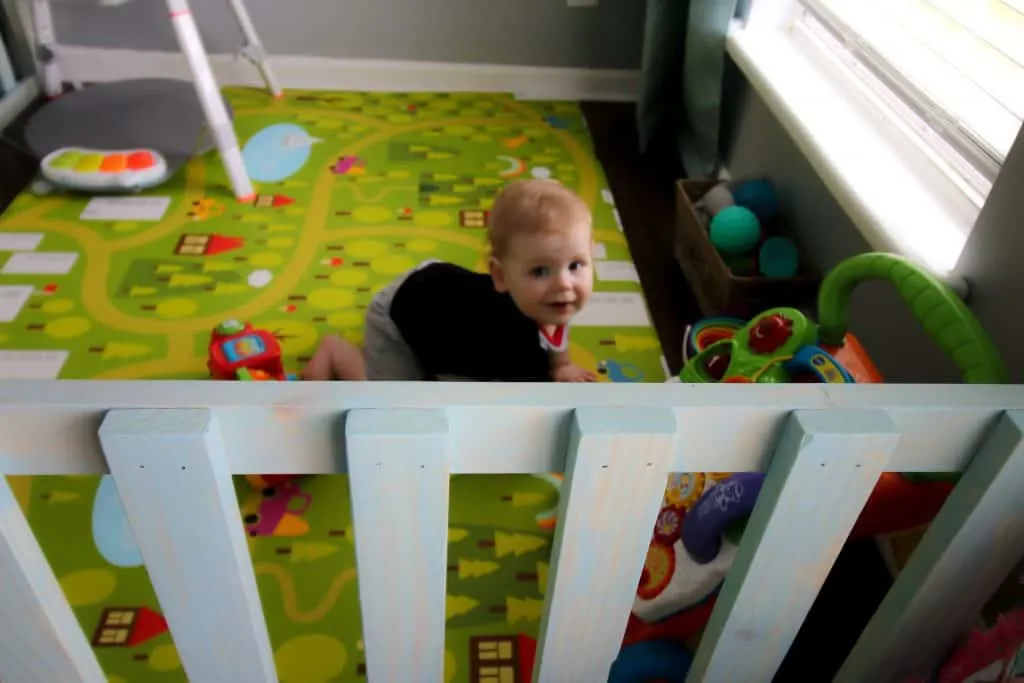 We also made all of the slats 2″ wide with a 2.25″ gap between all of them. This is the same gap we put in our DIY mid-century modern crib, which is actually a smaller gap that the maximum recommended width. #safetyfirst
Constructing the Playpen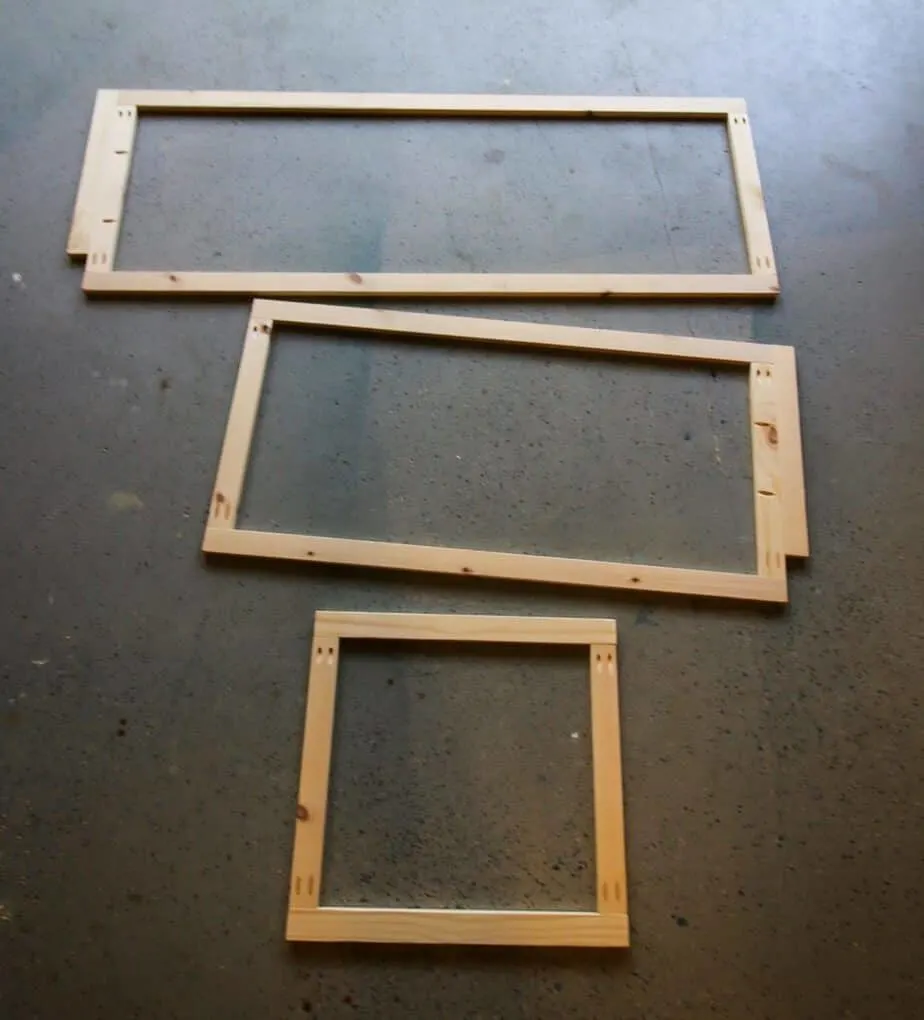 The key to building this DIY playpen is to construct all of your sides and your gate individually first. Each side is a simple square frame with slats glued and nailed to the outside. To construct the frames, I recommend using a Kreg K4 Pocket Hole System and Kreg pocket screws to provide the most strength and durability.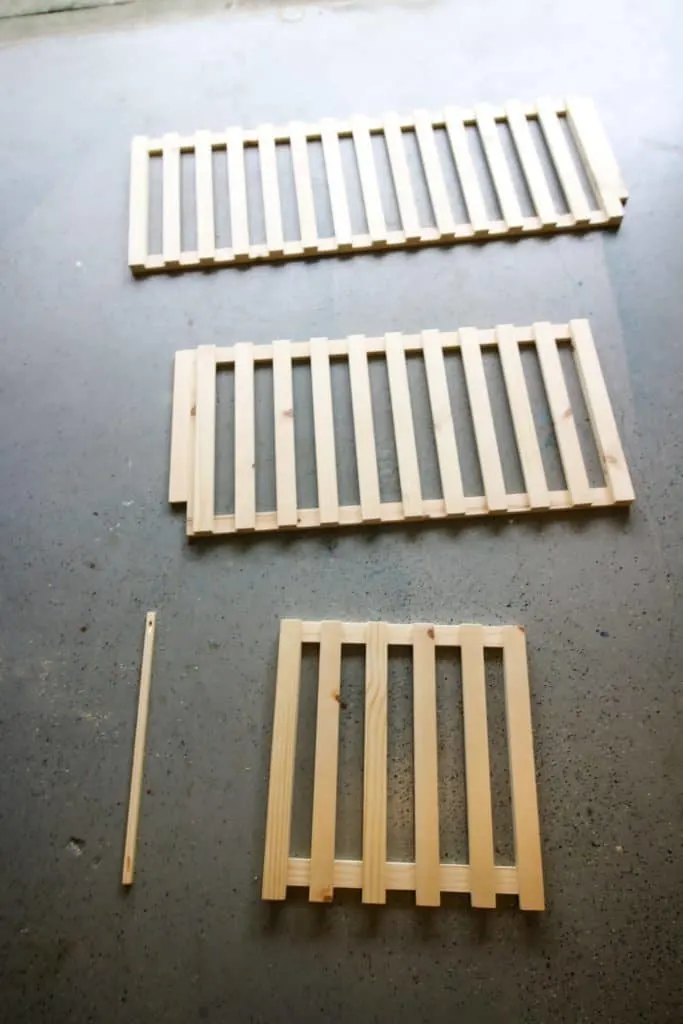 We used a small piece of wood to connect the two side pieces underneath where the gate would be. This ensured the two sides stayed together even when the gate was open.
Installing the Playpen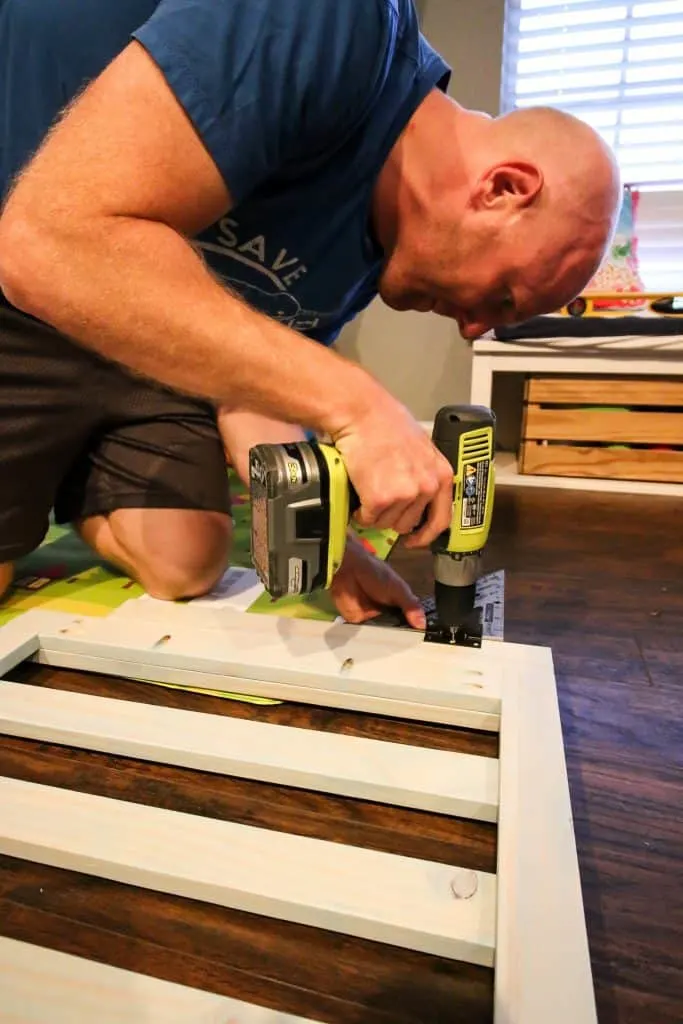 After doing all your sanding and staining, you're ready to attach the sides to the wall. Use right-angle brackets, attach the sides to the wall, ensuring the corners of the sides meet up.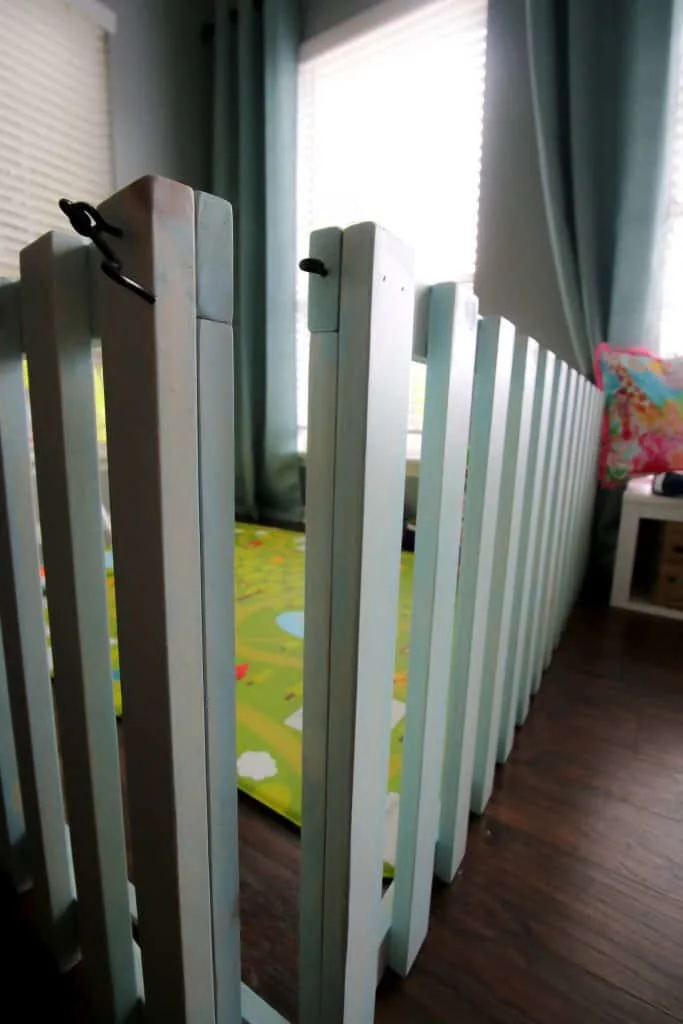 The last step was to attach the gate. We used simple hinges to attach the gate to one of the sides so it could be opened and closed. Then we used a hook and eye closure to keep the gate latched.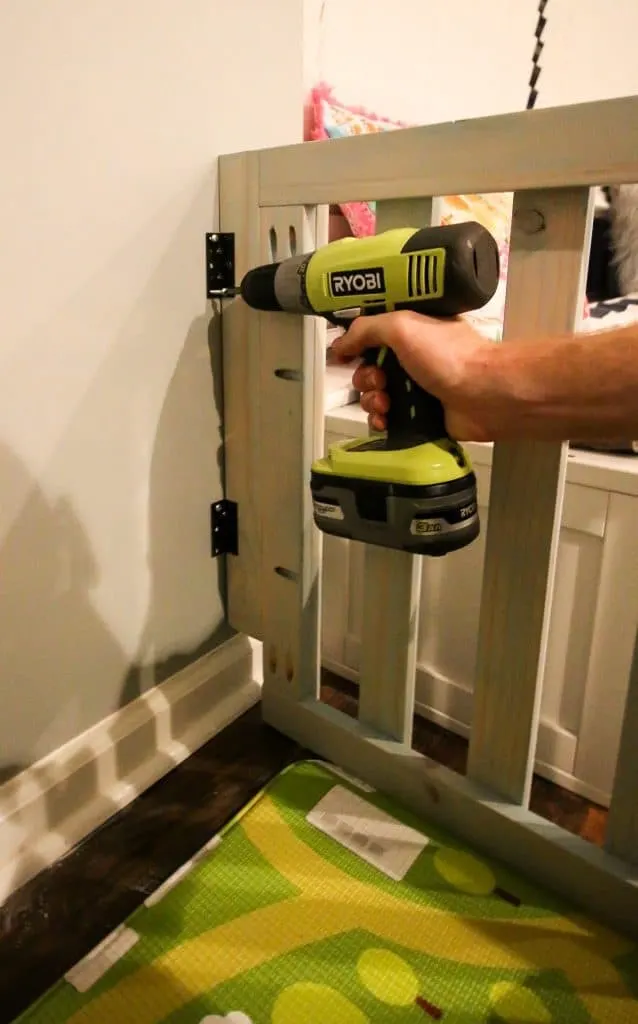 We absolutely love how this DIY baby playpen turned out. It's simple to make and looks aesthetically pleasing in our home. This keeps our child safe if we need to sit him down to play for a few minutes.
Does your baby need something to climb? Here's how to build a DIY Pikler Triangle climber!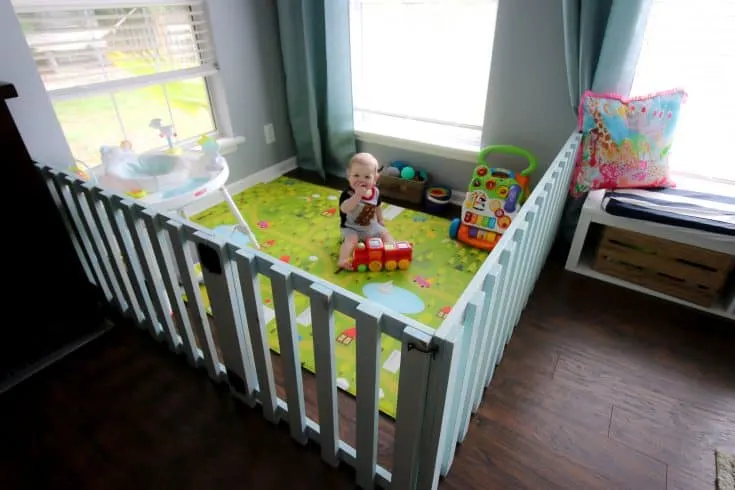 Yield:

1 Cute and Safe Playpen
How to Build a DIY Baby Playpen
Total Time:
4 hours
30 minutes
Make a safe space for your baby or toddler with this DIY baby playpen. Using sturdy construction, you'll create a customizable playpen to fit your needs. This playpen can be created bigger or can add two more sides if you aren't connecting it to a wall.
Materials
Two 12' 1x12s
Four right angle braces
Two 3" hinges
One latch
Tools
Table Saw
Miter Saw
Cordless Drill
Kreg K4 Pocket Hole System
Nail Gun
Instructions
Cut your boards down into 2" wide slats. You should get ten 12" boards this way.
Build the sides of the playpen to be 24 inches tall. For this, cut two 20" boards per side and two boards to the length you want each side to be.
Connect the 20" boards to the inside of the long boards flush on the outside using pocket holes.
Cut however many slats you'll need to cover each frame, calculating a 2 1/4" gap between each slat. Each slat should be cut to 24 inches to go from the top to the bottom of the frame.
When making one of your sides, make it 24" less in length than you want the whole length to be. Make a 24" wide gate the same way you would make a side frame.
Stain and seal all your sides and gate before installation, but after construction.
Attach the side panels to the walls using right angle braces.
Connect the two sides using a small piece of wood that runs under or behind where the gate will be.
Attach the gate in the gap using the hinges and latch.
Notes
You'll find it easiest to make all of your cuts first, then sand all of your boards before construction. When sanding, I recommend you lightly round all of the corners since you're going to keep a baby in there.
Recommended Products
As an Amazon Associate and member of other affiliate programs, I earn from qualifying purchases.