Considering staining a project with Early American by Varathane? Did you know that Early American wood stain looks different on every wood species? That should be a big factor before you buy the wood stain or wood.
Here is everything you need to know about it, before making the purchase.
Early American by Varathane
Early American is a premium wood stain by Varathane (a sub-brand of Rust oleum). It is an oil based stain.
It is dark brown in color with warm undertones.
Early American goes onto wood very thickly – it is definitely a one coat stain. It has a very rich, pigmented color.
Once you wipe off the excess stain, it really is a fast dry wood stain and can be ready to go fairly quickly.
For this reason, be sure that you shake the can really well before using – or else some of the color can settle at the bottom and get kind of goopy.
You can find this stain on Amazon or at your local hardware store. A can of oil based wood stain lasts a long time, so it can be used for several projects.
We tried Early American on five different types of wood surfaces. These should help you see how the stain would look on your unfinished wood furniture or DIY projects.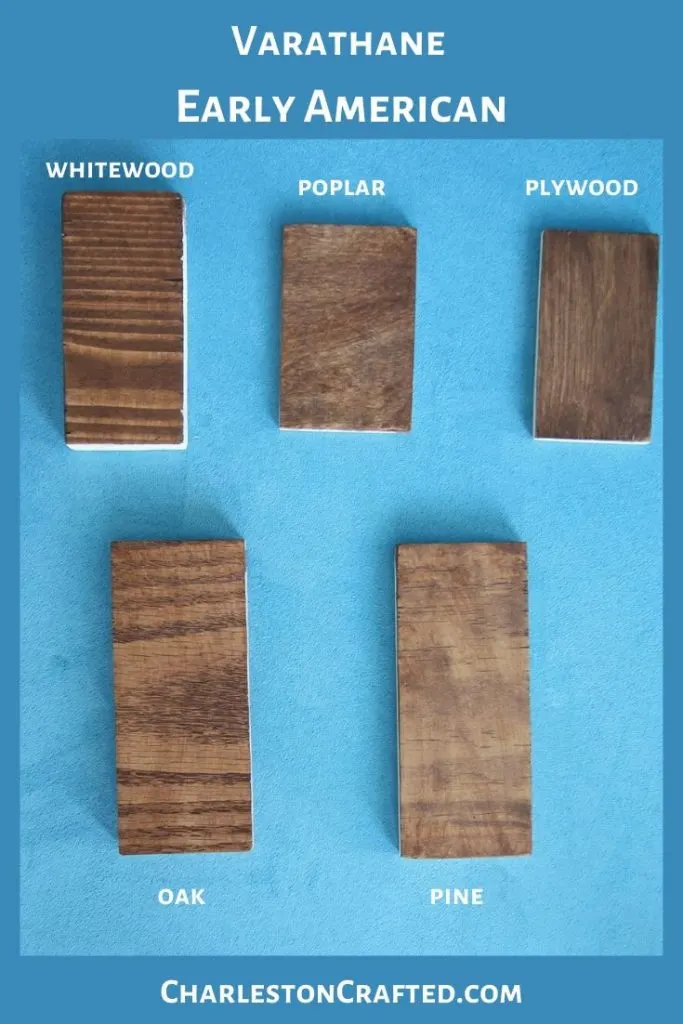 How does Early American stain look on pine?
Because pine often absorbs stain unevenly, you have to be especially careful with a thick, dark stain like Early American. This finish is a penetrating color and really absorbs into the wood grain. If you are looking to make your pine look dark and rich, this is a good option.
How does Early American stain look on plywood?
Plywood doesn't have much natural grain to enhance. So, this stain really makes the whole piece look pretty solid in the dark brown color. This could be good or bad, depending on the look you are going for.
How does Early American stain look on poplar?
Poplar has a lot of green undertones, which might not mix well with the warmth of Early American. In general, this is not my favorite wood tones combination.
How does Early American stain look on whitewood?
Whitewood has a naturally striped wood grain. So, the nano pigments of the Early American stain really settle in to enhance the natural grain giving it a very striped look. Once again, this could be cool if it is a look you are going for, but it could also be distracting.
How does Early American stain look on oak?
Oak is a popular choice for hardwood floors and I think that this would be a stunning option for flooring! Early American looks dark and chocolately rich, while still enhancing and not hiding the natural grain of the oak.
Projects using Early American wood stain
Want to see Early American in action? Here are some projects featuring this color:
We love how Early American looks and think that it is a great option if you are building furniture or DIY projects for your home. Try to pair this together with similar colors and tones in your home.
Shop Early American stain now!
Want to check out more stain colors? We tested 10 types of stain on 5 types of wood – check out the whole project!