Considering staining something white? Here's everything you need to know about Minwax Simply White wood stain including how it looks on 7 types of wood!
I love white wood stain. It gives wood furniture a light, bright look and can read as coastal, modern, or even rustic farmhouse.
But, selecting a white stain can be tricky. That's why I'm reviewing my three favorite white wood stains so you can see how they stack up!
If you are looking at white wood stains at Lowes or Home Depot, there are basically three choices – read about them here.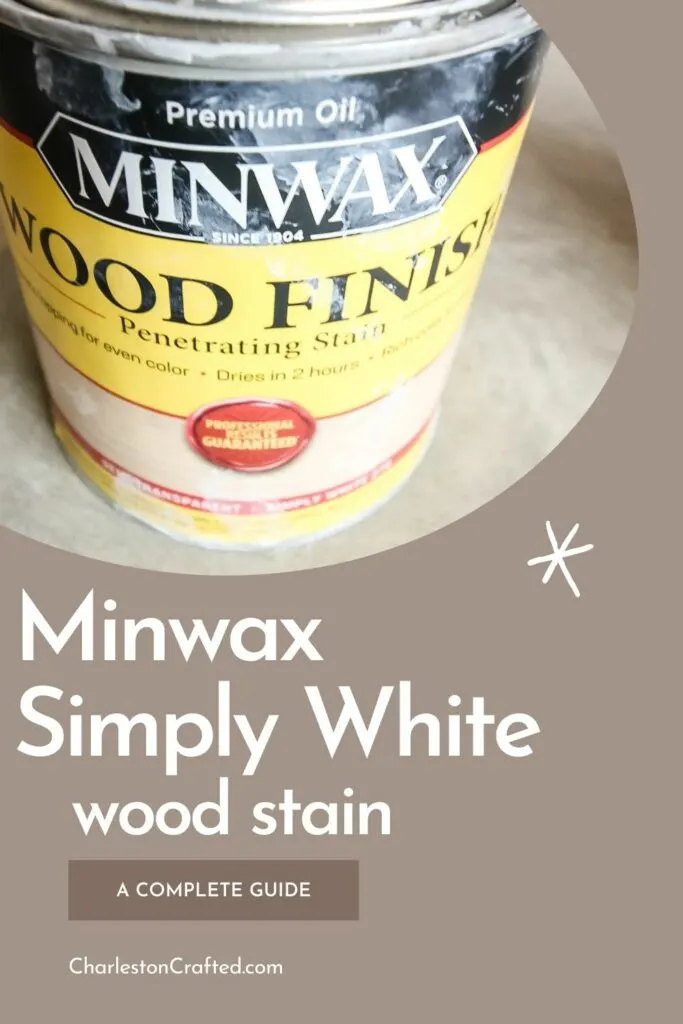 Minwax Simply White
Minwax is the wood stain brand most commonly carried at Lowes Home Improvement, so if that is where you shop, this might be your only white wood stain option.
Simply White is a fairly light (read: very transparent) white wood stain.
It adds a light white haze to any piece of wood.
Because it is so light, this stain color shows up best on darker wood. You will see below that it's much more noticeable on red oak and cypress, for example, compared to white wood.
We tested Minwax Simply White on seven species of wood. In the photos below, Simply White is (as labeled) the center sample.
Let's see how it turned out!
Click here to order Minwax Simply White on Amazon.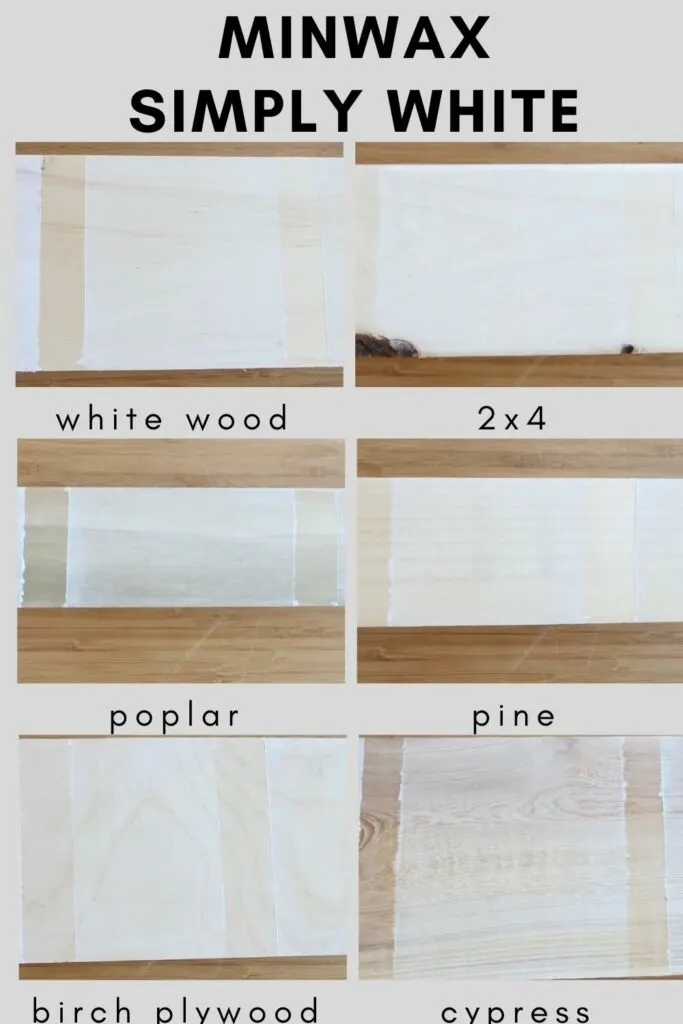 How does Minwax Simply White look on oak?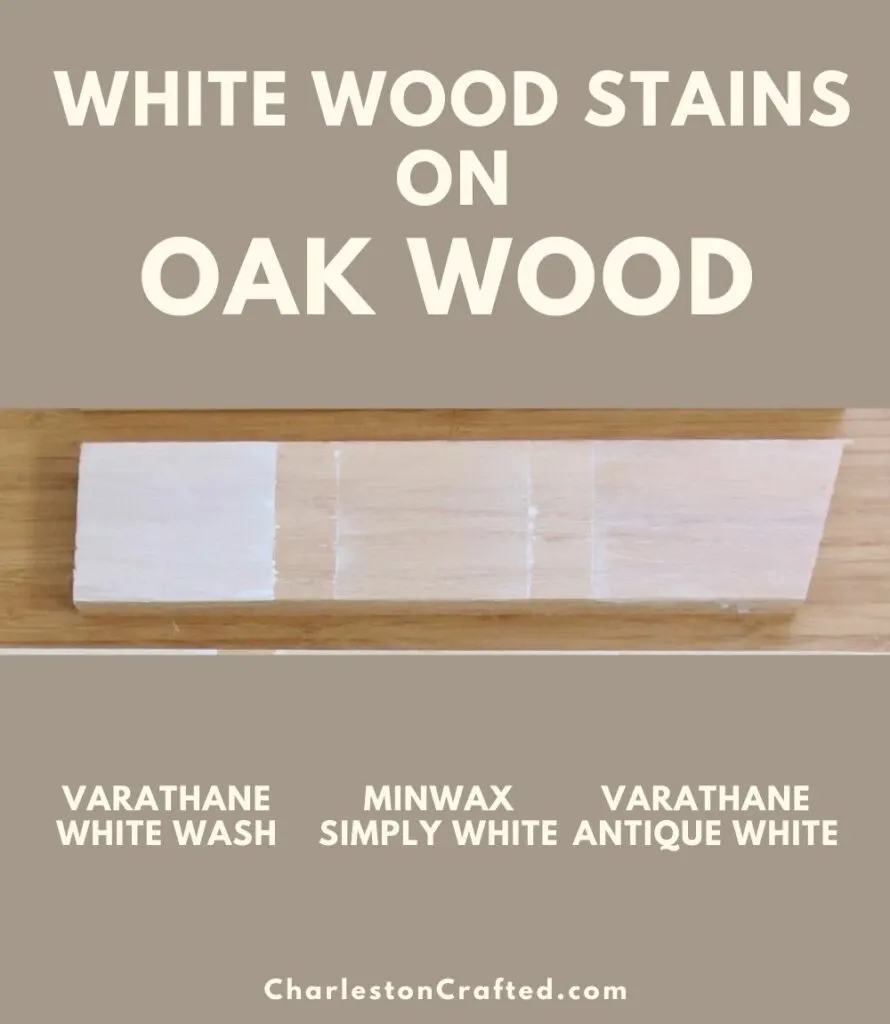 I sampled this stain on Red Oak. Red Oak has a naturally red tone (go figure!)
Because it's a bit darker, the white shows up more on it.
I like the lightness of this white stain (especially compared to the darker white wash) on this wood.
Oak is so beautiful – you don't want to cover it up. Simply White is a good option for giving it a bit of a white filter without being too much.
Be sure to check out all of the best wood stains on oak!
How does Minwax Simply White look on pine?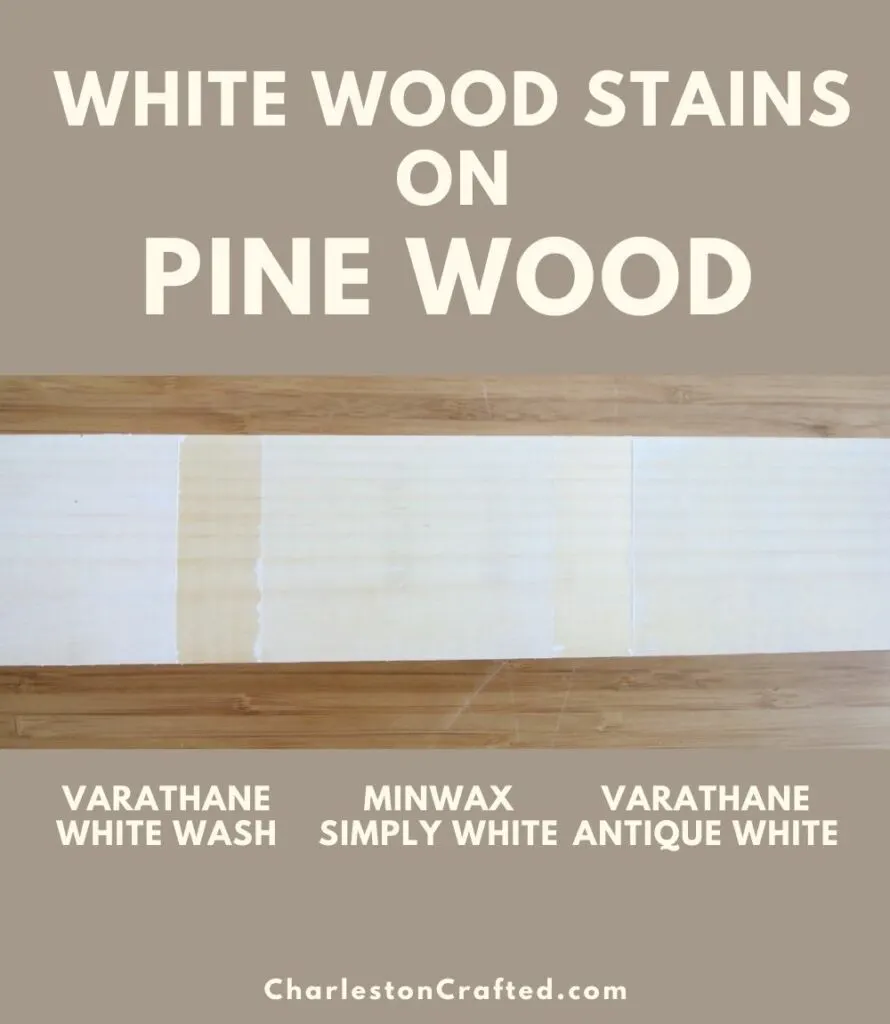 Pine is a light wood. Because the base color of the wood is so light, Simply White doesn't show up much.
It gives a little hint of white – almost like a haze – and slightly cuts down on the yellow undertones of the wood.
How does Minwax Simply White look on poplar?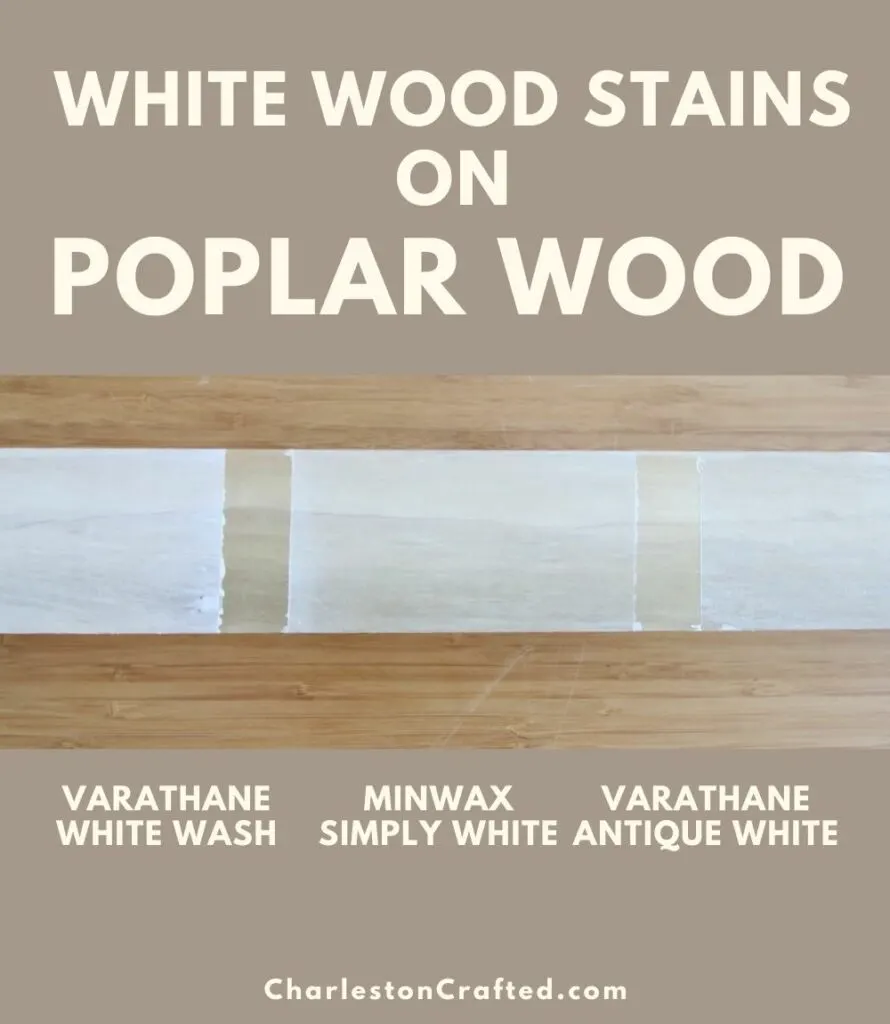 Poplar has natural green undertones and is a slightly darker -though not much darker – wood.
So, the white of Simply White is more visible.
It cuts down on the green and gives the wood a more beige look, but doesn't look starkly white at all.
How does Minwax Simply White look on white wood?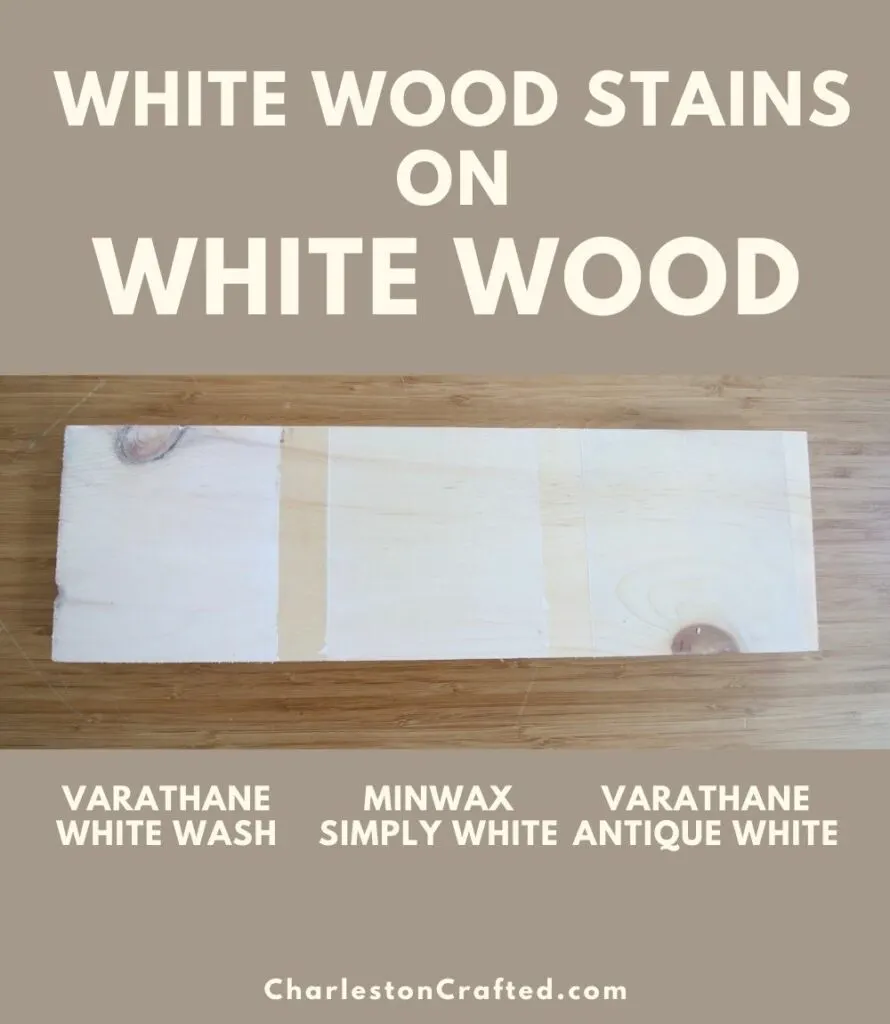 White wood is naturally very white so light, transparent white stains don't show up too much.
You can however see, next to the strip of un-stained wood, how this stain cuts down on the yellow tones in the wood. It adds a bit of white but still looks like wood underneath.
How does Minwax Simply White look on birch plywood?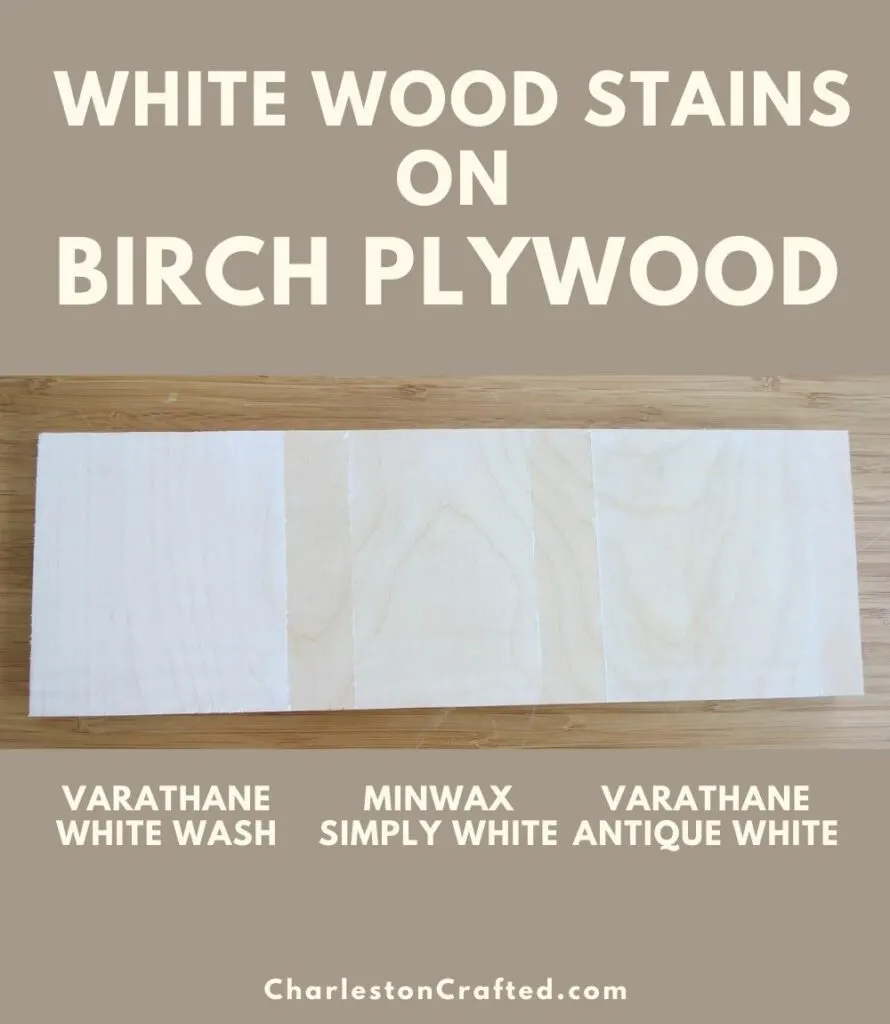 Birch Plywood is one of my favorite woods to work with because it's got such pretty graining.
I actually really love how Simply White looks on this plywood. It has a natural golden tan tone to it, and Simply White transforms it to a creamier color.
It's a light, subtle look, but a way to make a piece of plywood look a bit more finished without giving it faux color.
How does Minwax Simply White look on cypress?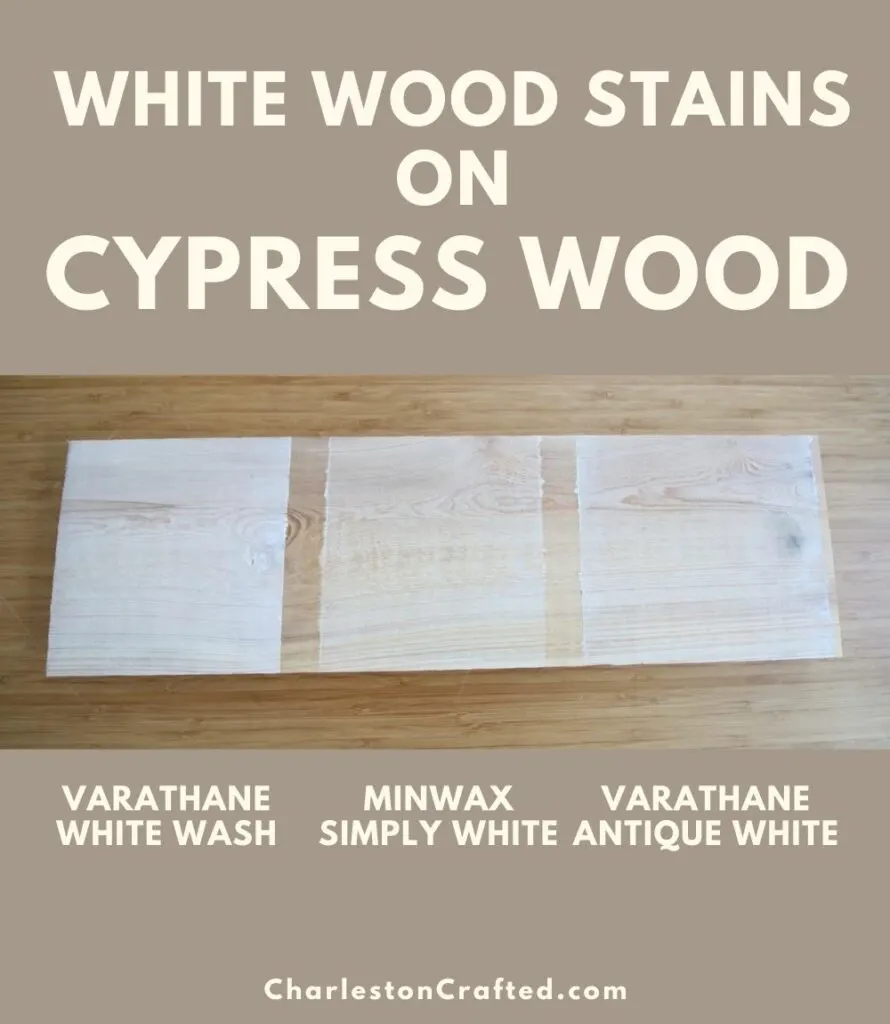 Cypress is a naturally red toned wood. Because it's slightly darker, the white stain really pops off of it.
I love how Simply White looks on cypress because it settles into the grooves of the grain, making the texture pop. It's almost highlighting the flow of the grain.
This is a great option if you want the natural water repellant benefits of cypress without the red undertones!
How does Minwax Simply White look on a 2×4?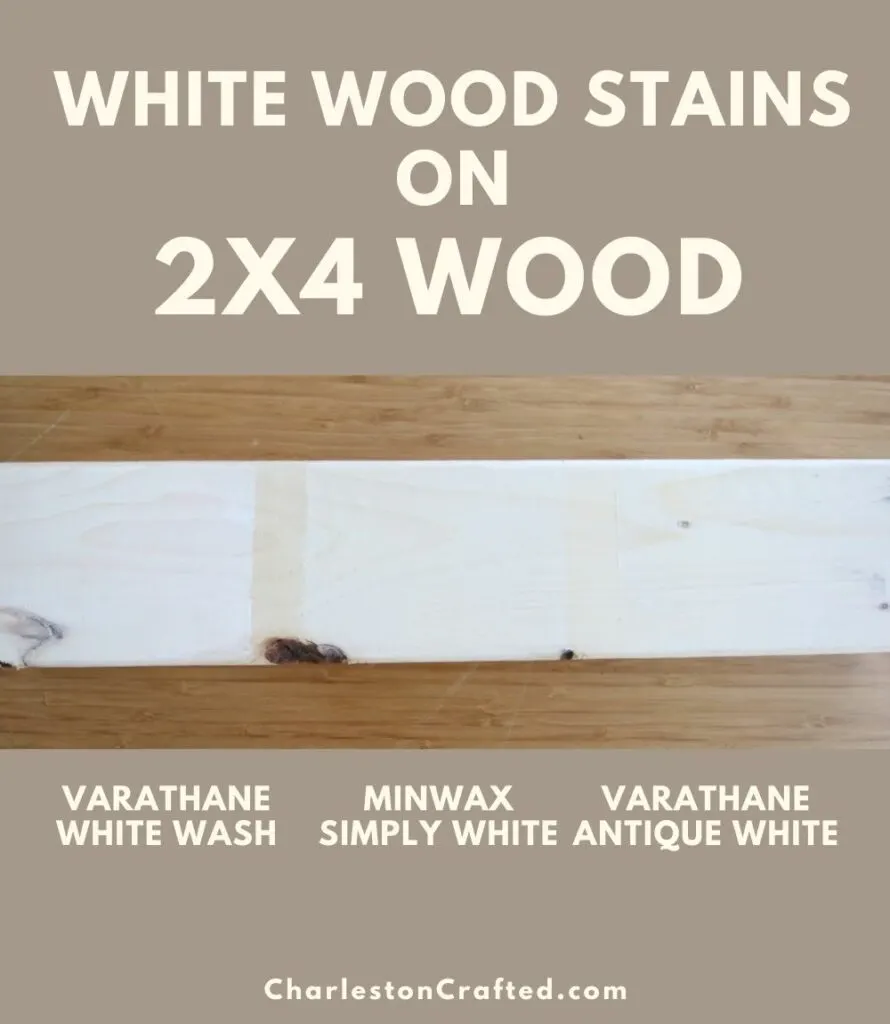 2x4s are usually very light wood with dark knots.
Because of the natural tone being almost white, Simply White really doesn't show up.
It slightly hazes the dark knots but is really not very much coverage at all.