Do you want to add a protective coat to a piece of wood or furniture? We are walking you through a step by step guide on how to seal stained wood!
So, you finished staining wood – maybe an old piece of furniture or a new build! Congrats! Now it's time to seal it – but what do you do next?
Well, now you probably want to seal your wood.
Applying a wood sealant protects your wood from stains, dings, and damage. While it is an extra step in the wood finishing process, it's a very worthwhile one!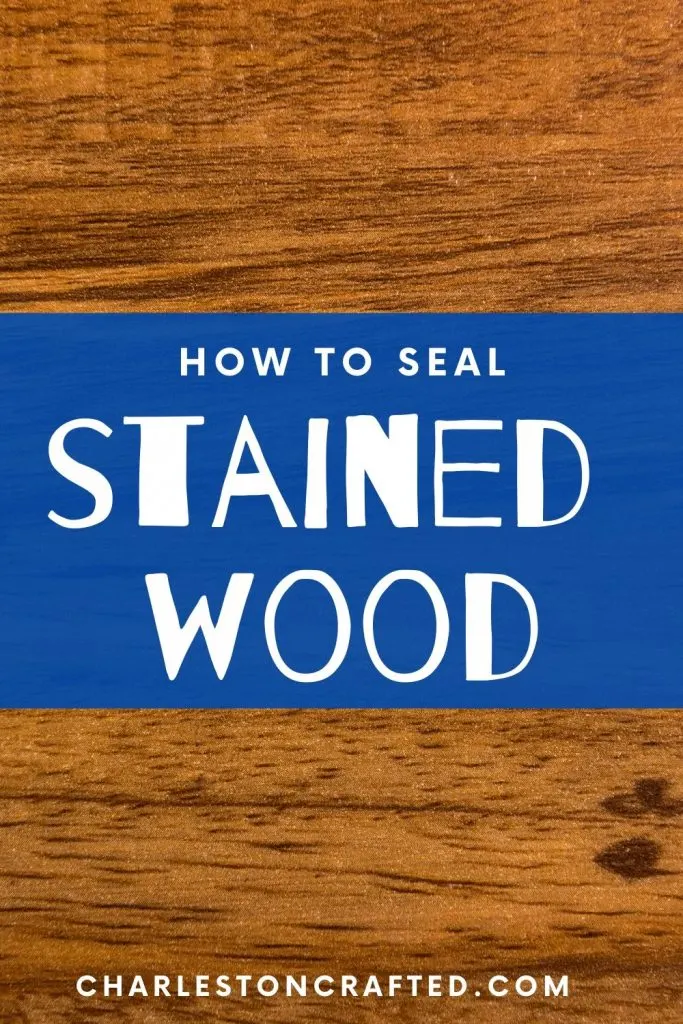 Sealing Stained Wood: everything you need to know!
Here are some of the biggest FAQs around sealing stained wood.
Why should I seal stained wood?
Sealant is going to provide an extra layer of protectant between your wood and the elements. This could be sun, rain, your toddler's sticky hands, or even a hot cup of coffee.
What should I use to stain my wood?
You will need to choose a wood stain. They look different depending on the wood you are applying them to! We rounded up our ten favorite wood stains – and shared how they each look on five different species of wood!
What are my options for sealing stained wood?
There are a few options for sealants for your wood project. The most important thing is to find something compatible with whatever is underneath – stain, paint, or raw wood.
Sealing stained wood with oil
Oil is an option for wood. We love using Walrus Oil as it really brings out the beauty of the natural wood.
However, you wouldn't use this oil over stained wood. Oil is oil based(duh!) and is designed to soak into the wood. Stain can block the oil from being absorbed!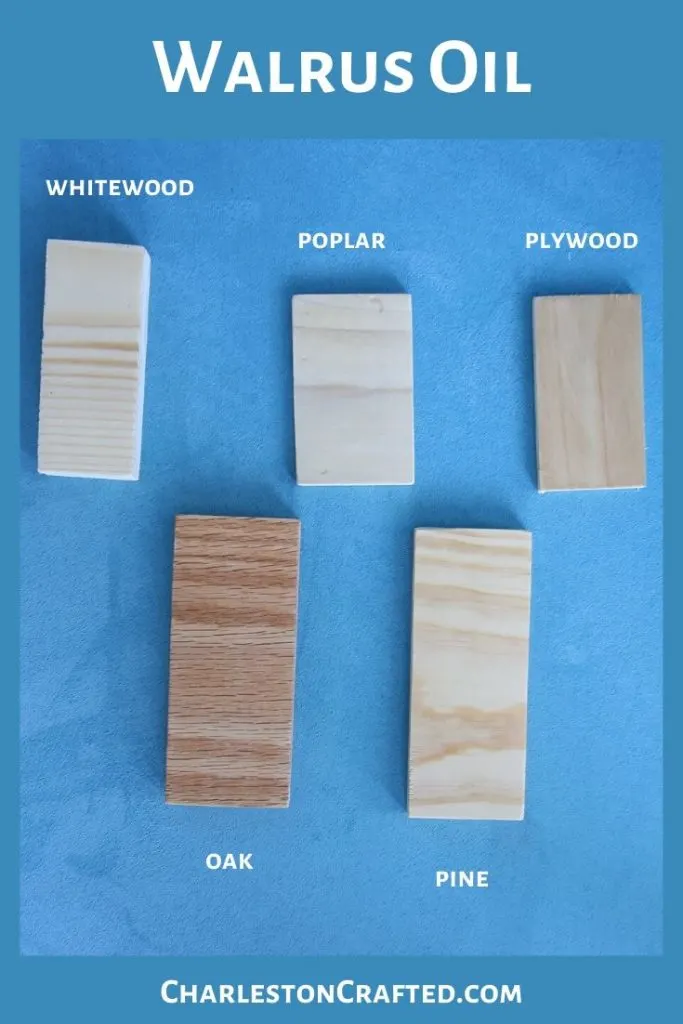 Sealing stained wood with wax
Wood wax is another option. We like the Walrus Oil brand which is made of Coconut Oil, Beeswax, Mineral Oil, Vitamin E.
A dense wax is usually applied after oil or stain to add more color richness, shine, and more water protection to the wood surface.
Wax is a great option, but pay attention to the drying directions – often they need to cure for 30 days or longer!
Sealing stained wood with Polycrylic
Polycrylic is a very popular sealant for wood projects. It is inexpensive and easy to apply. It provides strong coverage and is, in general, a great choice.
Be sure to pay attention to if you have water base or oil based polyurethane. It should match the base of the stain or paint you used on your project!
Not sealing stained wood
You always have the option to NOT seal your wood. If something will not be handled, touched, sat on, exposed to sunlight or water, or have things sat on it, you don't need to worry about sealing it!
What is the best sealant for stained wood?
Best is going to be arbitrary, but we can share our favorites! We prefer to use Polycrylic in a matte finish for any project that will be handled frequently.
We occasionally do not seal projects – things like wall hangings that will not be handled, we leave just stained.
How do I apply sealant to stained wood?
Applying stain is a super simple process. I like to use a high quality bristle brush or a foam brush to apply the stain.
Follow the directions on the can of sealant to apply the polyurethane. Usually it involves many thin coats.
For example, on a coffee table, we did two coats of poly on the legs/body of the table and five coats on the table top. This is because we will set glasses, plates, sticky toddlers, etc on the table top and wanted it to be extra protected by the wood finishing.
Let each coat of finish dry completely. In between coats, use a high grit (very fine) sand paper to sand off any little bumps. Then, be sure to use a tack cloth to wipe off any dust before applying your next coat.
How to seal wood after staining
Make sure your wood is dry and wiped clean
Use a bristle or foam brush to apply sealant in the direction of the wood grain
Use many thin coats, with drying time following the can's instructions between coats
Double check for drips or bubbles and smooth them with your brush as you go
Let cure completely before handling the sealed wood
How long to wait before sealing stained wood?
You do NOT want to seal wood that is wet or tacky in any way. I like to wait 24-48 hours to let the stain dry before sealing. If it it very cold, hot, or humid, wait up to 72 hours.
If you seal it while it is sticky, it may never get fully dry and hard! Use patience so you only have to apply a sealer once.
What do I seal stained wood with?
We recommend Polycrylic. Used water based with a water based stain underneath and oil based with an oil based stain.
Is there a different process for sealing stained wood furniture?
Nope – the same process works with pieces of wood or wood furniture.
Here is my caution with sealing furniture – be careful on your vertical surfaces. Legs, edges, sides, etc are prime spots for DRIPS! Check behind yourself and wipe them away with your brush while wet.
If drips dry completely, you can sand them off but you will need a lower grit (more coarse) sand paper.
How to seal stained wood for outdoors
Sealing outdoor stained wood is the same process as sealing any other wood. You just want to be sure that the sealant that you choose is rated for outdoor use.
Our favorite outdoor sealant is Thompson's water seal. It comes in clear and colors!
How do you seal a stained wood deck?
You can use a roller, paint brush, or paint sprayer on a deck. Use an outdoor grade sealant and be sure to note if it is clear or colored.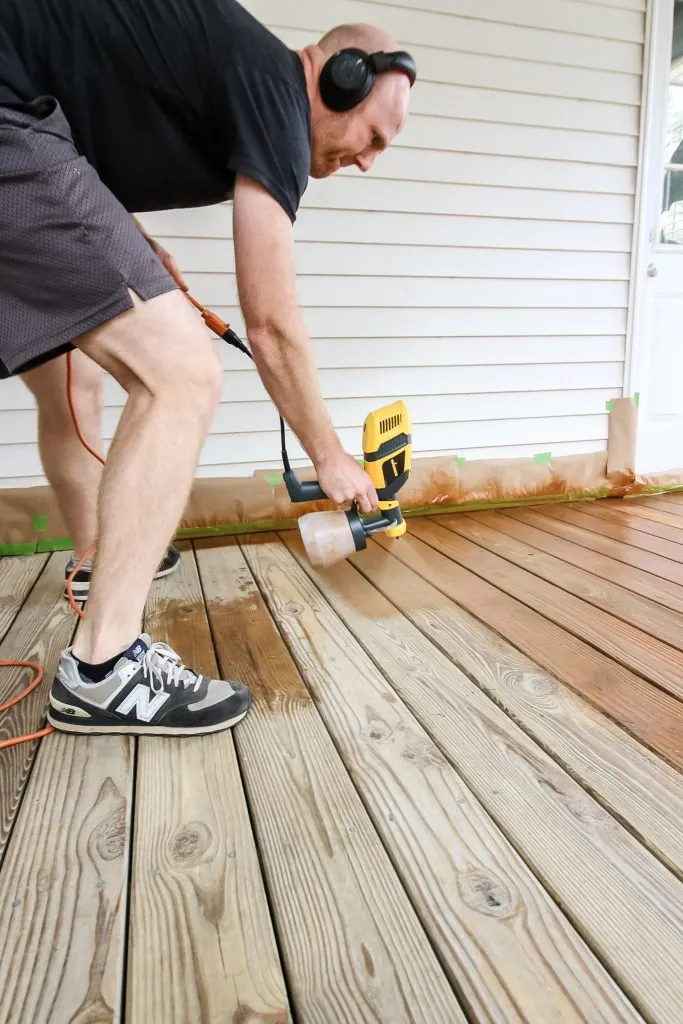 How do you stain and seal outdoor wood furniture?
My recommendation for staining or sealing outdoor furniture is to use a paint sprayer. That makes it very easy to get apply a sealer into the nooks and crannies of your furniture.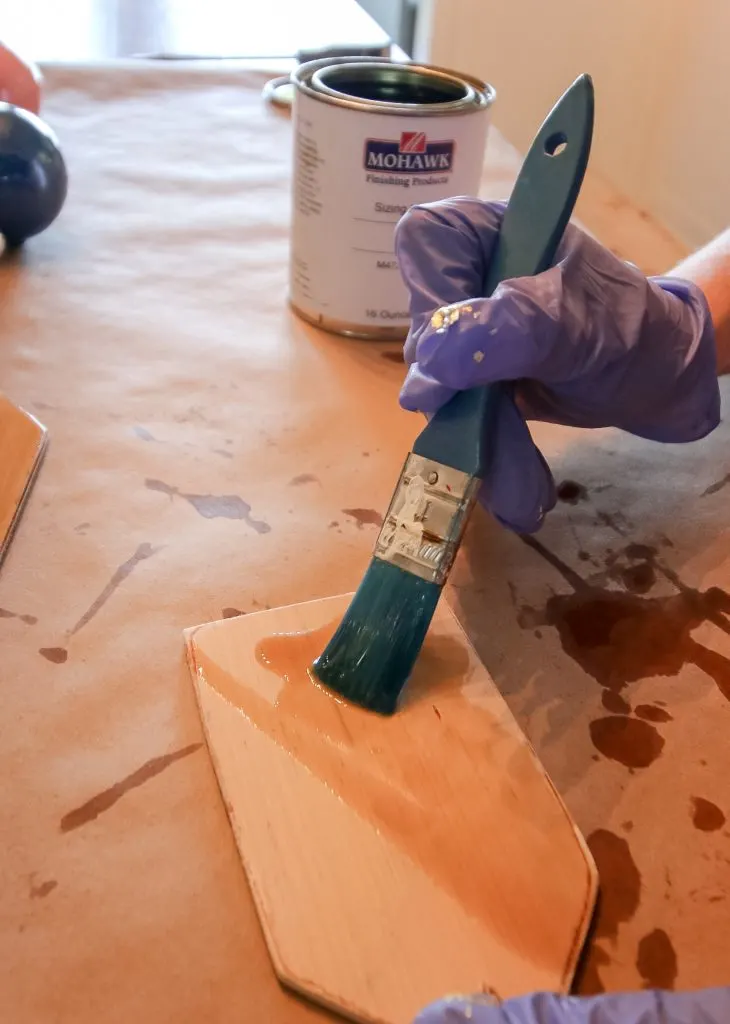 Other wood sealant FAQs:
After staining wood how to finish?
After staining wood, you will want to finish with a topcoat sealer to protect your wood project. Apply a sealant and let it fully cure before handling!
Can you seal stained wood before painting?
Sealant is your topcoat. If you plan on painting wood, do that first. Sealant is the last step.
How do you seal vinyl on stained wood?
I recommend using a spray sealant over vinyl. Brushing sometimes can peel up tiny pieces. I love this aerosol polycrylic.
How do you seal stained wood countertops?
Butcher block countertops can be a breeding ground for bacteria. Sealing them is so important!
Apply mineral oil to the butcher block. Apply a lot and let it sit for 10 minutes, then wipe up any excess.
Be sure to use food-grade oil.
Check out all of my DIY countertop ideas!
How do you seal stained wood carvings?
Use the same process as above! You might want to use a small brush to get into the intricate small spaces.
What is the best spray sealant for stained wood?
I love this aerosol polycrylic, it is super simple to apply!
Also, you can use your regular sealant in a paint sprayer for super simple application.
How to seal stained wood cutting board?
Use a cutting board or food safe oil to seal wood cutting boards!
What do you use to seal stained wood floors?
Pick up a polyurethane especially for floors. Oil based is best for high traffic areas, but water based dries faster!
How to seal stained wood stairs?
Use a sealant that is designed for flooring. Be sure it is oil based/water based to match the floors underneath if they were recently refinished.
Do I use a clear sealant for stained wood?
Yes – you will want to make sure whatever sealant you use is clear. It might look cloudy in the can but will roll on clear.
Be sure to pay attention to if you get matte or glossy finish! This is a personal preference but there is a big difference between the two.
How to seal stained wood naturally?
Here are some natural options I found for wood sealing. I have not tested these so maybe test them on a sample first!
Three parts olive oil to two parts lemon juice
Coconut oil
3 parts canola oil with one part white vinegar
After staining wood do you have to seal it?
You don't HAVE to seal stained wood, but applying a proper sealant will protect the wood from rings, stains, and damage. If you've done all this work so far, I HIGHLY recommend finishing it up with a good top coat!
Does stain seal wood?
Unless a wood stain specifically says that it includes a sealant, it does not. There are stains that include polycrylic – and I HATE them. They are bubbly and hard to apply and layer well. I know it's an extra step – but just do it!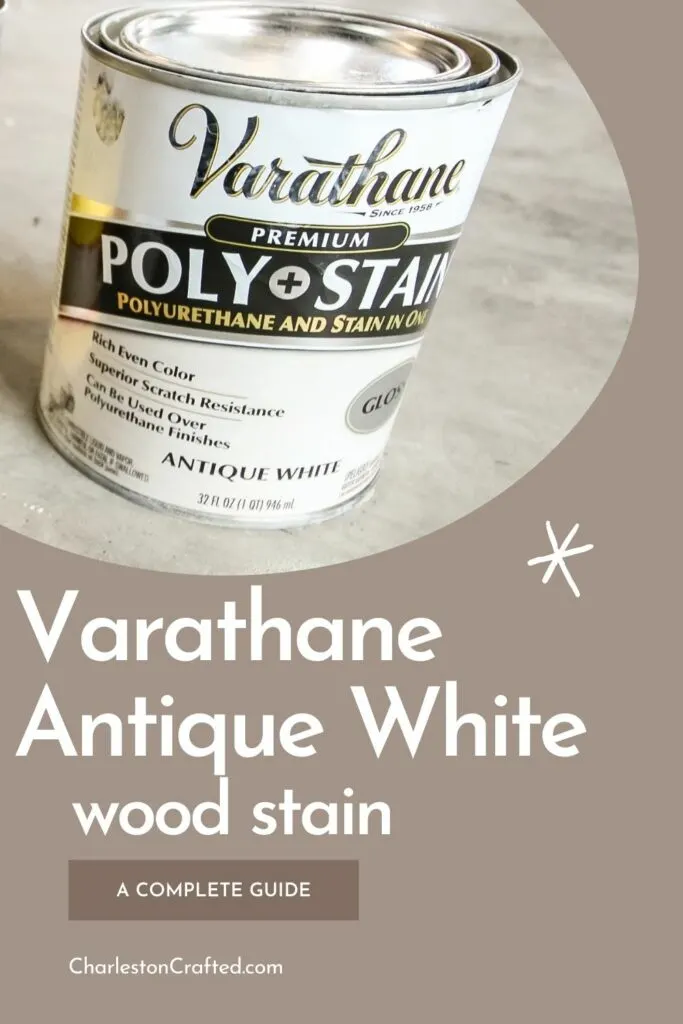 Any more sealant questions?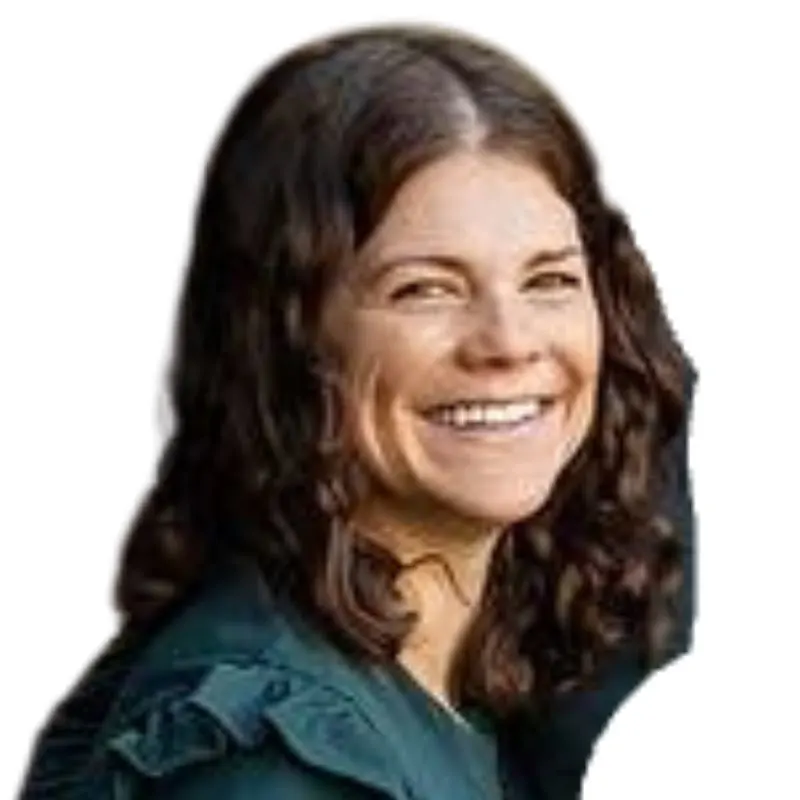 Hello, I'm Morgan, half of the creative force behind CharlestonCrafted.com! With a passion for DIY that dates back to 2012, I've transformed three homes and now I'm dedicated to helping others craft their dream spaces. Let's turn your house into a home together!