Trying to decide what color to stain your pine wood project? Check out our favorite ten stains on pine – and tips for staining pine!
Pine is one of the cheapest woods to work with, so it's super popular for beginner woodworking projects.
However, sometimes pine wood can look… cheap!
Adding the right stain can transform the look of your pine wood into something much more high end or stylish.
We work with a lot of pine and so we decided to test out ten different wood stains to show you what our favorites are for pine!
If you are looking for what stain to use on pine wood, there is no wrong answer. Hopefully seeing these examples will help you to decide.
Be sure to check out my tops tips on how to stain pine wood!
The best stain colors for pine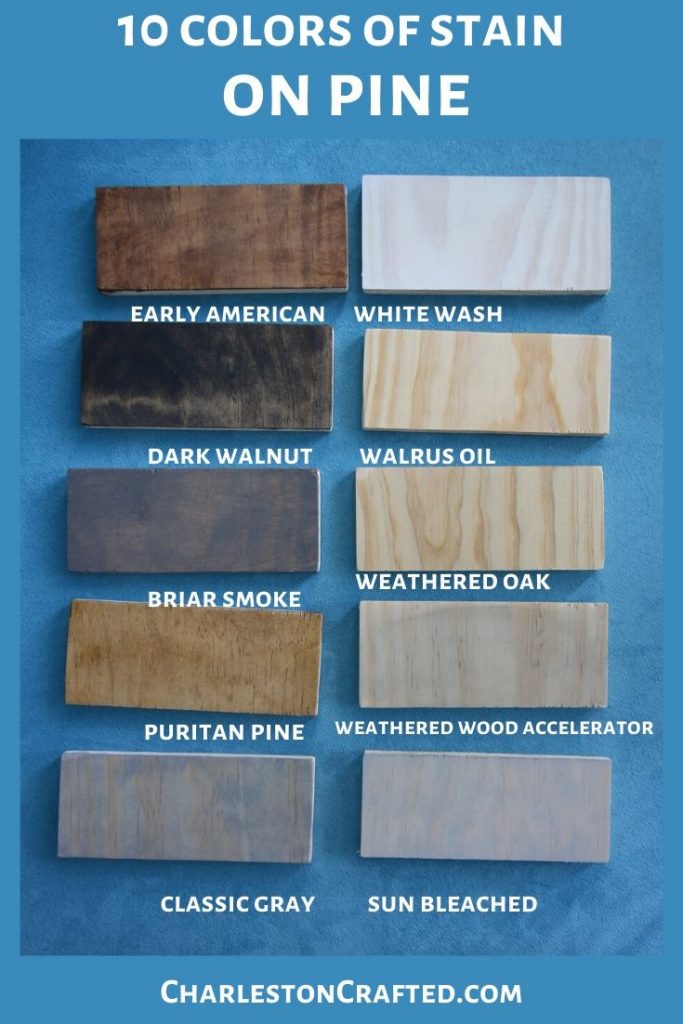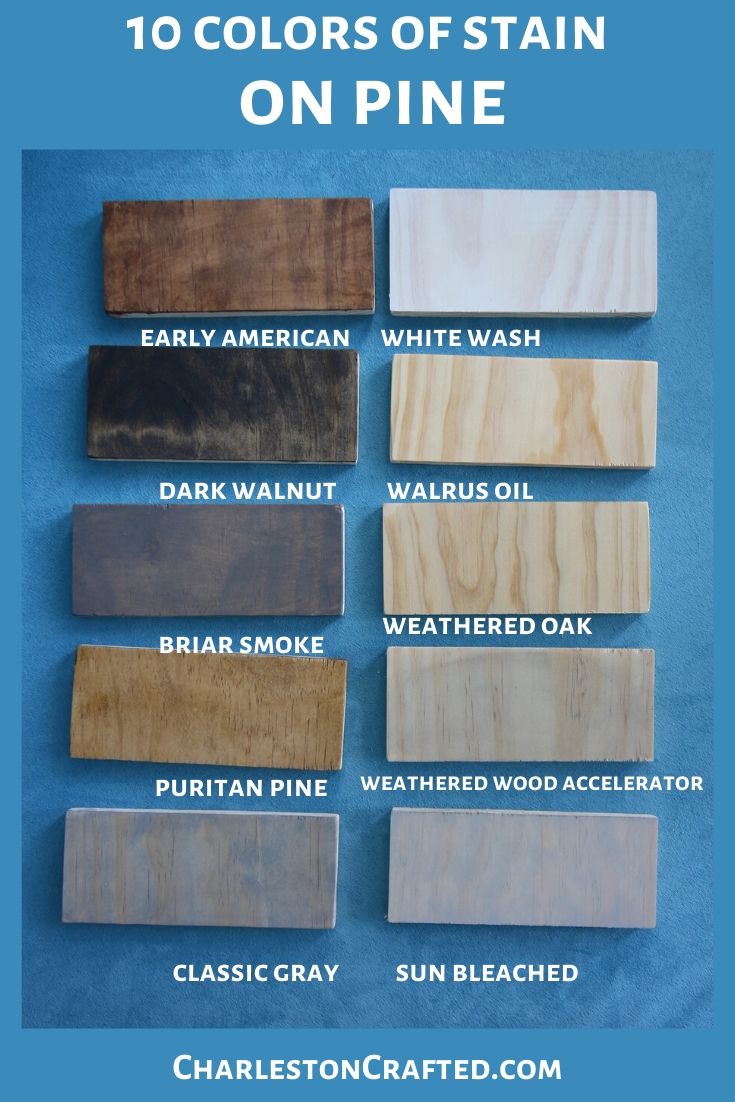 Here are the ten wood stains that we tested on this type of wood:
The best light stain for pine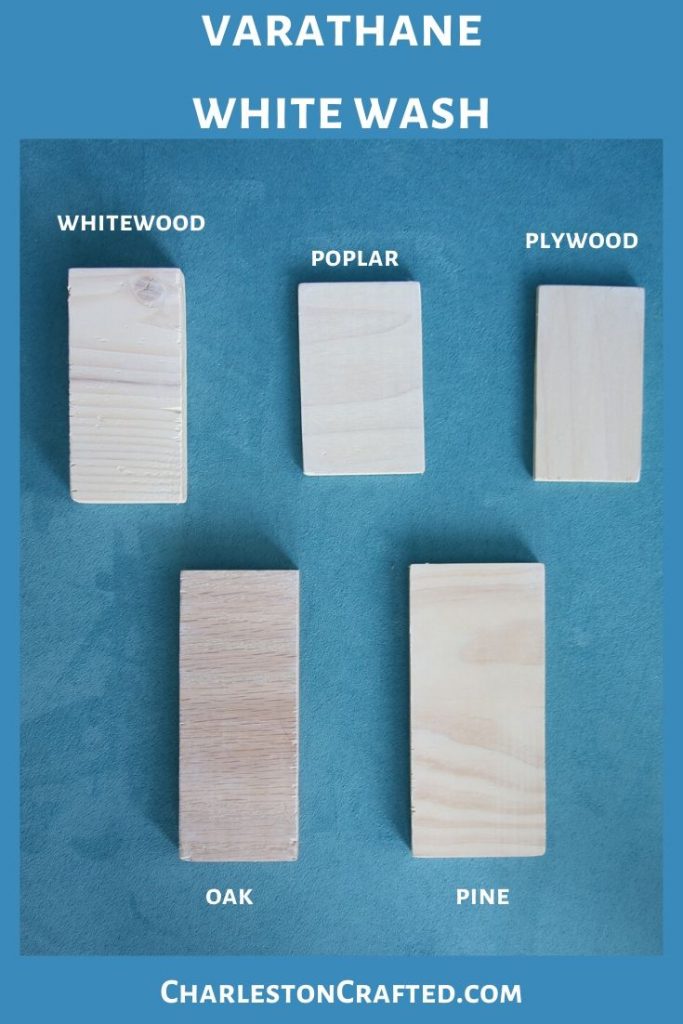 For a light stain, I love the look of White Wash by Varathane. It really lightens the wood tone, but has a transparent finish so it doesn't look too white.
We have tried a few white wash stains and this is by far our favorite!
Read my full White Wash review!
The best gray stain for pine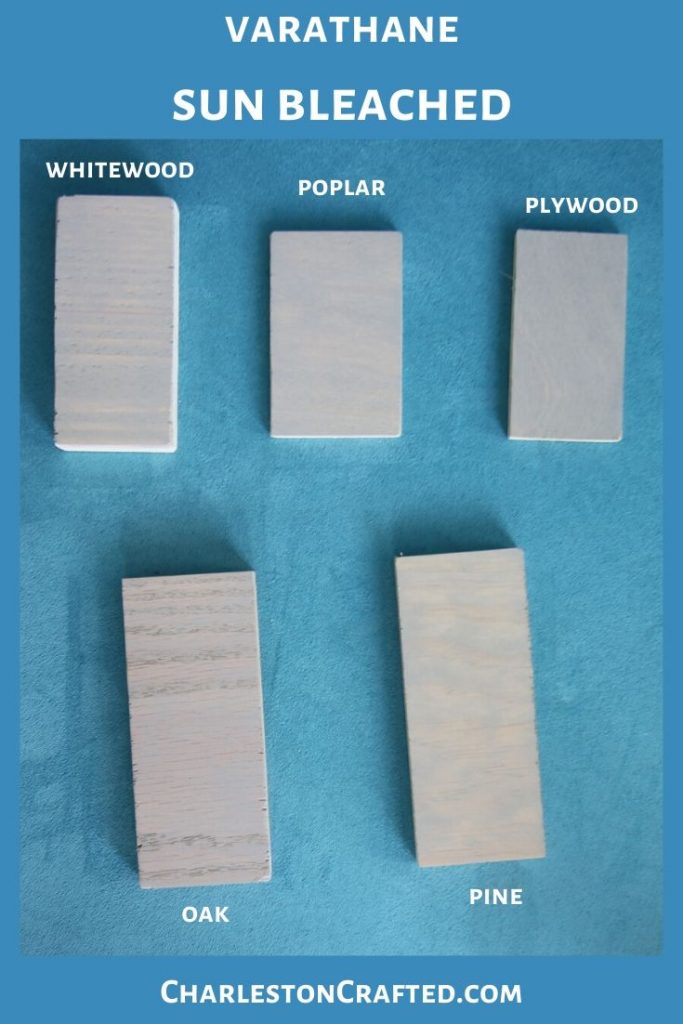 My favorite gray stain on pine wood is Sun Bleached by Varathane.
This is a very warm toned gray stain color, almost a greige.
It reminds me a lot of our wall paint color – Sherwin Williams Agreeable Gray – but in a transparent form.
Read my full Sun Bleached review!
The best dark stain for pine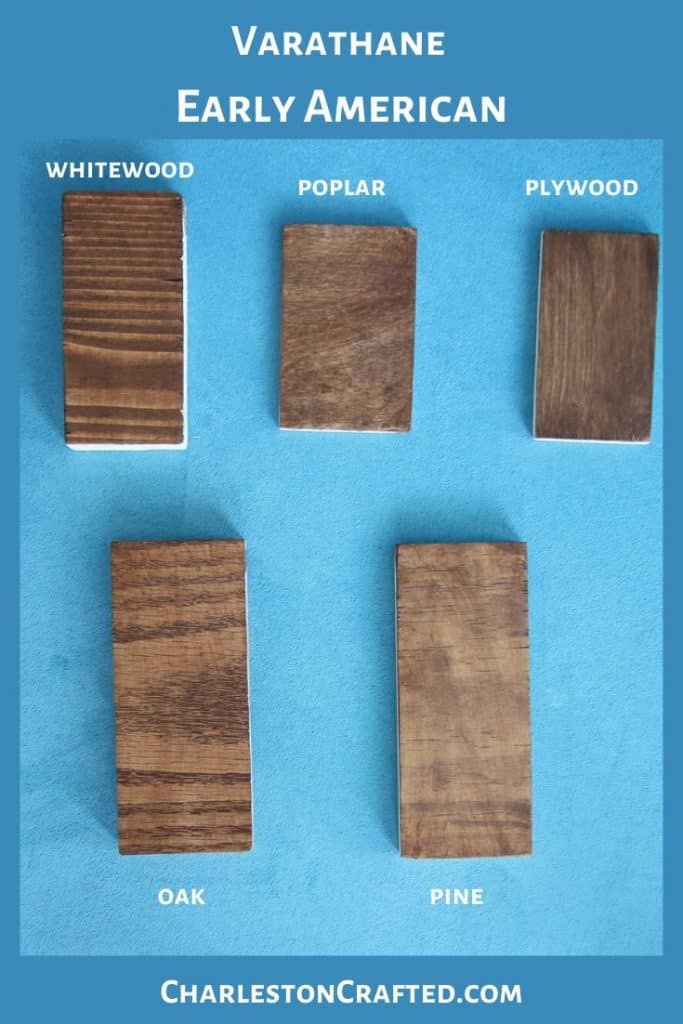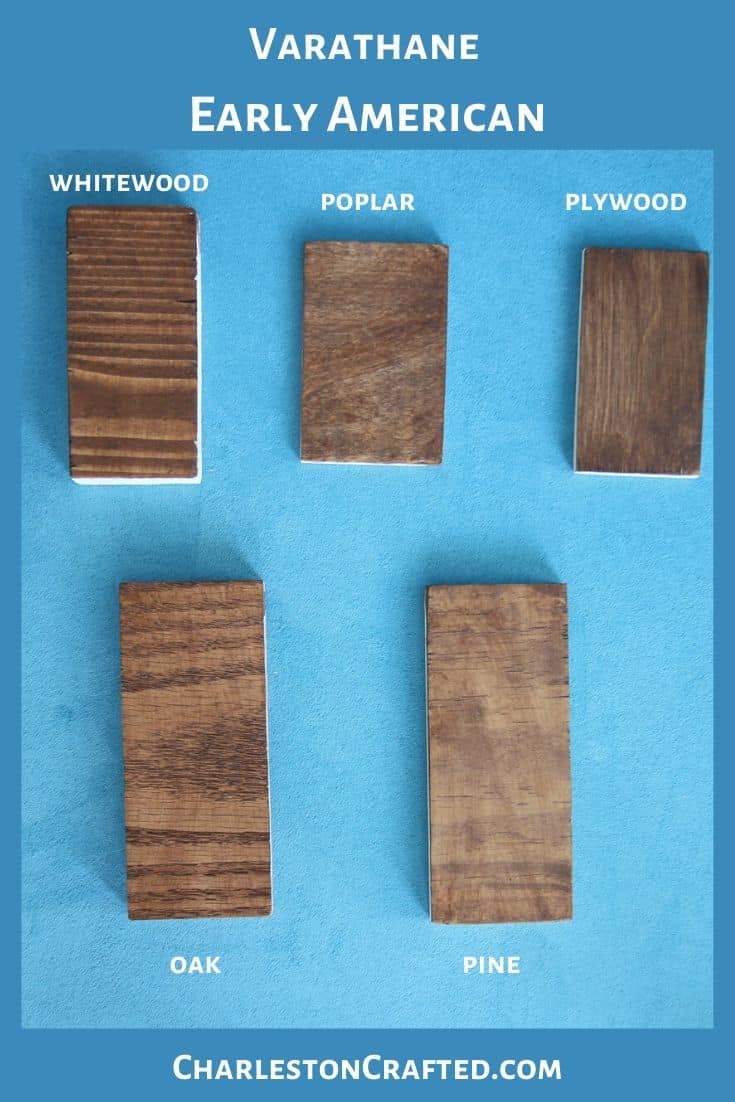 Early American by Varathane is our favorite dark wood stain. It has a rich, brown color but still lets the grain of the wood shine through.
This is a very warm toned brown and perfect for staining floors or furniture!
Read my full Early American review!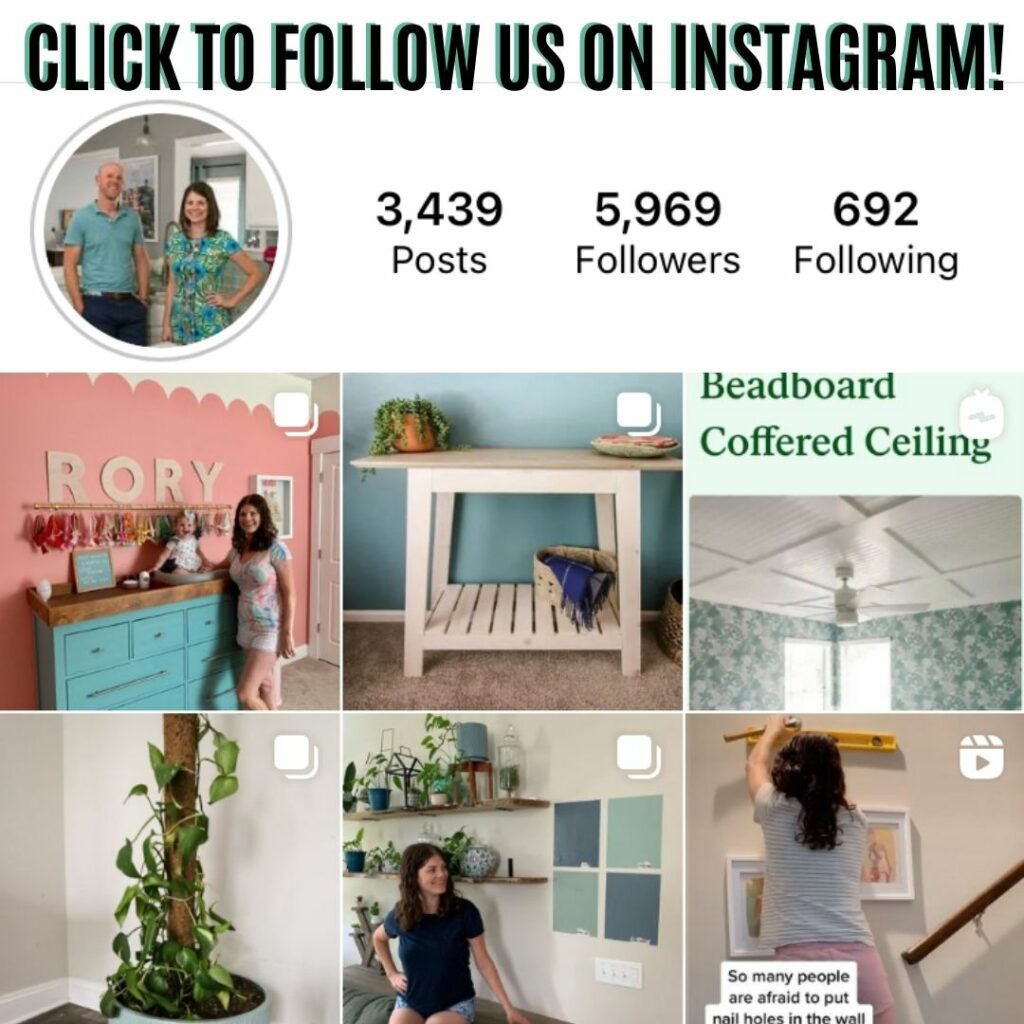 Tips for staining pine
Pine is a light, soft wood that tends to have a lot of dark knots.
Applying a wood conditioner is important for getting even stain absorbtion.
If there is variation in the dryness of your board, the dry areas will absorb more stain and therefore get darker in color.
Wood conditioner will help to prevent this!
Most projects only require one coat of stain. Apply it with a lint-free cloth or foam paint brush and then use a cloth to wipe off any excess.
What stain looks best on pine?
This depends on the look that you are going for. My favorites are Early American (dark brown), White Wash (white), and Sun Bleached (very light gray).
Is it better to paint or stain pine wood?
This totally depends on the look that you are going for. However, it can be pretty hard to paint over the knots in pine wood. Often it's better to embrace the knots and grain and go with a stain instead!
How do you prepare pine for staining?
Using a wood conditioner pre-stain can help even out the dryness of the pine board and allows it to absorb stain more evenly.
Can I stain pine to look like oak?
Sure thing! Golden Oak or Weathered Oak are both good stain color options for this look.
Can I stain pine to look like walnut?
Yes – definitely! Minwax Dark Walnut is my favorite stain for this!
Why is my wood stain blotchy?
Wood boards dry out unevenly. The drier spots absorb more stain than the less dry bits (kind of like a dry sponge can absorb more water than a damp sponge). These spots then appear darker than the neighboring areas. Apply a wood conditioner pre-stain to even out the dryness of the wood and reduce blotchiness.
What happens if you put too much stain on wood?
Applying too much stain will dry goopy, sticky, and drippy. Have no fear – while the stain is wet, use a cloth or even paper towel to wipe off any excess. Wipe in the direction of the wood grain for best results!
How long should stain sit before wiping off?
Five or ten minutes is all it needs to soak in. I usually just wait until I am done staining the whole piece and then go back and wipe it down from where I started staining.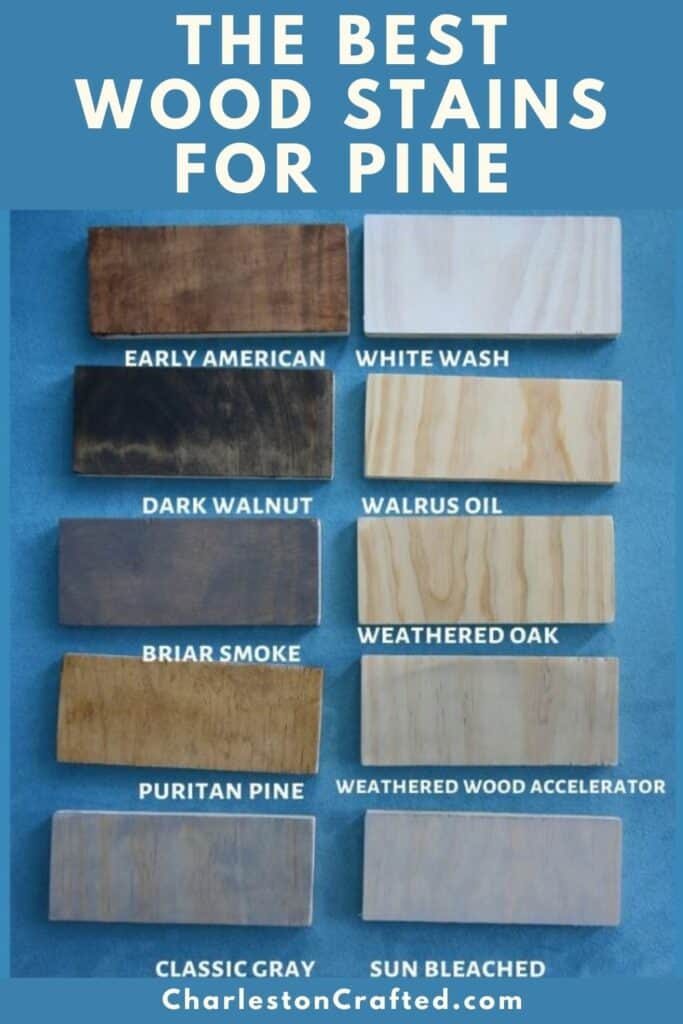 What's your favorite pine wood stain?
Facebook | Instagram | Pinterest | Twitter | YouTube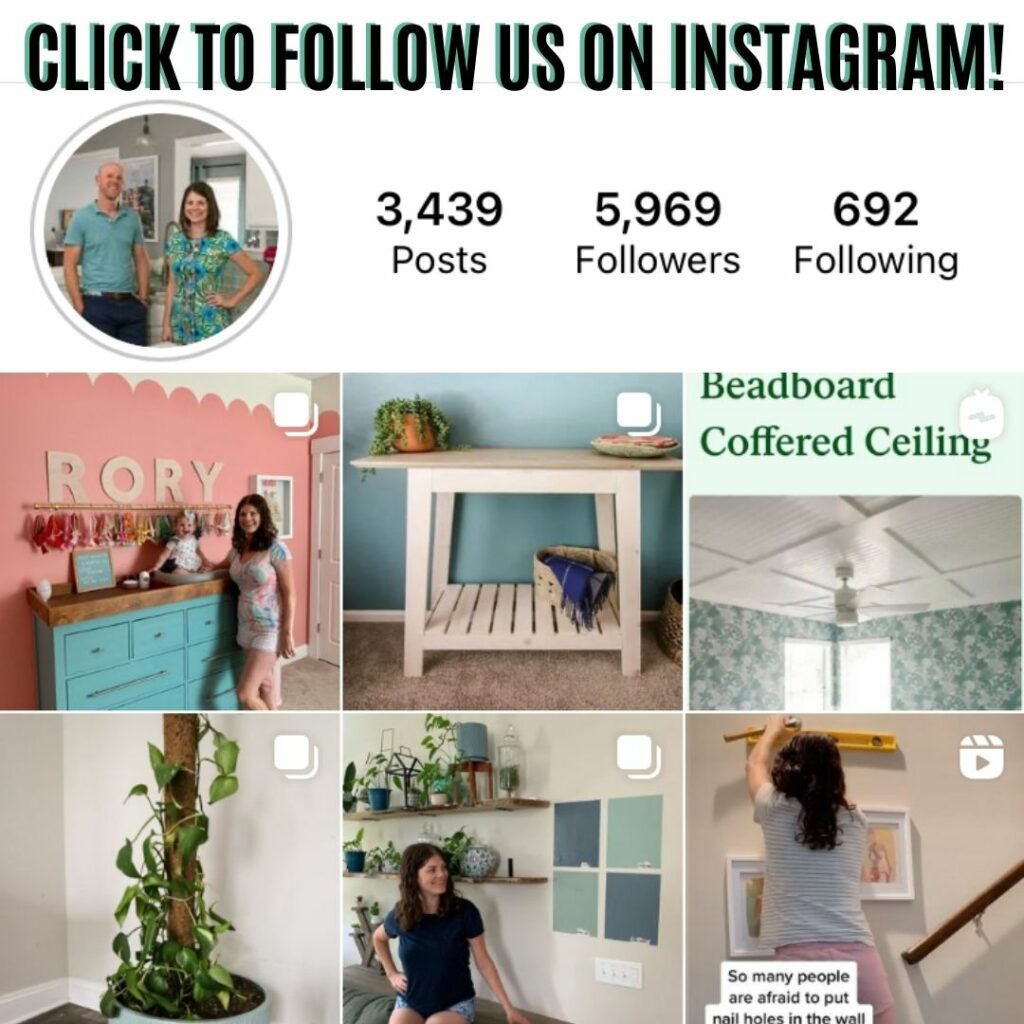 ---
Can we send you our newsletter?
Another great way to keep up with out latest projects is by joining our weekly newsletter! Get alerts of our latest projects and special peeks behind the scenes!
Follow along on Instagram
Join our online community where we share real time behind the scenes looks at our DIY projects and peeks inside our home + family!
---