Want to stain plywood? Here are the best wood stains on birch plywood! Check out a ton of stains sampled to see how they will look and get tips for best results!
We build with plywood a lot! It's obviously a great way to build something from one big sheet of one instead of having to piece together boards.
Plywood is relatively inexpensive and easy to use whether you are a beginner or expert.
We like using birch plywood. It's one of the lower costing "nice" plywoods for building furniture and other DIY home projects.
So, if you are also building out of plywood, you will have to make a decision about how to finish off your piece.
Your options are to paint or to stain. Paint is easy to see how it will look, but wood stain can be a lot more difficult to picture.
Wood stains look completely different on different types of wood, and even on different parts of the same sheet of plywood. But, seeing samples can make it easier to imagine how the color might look on your piece of furniture or other wood project.
So, we decided to test ten wood stains on birch plywood so you can see how your project might look with each of these finishes!
Check out our favorites and be sure to keep scrolling for my top tips for how to stain plywood perfectly.
The best stains on plywood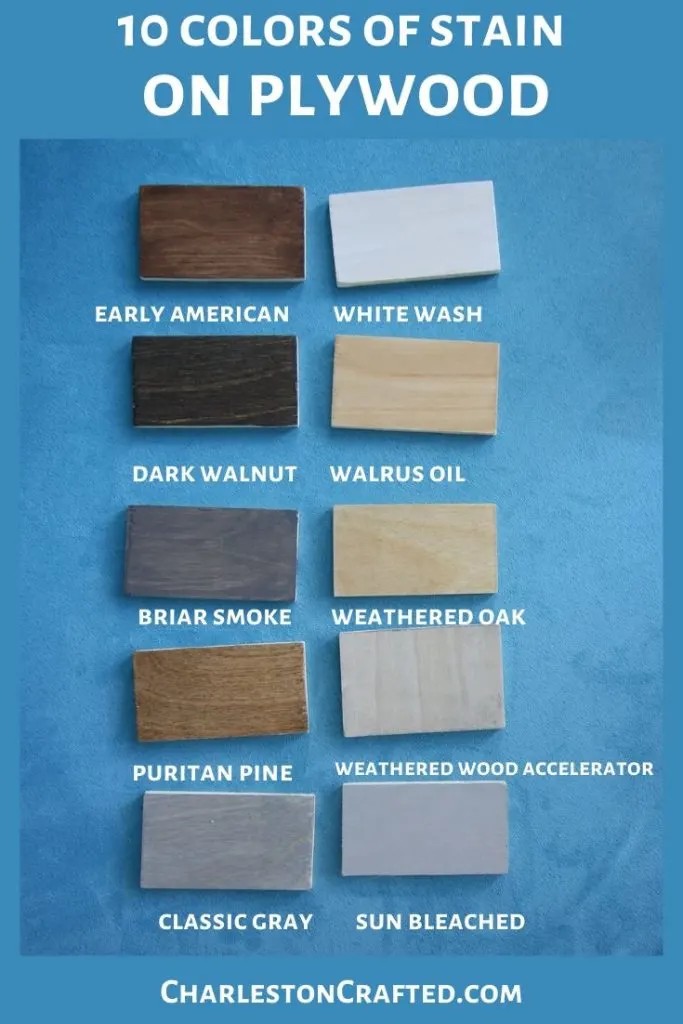 The best light stain on plywood
For a nice light wood finish on plywood, I love Weathered Oak. It add just a touch of warmth and enough color to make the wood grain pop.
It's a great option if you want a warm toned, light, natural color.
The best dark stain on plywood
For a dark stain, I love Early American on plywood. This is a rich chocolate brown color. Dark colors tend to get more splotchy, so applying a pre stain helps to prevent that.
This is a great chocolate brown stain option that instantly makes plywood feel more expensive and finished!
The best gray stain on plywood
If you want a gray look, I love Sun Bleached. This color is a little more opaque, so you see less grain through it, but it has a really nice warm gray tone to it. It can read as rustic or even coastal and goes with many styles of homes.
How to stain and finish plywood the right way
Pick the right side
First, examine your plywood. There is usually one good side and one less-good side. Be sure that you are putting the good side up and out!
Sand the plywood
Then, sand your wood using 220 grit sandpaper. Be very careful – especially using an orbital sander – not to sand too much. Plywood is made of layers of wood and too much sanding will sand off the outer most layer!
Sanding removes residue from the wood, smooths it, and opens up the surface to be more absorbent of the stain.
Then, use a cloth to wipe off any dust or debris.
Pre-stain
Next you have the option to apply a wood conditioner or pre-stain. This will help prevent the wood from staining unevenly. It's basically primer for stain.
I have found that darker colors are more likely to stain splotchily. So, definitely use a pre-stain when staining plywood a dark color!
Apply stain
Apply your stain. Water based stains (not oil based stain) are recommended for plywood. You can use a liquid stain or a gel stain.
I like to use a lint-free cloth or a foam paint brush to apply stain, then wipe off any excess with a cloth.
Once it has dried (according to the instructions on the can) you can apply a second coat if needed.
Finally, apply a sealant. Here's my tips for sealing stained wood! Let cure fully before touching or moving the wood.
Be sure to check out where we tried 10 stains on 5 types of wood!