If you are looking for the perfect gray wood stains colors for your DIY furniture project, here are the 8 biggest options on the market tested on 6 types of wood each!
Building a woodworking project is satisfying, but the build isn't the end of it.
Unless you use a high end hardwood (in which case, go you, get some walrus oil, and let the grain shine), you will want to paint or stain your wood for a finished look.
Gray is a popular option for wood stain.
It can look like natural wood but a bit aged or weathered. That's perfect for a rustic or cottage look.
Very light or dark gray stains can also look very modern and sleek.
Gray can go a LOT of ways and is one of my favorite neutral colors to decorate with for that reason!
Check out our favorite light gray paint colors here!
Today I am rounding up 8 different gray stains so you can see how they each look on 6 species of wood!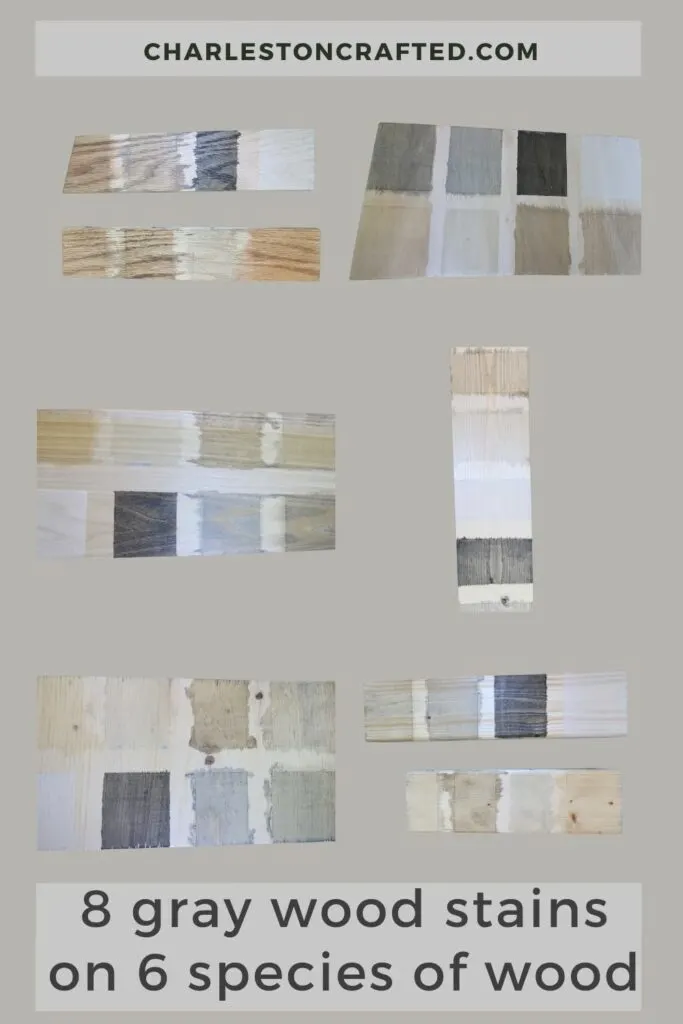 The best gray wood stains
The eight gray wood stains that we are sharing are:
We are sharing these because they are all slightly different and all great in their own ways.
Plus, they are easy to find. Varathane is carried at Home Depot and Minwax is at Lowes. So, if you have those two stores, these are basically all of your gray wood stain options.
We tested each of these wood stains on 6 different types of woods so you can see how it might look on your project:
Poplar
Oak
Pine
White wood
Plywood
Standard 2×4
Click here to read about how we tested ten different wood stains on 5 species of wood each!
Our methodology:
Sand wood first, then wipe clean
Follow the directions on each can for time to wait to wipe and to dry
Apply 2 coats of stain with a lint-free cloth in the direction of the grain
No pre-stain, no topcoat (these can change the color drastically!)
I always suggest testing stains on your actual wood as even within the same wood type coloring can change drastically. This is just to give you an idea of how a stain might loook!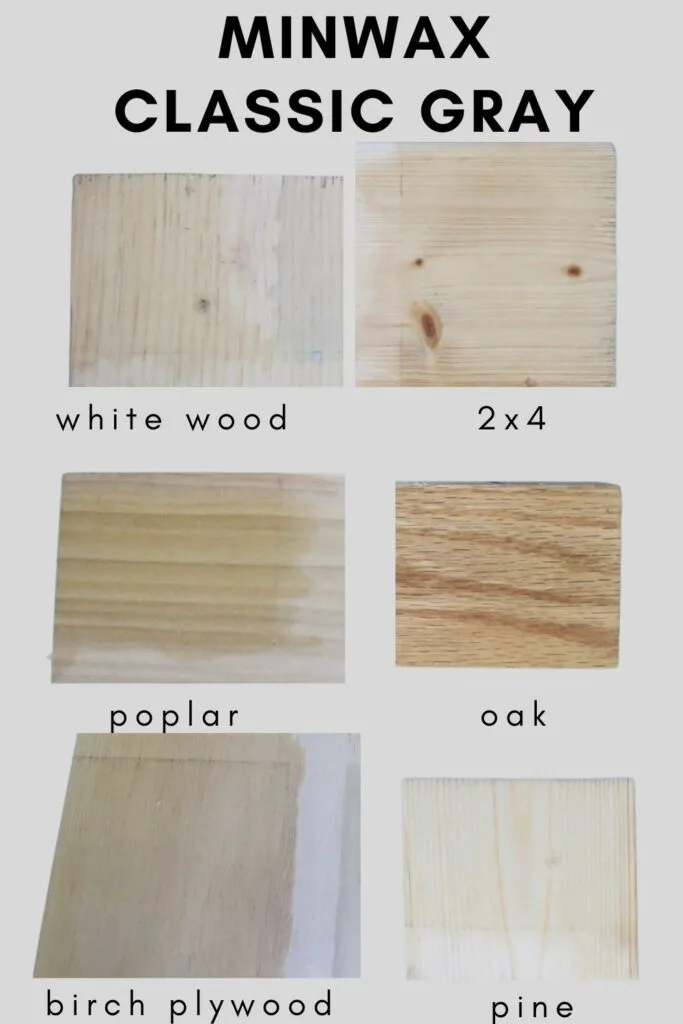 Classic gray is a cool toned gray wood stain. It's a nice true-gray – meaning it's not white, charcoal, or brown.
However, this cool toned gray can read a bit purple or blue on certain woods. You can see on the plywood above hoe it looks slightly purple, especially where it settled in the grain!
Read my complete guide to Minwax Classic Gray stain here!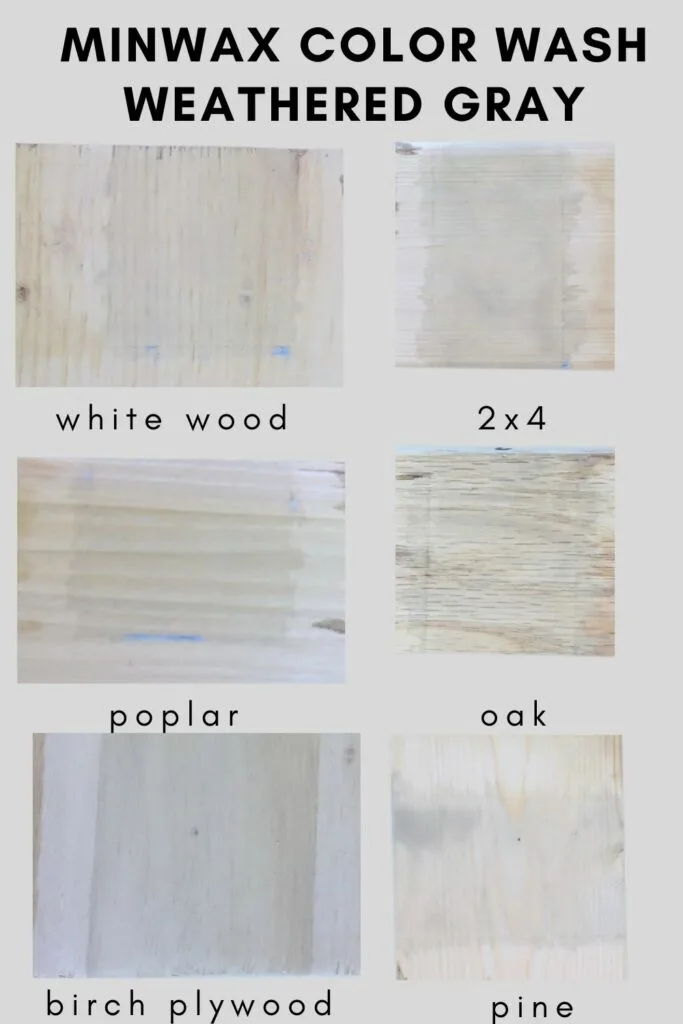 This stain is actually a color wash, meaning that they are designed to be light stains to layer – either alone or over other stains.
So, it's designed to be light.
I definitely saw that this color was super light and faint – at a glance, it looked like it didn't do much. So, this is really best if you want just a slight gray tint on your wood.
This is definitely a cool toned gray with slightly blue or purple undertones.
Read my complete guide to Minwax Color Wash Weathered Gray here!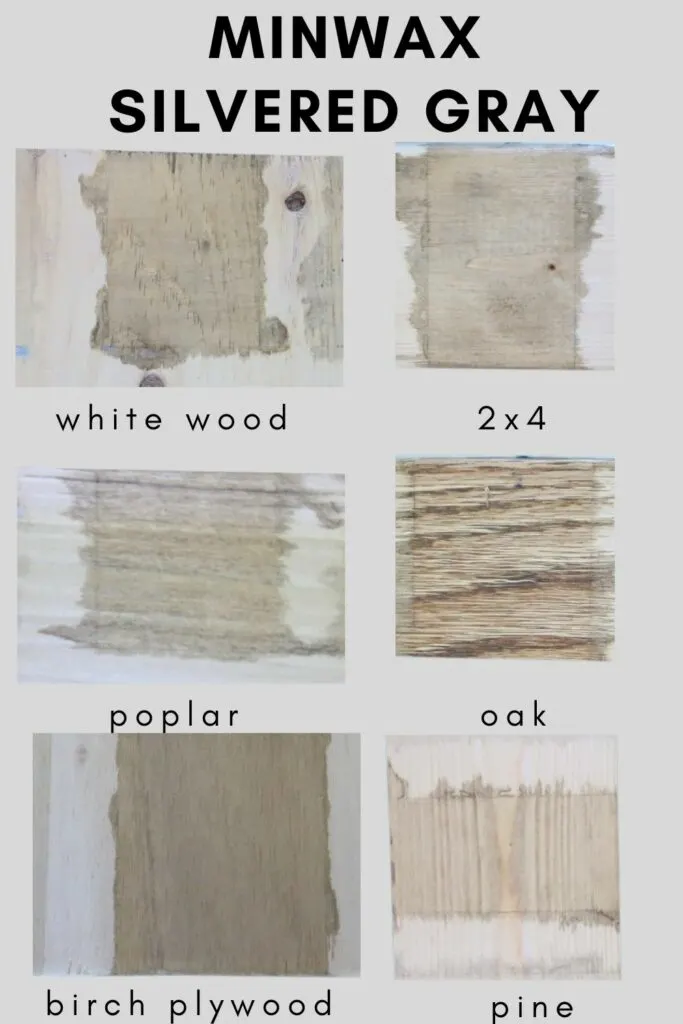 Minwax Silvered Gray is a great option for a warm toned gray wood stain. This gray has a lot of brown and taupe in it, which is what makes it look more brown.
It varies from a chocolate brown – on the warm toned oak – to a golden brown on yellow toned pine. I don't love how it looks on the green toned poplar.
This is a little darker stain, and it can especially look dark where it settles into the grain.
Read my complete guide to Minwax Silvered Gray here!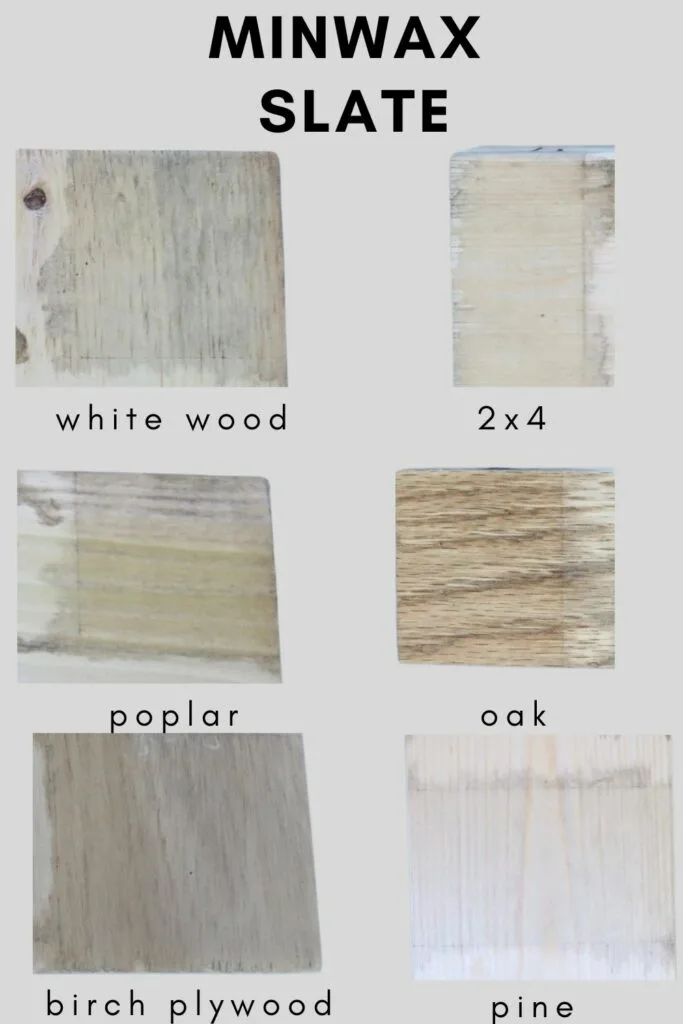 Minwax Slate was a color that really surprised me. Based off the name slate, I expected it to be a dark gray color.
However, I found that this color was actually pretty light and didn't take well. It took best on the plywood, but otherwise was fairly faint.
Honestly, this just wasn't my favorite stain!
Read my complete guide to Minwax Slate here!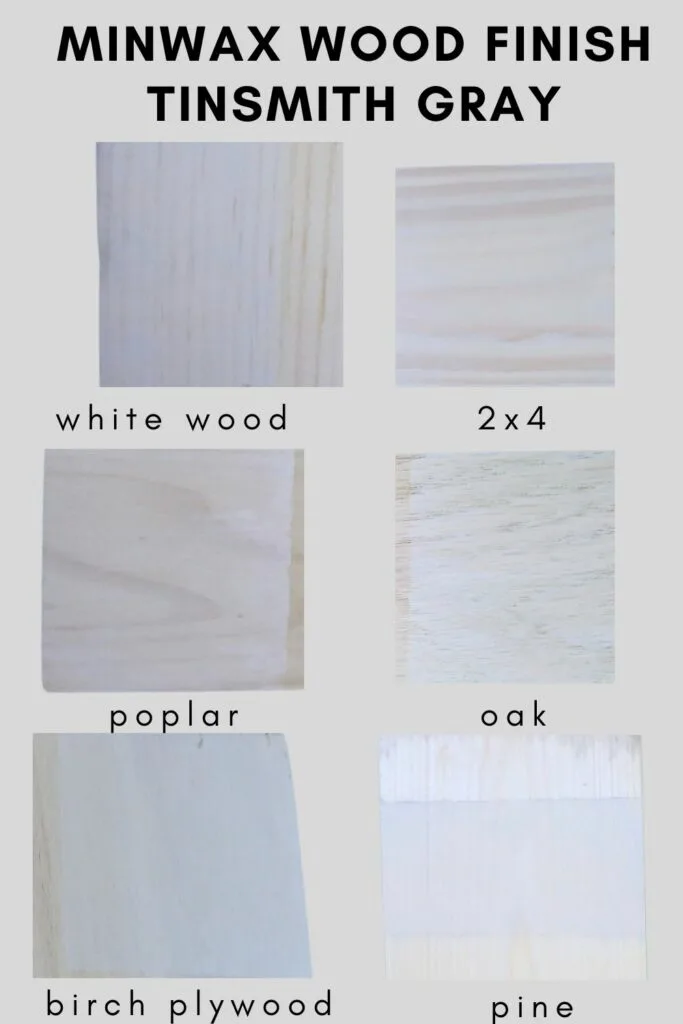 This is a wood finish is a thicker consistency – it almost looks like paint in the can. And, it really goes on like a whitewash.
So, while the color does have a gray hue to it, it is almost more white than gray.
If you want solid coverage and a very light white-gray color, this is an awesome option!
Read my complete guide to Minwax Wood Finish Tinsmith Gray here!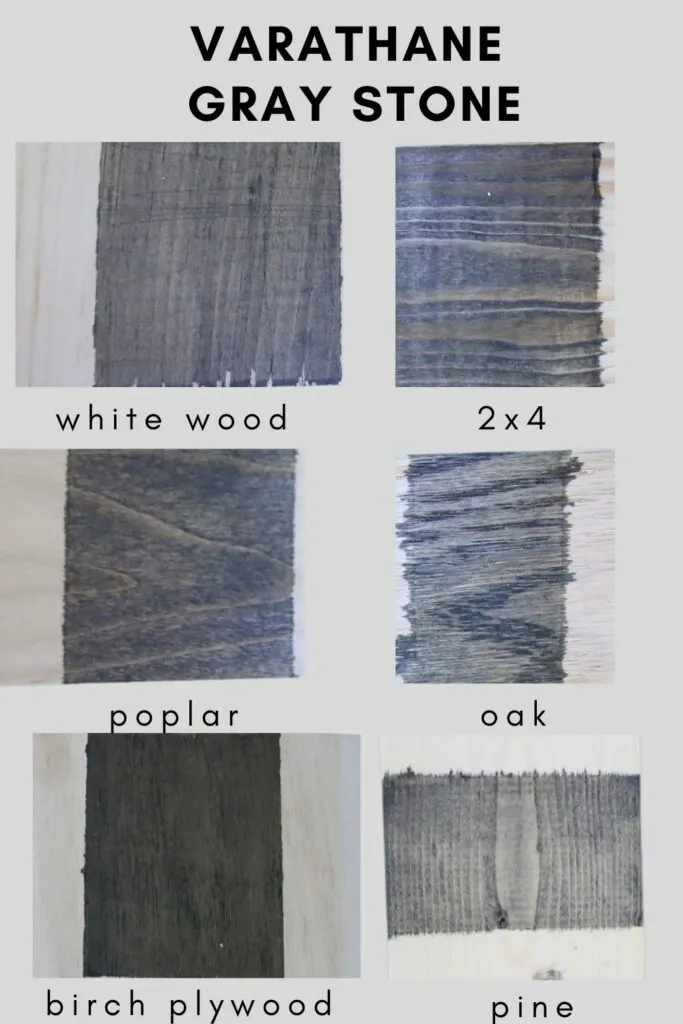 Gray Stone is more of what I expected from a slate color – a near black charcoal gray.
This gray definitely has warm tones to it – making it feel like a very very dark brown-gray.
I really like this color for a modern looking finish and am excited to put it to use!
Read my complete guide to Varathane Gray Stone here!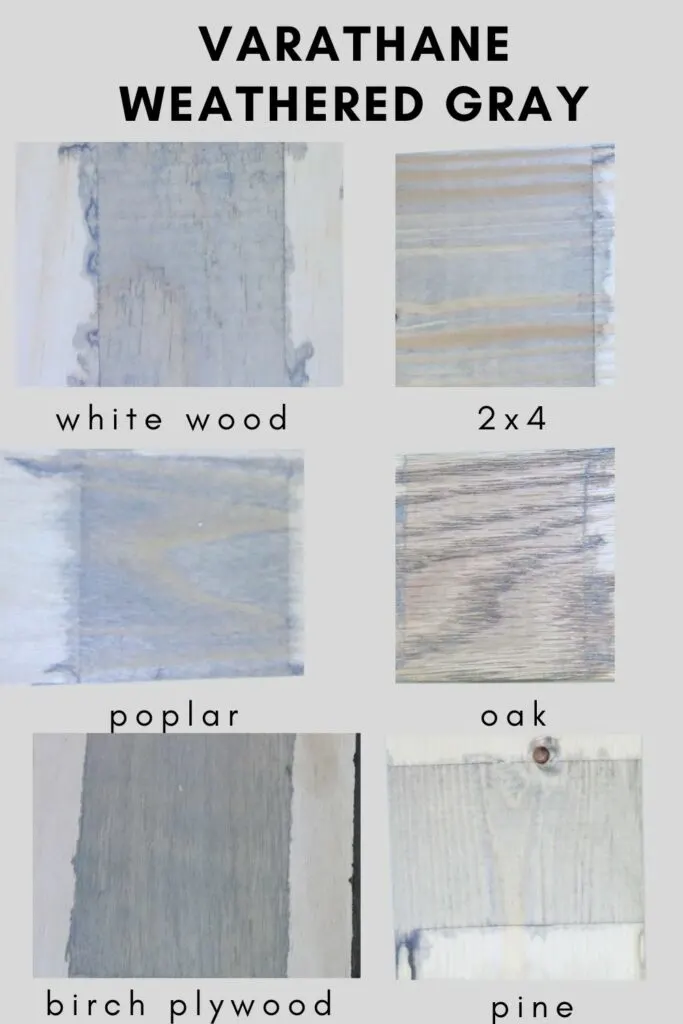 Both of these brands have a Weathered Gray, and both of them are light grays with cool undertones. I guess that's what gives it an aged wood look.
I will say that this color has quite a bit of cool blue-to-purple undertones. I would only use it in a space that also has cool tones!
Read my complete guide to Varathane Weathered Gray here!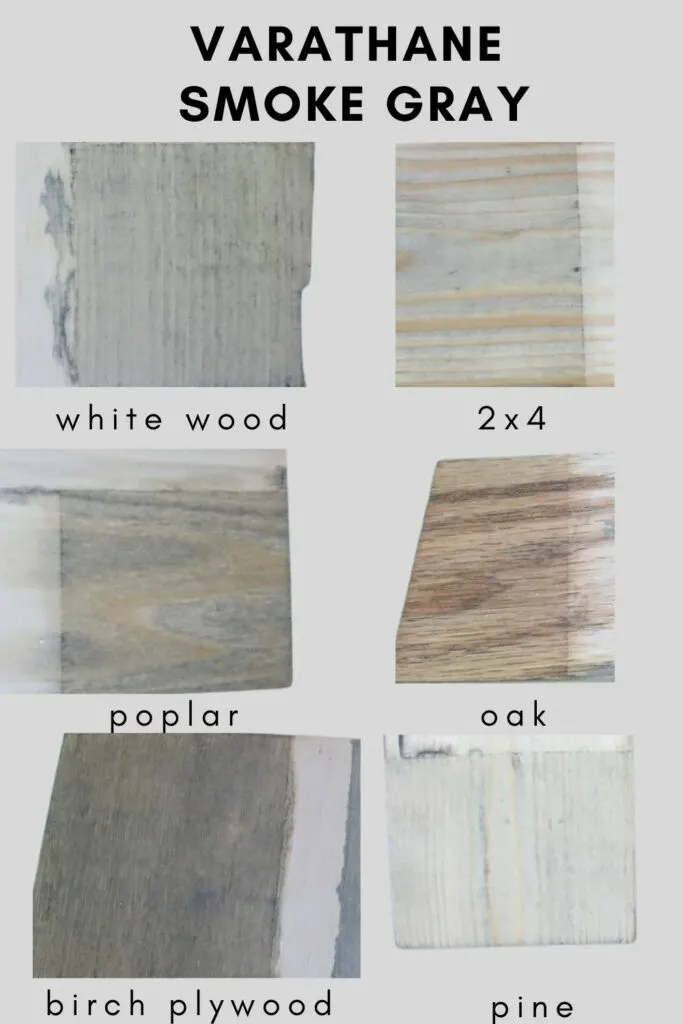 Smoke gray is really a chameleon of a color and I love it! It meshes well with both the warm and cool toned woods.
I don't love how it sits on pine and 2×4 – it really settles into the grain and looks splotchy on those woods – but otherwise, it's a huge hit for me!
Read my complete guide to Varathane Smoke Gray here!
Gray Stains on each type of wood
Here's a snap of these white gray stains on each type of wood.
I left them on one board each to help keep the grain as consistent as possible.
You can see strips of the raw wood (from where I applied painter's tape) between each swatch.
These are unedited photos taken in indirect natural light.
From left to right:
Grey wood stain on Poplar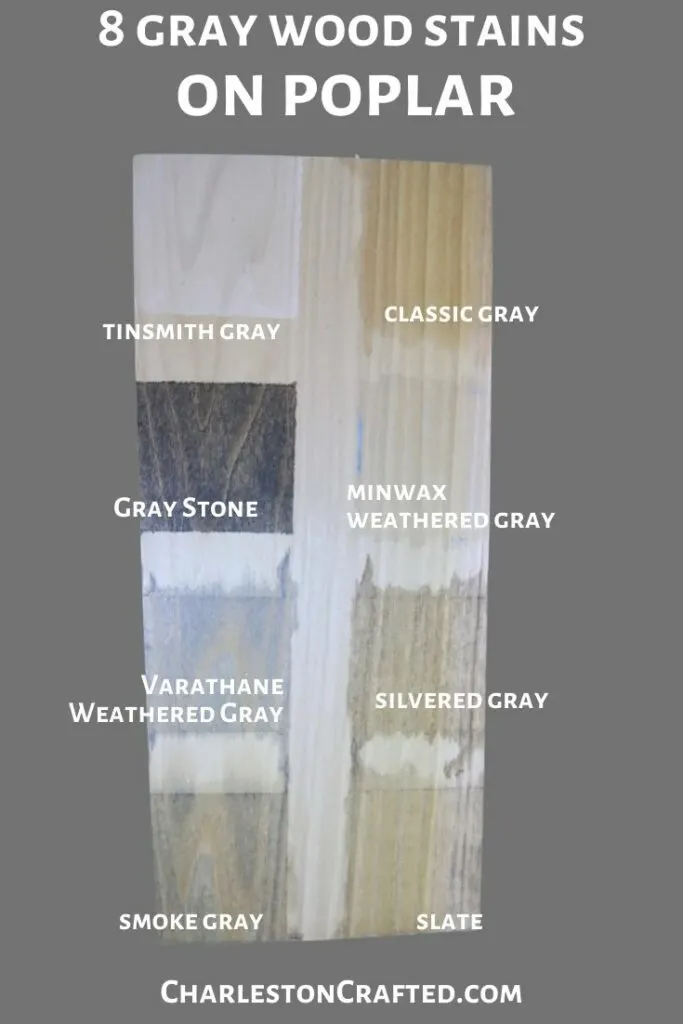 Grey wood stain on Oak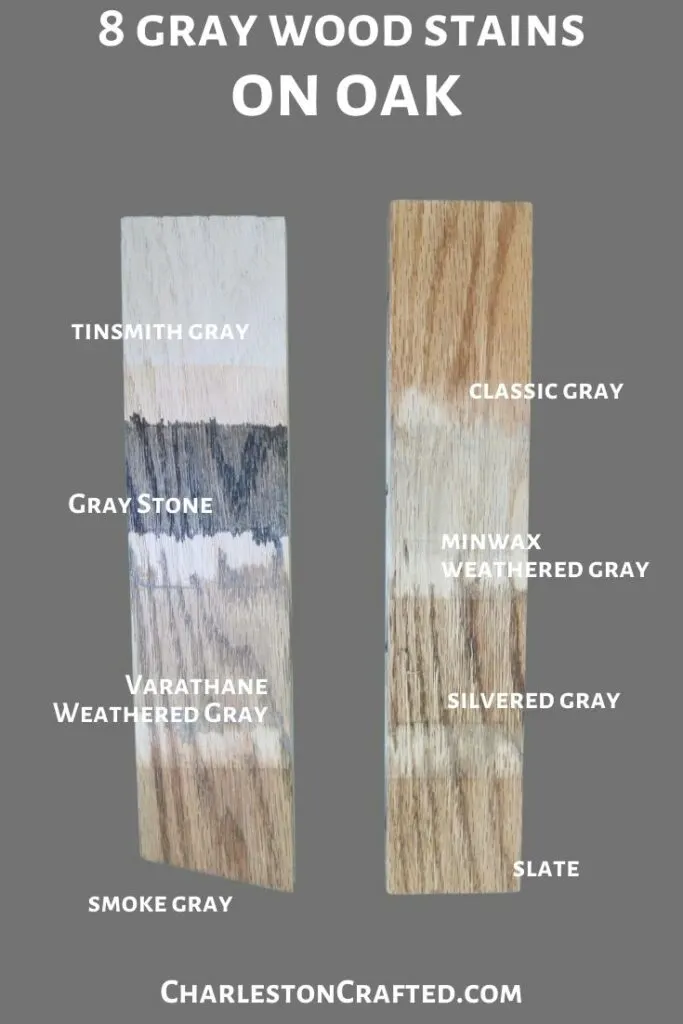 Grey wood stain on Pine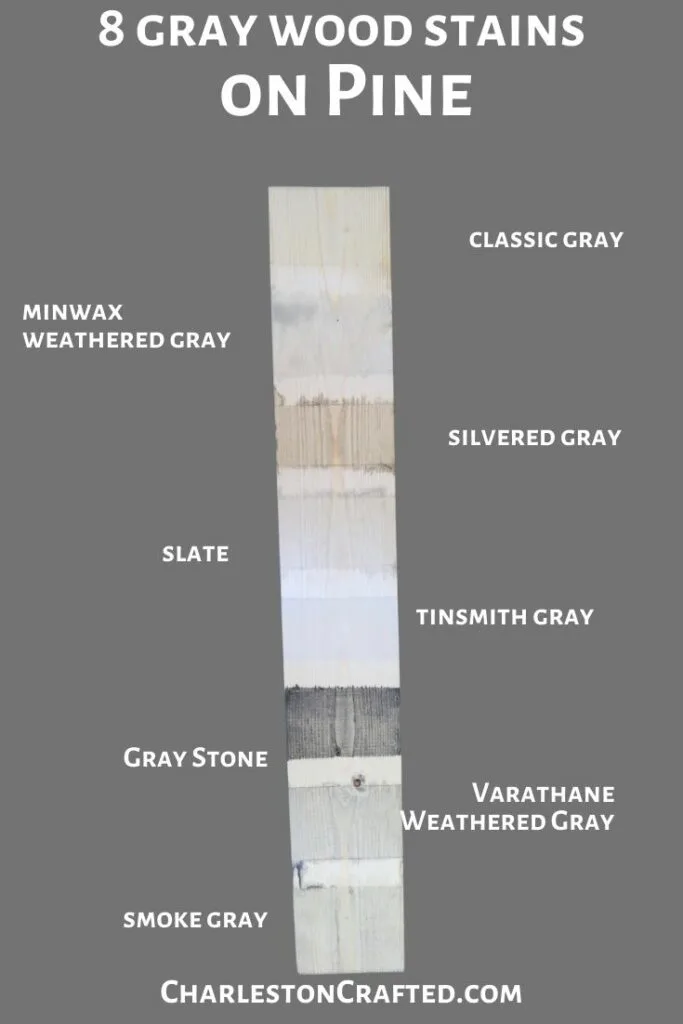 Grey wood stain on plywood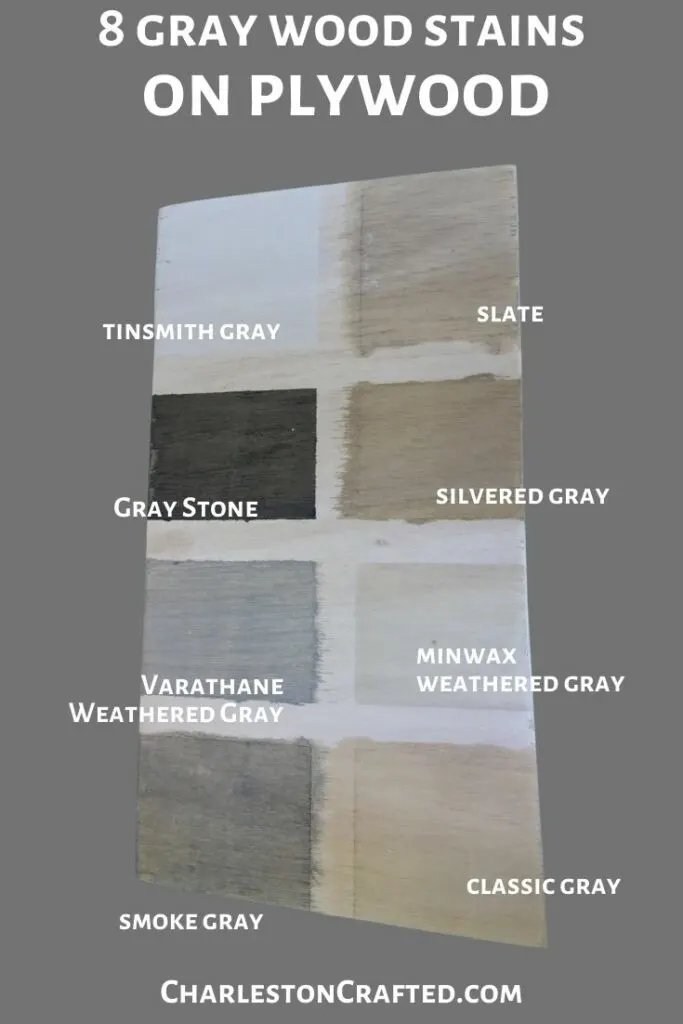 Grey wood stain on Standard 2×4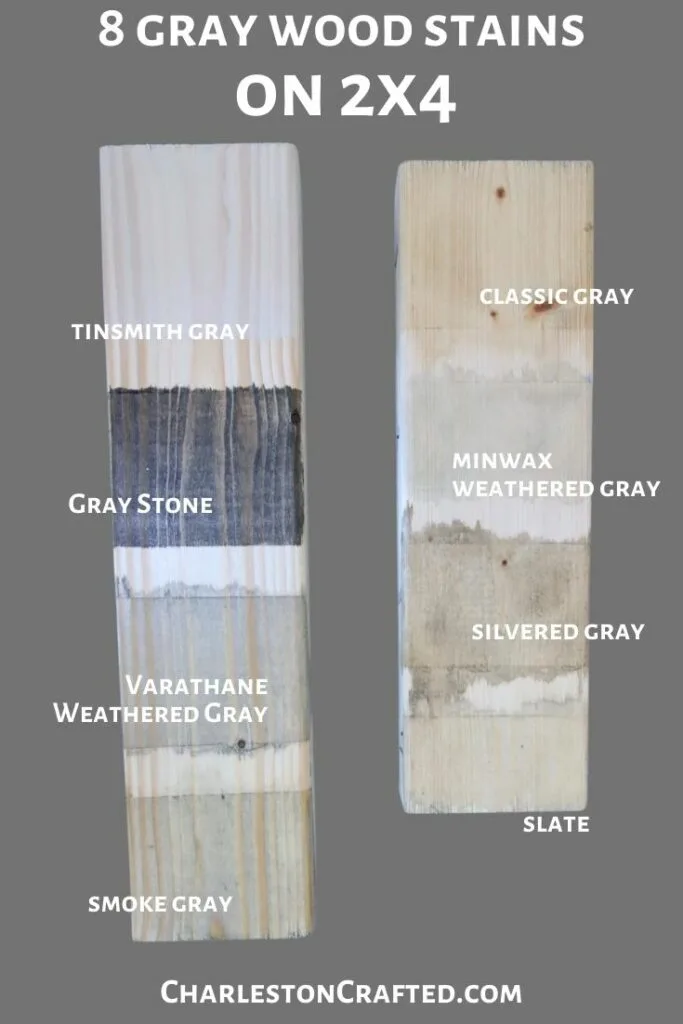 Grey wood stain on White Wood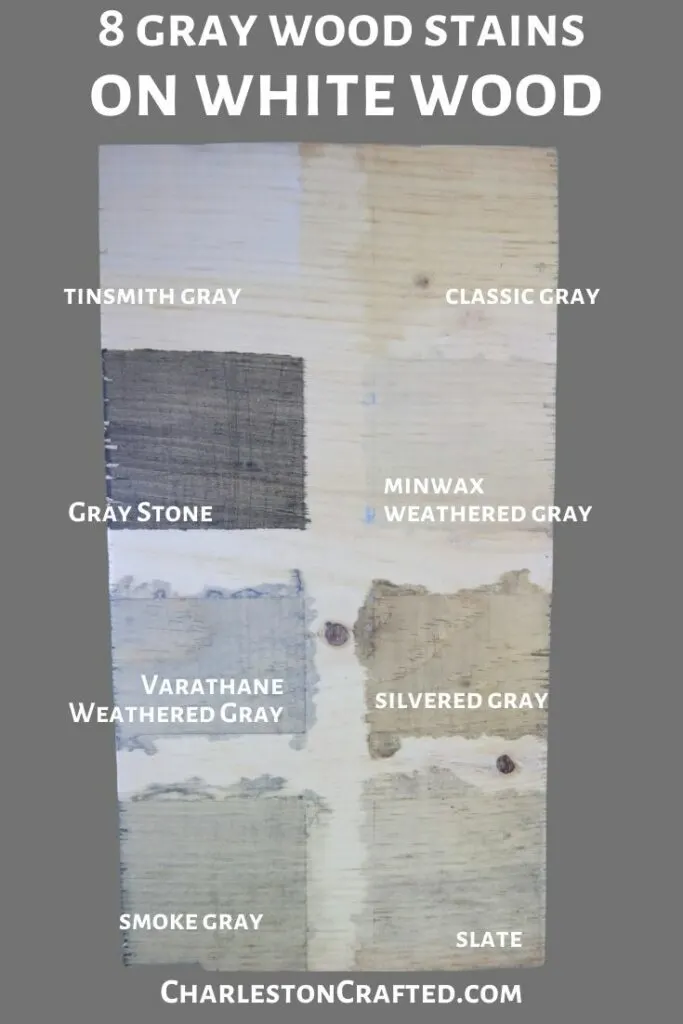 Gray stain vs. gray paint
What is the difference between gray stain and gray paint?
Gray paint is totally opaque and covers the wood underneath completely.
Gray stain will be transparent enough to let the wood grain show through. How transparent it is depends on the stain that you choose and how much stain you apply.
What is the best wood to stain gray?
If you are looking for a wood to stain gray, I suggest a plywood without many knots or holes. Oak is of course gorgeous as well, just a pricier option best saved for special projects.
The best dark gray wood stain
Gray Stone is a beautiful gray wood stain, but it is so charcoal gray it is almost black. If that is what you are looking for, be sure to check out my favorite black wood stains!
The best light gray wood stain
I love Minwax Weathered Gray for a light gray wood stain. It's light enough that it can read as rustic or weathered, but is still clearly gray and not too white, black, or brown. It's my fave!