Ever wonder how to dye wood with vinegar? Here's step by step instructions, a how-to video, and samples with 4 different types of vinegar!
I love experimenting and testing out new products and ideas. I have enjoyed truing different DIY wood stains in the past and so I was excited to learn how to age wood with vinegar!
How to dye wood with food coloring
Vinegar is a cool thing to use to stain wood because it's not really dying it – its weathering the wood through a chemical reaction with the tannins in the wood and the chemicals in the vinegar solution!
The results will vary greatly depending on the type of wood (it seems that the more color a wood has, the more it reacts) but I just tested it on scrap pine wood.
This is a cool option to get a distressed wood look on your next project!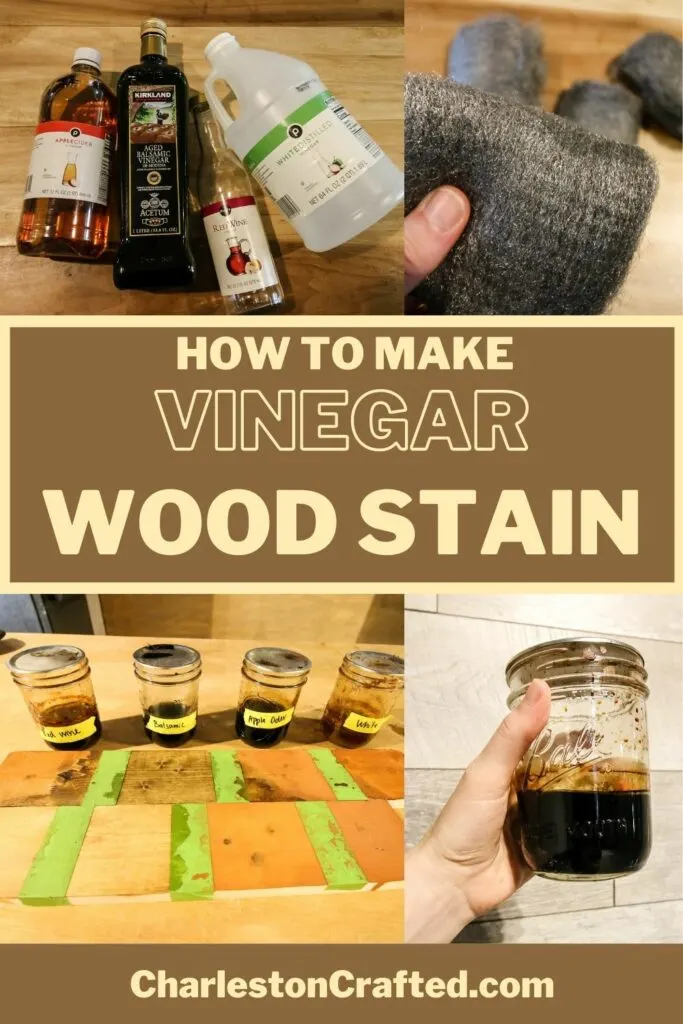 How do you use vinegar to stain wood?
To stain wood with vinegar, you need to combine it with #0000 steel wool and let it sit. This will lead to a chemical reaction that creates a DIY wood stain.
How does vinegar darken wood?
Vinegar causes steel wool to oxidize, or basically rust. That rust "dyes" the vinegar. Then, that vinegar reacts with the color of the wood that you apply it to, giving it a new, deeper color.
How do you apply vinegar stain to wood?
You can use a foam brush, a disposable paint brush, or a lint free cloth to apply vinegar stain to wood. Wear gloves as this stuff will stain your hands!
Pros and cons of vinegar stain vs store bought stain
Pros:
Cheap and easy assuming you have the supplies on hand
All natural ingredients
A cool and fun trick to try if you are into making things from scratch
Cons:
The color can be unpredictable – you never know how exactly the stain will look. Always test on a scrap piece before painting a whole piece!
The color can fade slightly over time
The stain can come off slightly with water, so don't seal with a water based sealant
It stinks like pickles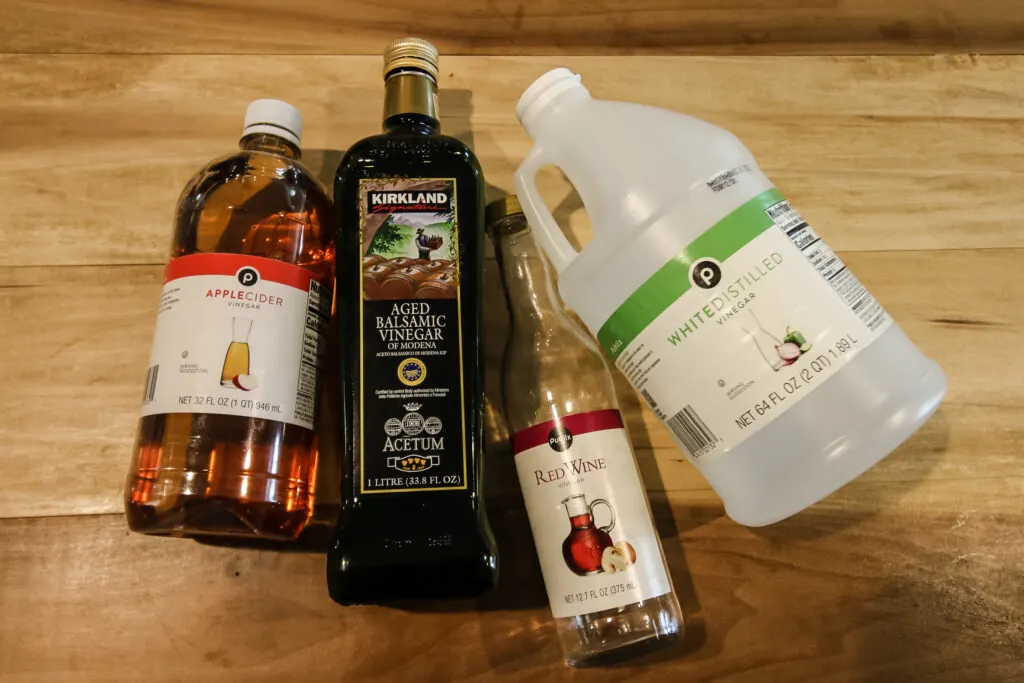 How to stain wood with vinegar
What you need:
Vinegar of choice (I tested white vinegar, red wine vinegar, apple cider vinegar, and balsamic vinegar)
Glass jars
Steel wool (1 per vinegar)
Wood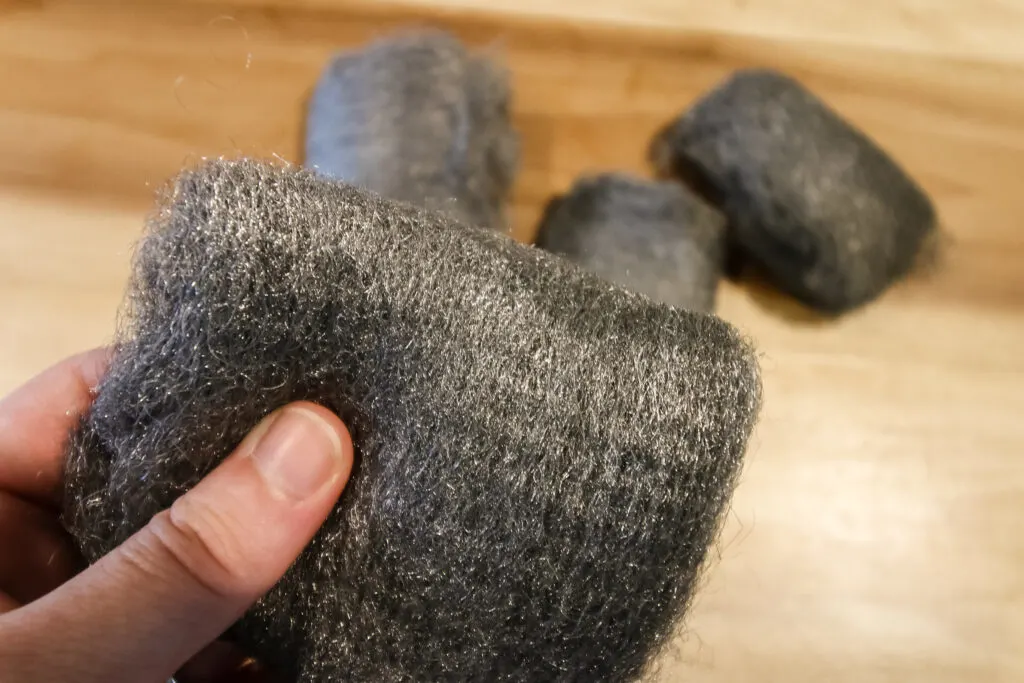 What you do:
Place the steel wool in your jar, pushed to the bottom. Mark the height that the wool reaches. Fill with water to that level, then pour the water into a measuring cup. This is how much of each vinegar you will need.
With steel wool pad in the mason jar, cover with vinegar of choice. Loosely cover (or leave uncovered) and let sit for 24 hours. The vinegar and steel wool make a bubbly reaction, so don't put a tight lid on or it could pop!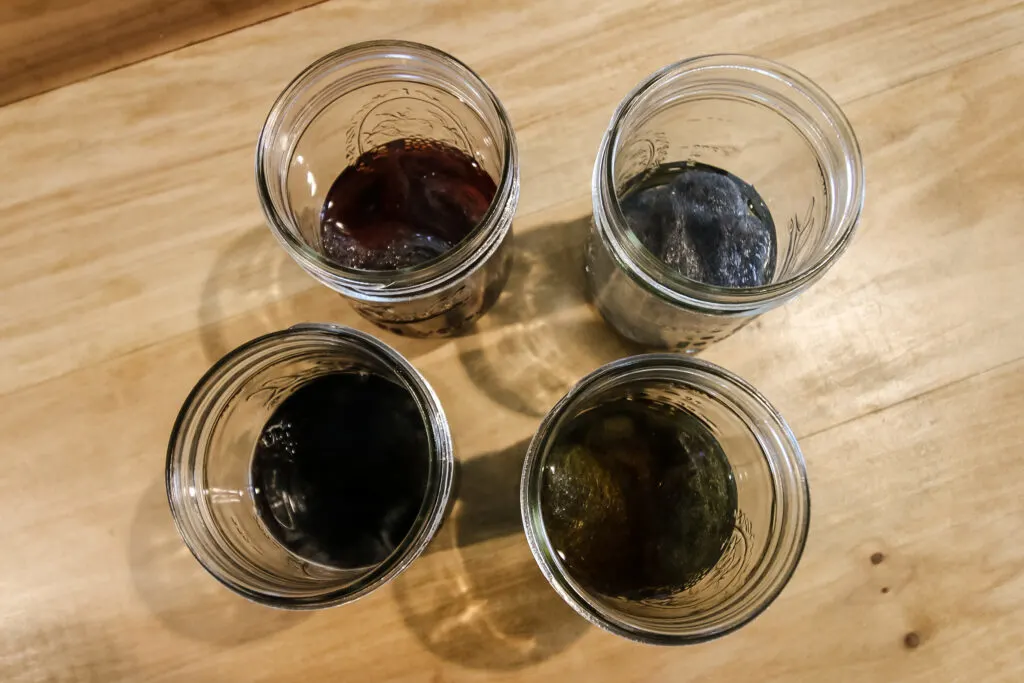 To prepare your pieces of wood, sand the wood with 150 grit sandpaper and wipe it clean.
After 24 hours, dip a brush or lint-free cloth into the vinegar and rub onto your wood, in the direction of the grain.
Let sit for 5 minutes and then apply a second coat.
The color will continue to deepen for about an hour as it dries completely.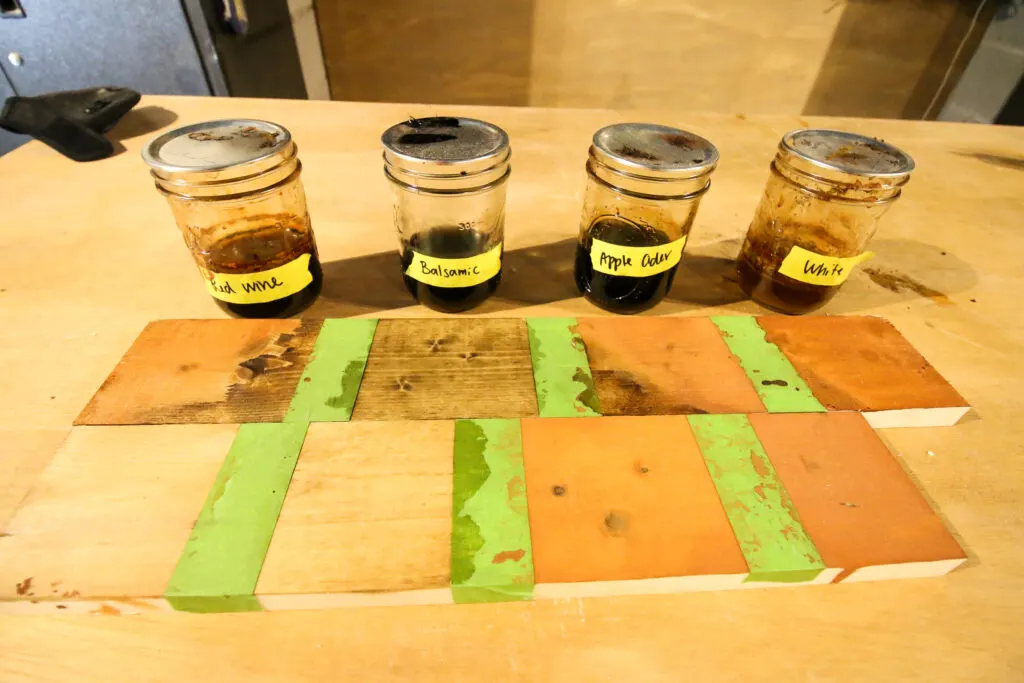 As you can see, the vinegar REALLY changed the color of the wood.
White vinegar and apple cider vinegar actually got the darkest, while balsamic and red wine vinegar were lighter.
In the photos, the TOP board was stain that sat for 48 hours before use. The BOTTOM board, the steel wool sat for 24 hours.
You can see that that extra day made a BIG difference! The vinegar had a lot more time to react to the steel wool and turn darker.
I will say, if you let the mixture sit for 48+ hours, the steel wool starts to break down, so plan to have to strain your stain (you can use panty hose or similar mesh) prior to use to avoid chunks.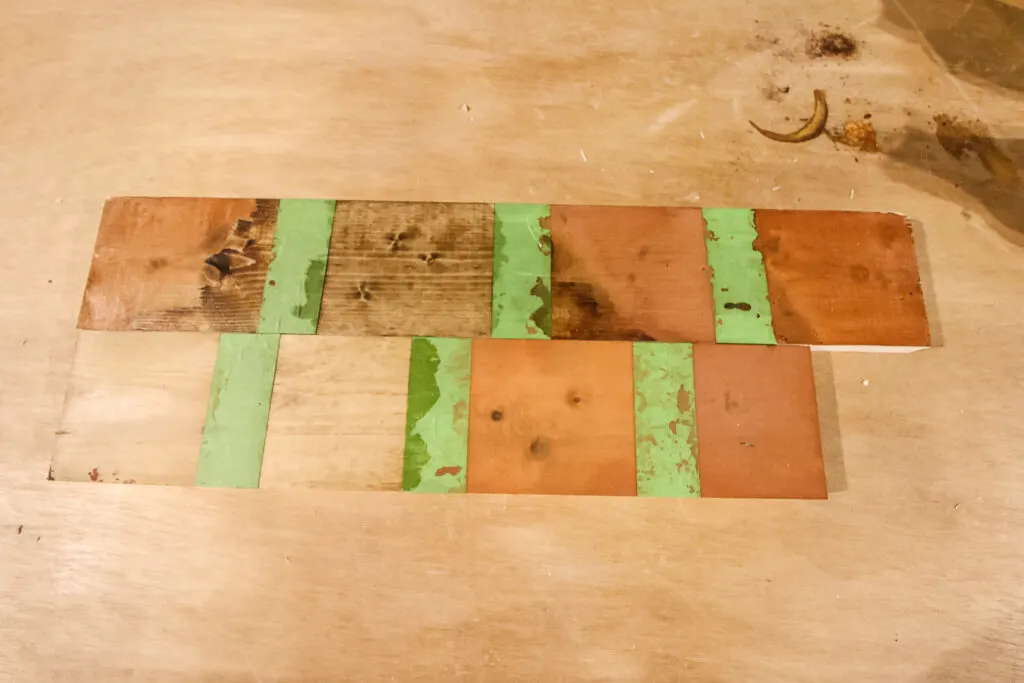 Be sure to check out my complete guide on how to make homemade wood stains!
Video demonstration
Be sure to check out the whole vinegar staining process in our video!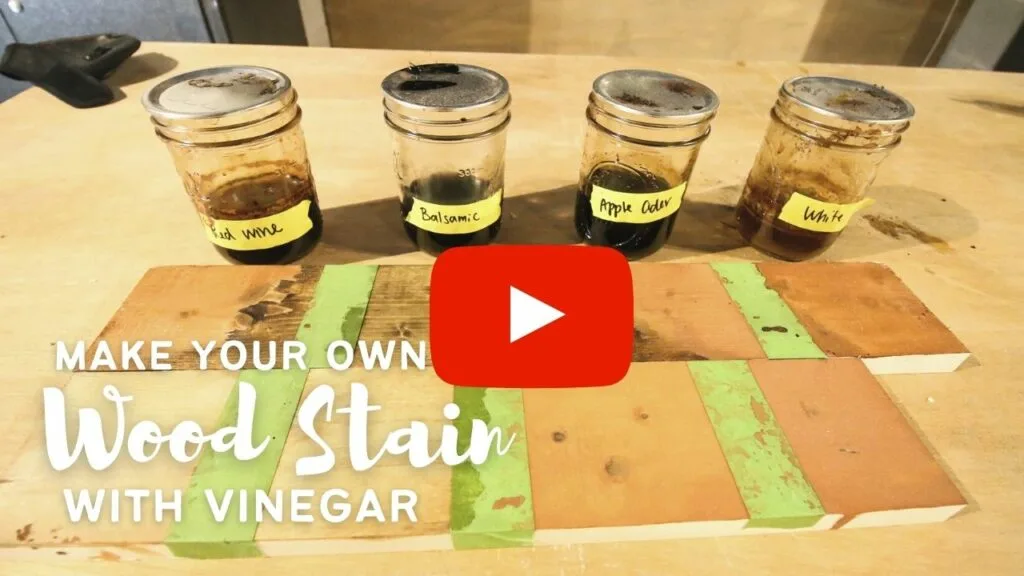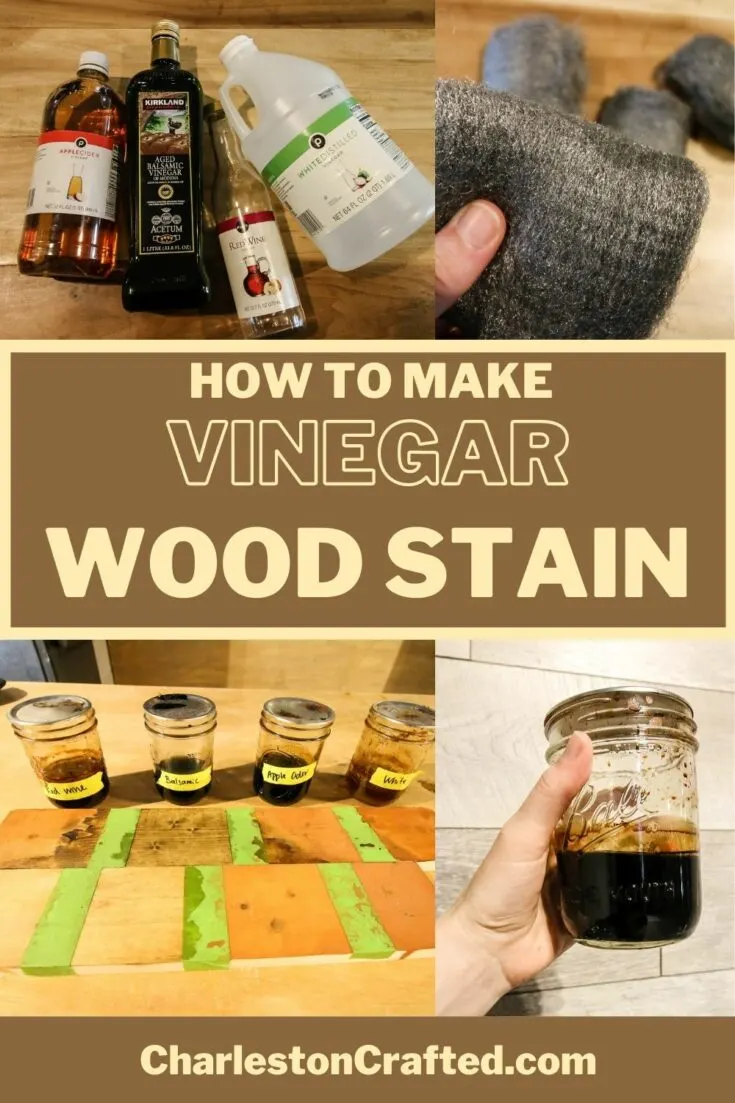 Yield:

4 jars wood stain
How to stain & age wood with vinegar
Total Time:
2 days
10 minutes
Here's how easy it is to make a DIY wood stain using vinegar and steel wool!
Materials
Vinegar of choice - white, red wine, apple cider, or balsamic
Steel wool
Wood to stain
Rag or brush to apply stain
Instructions
Add a piece of steel wool to a glass jar. Mark how deep it goes on the jar. Fill with that much water and pour into a measuring cup. That's how much vinegar you need (at least!)
Replace steel wool in the jar and cover with vinegar. Loosely cover or leave uncovered for 24-48 hours - the longer, the darker it will get.
Remove steel wool. You may need to strain the remaining liquid to avoid chunks.
Apply to sanded wood in the direction of the grain. Let to completely dry.
Enjoy!
Notes
Don't tighten the lid all the way as the steel wool and vinegar react, they let out bubbles of gas that could pop your jar if trapped!
Here's where we tested 10 different wood stains on 5 species of wood!
Any questions about staining wood with vinegar?