Whether you are building, renovating, or just curious, it is fun to follow the latest design trends. Here are the biggest hardwood flooring trends for 2024!
Wood tones are one of the top elements that can date a space.
Sure, some things are timeless. But most things are heavily influenced by trends.
When it comes to wood flooring, everything from the color to the width to the style of boards can vary significantly as the popular styles change.
Some people are into fashion trends, or trending music. I like to see what is trending in the decor and design world!
Check out some of our other trends posts:
I thought that it would be interesting to talk about wooden floor trends today.
This was inspired by us recently putting new carpet in our kids room. The carpet is NOT trendy but was more of a necessity while they are so young.
We looked at a lot of hardwood floor ideas at the flooring store and I dreamed about putting new flooring in our home.
There are so many flooring options!
Five years ago, we were looking at grey and almost white floors as the hottest thing. Now, that's not the popular style any more.
While it's always most important to pick something that you actually like over what is trending, interior design trends impact what is available in stores and what buyers might hope to see. So, trends are very important!
Let's talk about what is trending for wood floor colors and materials. Even if you don't swap out your flooring, it could still inspire you in some way!
Click here to read my best tips on picking the best rug pad for hardwood floors.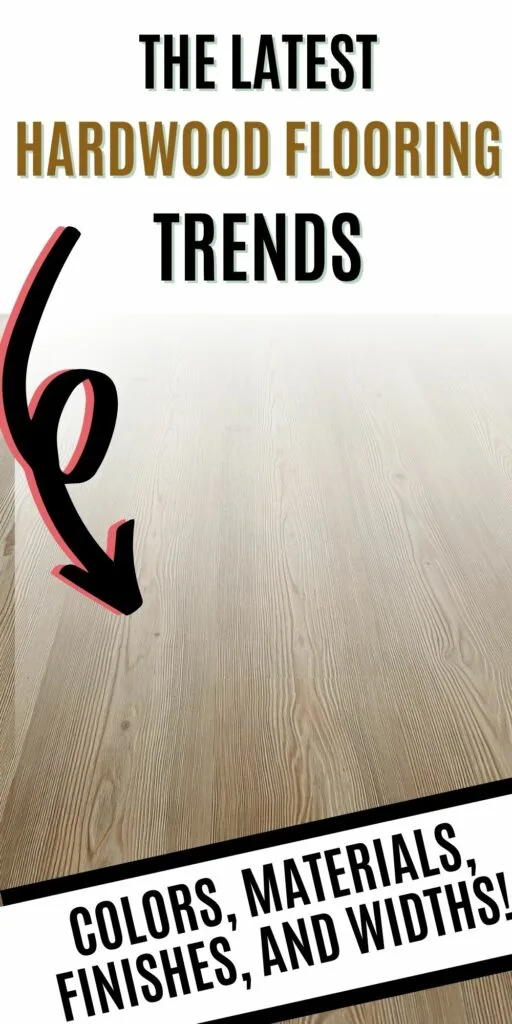 Hardwood flooring trends
Wood flooring ideas break down into 3 main categories: color, finish, and material. I love looking at the trends for each idea!
Trends in hardwood flooring colors
Color is the thing that most people notice first about hardwood floors. Most of the trending colors correspond to trending home decor styles that are happening right now.
The most popular hardwood floor colors in 2024 will be:
Light, raw natural wood color
Very dark wood tones without red in them
Light natural raw wood
Natural and almost raw wood looking hardwood floor colors have been on trend for over 5 years now. Some might think that makes them a safe choice – others might say they are on their way out.
However, I think that a light natural wood can have a really timeless look – if you choose the right shade and undertones.
Bleached wood floors are really having a moment – especially in beach home settings. It can be a very pretty look, if done correctly.
Light wood flooring is popular for boho, coastal, Scandinavian, or casual style homes. Steer clear of anything that might skew too yellow or orange and look for muted tan and beige instead.
Personally, if I was picking floors right now I would pick something light, nearly natural, with just a hint of a driftwood color to it. Dreamy!
Dark wood tones
Believe it or not, dark wood tones are coming back into style, too. This is representative of an overall return to more color and warm color tones overall.
Very dark wood floors work well with modern, masculine, or formal style spaces. Steer clear of anything with reddish tones to it, which looks dated. Think walnut over mahogany or cherry.
Beware – while dark wood floors show less wear and tear compared to their lighter counterpart, they are hard to keep clean. We had them in our last house and they showed lots of dirt, pet hair, and dust!
Check out our favorite dark wood stain colors here!
Hardwood floor colors that never go out of style
Natural colored white oak floors are an option that is considered timeless and will likely never go out of style. While it isn't always trendy it never really looks outdated. It's a great option if you want to do your floors once and have them look great forever!
Hardwood flooring design trends
There are a few other elements of wood flooring that you might see a lot lately!
One is a return to wider plank boards. Wider widths are giving flooring a totally different look lately, and I don't hate it!
The other is herringbone layouts. This kind of falls into the timeless category, and is frequently seen in historical homes, but is definitely becoming more popular for the everyday home – especially in one special room where you want it to be a focal point!
Hardwood flooring finish trends
The top flooring trends extend beyond color and also are effected by the sheen of the top coat put on the floors after they are stained – or built into the luxury vinyl planks.
The finish of wood means if it has a glossy, matte, or somewhere in between sheen. The finish really effects the flooring more than you might expect – shiny, reflective floors have a totally different vibe compared to those that look more like matte finished wood.
Matte and satin finishes for flooring are definitely what is on trend. You don't want to do a raw wood look with a glossy finish – that would be contradictory. The trending colors definitely lend themselves to a matte finish.
Beware that if you choose something with a glossy or even semi-gloss finish, it will show every scratch and dent and also show more dust and dirt!
Hardwood flooring materials trends
Many people prefer solid hardwood floors because the look natural (they ARE natural), last a very long time, and can be refinished as needed.
As technology develops, there are SO many flooring materials to choose from! The vinyl planks and tile flooring are getting nicer and nicer and have become a true rival for solid hardwood.
Some popular wood flooring materials include:
solid hardwood
unfinished engineered woods
luxury vinyl plank
tile that looks like wood flooring
Sustainable materials are also trending. This no longer means bamboo (which has been proven to NOT be as durable or long lasting as advertised and many stores no longer carry it).
Instead, focus on flooring grown or made in your home country. This cuts down on shipping costs and saves money and energy!
Regardless of the material, wider plank flooring is definitely trending compared to the thinner planks. Wide planks can make your room look larger and I love this trend for hardwood and vinyl floors!
Any questions about these wood floor trends?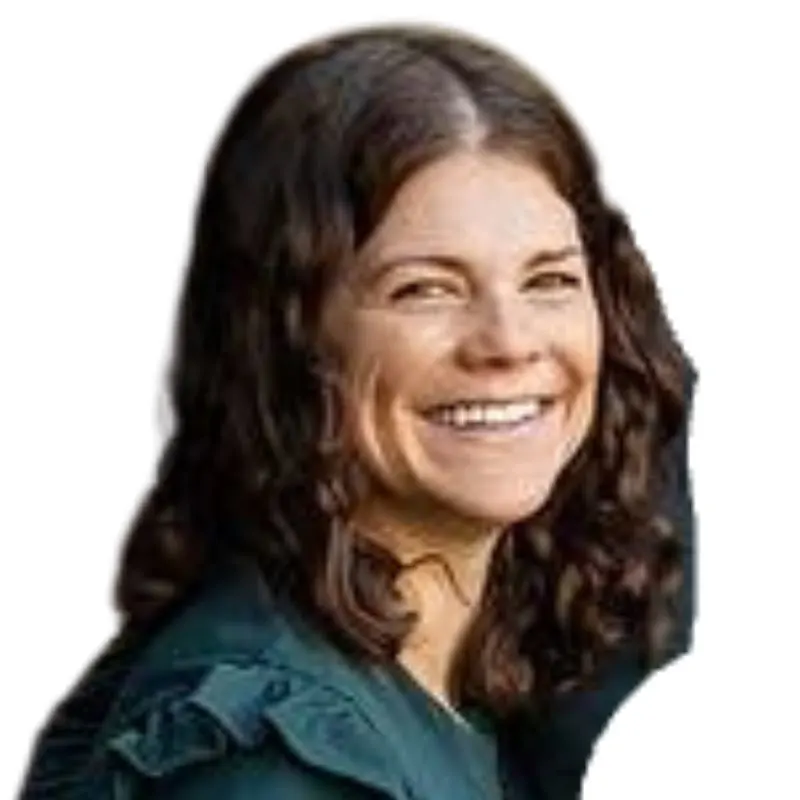 Hello, I'm Morgan, half of the creative force behind CharlestonCrafted.com! With a passion for DIY that dates back to 2012, I've transformed three homes and now I'm dedicated to helping others craft their dream spaces. Let's turn your house into a home together!